Small kitchens are common in Indian homes today and most of us can only dream of having a large space for whipping meals. One of the ways you can make your kitchen look bigger is by installing a great backsplash. They serve the dual purposes of aesthetics and functionality. Check out our small kitchen backsplash ideas and get inspired!
Small kitchen backsplash #1: Glossy grandeur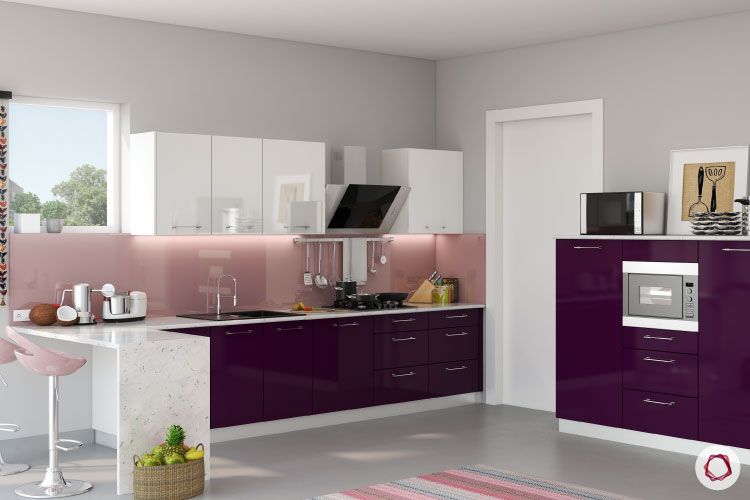 Glass panelling is an easy and foolproof method for creating the illusion of space. A glass panel as your backsplash will make your kitchen look bigger by reflecting plenty of light around. This idea works well for both light or dark colours.
You can also amplify the effect by adding task lighting under the upper cabinets. This way your backsplash adds sheen to your kitchen at night or gloomy days!

Shiny tiles in the backsplash add a touch of pizzaz to this kitchen. You can also choose to use this for only a part of your backsplash if you feel it would look overwhelming.
Small kitchen backsplash #2: Elegant striations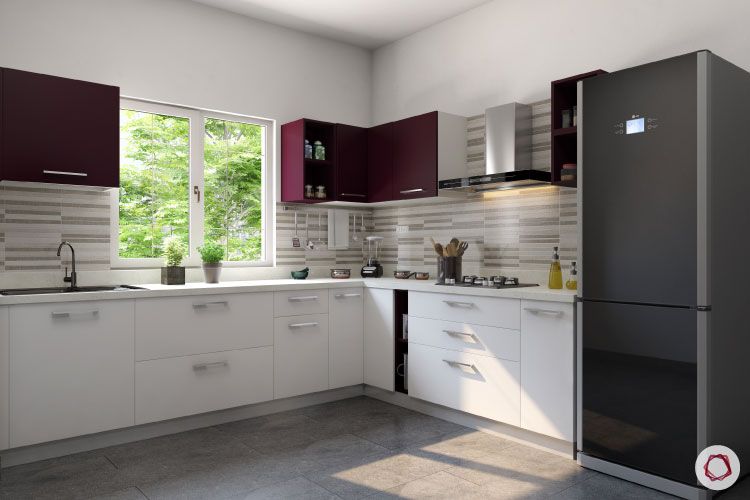 Slim-cut tiles packed together in this small kitchen's backsplash plays up the length of this parallel kitchen. You can even choose bigger or smaller tile cuts — the idea is to trick the eye into making the kitchen feel longer than what it is.
 Small kitchen backsplash #3: Neutral nuances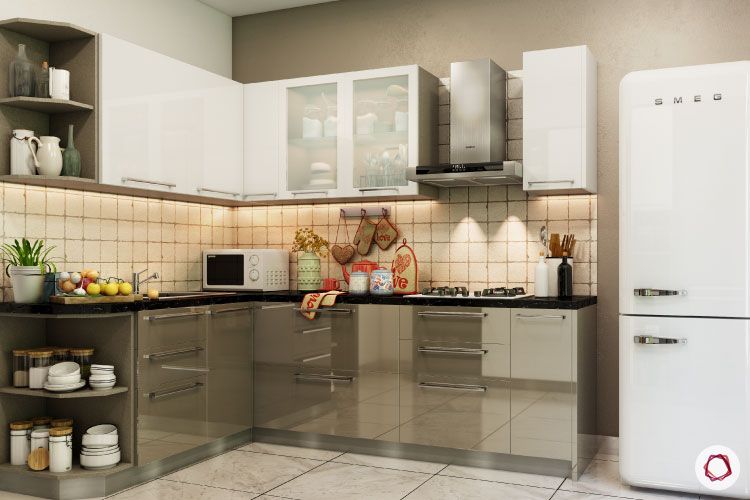 A neutral backsplash of a single color is a pleasant addition for small kitchens. It takes the attention away from cramped or dingy spaces and casts an expansive effect.
However, make sure you choose easy-to-clean materials like quartz, corian, ceramic or granite when using neutral colors for your backsplash.
 Small kitchen backsplash #4: Spillover style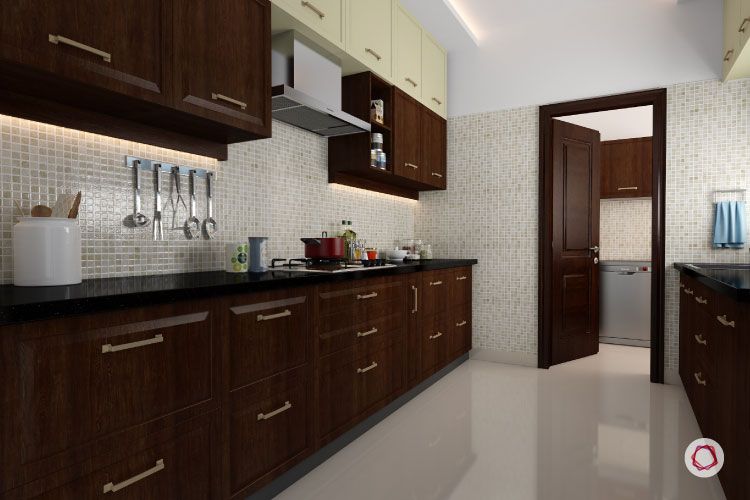 Most of the time, we restrict the backsplash to the area behind the hob and preparation areas. In the above kitchen, the mosaic tiled backsplash extends to the walls on and makes it way to either side of the door. This gives the space continuity and makes the small kitchen look large.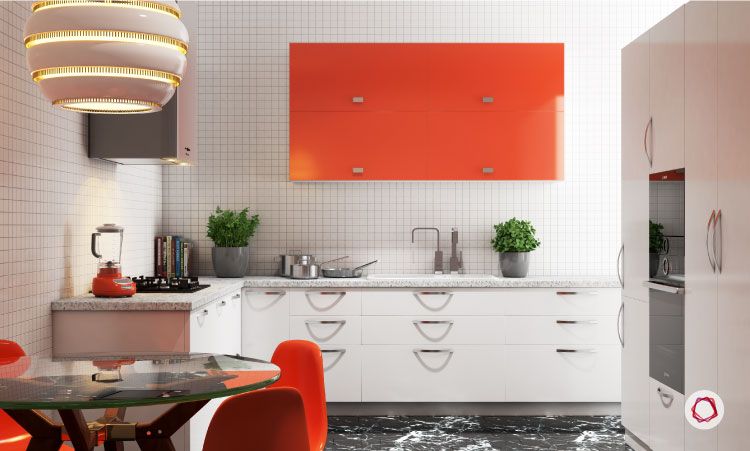 This backsplash is of the same color as the dominant off-white hue in the kitchen. This way the space looks roomy as ever!
 Small kitchen backsplash #5: Pretty patterns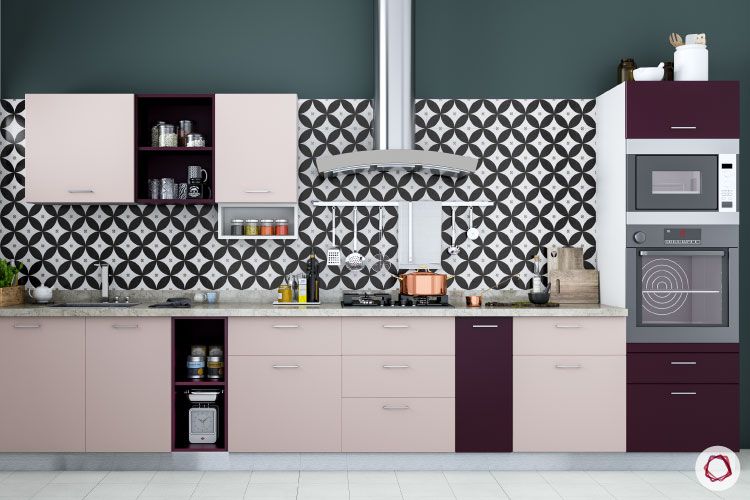 Patterns immediately enhance the decor of any space and the kitchen is no exception. Bold, tiled patterns work the best in open kitchens; they help delineate the kitchen without compromising on space.
Here, large patterns created with multiple tiles has a hypnotic effect in this small kitchen.
 Small kitchen backsplash #6: Breezy and airy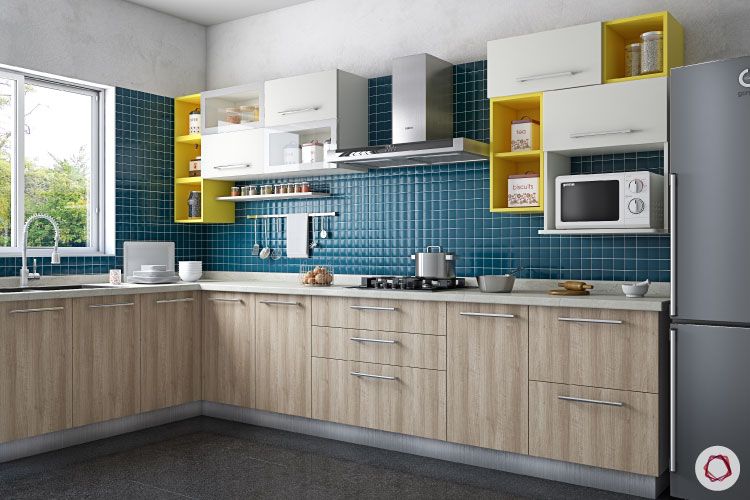 Another way by which you can make your kitchen look bigger is by installing a window and having it surrounded by a simple but smart backsplash. Not only does this look picturesque, the view in itself gives depth to the small space. However, ensure that the window is not positioned in front of or opposite the hob.
Choose one of these small kitchen backsplash ideas and make your comfy and compact space the cynosure of all eyes!
If you loved these suggestions, take a look at Designers Reveal 5 Colour Schemes For Your Kitchen as well.
Send in your comments and suggestions.