Modular kitchens are slowly becoming a norm in Indian homes. And they come in a variety of styles! Do you vibe with blends of warm and cool colors or neutrals with a metallic touch? Or is it the classic all-wood kitchen or neutral palettes with solid streaks that excites you? Whichever it is, following the right color palette will convert the heart of your home into a stunning space that is sure to stimulate the senses and evoke emotion. To help you with this, we have listed some of the top color schemes for your kitchen. Check it out. 
What Are the Most Popular Color Schemes for Kitchen?
Color Schemes for Your Kitchen #1: Wooden Warmth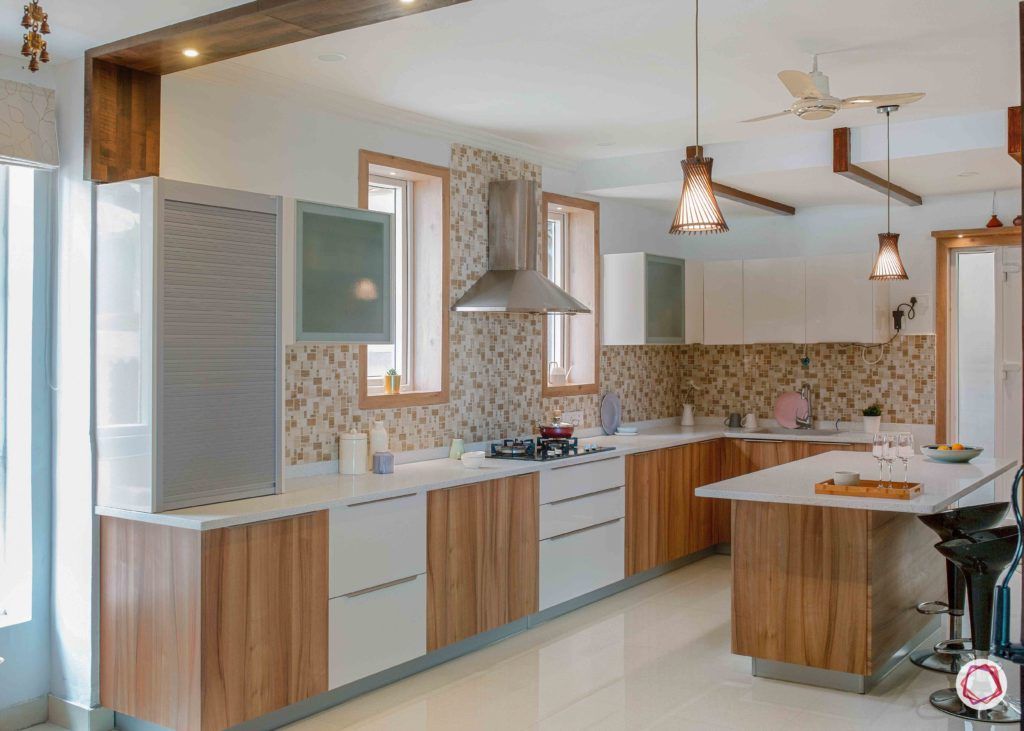 Wooden tones add a warm, earthy touch to the kitchen. Meanwhile, if you don't want to overdo the wooden kitchen color scheme, use it only for the lower cabinets and pick see-through glass cabinets for the wall cabinets. Further, you can team up the wooden elements with a black or white countertop for a perfect finish. You can also pick a white backsplash with an abstract design or a textured white backsplash as a chic addition.
Color scheme: Various wooden tones and textures like Maple Brown, Mahogany, Oakwood etc.
Color Schemes for Your Kitchen #2: Neutral with a Pop of Color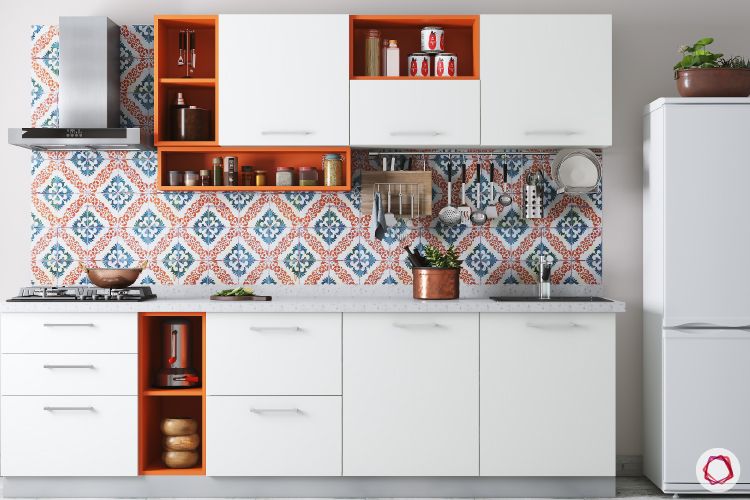 Neutrals, on their own, are a good choice for kitchens. However, they might come across as a tad bit dull. Hence, adding a pop color to neutrals like white, grey, beige or brown infuses the kitchen with life and vitality. In such cases, using boisterous colors like orange, yellow, green or teal can be most effective. Merging pop colors and neutrals is probably the best color combination for kitchen.
Color scheme: Pops of orange, yellow, green or blue interspersed with neutrals
Color Schemes for Your Kitchen #3: Make a Statement With Vibrant Colors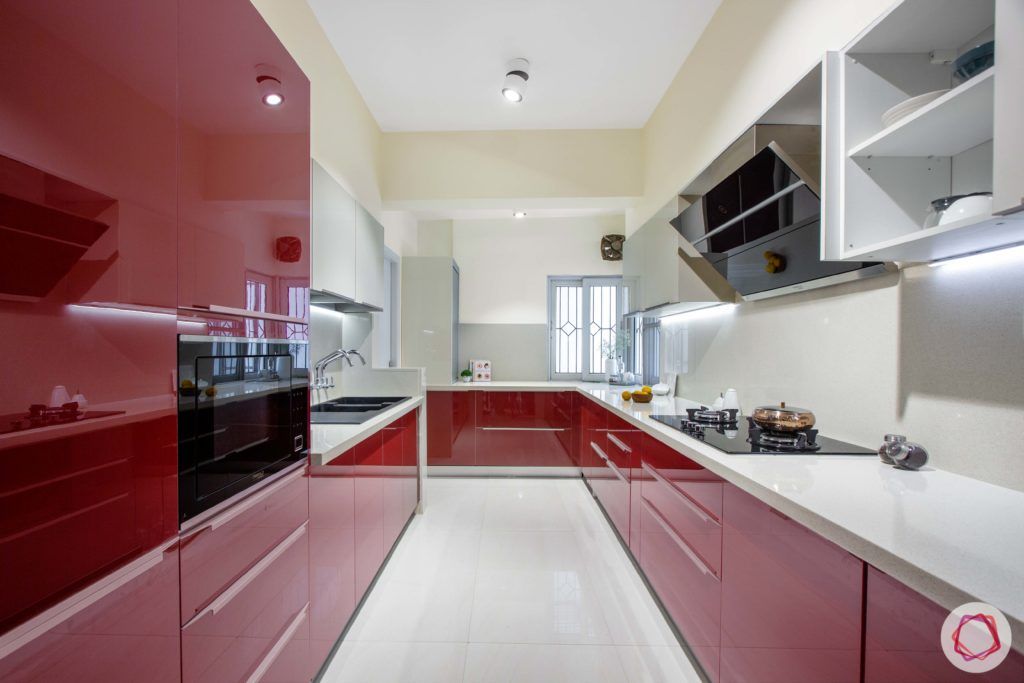 Solid colors are one of those kitchen color ideas that you must try! They are striking and help make a statement kitchen. For example, you can paint all your cabinets in blood red with a white backsplash and countertop to complement it. In this kitchen color scheme, whites and lots of natural light work as the perfect background for the crisp and dense color to stand out.
Color scheme: Cobalt blue, orchid purple, wine red, bone white and mango yellow
Color Schemes for Your Kitchen #4: White on Wood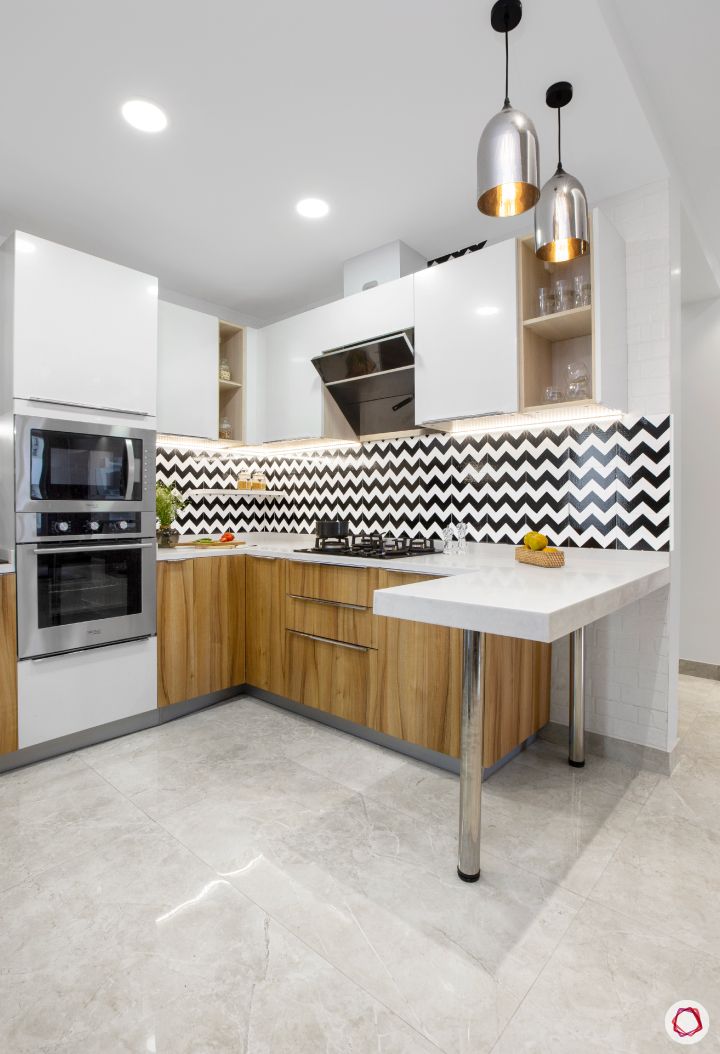 The combination of wooden tone and whites is like fire and ice; wood is a warm finish while whites add a touch of bright coolness to any space. Wooden finish as kitchen cabinets color combination looks elegant with white countertops and backsplashes. While wood provides texture, whites add glamor to the kitchen.
Color scheme: Wooden shades and textures peppered with whites
Color Schemes for Your Kitchen #5: Contrast Shades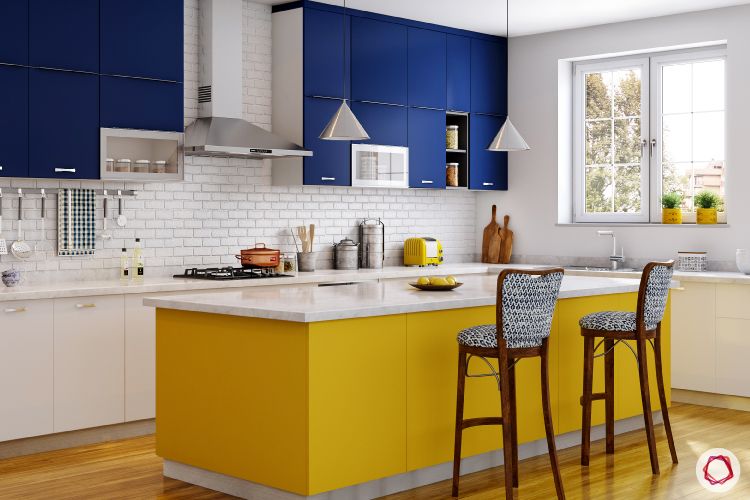 Ever heard the age-old saying opposites attract? We think that they surely do. How else does a navy blue go with a mushy yellow like this one! Contrast is a great way to make your kitchen striking. This color scheme comes in handy when you have to demarcate areas within a large kitchen. In fact, contrasts work very well for island kitchen layouts.
Color scheme: Any two contrasting colors like red and yellow or blue and yellow
Color Schemes for Your Kitchen #6: Peppy Colors Teamed With Earthy Hues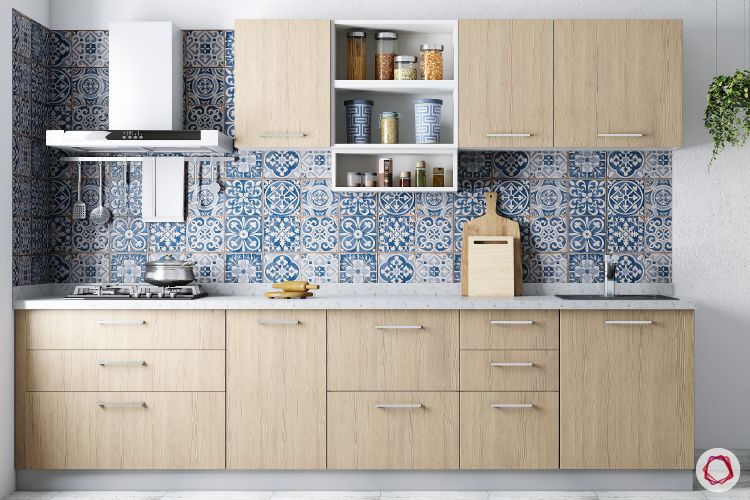 Pairing rich, earthy colors with a splash of vibrant or citrus hues can result in out-of-the-box color schemes that work very well in medium to large size Indian kitchens. The backsplash can turn into a work of art for an extra pop of colors. You can pair this with grey or beige walls and flooring to complement the bright kitchen colors.
Color scheme: Earthy browns & beiges with cobalt blue, royal blue, tiger orange or olive green
Color Schemes for Your Kitchen #7: Two-toned Kitchens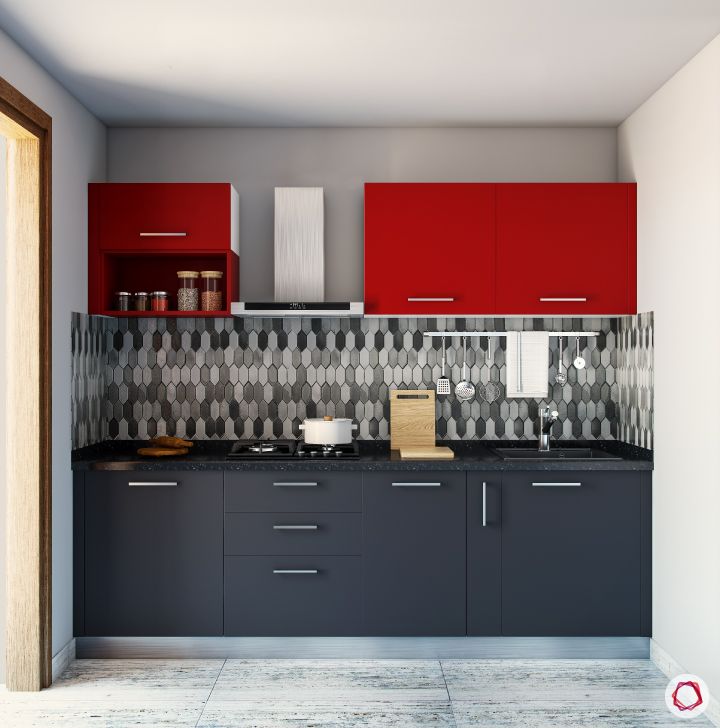 Tone-toned kitchens have a mix of two different shades for the base and wall cabinets. These kitchens are quite a rage these days, particularly in Bangalore. Have two colors in a kitchen can serve several purposes. In a small kitchen, adding white to deeper colors like grey or black can brighten and open up the space. A touch of white always makes a kitchen look larger. However, Indian kitchens must be made immune to oil spills and curry stains. Thus, darker shades are often used for the base cabinets to ensure easy maintenance.
Color scheme: Any two suitable colors can be used

Color Schemes for Your Kitchen #8: The Might of White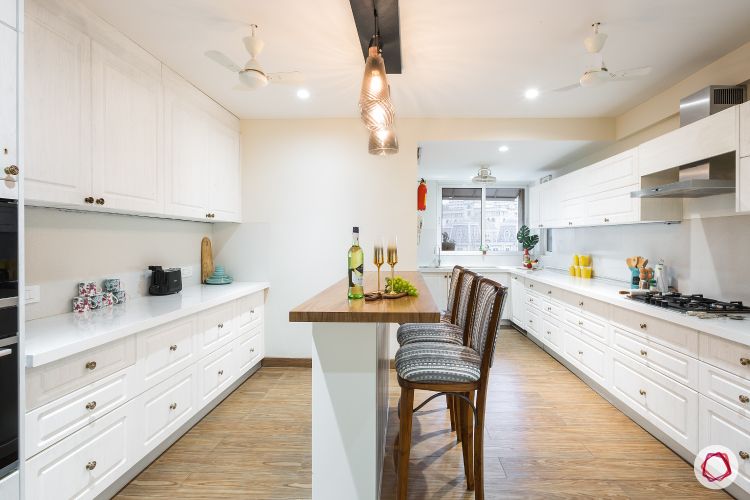 White kitchens are essentially a European concept but it has caught on like fire in India over the last couple of years. Aesthetically, nothing can beat the pristine beauty of white kitchens. However, they are difficult to maintain. There are several variations of white with a smattering of different elements that work as kitchen color schemes. If you don't want to try the naturalistic membrane finish in white, high-gloss laminate or acrylic can give a gleaming and sleek finish.
Color scheme: Various shades and textures of white
How do I Choose a Color for My Kitchen?
Choosing a color scheme for your kitchen is a tough decision to make. Here are some tips to guide you through:
Look for inspiration. Use resources like Pinterest to create a mood board.
Don't overlook the flooring. The flooring design or color plays a crucial role in tying the entire look together.
Opt for neutrals as they are easier to work with. Countertops, backsplash can be the places where you add a splash of color.
Don't go over the top with too many colors.
Pay attention to your lighting arrangements as they impact the appearance of the colors in your kitchen.
The color of your appliances too must be in contrast with the rest of the room to be aesthetically rich.
How can Livspace help you?
So the next time you're renovating, try out these exciting color schemes for your kitchen for a whole new look. If you are looking for professional assistance, then Livspace is here for you. Consult our designers online and start your kitchen renovation right away. We deliver quality interiors with safety as the utmost priority. Learn more about our COVID-19 protocols here.
Want to see more color schemes for your kitchen? Check out Inspiring White Kitchen Designs for Your Home. 
Wondering how our customers feel about working with Livspace? You can check out the Livspace kitchen reviews here!
Send your comments and suggestions.