Modular kitchens are a rage these days, and they are also long-term investments. Hence, picking the right combination of kitchen colors is essential from the word go. While classy white is a timeless and versatile option, a fully-white kitchen could become monotonous and is definitely not the easiest to maintain.
Luckily, a two-toned kitchen, which is a combination of two different colors for the base and wall cabinets, can create instant visual interest. It can also make your kitchen look more organised and dynamic. To get you started, we've put together a list of kitchen cabinet colors that go well with white, and will transform your kitchen from drab to fab!
Kitchen Colors #1: White + Cherry Red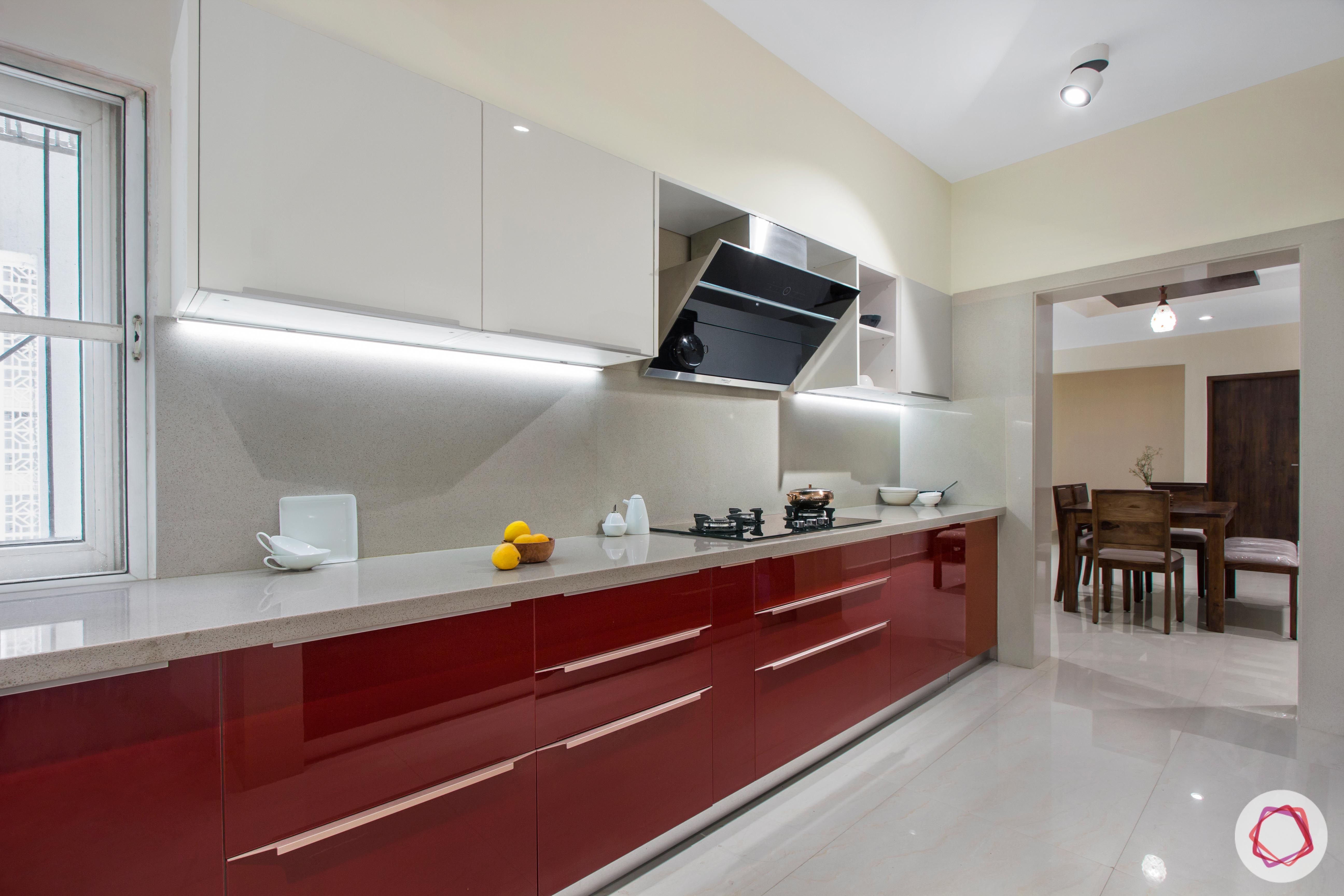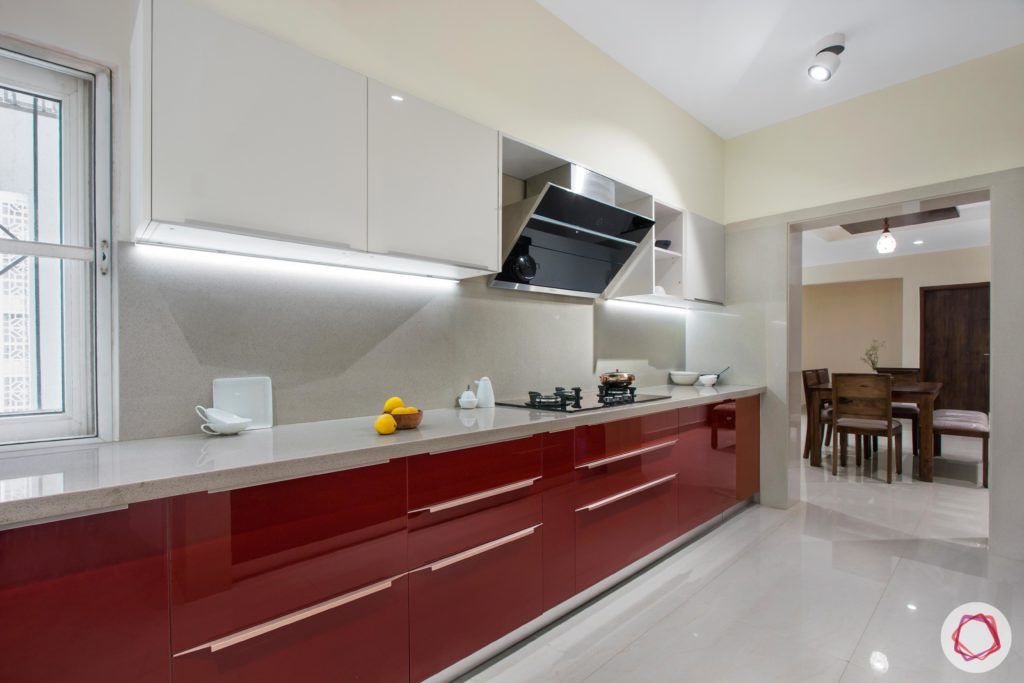 Have you noticed that most kitchen appliances come in some shade of red? As the saying goes, red stokes your appetite and stimulates hunger. We used a deep cherry red in this kitchen's lower cabinets to contrast the white wall cabinets, in order to evoke an energetic vibe.
Kitchen Colors #2: White + Crimson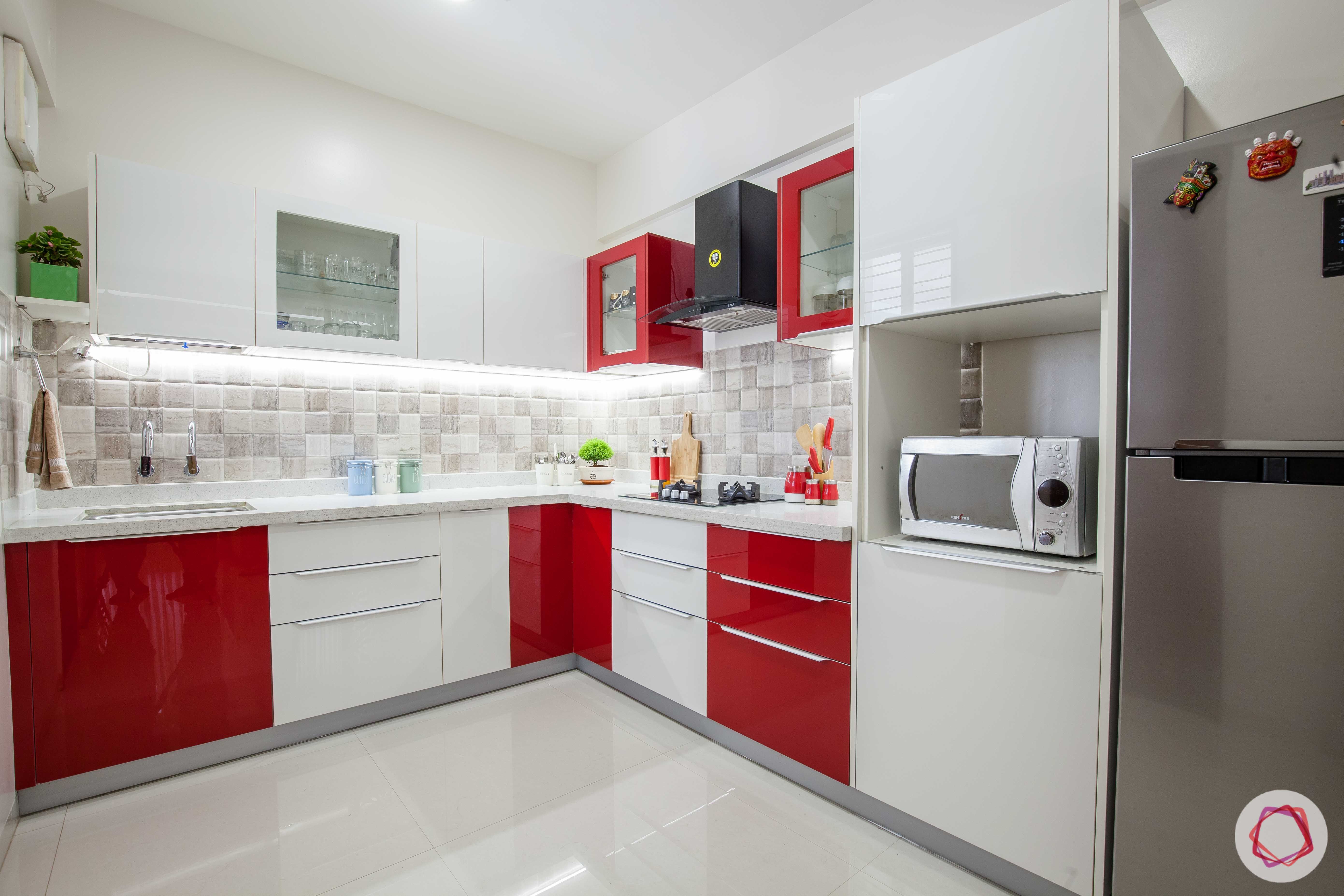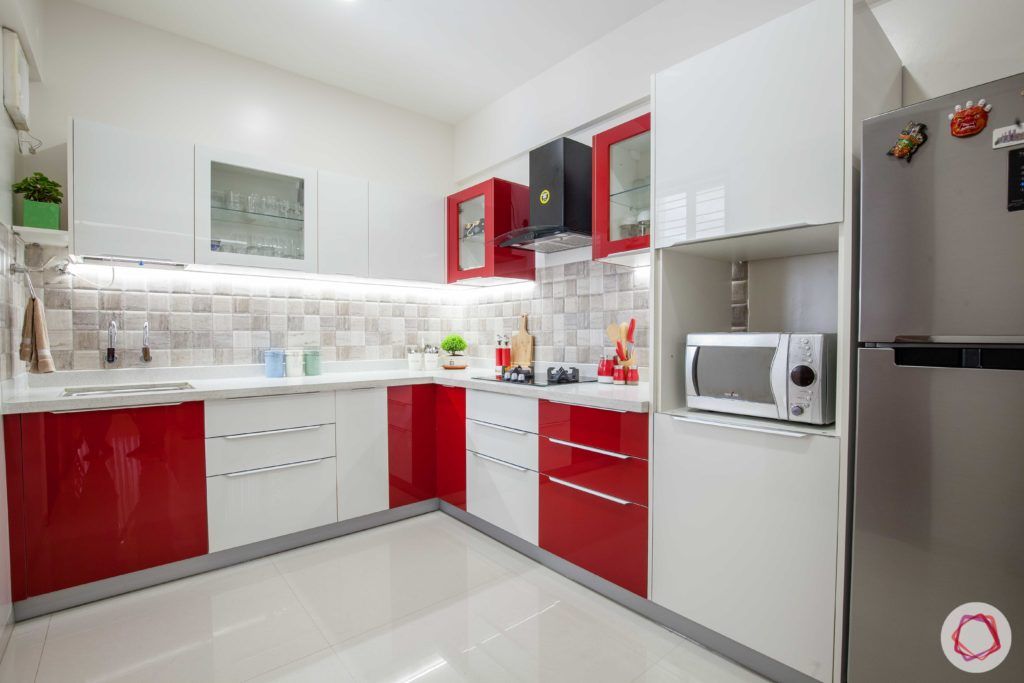 On the other hand, in this #LivspaceHome, we used a bright shade of crimson in minimal proportions, and alternated it with porcelain white cabinets, to create a more contemporary and cohesive kitchen.
Kitchen Colors #3: White + Blue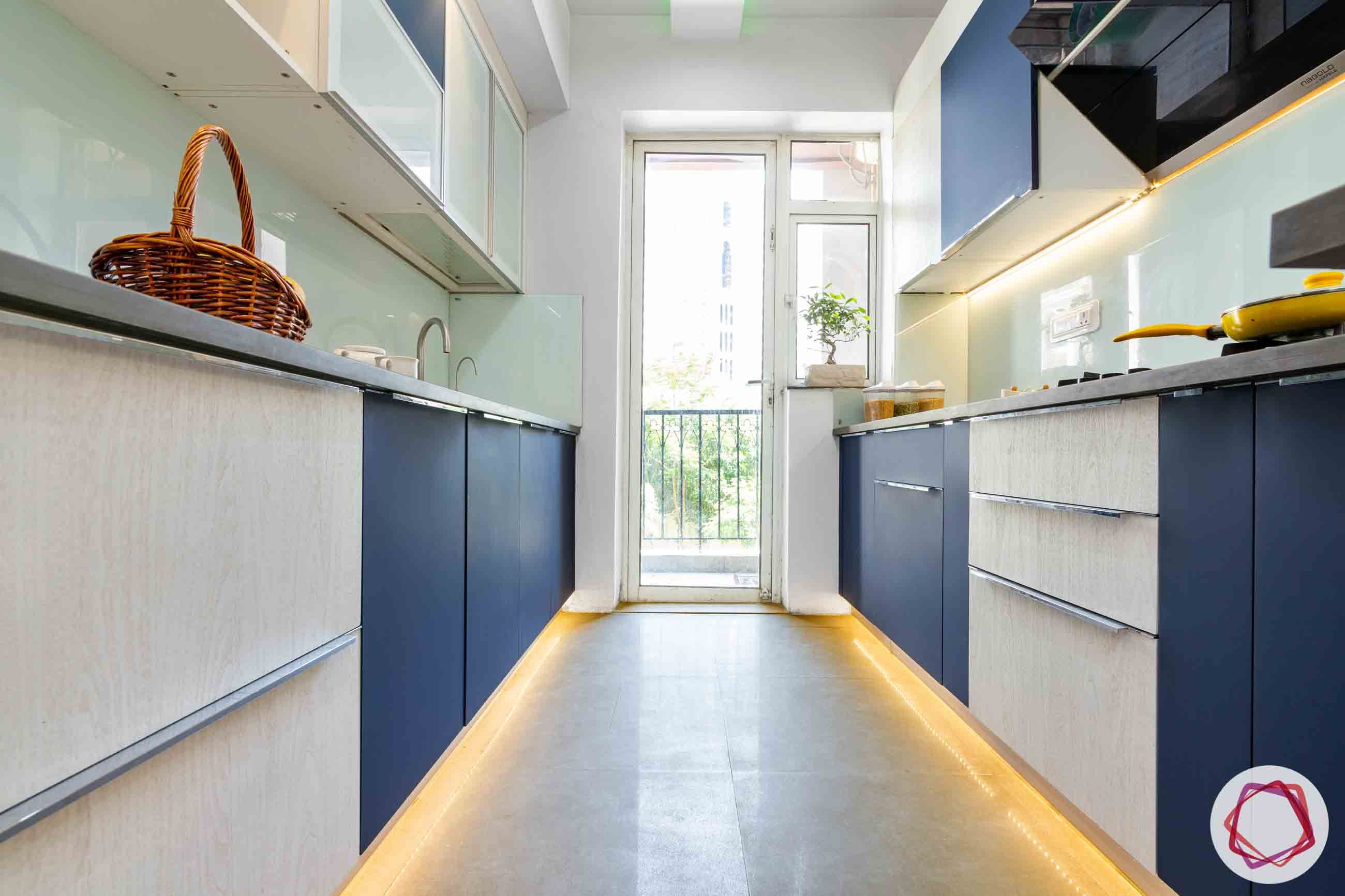 White and blue is a classic color combination and works well for anyone that wants a calm and tranquil aura in their kitchen. This home uses serene kitchen cabinet colors such as oxford blue and pearl white, in combination with a pale turquoise backsplash to lend a breezy look to the space.
Kitchen Colors #4: White + Navy Blue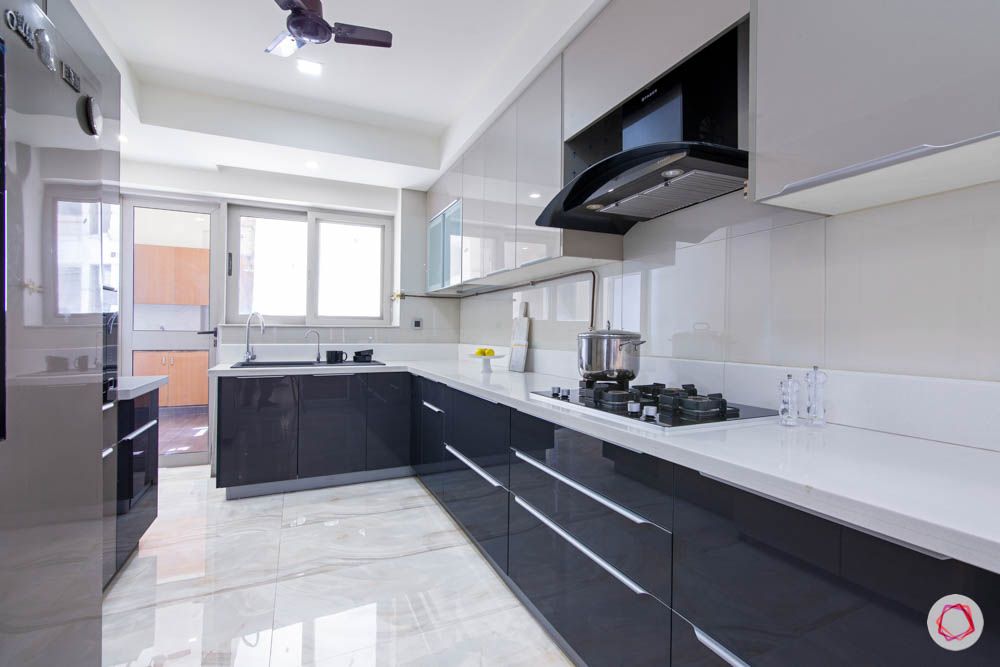 A palette of white and navy blue is one of the most flexible combinations of colors to work with. Take a leaf out of this daring creation with generous usage of blue, and still keep things light with wall cabinets, flooring and a countertop in different shades of white.
Kitchen Colors #5: White + Yellow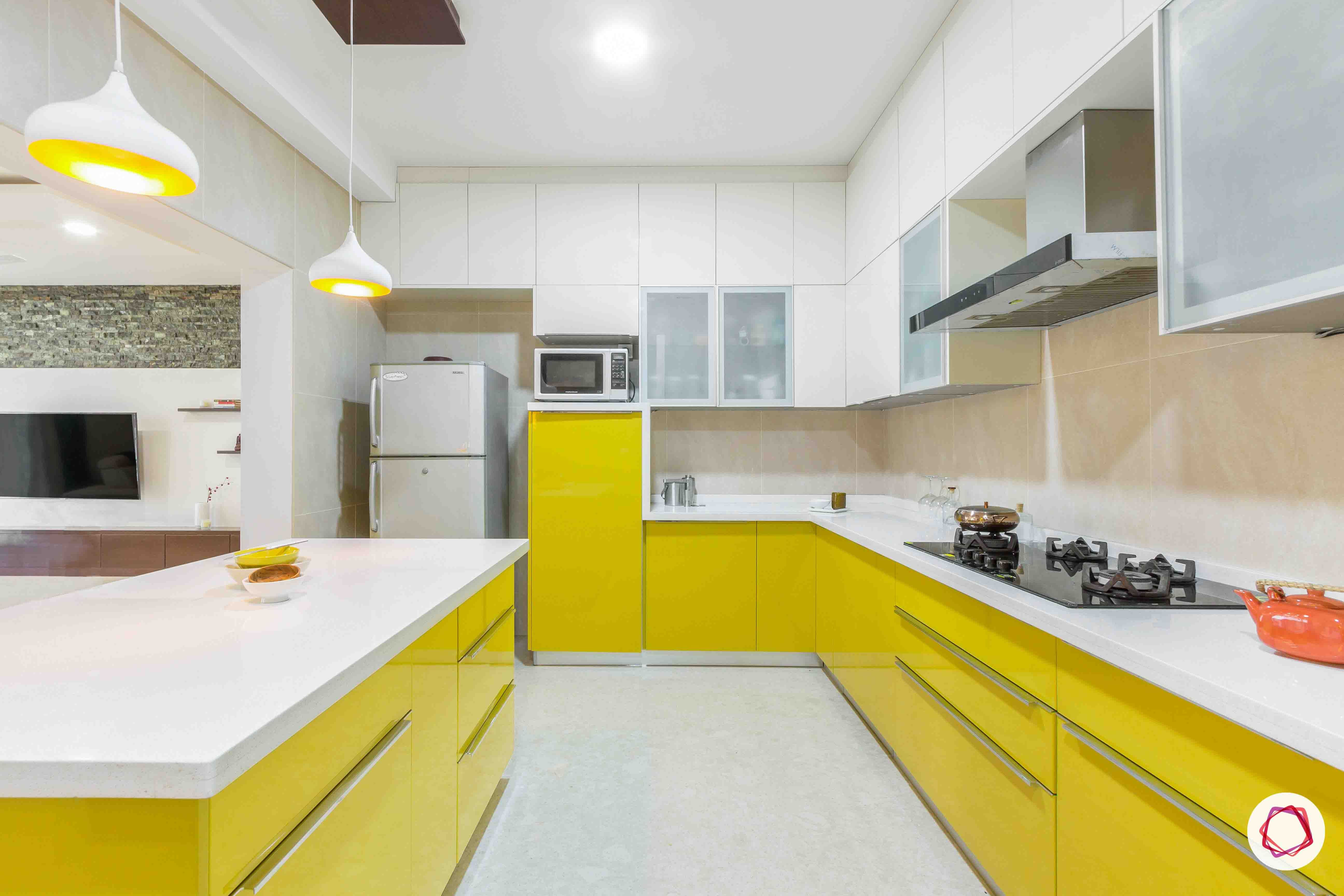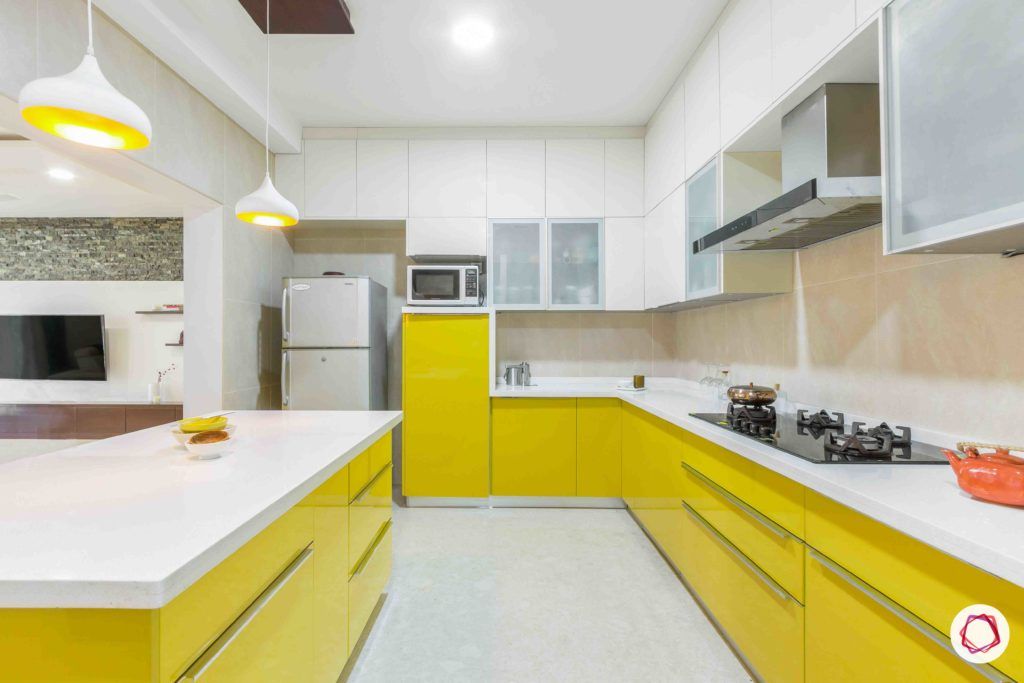 Use yellow to bring a bolt of energy into your kitchen. Studies have shown that the color yellow aids digestion and inspires feelings of optimism. This #LivspaceHome pairs yellow and white cabinet colors with complementary lighting for a permanently summery setting.
Kitchen Colors #6: White + Grey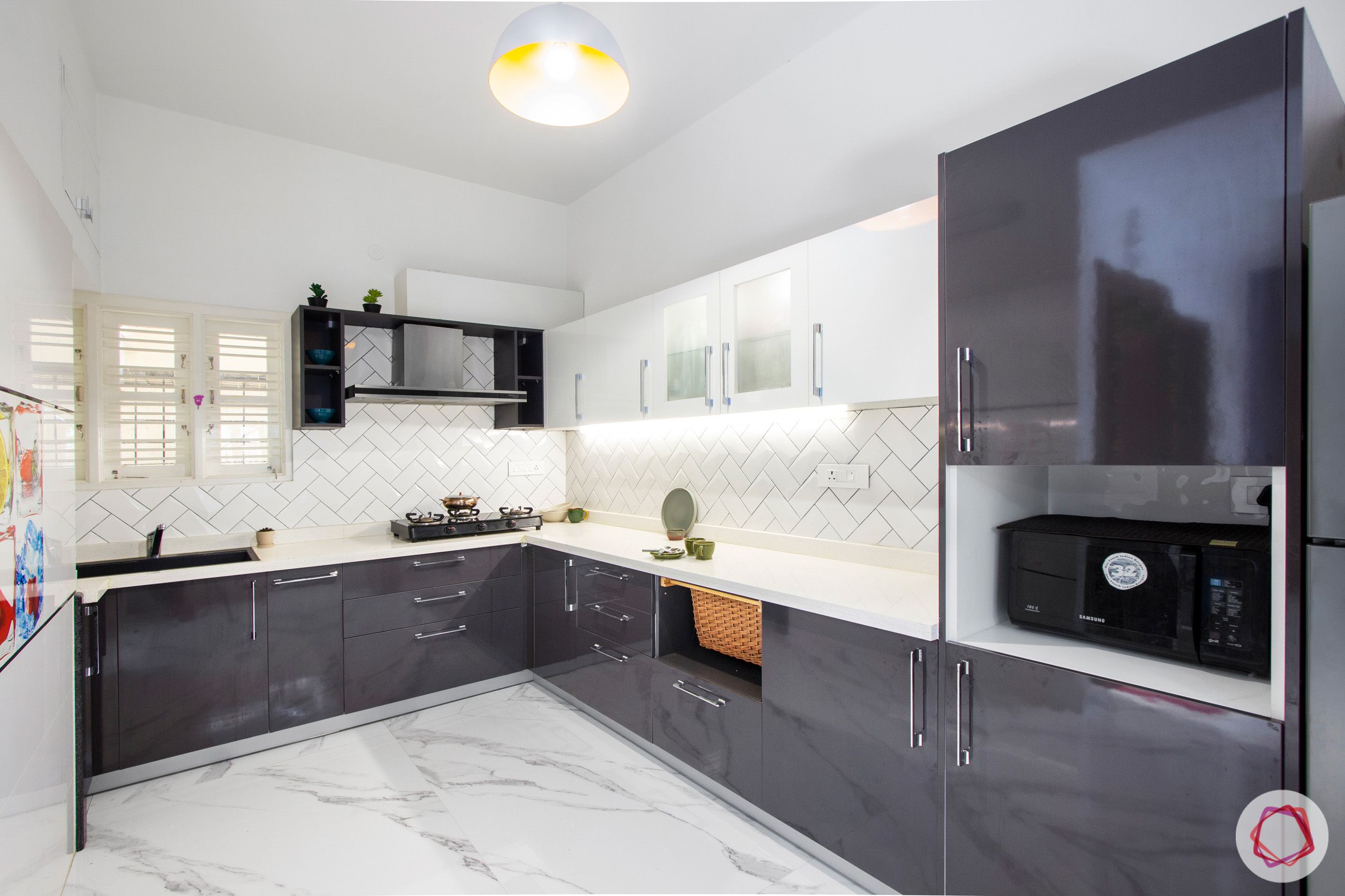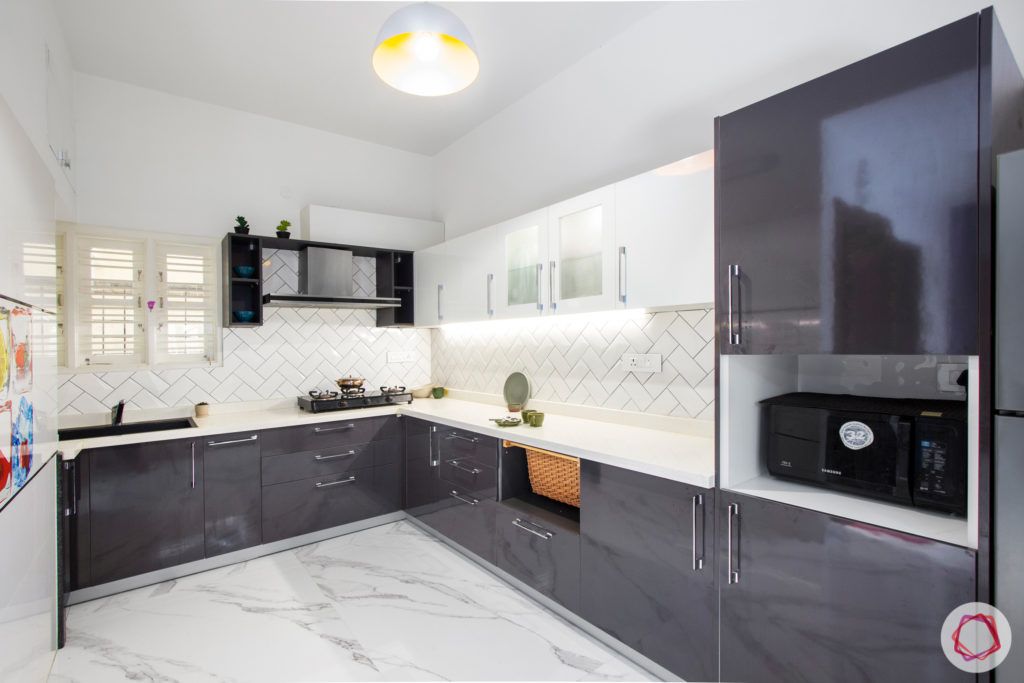 Dark colors may not work very well for a small space. However, with a slightly larger space, you can play around with dark colors such as these shadow grey cabinets that lend a sense of sophistication when used in combination with white. Use bright, pop-colored cookware in this kitchen for an energetic vibe.
Kitchen Colors #7: White + Wood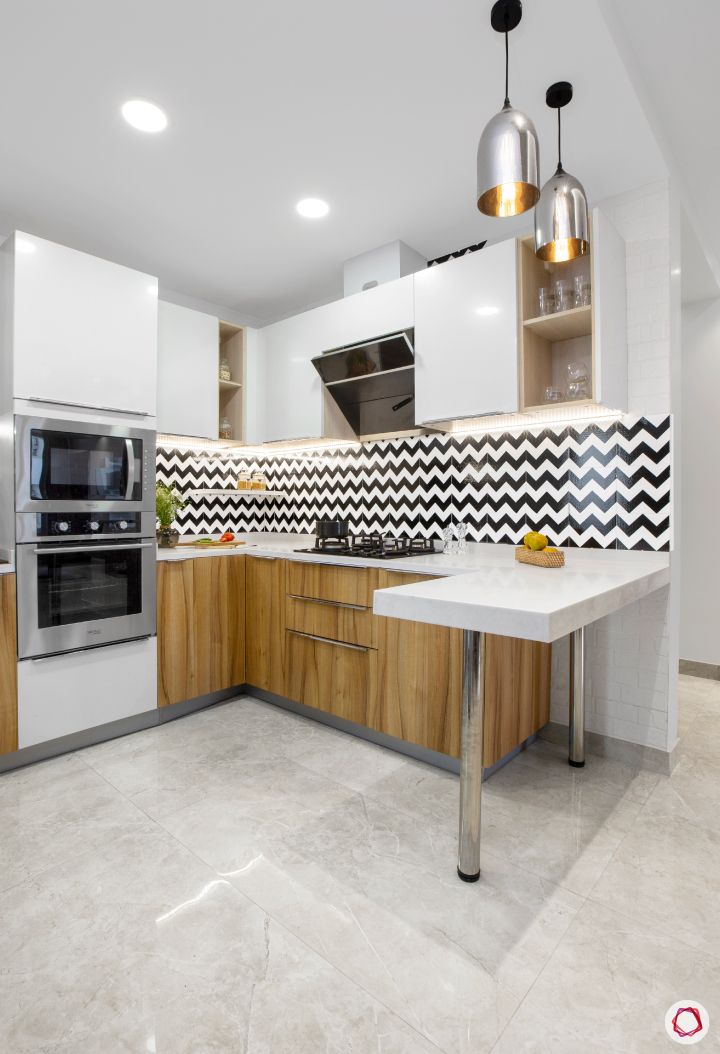 The timeless white and wood kitchen is reinvented in this #LivspaceHome that accommodates white and walnut-colored cabinets. It has a lively black and white backsplash and minimal instances of metallic elements. We can safely call it a gracefully bohemian space.
Kitchen Colors #8: White + Purple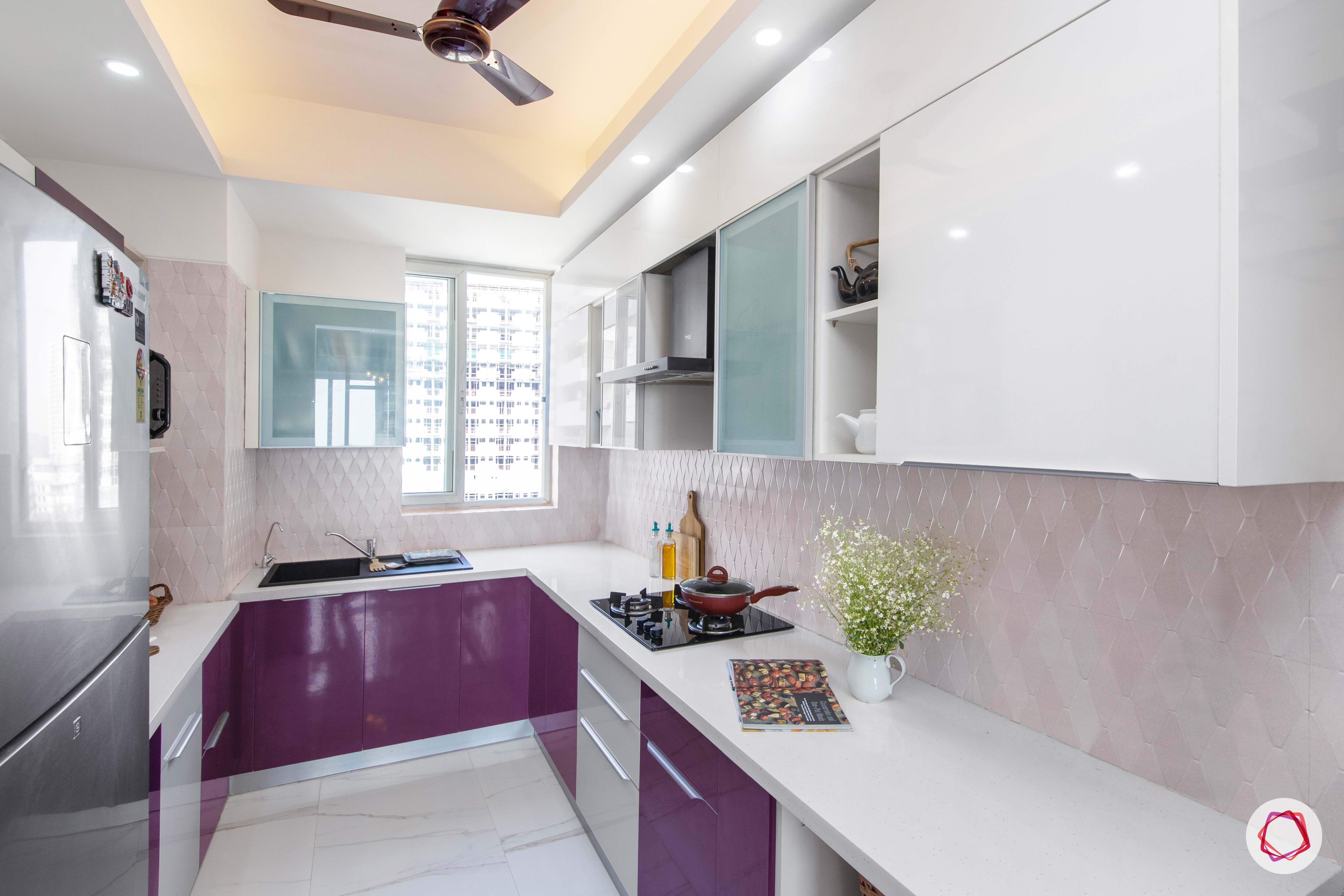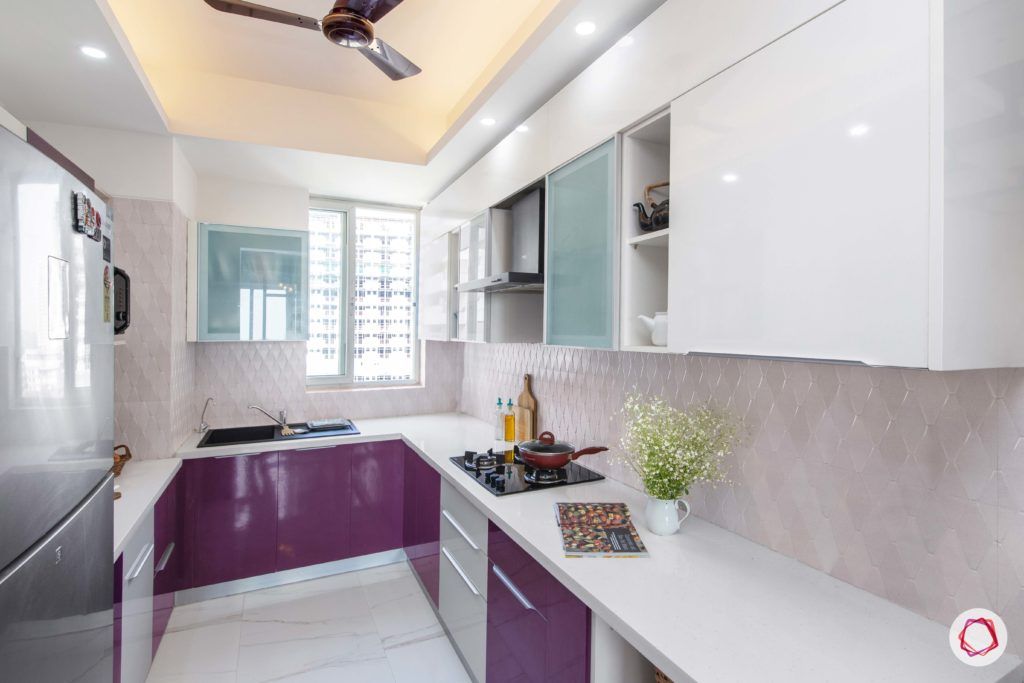 Often associated with creativity and luxury, purple is a favourite in the recent past for those willing to experiment with unique cabinet colors. This home combines the rich and dramatic color with white wall cabinets and a flamingo pink backsplash, to create depth and elegance within a small space.
Kitchen Colors #9: White + Beige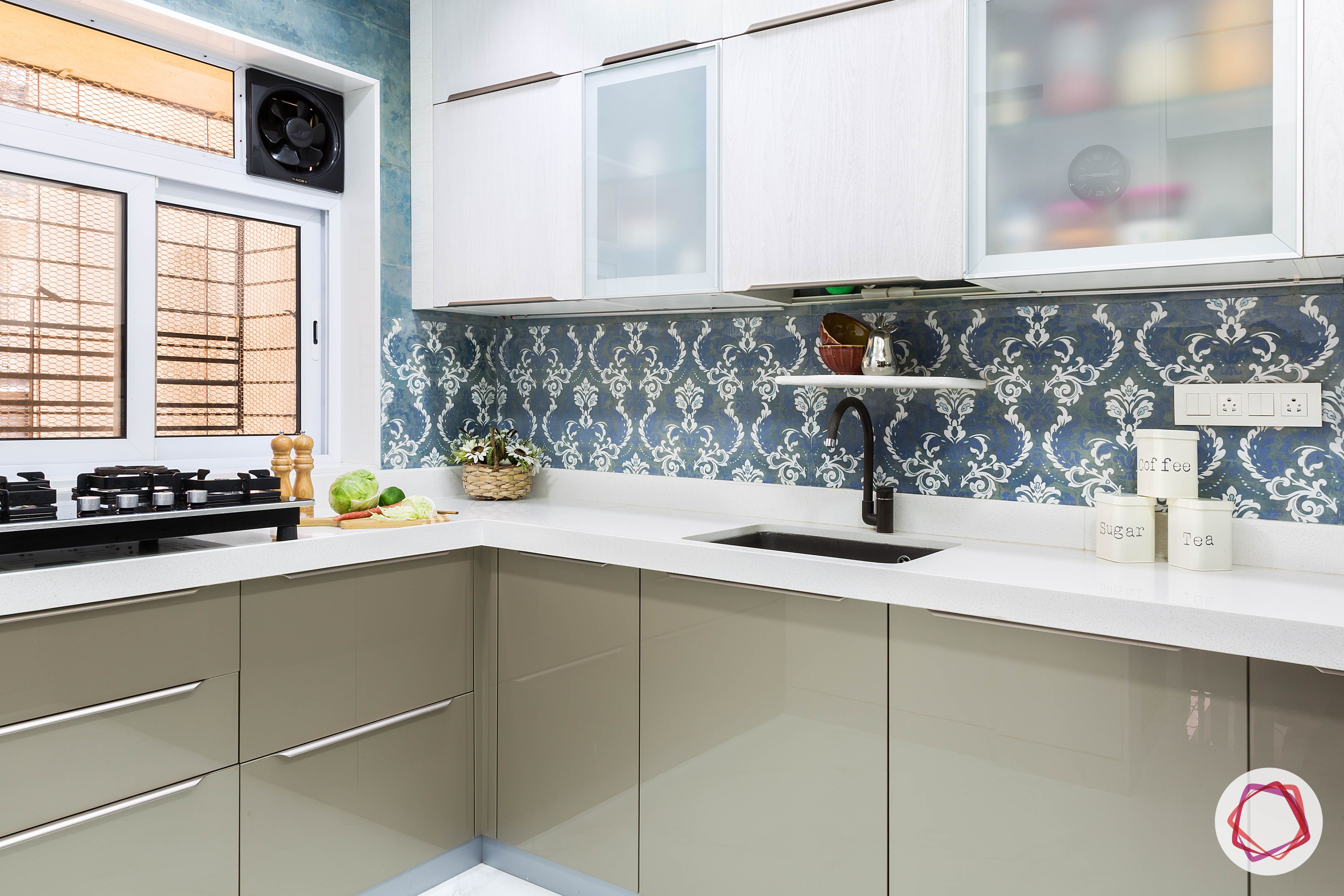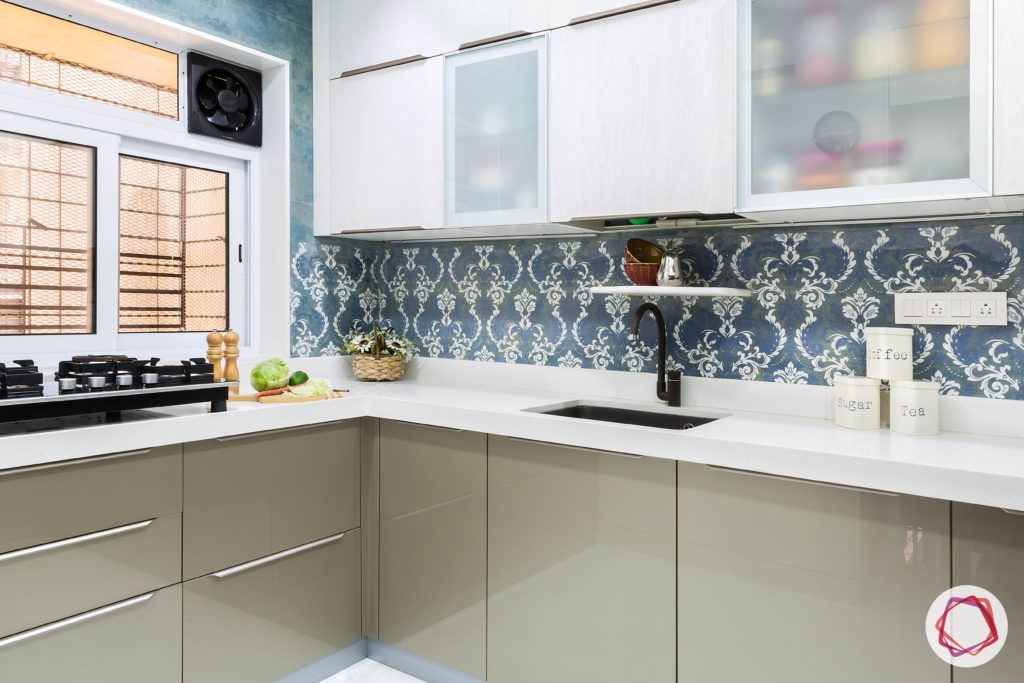 Metallic hues are the latest thing in when it comes to color schemes. Paired with a floral backsplash and a white countertop, a beige in glossy finish can summon a modern character to the kitchen while keeping the artistic sentiment intact.
Kitchen Colors #10: White + Mocha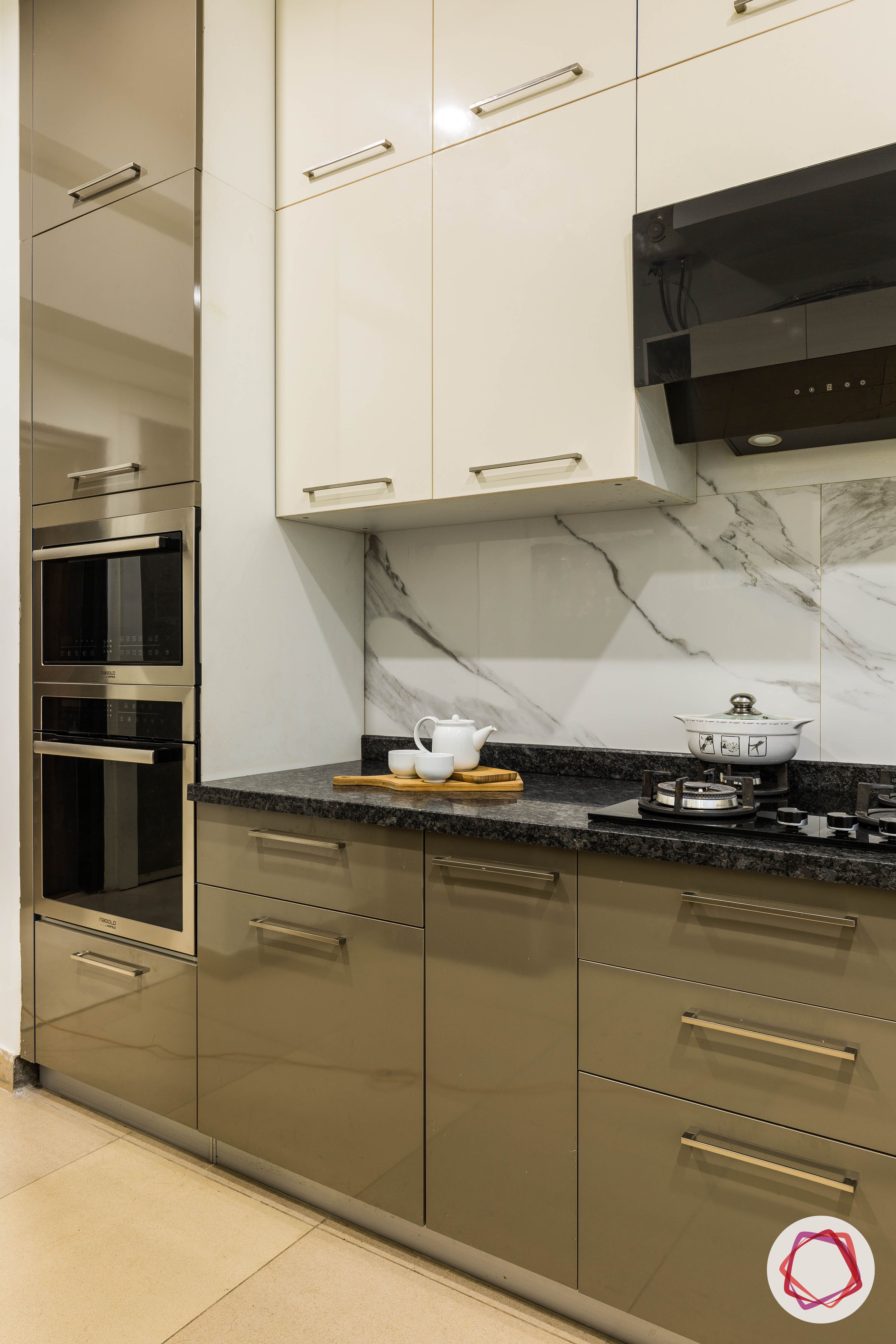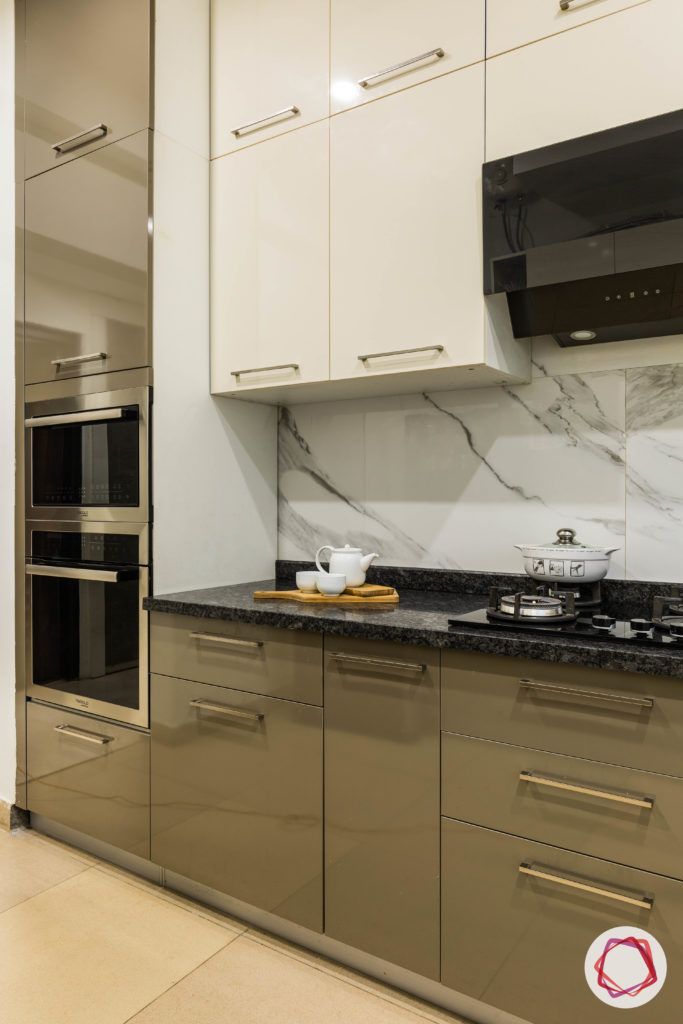 If you're not too fond of contrasting cabinet colors, you can keep things neutral with a rich mocha finish and ivory white cabinets, marble backsplash and a black countertop, to lend an elegant urban aura.
Check out more kitchen designs:
With the right color palette to suit your taste, you'll have a beaming kitchen in no time! Also check out How to Make a Small Kitchen Look Large.