Two-tone schemes have quite captured the contemporary kitchen design scene. Having a single color dominating the color palette in your kitchen might seem practical and orderly. However, playing with some color can add an interesting twist and bring some element of drama. A different hue, a combination of two shades or a playful contrast of two colors can pep up and add a personal touch to the look and feel of your kitchen.
With two-tone schemes, you will need to plan out the interplay of colors between your kitchen cabinets, walls, floor, countertops as well as your appliances. Here are a few quick pointers keep in mind for two-tone kitchen design:
Color Scheme
Clever use of color can transform any place from drab to fab. Contemporary kitchen design is all about colors: you can bring dead cabinetry to life with bright hues, or make the island stand out gloriously with a contrasting palette.
When selecting two colors, pay attention to how they work with each other. Choose a combination of a primary color (like red, blue, yellow etc.) and a neutral color (like white, beige, taupe, black etc), or maybe two contrasting colors on the color wheel, or even two neutral colors.
Common color schemes which are quite popular and look good are black and red (bold and stylish), blue and white (cool and fresh) or yellow and grey (bright and contemporary).
Combine Finishes
Along with two colors, mixing two different finishes can also be a good idea. Glossy cabinetry with matte finish walls and countertops will create an interesting interplay of textures. Selecting a different finish for the island can also result in a very elegant look.
If you have mosaic tiling on a wall, you can pull the same colors to cabinets to efficiently blend different finishes. Having all the cabinetry on one wall in a different finish from the rest of the kitchen can transform that wall into an accent wall.
Aim for Balance
Balancing colors and finishes is very important when you opt for two-tone schemes. Avoid using darker colors on higher cabinets, as they can be quite imposing and dominate the palette. Lighter shades on top and darker shades on lower kitchen cabinets will result in a more pleasant, roomy and clutter-free look.
If your kitchen is all white, an island in bold red can create a focal point. You could also create visual interest if you have all your cabinetry in a single color, with the backsplash in a contrasting color.
Colored kitchen cabinets also present a transition of sorts between the wall and flooring. For example, cabinets in warm and earthy hues act as a buffer between light colored walls and a dark floor.
Let's Look at a Few Kitchen Design Ideas Featuring Two-Tone Color Schemes:
When it comes to kitchen design, the classic oak and white palette is a favourite among many homeowners, since it straddles the fine line between country and contemporary. Off-white is judiciously used for the walls, shelves and appliances, maximizing natural light in this charming and spacious kitchen. The look is grounded with the lower kitchen cabinets and flooring rendered in a warm oak hue.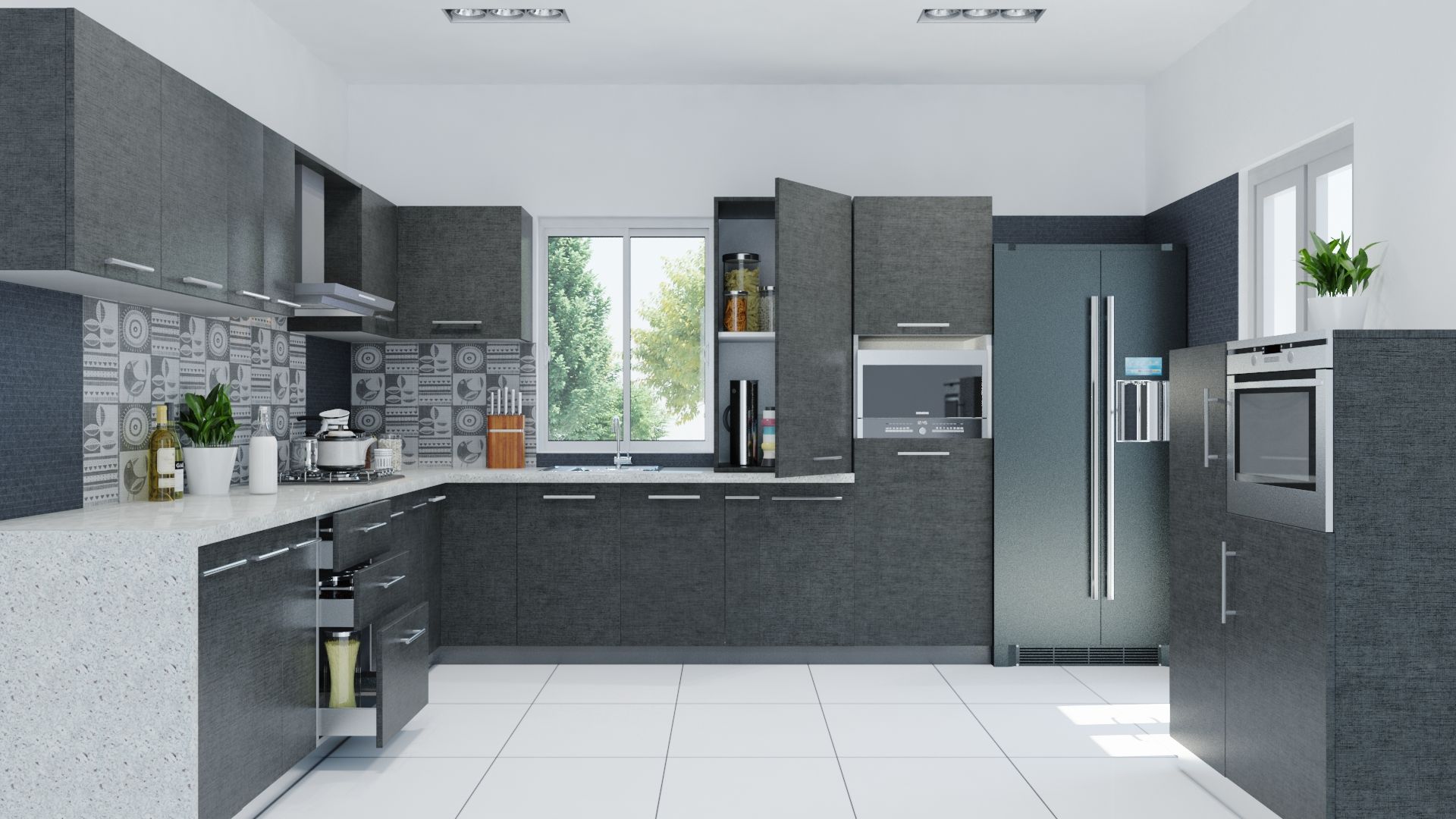 Elegant, calming and subtly stylish, a grey and white palette can work wonders for modern kitchen design. This well-coordinated kitchen features a solid grey tone on cabinets paired with muted white flooring. Expressive patterns on the tiled backsplash add a pleasing touch of complexity.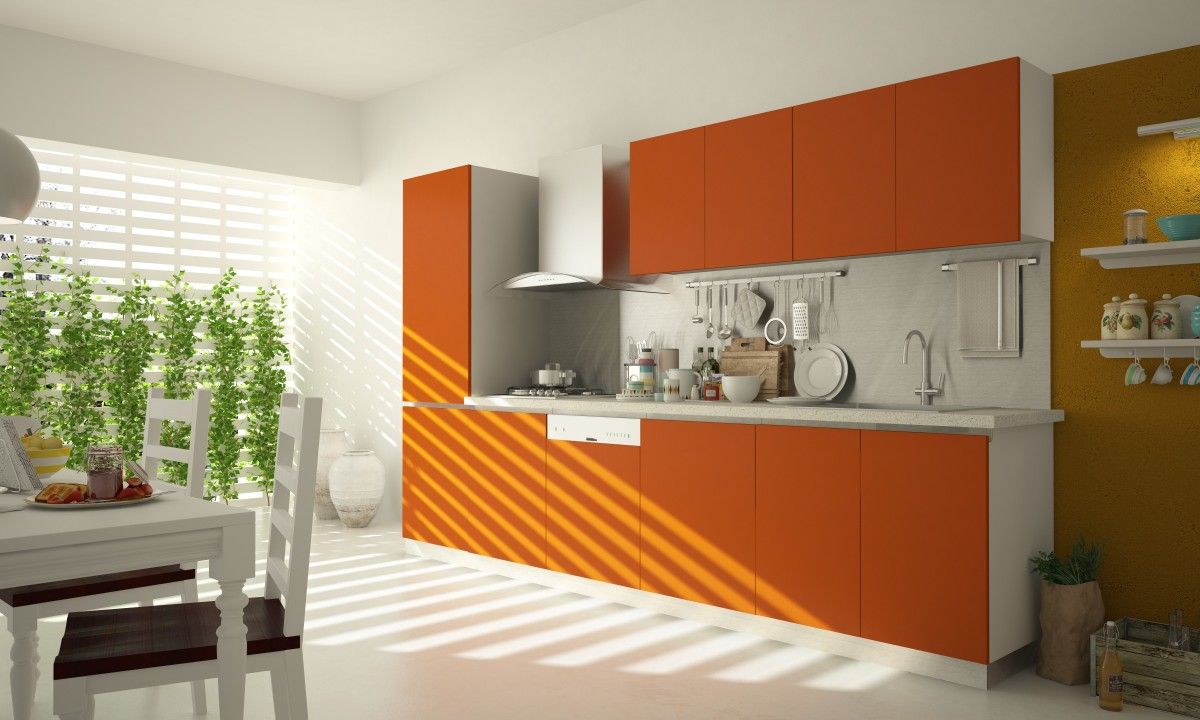 Spruce up neutrals with a dash of color. This pristine white kitchen is elevated with a splash of bold orange on the cabinets. Potted plants bring a refreshing natural vibe to this airy and open space.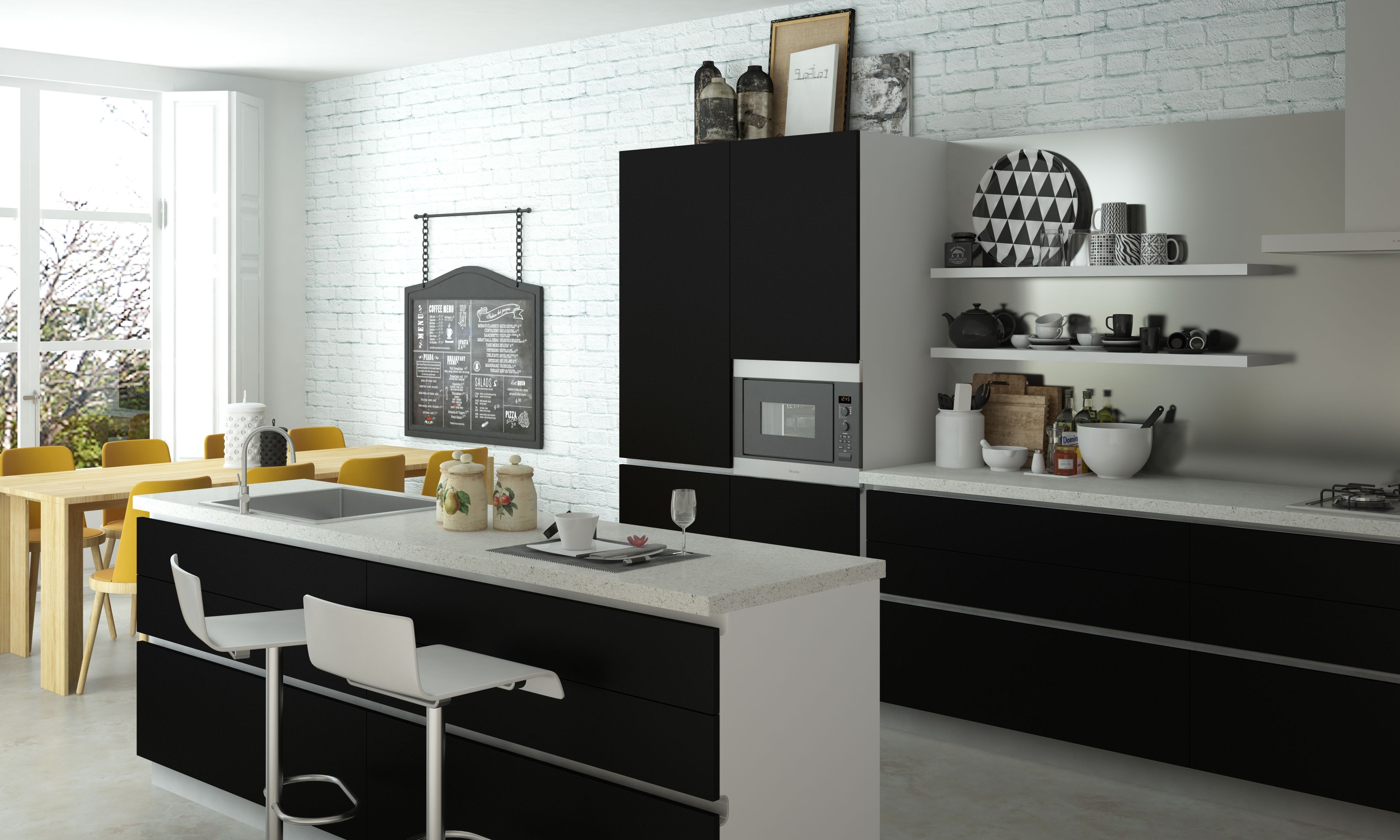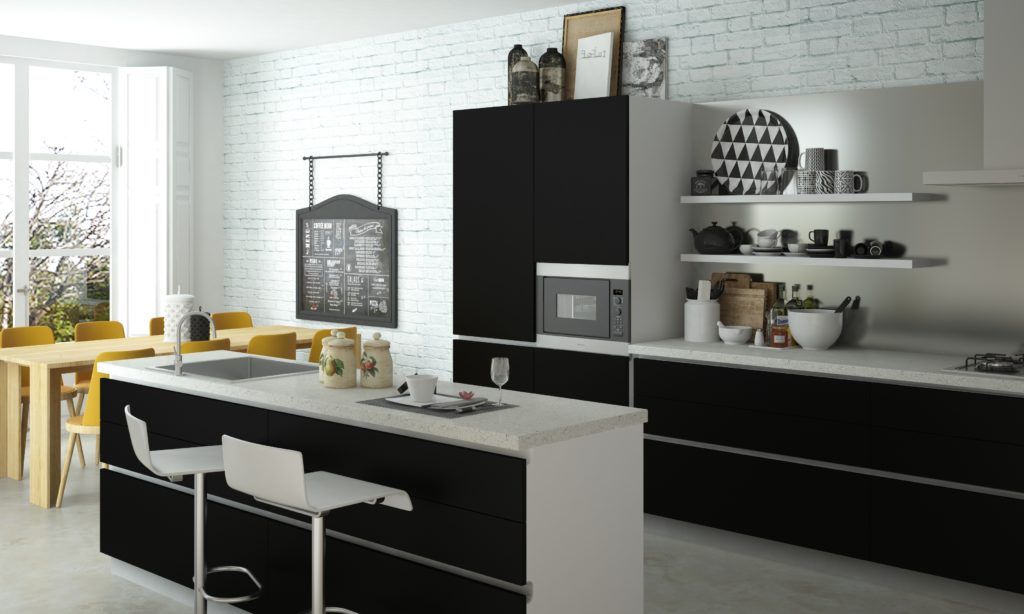 There's nothing quite like the classic black and white combination, and this kitchen is the perfect example of it! This is also a great way to balance colors. Black adds definition to the lower and side cabinets while white is used liberally on the countertops, shelves and walls for visual lightness
Bear in mind that a modern kitchen has great potential to serve as the most interesting part of the house. Use two-tone schemes imaginatively for a stunning kitchen where you can cook in style.