Designing a bedroom for your ageing parents requires special attention to color schemes. Conventional color schemes, that work well for the rest of the home may not work well in a room intended for senior citizens. As people age, their ability to see and perceive colors changes. Colors usually start appear less saturated and more dull to the eyes. Colors can also significantly impact moods, and choosing the right scheme can go a long way in keeping your parent comfortable and happy in their space.
If you are about to revamp your elderly parent's bedroom, here are three mood-enhancing color schemes that can create a pleasing ambiance.
Elderly parent's bedroom color #1: Warm colors with dark brown and white
Warm colors help create an atmosphere of coziness and security, which elderly people usually prefer. Rich colors like shades of gold, mustard, orange and yellow help bring in warmth and intimacy. Monochromatic palettes are not a good choice for a room for the elderly, since these schemes are difficult for the eyes to see. On the other hand, high contrasting color schemes work well for such rooms, since they can help senior citizens distinguish between different surfaces easily.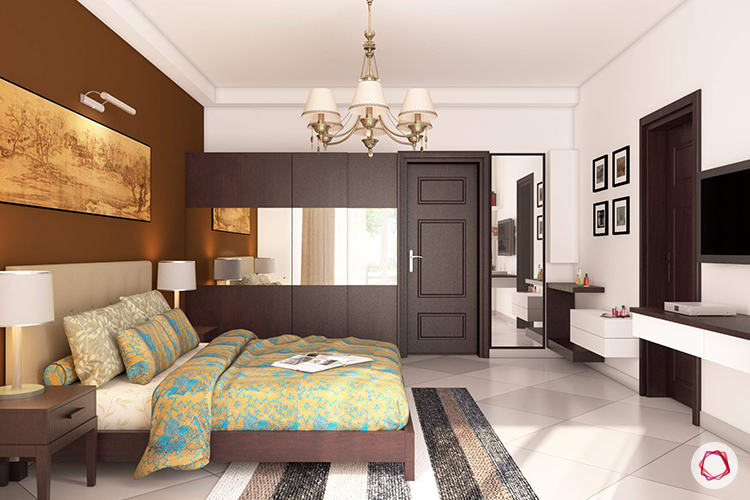 The color scheme above comprises a high contrast combination – the dark wood furniture is easily distinguishable against white walls. The deep amber-hued accent wall brings a generous dose of warmth to the bedroom and creates a clear, visually appealing focal point for the room.
Elderly parent's bedroom color #2: Yellow, oak and white
Elderly people can easily feel less active and depressed, especially if they are surrounded with pale colors. But bright and cheerful colors can help improve their moods and promote a sense of security. Another reason to incorporate a bright color in your parent's bedroom is that these relect more light, improving visibility.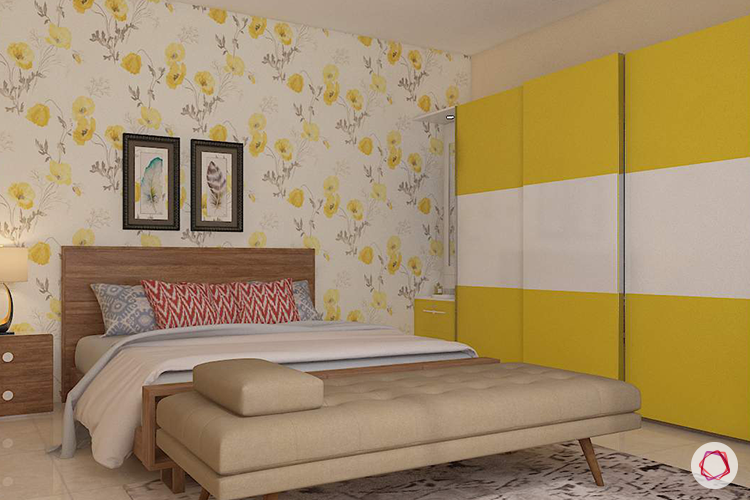 The color scheme above teams up canary yellow with a white and oak palette ,which together create a lovely combination. The vibrant dash of yellow brightens up the space and will eventually increase the energy levels of the inhabitants as well. Pleasing floral motifs add to the cheerful atmosphere.
Elderly parent's bedroom color #3: Lilac, brown and white
While elderly people tend to like classic pastel shades, light-colored hues can appear washed out to their eyes. However, high saturation colors will maintain their visual vibrancy. A bright, saturated pastel hue can add interest to a room while maintaining an overall soothing air.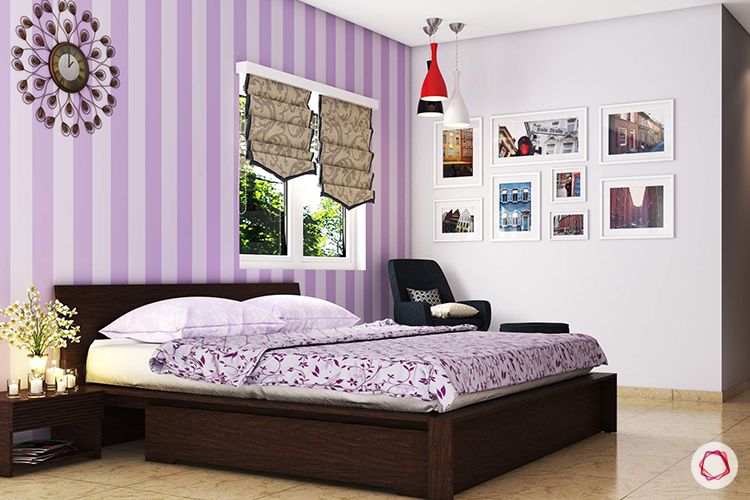 The color scheme above uses lilac paired with dark wood furnishings and cream flooring to add richness and depth to the room décor. Soft violets and shades of blue can also be used as they help people relax and can have a positive effect on their mood.
Use your parent's favorite color wherever possible to create a familiar, comforting atmosphere that helps them relax easily. With the right colors and a few carefully selected decor items, you can create a haven that they will cherish through their twilight years.
For more bedroom design ideas, check out: