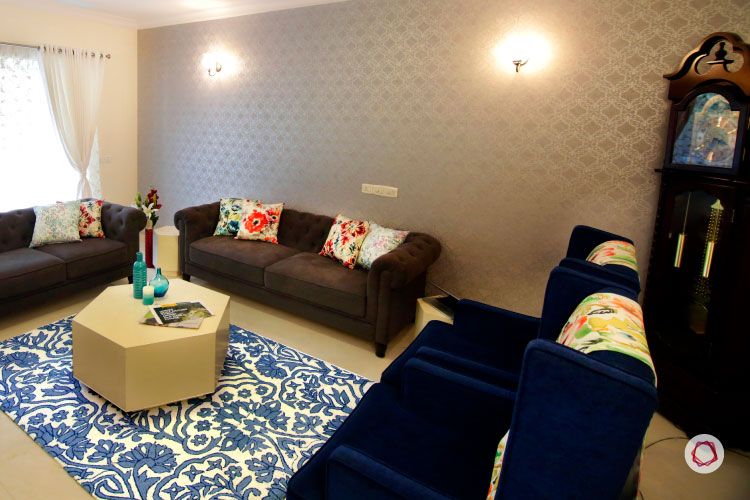 ---
Who livs here: Ayesha Asif with parents Syed and Nasreen Asif
Location: Salma Regency, Richards Town, Bangalore
Size: A 3 bedroom apartment spanning 1,430 sq ft
Design team: Interior designer Garima Shah with project manager Ramesh Babu
Livspace service: Living room, dining area and 3 bedrooms
Budget: ₹₹₹₹₹
---
Ayesha Asif had been running pillar to post looking for suitable furniture for their new three bedroom apartment in Richards Town when she literally stumbled across the Livspace Experience Centre (EC) on St Marks Road.
The Asif household was previously residing in Jayamahal.
Ayesha's mother, Nasreen, is an avid antique collector. She had carefully curated pieces that were older than her marriage. The big conundrum after the move was: how does the family match Ayesha's contemporary aesthetics to her mother's heritage-inspired pieces?
As Ayesha walked around the EC touching and feeling the products, she met Livspace designer Garima Shah. Over the next three months, Garima worked around the antiques of the Asif home and incorporated modern, clean lines to cater to Ayesha's more au courant requirements.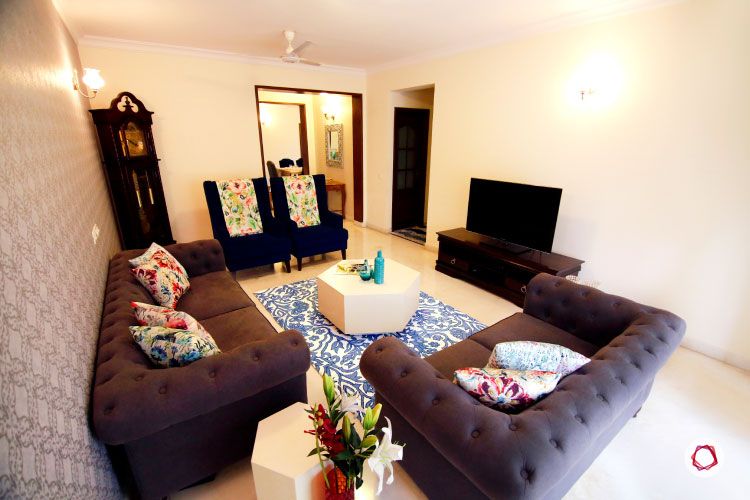 ---
Slate grey sofas are complemented by royal blue accent chairs and a grandfather's clock that reeks of old-world charm.
---

As you stroll through this quaint apartment, you are welcomed by a snug living room that boasts of contemporary and heritage-inspired design aesthetics. There's a stark difference between the quirky hexagonal coffee table and side tables set and the vintage TV unit and clock.
We love how Ayesha and Garima played their cards right rounding off these unique elements with a Moroccan-inspired rug and matching wallpaper.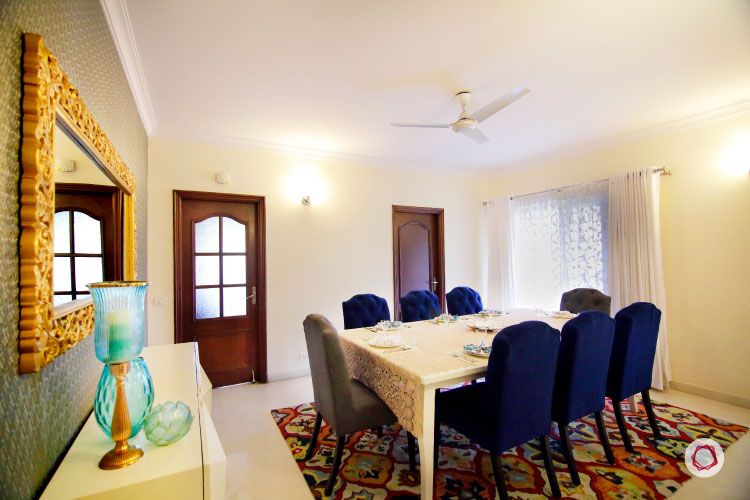 ---
Dreamy drapes, a crisp white dining table, an ornate mirror and wonderfully tufted dining chairs come together to make a statement.
---
Although the Asif family believes in keeping things simple and stylish, you cannot miss the little details that every room is infused with. This dining room stands out with a gold ornate mirror on the wall and a Moroccan-inspired rug that brings a much-needed touch of color.
Through clever repetition, Garima maintained a combination of slate grey and royal blue for the upholstery.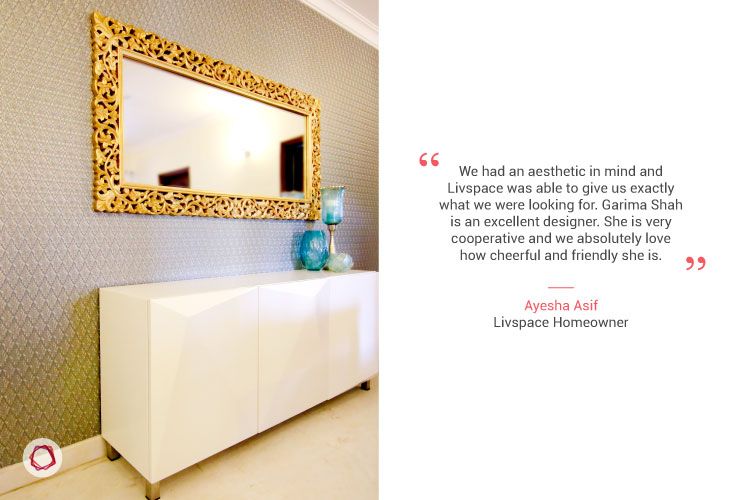 ---
The intricate gold-hued mirror takes centre stage in the dining room with an alluring silver grey wallpaper as the backdrop.
---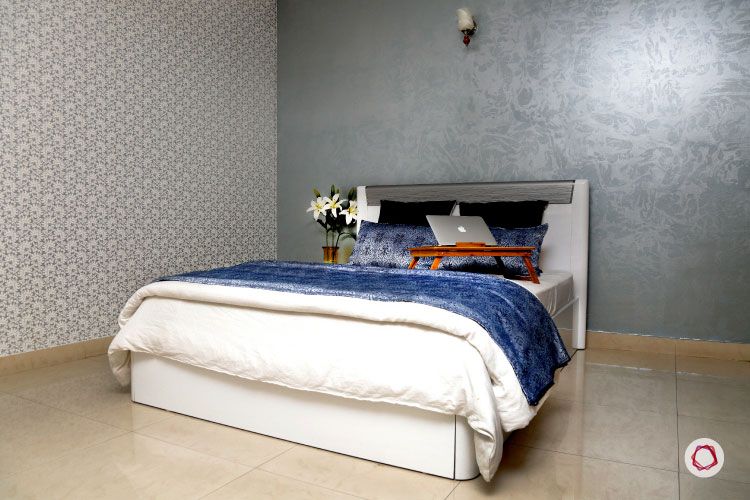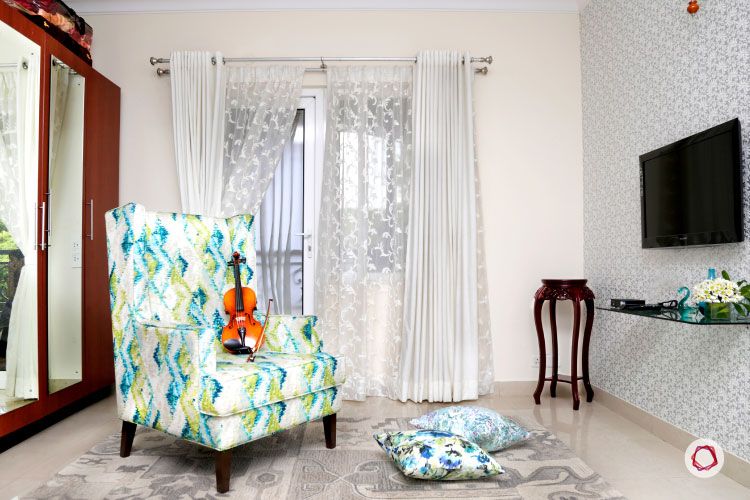 ---
Ayesha's room looks like a scene just out of a movie; dreamy white sheer drapes and a printed upholstered accent chair.
---
Ayesha's blue and silver bedroom had our hearts fluttering. An accent chair allows Ayesha to laze around with a book or an instrument to play her way to contentment. A neutral rug and wallpaper keep things simple.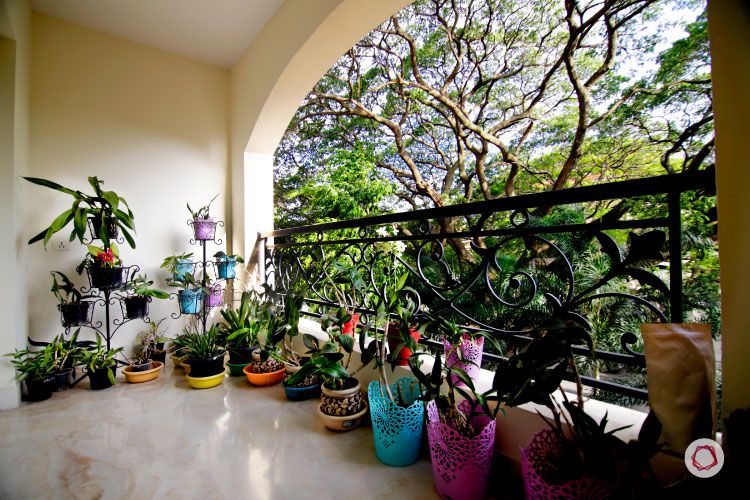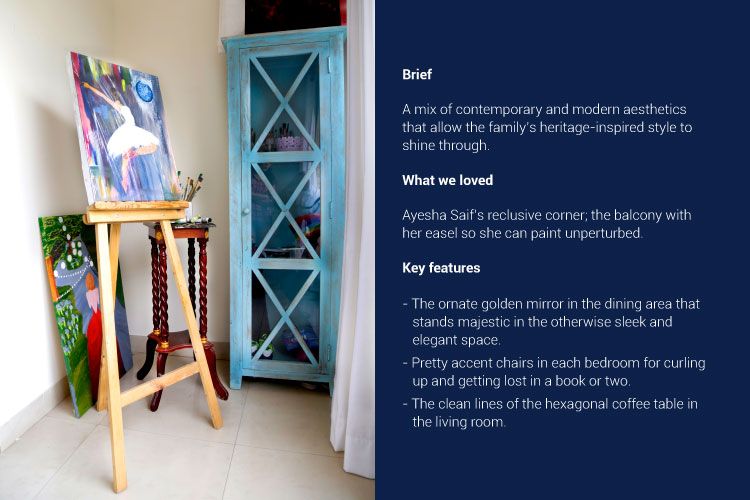 ---
Ayesha's favorite spot in the house is her balcony. She treasures her time alone and prefers to spend it in front of the easel.
---
Ayesha naturally comes across as someone who is artistic with a very refined taste. But she recently developed a love for painting on canvas, and she insisted that she should have her very own little studio in her balcony. The powder blue storage cabinet ensures her painting supplies are all in one place.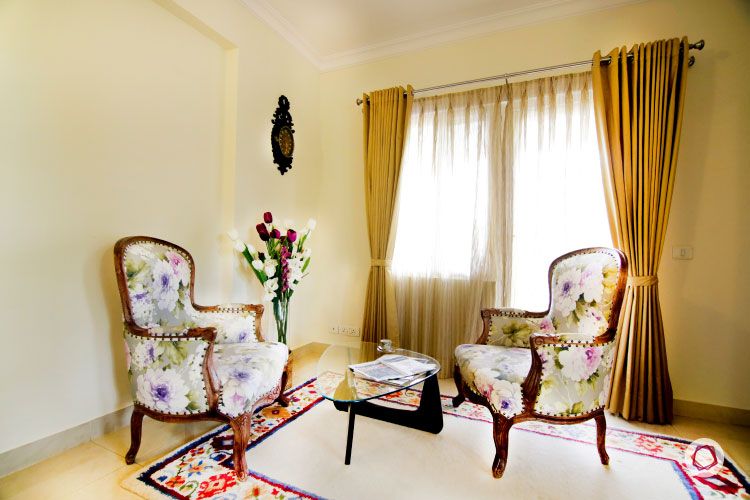 ---
To highlight the parents love for all things grandiose, Garima chose gold-hued drapes to create a stunning backdrop.
---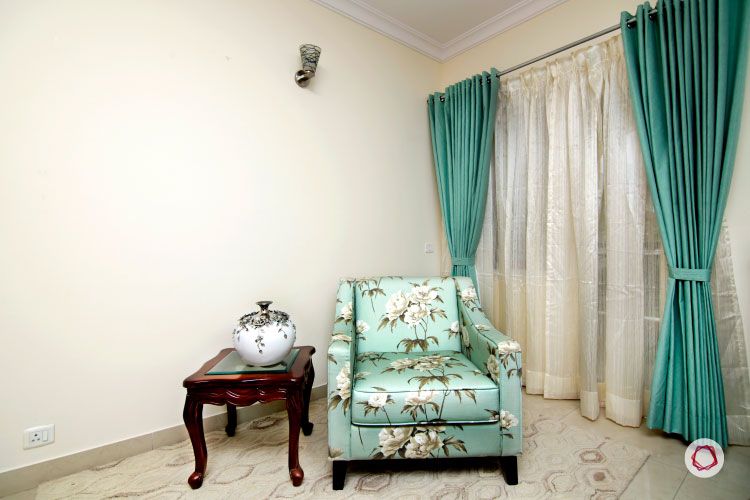 ---
Ocean blue-green hues run through the brother's room. Syed Umar isn't a permanent resident of the house but he feels at home in his new bedroom.
---
Given Nasreen's love for all-things-antique, it wasn't surprising that Garima gave them curvy accent chairs upholstered in florals. There is something so calming about Ayesha's parent's room that it leaves you wanting for more. To give the room a regal aura, gold-hued drapes were installed, while the heritage wall clock adds a touch of drama. The rug ties in all the details and adds a dash of color to this otherwise simple and elegant room.
In Syed Umar's room, who is Ayesha's brother, an accent chair with a pretty floral print sits comfortably by the window. We love how Garima played with hues of the ocean and completed the look with a simple rug and layered drapes.
---
"It was lovely to work with Ayesha Asif since she has impeccable taste. She was very clear when it came to color schemes and design details. She wanted a mix of contemporary and a heritage-inspired look, so I gave her a pretty amalgamation of the two."

– Garima Shah, Livspace Interior Designer