For a family of three looking to transform their new apartment into a gorgeous conversation-starter, Livspace designer Charanjeet, with her team of interior ninjas, achieved the feat, and that too on a budget. Kavita got herself a home that serves as a beautiful canvas where she continues to add her personal touches.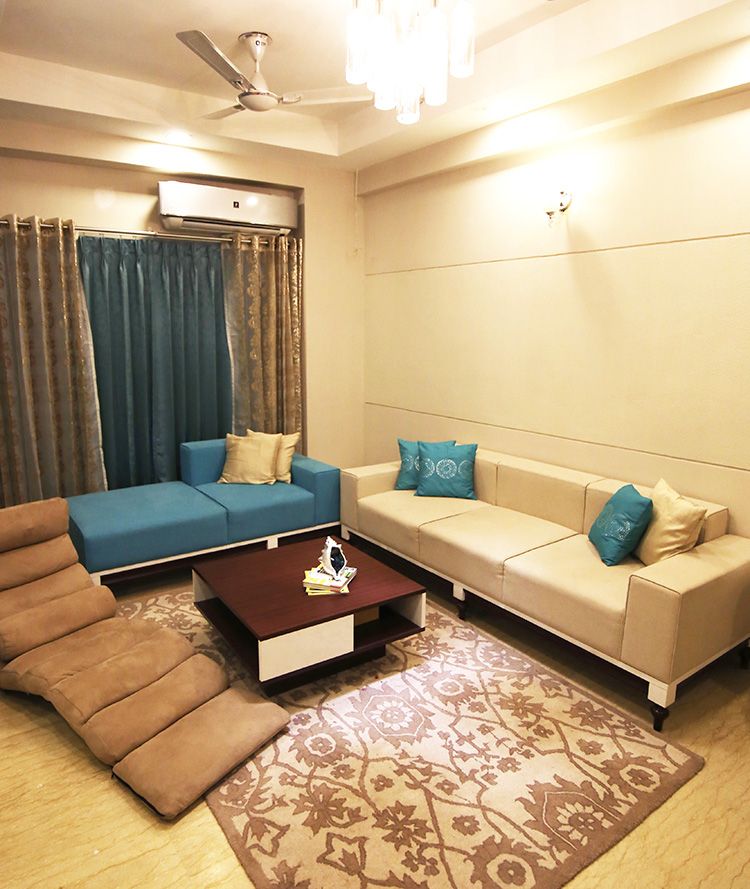 ---
Who livs here: Kavita Sachdeva with her husband Prashant and daughter Trisha
Location: Noida
Home type and size: A 3-bedroom apartment spanning over 1,050 sq ft
Design team: Interior designer Charanjeet Kaur with project manager Sudhansh Daga
Livspace Service: Full Home Design save one bedroom
Budget: ₹₹₹₹₹
---
An IT professional, Kavita Sachdeva always had a taste for good design and passion for beautiful interiors, so much so that she decorated her previous homes on her own, shopping at local markets and dealing with labourers by herself. But now, as a wife and a working mom to the lovely 4-year old Trisha, she wanted a convenient but stylish alternative to design her new home in Mahagun Moderne, Noida.
Six months and six get-togethers later, Kavita is elated with all her friends and relatives going gaga over her home's interiors. She mentions how it surprises her guests that this beautiful home was designed so easily and in her budget. She did none of the running around, had an interior designer work with her for no added cost and got a ready-to-move-in home in just twelve weeks. And it all simply started with her coming across Livspace on her Facebook feed.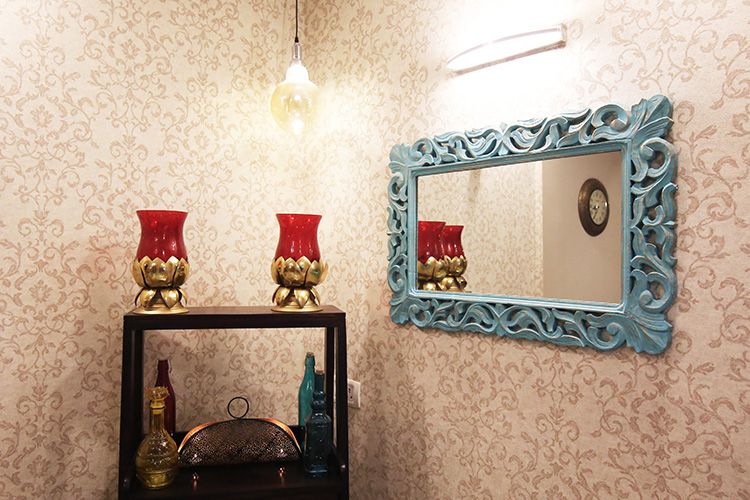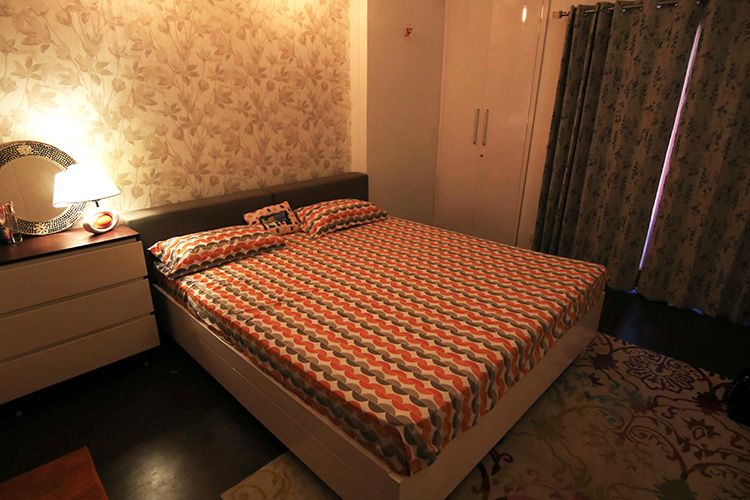 With a new-age open layout plan, the living and dining room is the first thing that one sees when you enter the Sachdeva's home. Designed with a neutral theme, the damask wallpaper and luxe furniture gives the dining area a regal appeal. The adjacent space is brightened up with pops of turquoise in the form of an accent sofa and curtains, matching the intricate mirror at the bar. The living room is the spot that Prashant, Kavita's husband, loves the most, while their mini bar is always the conversation-starter at the parties that the family hosts. Livspace designer Charanjeet Kaur even designed a focus wall in the living room featuring a real guitar, an instrument that has always fascinated Prashant.
Kavita and Trisha love the master bedroom the most as it is there that they spend the most time with each other, and it is also home to their five Australian parrots. Trisha's room, complete with an adorable owl-and-rabbit wallpaper, is her friends' and cousins' favourite. It's here that they play, laugh, have innocent quarrels and make beautiful childhood memories. Even so, by design, Charanjeet ensured that the room was not very childlike for it to remain relevant even as Trisha grows as well as be appropriate when being used a guest room.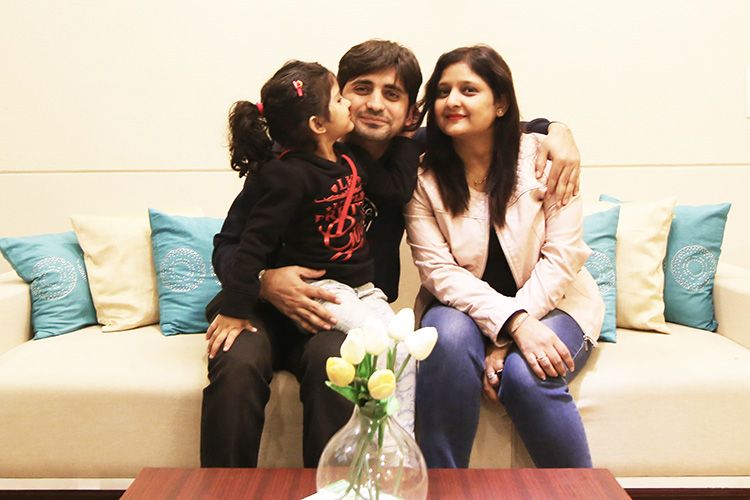 ---
" It was wonderful working with the Sachdevas. Kavita's taste and involvement helped shape up the home's theme. However, the beams and columns of the apartment were a challenge to tackle, as they appeared in tricky places in the rooms, affecting focal wall choices, wardrobes and more."

-Charanjeet Kaur, Livspace
---
So what's next? Kavita's passion for beautiful, happy homes is far from over. She still adds to her haven whenever she can and the next addition, she reveals excitedly, is going to be a vivid artwork hand-picked by her husband on a recent trip to Vietnam. And it's meeting her that we truly realize that indeed home is where the heart is.