This home at Jaypee Greens Noida is as grand as it gets!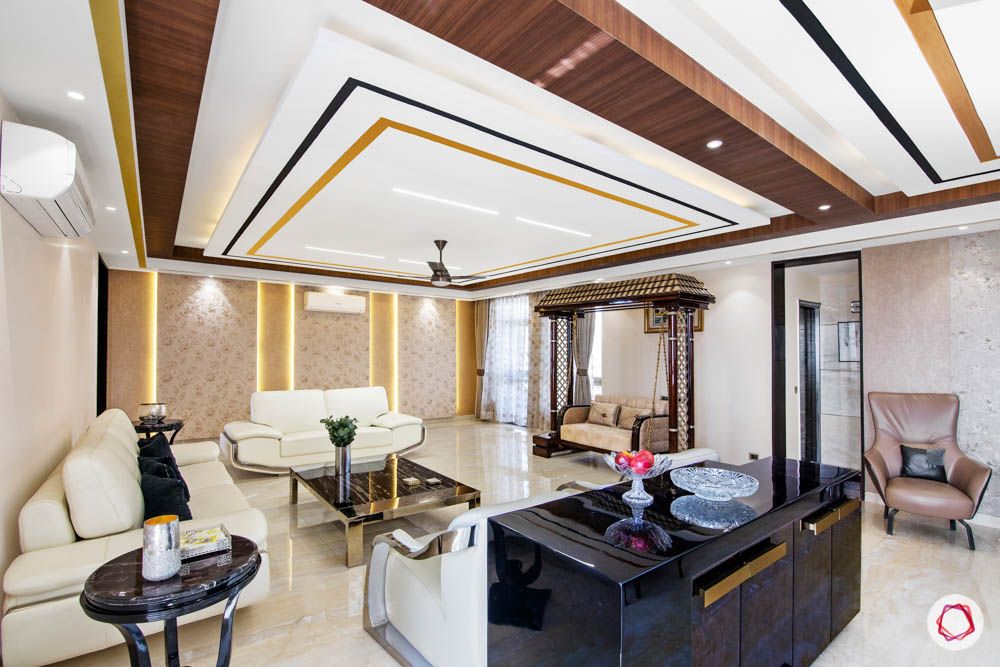 ---
Who livs here: Kavita & Suresh Bhatia
Location: Imperial Court, Jaypee Greens, Noida
Size of home: 4BHK spanning 4,000 sq ft approx.
Design team: Interior Designer Yashasvi Guleria and Project Manager Sandeep Jain
Livspace service: Full home design
Budget: ₹₹₹₹₹
---
Palatial, plush and yet playful at times, this home in Jaypee Greens Noida belongs to an elderly couple, Kavita and Suresh Bhatia. The couple have grown sons who are settled abroad, so they have this whopping 4,000 sq ft apartment all to themselves most of the time. For some people, a lack of space prompts families to seek an interior designer for proper space optimisation. In this case, too much space that needed structuring called for a deft hand at designing. Livspace designer Yashasvi Guleria was more than happy to step in and offer her expertise.
Following a few critical design changes stemming from insights provided by Kavita, this 4BHK in Jaypee Greens Noida is a sight to behold. Let's walk you through this one of a kind home that will give you major design goals!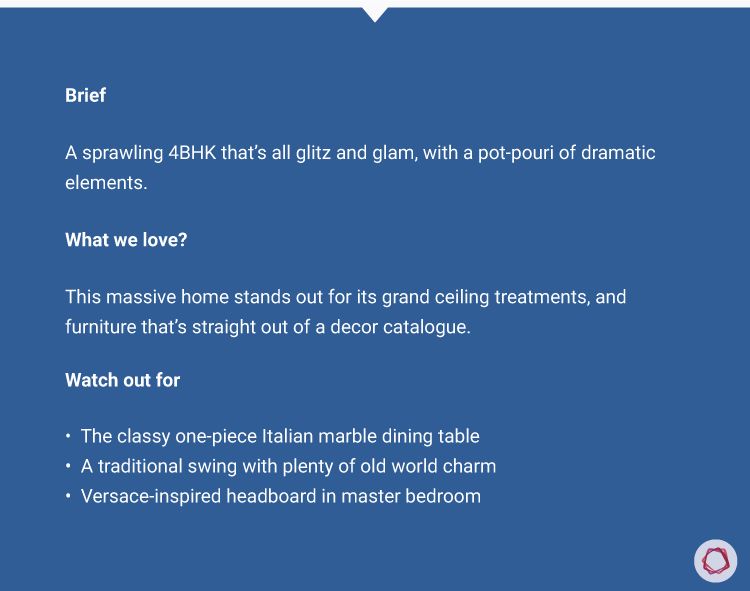 Welcome Tricks at Jaypee Greens Noida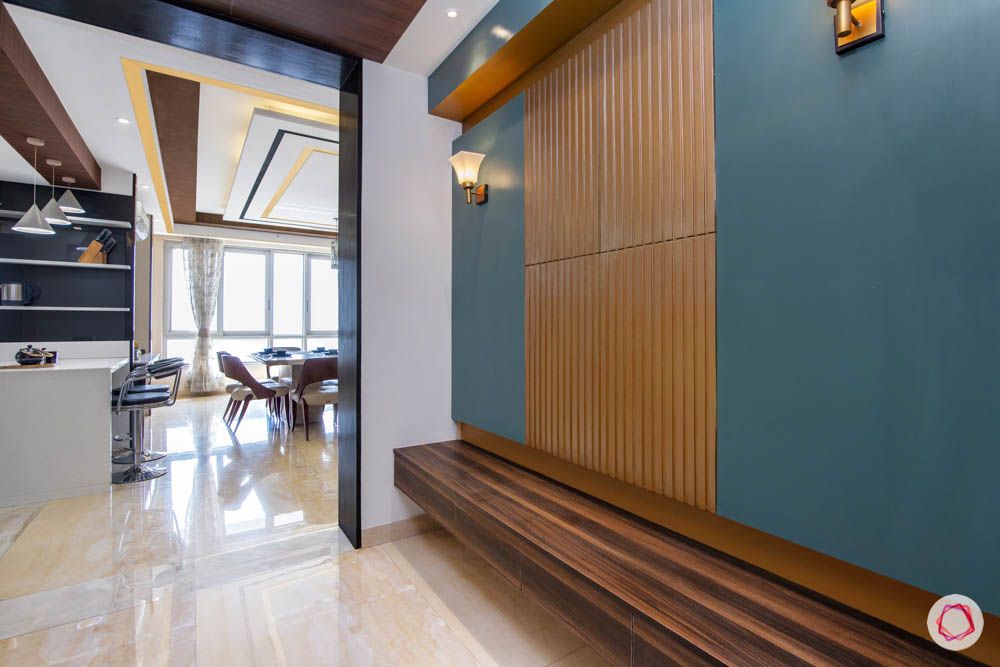 Since the living room has a formal setup, Kavita wanted the foyer to have a casual seating option for a touch of balance. So Yashasvi added a wall-to-wall wooden bench, lending an air of privacy to this home. Also, she cleverly covered up the main switch board in the foyer with MDF panels. In addition, we loved the onyx tile details replicated on the wall to match the floor.
Fancy & Formal Living Room at Jaypee Greens Noida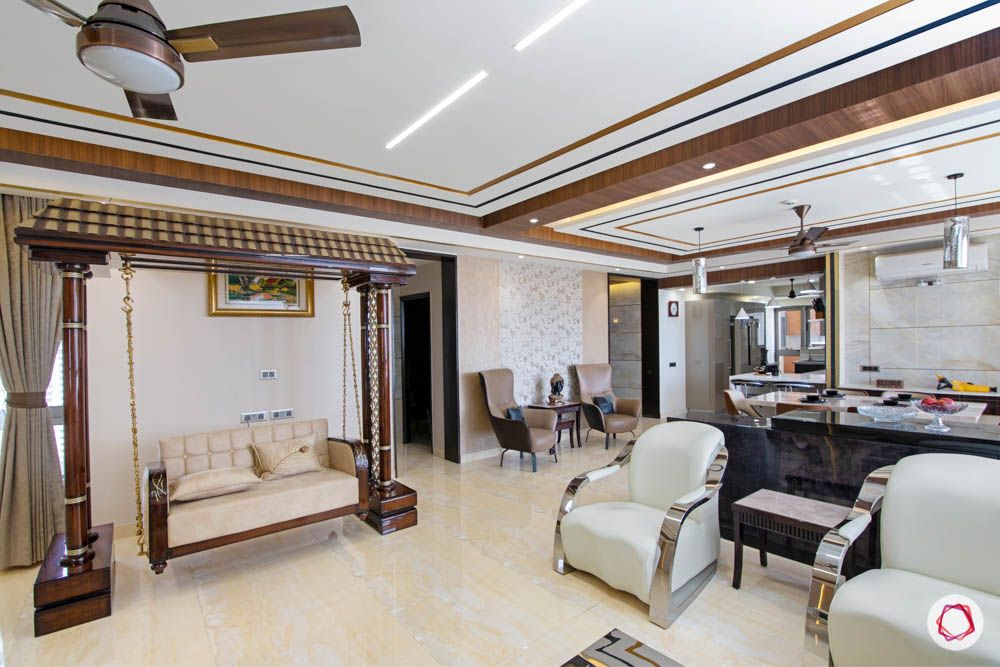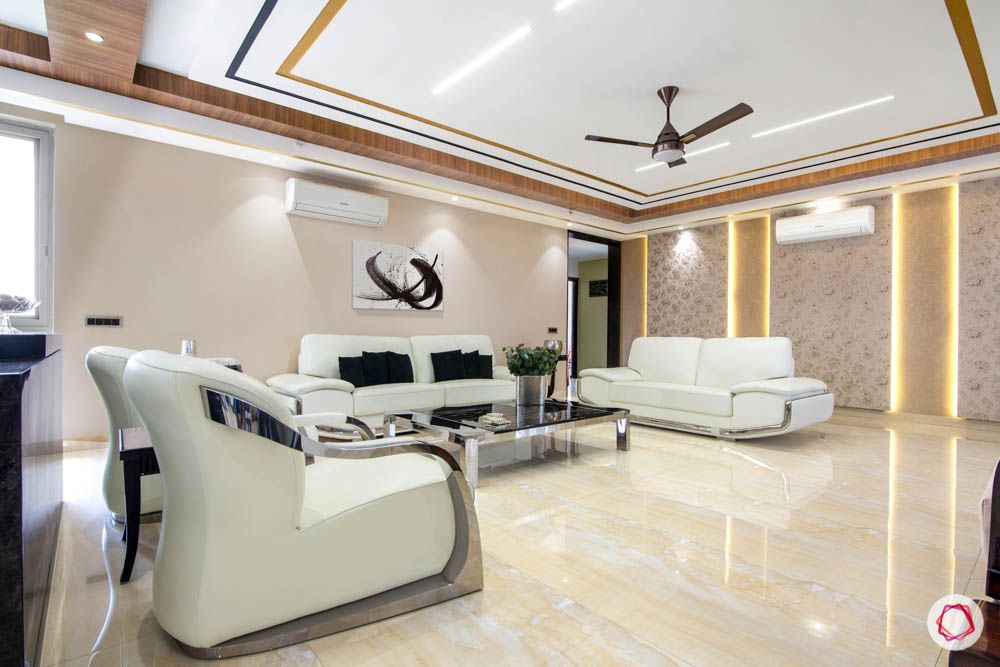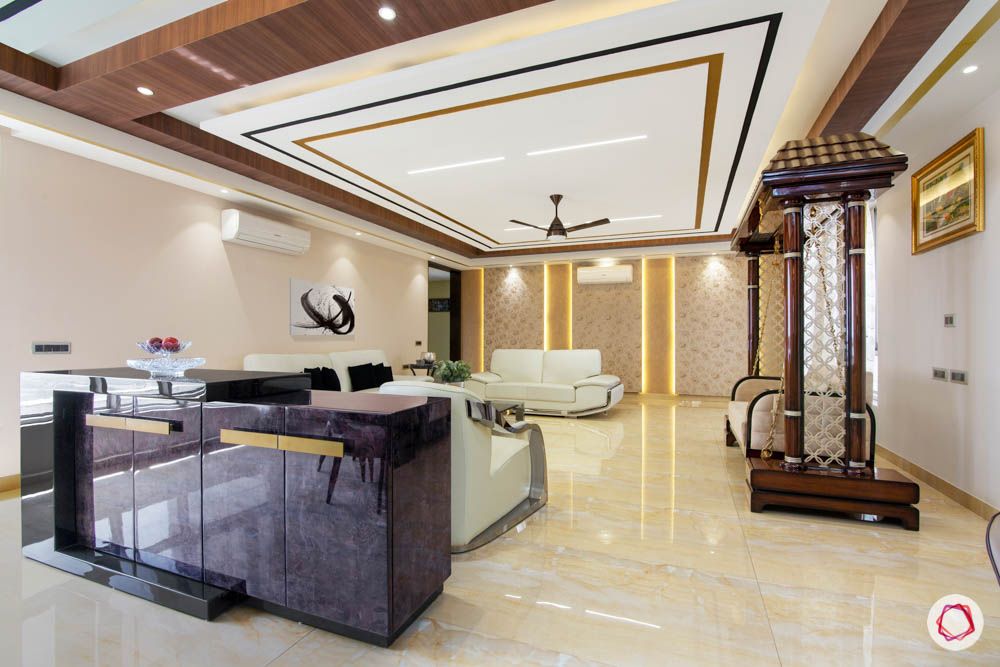 Once we venture beyond the foyer, we see a medley of design styles. The living area of this home is massive, thereby doing justice to the size of the home. But a living room this size could do with a partition to give it some much-needed structure. As Kavita did not want to install a bulky partition, Yashasvi used a glossy console with polymer finish to segregate the dining and seating areas. The crisp formality of the living room comes through in the choice of furniture that is suitably posh. In addition, the swing brings a breezy vibe to the space.
But the real showstoppers here are the ceiling and wall treatments. The ceiling has wooden beams and gold Duco paint details, which add a rather regal touch.. We were also impressed by the panels of shimmering wallpaper with profile lighting around them; they created quite an interesting effect on the statement wall.
Italian Fantasy at Jaypee Greens Noida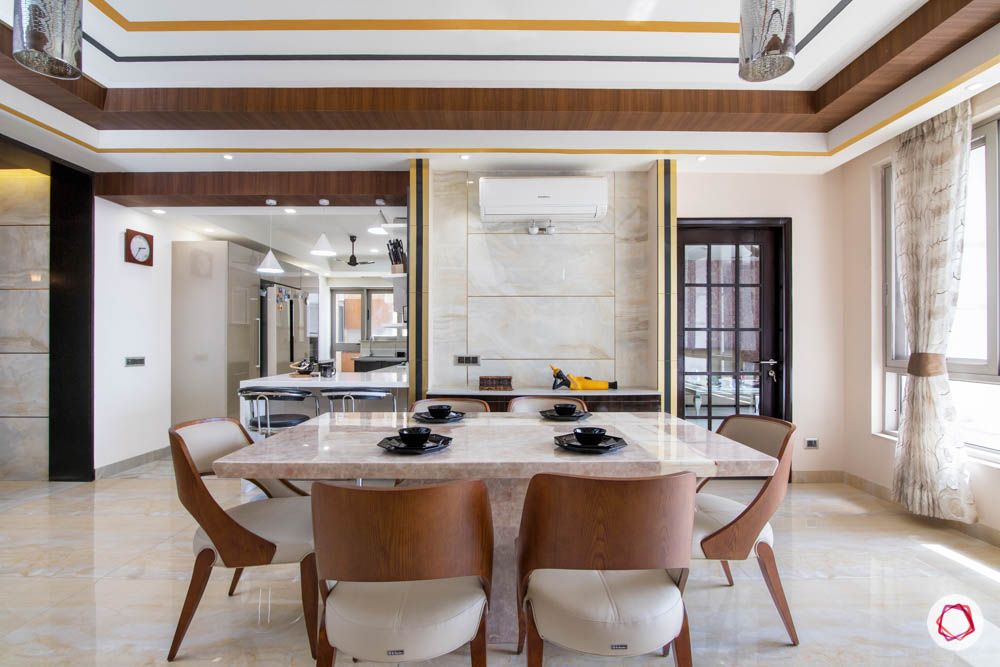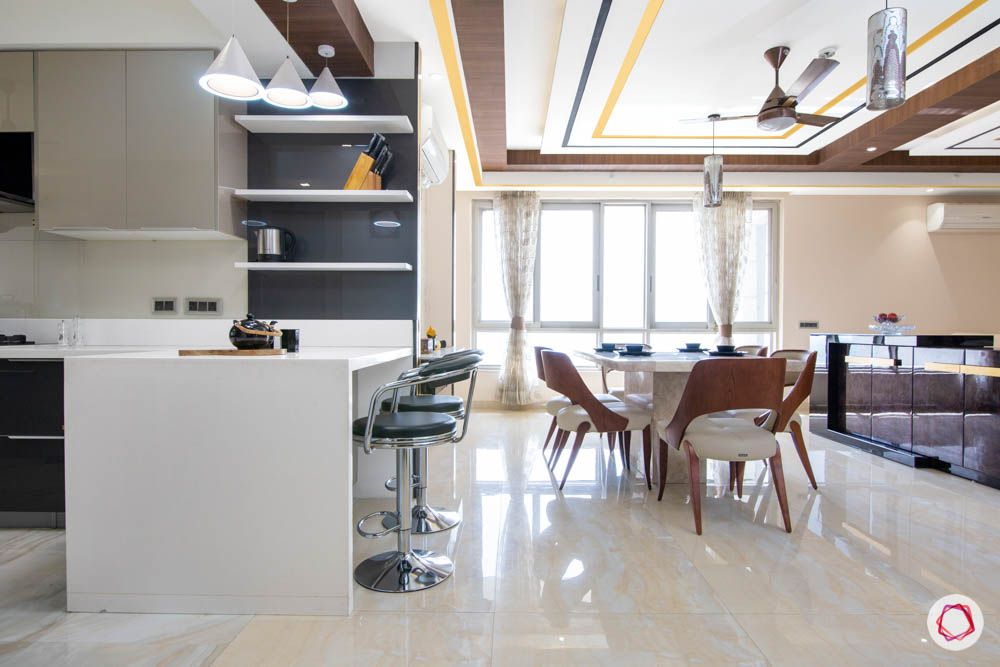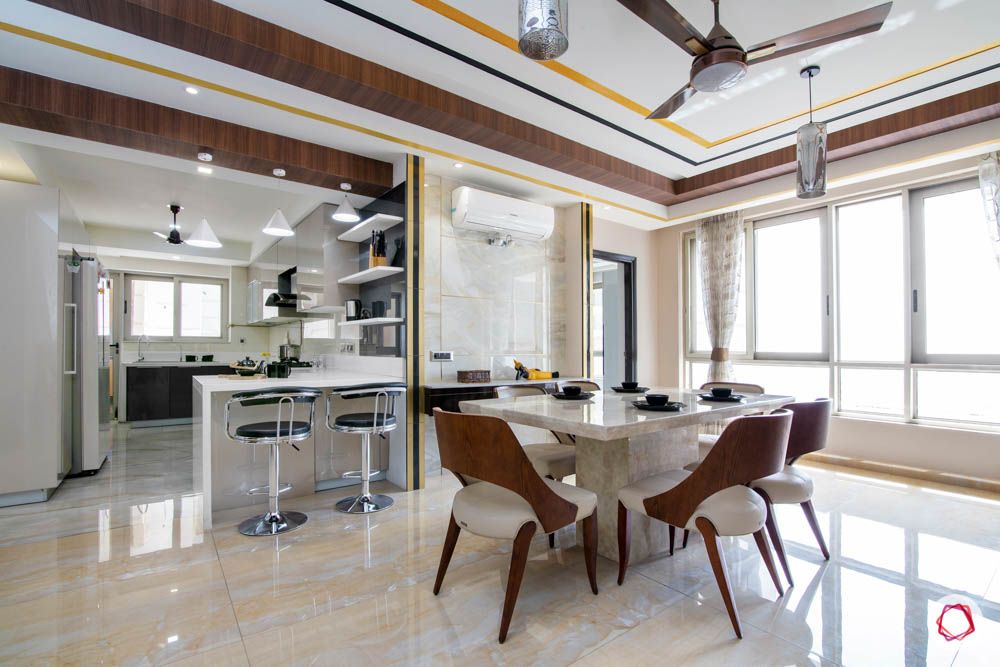 The dining area of this home at Jaypee Greens Noida is a head-turner. The brightest feather in its cap is the imported one-piece Italian marble dining table that is classy par excellence. The ceiling details shine through in this area as well. A niche has been carved out of the wall here that mimics the wooden and gold details of the ceiling.
Modular Marvel at Jaypee Greens Noida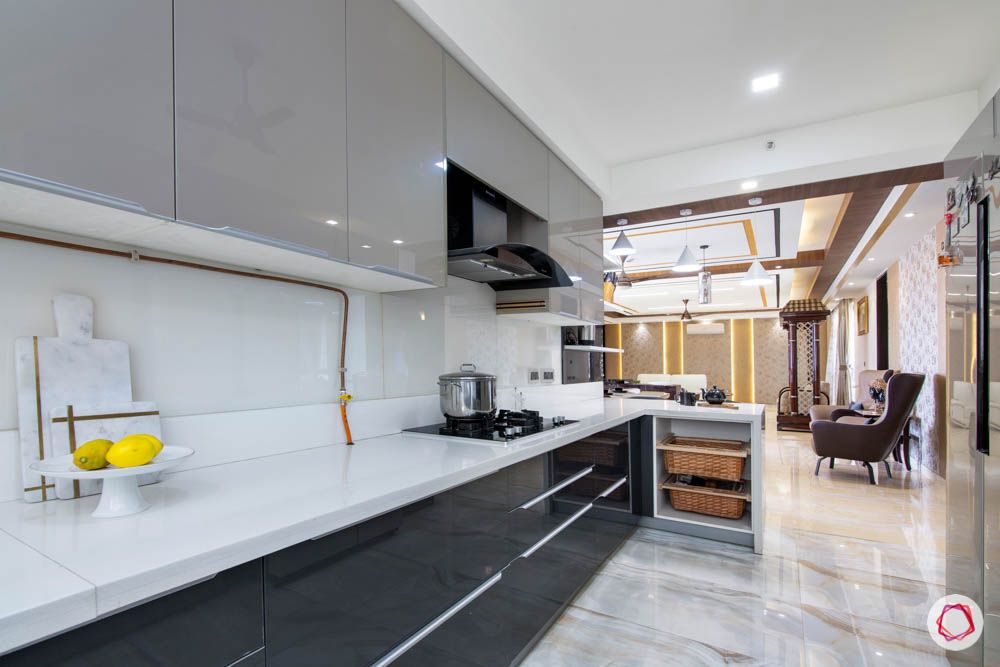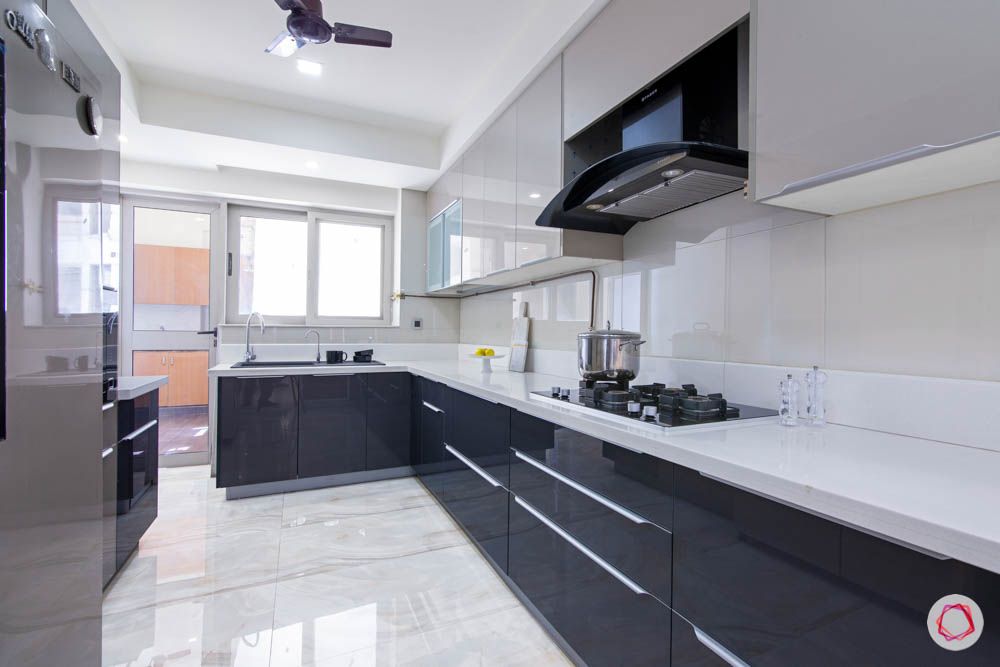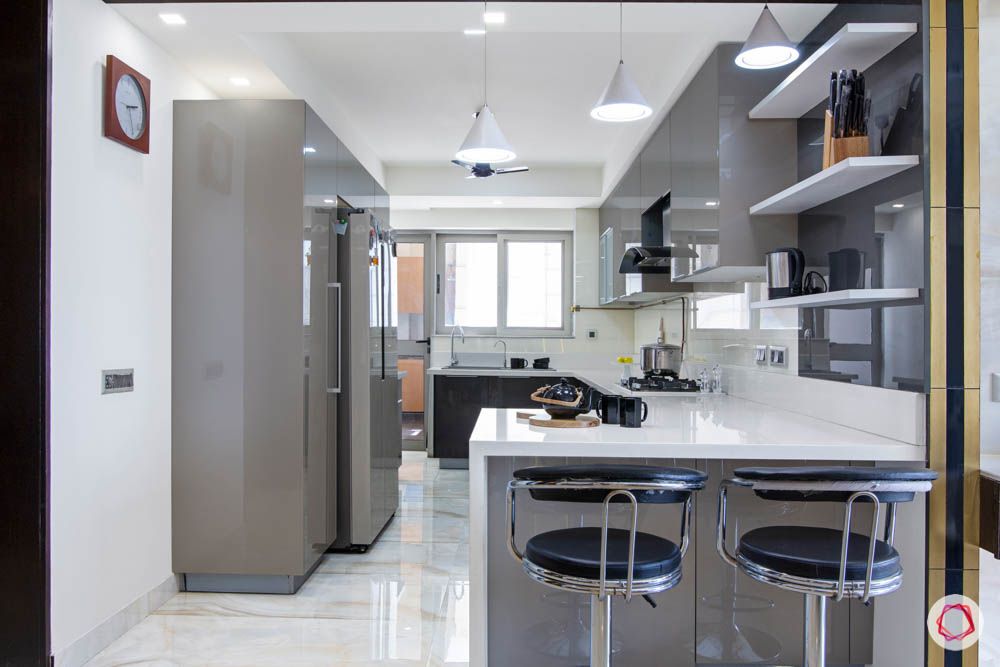 This kitchen had a closed layout but the designer decided to open it up and give the couple a cosy breakfast counter. Kavita's kitchen is teeming with accessories including tall units for appliances and a pantry pullout for stocking up on groceries. The countertop is quartz that extends to the backsplash as well as breakfast counter. The cabinets in blue and grey have a glossy acrylic finish that befit the grandeur of the rest of the house.
Dainty & Devotional at Jaypee Greens Noida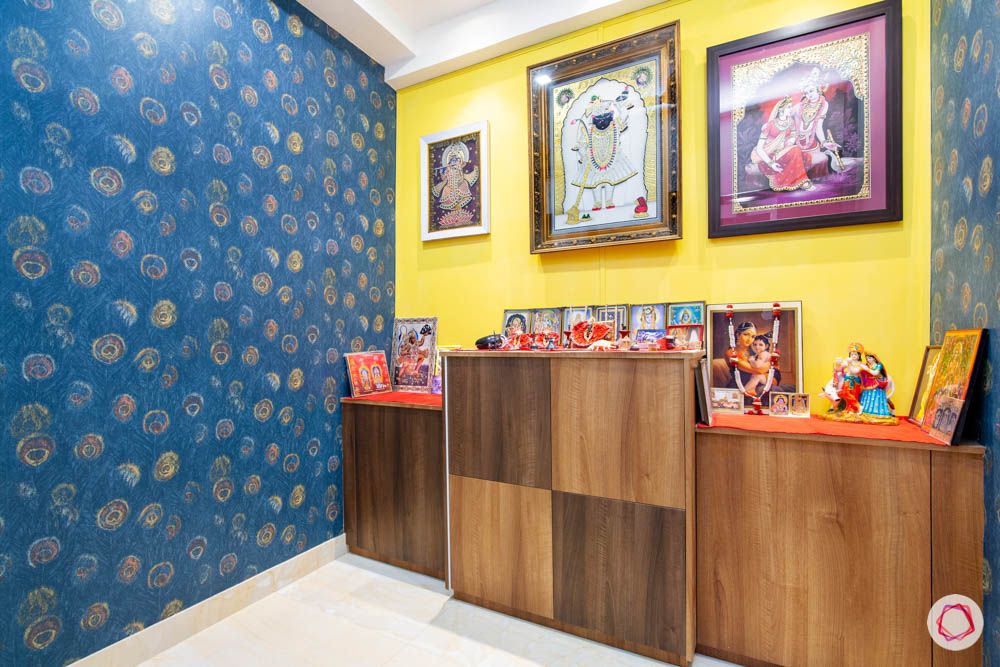 One of the several passages from the Bhatias' mammoth living room lead us to their pooja room. The space is furnished with cabinets from the Livspace catalogue. It is easily the brightest room in this home with peppy yellow wall paint. This room also sports blue wallpaper that has morpankh (peacock feather) motifs, which alludes to the family's devotion for Lord Krishna.
The Majestic Medusa at Jaypee Greens Noida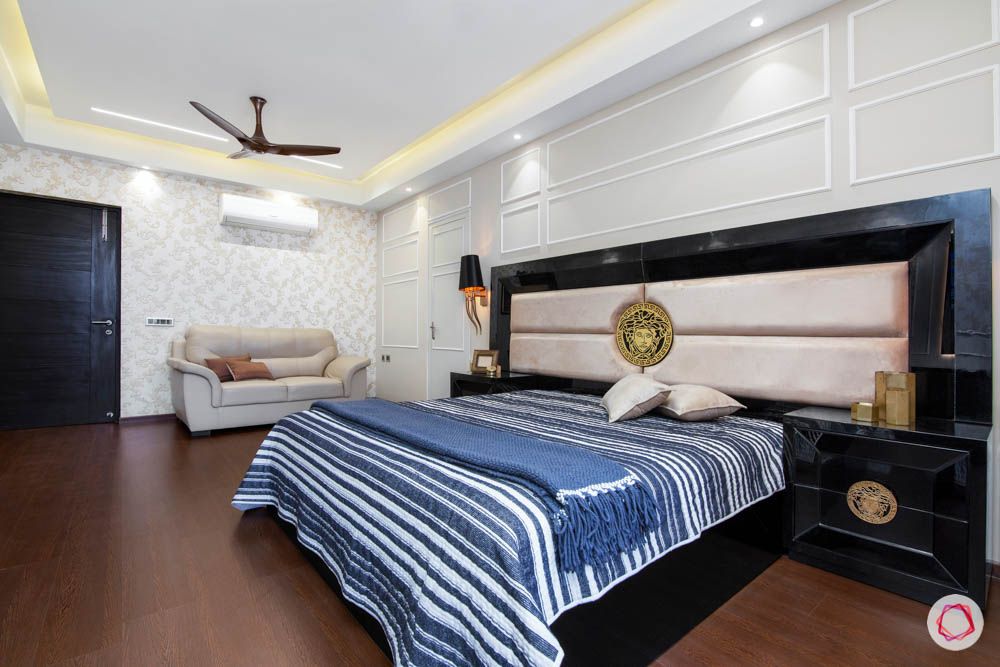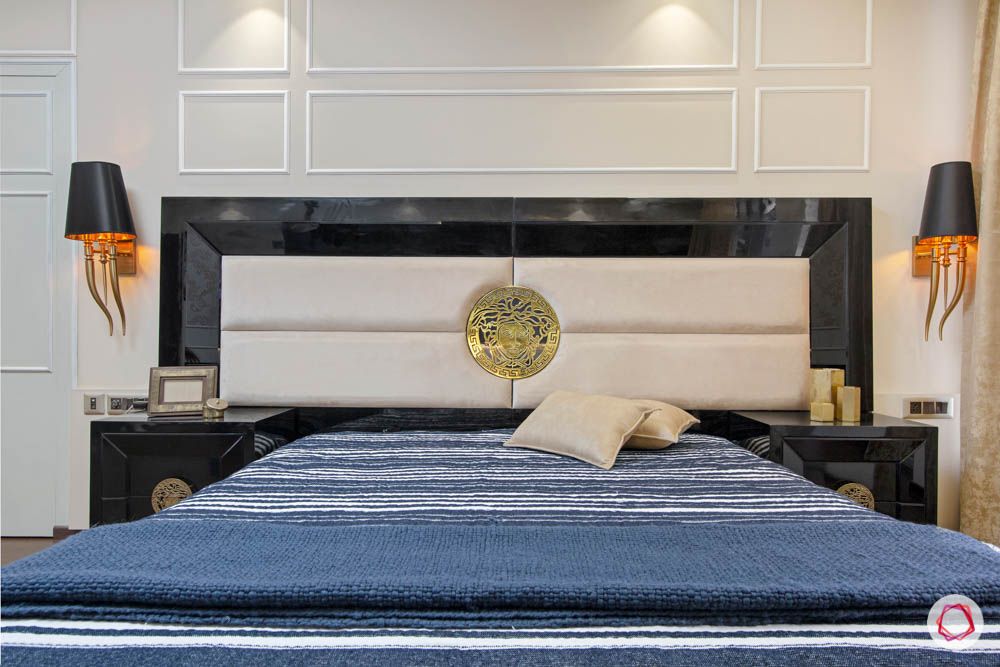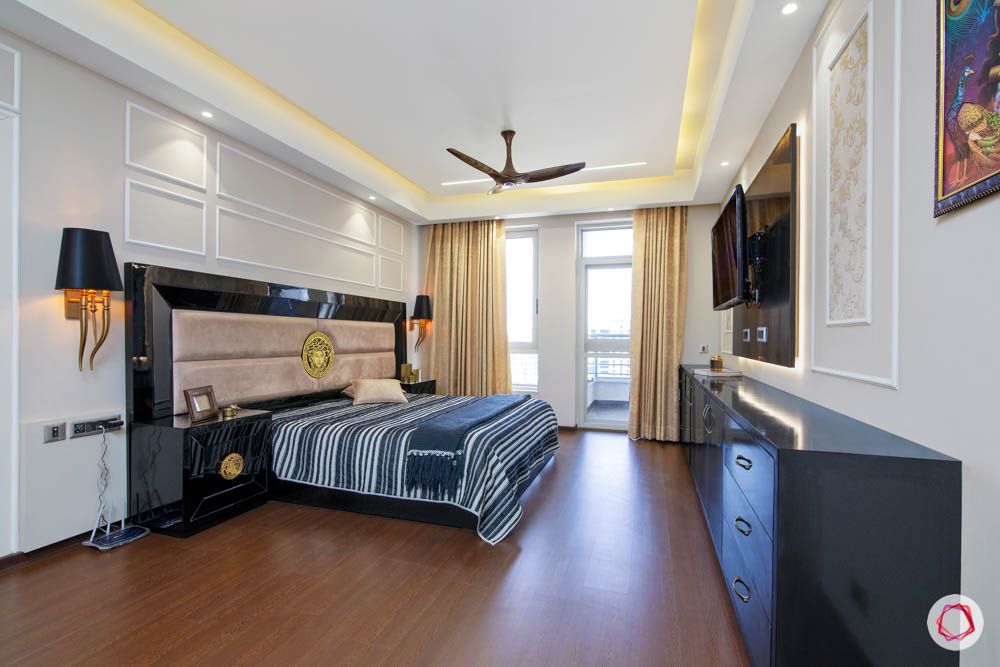 The master bedroom speaks volumes about the personality of Kavita and Suresh. Not only are they classy, they're also fun! How else could you explain the Versace-esque gold Medusa embossed on their headboard and side tables! Their taste in furniture is curiously quirky, and this adds flamboyance to the interiors of this room. We also fell in love with edgy wall lights on either the bed. Be it moulding on the wall or the wallpaper panels, nothing about this room is an average Joe; there is character in almost every piece of decor.
The couple has opted for a walk-in closet with grey acrylic finish. Interestingly, they went for a floor-to-ceiling wardrobe without any lofts.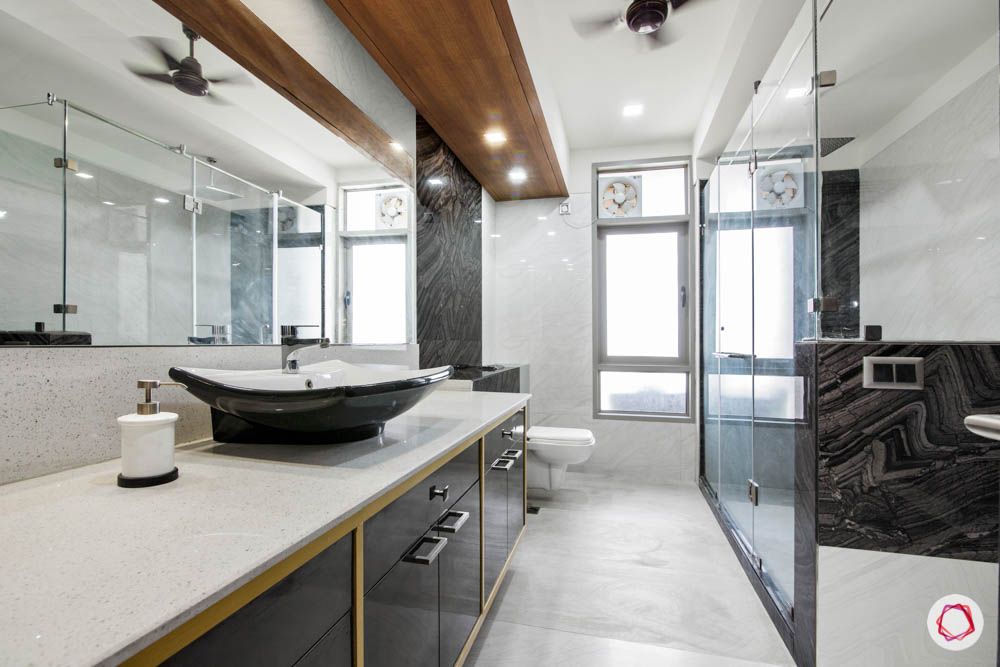 The bathroom and powder room are luxurious at a glance. When you look more closely, you realise that this space too is rich with finer details. For instance, the gold Duco paint borders that frame the vanity cabinets are rather neat.
Walnut Rush at Jaypee Greens Noida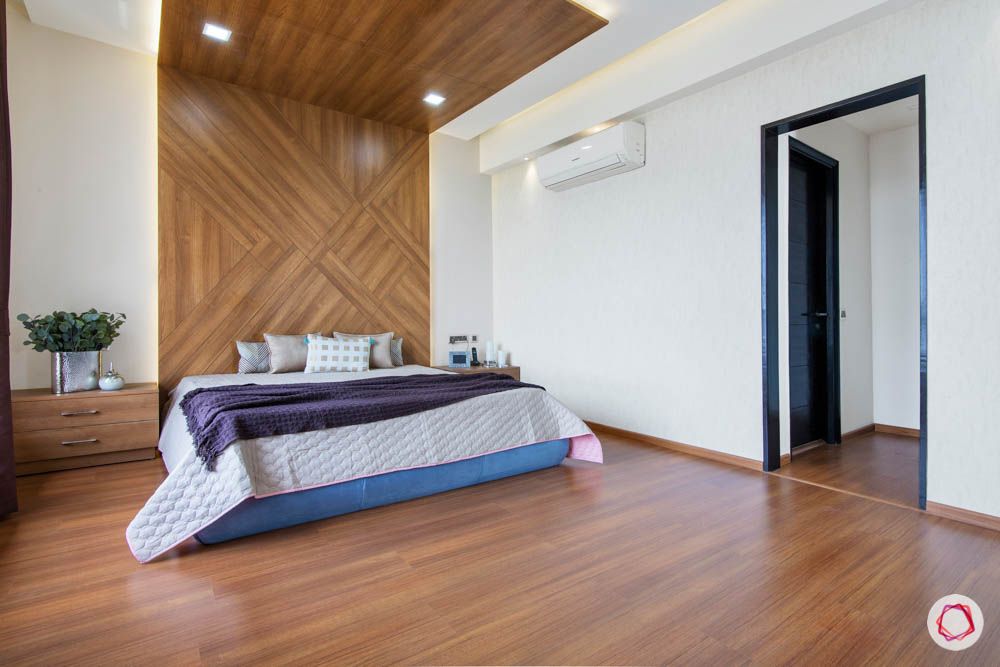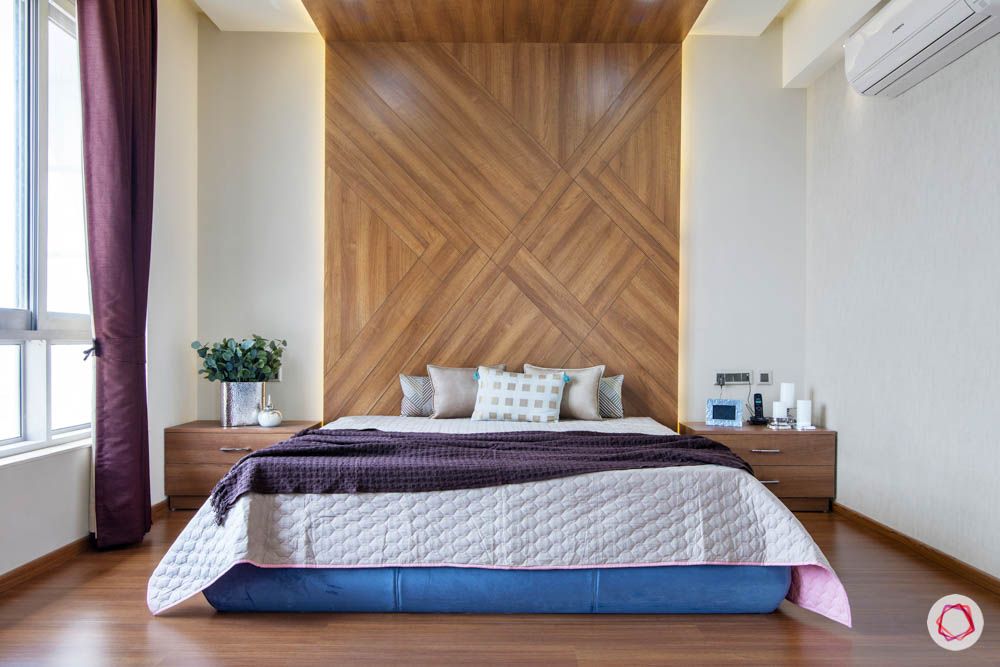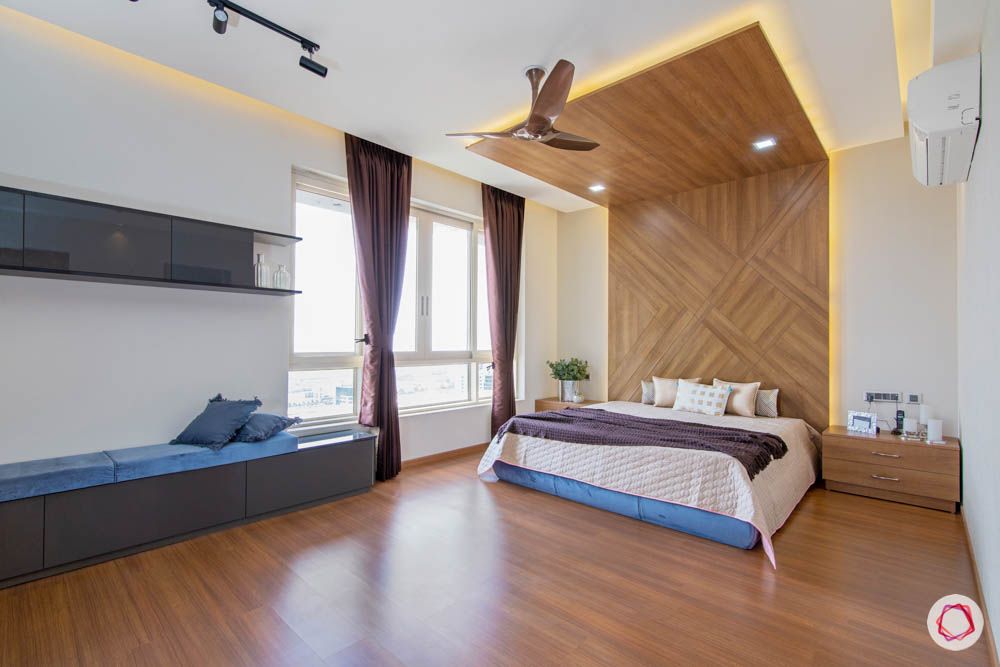 The Bhatias have adult sons who provided Yashasvi their design inputs remotely. One of them has a weakness for warm wooden finishes. Hence, the designer has experimented with plenty of walnut brown in his bedroom. This home has a really high ceiling and Yashasvi has used the vertical space to create striking details. The bed in this room, for example, is low and the wooden panel behind it forms a canopy over it. The contrasting heights of the furniture and ceiling add a distinct edge to the decor.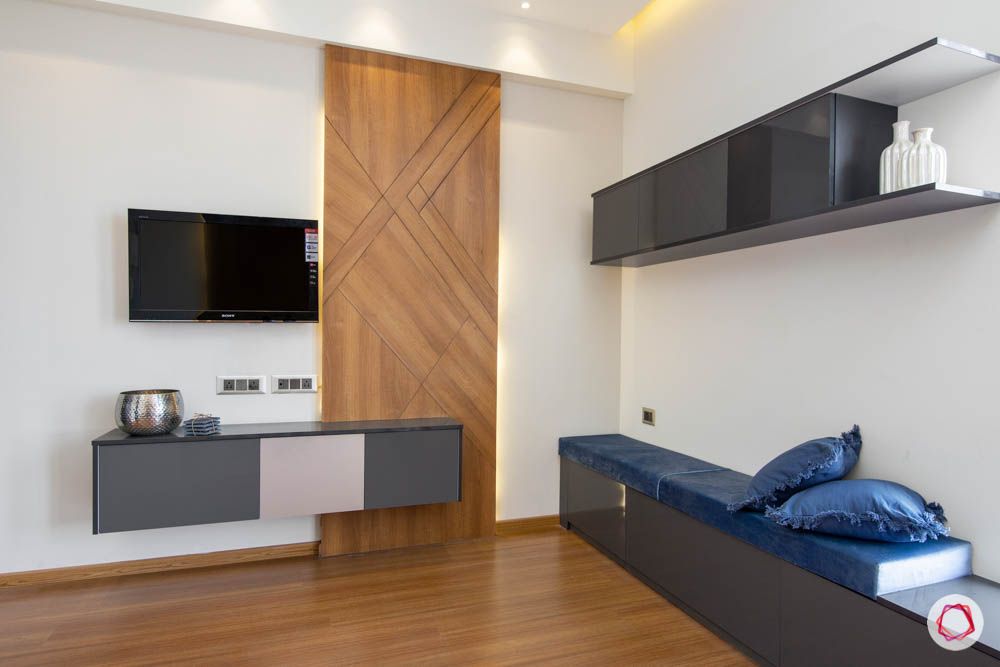 The wooden panel used behind the bed appears again with the TV cabinet, making the room a cohesive unit. We also like the casual seating option offered by the cushioned bench in this bedroom.
Bohemian Blues at Jaypee Greens Noida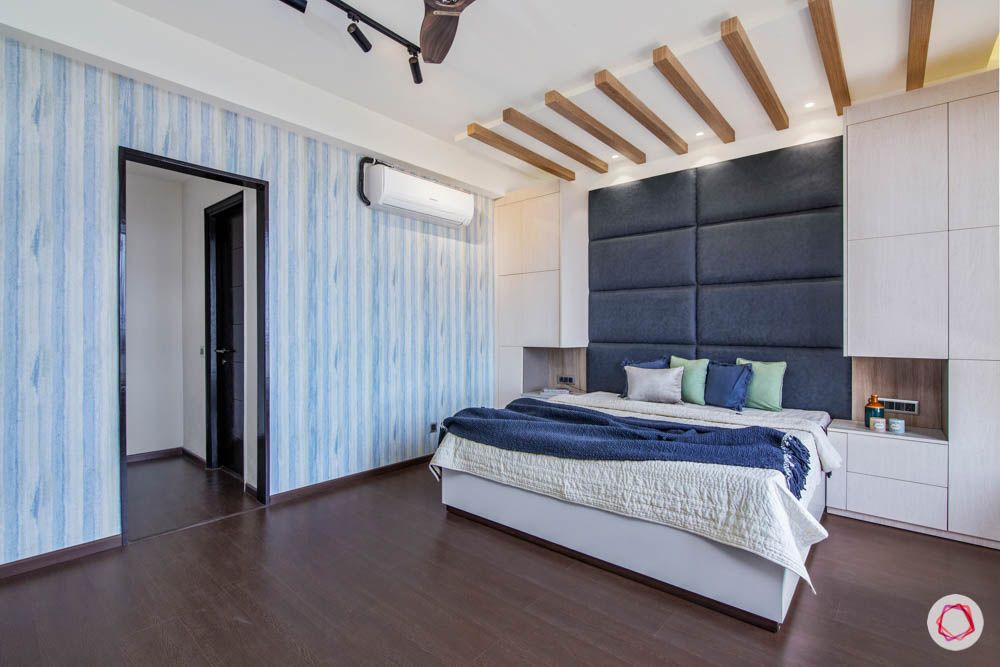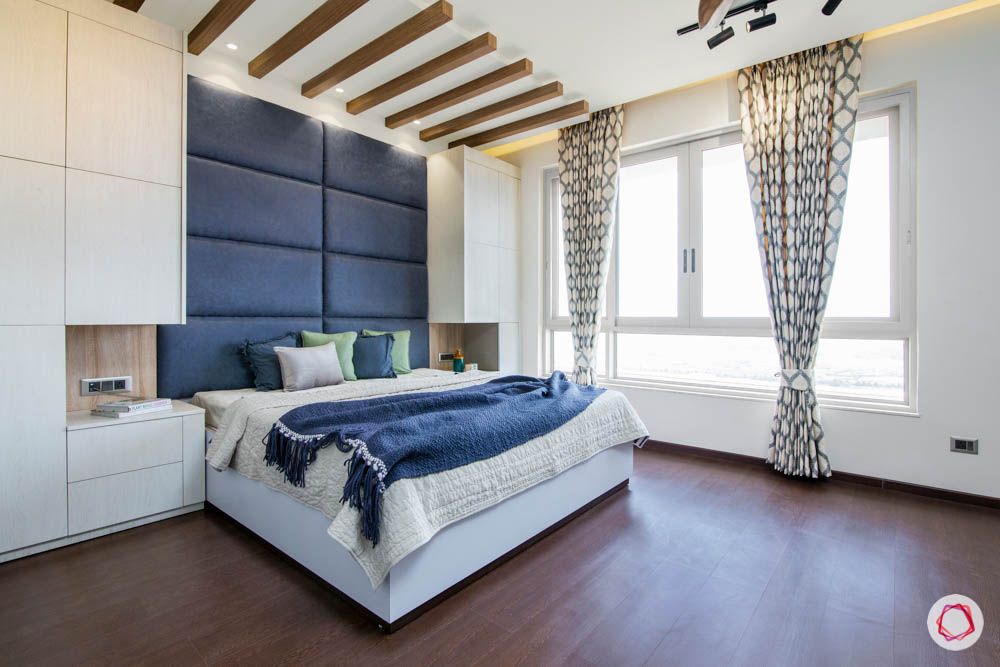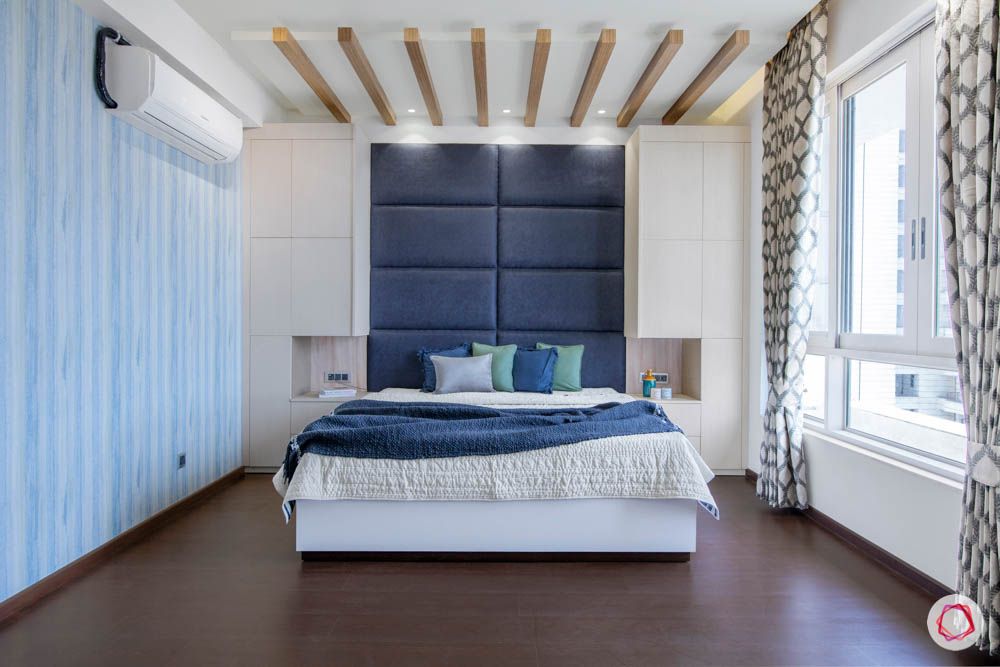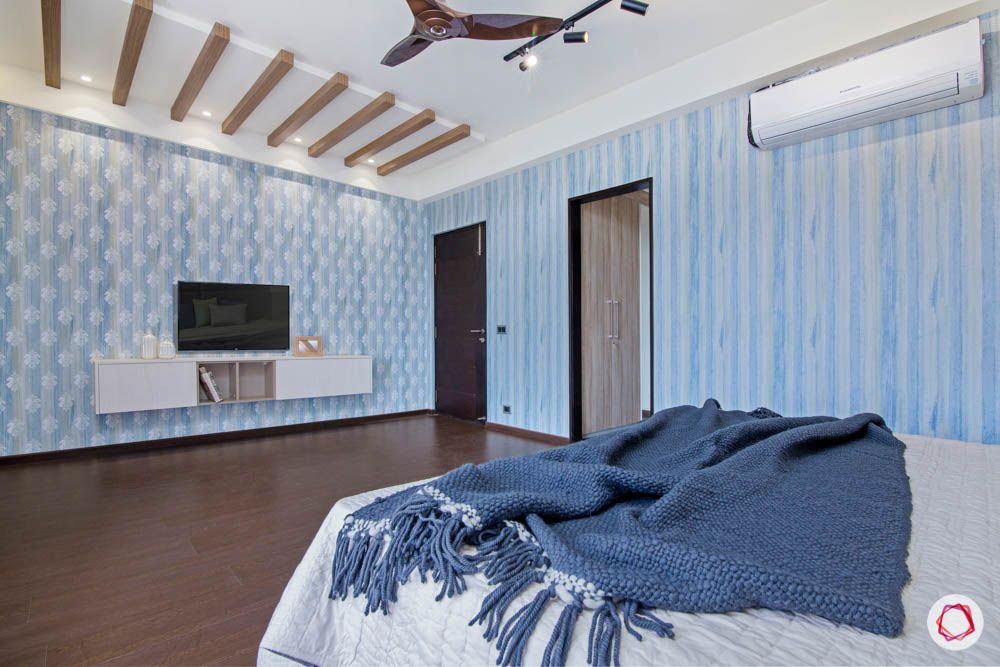 Yashasvi experimented with various gradients of blue in the bedroom for the couple's second son. The full-length headboard is the focal point of this room for sure. However, there is a play of several other elements here. To begin with, the push-to-touch storage cabinets by the bedside integrate seamlessly with the headboard. One needs to pause and observe to realise that they are storage units. The wooden rafters on the ceiling add texture. Two different wallpapers have been used in this room and both use a combination of blues for a layered look.
"Kavita was very enthusiastic about the design process and gave her inputs wherever necessary. She took the initiative on her own to collaborate with the design team and this helped us add personal touches to this home. The scale of this project was massive, and it was a personal triumph to design a home replete with so many noteworthy details."
– Yashasvi Guleria, Interior Designer, Livspace
If you were enthralled by this colossal home, also explore this Plush, Tasteful, Fresh, Enviable Home in Mumbai.
Send in your comments and suggestions.