Beautiful house images flaunting a subtle and elegant design.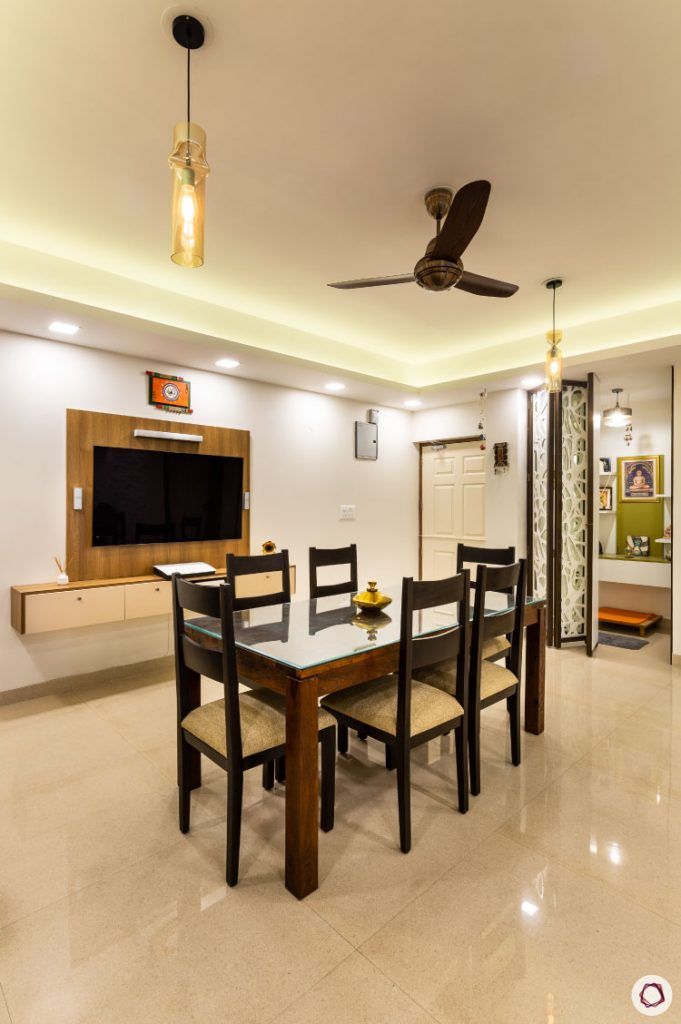 ---
Who livs here: Dr. Deepak Jain with his mother and nephew
Location: Ramprastha Greens Platinum, Sec 7, Vaishali, Ghaziabad
Size of kitchen: A 3BHK spanning 2,000 sq ft approx.
Design team: Interior Designer Diya Kochhar and Project Manager Umair Baig
Livspace service: Full home design
Budget: ₹₹₹₹₹
---
Certain hometours captivate your mind while you scroll through the images and you instantly imagine yourself there. This home in Vaishali, Ghaziabad is the perfect example of how a simple yet elegant home should look like. While scrolling through Facebook one fine evening, Dr. Deepak came across Livspace when he thought about giving it a shot.
Designed by Diya Kochhar, this 3BHK is nothing short of perfection. With carefully curated decor items and colours that are capable of calming your senses the moment you step in, this home will have you crushing over its simplicity. Take a tour around this one and do not forget to check out the lovely pooja corner that was carved out in a wall niche.
Serenity Scenes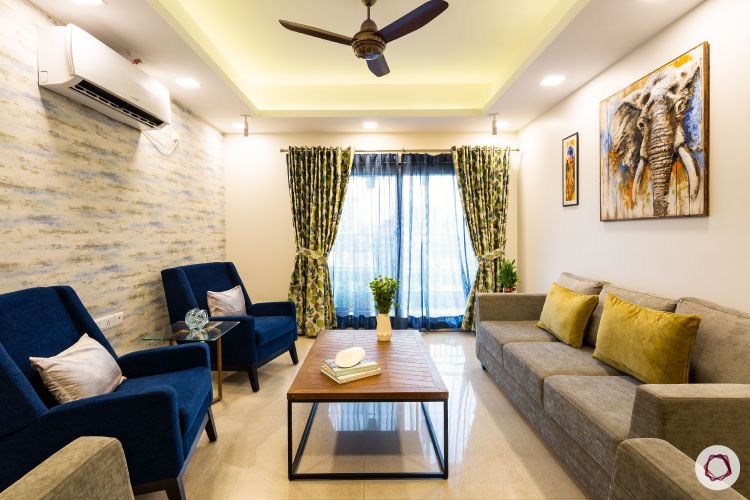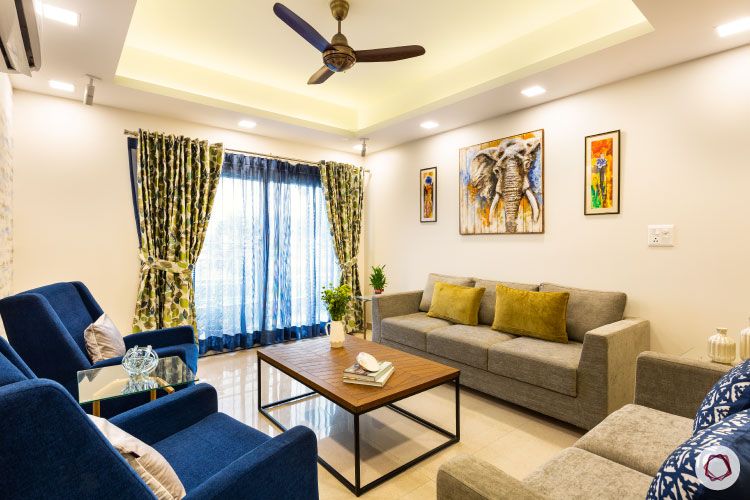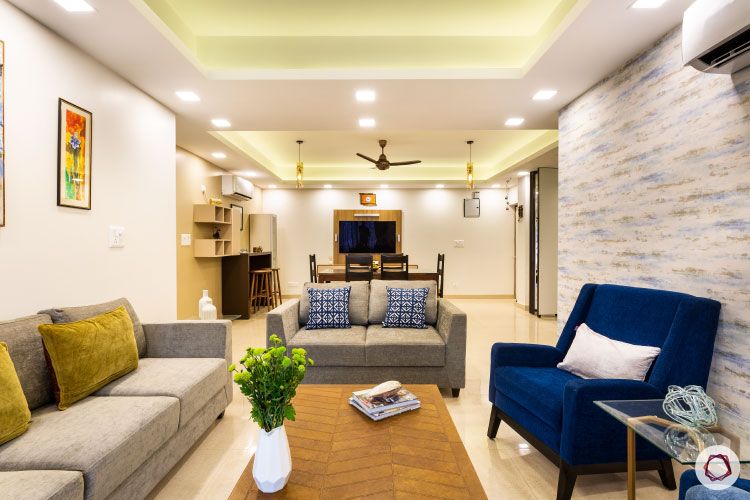 The living room has an amazing centre table that deserves a mention here. It is a leather piece that flaunts lovely herringbone pattern on it and is definitely the highlight of this space. The rest of the room is designed using a modern theme in mind. Diya has given them two pretty blue chairs and paired them up with grey sofas to balance it out. A printed wallpaper creates the perfect accent by adding a bit of pattern in this otherwise simple room.
Brown Beauty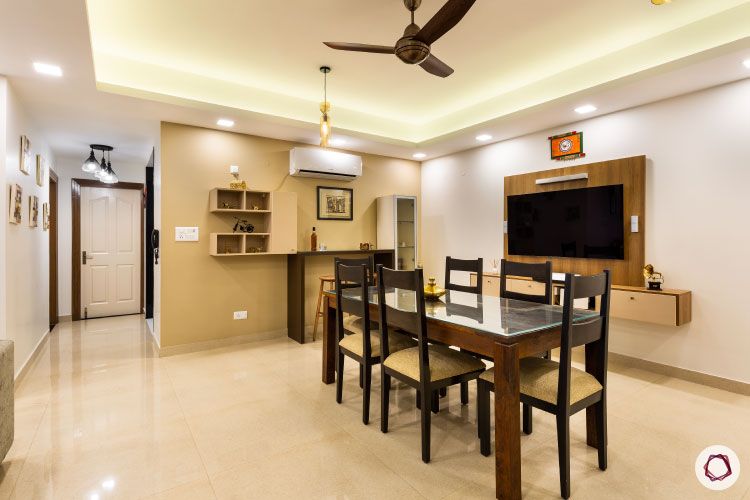 The dining area features solid wood dining table and chairs that Deepak himself selected from our catalogue, since he wanted something simple and durable. The dining table has a glass top that brings out the beauty of the piece. Next to the dining area you can notice the wall mounted shelves and a console table that serves as a display-cum-serving area. A customised tall unit with frosted glass shutter sits right next to it and is used to store crockery.
A television in the dining area is something that might be intriguing for a few of us. When we quizzed Diya about it, she revealed that the family enjoys watching television together only when they are having their daily meals. Therefore, she gave them a minimal wall mounted, laminate finish TV unit that is customised to accommodate their huge television and home theatre system.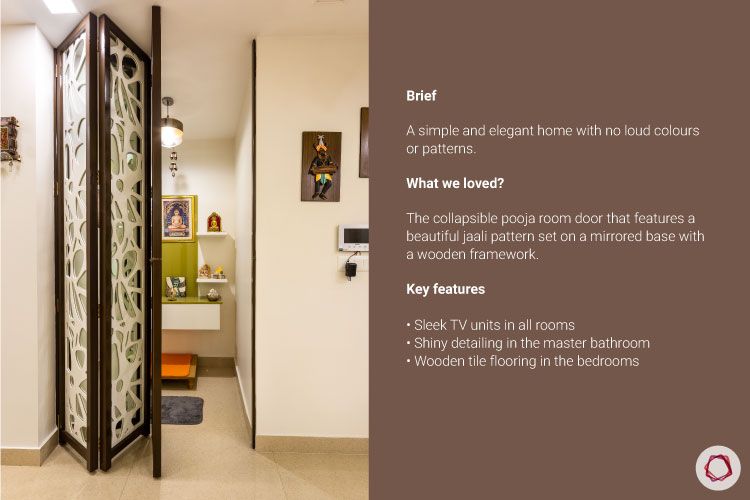 Mild Cappuccino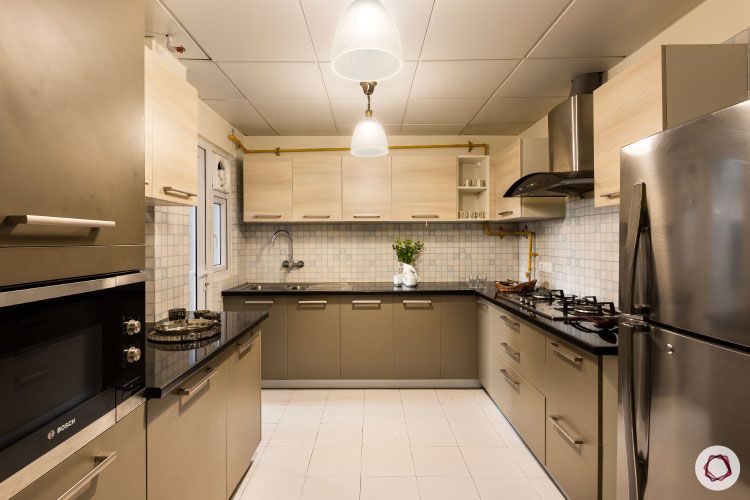 In Diya's words, this kitchen is one of the most functional kitchens that she has designed till date. Since this space was going to be used by the house help, it had to have very basic and practical modules that can withstand rough usage. Speaking about the design, she says that Deepak wanted a muted colour palette here and hence she gave them light brown for the base cabinets and light laminate for the wall units. A granite countertop and simple dado tiles seal the deal.
Simple & Elegant Bedroom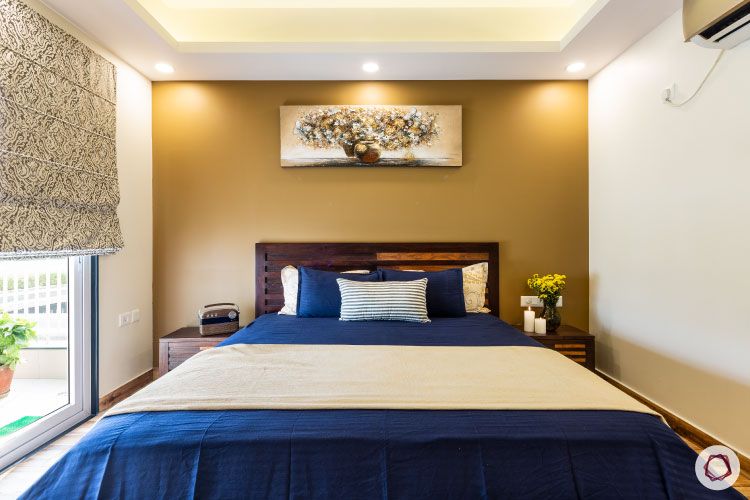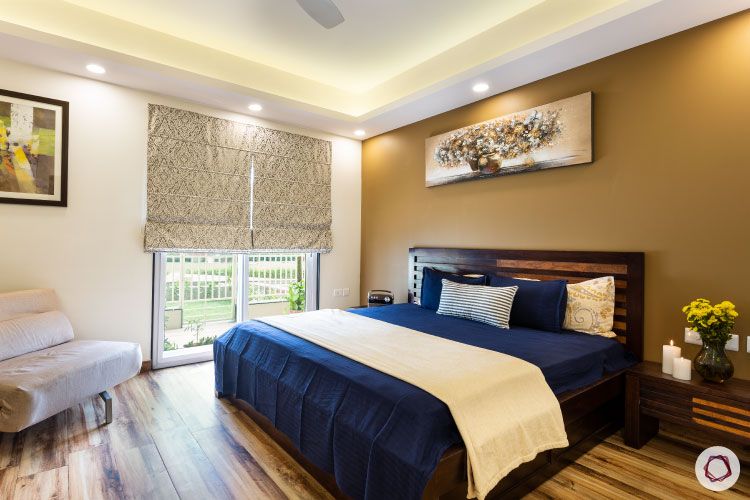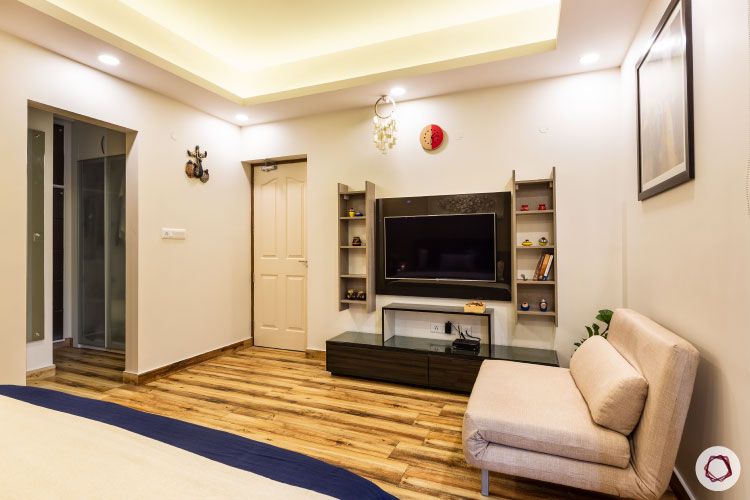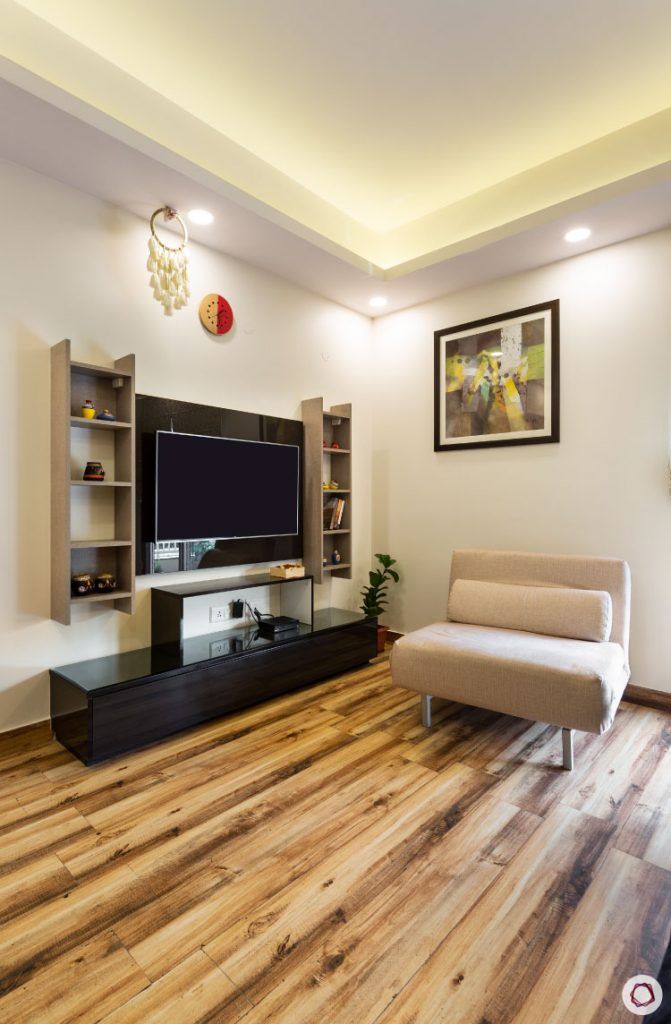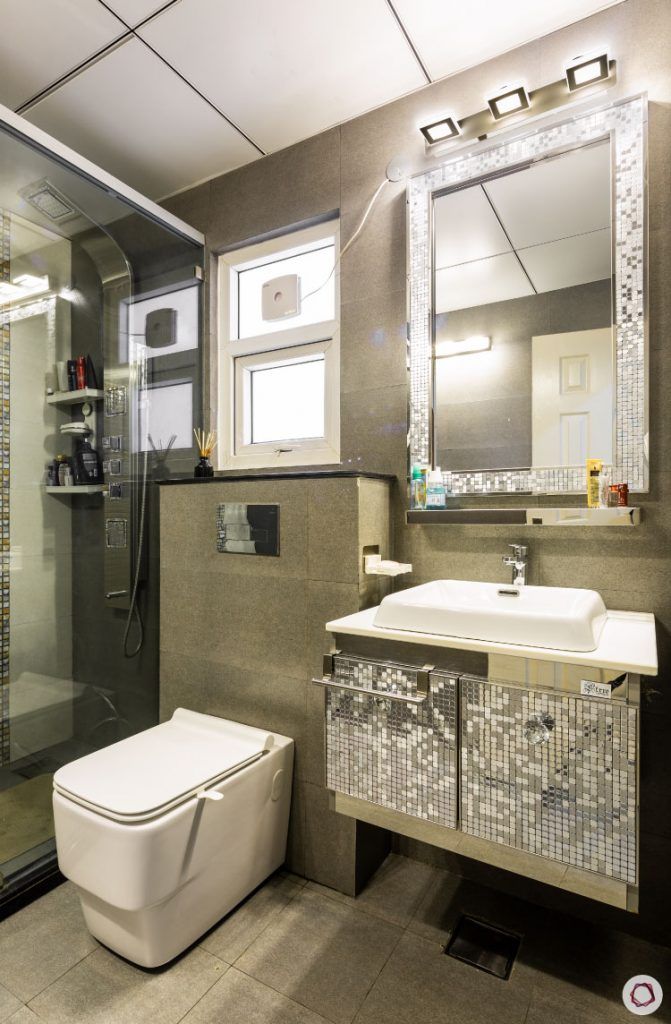 The master bedroom is as serene as it can get, with subtle, neutral walls and warm colours that fill up the room. Deepak just wanted a warm vibe to flow through the space, thus Diya gave him a solid wood bed paired with matching side tables. For the floor she suggested wooden tiles that are easy to install and maintain. Something that Diya really helped with is the decor for every room and she has personally selected each item.
Since they usually spend time in their respective rooms, each member of the family has a television in their room. To add some glam to this neutral space, Diya has given the TV unit glossy finish options for both, display and storage.
Do you want to know what is the most striking feature in this room? It is the bathroom that features shiny panels on the vanity and mirror. It makes this space look so glamorous and unique.
An All-purpose Kid's Room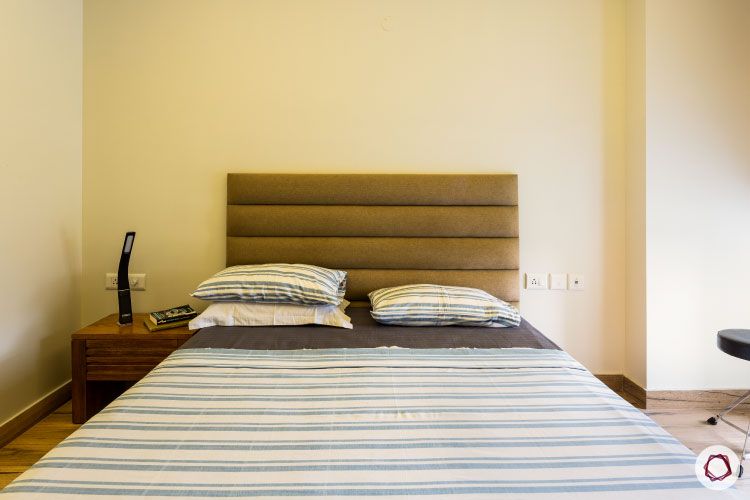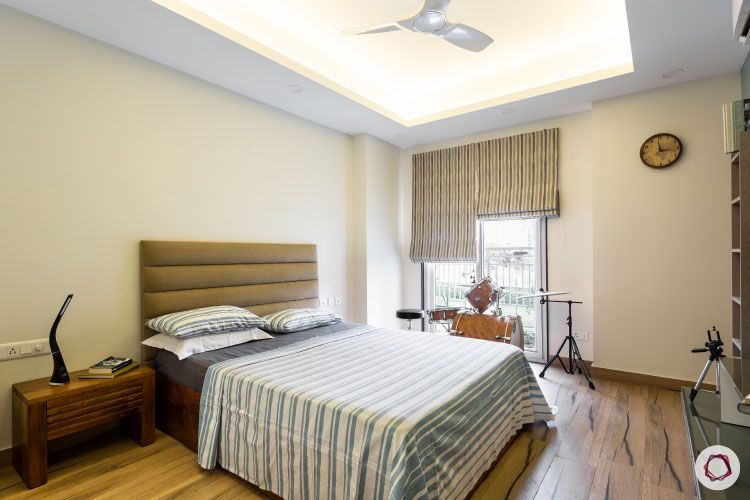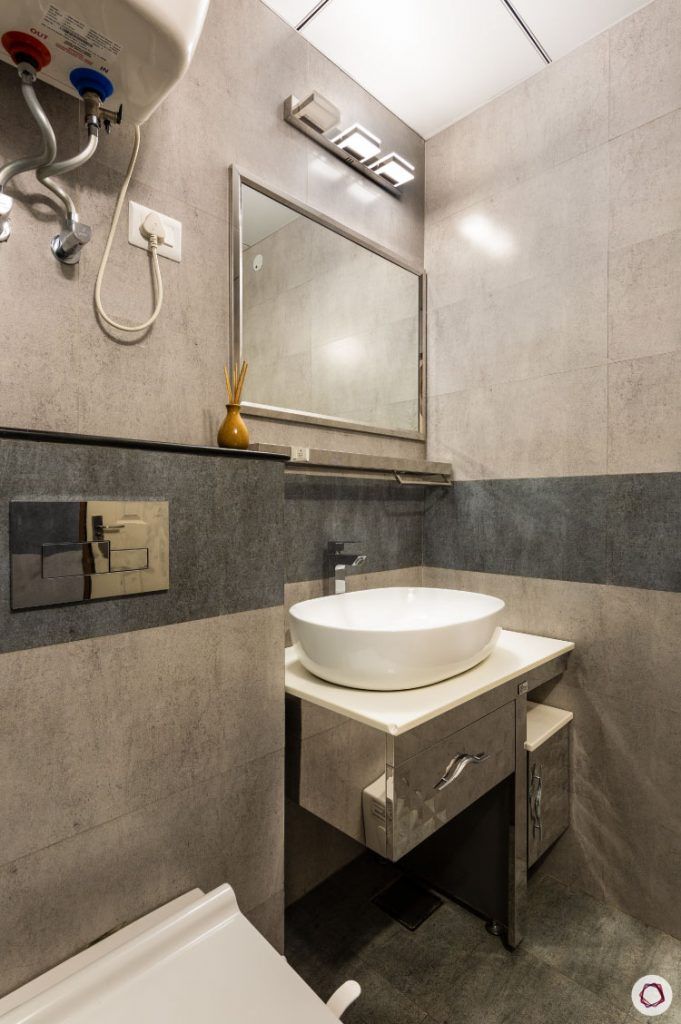 This room belongs to Deepak's nephew and clearly, this one's got a relaxed vibe flowing through it. He did not want any loud colours or patterns in his room. Therefore, Diya painted this room in beige and grey hues. The drum set sitting right in front of the mirror is another item that had to be the highlight here, since he loves playing the drums in his free time. The TV unit sports a glossy finish with ladder-style display shelves on either side.
This room too has a bathroom that has been designed brilliantly. If you notice the vanity carefully, you'll see that the drawers are placed intelligently to create a geometric pattern.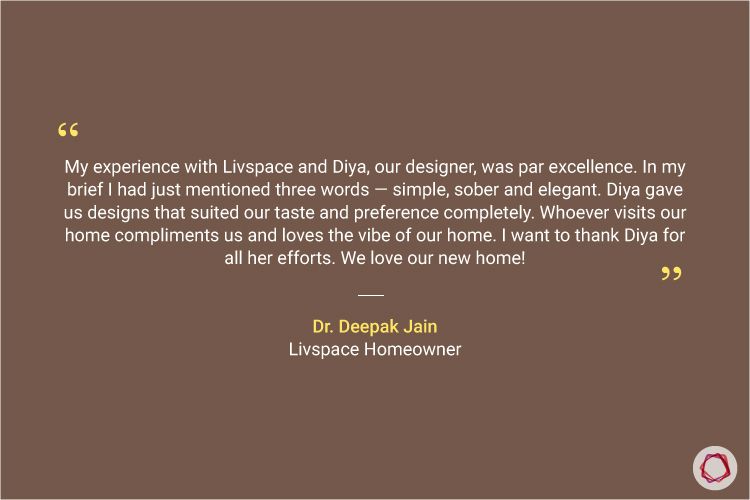 "It was heaps of fun and hard work designing for Dr. Deepak and his family. I designed the home keeping an eclectic theme in mind, with emphasis on simple yet elegant interiors. I used a muted colour palette with key design elements as highlights. It was a great learning experience for me."

-Diya Kochhar, Interior Designer, Livspace
In case you're looking to renovate your home in parts and the kitchen tops this list on your mind, take a look at this: A Kitchen Makeover For A Passionate Chef.
Send in your comments and suggestions.