This 2BHK in SNN Raj Etternia Home is dressed in classy pastels.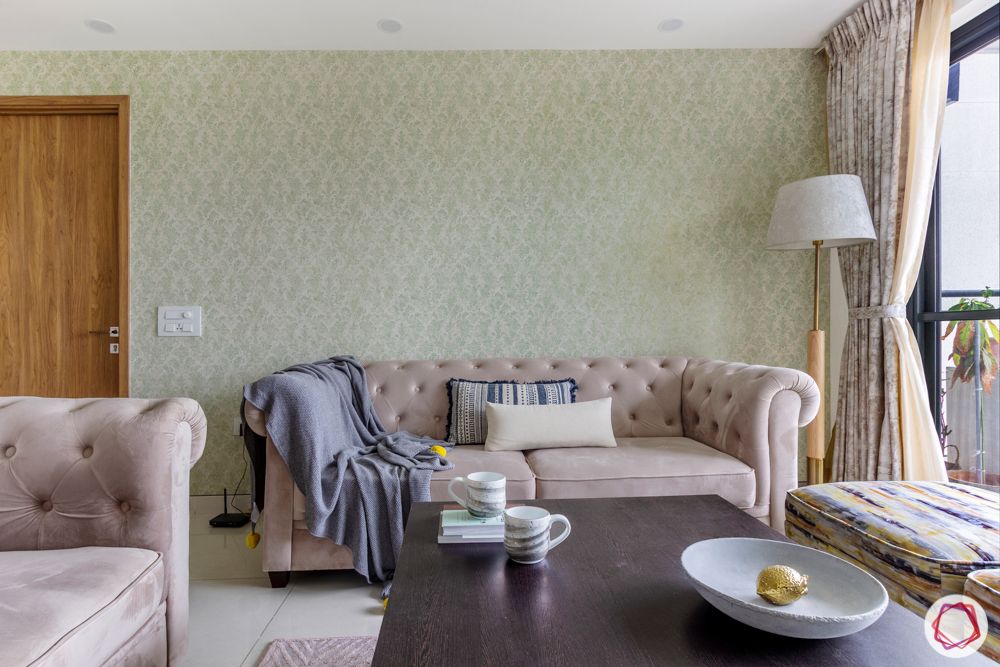 ---
Who livs here: Swati Gupta with her husband Gaurav and their daughter
Location: SNN Raj Etternia, Bengaluru
Size of home: 1,200 sqft approx.
Design team: Interior designer Gautam Gupta & Project Manager Sachin Hegde
Livspace service: Full Home Design
Budget: ₹₹₹₹₹
---
From the fashion runway to home interiors, pretty pastels have taken over the decor game. This new trend is on full display in this 2BHK in SNN Raj Etternia. Home to a young couple with a toddler, Swati and Gaurav wanted pastels paired together for a contemporary yet subdued look. Our designer, Gautam Gupta took up the task of chalking out interiors with a focus on cool pinks, mint greens and sorbet yellows.
Gautam has given this home the perfect mix of plush elements with light toned furniture for a luxurious vibe. What's more? He has looked into minor details, such as, ambient lighting. He also assisted Swati in selecting lamps and chandeliers with white lamp shades and gold hardware. Read on to find out how this SNN Raj Etternia home truly harnesses all things pretty and pink.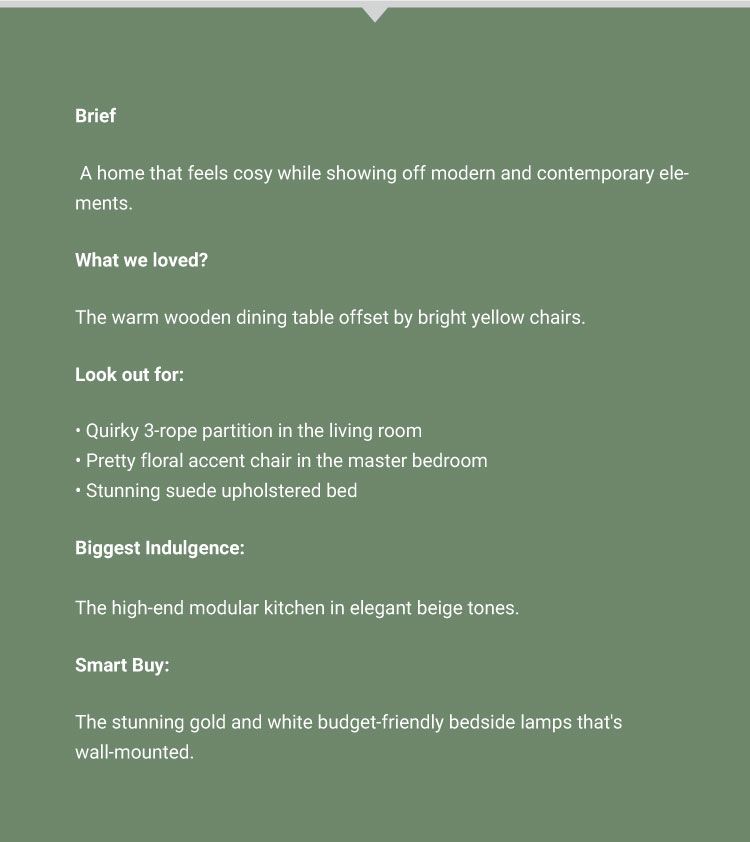 Lively Living Room in SNN Raj Etternia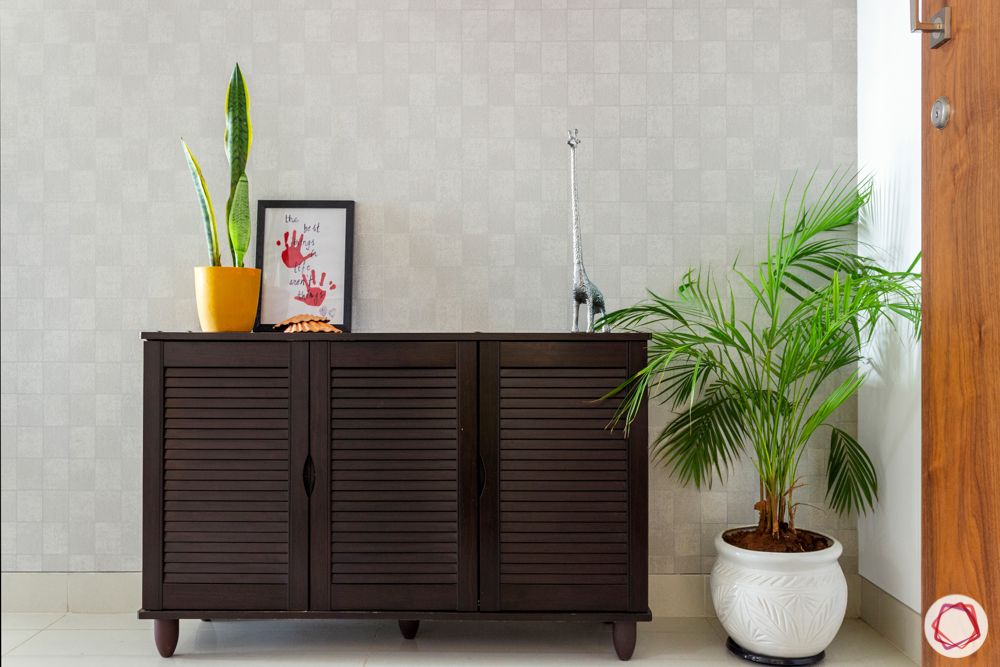 We love the insta-worthy entryway decorated with a shoe cabinet with pops of green planters that make the place lively. Gautam has maintained a soft-hued theme in the living room to streamline natural light coming from the spacious balcony. The pastel pink tufted sofa is set on a background of a textured wallpaper in mint green, giving this room a fancy yet cosy feel.
Adding a tad bit of colour and warmth are the two colourful ottomans and dark wooden TV unit and coffee table. Furthermore, there's a wall adorned with picture frames that weave a beautiful story of the Gupta family.
---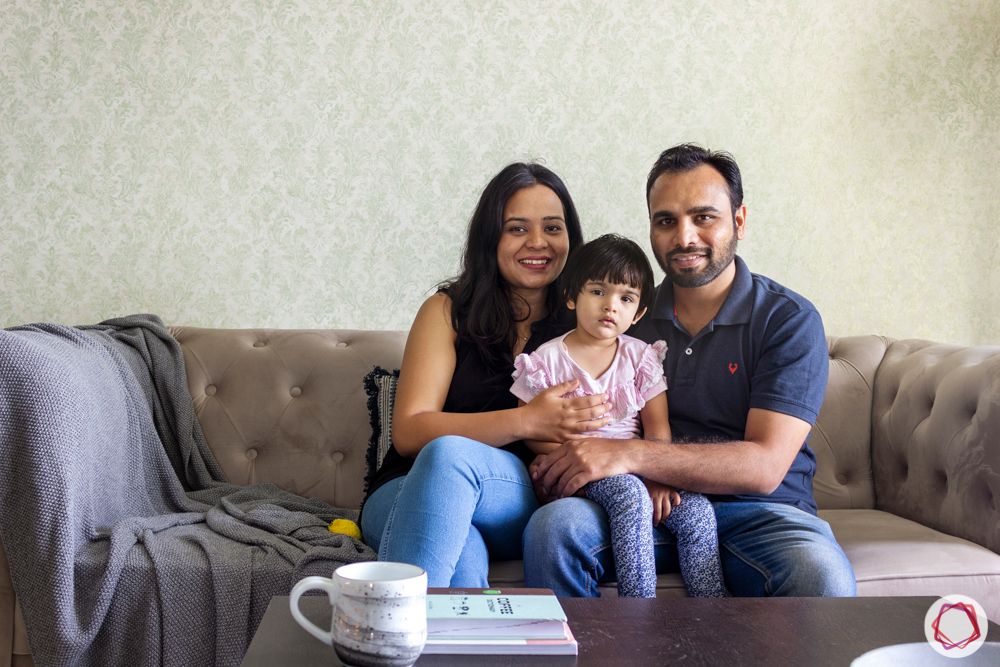 "We wanted nothing but the best of interiors for our first home in Bengaluru. As our friends suggested Livspace, we went ahead and met up with Gautam Gupta, who designed the perfect home to host family, friends and even kids."

– Swati and Gaurav Gupta, Livspace Homeowners
---

Dining in Style in SNN Raj Etternia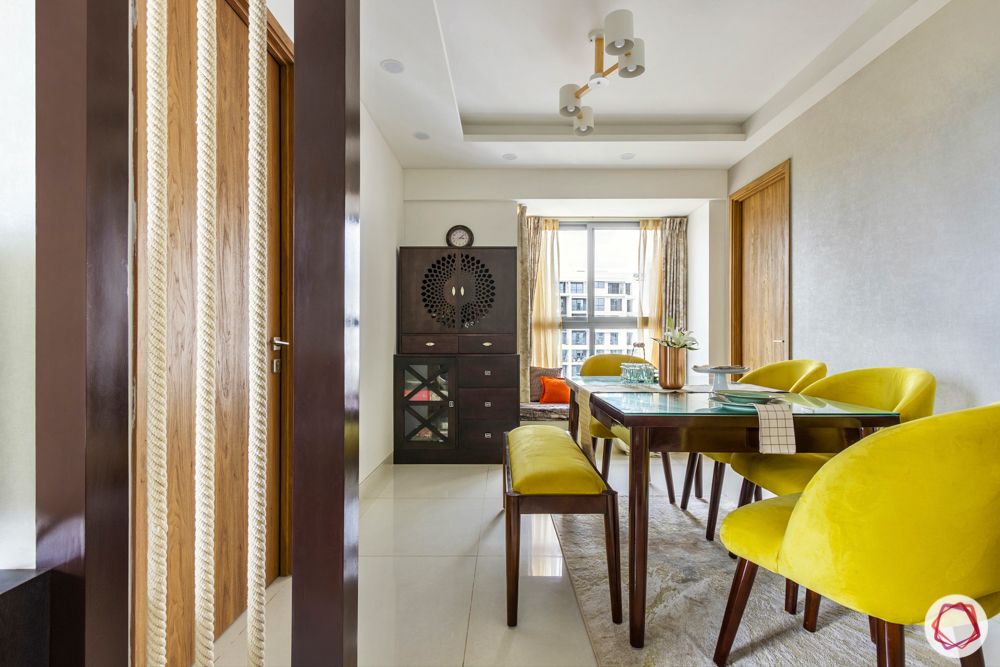 The living room is partially separated from the dining room with a unique 3-rope partition. This crafty element is see-through, therefore, enclosing the dining room without taking up any space.
Gautam was not sold on going full pastel in this room. He has opted for contrasting tones of lemon yellow chairs to play off the other pastel shades in the home. Tucked away behind the dining table is a bay window with comfortable seating for fun meals with the little one.
Classy and Modern Kitchen in SNN Raj Etternia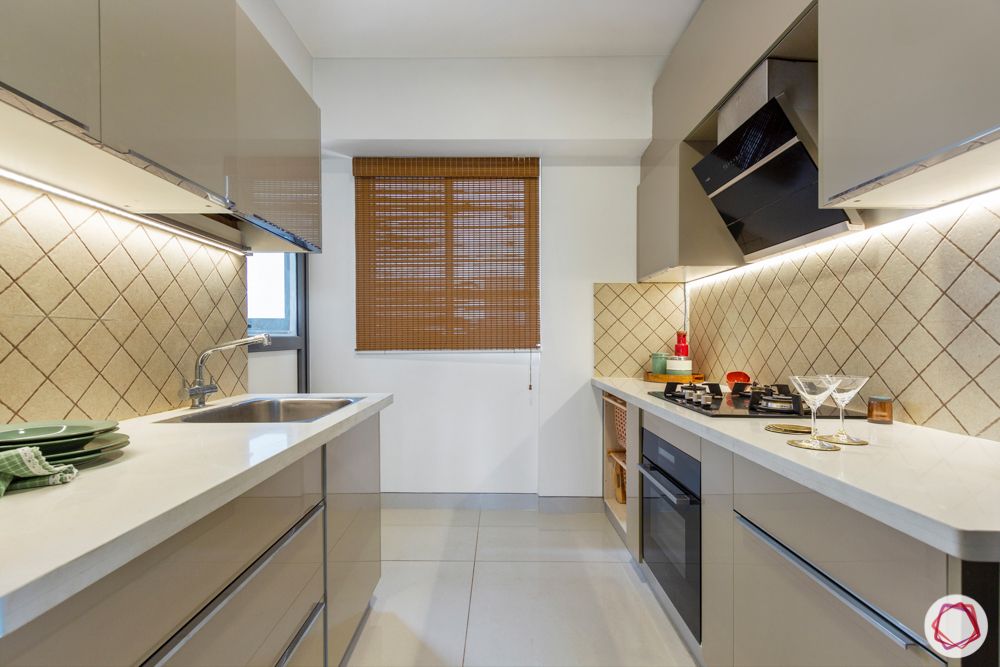 The kitchen unlike any other kitchen was designed around the existing backsplash. Gautam chose beige tones that will seamlessly blend in with the beige tiled backsplash, giving it an elegant look. With a tall unit, in-built oven, kitchen baskets and kalinga stone countertop, the kitchen is fully equipped with aesthetic and functional elements.
Pretty Pastel Master Bedroom in SNN Raj Etternia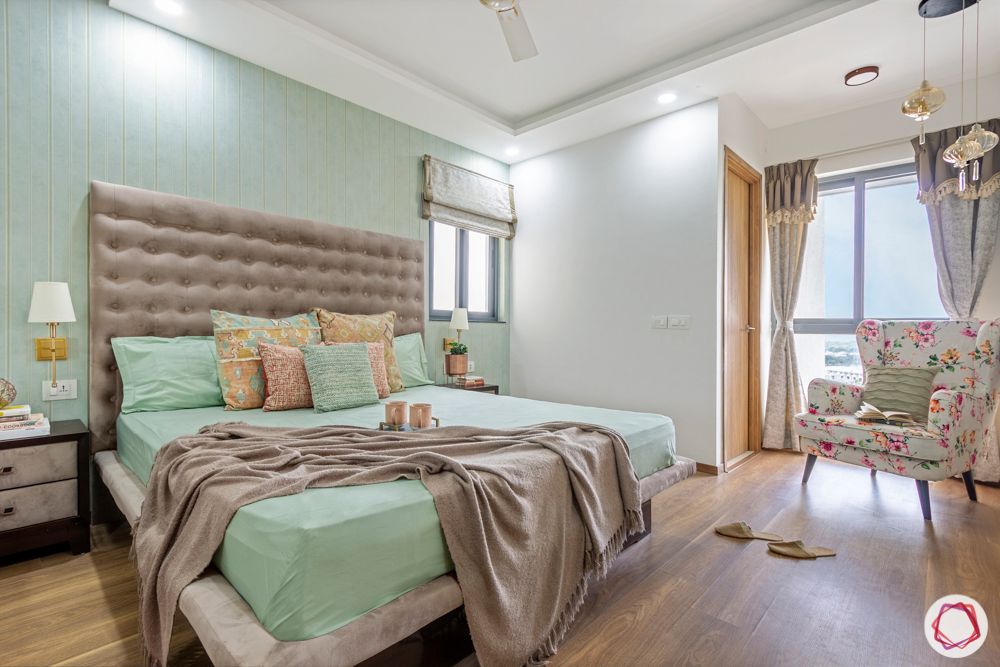 Gautam committed to keep the master bedroom in the same colourway. The dusty pink bed frame and headboard matching with the laminate wardrobes goes well with the pastel green wallpaper. Bringing the whole room together is a floral accent chair with a pendant light, perfect for snuggling up with a book and a cup of coffee.
Cool Toned Guest Bedroom in SNN Raj Etternia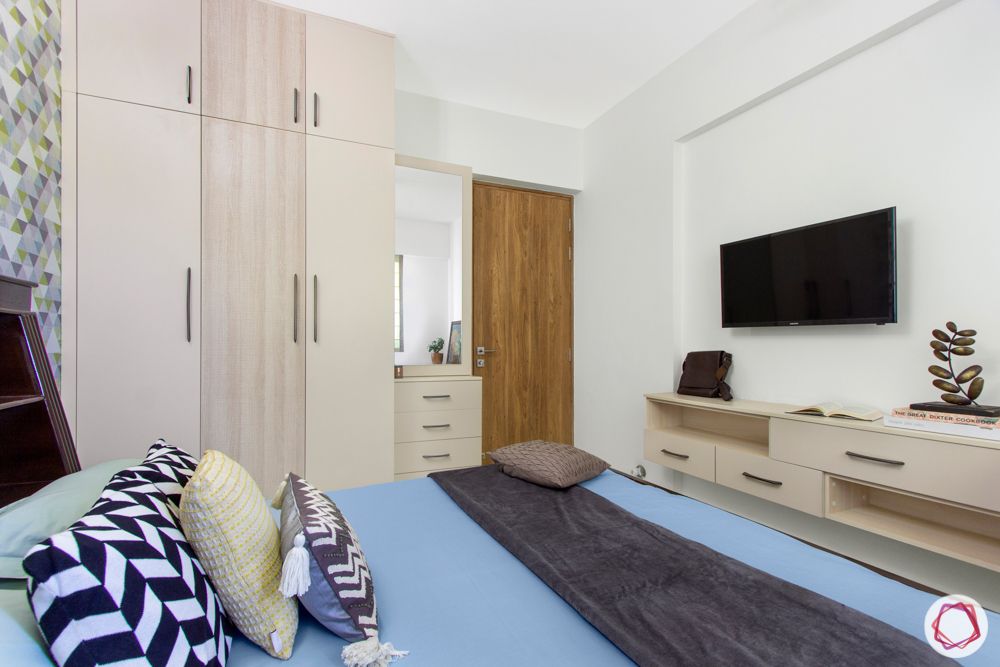 The guest bedroom is designed with an existing bed and new laminate wardrobes for sufficient storage. The polychromatic wallpaper is a unique find from our Livspace catalogue so, you can opt for a colourful element for your home too.
---
"Swati and Gaurav had complete faith in my designing skills and gave me the go ahead to chalk out a design that seemed fit for a home with a toddler while keeping in mind aesthetics and functionality."

-Gautam Gupta, Interior Designer, Livspace
---
Take the full home tour here.
Loved reading this? We designed another home in Bengaluru and you might enjoy reading this too: Stylish & Inviting at Purva Highlands
Send in your comments and suggestions.