This 3BHK in SNN Raj Etternia is a feast for the eyes!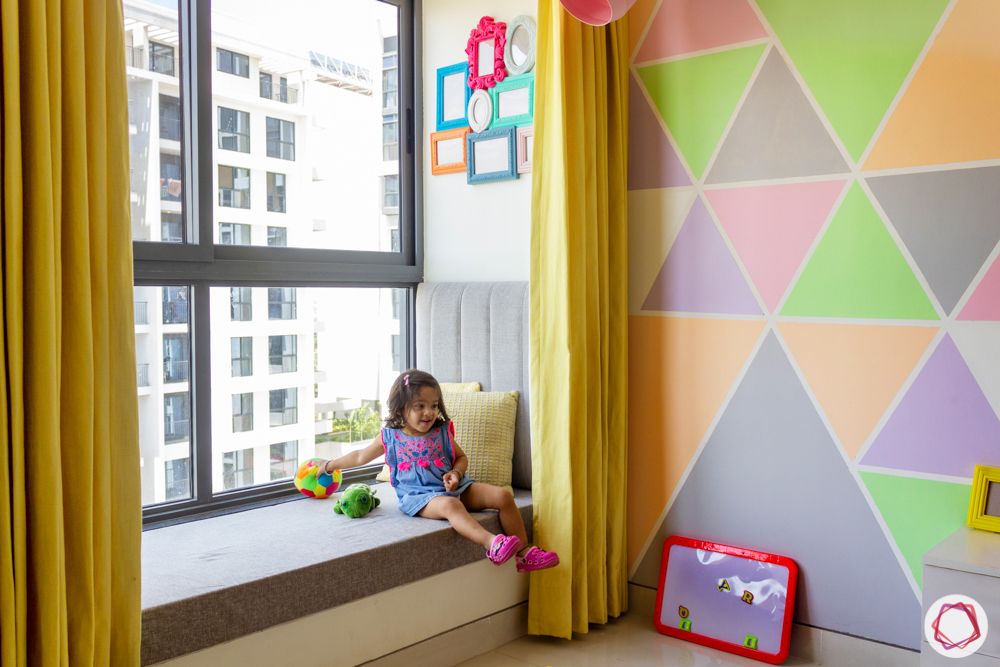 ---
Who livs here: Neena with her husband Ravi and their daughter Myra
Location: SNN RAJ Etternia, Bengaluru
Size of home: A 3BHK spanning 1,460 sq ft approx.
Design team: Interior Designers Sneha S.B & Rajalakshmi M and Project Manager Niriksha S
Livspace service: Full home design
Budget: ₹₹₹₹₹
---
"Friends describe my home as a perfect break from the fast-paced city life. One that reminds them of an ideal holiday home," Neena says. As a mother and go-getter, residing in Bengaluru, Neena has always wanted a home that exhibits her personality while being a safe and secure place for her daughter, Myra.
So, when it comes to designing an elaborate project like this one, two spirited Livspace designers, Sneha and Rajalakshmi took up the task of personalising it to a T. With fresh and original ideas, they mapped out a fabulous design while accommodating all the client's needs. Therefore, keeping in mind that a toddler is going to goof around at home, the designers have designed every room with enough movement space for Myra. Moreover, from civil construction to picking out the curtains, the designer-pair made sure not to compromise on any detail.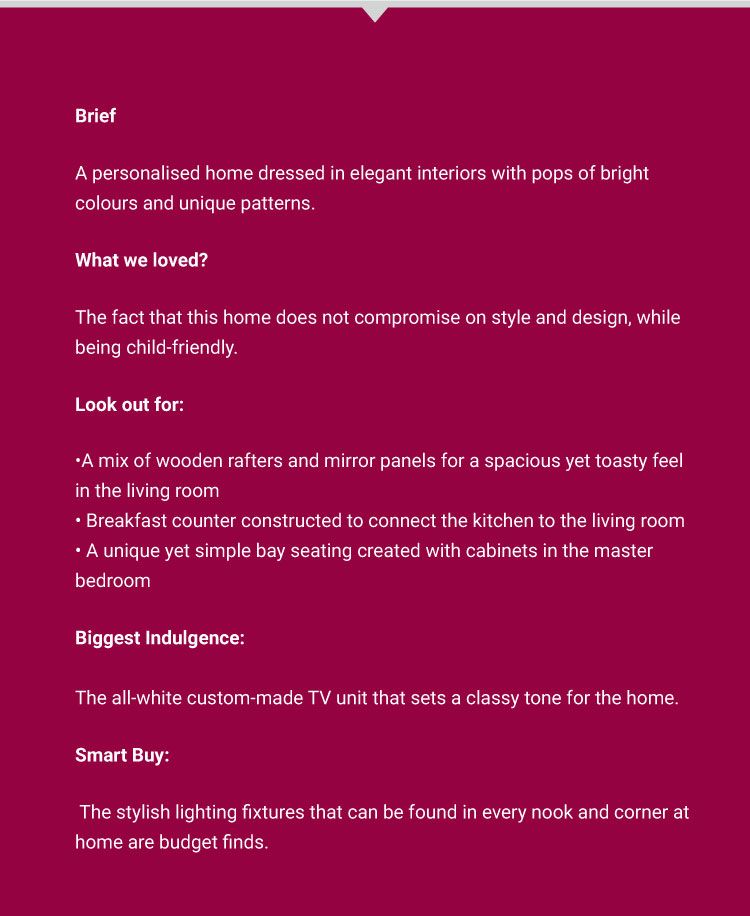 Classic Living Room in SNN Raj Etternia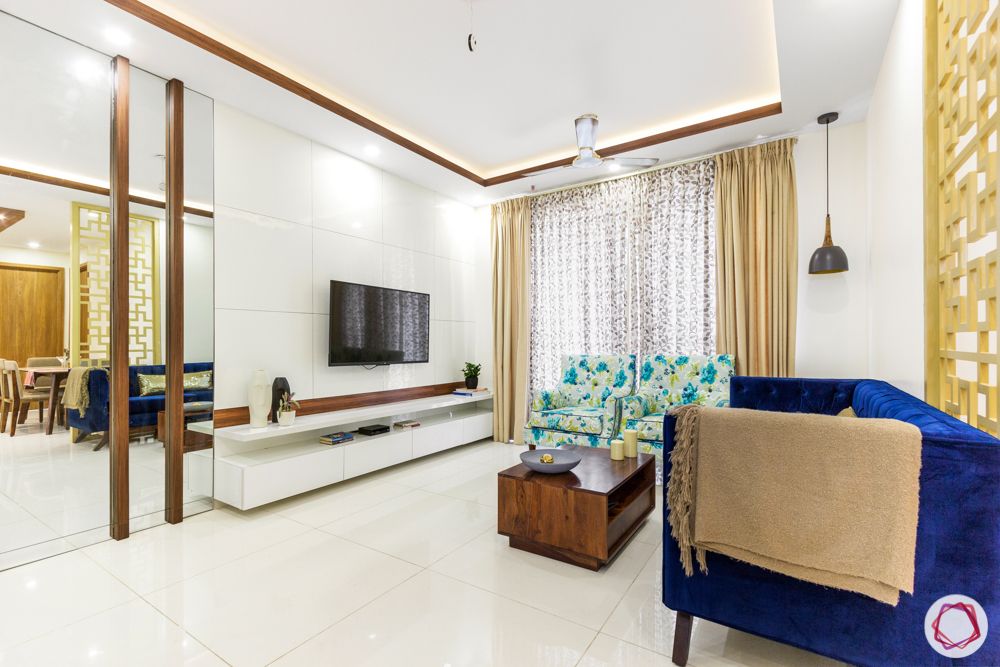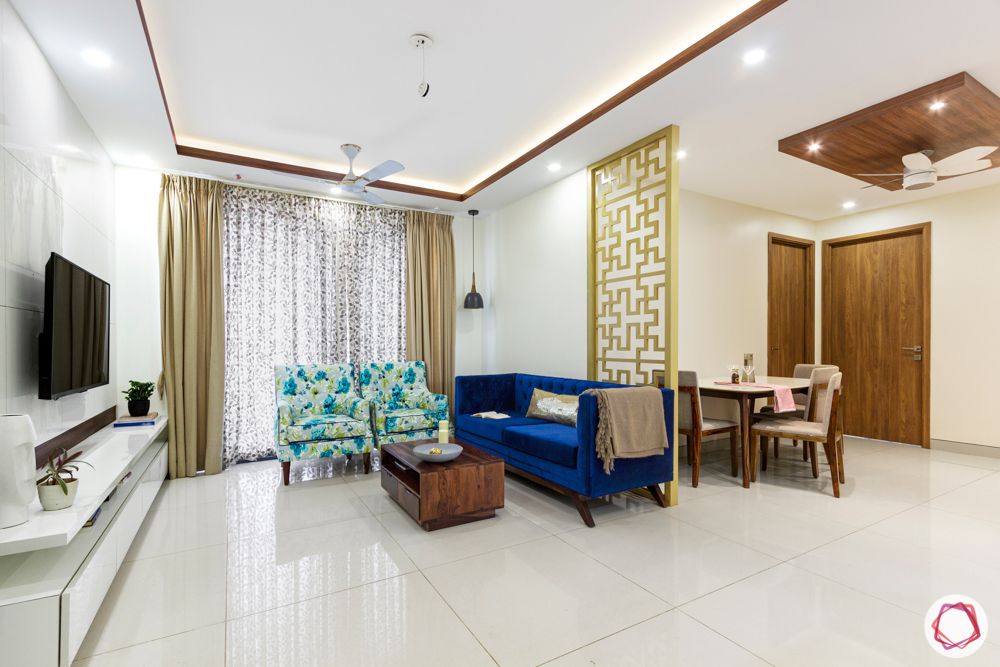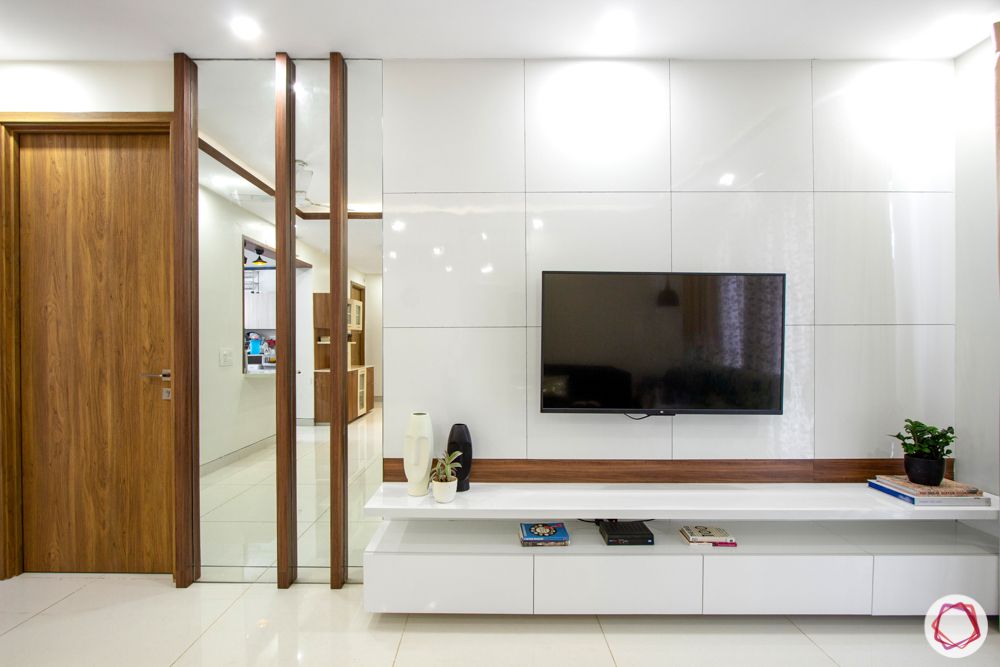 Considered as the most important room at home, the living room is where Neena hosts a number of gatherings for family and friends. However, she is certain she wants an extremely cosy living room with a sprinkle of glamorous elements. Therefore, the designers have set the tone for the home with plush interiors used in this space. Furthermore, adding a touch of class is a royal blue velvet sofa and a partition made in MDF that doubles up as an extended wall. To open up the space, they added an all white custom-made TV unit with mirror panels.
Simple & Sufficient Dining Room in SNN Raj Etternia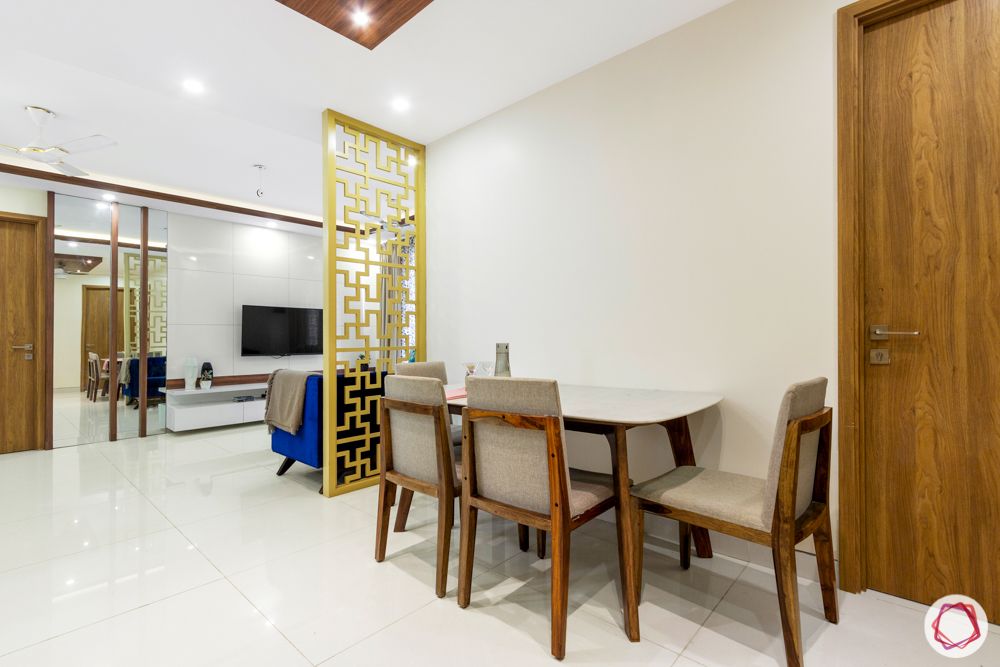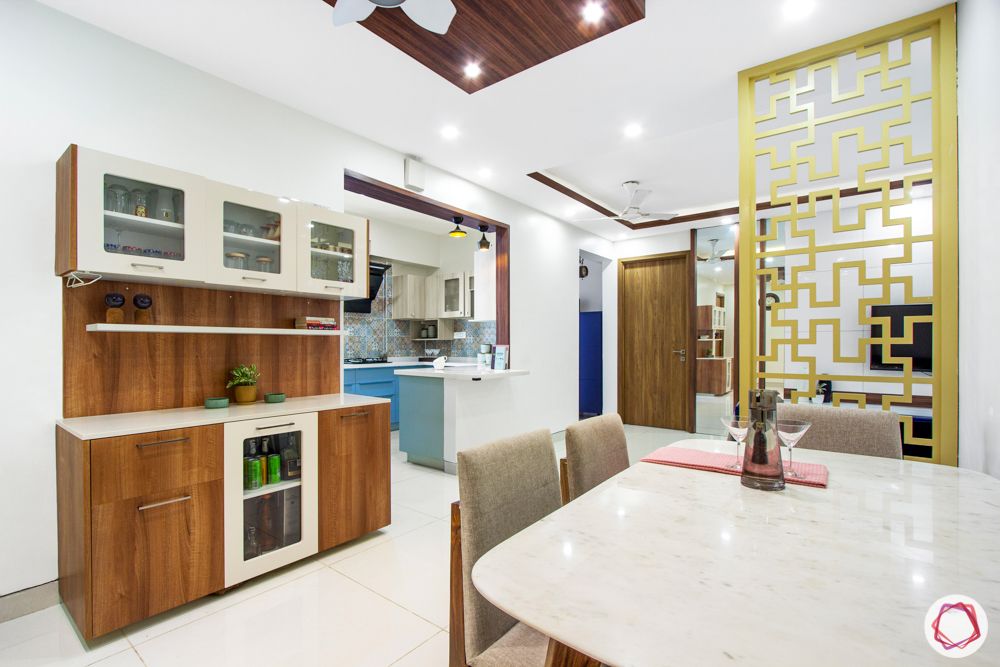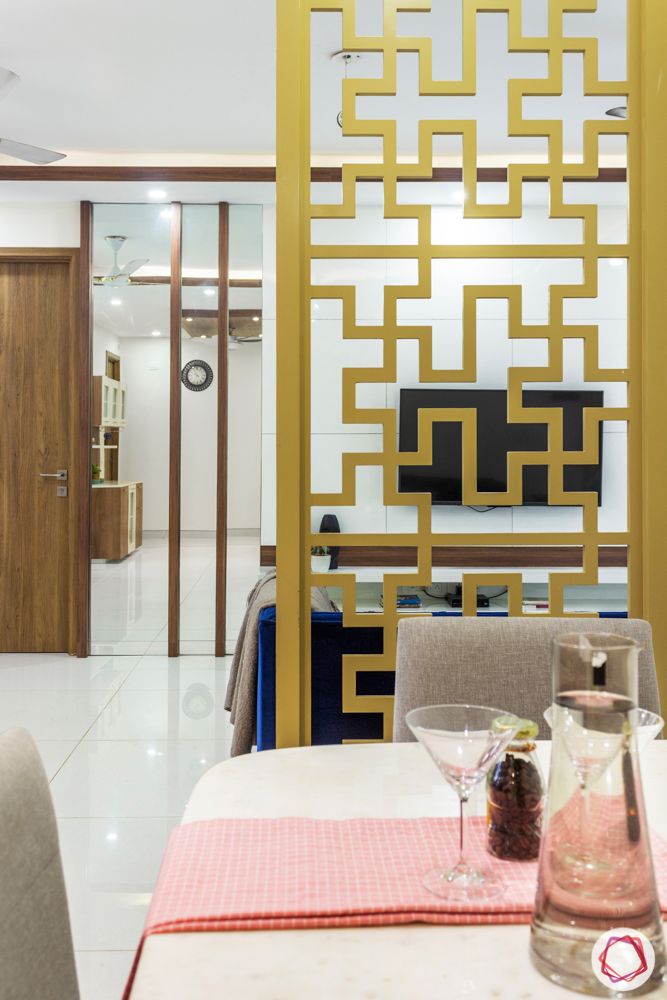 On the other side of the sizable jaali partition is a simple and compact marble top dining table. Neena specifically requested the designers to find a piece that could be used as a crockery-cum-bar unit. Therefore, placed next to the dining table is this multi-purpose unit which is a great find from the Livspace catalogue.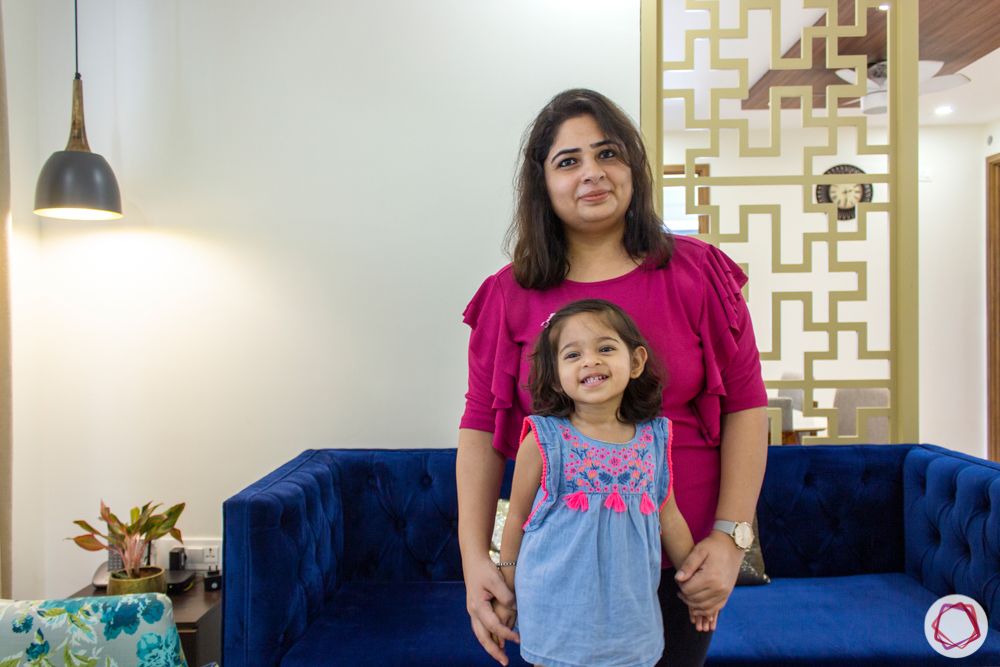 "Sneha and Rajalakshmi were very attentive and accommodating throughout the process. After all the planning and discussions, the design turned out to be just to my liking and I'm very happy with the final look".

-Neena, Livspace Homeowner
Modish Modular Kitchen in SNN Raj Etternia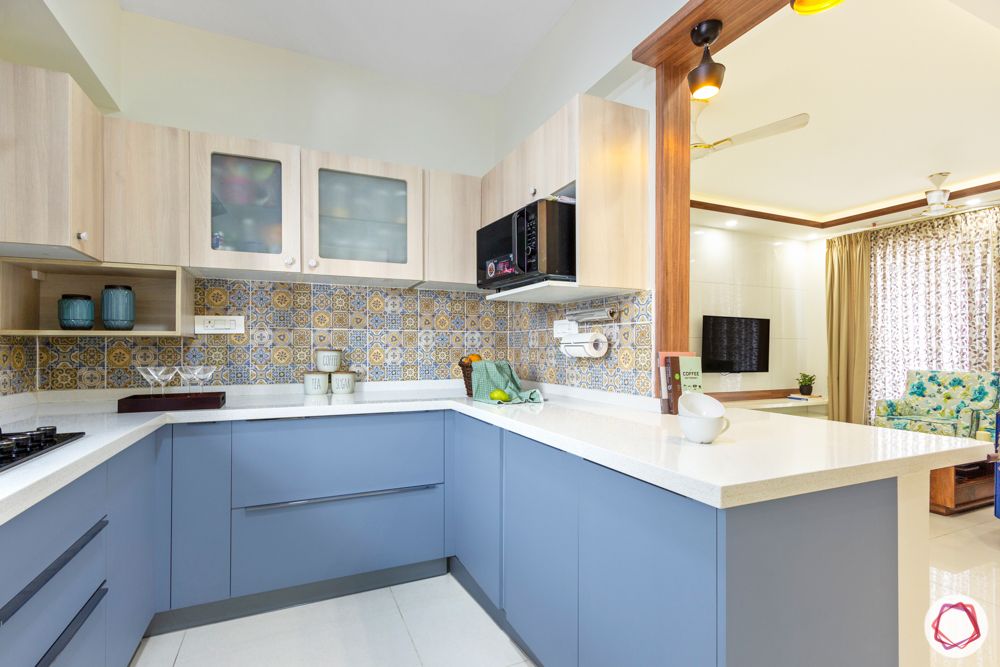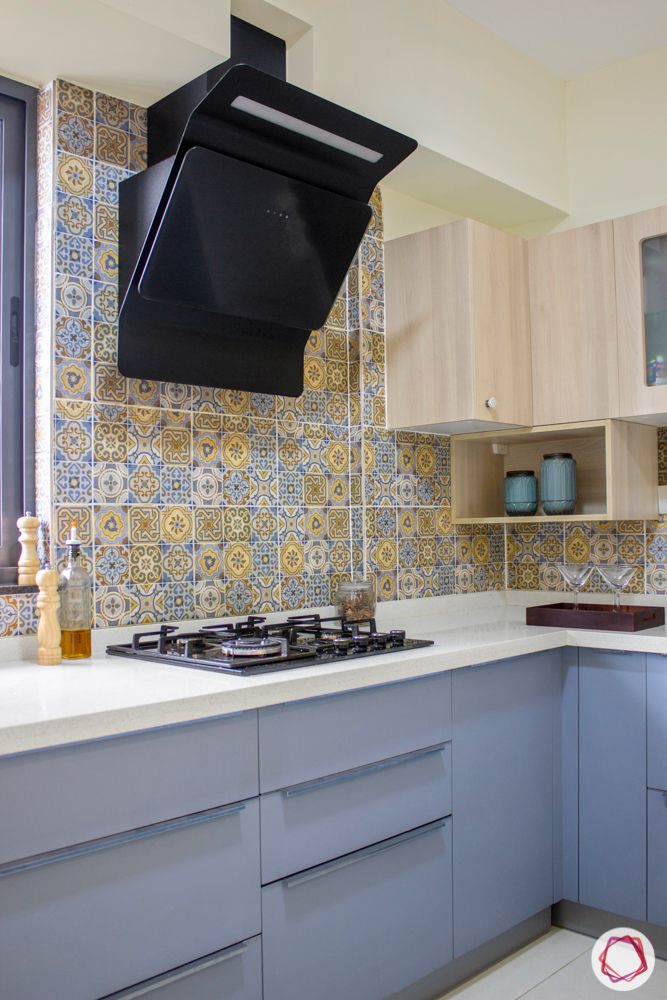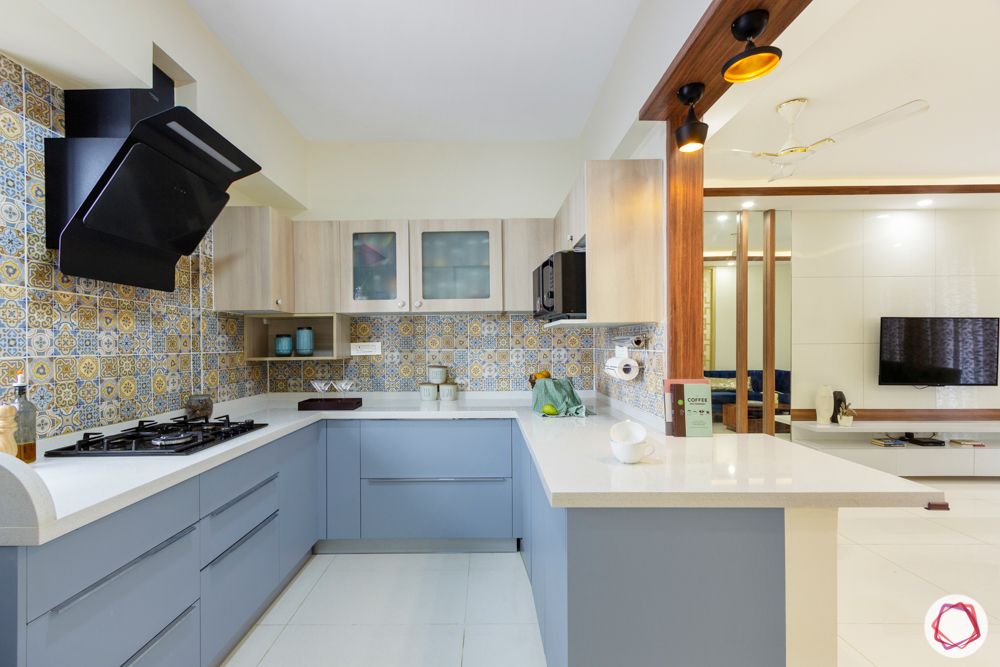 Neena required a fully equipped kitchen that would be functional and aesthetic. Therefore, the design team opted for a modular kitchen that had a combination of sky blue and light wood membrane cabinets along with a quartz countertop. However, Neena and the designers felt that something in the kitchen was still amiss.
The design team then constructed a breakfast counter to connect it to the living spaces. It finally turned out to be a stunning U-shaped kitchen that went from a closed layout to a semi-open and well-ventilated space.
Contemporary Style Master Bedroom in SNN Raj Etternia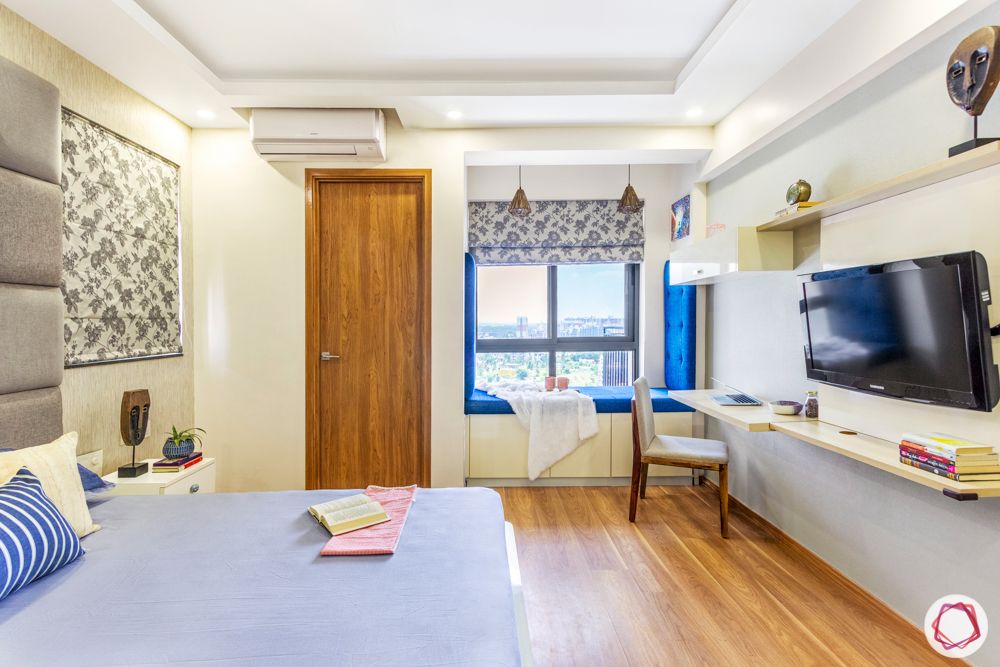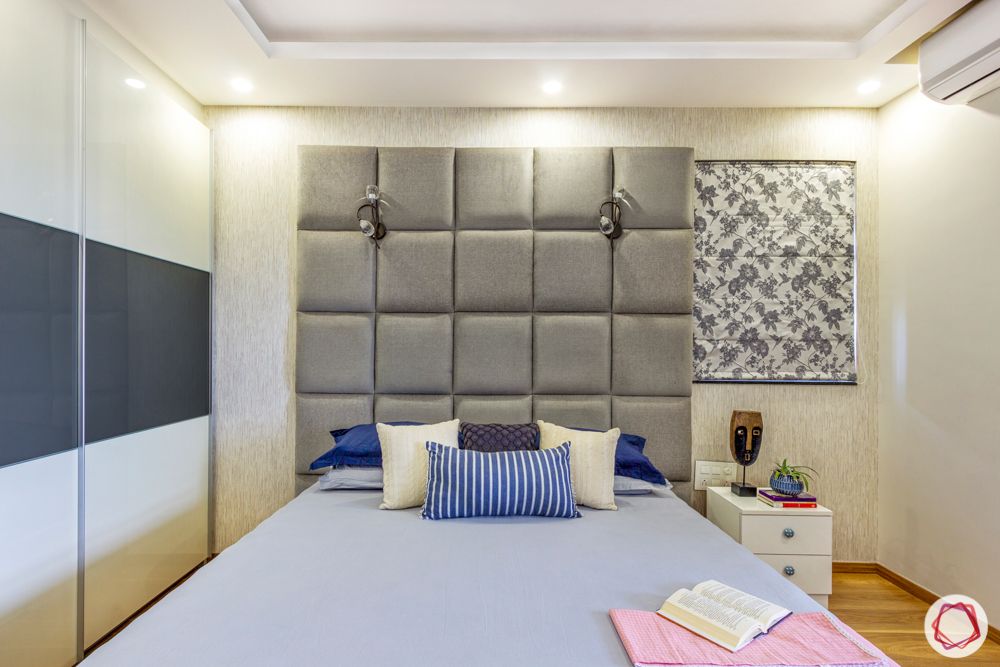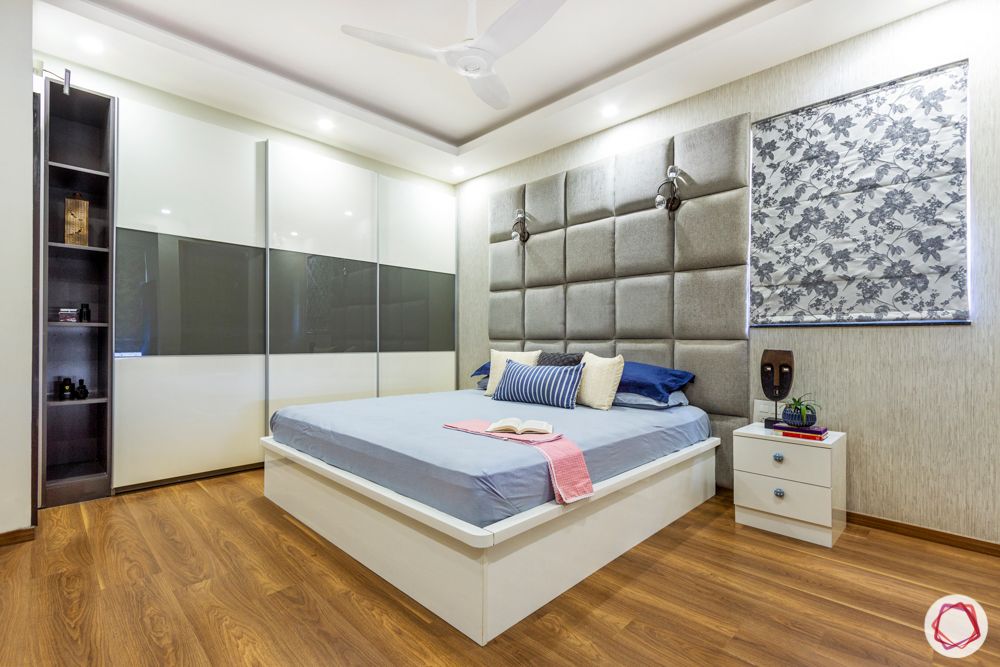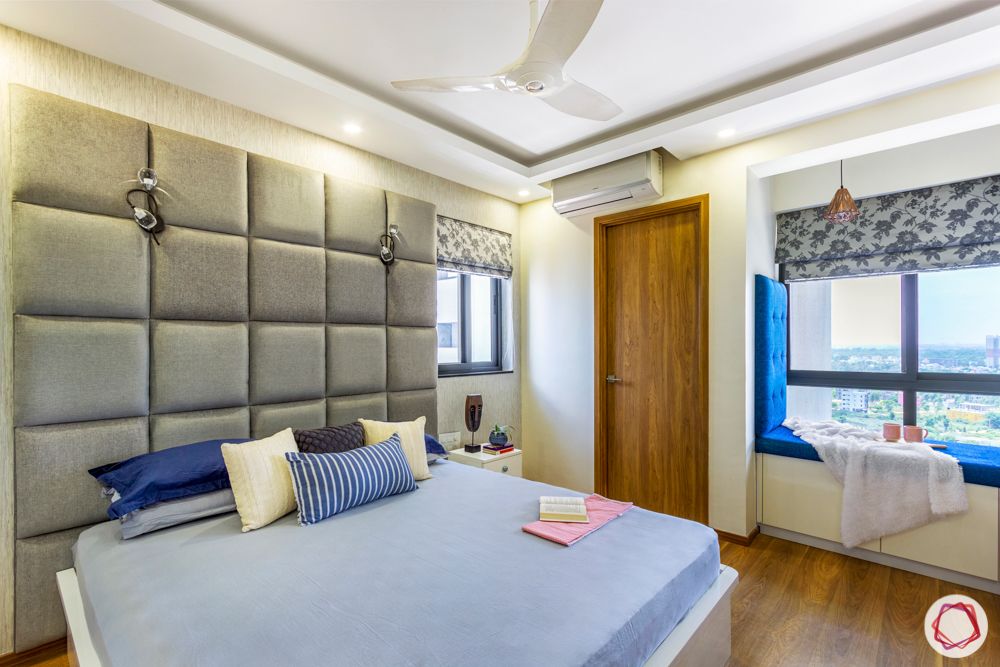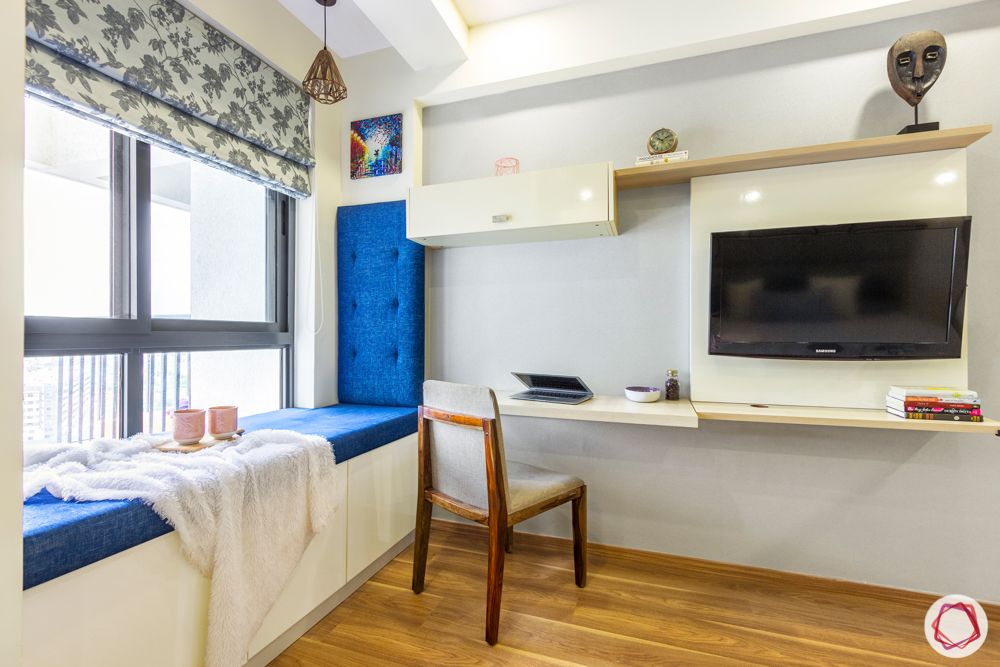 You can see that this bedroom is all things classy. Neena wanted a bedroom where she could be as snug as a bug. Therefore, the designers, Sneha and Rajalakshmi have used plenty of cushioning in this room. In the entire master bedroom, the grey cushioned headboard immediately grabs your attention. Although a subtle colour, the full-length headboard screams luxury. Besides this, Neena wanted additional lights, that were later installed on the headboard. Talking about the walls, one is covered in a neutral wallpaper with sliding wardrobes from Livspace, occupying the other.
An interesting addition by the design team is the bay window seating that was innovatively created by installing cabinets with a comfy cushion over them.
Colourful Kids Bedroom in SNN Raj Etternia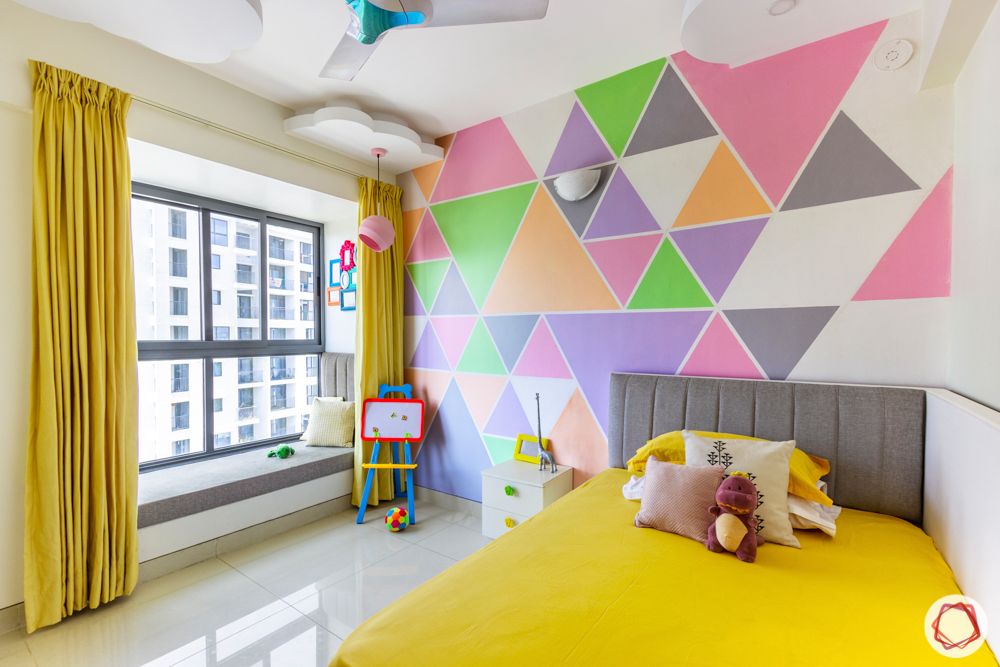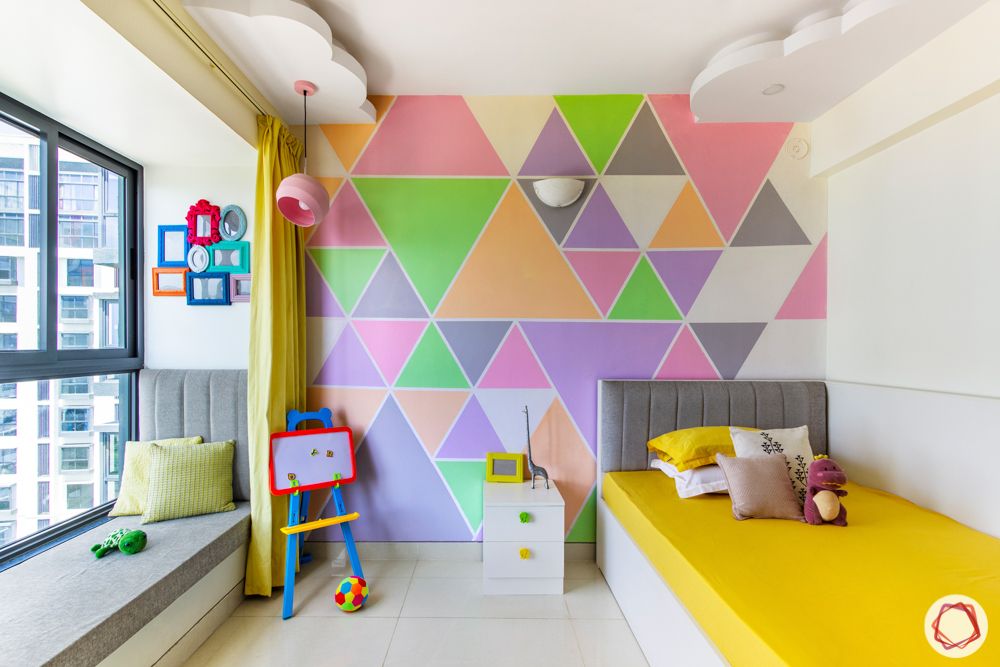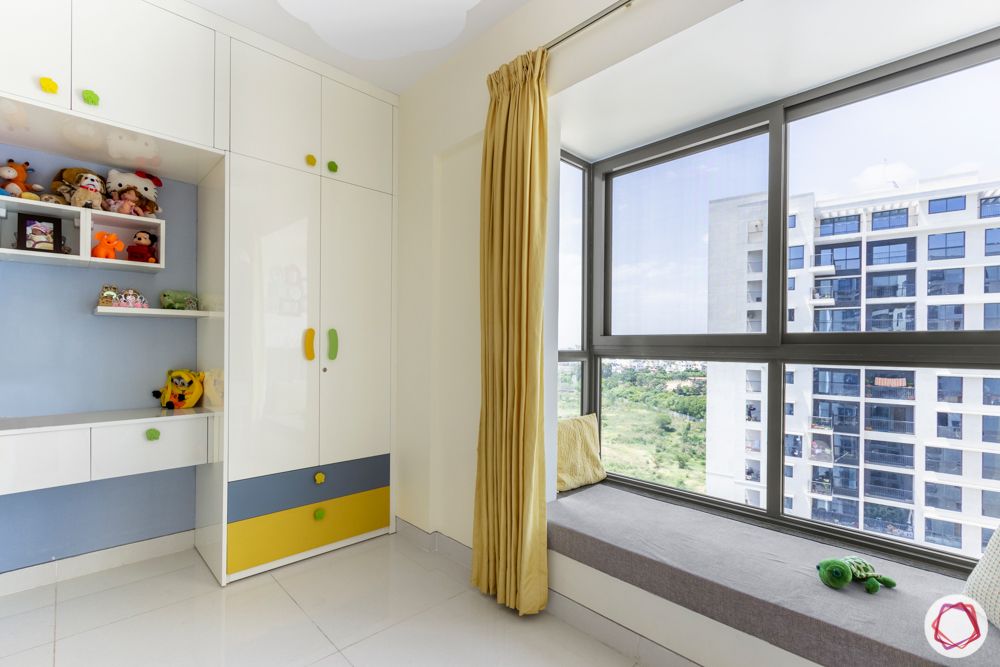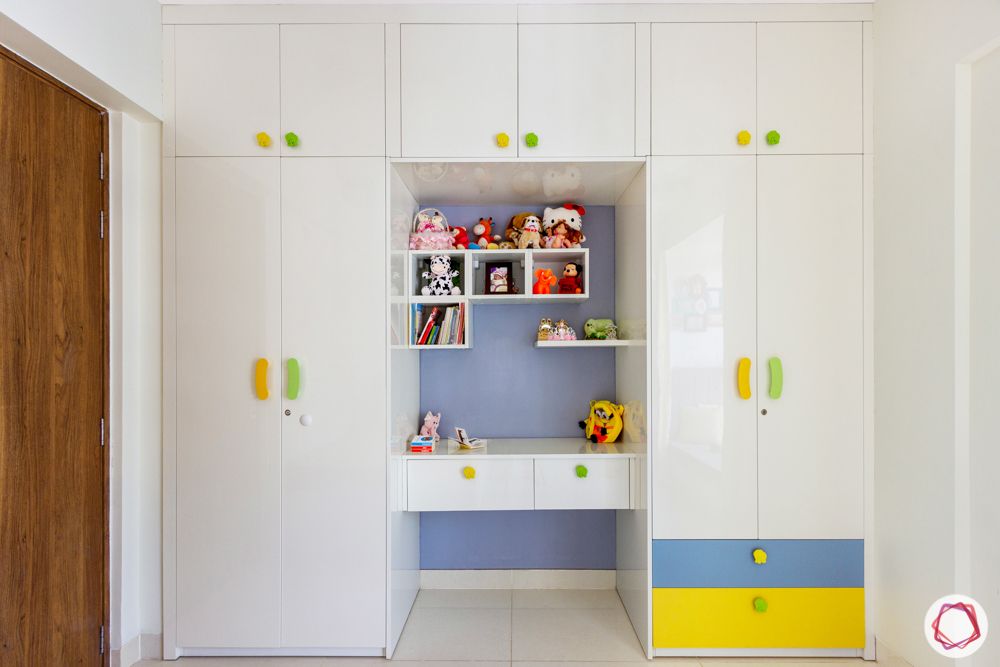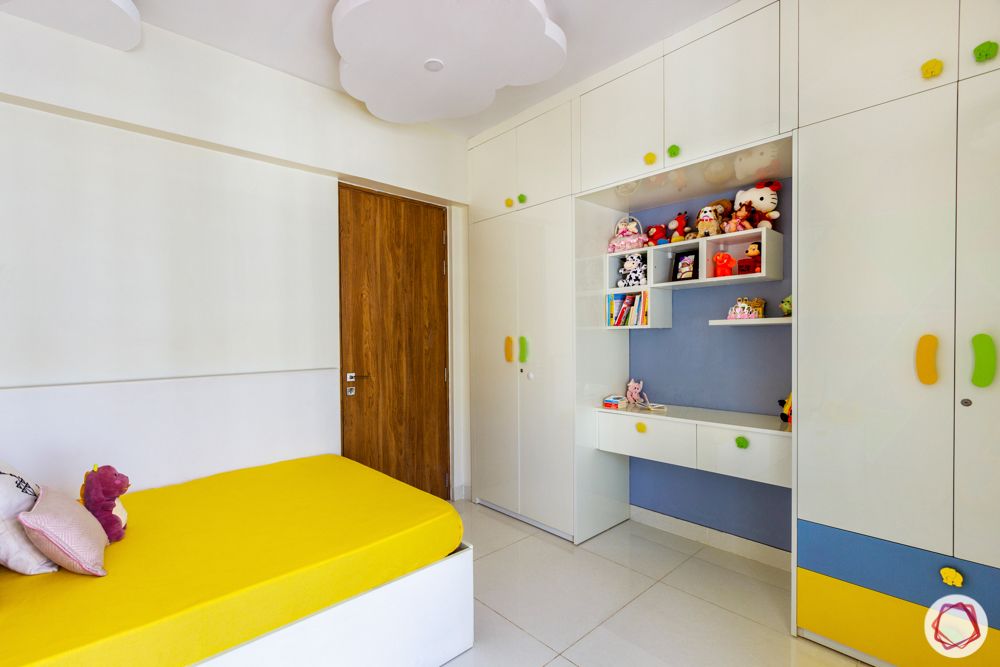 "Myra's room is out-and-out my most favourite room in the house. It's just perfect for my little tot." Neena says. The highlight of this home is how well the kids bedroom is designed. The main focus being a room that was suitable for a toddler till she is an adolescent. Moreover, the design team and Neena picked a wall stencil with geometric patterns and plenty of pastel colours.
With everything being carefully crafted, this stencil acted as the main focus of the room. The grey headboard and bay window seating matched the grey in the wall stencils. Whereas, a pretty pastel pink pendant light was installed to match the pink in the stencil. In addition to this, the design team installed a false ceiling with POP cloud designs so that when Myra looks up she can always look up at the sky right inside her room!
"Although challenging, designing a home that the clients are happy with is the ultimate goal. Alongside Neena, we put in plenty of time and effort while carefully selecting every element so that the home would turn out flawless. Thanks to her, we could experiment and be creative with our design".

–Sneha & Rajalakshmi, Interior Designers, Livspace
If you enjoyed reading about this classy Bengaluru home, also explore Custom-fitted Furniture for Spacious 3BHK.
Send in your comments and suggestions.