SNN Raj Greenbay gets a stunning #LivspaceHome!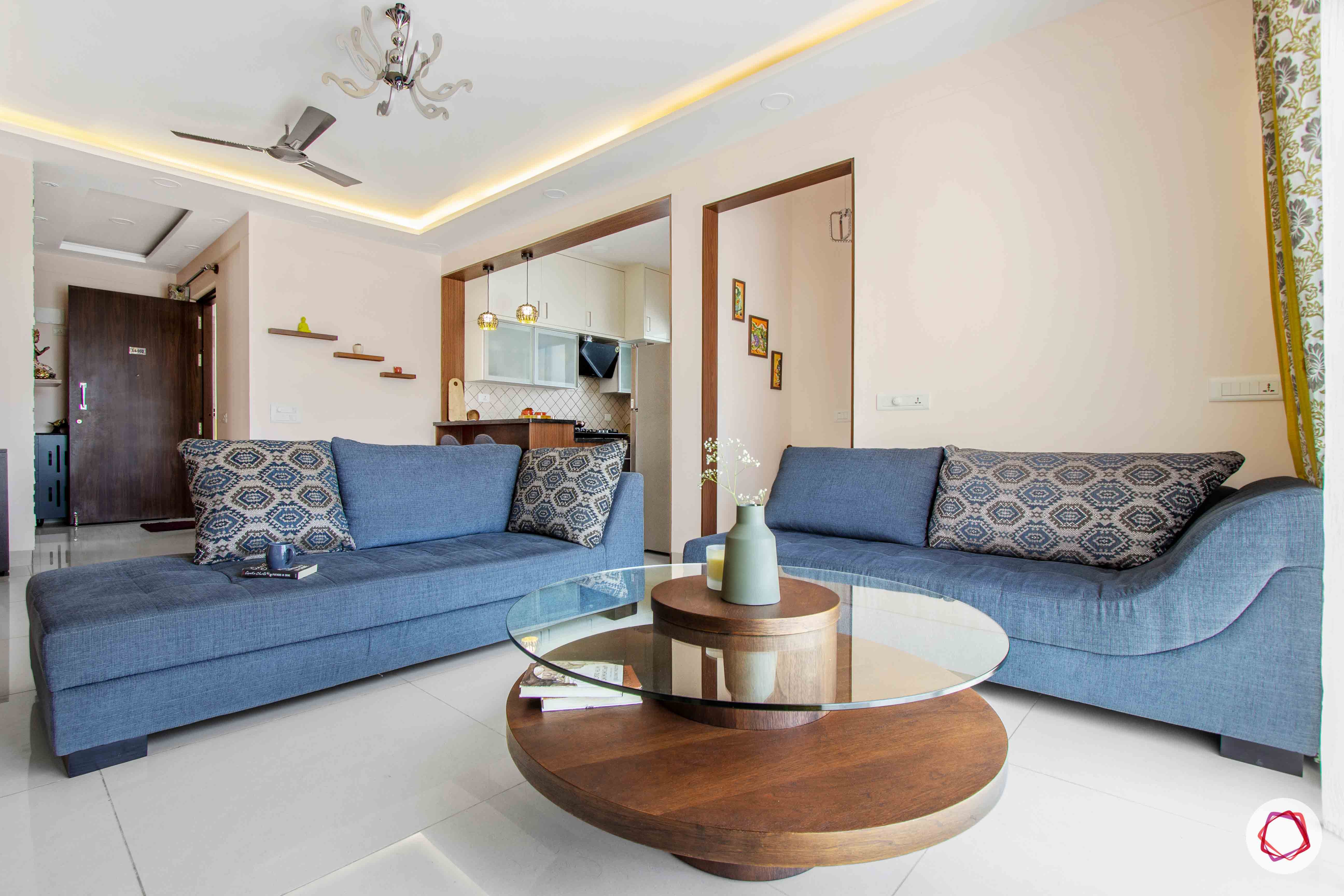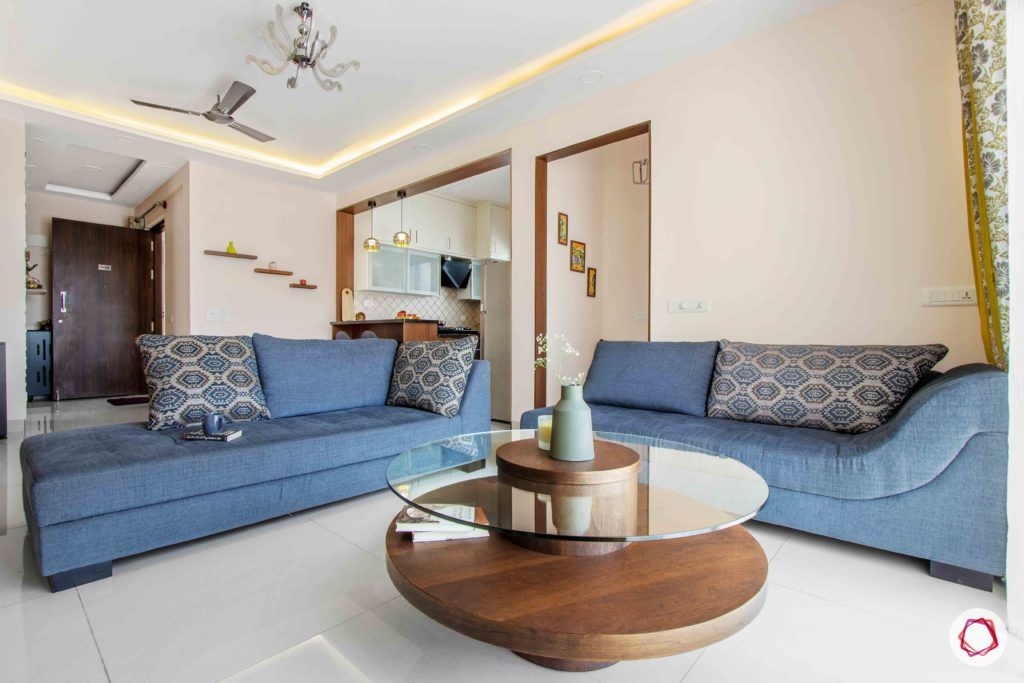 ---
Who livs here: Nirmal with his wife Moumita
Location: SNN Raj Greenbay, Electronic City, Bengaluru
Size of home: 2BHK spanning 1,390 sq ft approx.
Design team: Interior Designer Chandana Erugu and Project Manager Chandrashekar N
Livspace service: Full home design
Budget: ₹₹₹₹₹
---
When Nirmal and Moumita first discovered this sweeping home — a beautiful, expansive, naturally lit home in one of Bengaluru's most sought-after neighbourhoods — they knew that they had to make it theirs. This apartment at SNN Raj Greenbay has a lot going on within. With a well-planned living room and cosy bedrooms, this house had the potential to become the perfect home for this young IT couple.
With a positive outlook and the desire to own a pretty home in Electronic City, they approached Livspace. What impressed them was the promptness of their designer Chandana Erugu in giving them design solutions for the concerns that they had. The designing and execution took off from there and this journey has been rewarding for everyone involved in this process. The clients are all praises and we are in awe!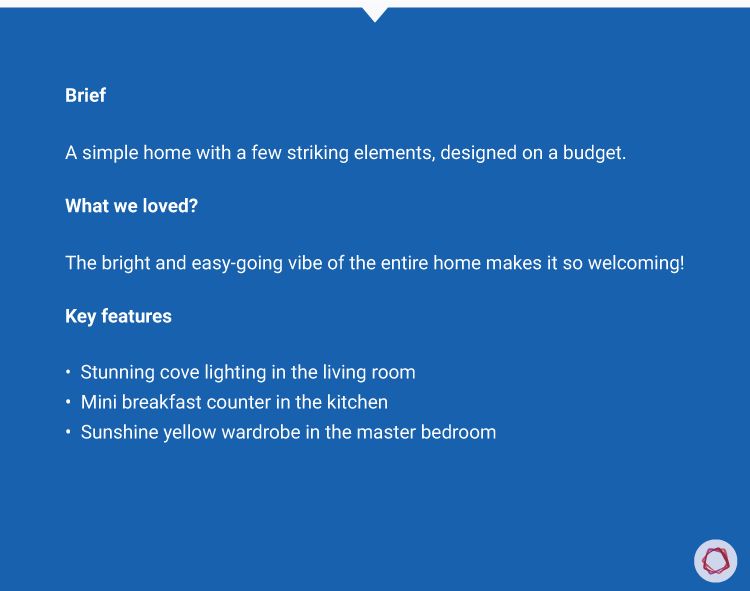 SNN Raj Greenbay Apartment Design: Rustic Entry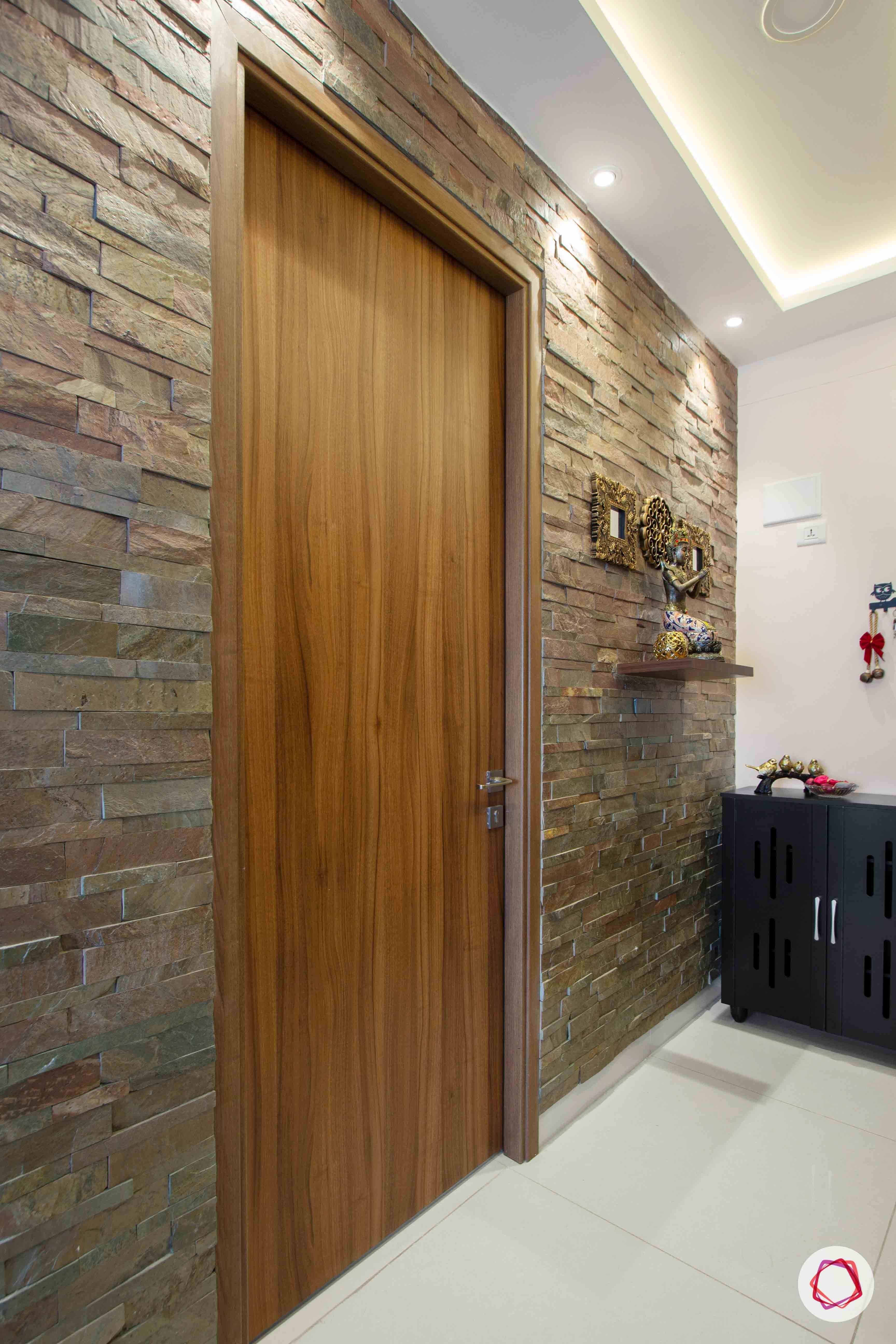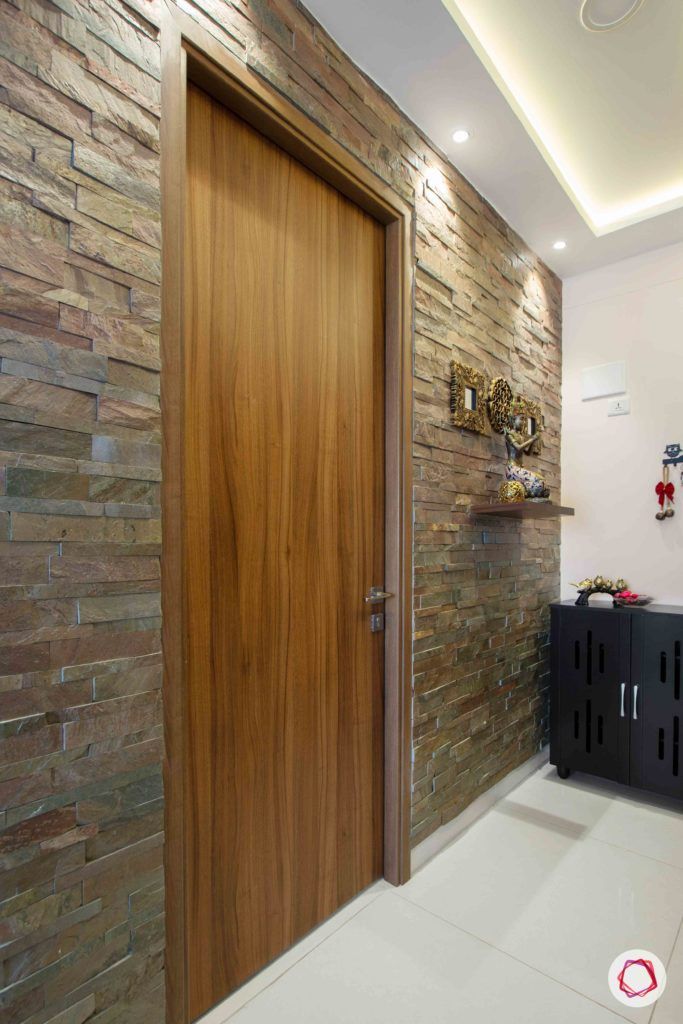 There's something warm and inviting about the use of stone and natural materials at home. Especially when you use it in your entrance, you are bound to attract positive vibes. Nirmal and Moumita were pretty sure about getting a stone cladded wall in the foyer at their SNN Raj Greenbay apartment because they feel that it gives character to plain walls. Chandana further enhanced it with a simple wall ledge and spot lights in place.
Apartment Design at SNN Raj Greenbay: Sunshine Spotted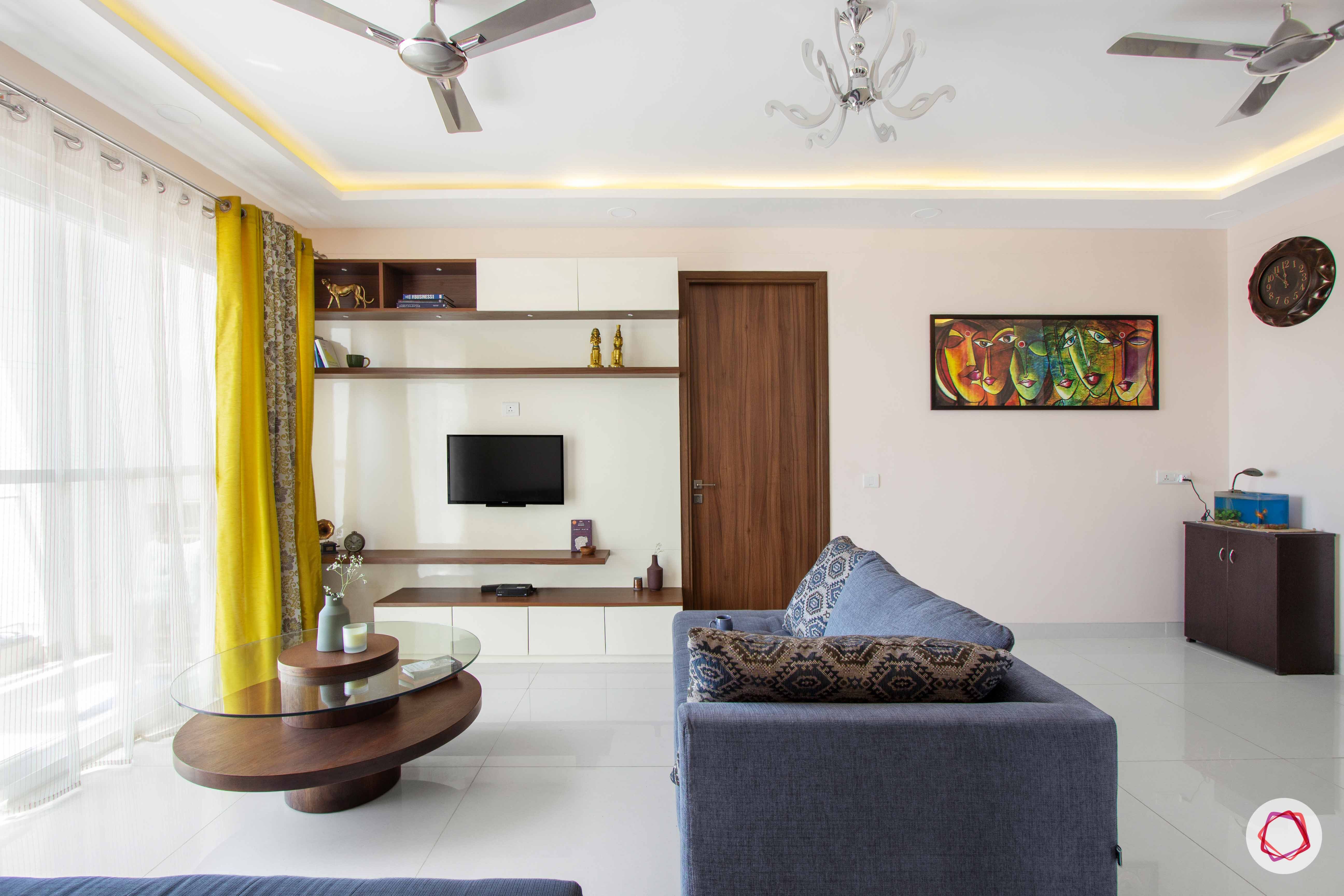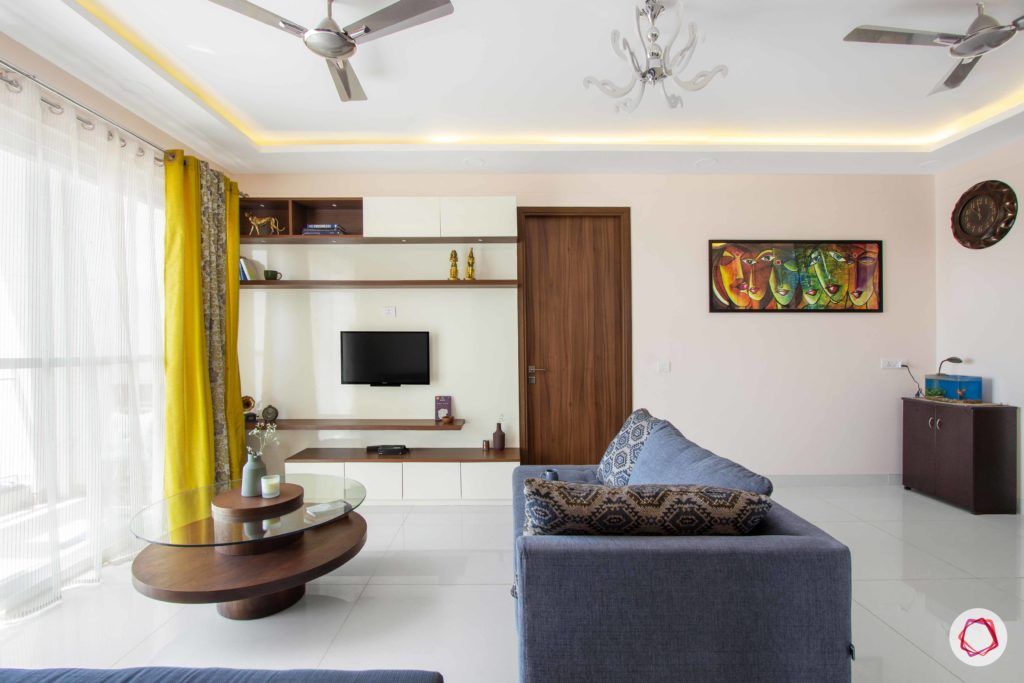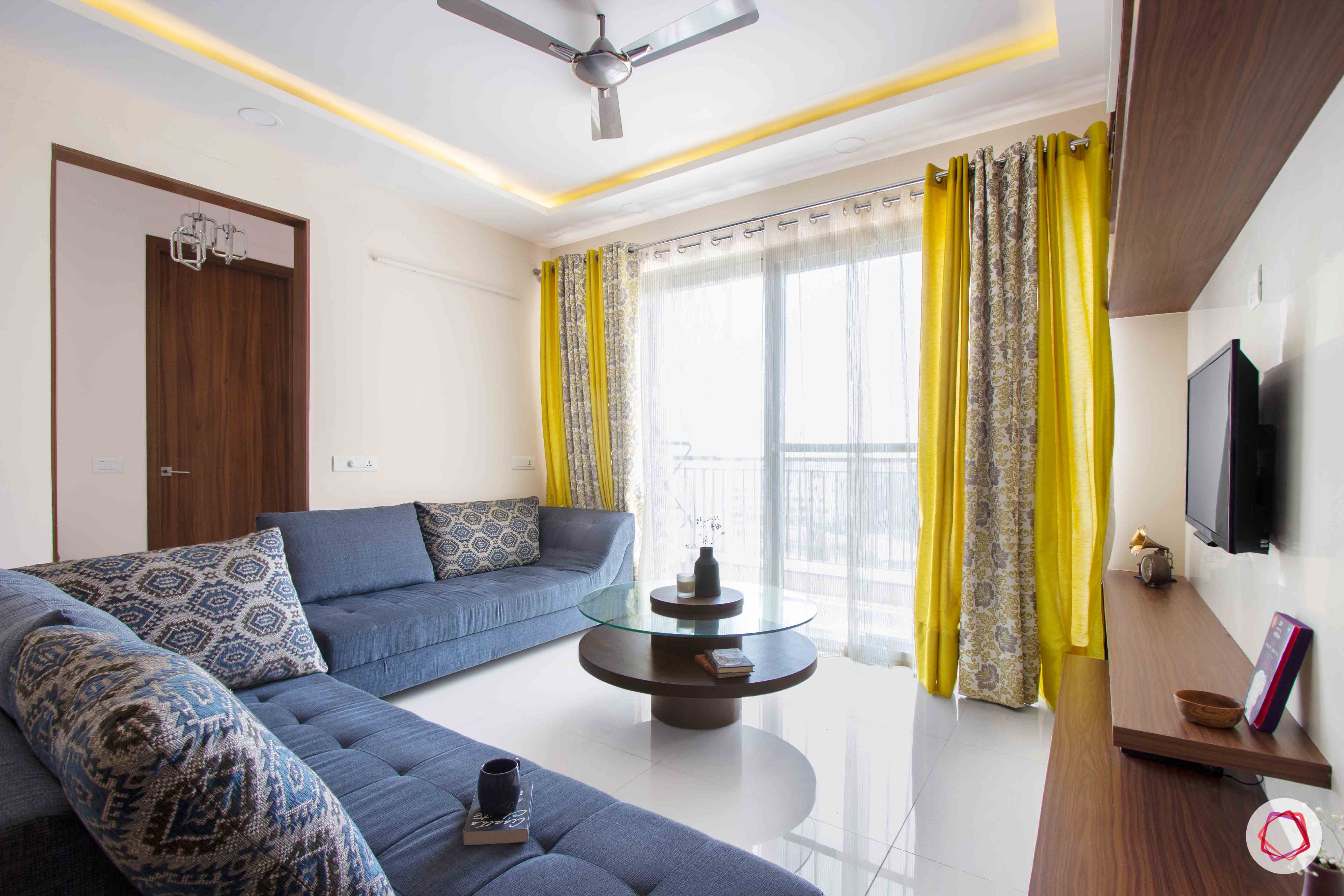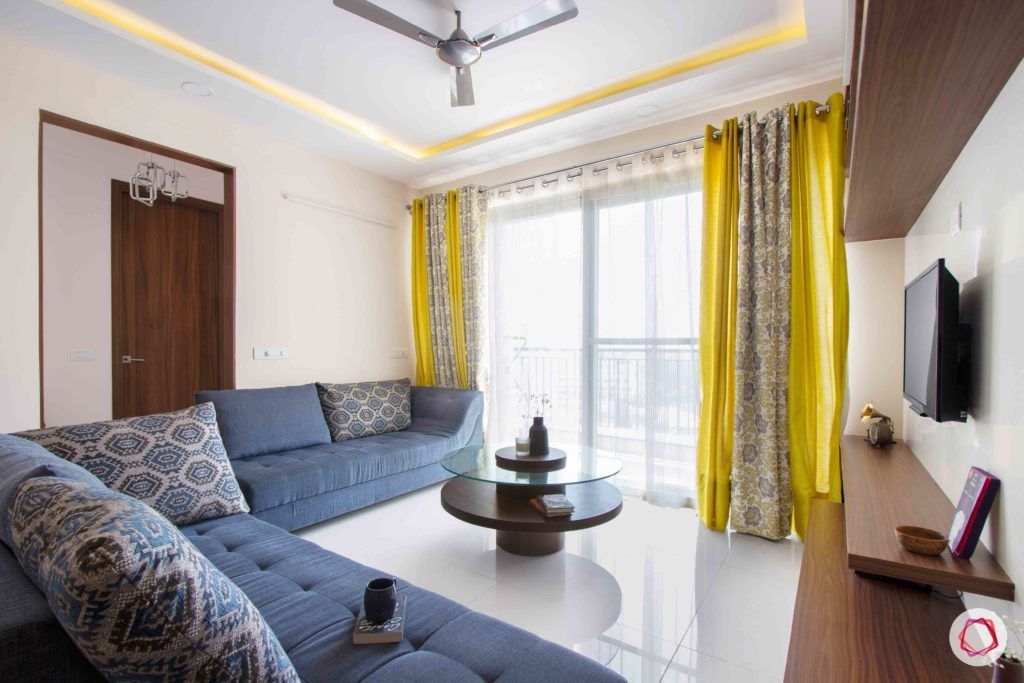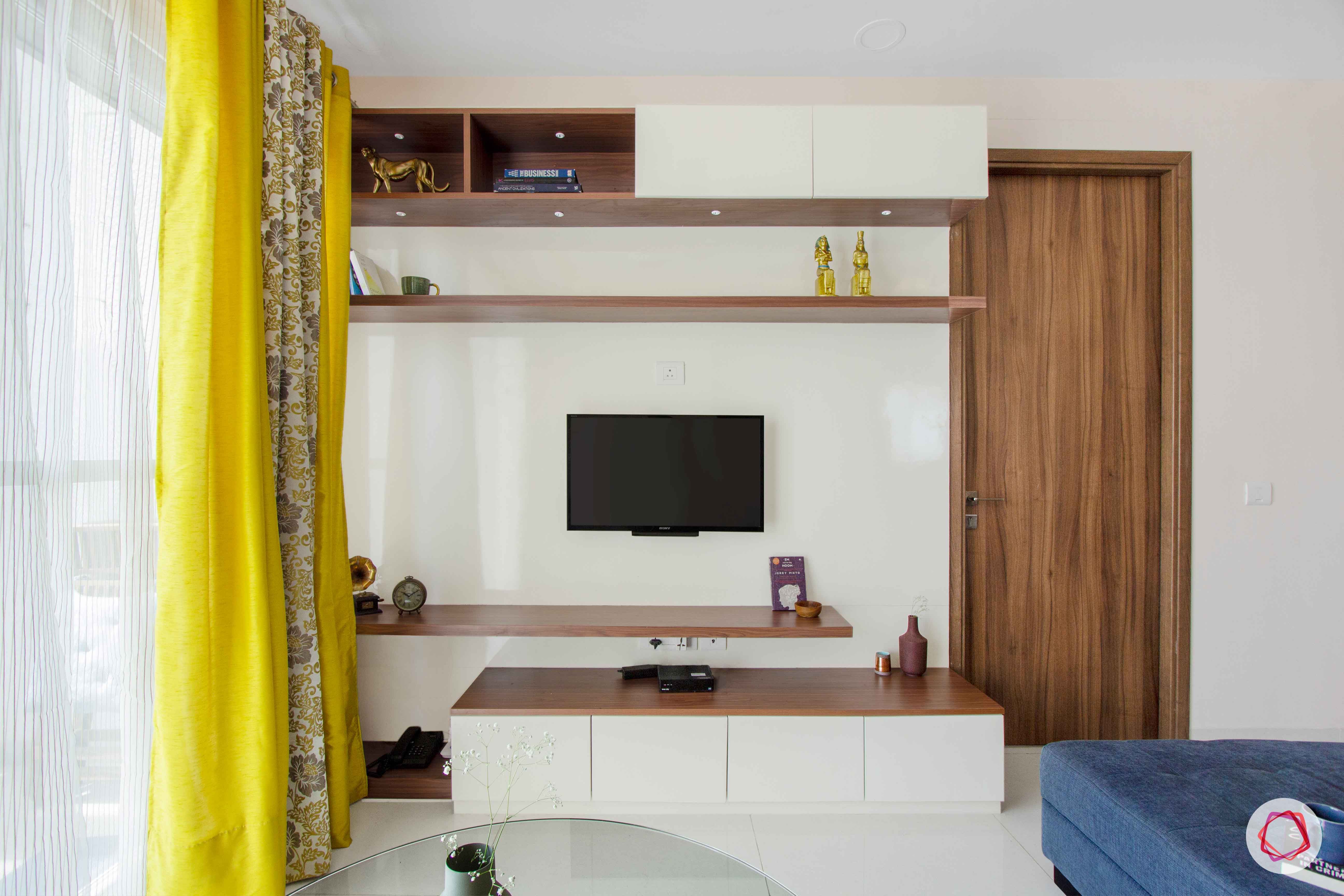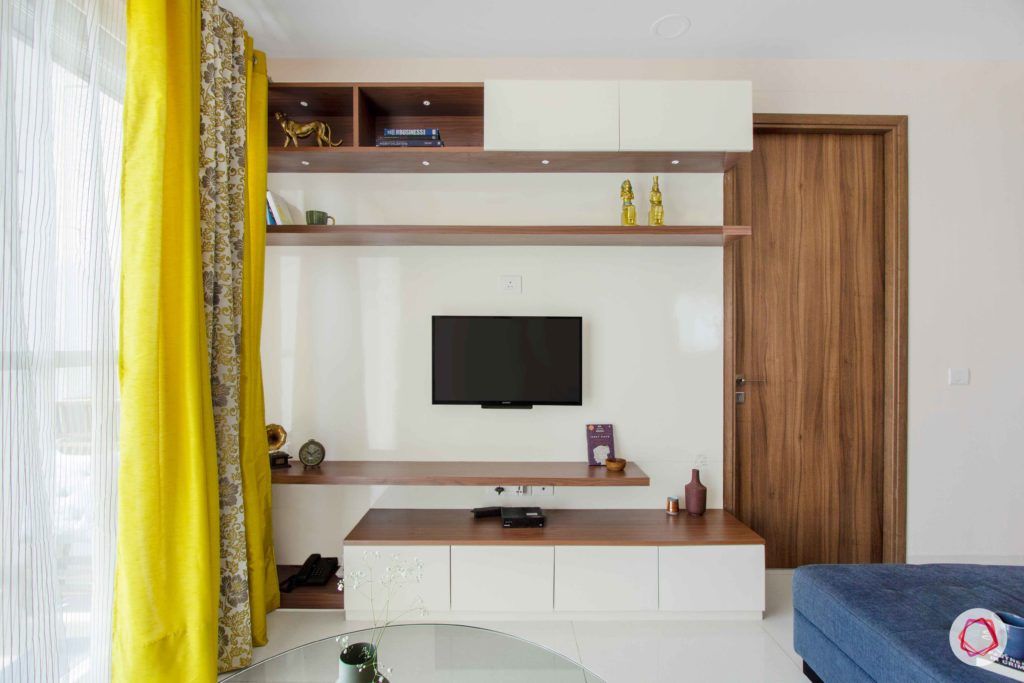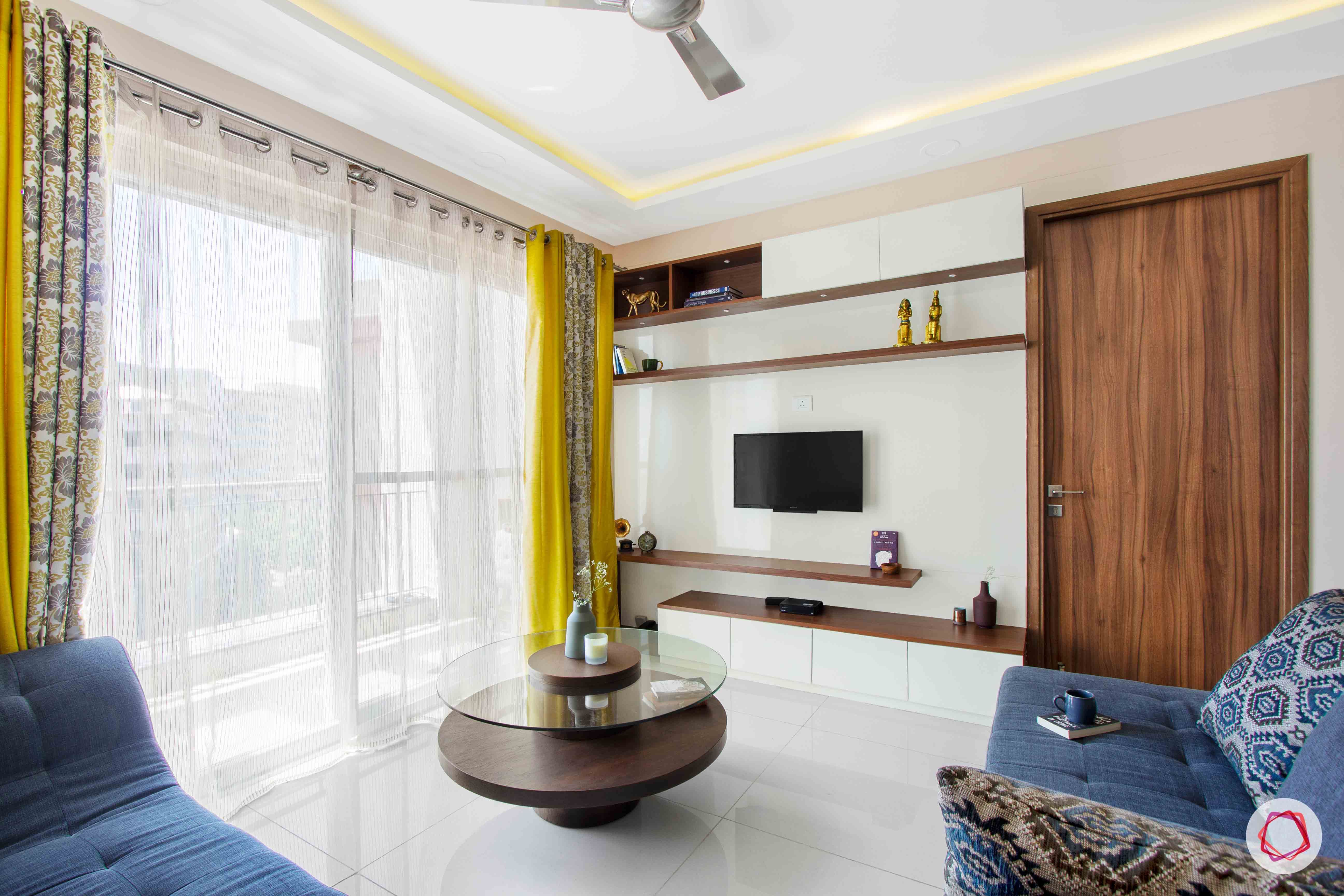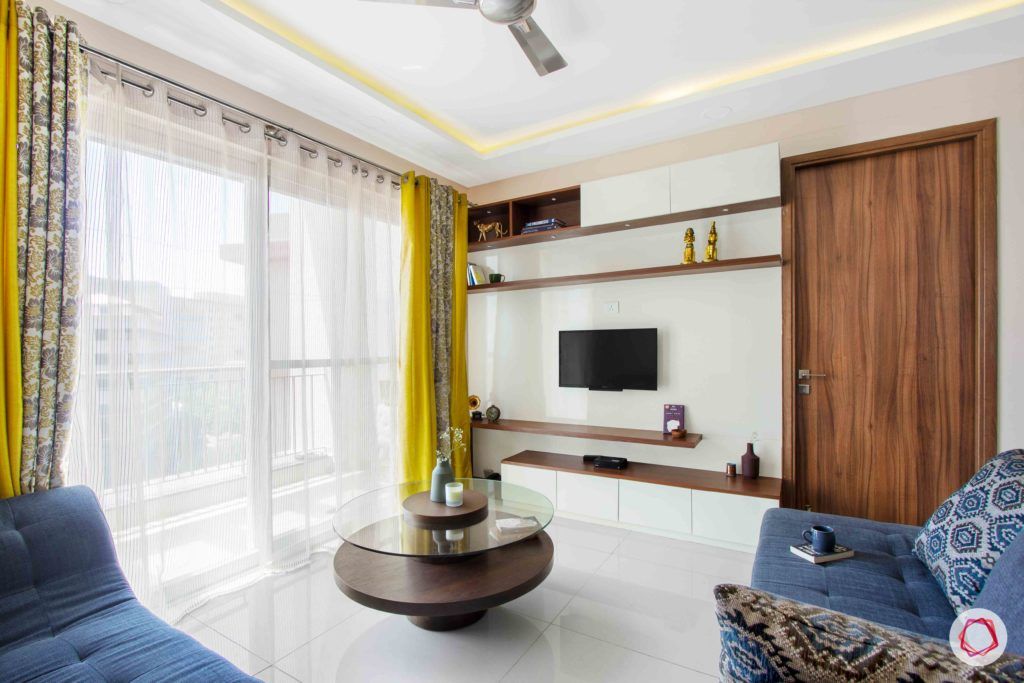 This pleasant couple is more of a stay-at-home kind and they love enjoying their company by themselves. Therefore, they were clear about having a simple home where they can relax. Their living room at SNN Raj Greenbay features a couple of comfortable sofas that the couple retained and a full fledged laminate TV unit. Chandana has given them a combination of display shelves and cabinets that take care of everything from artefacts to speakers, while a back panel takes care of concealing the wires. Also, do not miss the lovely cove lighting in the false ceiling that completes the room.
Apartment Design at SNN Raj Greenbay: Classic Greys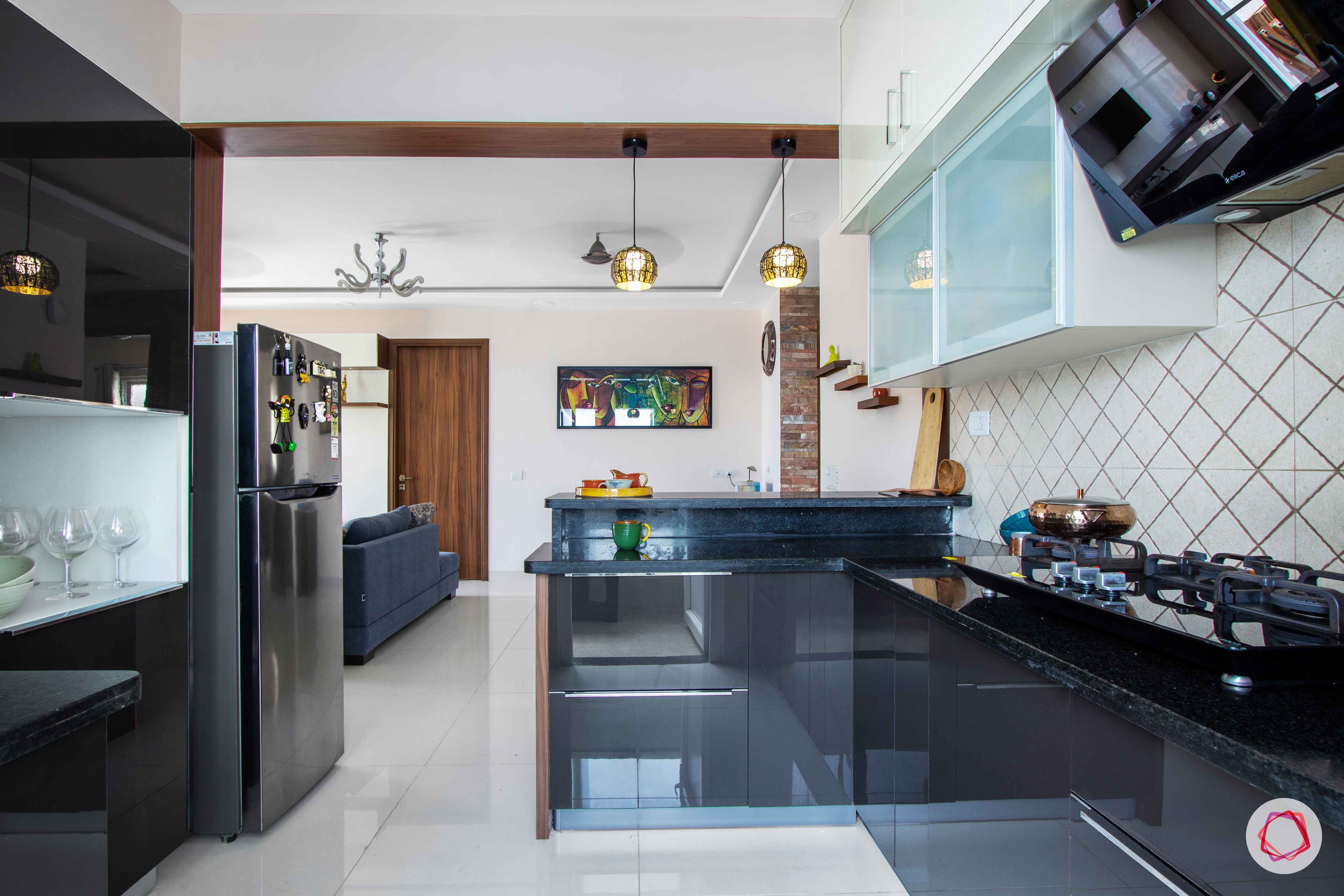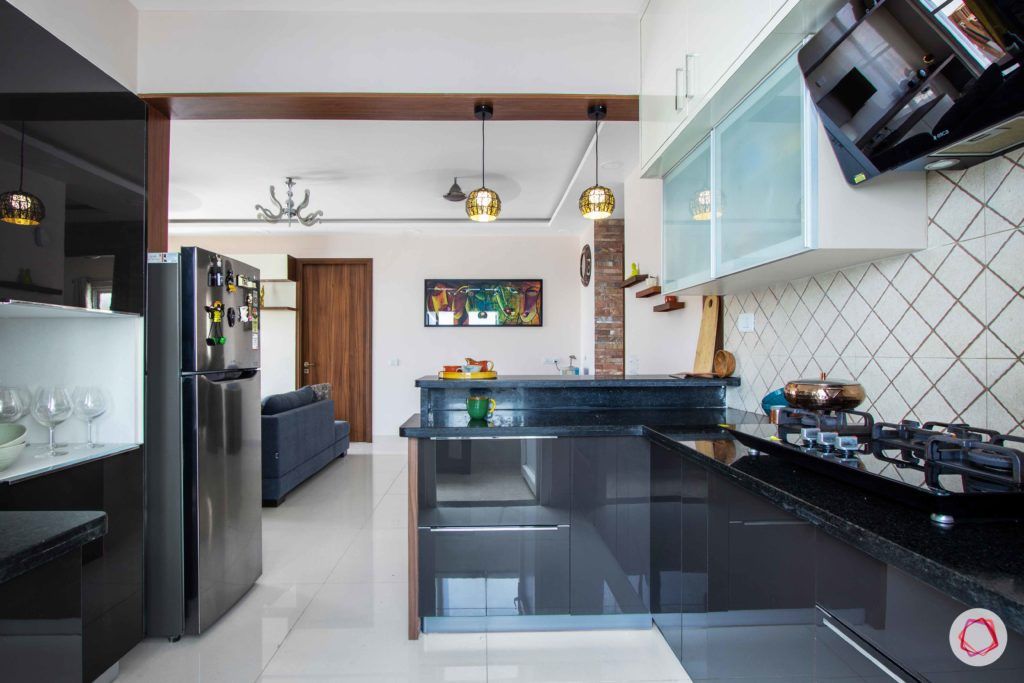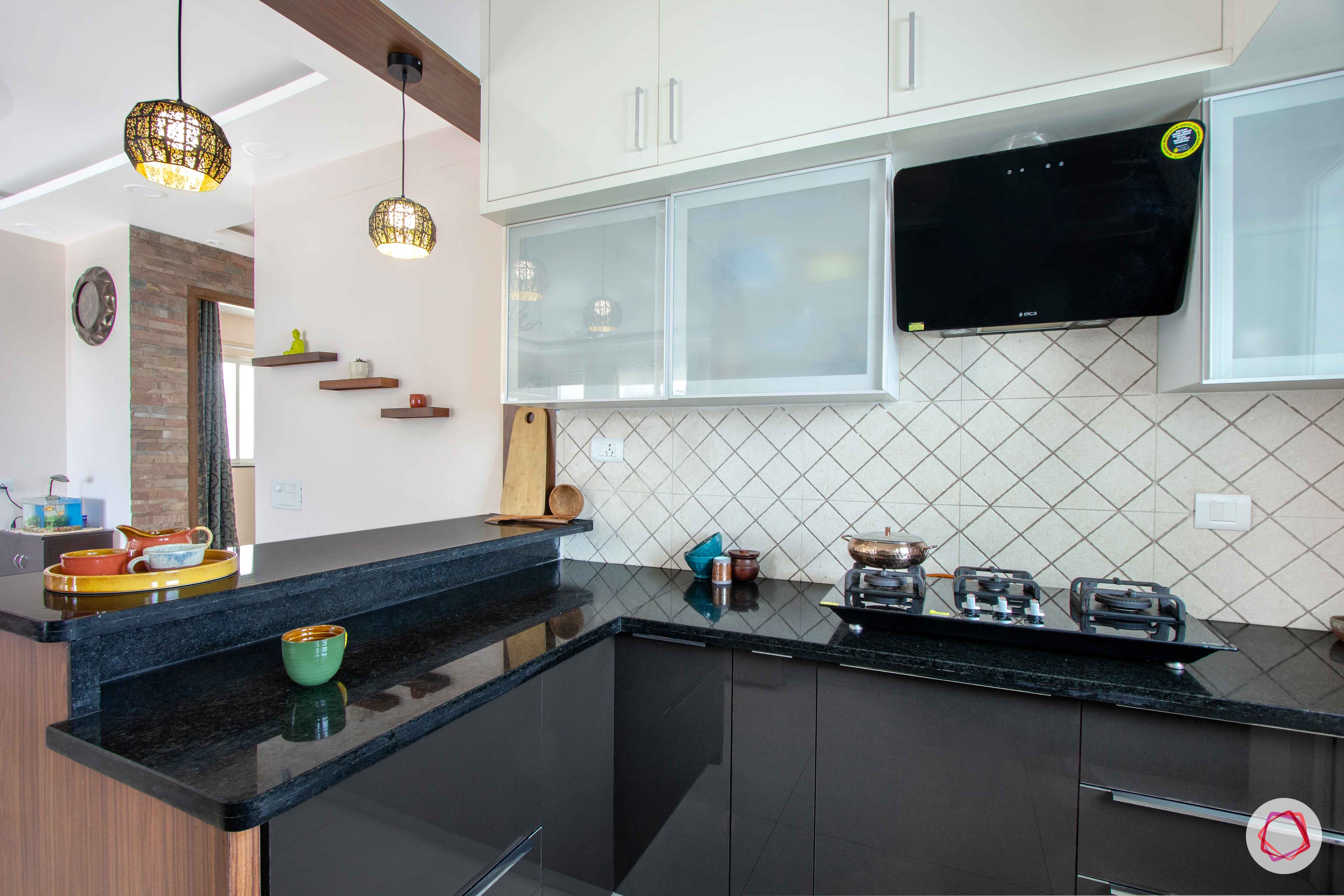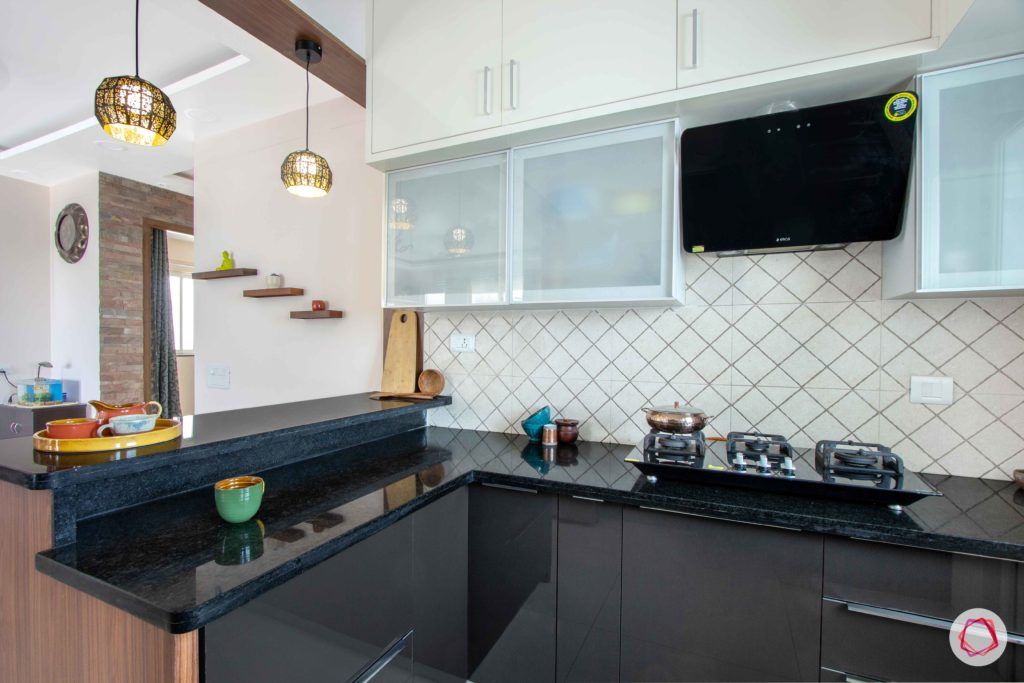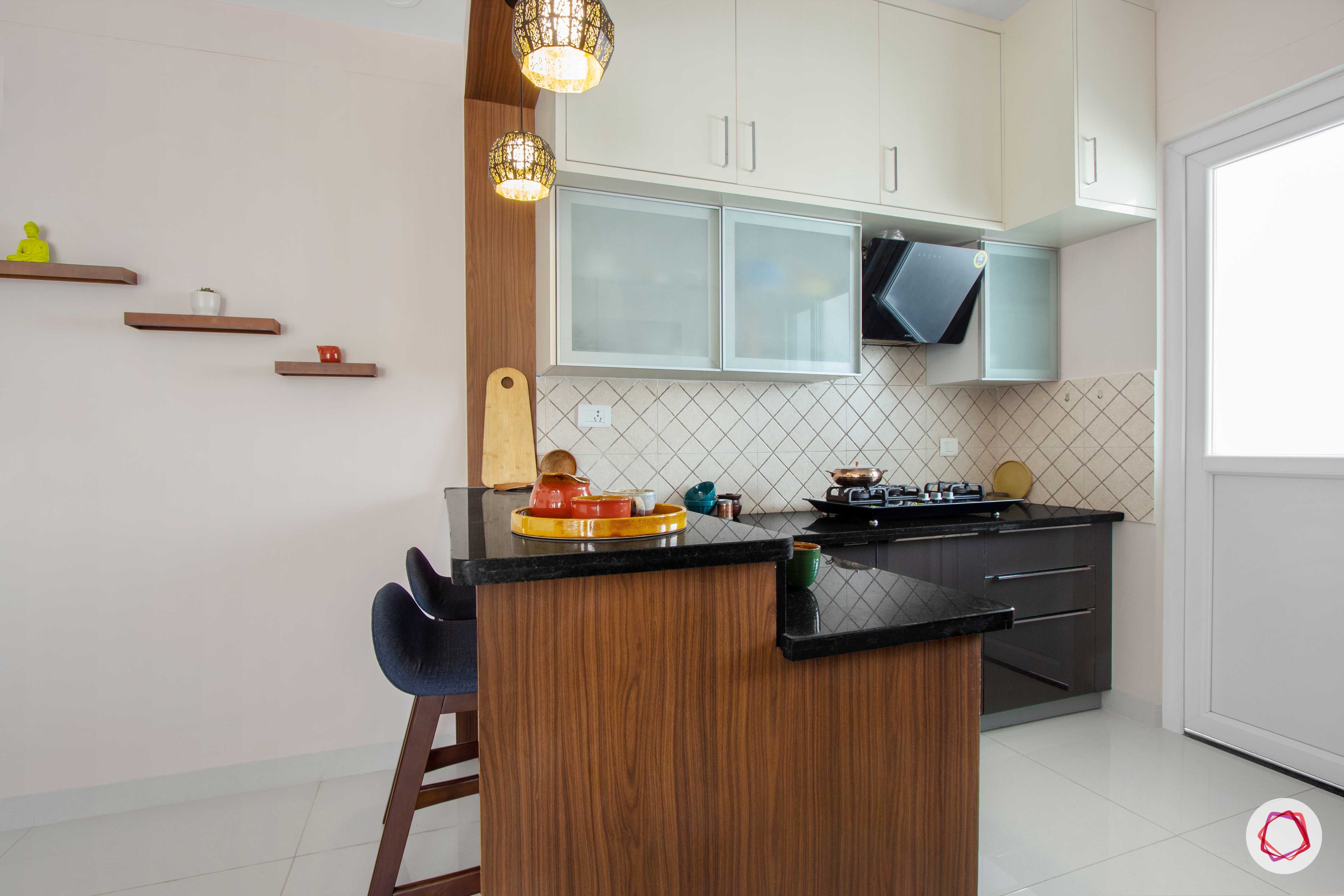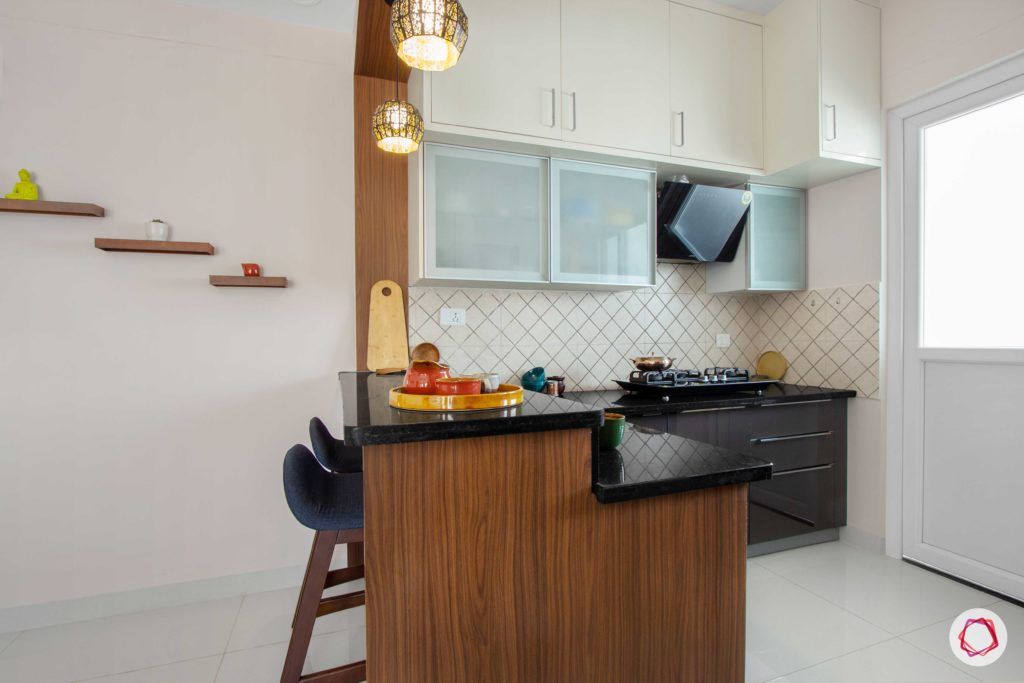 The kitchen that you're seeing right now is the outcome of a marvelous idea that Chandana came up with. During their initial design discussions, Nirmal and Moumita had shown the floor plan to Chandana and she suggested they go for an open layout since the space needs to look more spacious. Therefore, she broke one of the walls and made space for a breakfast counter there. This gives the couple more scope to interact while one of them is busy cooking up a storm.
Coming to the colour scheme and modules in here, Chandana says that she wanted to keep it simple and easy to maintain. Therefore, she gave them grey, acrylic finish base units and cream, laminate lofts to save cost. The couple really wanted frosted glass shutters and she happily obliged. Tandem boxes, large drawers, hob unit among others, make this kitchen every bit functional.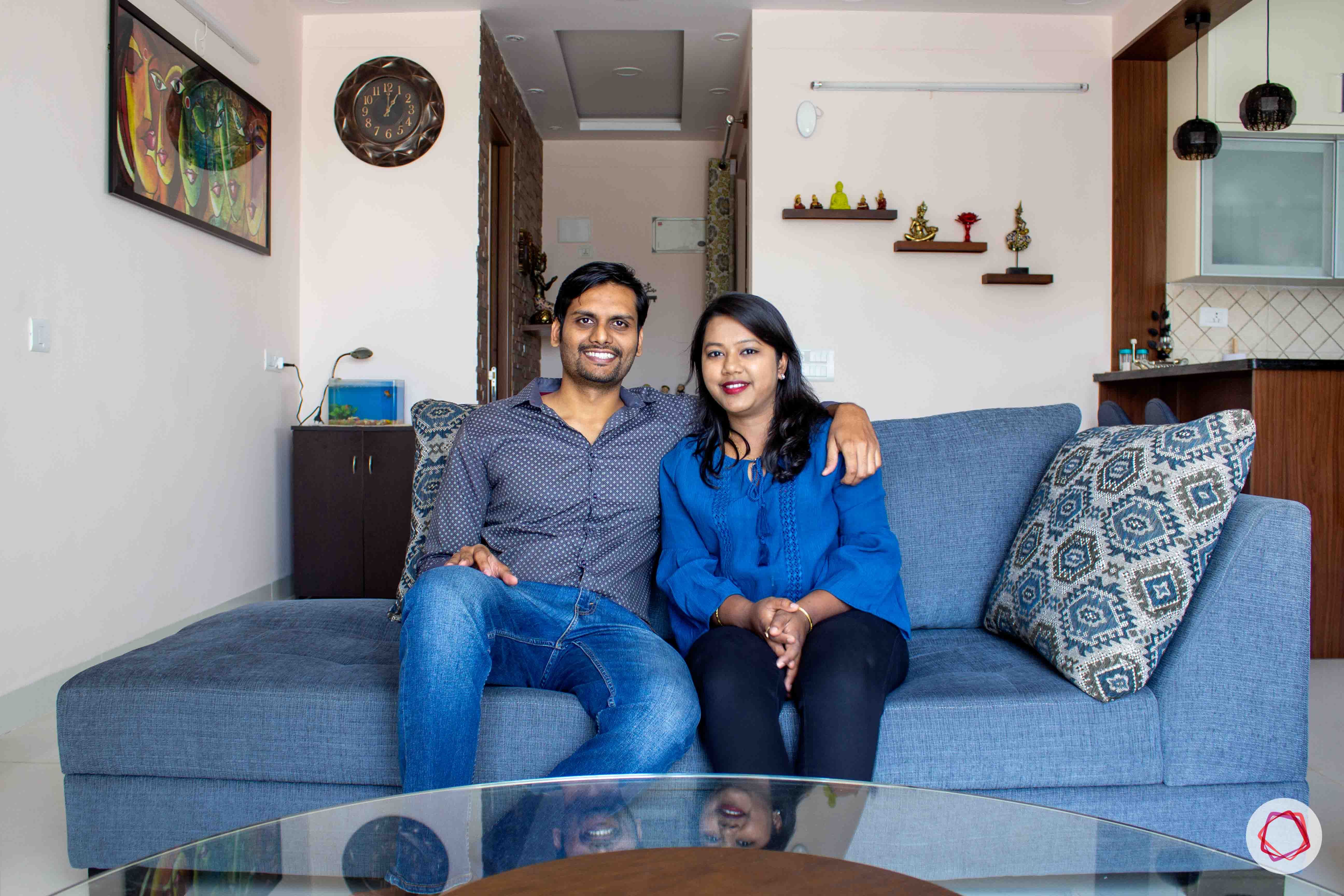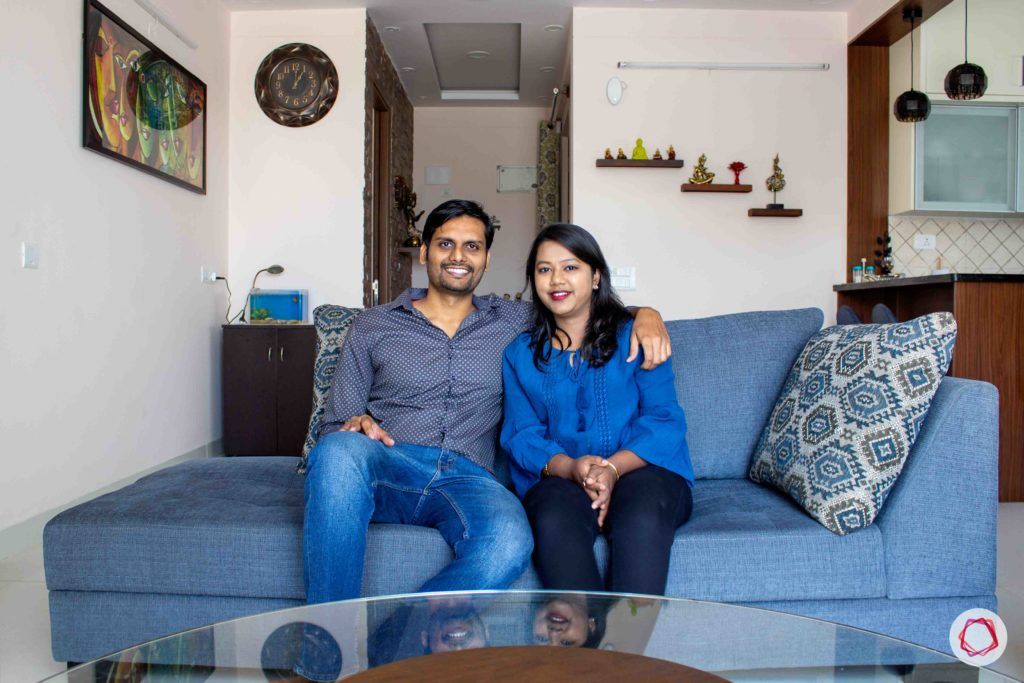 "We had consulted quite a few designers and interior design firms, but what impressed us about Livspace was their promptness in providing a plan. Chandana, our designer, was very patient and prepared a detailed presentation to show us how she was planning to design our home. We had a very pleasant experience with Livspace and would like to give full credit to Chandana for the same!"

-Moumita & Nirmal, Livspace Homeowners
Apartment Design at SNN Raj Greenbay: Happy Yellows for Warmth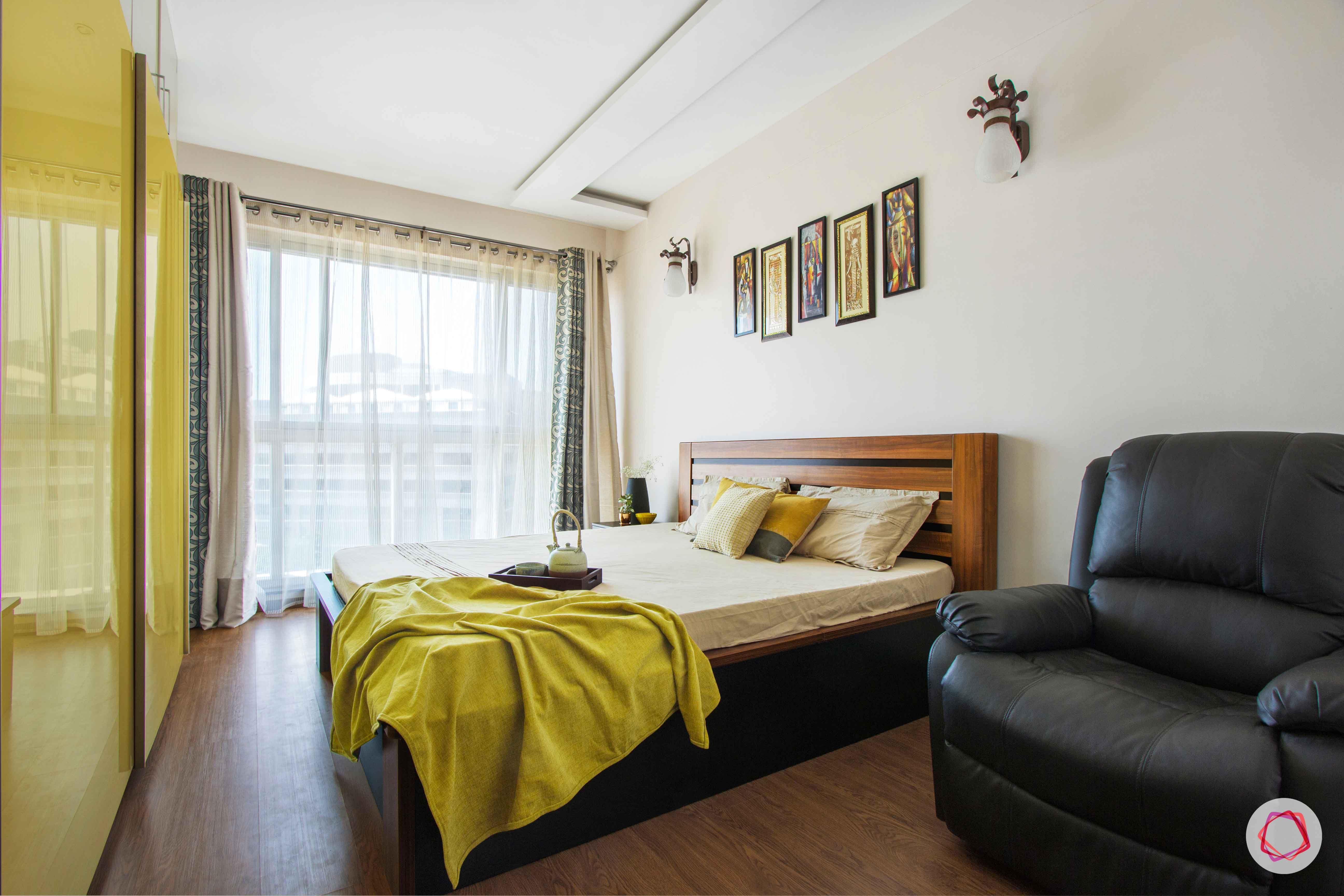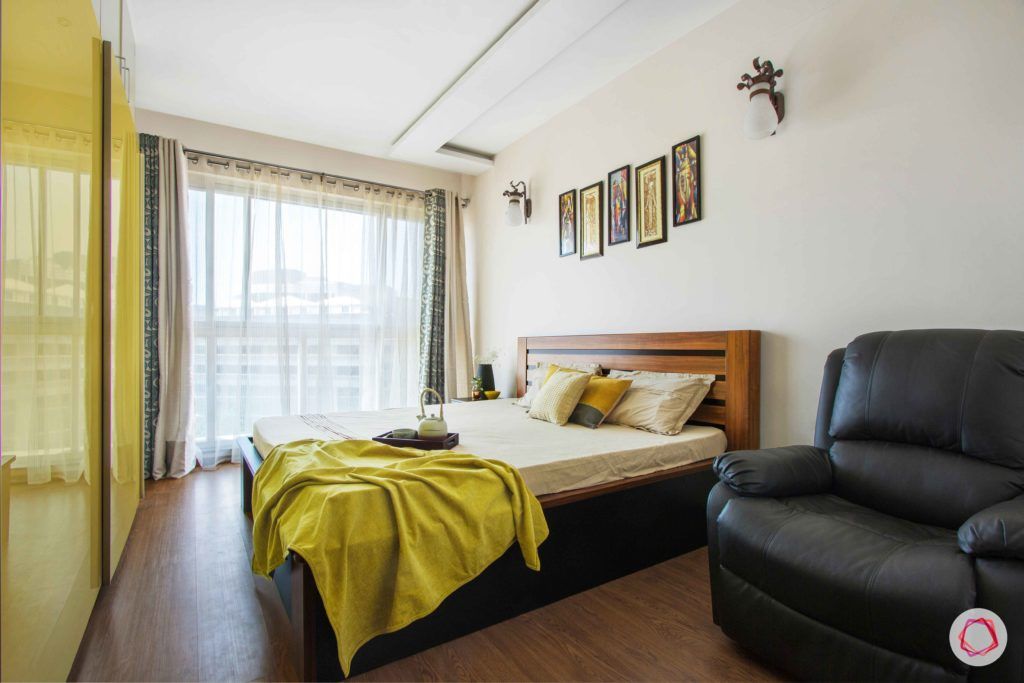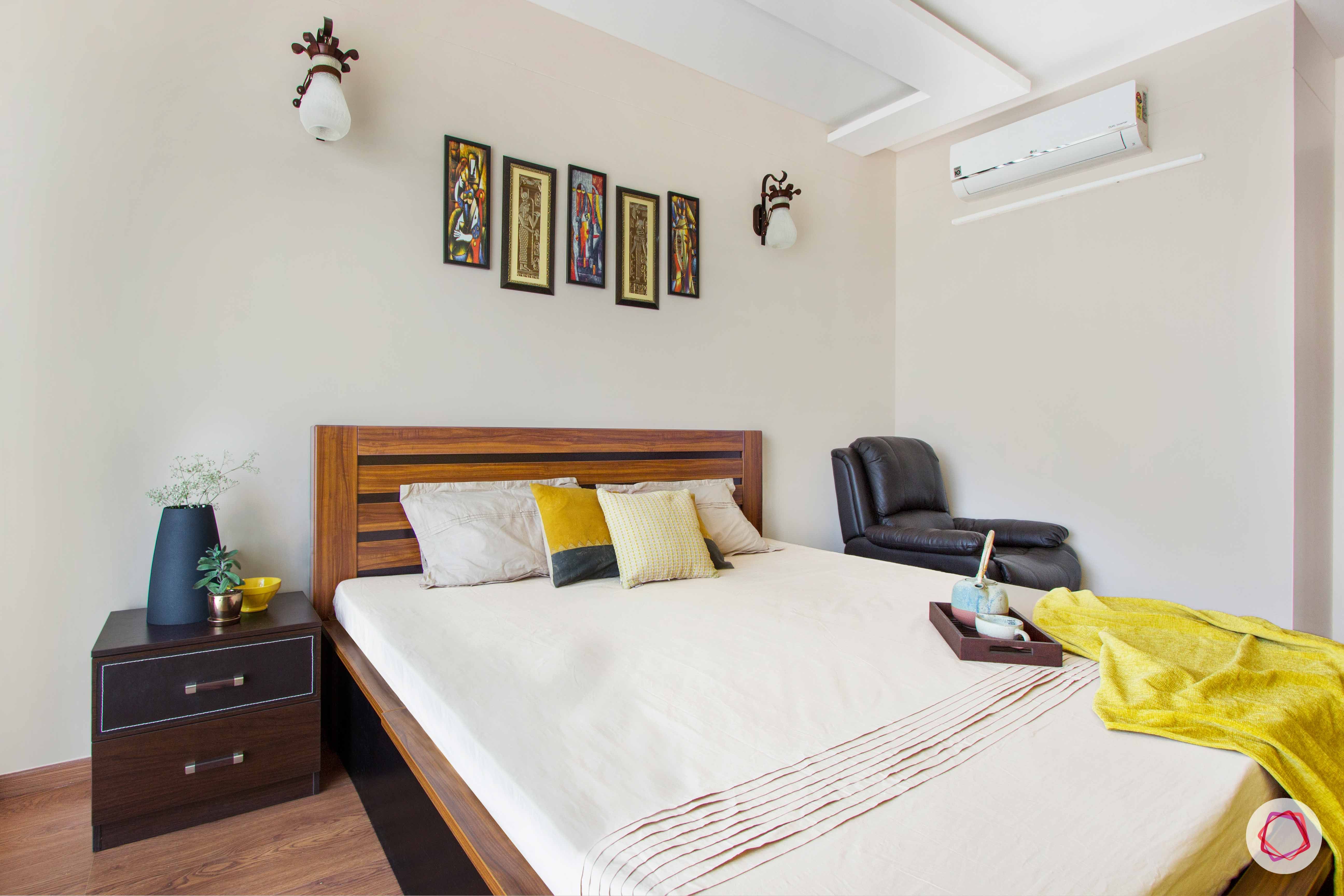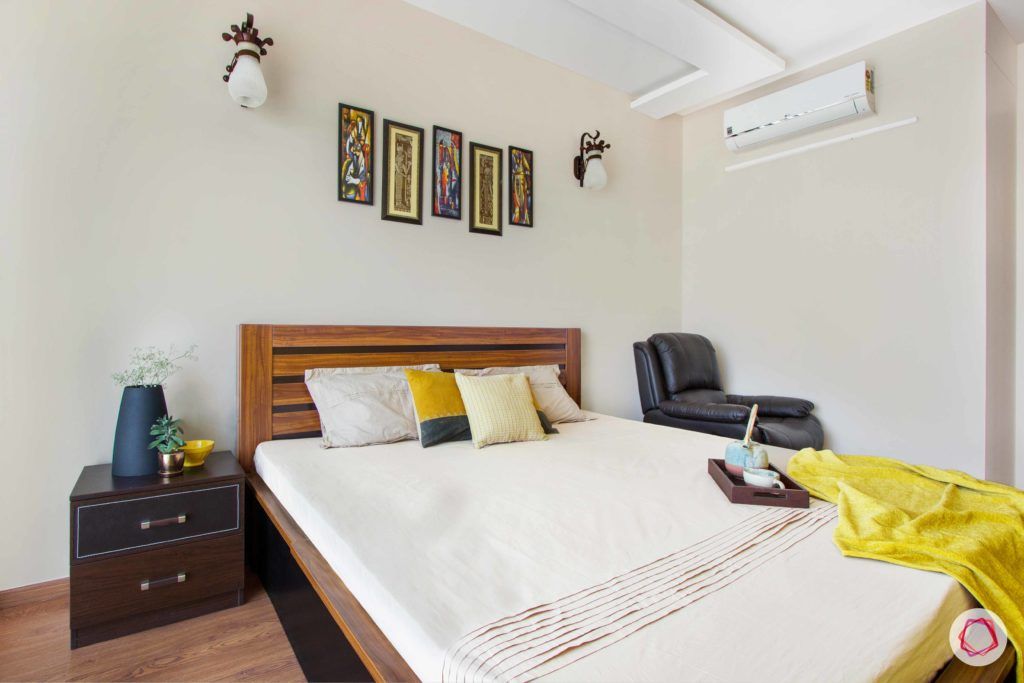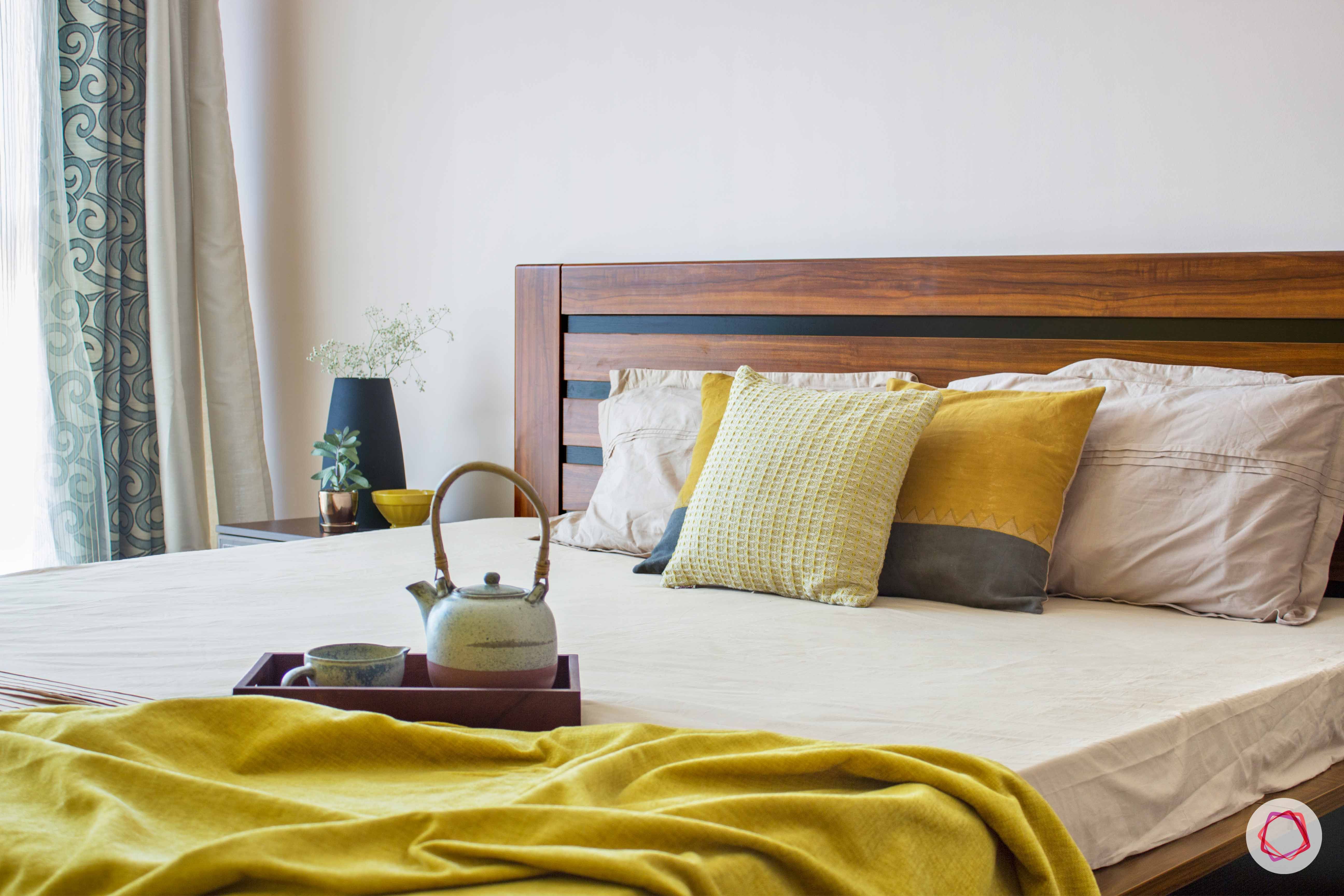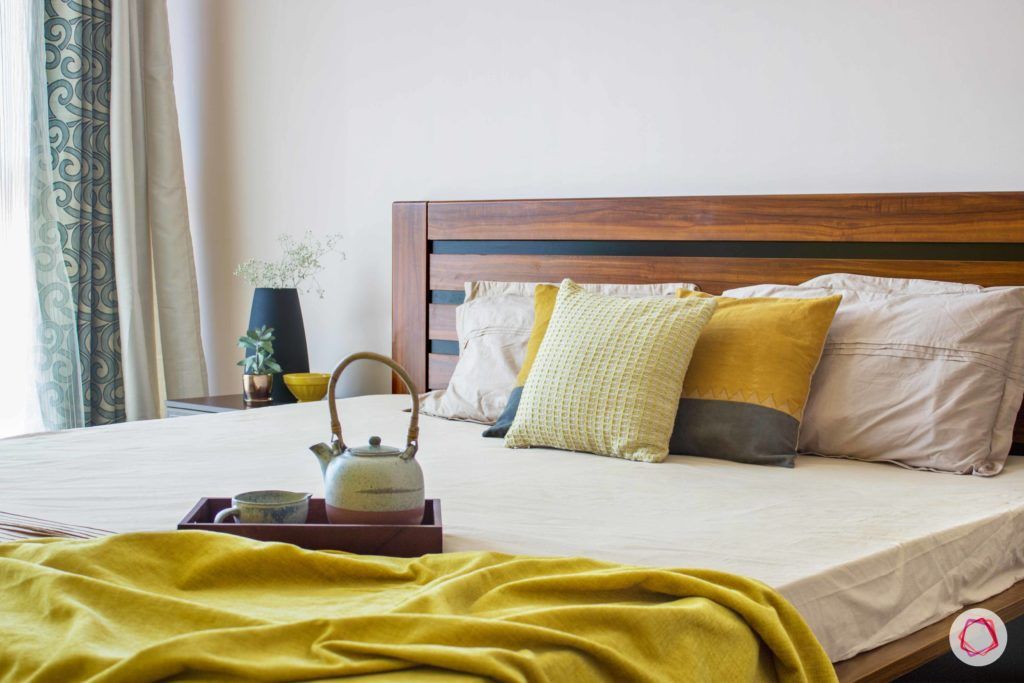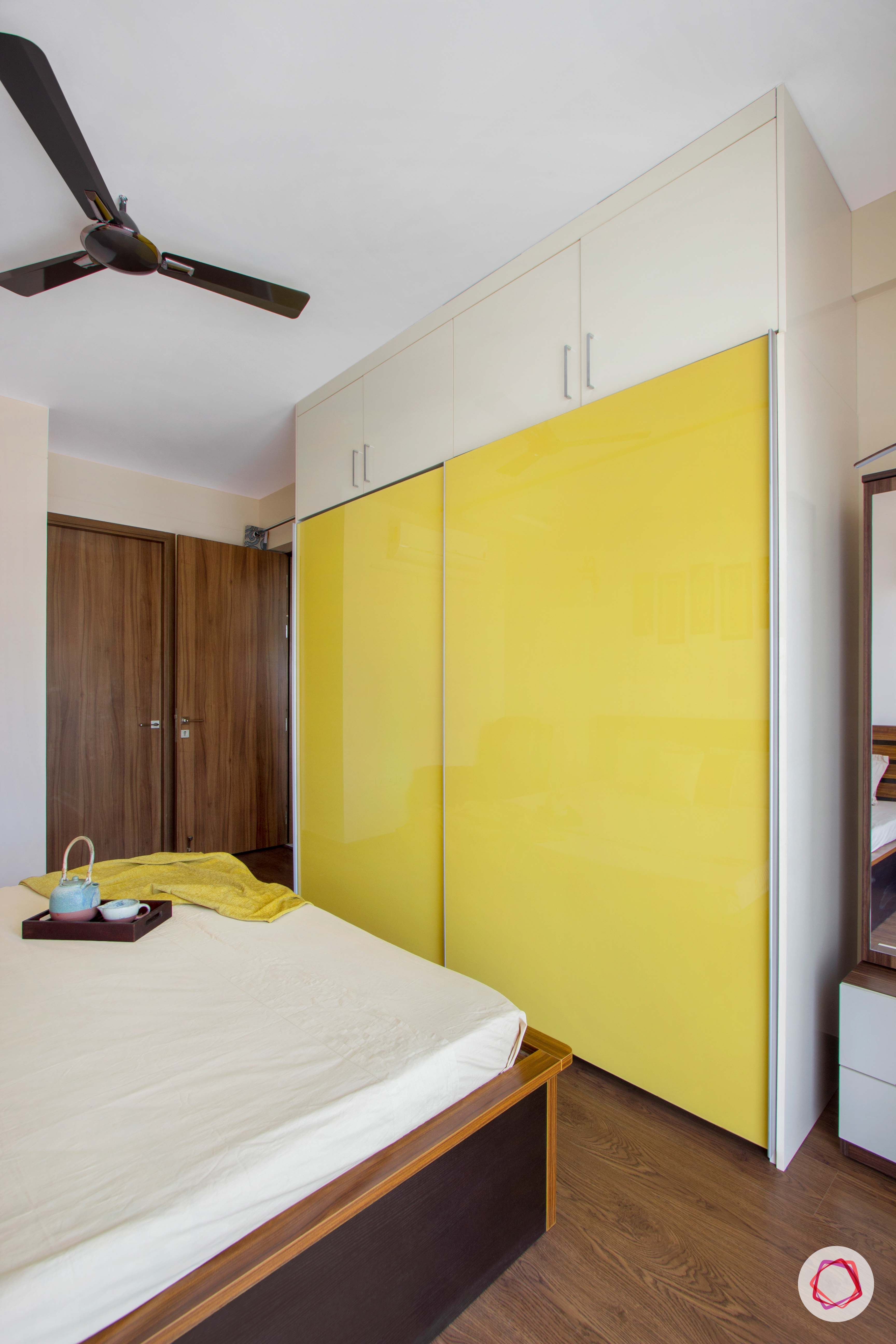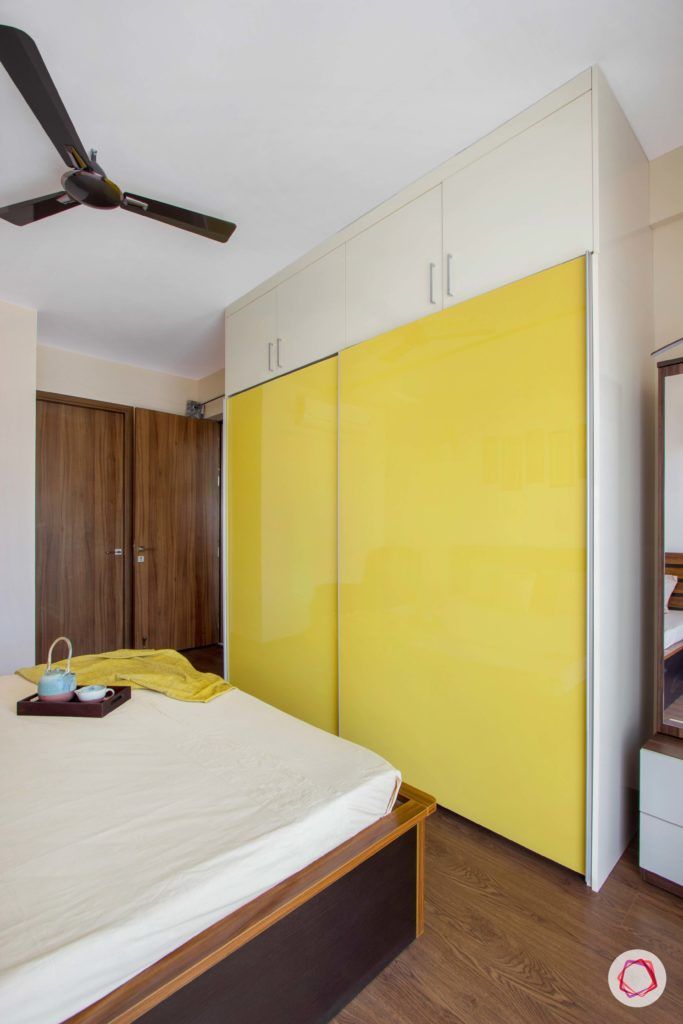 Both Nirmal and Moumita like bright colours and they were particular about having a pop colour in their bedroom at SNN Raj Greenbay. Since this room features a dark wooden floor, Chandana decided to give a complementary yellow for the wardrobe. This wardrobe comes with lofts and flaunts a lacquered glass finish on the swing door shutters. A cosy recliner sits right next to the bed where one of them occasionally chills with a cup of coffee for company. We love how inviting this rooms looks!
Apartment Design at SNN Raj Greenbay: A Simple Extra Room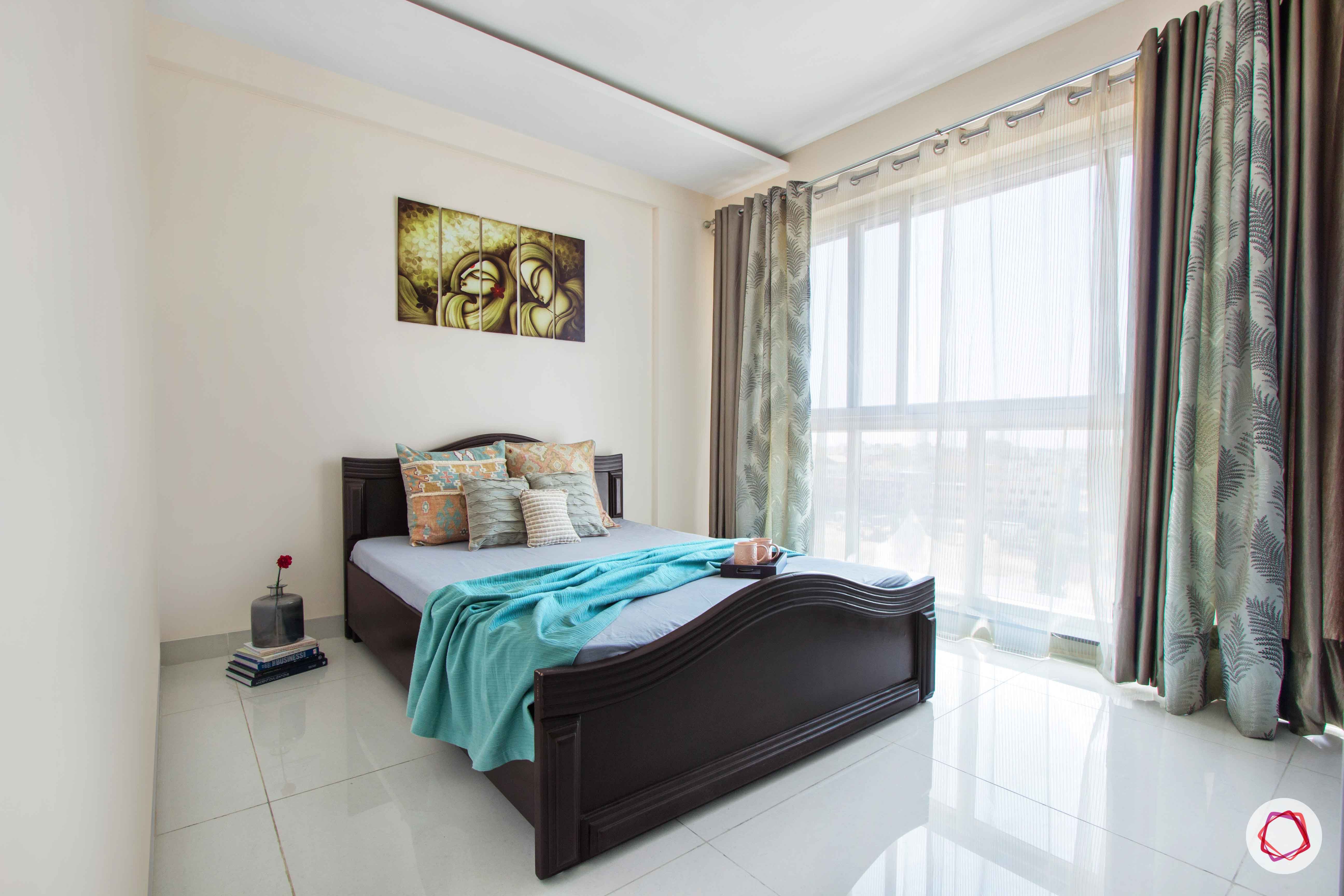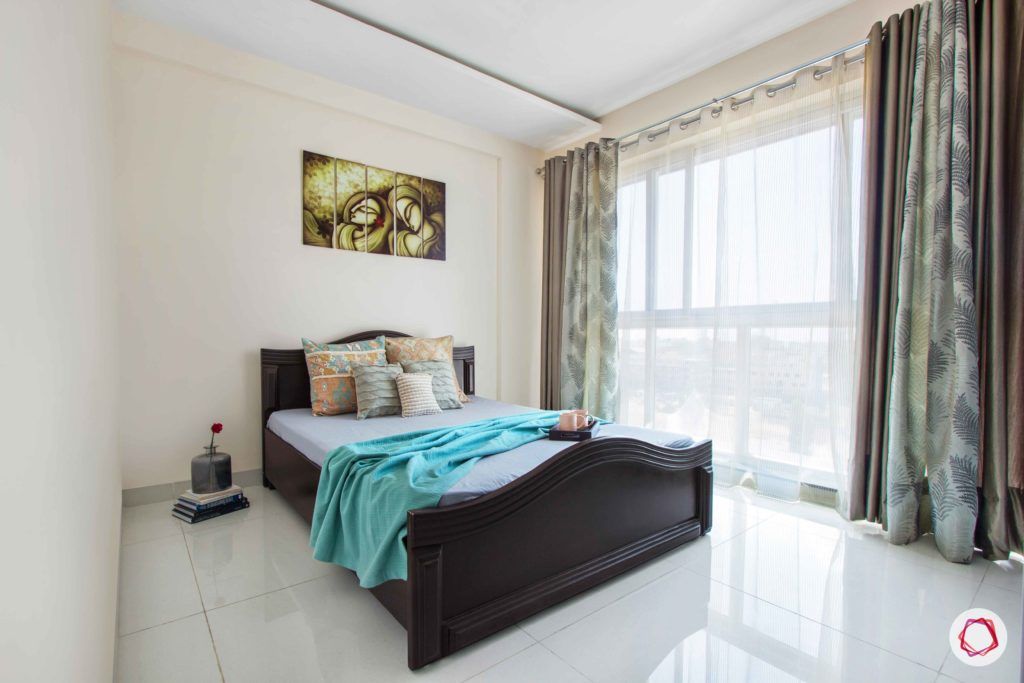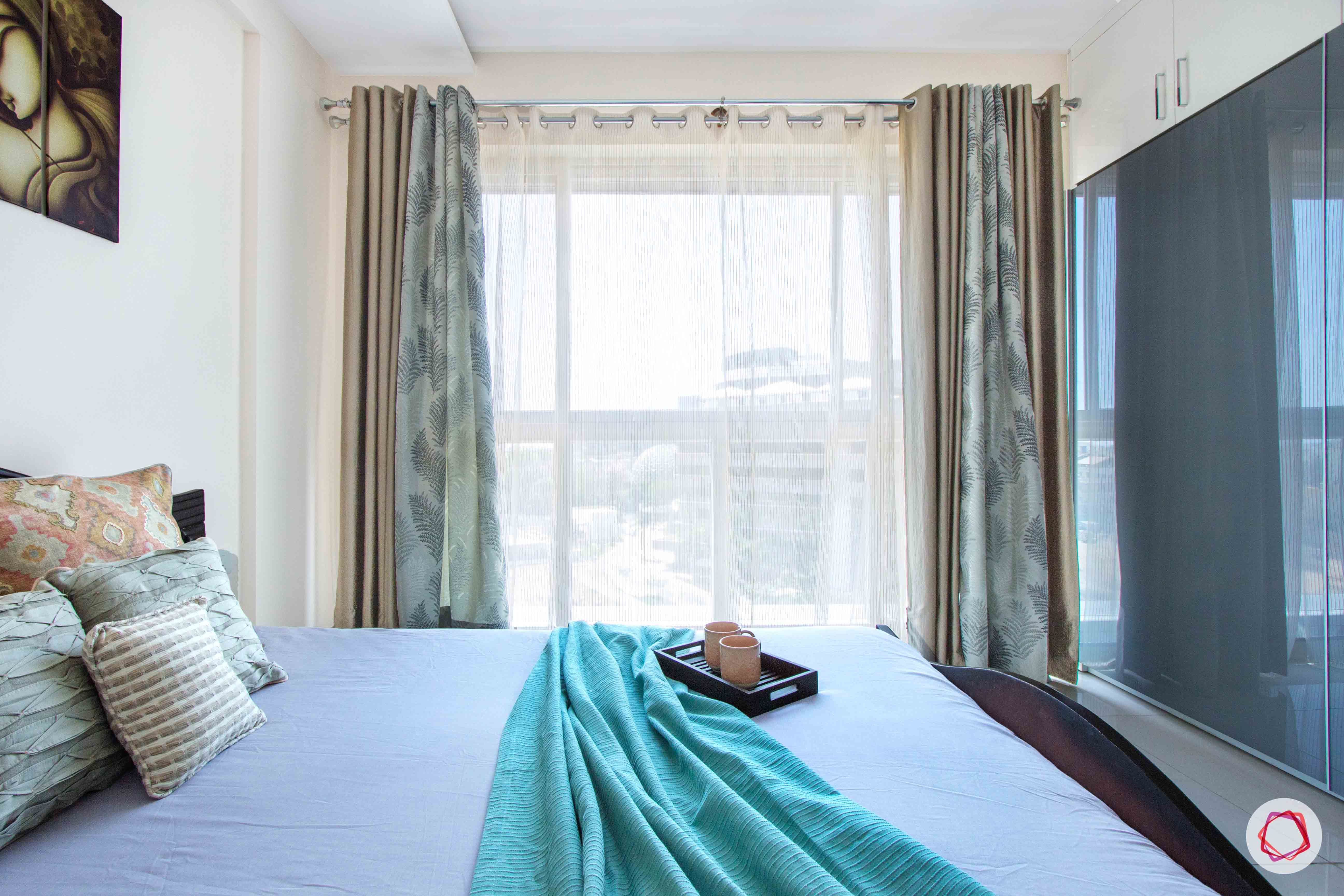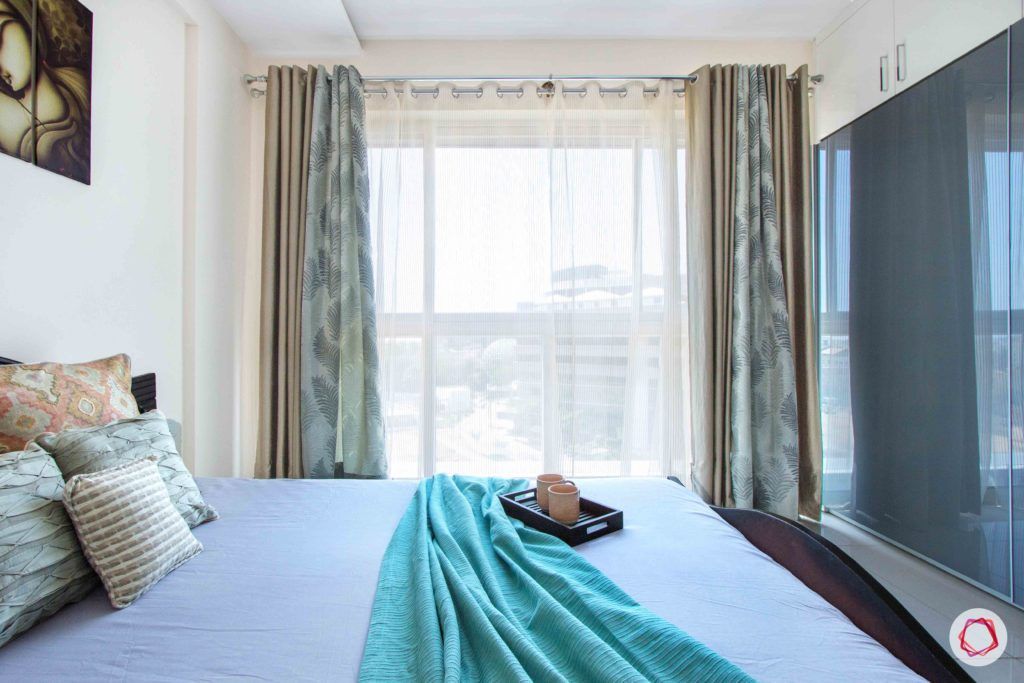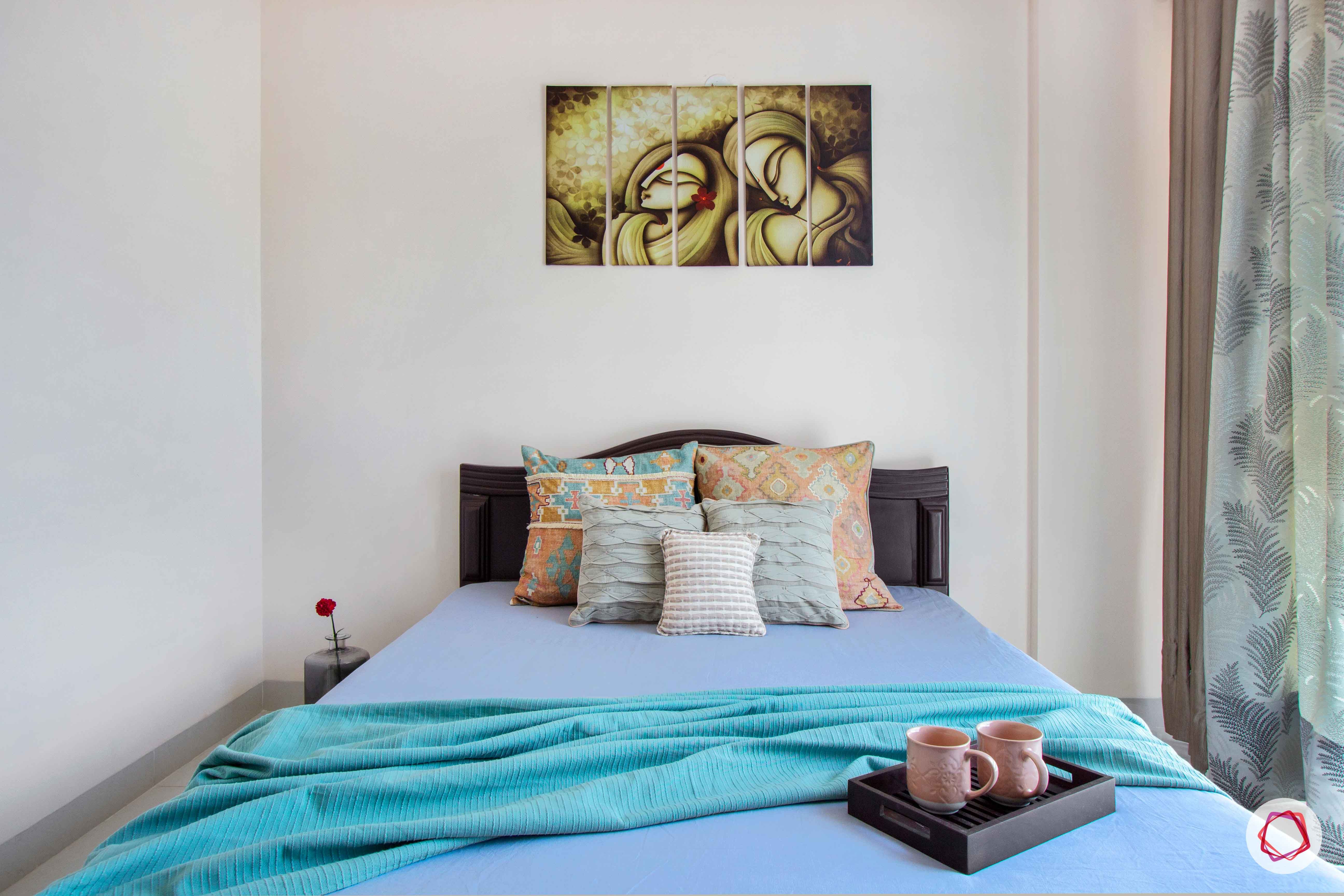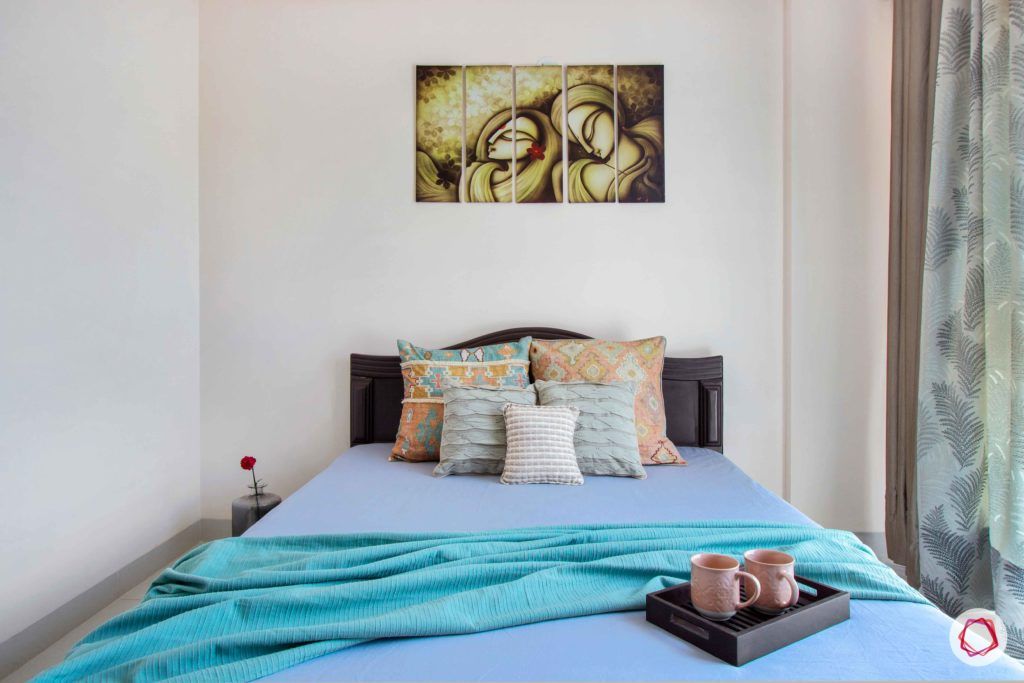 The guest bedroom in this SNN Raj Greenbay home paints a serene picture in our mind. While the bed was retained by the couple, Chandana decided to give a fresh feel to this space by adding a huge sliding door wardrobe here. She gave it a dark grey colour so that the room does not feel too white. The entire design opens up the space and makes it look nice and spacious. Also, the view from their apartment is a stunner!
"Nirmal and Moumita were one of the best clients to work with, since they were very understanding and accommodative. They gave me a lot of time to work on my designs and they loved the idea of breaking one wall to convert it into a breakfast counter. I was thrilled to design this home and it looks exactly how they wanted it."

– Ar. Chandana Erugu, Interior Designer, Livspace
Also, check out this home we designed in Hegde Nagar: An Inviting 3BHK for a Charming Couple!
Send in your comments and suggestions.