A room makeover that will give you major design goals for your teen's bedroom as well.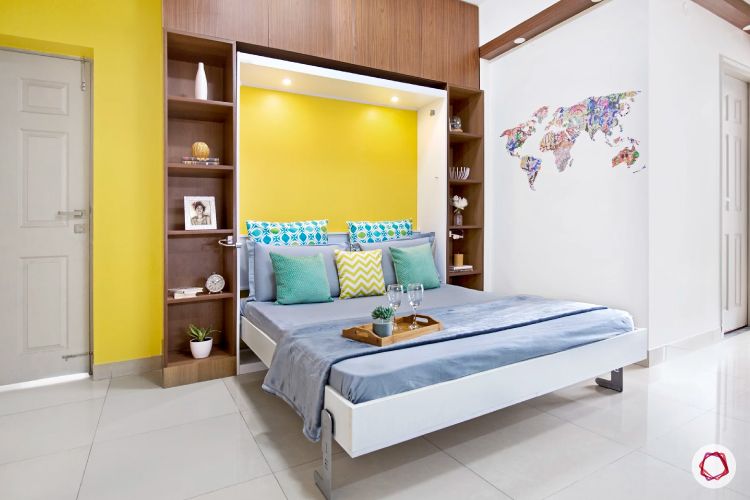 ---
Who livs here: Harshad Kirloskar with his wife Manjiri and 17-year-old son Neil
Location: SNN Raj Lake View, BTM Layout, Bengaluru
Room Size: 145 sq ft approx.
Design team: Interior designer Sunbul Shafaque with Project Manager Ambujakshi N
Livspace service: Bedroom design
Budget: ₹₹₹₹₹
---
A journey that started with wanting to change just a bed in their son's bedroom, led to a complete overhaul of the room itself. Passing out of school is always a milestone in any student's life, and more so, in their parents' life. Harshad and his wife Manjiri wanted to give their son, Neil, his own personal space before stepping into adulthood. Thus, this cozy room in the bustling BTM layout got a major makeover and went from nay to yay! Sunbul Shafaque, Livspace Interior Designer, focused on every little detail to bring out the essence of this bright and quirky room.
Lo and behold!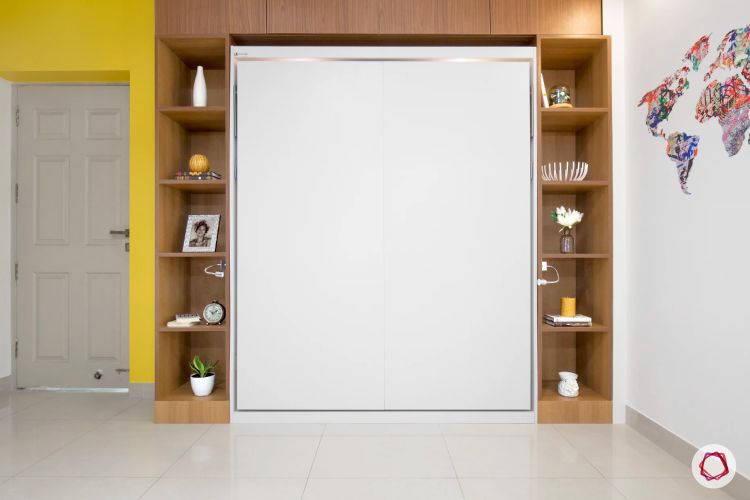 The first thing one would notice as they enter Neil's room is the uber chic foldable bed that retracts into the wall niche to free up the entire floor space. When we got talking to Harshad and family, they said that this was something they requuested, thus opening up the floor to spread mattresses when unannounced guests arrive at home.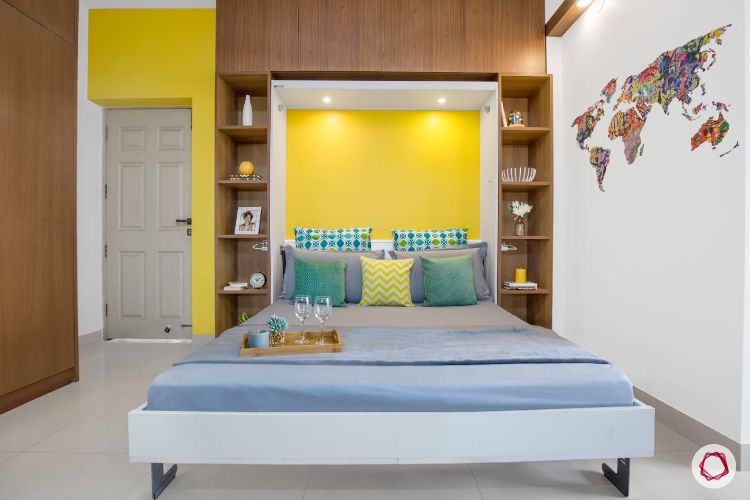 The walnut brown bedside storage units and the lift-up lofts have been matched with the wooden wardrobes that were already present in the teenager's room. Harshad and Manjiri were very particular about Neil getting enough storage to accommodate all his needs.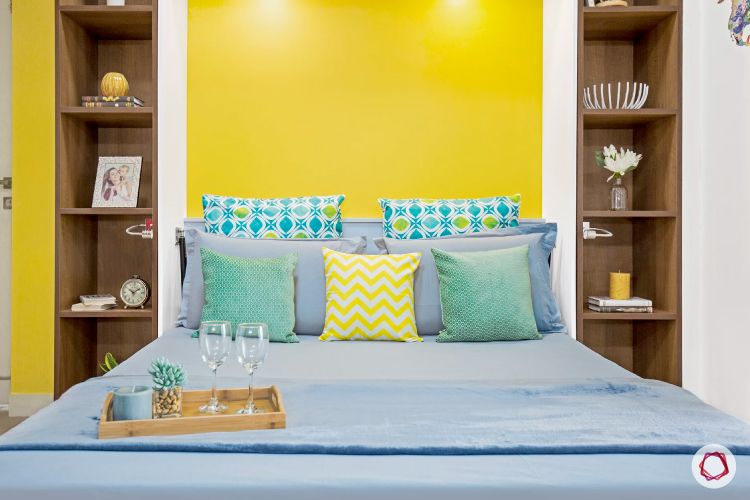 Reading lamps and down lights illuminate the bed and facilitate reading at night. A mechanical engineering student, Neil would need a lot of light in his room so that he could study without straining his eyes.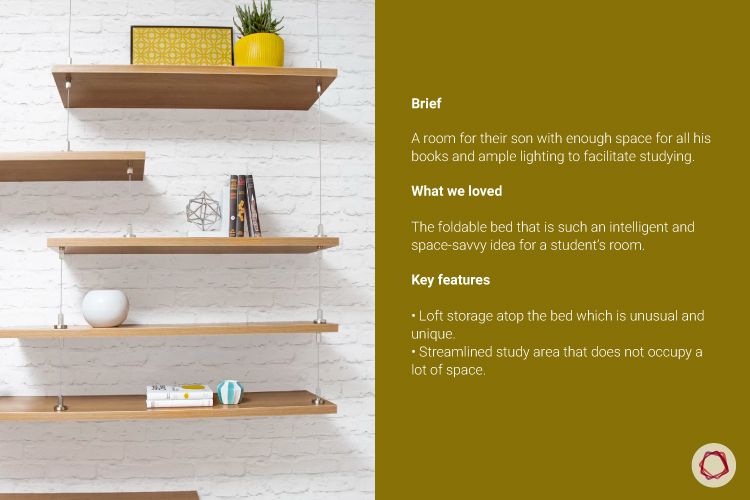 Having dreamt of a cool study area like this, Neil can't wait to show off this creative zone to his friends! We can see why! Our designer has put in a sleek study table along with stylish wall-hung ledges and a book shelf to make sure he has ample space for all his books.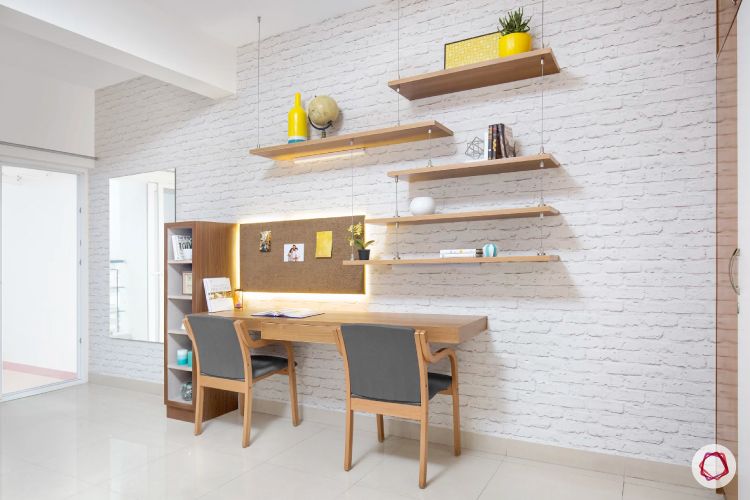 The exposed brick wallpaper had been Neil's idea. In conversation, Harshad told us that they were sceptical about it, but one visit to the Livspace Experience Centre assured them that this would be ideal for their son's room. LED strip lights around the peg board and tube lights under the ledges light up this area perfectly!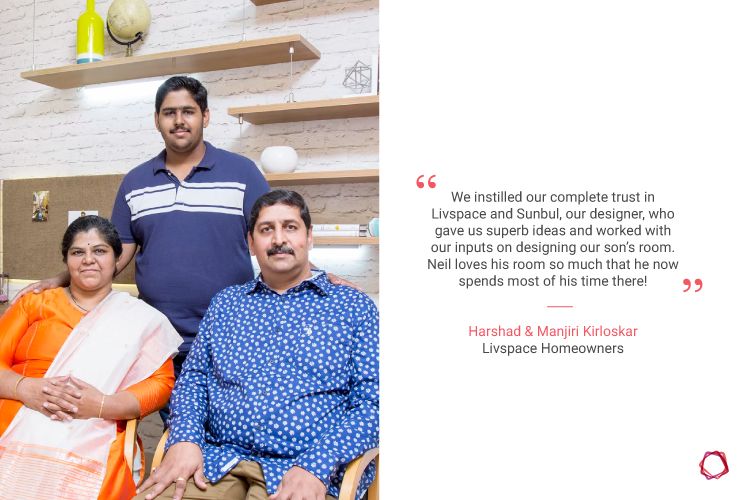 ---
"The Kirloskars were a very harmonious couple to work with. They welcomed my suggestions with an open mind and everything went on pretty smoothly with the project."
– Sunbul Shafaque, Interior Designer, Livspace
Also check out some great ideas to do up your kids' bedroom walls: 7 Refreshing Accent Wall Ideas
— editor@livspace.com