If you're looking for a creative way to revamp your little one's personal space, then you have come to the right place! There are no bounds to a child's imagination and that's one of the many things we love about them. Our diverse collection of accent wall ideas for kids' rooms is the perfect ingredient for honing their budding personalities.
Accent wall idea #1: Cartoon Cuteness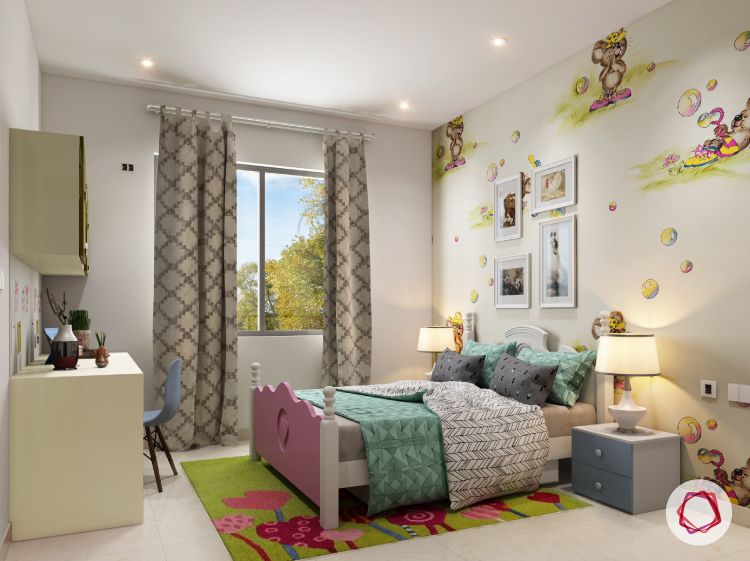 The animal lover in your child will absolutely adore this fun wallpaper that has a cute cartoon mouse happily blowing bubbles. We know how pink is an absolute favourite in girls' bedrooms and this accent wall introduces the color in a subtle way so it doesn't overwhelm the space.
It can be used in a nursery and can stay through the growing years, well into the preteens, in your kids' bedroom.
Accent wall idea #2: Wanderlust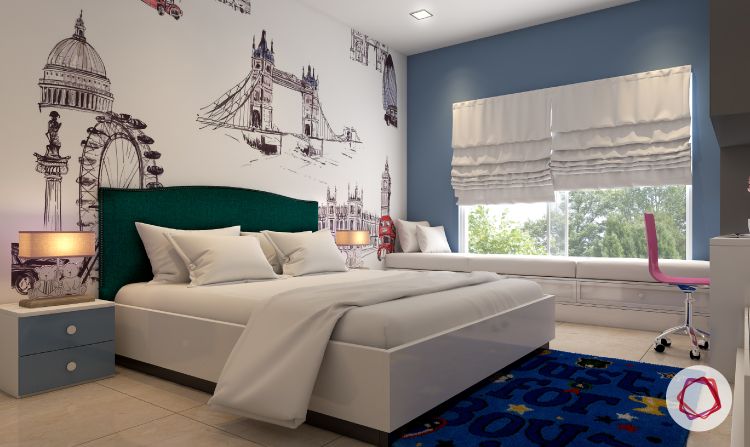 For parents, we have the perfect accent wall idea for kids' rooms so they can instil a love for places and travel in their little ones. This simple wallpaper features popular historical places from around the globe.
The freehand sketches on the accent wall stand out beautifully in this kids' room complete with sleek furniture and furnishings.
Accent wall idea #3: Lost in Wonderland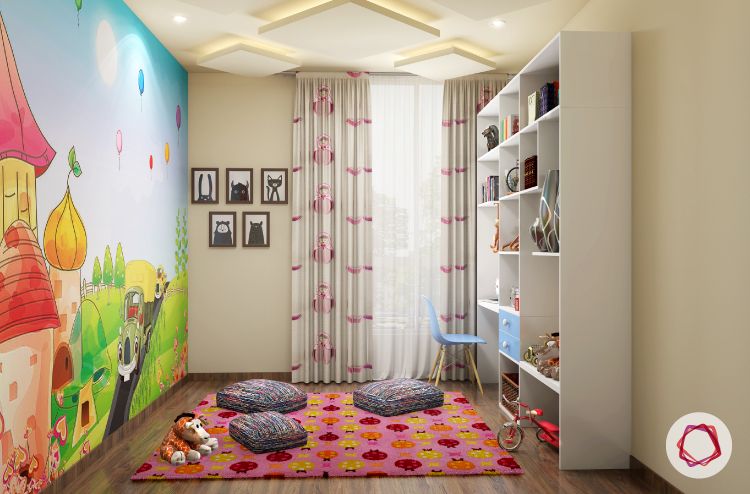 The perfect, exuberant playroom your child will swear by! With castles, rolling landscapes, cartoon cars and colorful balloons your child is instantly transported to a fantasy land.
With a beautiful accent wall like this in your kids' room, play times can extend for hours so that adults are free to complete their home chores peacefully.
Accent wall idea #4: Basketfall frenzy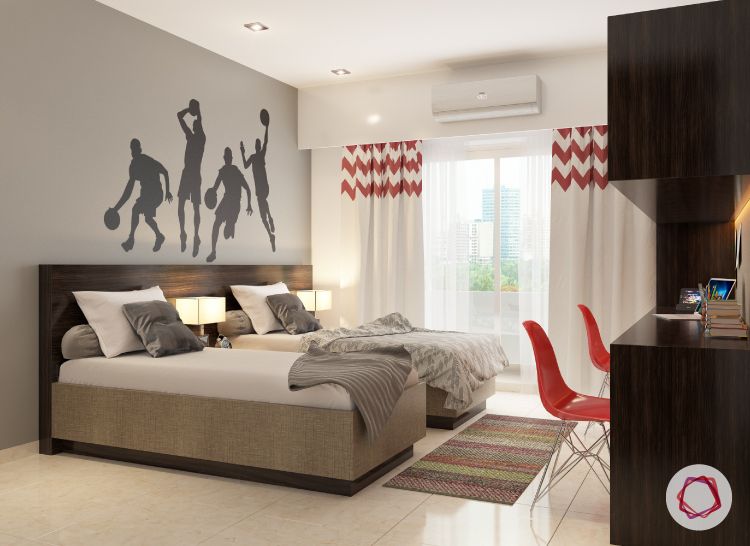 For siblings who share a love for sports, the basketball wall decal is just what you need. This ash grey accent wall with dynamic silhouettes resonates well with your children's personality.
We also love how hints of red contribute to the energy in this kids' room.
Accent wall idea #5: Birdsong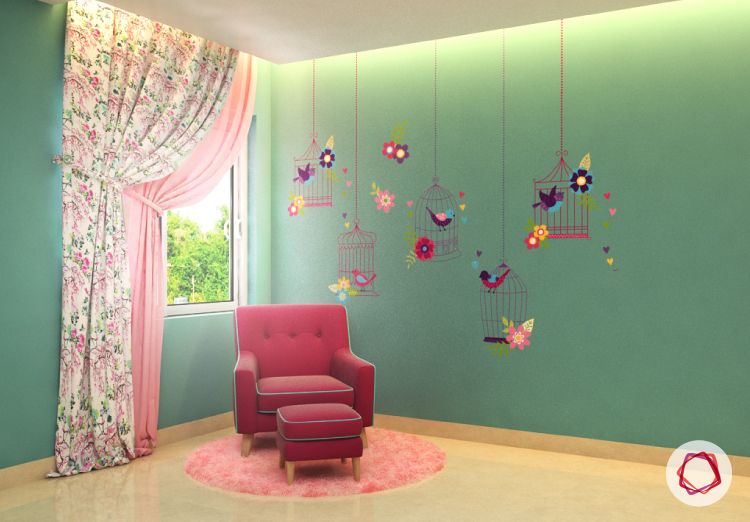 This accent wall is a splendid idea for eager parents-to-be. Charming birds and flowers styled on a tiffany blue and peachy pink palette make this a gender neutral space.
With a timeless design like this, the kids' room can easily be transformed from a nursery into a bedroom for a good few years.
Accent wall idea #6: Subtle beauty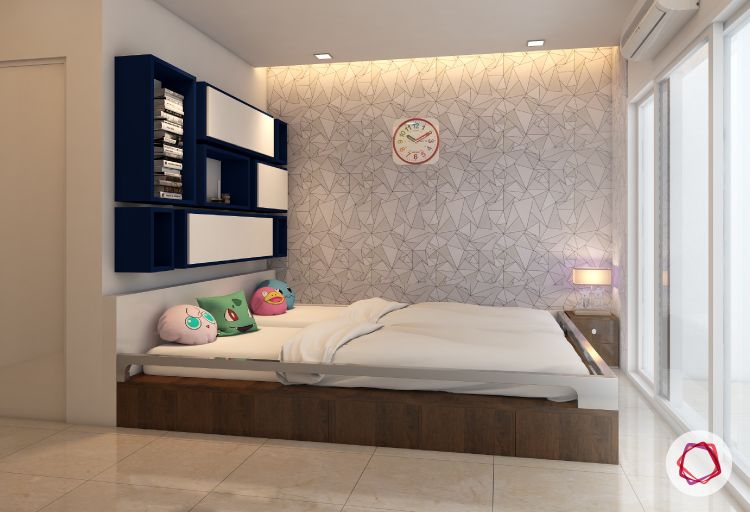 Sometimes children love the idea of having something subtle as well, especially teenagers. This kids' room keeps it simple by using an abstract art-inspired accent wall. A monochrome shade like this is ideal as it works as a neutral colour for kids sharing a room.
Also, it is the perfect backdrop for styling the room in bright, colourful accents.
Accent wall idea #7: Energetic chevron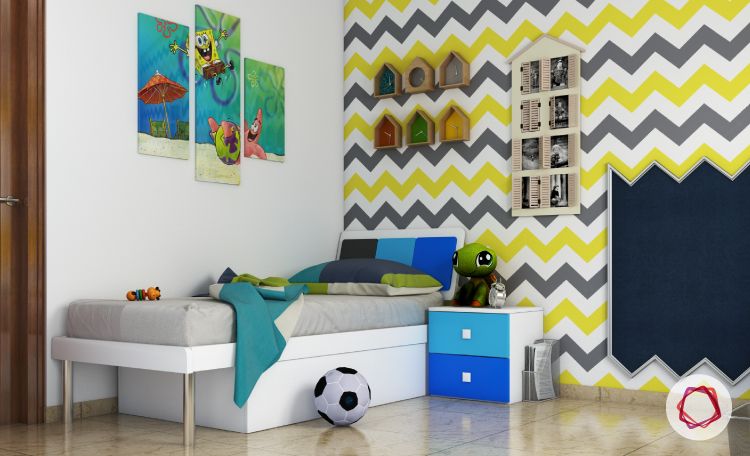 Bright and pleasing, this kids' room is filled with a sense of energy, thanks to the freshness of blue, white and yellow hues.
The yellow and grey chevron accent wall adds character to this playful den. A fun blackboard further accentuates the beauty of the patterns.
Children's rooms are no longer defined by blue and pink walls. Fun wall decals or wallpapers with animal motifs, comic themes and more are quickly getting popular. If you loved our assortment of accent wall ideas for kids' rooms, get in touch with us below!