The brick wall design is quite a versatile interior feature suited for any kind of home aesthetic — industrial, eclectic, Scandinavian etc. The exposed wall design adds an element of bold character to the space and can be used in any room to enhance its look. An exposed brick wall living room, for instance, will make a great first impression on guests and visitors. And there are multiple ways to incorporate them in your home. For example, a brick wall paper design can also be used instead of an exposed brick wall, which will likely require more structural changes. Here are 10+ ways to do a brick wall interior right.
#1: Add a Creative Niche in the Living Room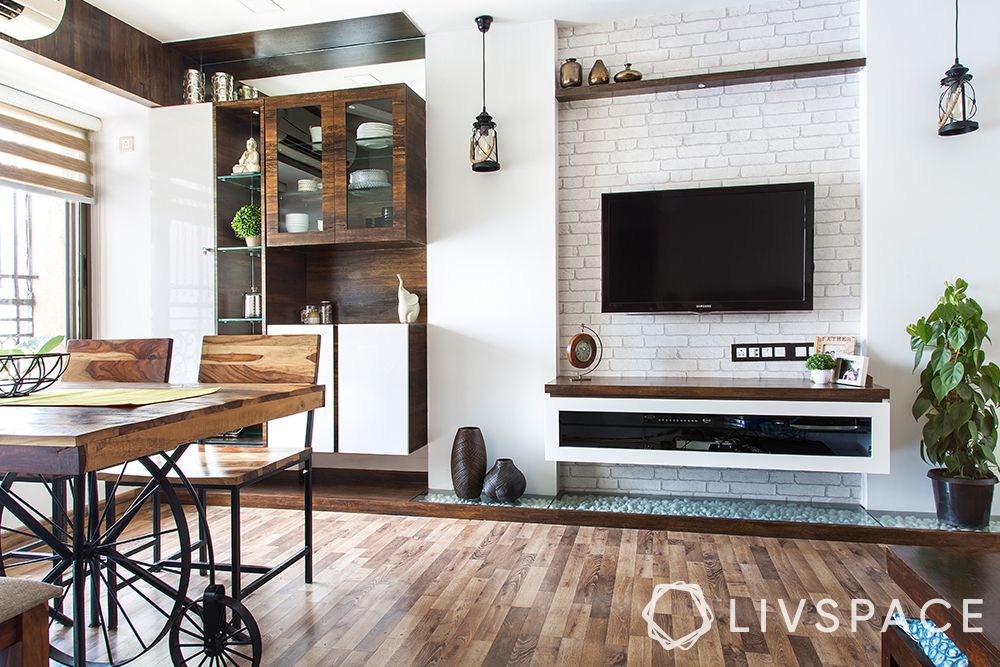 An exposed brick wall design idea can be like this living room, where a white brick accent wall has been used to highlight the TV unit. It —offers a unique rustic touch to this space. However, this is one of the exposed brick wall living room ideas among many. You can have an exposed wall design living room on two walls, you can have the whole living room made of exposed wall design or even opt for paint.
#2: Try Out the Ever-Popular Design in the Kitchen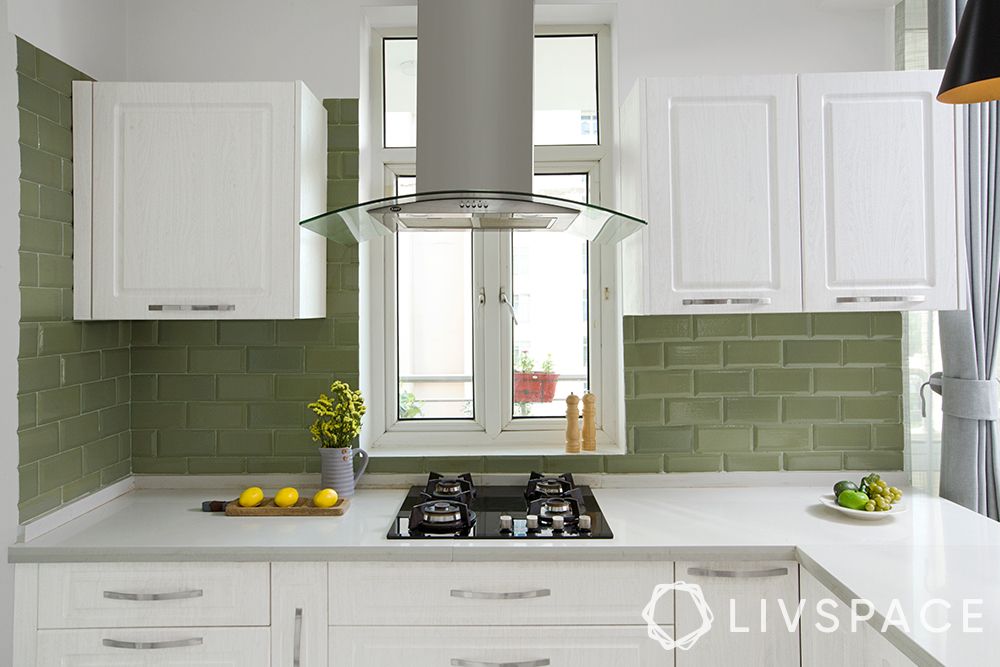 While there are many exposed brick wall living room ideas that can be implemented, a brick wall interior in India has always been  a popular style for Indian kitchens. A brick wall interior design not only adds a bold statement to the kitchen but also suites any kind of style. Additionally, exposed brick wall ideas can cleverly play up the colour scheme of the kitchen, as they do for the above space. The mint-green exposed brick wall interior boldly contrasts the white monochrome of the kitchen.
#3: Create a Chic Bedroom with a Brick Wall Design
Looking to save your bedroom from the monotony of monochromes? However, you could be afraid that using too many colours may impact its look (especially if you have a compact bedroom). In such a scenario, your best bet is to play with accents! Exposed brick wall ideas help you do just that. Look at this brick wall design for inspiration. Adding one exposed brick wall interior has given this bedroom the oomph it needs.
#4: Dine in a Contemporary Dining Room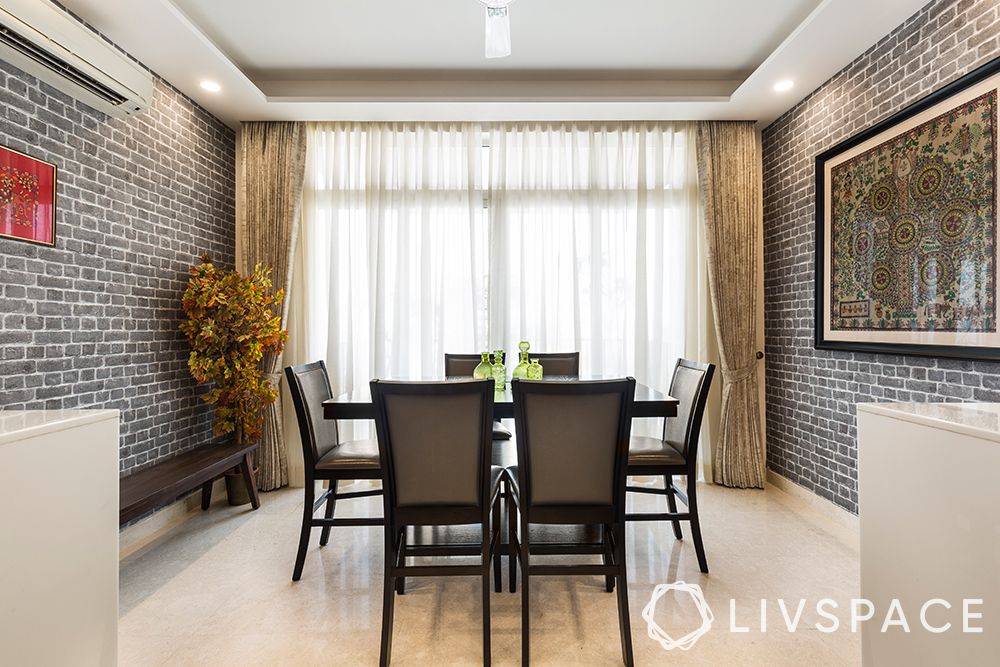 This brick wall paper design keeps it simple, yet contemporary for this dining room fit to seat six. Not only is the brick wall paper design trendy, but it is also a budget decision.
#5: Use a Brick Design in Kid's Room for Playful Interiors
If there is a room that allows you to indulge in some delightful experiments, it has to be the room meant for the kids! A kids' room with brick wall interior means you can have fun with what you decide to do in the space. It is especially suites growing kids as the wall design can change for another design easily. 
#6: Utilise Brick Wall Interior Design to Display Decor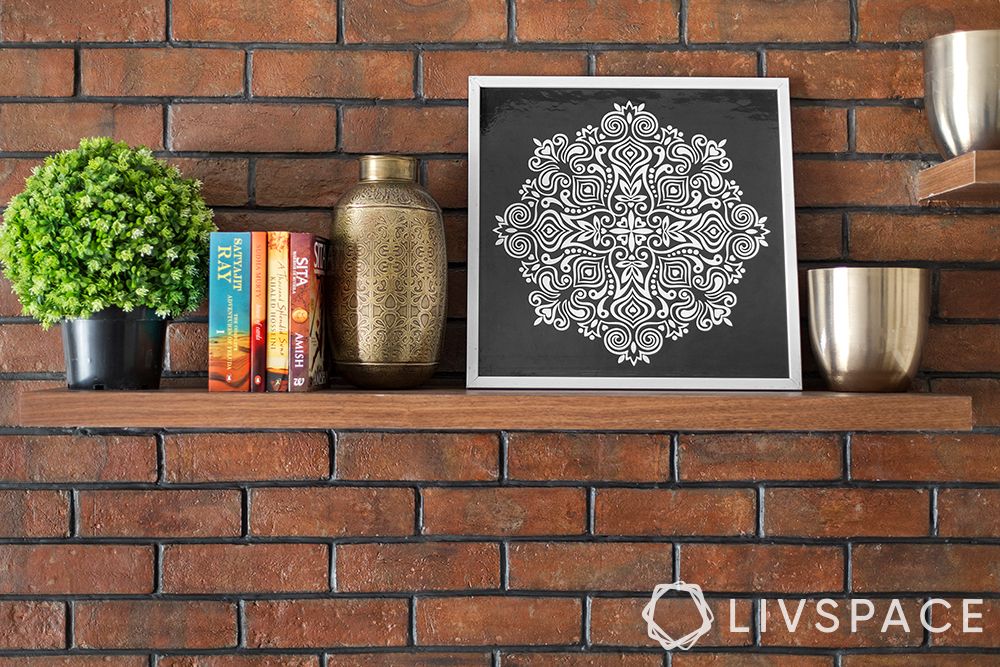 One brick wall trick is to use that wall to display your decor. It not only enhances the style of the room but also makes the decor its focal point easily.
#7: Go Bold with Black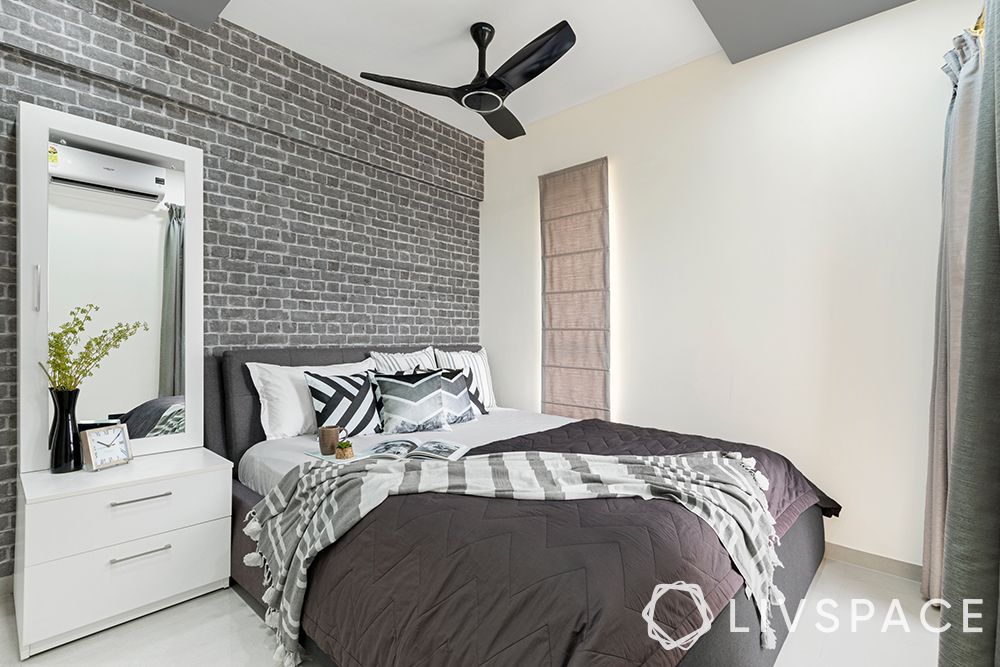 If you prefer darker colours, then a black exposed brick wall interior like this bedroom will make your space look elegant and dramatic. If you have an existing wall, it can be blackened with the help of paint.
#8: Pick a Colourful Brick Design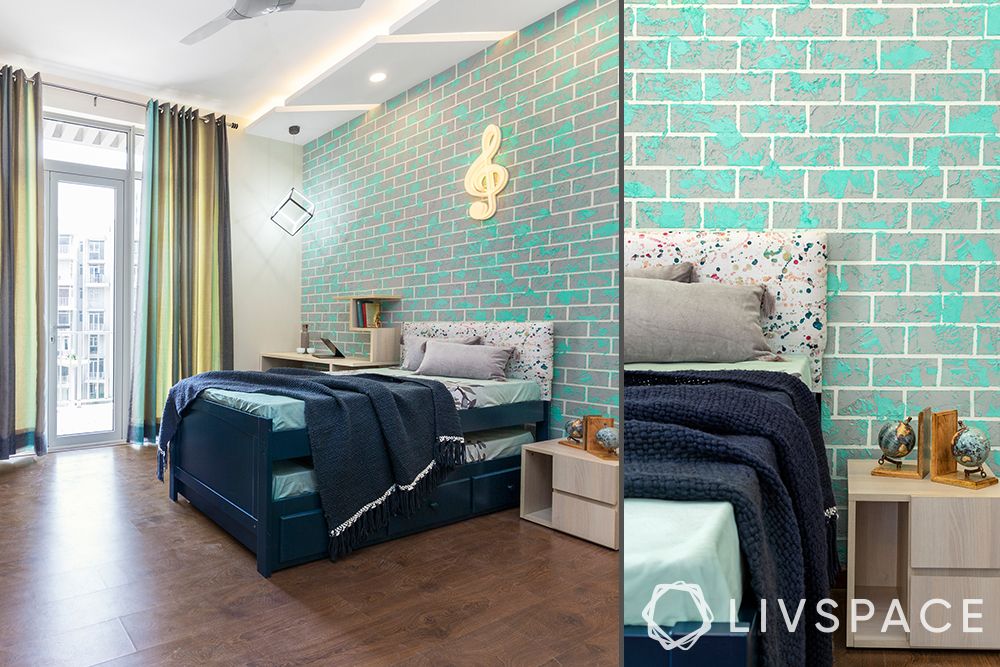 Indian homes are known for their tendency to play with colours and colourful brick walls can play a role too. Take this painted wall that bathes this room in greens and gray hues for example. This brick wall interior is all about adding vibrancy to the room.
#9: Make a Statement with an Unfinished Wall Design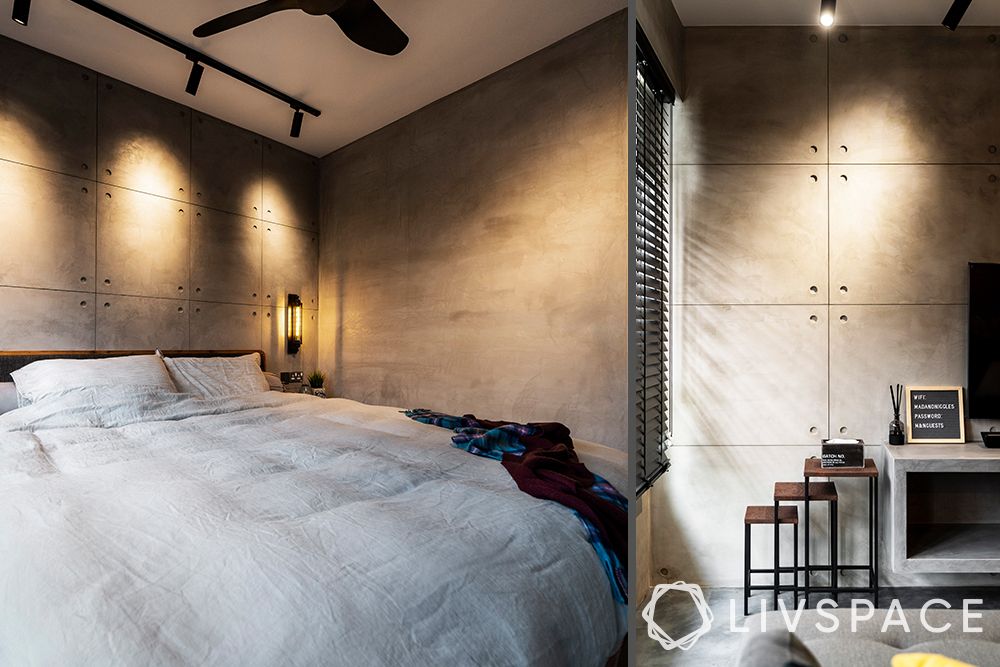 This rugged industrial-style home flaunts unfinished brick wall interiors and complementary track lights. This brick design can also be achieved by removing sections of plaster from the walls.
#10: Get Artsy with Graffiti and Murals on Your Brick Walls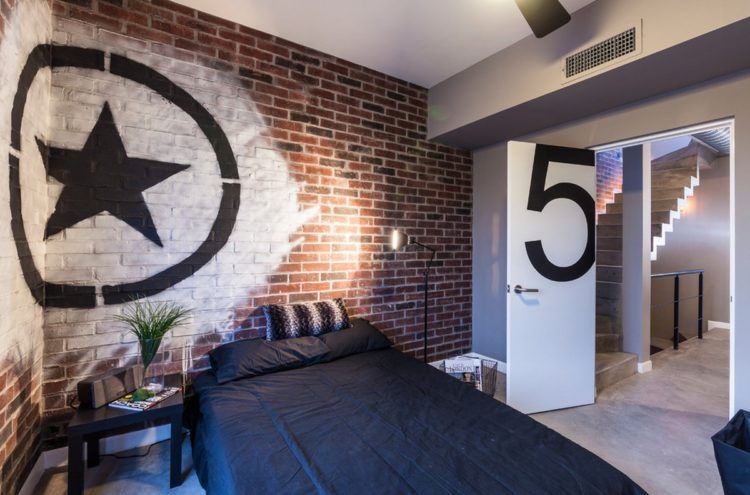 Bring out your artsy side on the exposed brick wall design by creating graffiti and murals on the wall. This requires minimum effort to amp up the space and instantly brushes the space with your personality.
#11: Introduce Brick Design Interiors in Your Foyer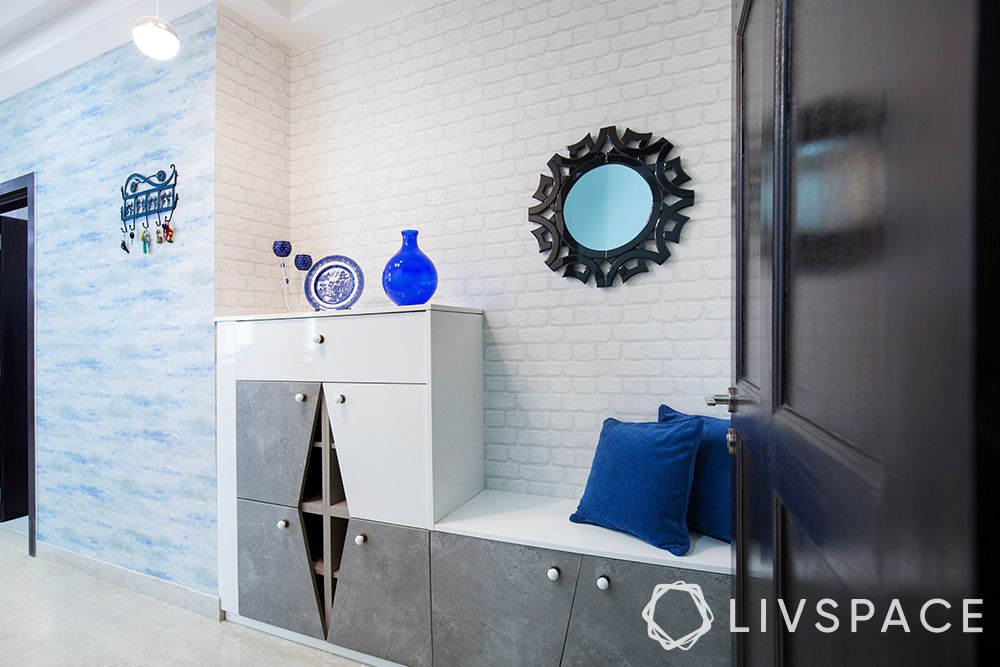 Foyers are the entryway to your home, so why not use exposed brick wall ideas there? Since foyers are essentially an experimental space, a wall design is a great way to bring in some character to them.
As you just saw, brick walls are capable of completely transforming your home interiors. If you're looking for a refreshing change, we suggest you give it a try. You won't be disappointed. Wondering how our customers feel about working with Livspace? You can check out the Livspace reviews here!
How Can Livspace Help You?
We hope you found our ideas useful! If you want your home to be just as beautiful, then look no further. Book an online consultation with Livspace today. Delivering safe home interiors has been our No. 1 priority. Click here to find out how interiors are being delivered following all safety protocols.