Was the adage "One wall to rule them all…?" Perhaps not, but that's what we believe anyway! If you're struggling with a bedroom that looks simple and plain, don't fret. It takes just one great wall design to make a world of difference to the space. And typically, this is the headboard wall or the wall against which the headboard of the bed is laid. If you can crack the bedroom wall design, the rest can just fall into place.
So, are you looking for bedroom wall design ideas to get the creative process started? #LivspaceHomes are a treasure trove of great bedroom wall design ideas to choose from. Read on and pick your favourite!
#1: Charm Your Way Through With a Textured Wood Panelling Bedroom Wall Design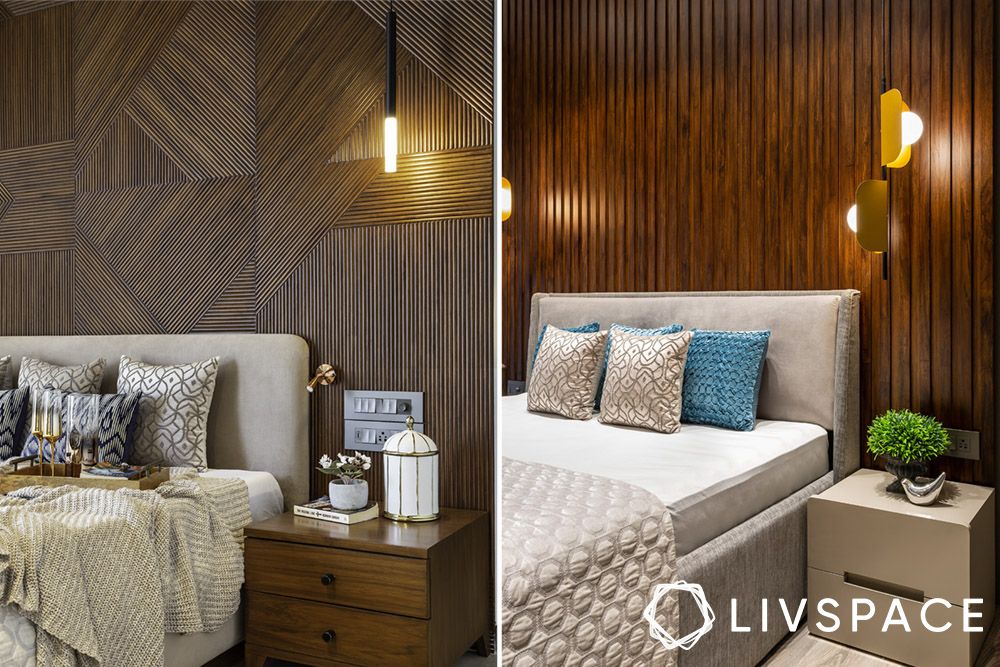 How to get this look?
Make this bedroom wall design a reality with solid wood, laminate or veneer wall panelling.
Pair it with
Try using plain fabric headboards in light earthy colours, wooden side tables and sleek pendant lights.
Why does it work?
These types of bedroom wall design ideas add depth to the room, along with a touch of class and some much-needed texture.
#2: Go Bold With a Bright Wallpaper Design for Bedroom Interiors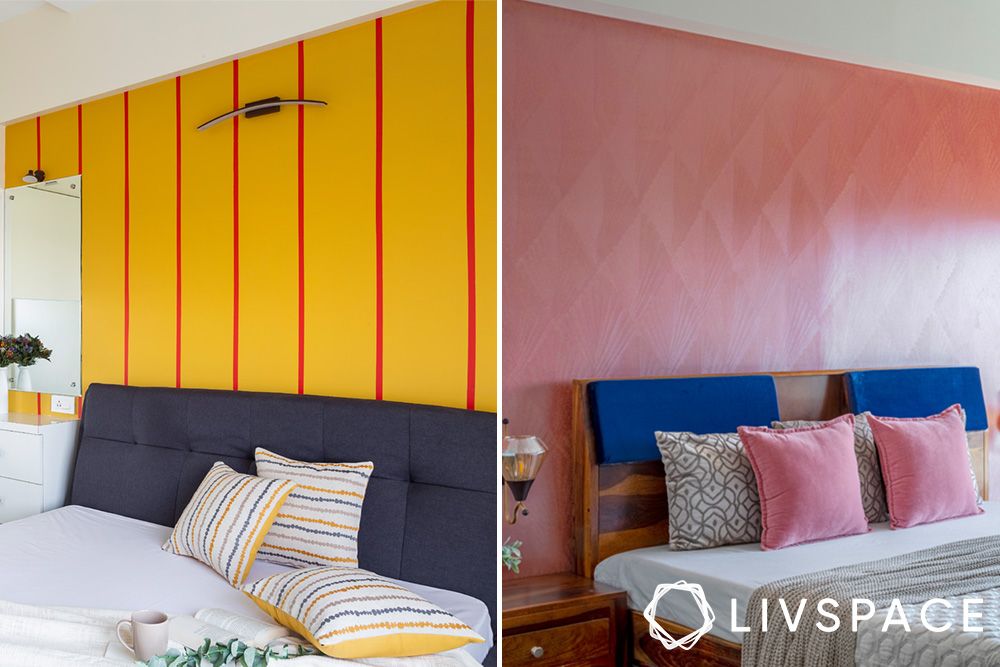 How to get this look?
Pick your wallpaper design for bedroom interiors in bold solid colours or go for a simple pattern with bright shades.
Pair it with
Match this wall design with headboards made of plain wood or contrasting colours. This bedroom wall design idea can look even better with the addition of a mirror panel or side tables in white and wooden tones. If there is already plenty of colour in your wall design, the rest of the elements should be neutral.
Why does it work?
It adds a dose of vibrancy to the space in an affordable way. If you're on a budget revamp, consider using wallpaper for your bedroom wall design ideas.
#3: Experiment With Geometric Trims for Your Bedroom Wall Design Ideas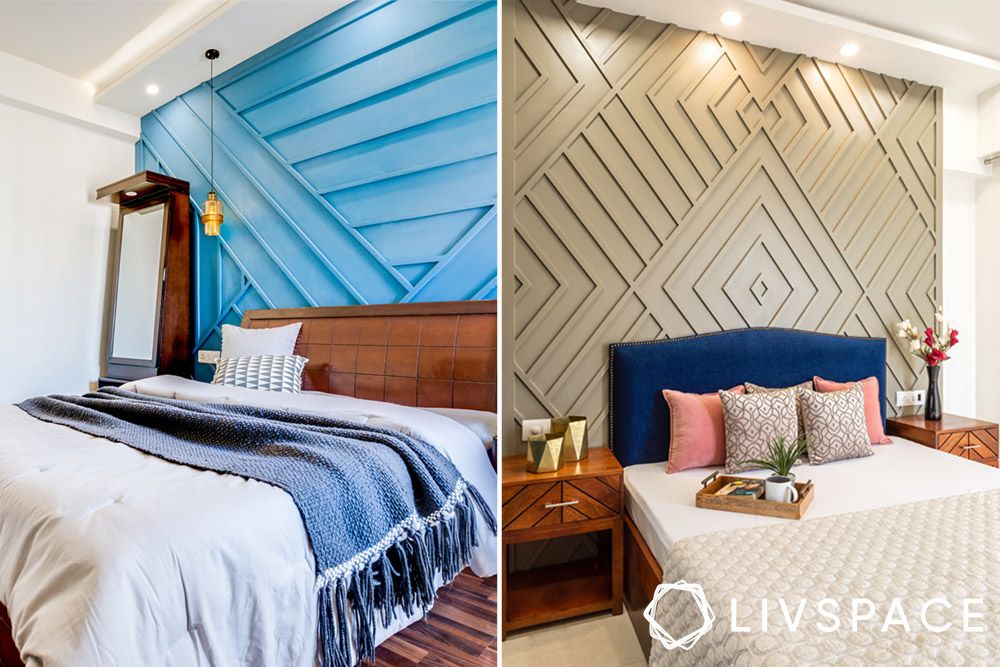 How to get this look?
Instead of the traditional Victorian wall design, try using modern trims in angular and geometric patterns. Also, be sure to pick a distinct colour to make this wall stand out.
Pair it with
As these trims are very imposing, pair them with plain fabric or wooden headboards. Such walls look better with accent lighting that puts a spotlight on them.
Why does it work?
Modern trims add plenty of texture to the space. If opted for in brighter shades, trims can also add a dose of colour and vibrancy to your space.
#4: Try Something New With Floral Prints & Fresh Takes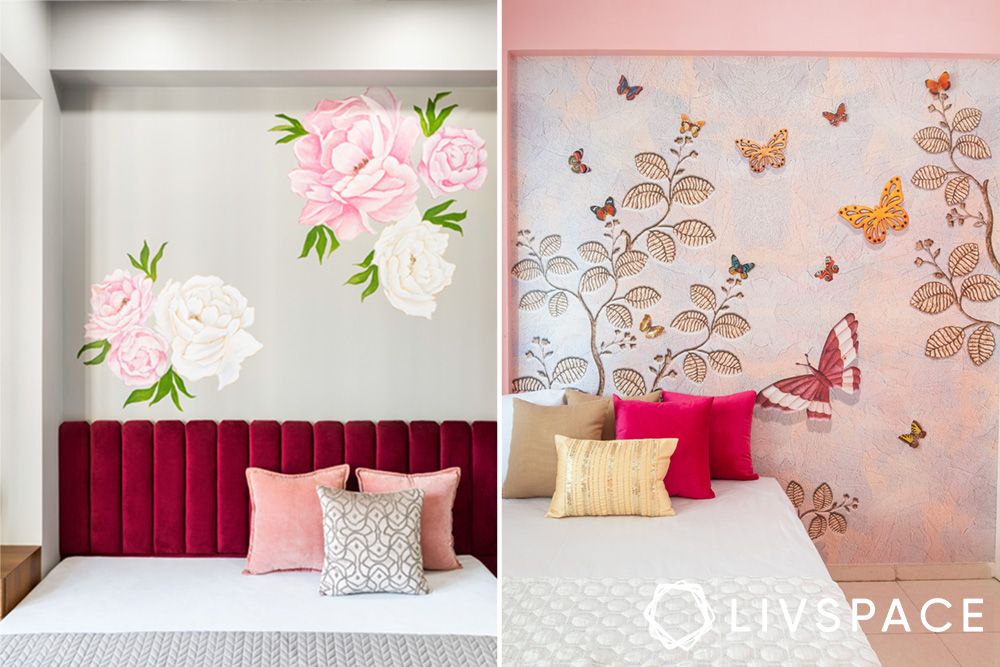 How to get this look?
There are many different ways to use floral prints in a wall design. You can use a floral wallpaper design for bedroom interiors or have flowers painted on the wall. Similarly, decals are another fun and creative option you can consider.
Pair it with
Floral prints should be paired with headboards in solid colours. If the prints are large, you can add some blank space to the wall design.
Why does it work?
Floral prints never really go out of style, so pick one that complements your wall design.
#5: Bring in a Sense of Symmetry With a Line-Style Wall Design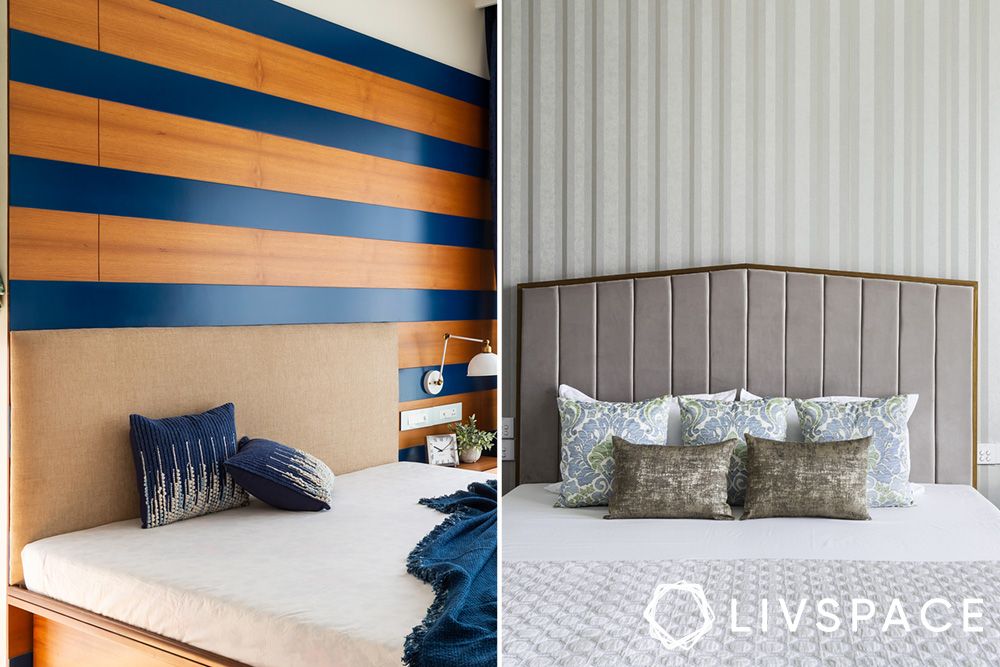 How to get this look?
This particular effect can be achieved by using a wallpaper design for bedroom interiors, paint, panelling or a mix of different materials.
Pair it with
Line designs do well with plain headboards or tufted headboards. You can also pair them with simple patterns or soft furnishings that complement this design.
Why does it work?
Horizontal line designs add width and texture to the space, while vertical ones add height to the room. Moreover, such wall design ideas cut a striking figure, drawing the onlooker's attention instantly.
#6: Carve Out a Traditional Niche With Jaali Zones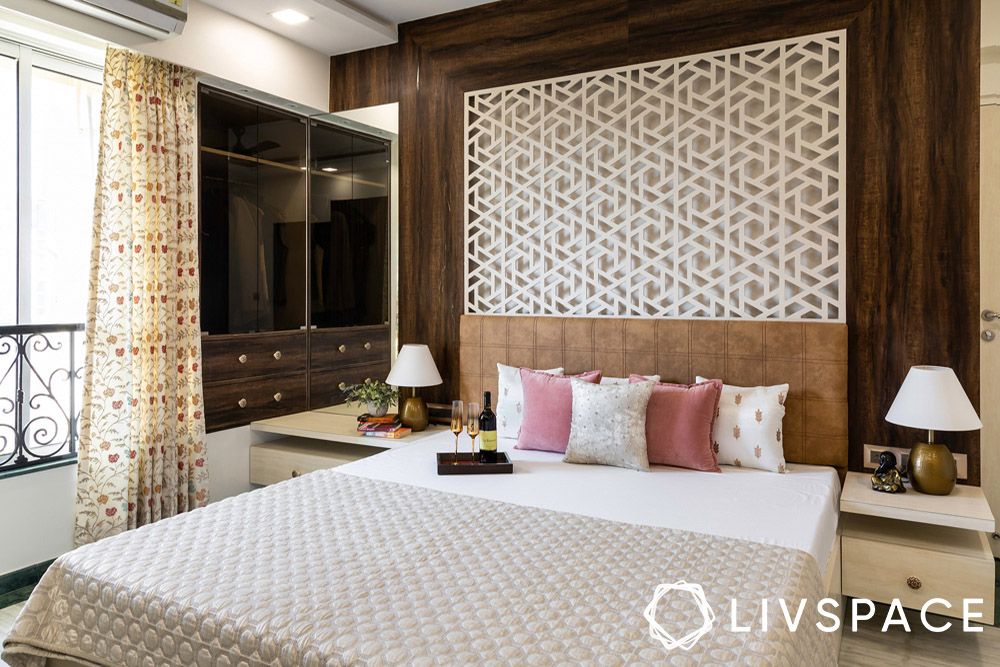 How to get this look?
You can either use Duco-painted MDF jaali panels or sheets of laser-etched acrylic to get this effect. Acrylic sheets might be a more affordable option.
Pair it with
Jaalis look best when they are set in wooden panels with plain headboards. Backlighting the jaali panel accentuates its intricate details.
Why does it work?
A jaali design adds an inherently desi touch to any bedroom. However, it can also be used in a modern way with a simple frame and minimal furnishing around it. In short, it is quite versatile in its appeal.
Also Read: 10 Best Wall Designs That Will Inspire You to Revamp Your Home
#7: Be Spoilt for Choice With Multiple Shades of Paint to Choose From
How to get this look?
There are a plethora of options when it comes to paint. You can use textured paint, enamel finish paint or use different colours of paint to make an interesting wall design. The possibilities are limitless.
Pair it with
Painted walls can be paired with all kinds of headboards, accessories or colours, so there is no bar on to how to style your bedroom. Go on and experiment all you like!
Why does it work?
Paint can be a cost-effective and versatile way to dress up a wall. Additionally, the amount of variety possible with paint is something that makes it an inviting choice. Further, if you're confused about whether to go for wallpaper or paint, check out: Wallpaper vs Paint, Which Is Better? Here's Everything You Need to Know.
#8: Can't Choose Just One Wall Design? Mix and Match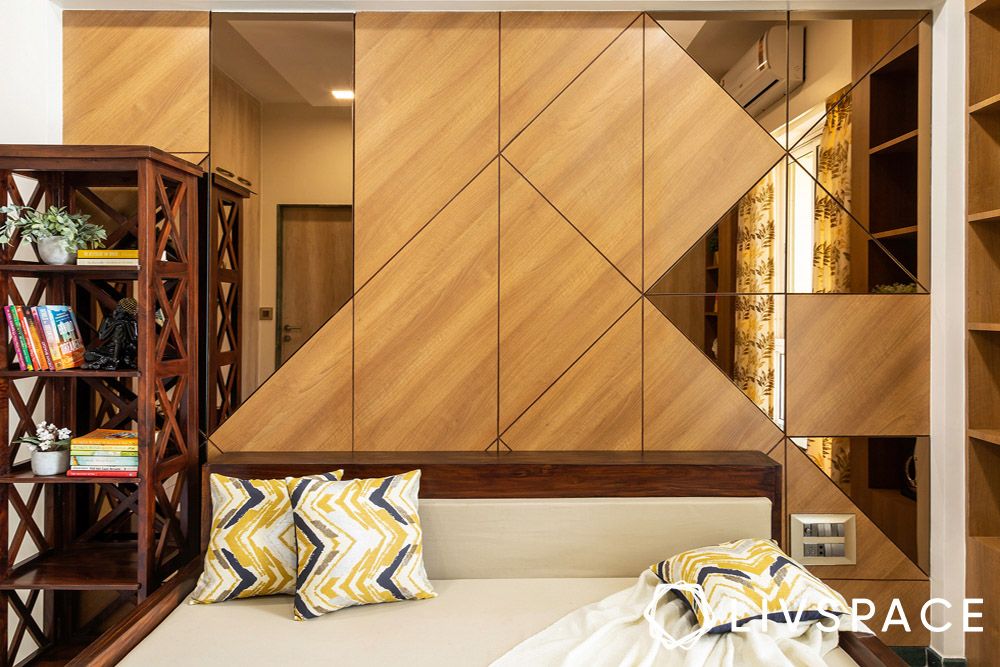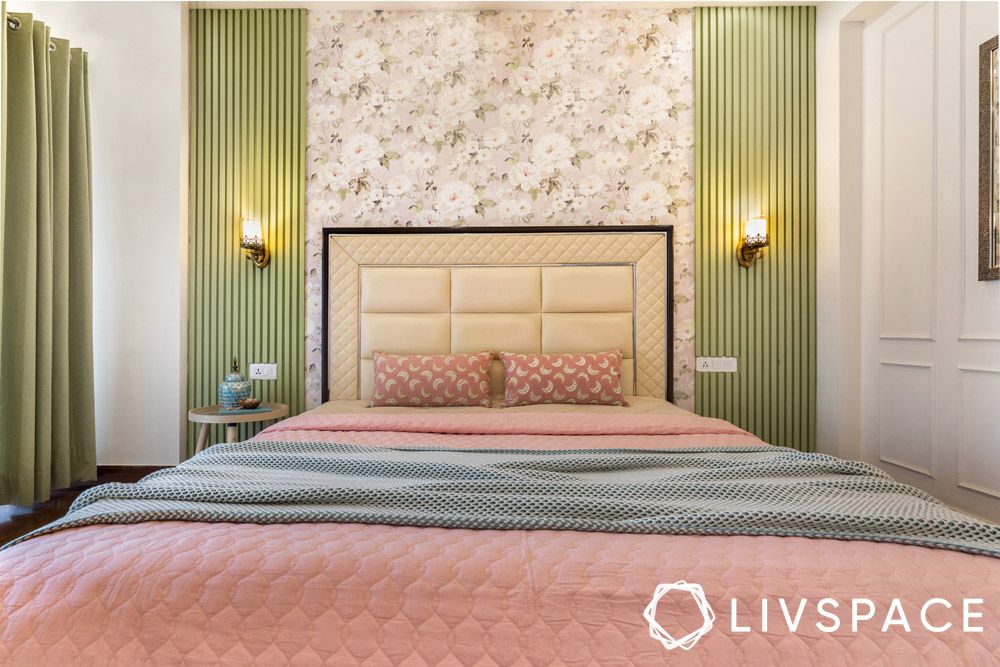 How to get this look?
To get any of the above looks, you need to combine two different bedroom wall design elements for the accent wall.
Pair it with
You can pair portrait trims and add colour or wallpaper in the hollows. You could also install shelves with backlighting for functionality and aesthetics. There is no end to the number of different wall design combinations you can try.
Why does it work?
Mixing up design elements is a very effective way to do up your headboard wall because it packs a punch of variety. You can add colour and texture at once. Alternatively, you can add storage space with a highlighting element to create interest.
Also Read: 15 Ideas for Bedroom Decoration That You Can Try at Home
#9: Get European-Style Interiors With Mirror Panels
How to get this look?
To create a European-style interior like our Livspace homeowner Prasun, you must use mirror panels that mimic the look of Parisian raised panel designs.
Pair it with?
You can pair it with simple paint to get a textured look for your interiors and add beautiful pendant lights to give the wall design for your bedroom a glow and a spark.
Why does it work?
These bedroom wall design ideas are unique and will set you apart from any homeowner.
#10: Keep the Wall Design for Bedroom Simple Only to Spice Up the Headboard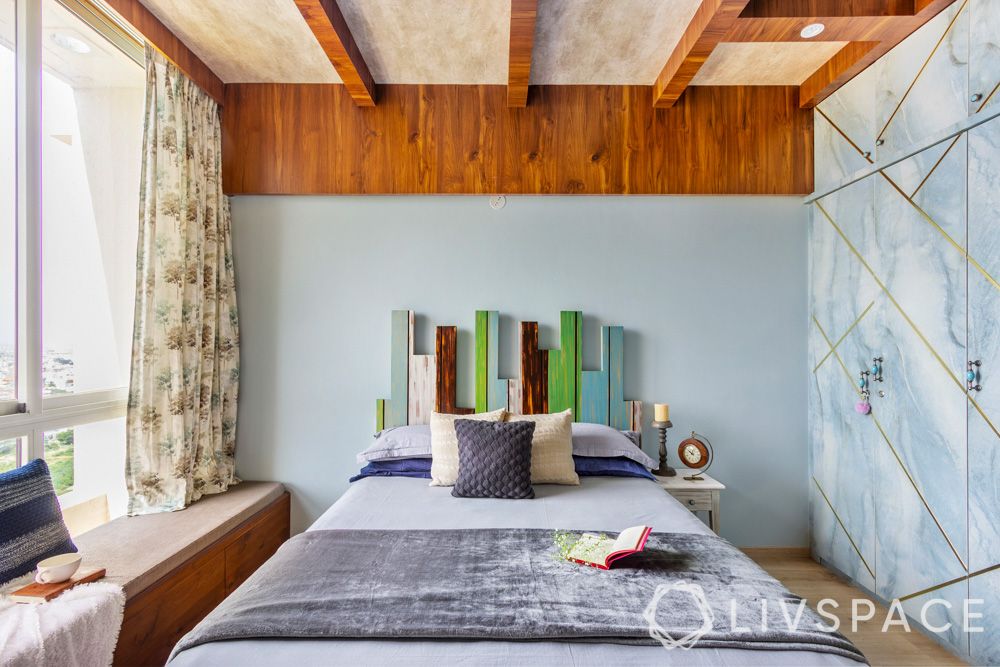 How to get this look?
To get a look that plays with warm and cool tones like this one, get creative with your wall decor ideas for the bedroom by shaking things up with a custom headboard.
Pair it with?
You can pair it with a wooden ceiling that comes down to the wall and complements it. In fact, the wooden hinge gives the room a dose of warmth, whereas the cool blue shade tones it down.
Why does it work?
What steals the show in this bedroom, however, is the unique headboard design carved out of wood. Custom-made and colourful, this wall design for bedroom stands out for its simplicity and utmost creativity.
#11: Marble & Monochrome: One of the Best Wall Designs for Bedroom
How to get this look?
When it comes to wall design for a bedroom, marble isn't the most obvious choice that comes to mind. But this latest wall design for the bedroom could change your mind. To get this look, opt for marbled wall design for the room. That's it! You now have a plush looking home with a sophisticated vibe.
Pair it with
You can pair it with a wooden block that doubles up as a shelf or a night stand. Or you can use lights to add a wow factor to the wall design of the bedroom.
Why does it work?
With this look, you'll end up having a bed wall design that's luxe and unconventional in all ways. If you're going for white marble on your bedroom wall, it could also be great for your bedroom vastu. Remarkable, isn't it?
#12: Get Ready for the Biggest Exposé of Bedroom Wall Design Ideas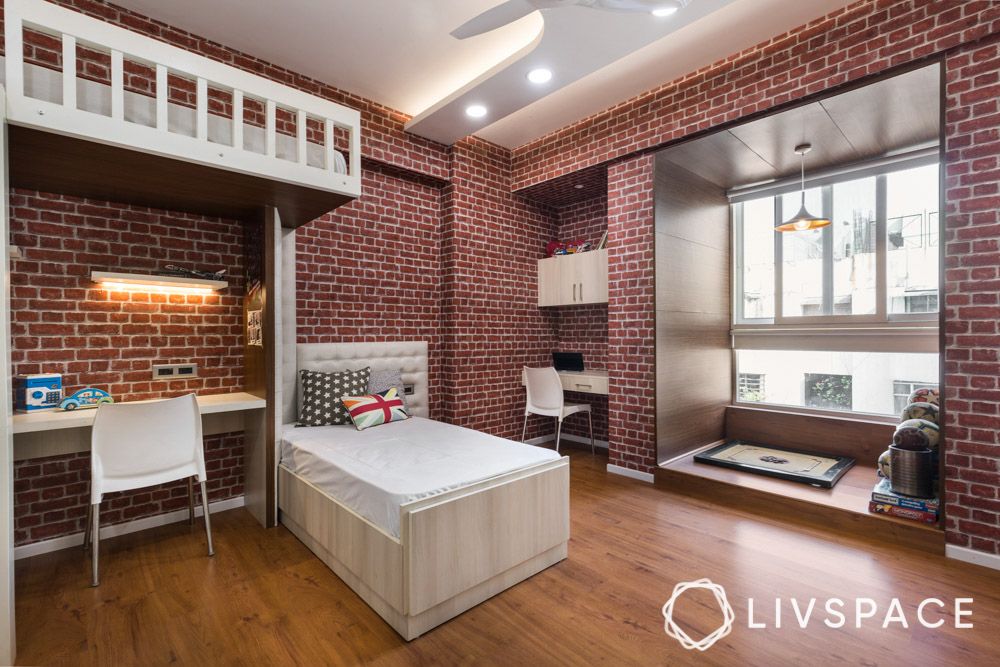 How to get this look?
If you're keen on adding some industrial panache to your bedroom wall design ideas, you can consider opting for exposed brick walls.
Pair it with
Smooth laminate flooring that contrasts the rough and exposed brick wall design for your room. If you want a more eclectic look for your bed wall design, you can hang a Tibetan rug on the wall to add depth, dimension and some visual contrast.
Why does it work?
You can make a visual statement by working in a sense of industrial roughness, while also keeping the design consistent.
#13: You've Heard About Wall Panelling. But With Wallpaper?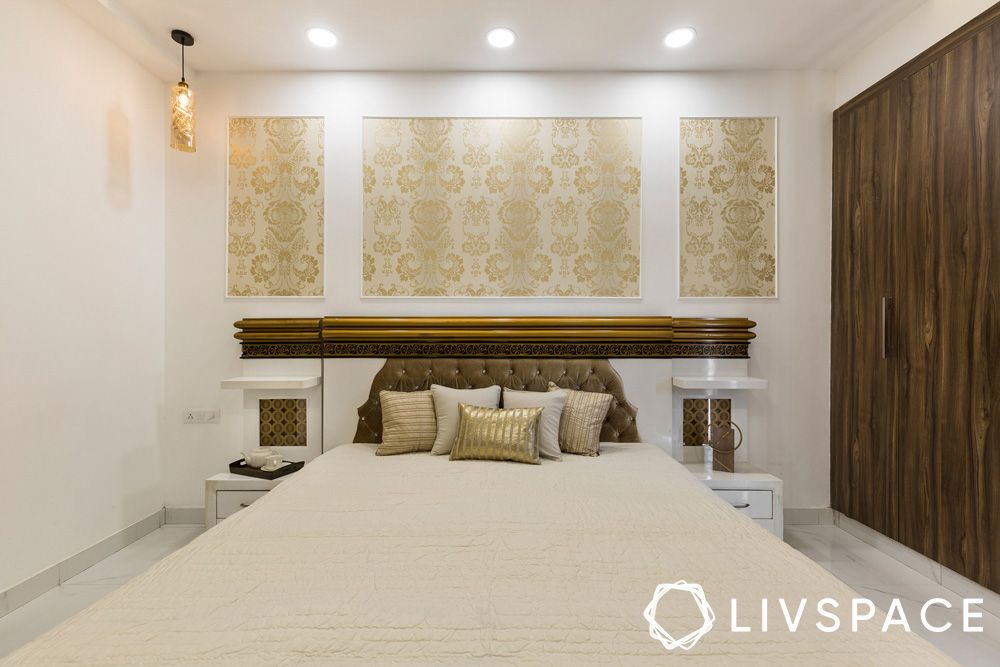 How to get this look?
Bedroom wall design ideas are incomplete without wall panelling and wallpapers. What if you mixed the two? Draw attention to the wall design in your bedroom by adding wallpaper within the recesses of the panels and see the magic!
Pair it with
Paint. Calm and soothing shades of paint can help elevate the wallpaper section and make it appear like a feature piece of sorts!
Why does it work?
In fact, go for wallpaper designs that have a playful or geometric pattern, and they can pick up the surrounding colours, thereby giving the wall an edge like never before!
#14: After the Great Wall of China, Comes the Great Wall of the Curtains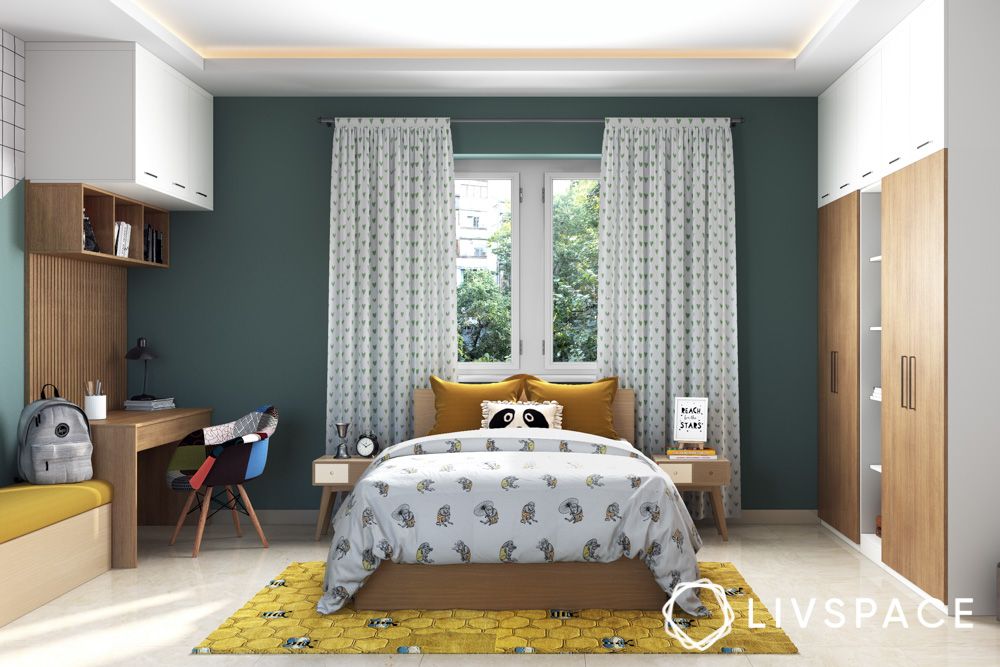 How to get this look?
To get this look, make an elegant statement with patterned curtains that cover up a large window and act as a backdrop to your bed.
Pair it with
Simple wall paint and wooden panels, in case you feel like adding a dose of warmth to your space. In fact, the best bedroom wall design ideas like this one emerge from the simplest and most ingenuous of materials. If you'd like to add some texture to your walls by opting for wallpaper, you can just switch to solid-coloured linens for your curtains. That's it! You're all set!
Why does it work?
"What's special about curtains?" Did we hear that right? Is that what you're thinking? Bedroom curtains are known for making quite the splash! Not only do they filter sunlight, but they also impart a finished look and panache to a space.
#15: Call Your Shots With a Memory Wall or Inspiring Portraits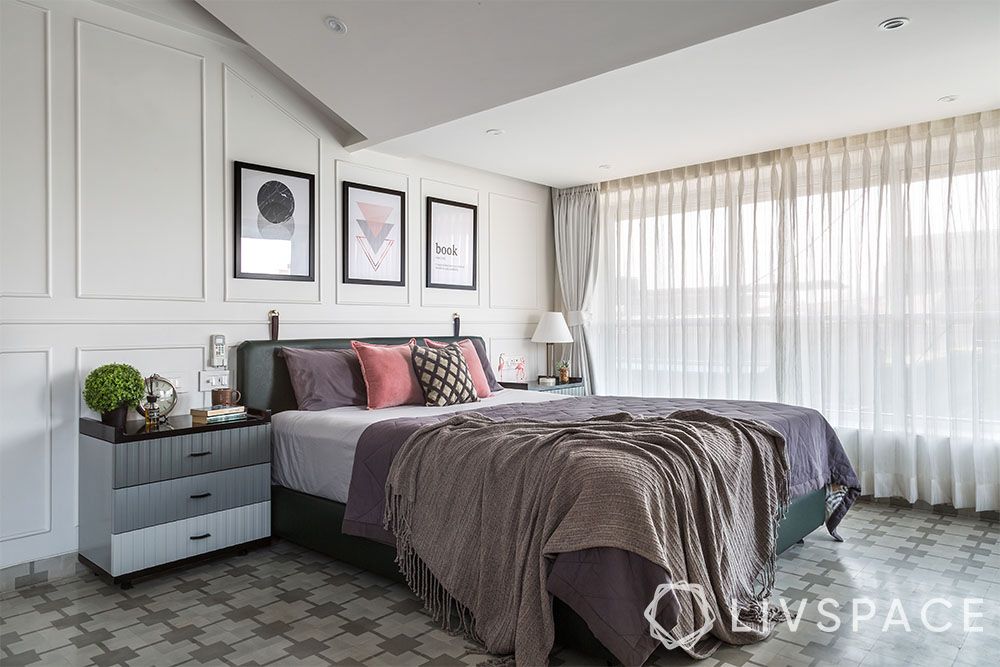 How to get this look?
If you're someone who wants to make a statement with white walls, the best option is to go for wall panelling for your room wall design and pack in a punch with portraits.
Pair it with
Wall panels, understated hues and wall trims. This will help you add some oomph to the space while keeping your interiors airy, bright and incredibly simple. Throw in some sheer curtains to add some softness to your space, and tada! You've the beautiful, breezy interiors you've always dreamt of.
Why does it work?
This type of design helps you make a memory wall to highlight your most momentous joys or your best memories. You can also opt for abstract portraits that define who you're and work as a footnote in your decor story.
#16: Bonus Takeaway: Colour Block Your Bedroom Wall Design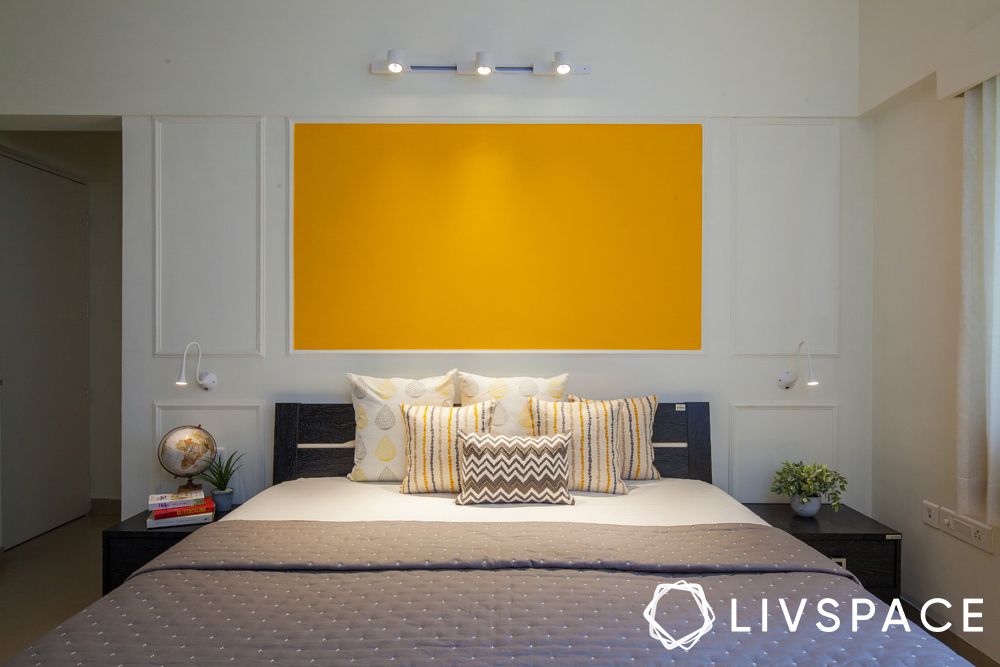 For this bonus takeaway on bedroom wall design, we're not going to tell you much! We urge you to keep your imagination alive, look deeper within yourself and just go for a colour that makes your heart flutter. You'll have an accent wall that pops and a personal sanctuary that screams you!
Check out bedroom designs:
How Can Livspace Help You?
Wondering how you can get these beautiful interiors for your home? Look no further! Book an online consultation with Livspace today. If you have any thoughts and suggestions you'd like to share with us, we're all ears! Drop us a line at editor@livspace.com.