Can't decide what to do with that blank wall? This list of wall decoration ideas can help you add some personality to your home.
Wondering what to do with blank walls is a common dilemma faced by many homeowners. Should you repaint your walls? Put up artwork? , Or, should you hang some accessories or use a few budget-friendly DIY wall decoration designs? We've got some answers and a lot of inspiring wall design ideas to help refresh your space.
Here are eight supercool best wall decoration ideas you can steal to jazz up your empty walls and pump new life into your space. Whether you are looking for a living room wall design or a wall decor for your bedroom, we have some ideas that'll wow you.

Wall Decoration Ideas #1: Wallpapers, Wall Decals and Wall Panels
Modern wallpaper designs are one of the latest wall design ideas available, and the way they can revamp a plain wall is incredible. If you are looking for top wall decoration ideas for living room or bedroom, you can use vinyl wall decals that can be quickly and easily installed to pep up any room in your house. Wall panels are another versatile option, uniquely suited for Indian homes. Wallpapers, wall decals and wall panels are available in a variety of colours, themes and motifs. Installing wall decals is easy. Learn how to do it here.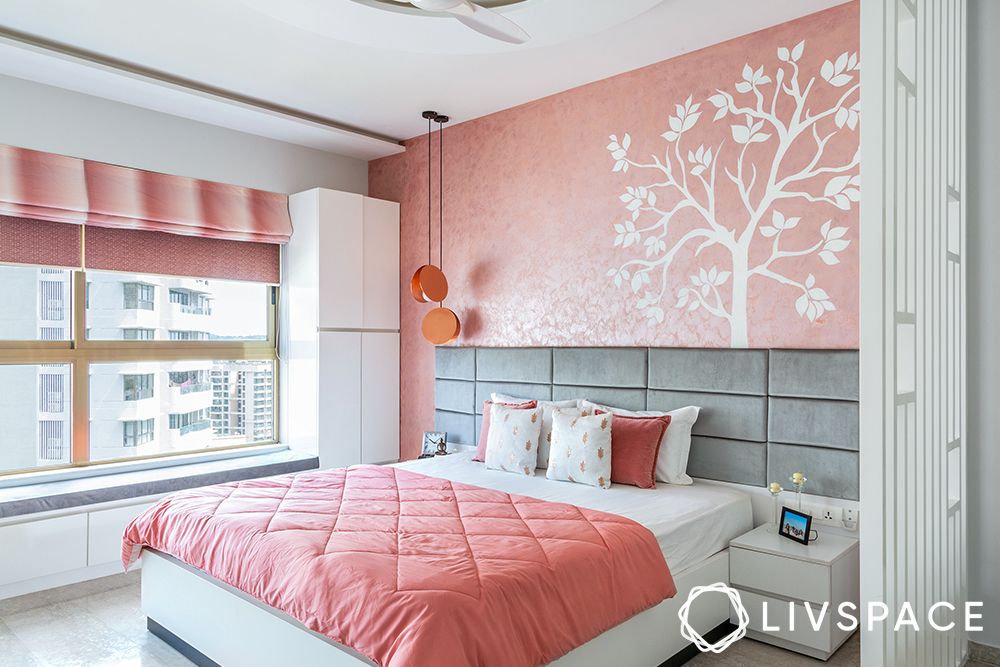 Bedroom and Living Room Wall Decor Ideas #2: Art on Display
When it comes to wall decoration ideas, putting up artwork is a quick and easy one. Hanging large paintings on the walls instantly escalates the ambience of the room and adds interest to your walls. And if you are looking for modern living room wall decor ideas, artwork is an easy way to get the look you desire. Plus, install some beautiful ceiling lights to get it right.
Art can be anything from framed pieces of an interesting print to your favourite quote or even a geographical map of your favourite vacation island. Every piece of art has its unique way of adding character to your walls. Plus, how you choose to display art can also play an important role in home decor. Instead of hanging them on the wall, art pieces can also be placed on a console table or even on the floor. You can display them in a group to make up your own little art gallery, or put up striking individual pieces as wall decor for living room and bedroom to add some drama to your decor.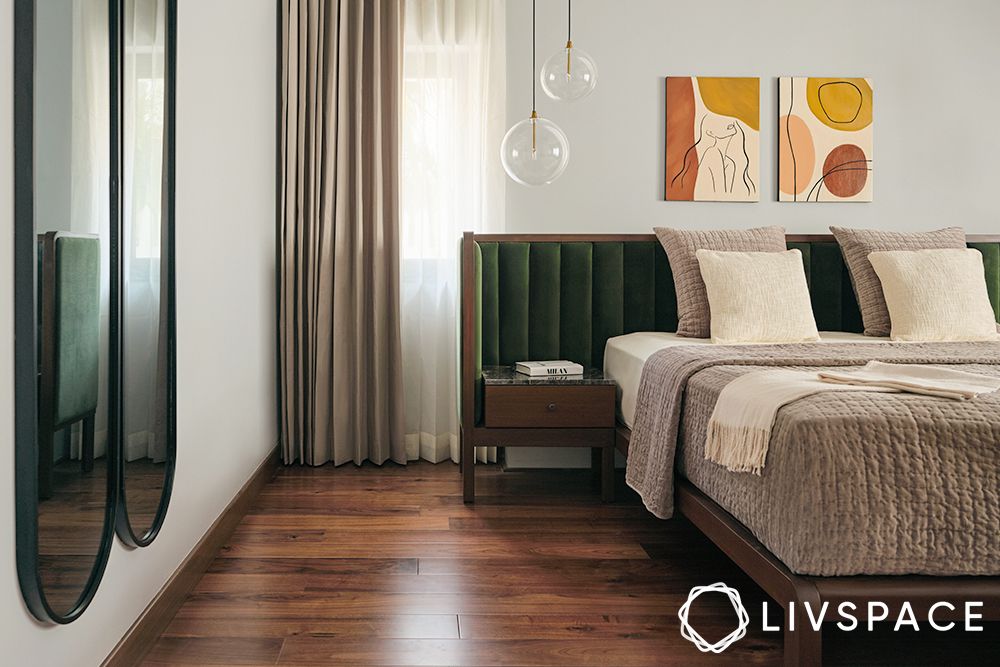 Also Read: The Ultimate Guide to the Best & Beautiful Wallpapers for Rooms
Wall Decoration Tip #3: Wall Lights
If you are looking for wall decoration design ideas, using decorative wall light fixtures to decorate your blank walls can add some ambient lighting to the space. There are so many beautiful types of wall lights you can pick from, and each of them help create a different effect. Whether you want wall decor for living room, bedroom or foyer, you can choose from a variety of options like elaborately designed wall sconces, beautiful candle-holders and trendy wall-mounted lamps, depending on your sense of personal style.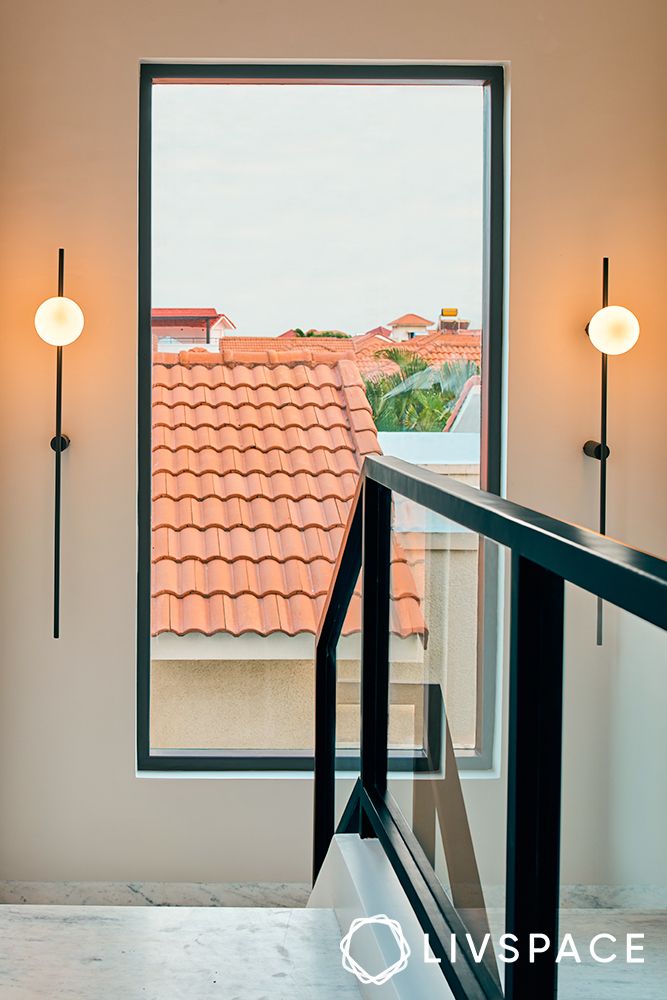 Wall Decoration Ideas for Living Room #4: DIY Photo Gallery
Probably the most versatile of all the top wall decoration ideas, DIY living room wall design is the best way to showcase your creativity. You can easily create your own Instagram wall by putting up your favourite Instagram shots or Polaroid pictures on display. This type of wall decor for living room can be pasted directly on the wall with a tape, or you can use pegs to hang them from a string.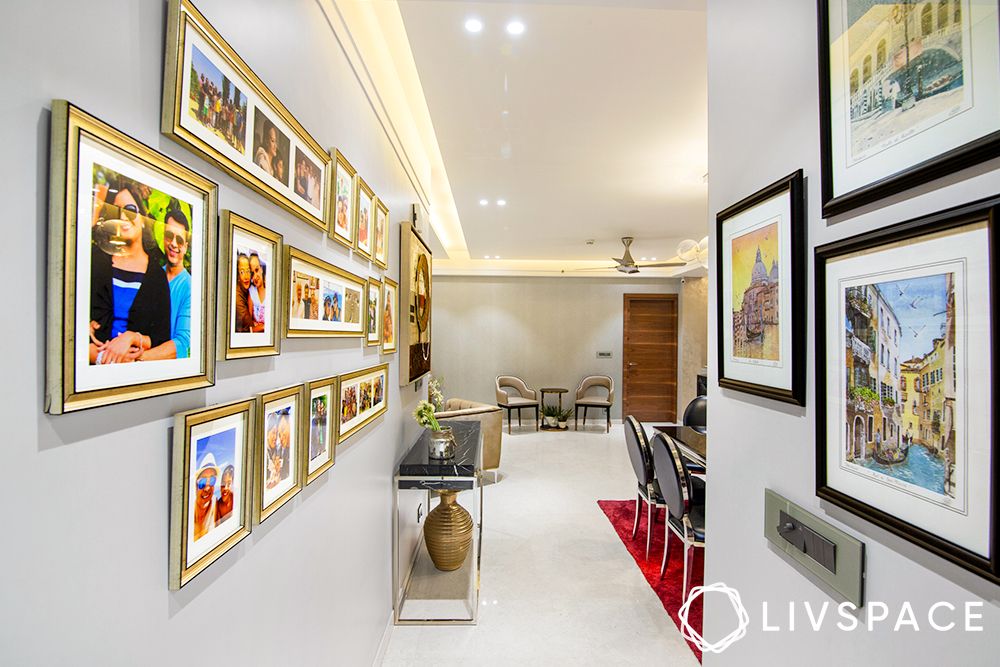 A blank wall can also be the perfect canvas for showcasing your creativity and creating your own masterpiece using something as simple as washi tape. Use washi tape to create top wall decoration like geometric patterns, faux photo frames or any interesting patterns you can think of.
Bedroom and Living Room Wall Design Ideas #5: Wall Accessories
Wall decoration ideas like unique accessories are a fun way of decorating your walls. You can either buy new accessories for your bedroom and living room wall design or use what you already have hidden away in your drawers. Some items that you can use as your wall decoration include jaali, china plates, glassware or pottery collections, 3D letters or any item that strikes your fancy and looks great with the overall décor.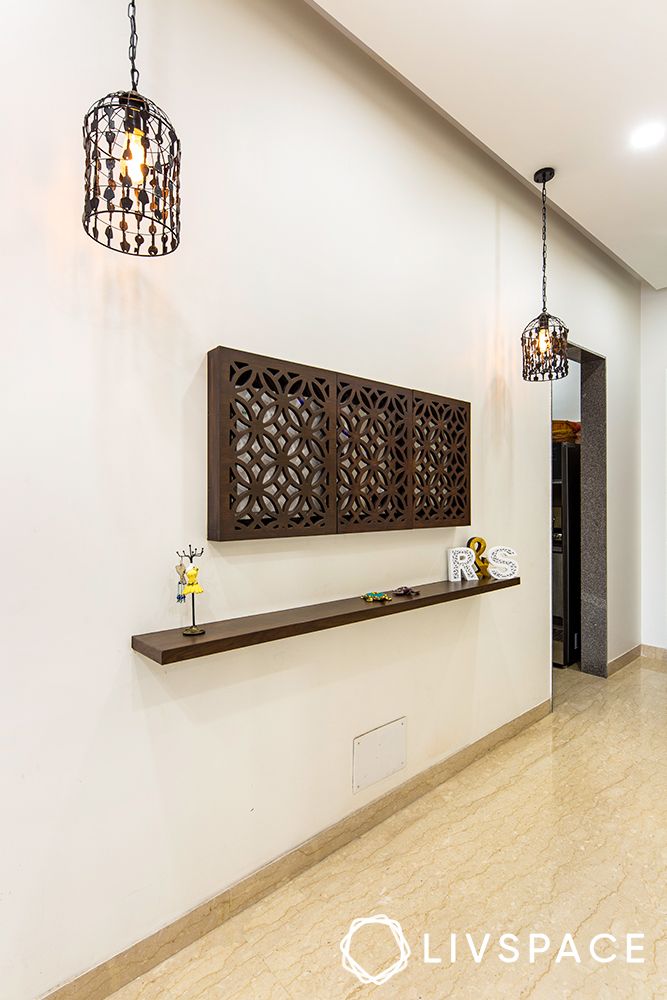 Also Read: Turn Bare Walls Into Accent Walls
Wall Decoration Tip #6: Mirrors and Empty Picture Frames
An excellent wall decoration idea, mirrors add visual interest to the room and also create an illusion of space and light. Hanging up clusters of small decorative mirrors serve as great foyer or living room wall decor ideas. You can even put up a single oversized mirror to create a dramatic effect. Much like mirrors, empty frames also make great wall decoration accessories and can instantly elevate the aesthetics of your space and add some quirkiness.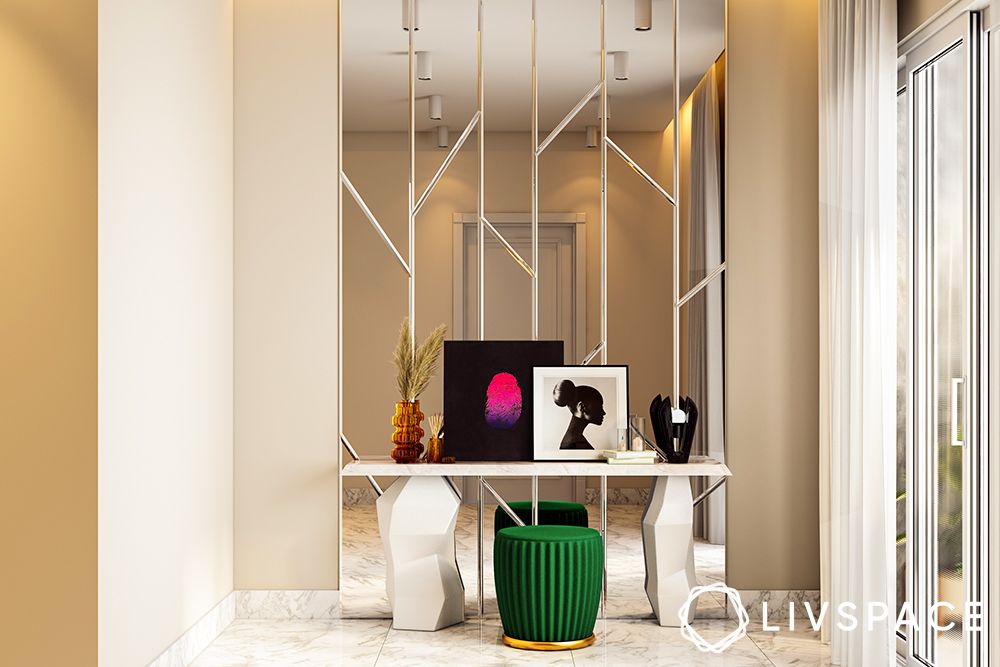 Wall Decoration Ideas #7: Quirky Memorabilia
For some modern living room wall decor ideas, you can bring forth your personality and decorate your walls with what you love. Travel, sports and music memorabilia are fabulous attention grabbers that can give your empty walls a unique character. Putting up your guitar, your cycle, skateboard or any other possession is also a good idea. You can also put out your favourite hats on display.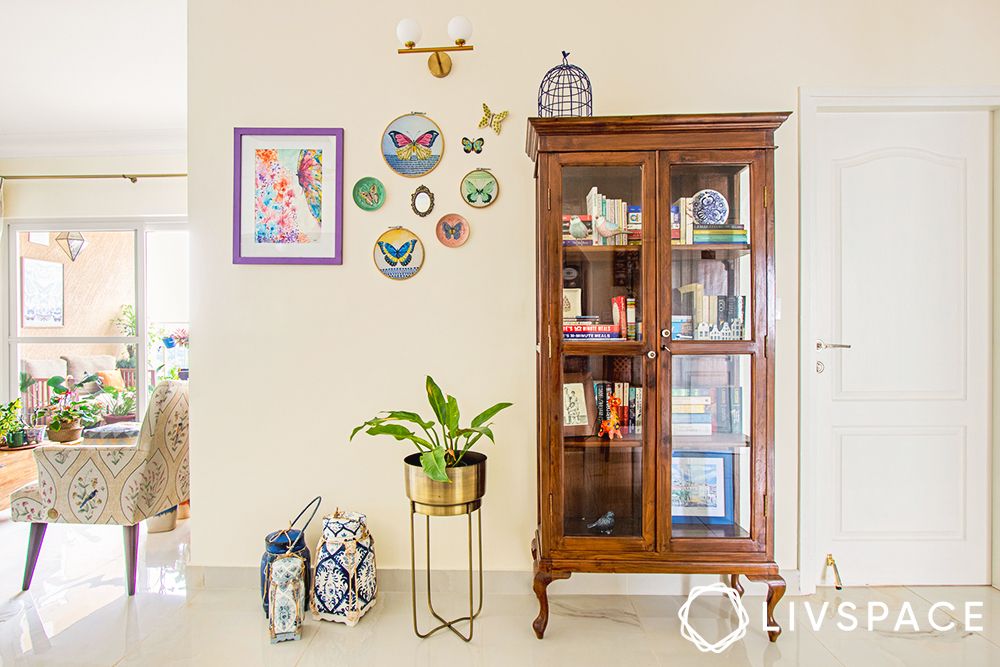 Wall Decoration Tip #9: Mounted Shelves
If you are looking for wall decoration ideas for living room, bedroom and study room, shelves are a good option. Shelves are a brilliant wall decoration idea as they can easily transform a plain wall to a stunning one, while simultaneously providing you with additional storage. There are so many interesting shapes and styles available that you will easily be spoilt for choice. Floating shelves and shelves in triangular, hexagonal or other geometrical shapes are trending right now. You can use these to jazz up your walls and store your collectables.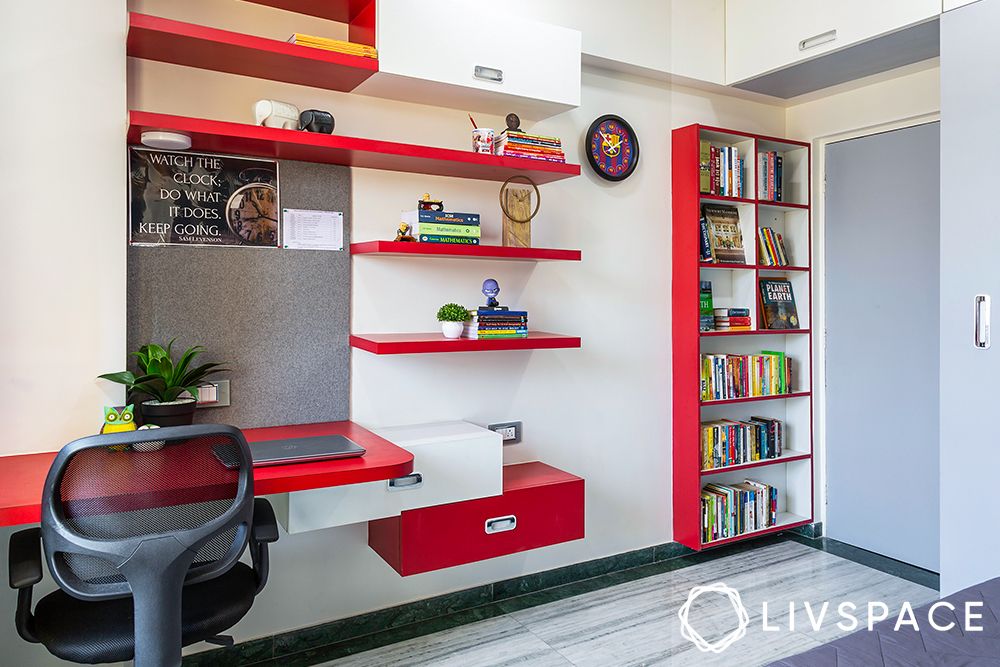 With all these wall decoration ideas to amp up your space, start adding a refreshing new twist to your interiors.
If you liked these ideas, check out some stunning accent wall options.
More wall design ideas:
How Can Livspace Help You?
We hope you found our ideas useful! If you want your home to be just as beautiful, then look no further. Book an online consultation with Livspace today.
Wondering how our customers feel about working with Livspace? You can check out the Livspace reviews here! We love hearing from you! Write to us with your comments and suggestions at editor@livspace.com.