An easy way to add character to your room and amp up the style quotient is a creative accent wall. Steer clear of the blank and boring walls and check these easy yet eye-catchy options that are sure to uplift the spirit of your room. We have 12 wall design options you can explore.
Wall design idea #1: Wall trims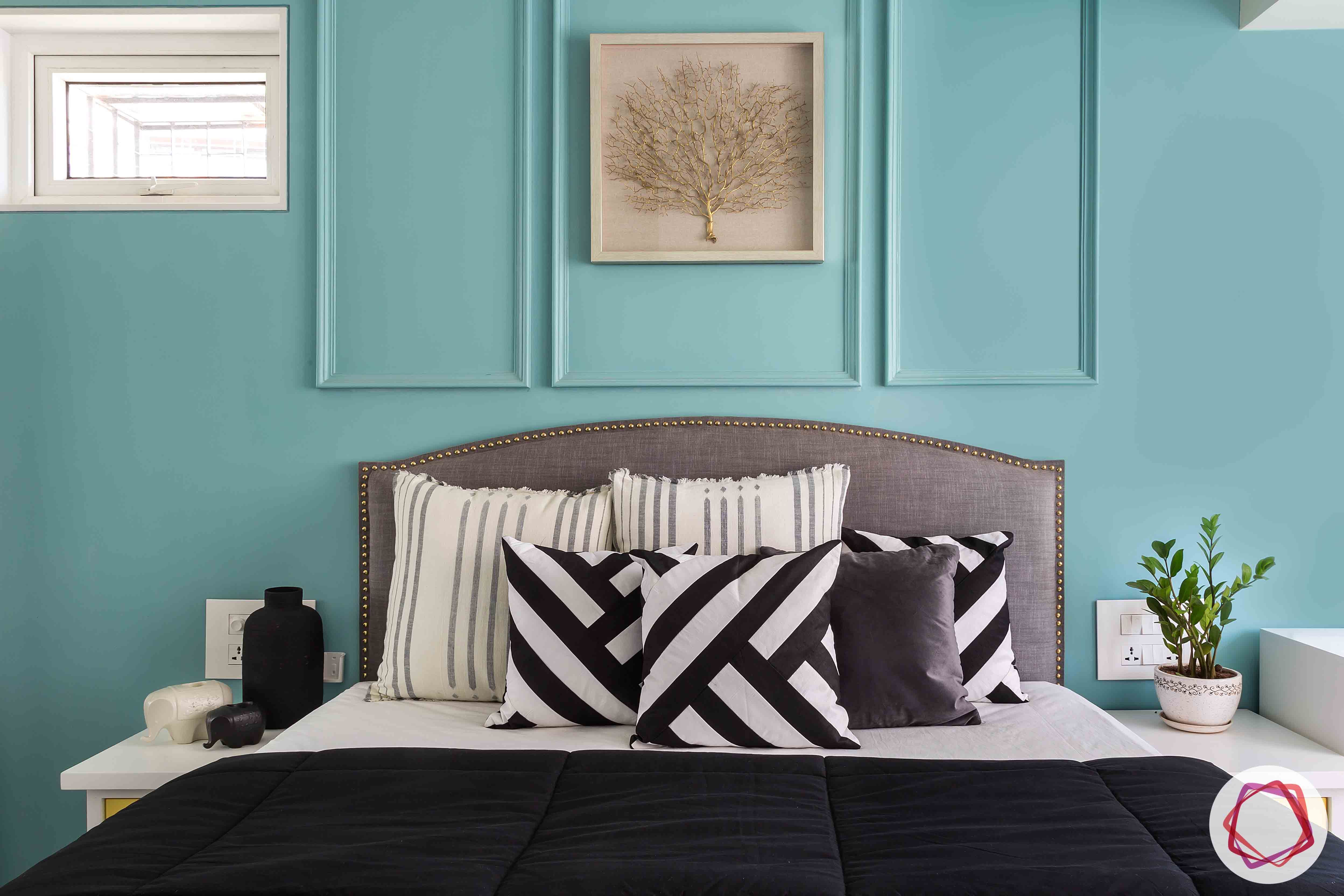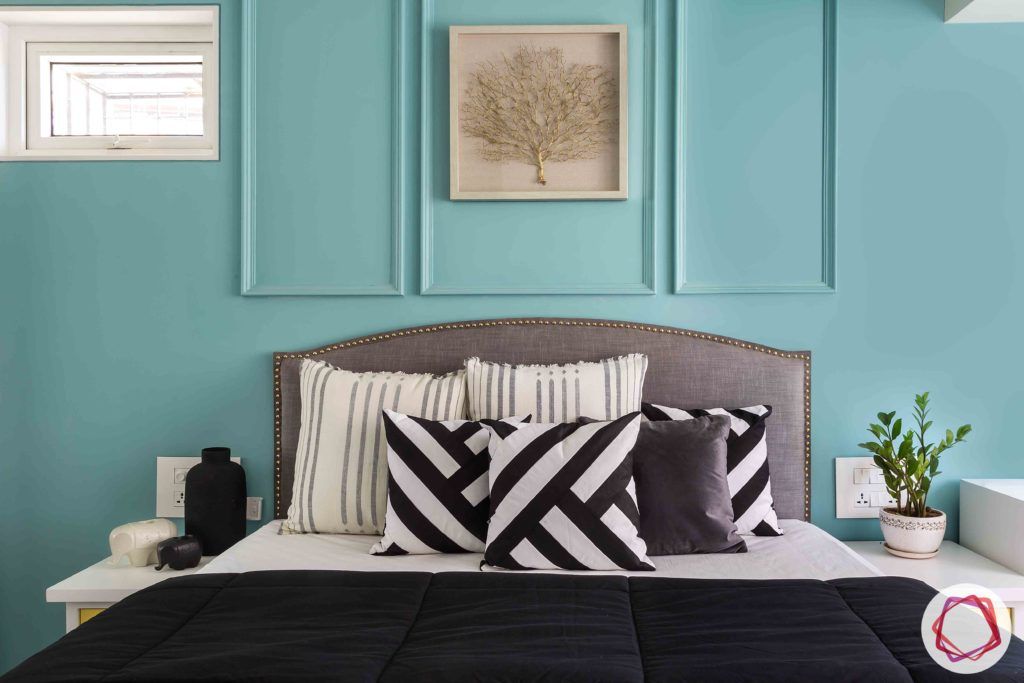 Wall trims are definitely in vogue and you can achieve so much more grace and elegance by trying a variation of this style. Trims with a floral wallpaper give the room a chic appearance and is definitely a must if you want a pretty ambience for your personal abode.
Simple trims in contrasting colours with the wall also work wonders! Check this amazing design that uses the tone-on-tone technique to layer neutrals in a fascinating way.
Wall design idea #2: Wall texture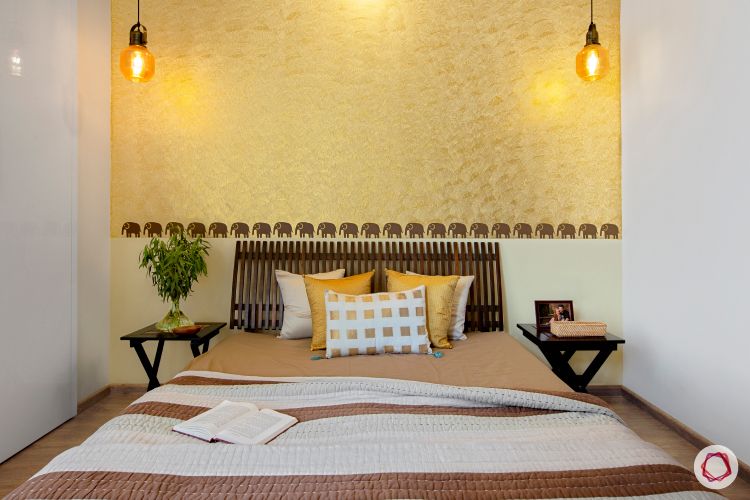 Texture painting is the easiest way to grab attention in any room. Play with different patterns and colours to get the perfect mood you want to set in the room.
Now you see how a colour and pattern can instantly change the tone of the room. This room has an invigorating mood, in contrast to the romantic vibe of the previous picture.
Wall design idea #3: Wooden panels & beading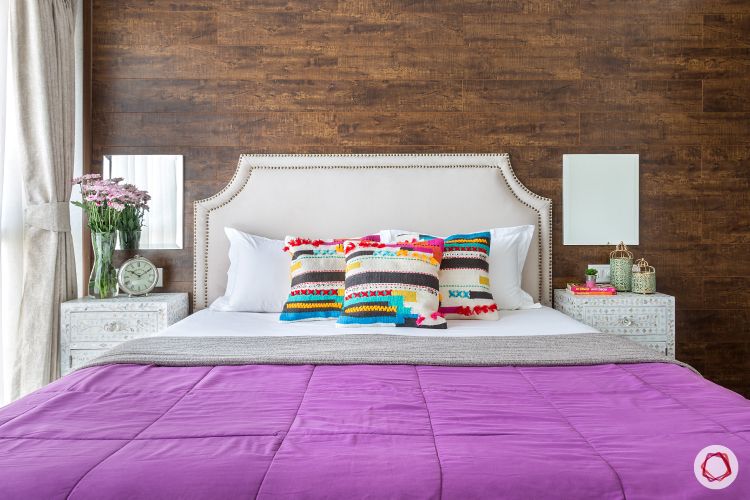 Wood is our go-to option for a warm and rich ambience. Doesn't this room look majestic paired with a beautiful headboard? You have ample choices from oak finish to mahogany finishes to explore.
Wooden beading lined up creating trims is another wall you can include panelling in. This gives the room more character and defines the space better.
Wall design idea #4: Exposed brick walls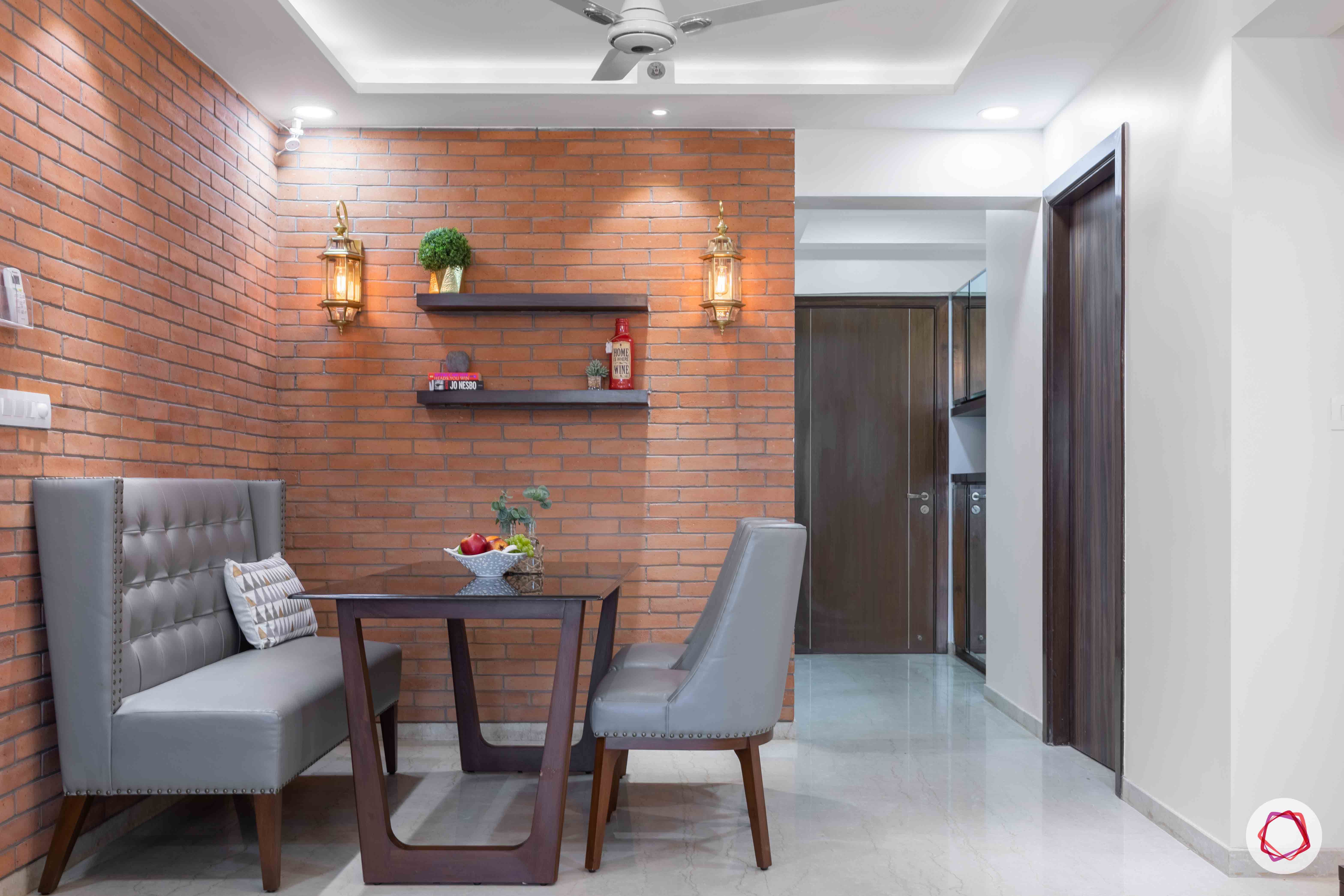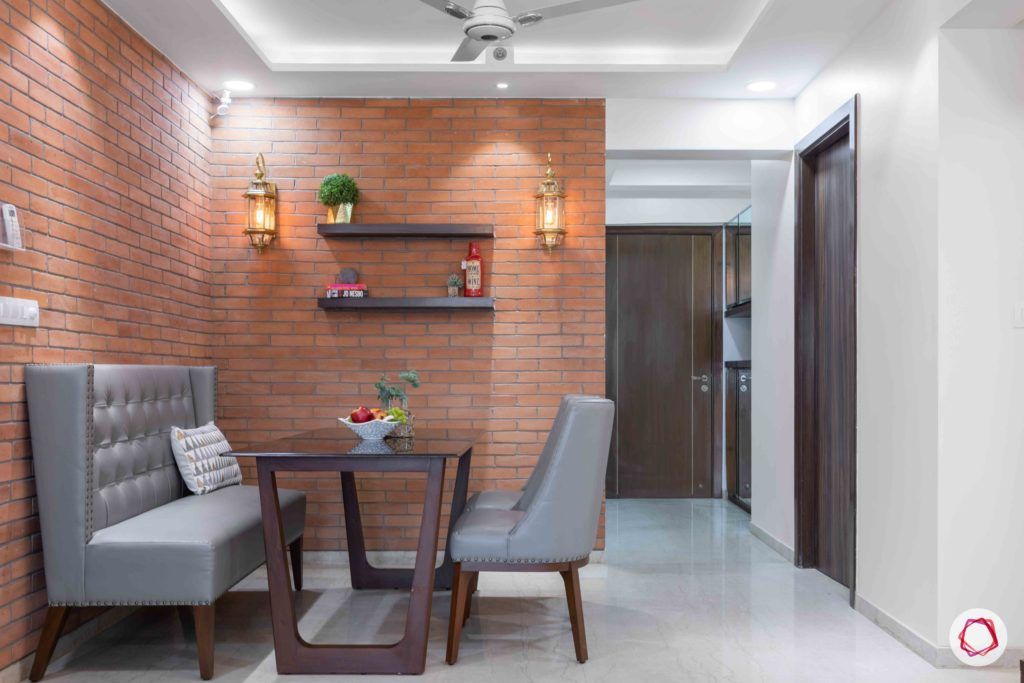 An exposed brick wall induces an industrial effect in the room. For those who love natural and raw finishes, this option is a must as it embraces such textures.
You can also choose to fuse contemporary with industrial design to create a beautiful contrast. If an exposed brick wall cannot be maintained choose a realistic wallpaper like this!
Wall design idea #5: Fusion of two or more elements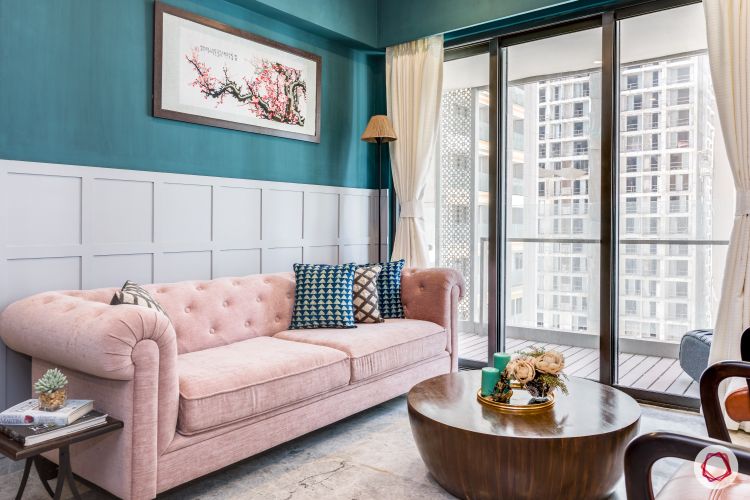 When you're confused on what to choose, try a fusion of two accent wall ideas. Here a red wallpaper is paired with a parquet-patterned wall panel. This also helps to create an illusion of space in small rooms by playing with the height of the lower panels.
This is another variation of trims used which visually looks like a recessed panel. Matched with a blue-painted wall it gives a European vibe to the room.
Wall design idea #6: Wallpaper with motifs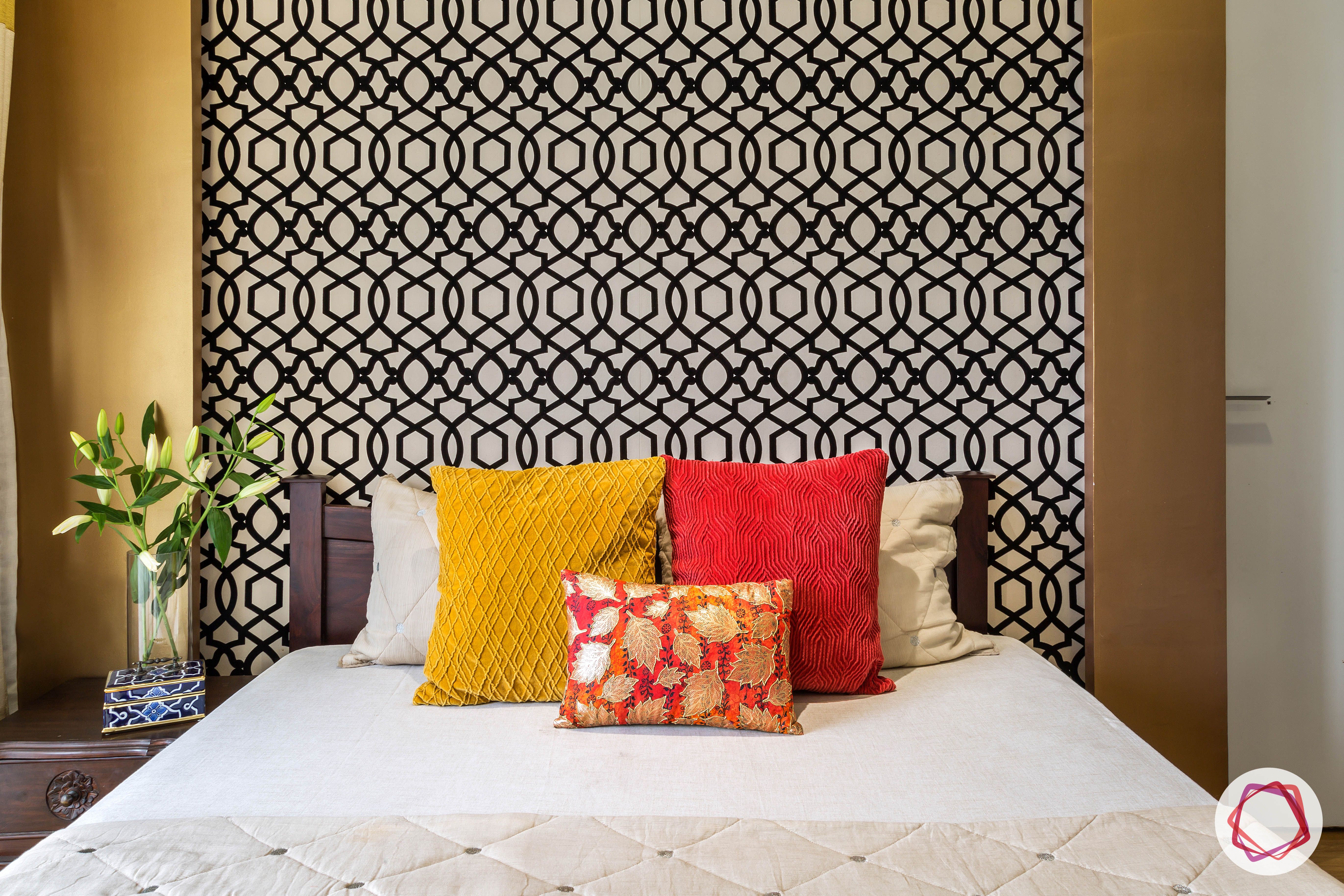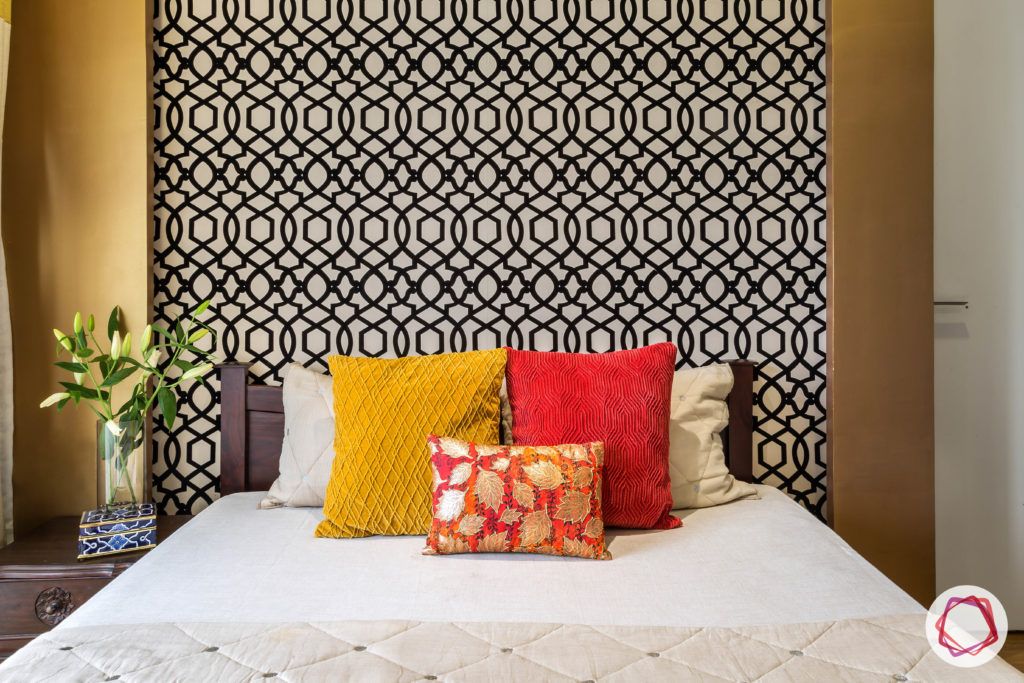 Pretty motifs are the best when you want to add pattern to a room dominated by different colours. It visually balances the hues while giving an elegant boost.
Check this leaf-patterned motif on the wallpaper with alternating shades that create a beautiful appearance for the room. Paired with drop-pendant lights, it makes for a pretty decor element.
Wall design idea #7: Upholstered panels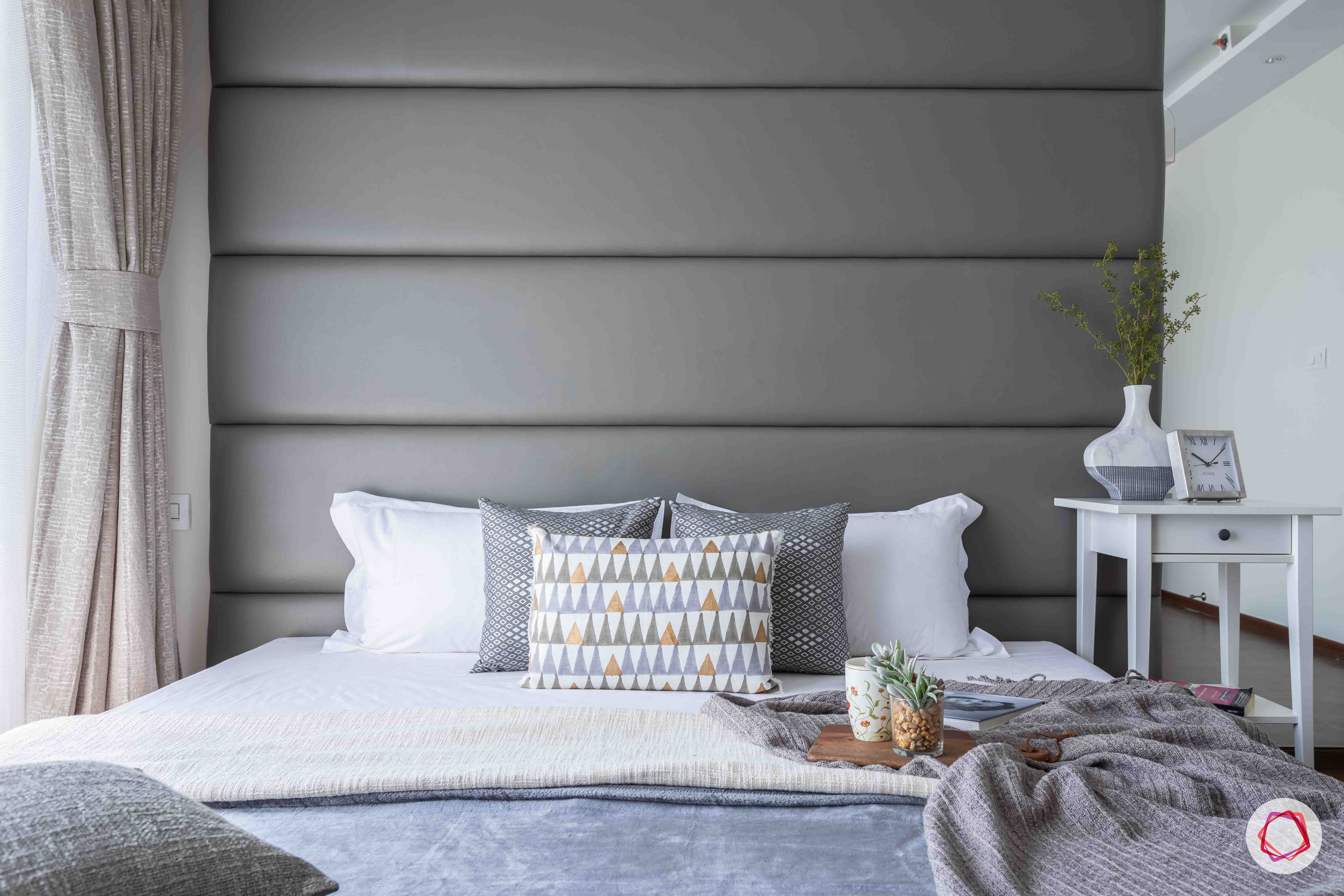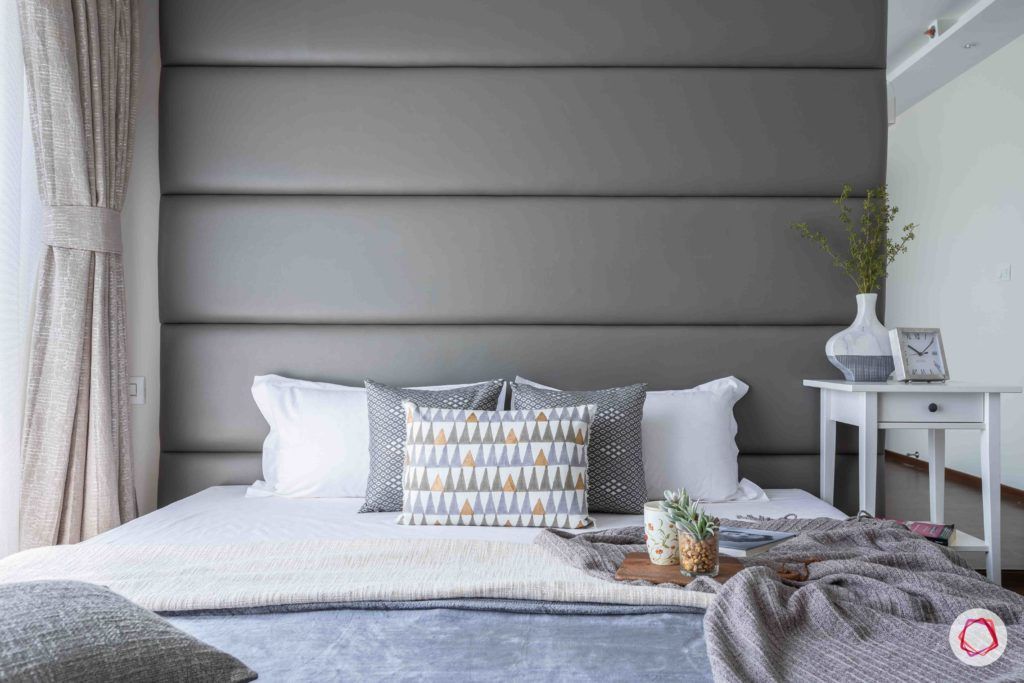 If Scandinavian design style is your thing, then a plush white upholstered headboard wall is just right for you. Play Tetris and join blocks to make it interesting!
A lovely diamond tufted upholstered wall will up the anté of your bedroom like no other. Choose a tasteful chocolate hue, if you have wooden furniture and see the magic unfold!
Wall design idea #8: 3D wallpaper boards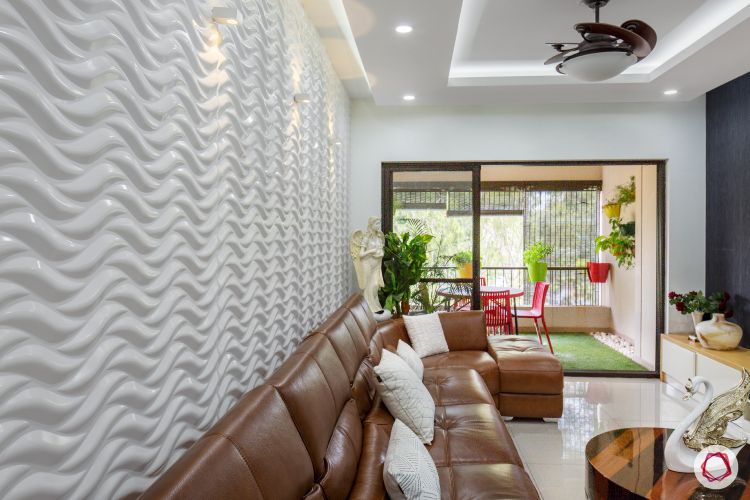 Treat your walls with the latest in-trend 3D wallpapers, to get an edge over the others. This new wall design idea will make your rooms look stylish and trendy.
It's all about patterns, when it comes to wallpapers, especially the 3D version. Create waves, literally and figuratively, with 3D wallpapers!
Wall design idea #9: Unique designs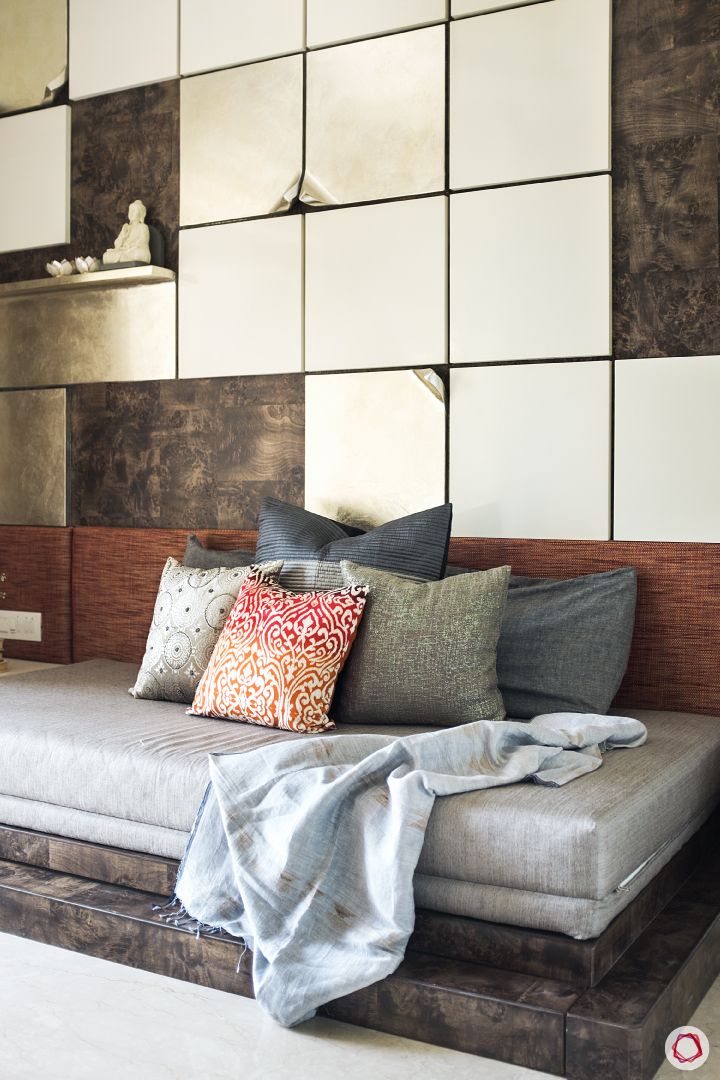 Have you seen stickers on cars that look like the glass has been smashed? Do you like that kind of stuff? Then, the peel-off-style wallpaper will give you the thrills right inside your home, on your walls!
Geometric wallpapers have been quite in vogue this season, and you should definitely try this on one of the walls at home.
Wall design idea #10: Graphic wallpaper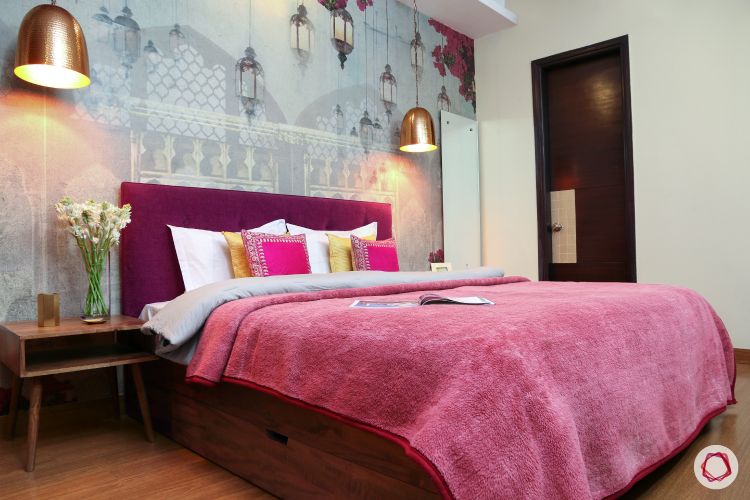 Doesn't this remind you of a lovely Spring afternoon in the hills? Well, wouldn't you love living in the moment in the comfort of your home? Take inspiration from this wallpaper!
Turn a page in the book of history by getting this wonderful graphic wallpaper for your bedroom. Hang some matching pendant lights and see how your room glows.
Wall design idea #11: Wall decals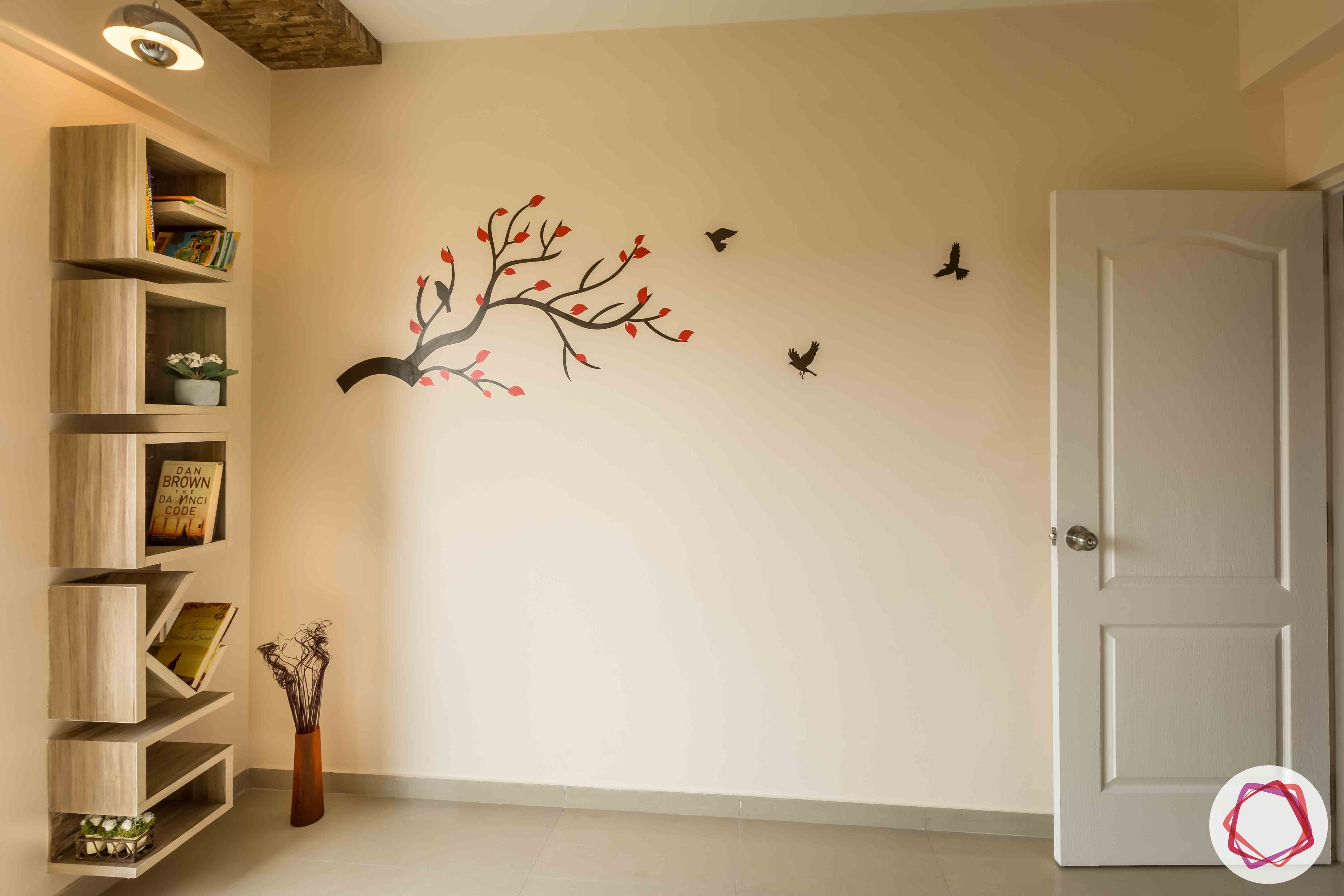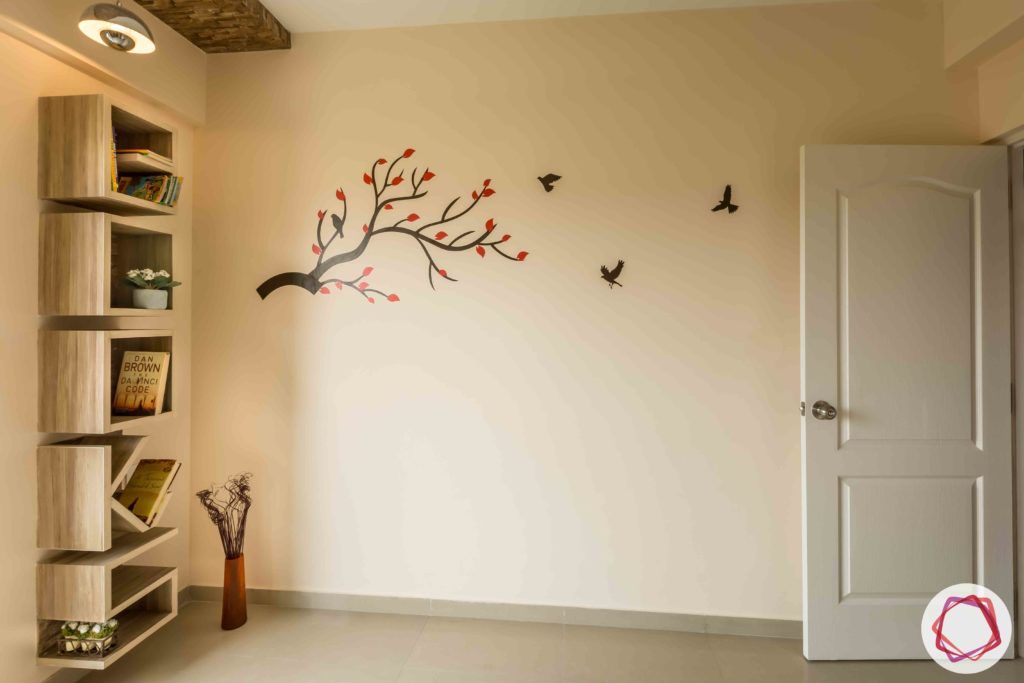 If you and your family love travelling, then this wall decal idea is perfect for you. Wall decals are easy to install and remove. This Atlas-shaped decal is colourful and trendy.
One for the sports-loving kids out there. Wall decals in black or white look classic and do not alter the look of the room drastically. Try it!
Wall design idea #12: Mirrored panels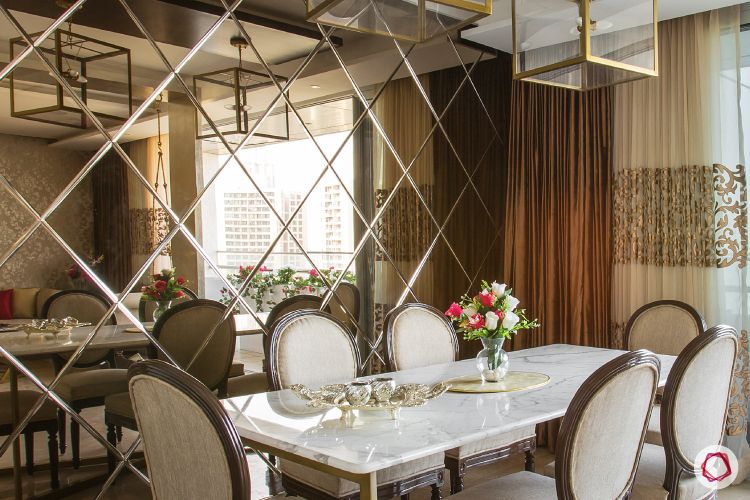 A tinted mirrored wall goes very well with bronze and metallic interiors. Pair it with beiges and browns and get a lush look for your home.
If you are someone who does not like tinted glasses, then opt for a regular mirrored wall that will reflect light in all directions and make your home shine bright!
These are some amazing ways in which you can transform your walls and give your home a whole new outlook! You might also want to take a look at these gallery wall ideas for some inspiration.
Check out wall designs:
Send in your comments and suggestions.