Open layouts are great, but they also present a challenge in how you put that space to use. So if you're looking to demarcate living and dining spaces, build additional shelving or install privacy screens that can be whipped away during a get-together, a good wooden partition design can add an elegant touch to your home while ticking functionality boxes. A wooden partition design is a versatile structural addition to any home, no matter the space or need. Take a look at some of these designs that have more than one use for the divider.
#1: Wooden Partition for Vertical Gardens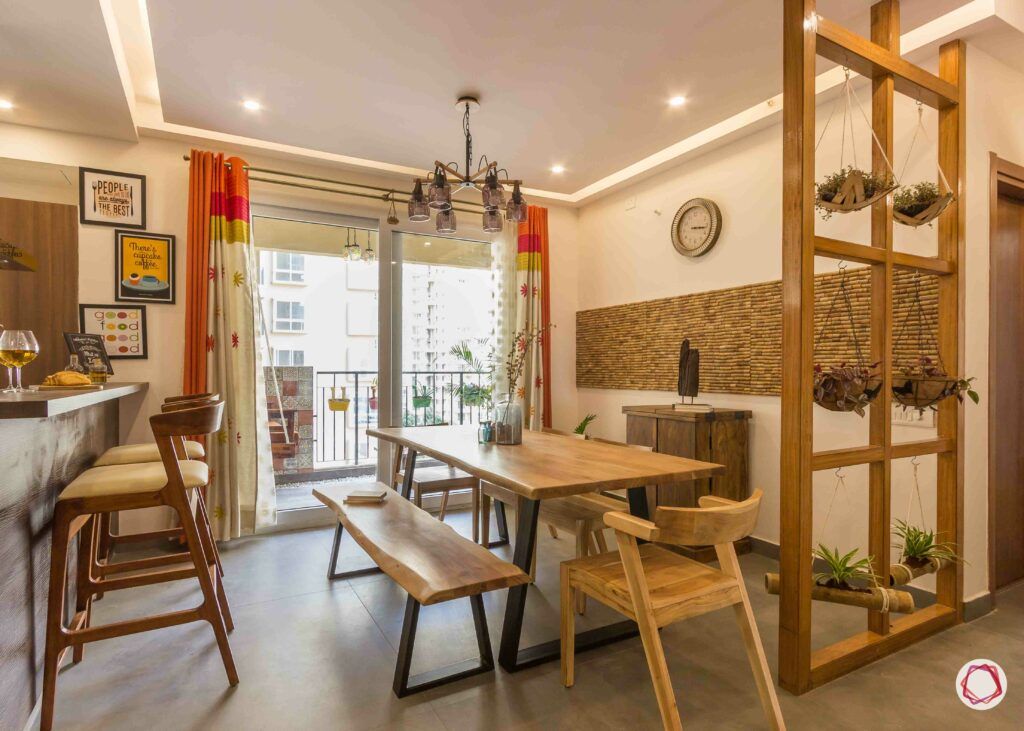 In this there-but-not-there partition, wooden beams cross to make the perfect hanging spot for planters and vertical gardens. The partition itself is very in keeping with the theme of the dining and bar space. Bamboo planters and hanging pots bring a touch of nature inside. This wooden partition design is especially effective for homes that either don't receive a lot of sunlight or are compact enough to make every sliver of sunlight and fresh air precious.
#2: Wooden Partition for Aesthetics
To block off a room as well as create a striking statement, this slatted partition is the way to go. The vertical slatted design allows light to filter through the spaces while keeping each room separate from the other. The partition is extended onto the ceiling to create the illusion of height and length.
#3: Wooden Partition as Wall Extension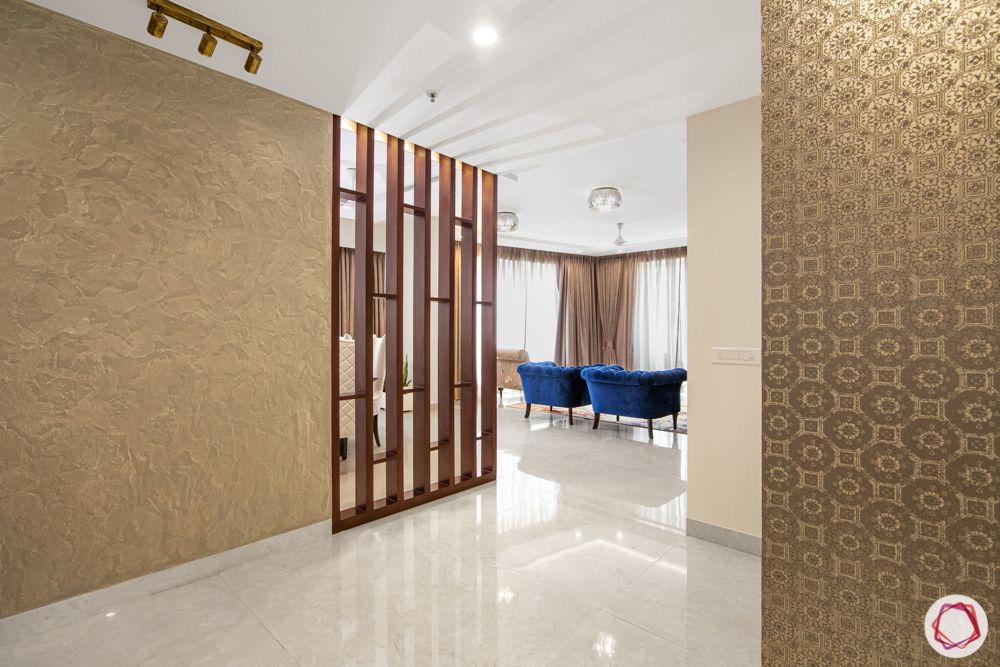 A great way to extend a wall without adding more concrete to the space, consider installing a wooden partition such as this one. The horizontal and vertical slats allow light and air to travel without compromising on its original function– to divide space and extend the wall. It also serves as the perfect display space for knick-knacks, should you wish to choose that décor route.

#4: Wooden Partition for Display Units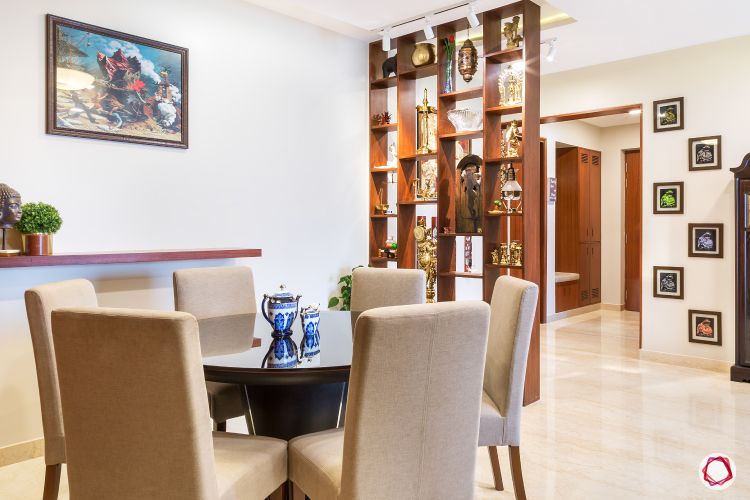 In keeping with the wood tones across this house, the wooden partition isn't overpowering or closed off. Instead, its elegant and functional, pulling double duty as a divider of space and a display of trinkets. Discreet spotlights light up the partition and bring out the colour and tones of the wood.
#5: Wooden Partition as Dividers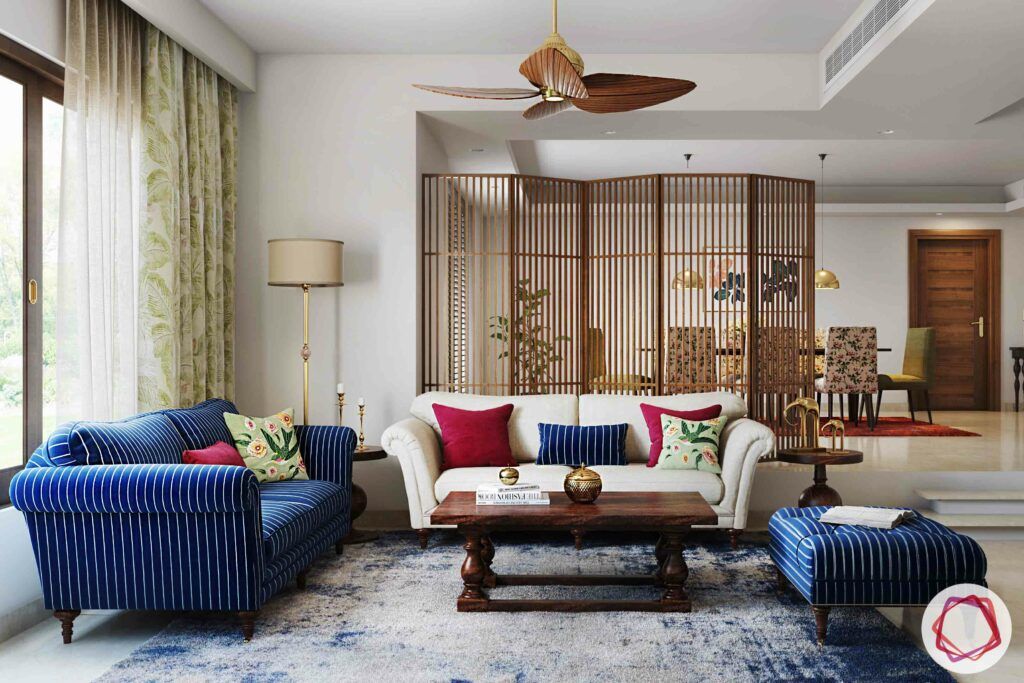 Folding wooden partitions are a clever way to add textures to a space and demarcate space. By choosing a foldable wooden partition, you can pull the partition in place when required, then smoothly fold it away when you need to literally bring down the walls during a party or a dinner. This way, both privacy and convenience are accounted for.
#6: Wooden Partitions for Breakfast Counters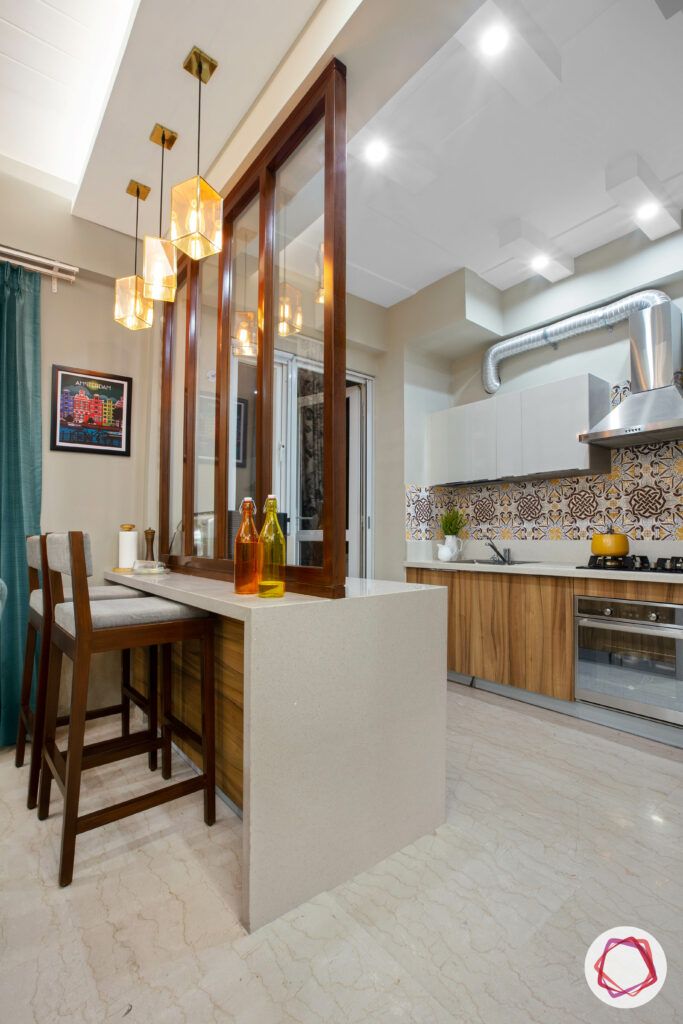 How do you divide a single surface for multiple uses while being seamless about it? You install a wood-framed glass partition! In this kitchen space, a peninsula counter is divided between two uses — task-oriented kitchen space and leisurely breakfast counter space. The hanging lights and high bar chairs complete the vibe of leisure on one side, while the other is kept fuss-free, ready for use while whipping up delicacies.
A wooden partition design is so much more than a banal functional panel. They can be as striking or as inconspicuous as you want them to be, so give it a go!
You can also check out Discover New Jali Partition Designs for more inspiration.
Send in your comments and suggestions.