Decorative wooden panels for walls can elevate your interiors. In fact, wood panelling can lend style and sophistication to a space while adding depth and dimension. Whether you want to add wooden wall panelling designs to your new home or give your existing walls a makeover, it can be difficult to know where to start.
Hence, we have rounded up the best wooden panels for walls below.
1. Geometric Wooden Wall Designs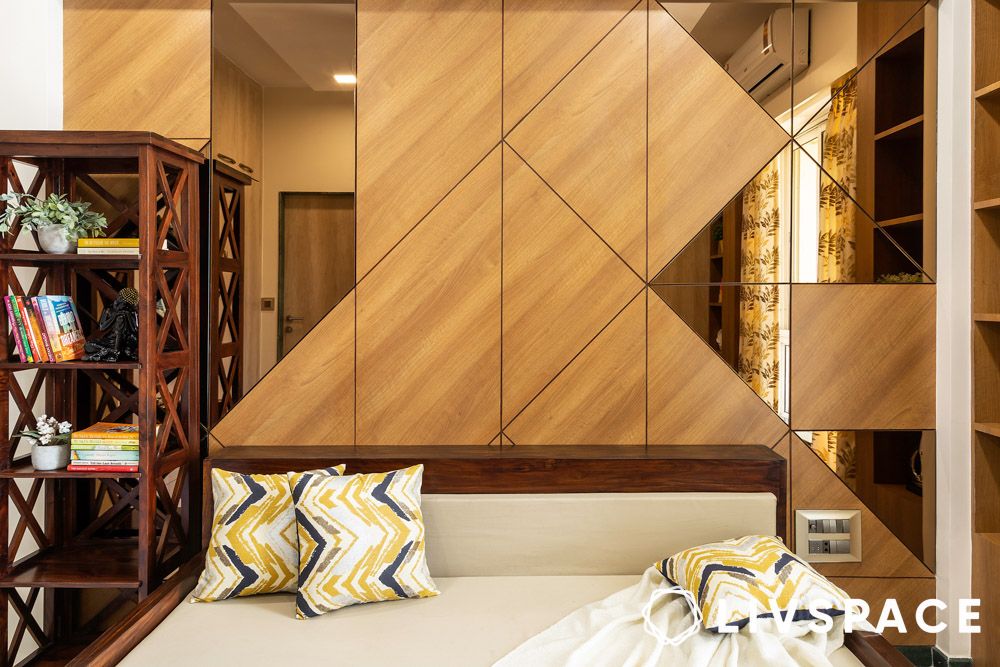 Creating a focal point in your bedroom gets easier with wooden wall designs that mix and match with other reflective elements like mirrors.
This compact bedroom has an accent wall that's made of geometric wood and mirror panelling and it lends a sophisticated vibe to the space.
2. Colourful Wood Panelling
When you have a bedroom or a living space that follows a neutral colour palette—beiges, whites and the like—you can use decorative wall wood to add a pop of colour.
At first glance, you might not be able to tell that the blue almost chevron-patterned accent wall is made of nothing but wooden wall strips.
3. Decorative Wall Wood for a Vintage Vibe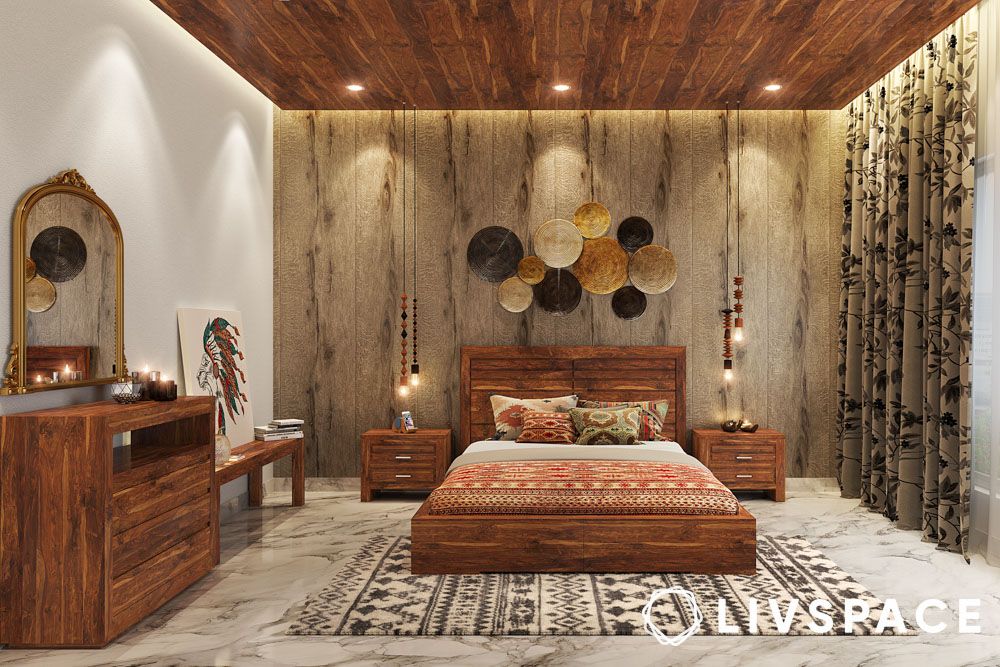 This all-wood bedroom plays cleverly with a different wood panelling design to strike the perfect balance without making it too overwhelming.
Moreover, the subtlety of the decorative wall wood creates a great synergy with the walnut brown of the furniture pieces.
4. A Simple Wood Wall Design FTW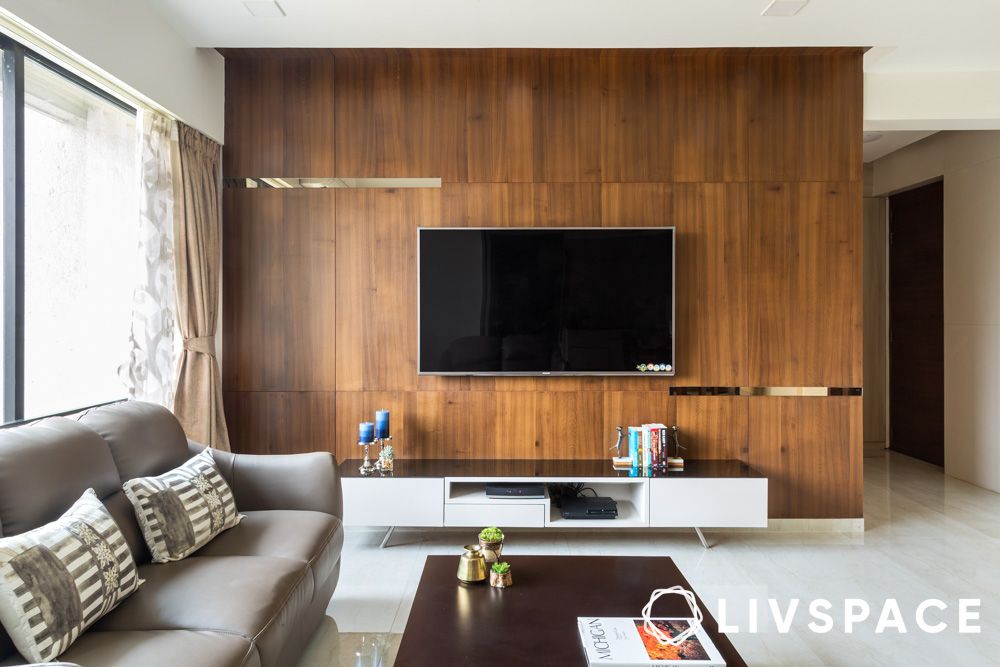 If you are someone who loves to board the simplicity train, take a similar approach and break up the monotony of wood with golden accents.
What's perfect about this wooden wall design for the living room? We love how it complements the white TV unit while giving your space a classic vibe.
5. Wooden Wall Strips on a Single Side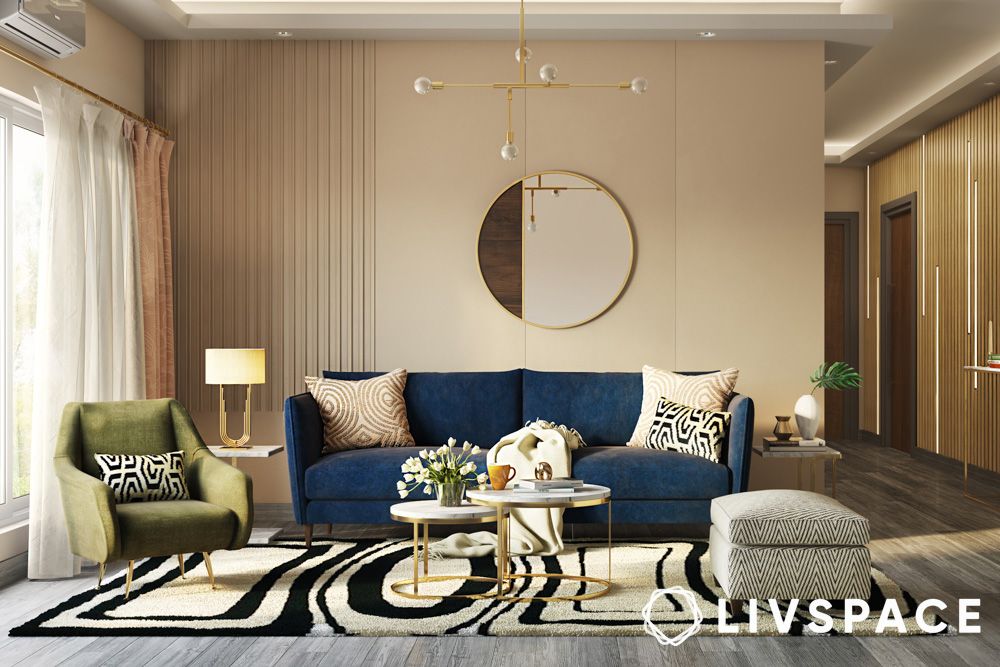 We often mention the importance of stripping down to the essentials for a good interior design. It basically means removing everything else that's unnecessary or irrelevant. This living room is a case in point.
As the homeowners wanted to use modern light fixtures, and add a reflective mirror to the wall and patterned fabrics to the decor, our Livspace designers added the wooden wall design just to one side.
It breaks the monotony of a plain wall and gives it texture, while not going overboard.
6. Light & Lovely Wooden Panels for Walls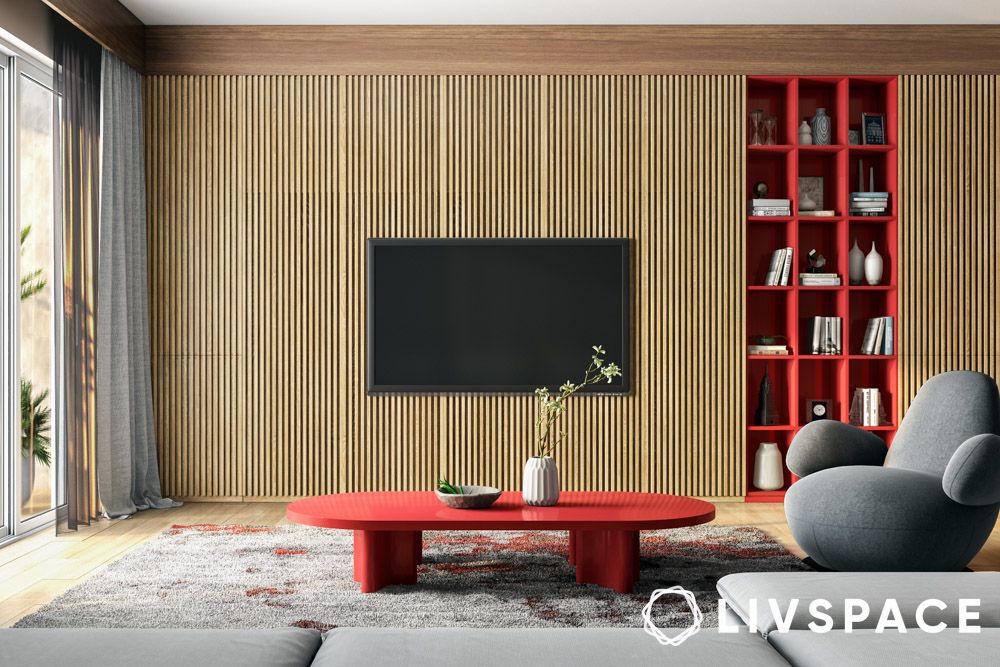 Consider creating a modern living space with a grey accent chair paired with a grey sofa and a red centre table. The bookshelf in red pairs well with the centre table and also creates an elegant picture against the wooden wall strips with clean lines.
Also Read: The 15 Best Livspace Living Room Designs From 2022 to Suit Every Style
7. Creative Combinations With Wood Panelling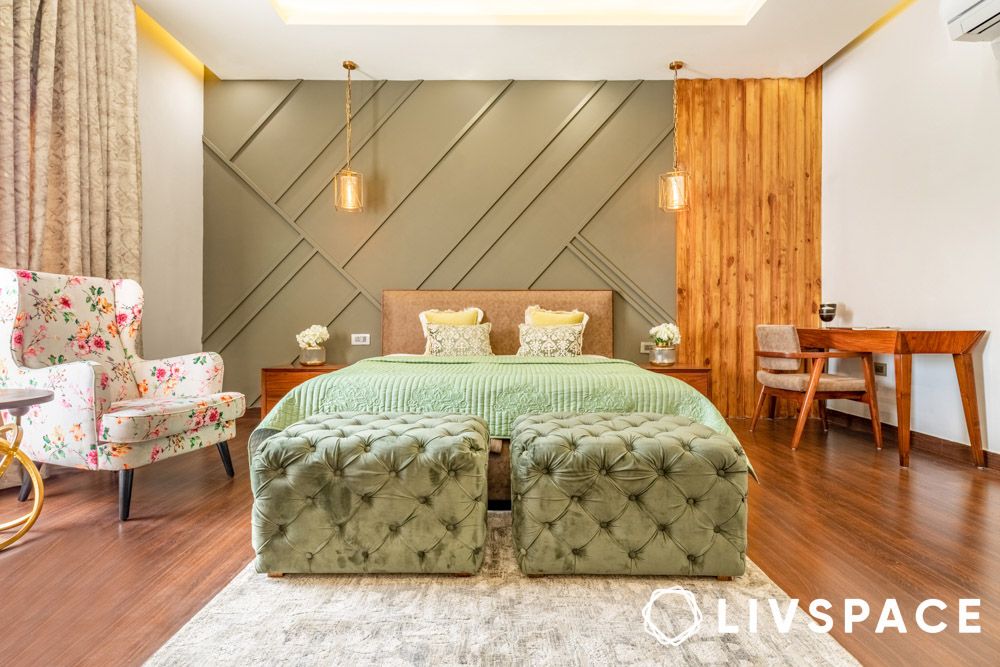 A luxury bedroom isn't just created: it is conceptualised and envisioned with the perfect colours and materials. This bedroom is a good example.
The green furniture pieces and soft fabric is well complemented by the geometric wood panelling in green. The wooden strips on the right provide the right contrast and pair beautifully with the flooring.
Also Read: 21 Iconic Bedroom Design Ideas That Every Indian Will Love!
8. Dark Brown Wood Panelling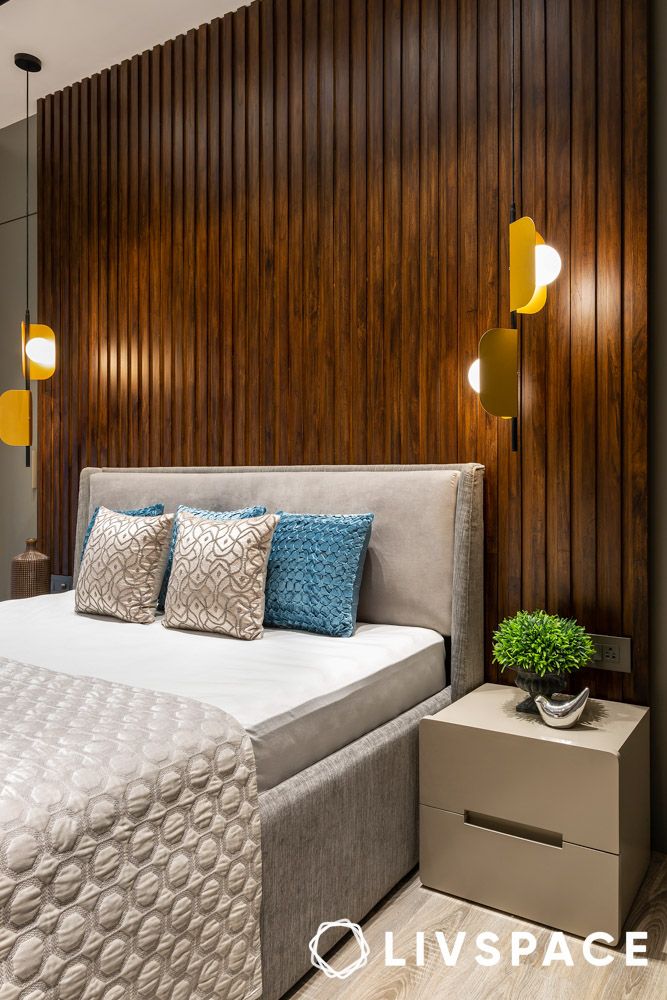 Want to hit the right chords and create a home that exudes elegance and luxury? Go for beige for the overall colour palette and have a dark brown wood panelled accent wall. When paired with yellow pendant lights, the wood panelling will help create an understated, luxurious and stylish vibe.
9. A Wooden Partition Design for Displays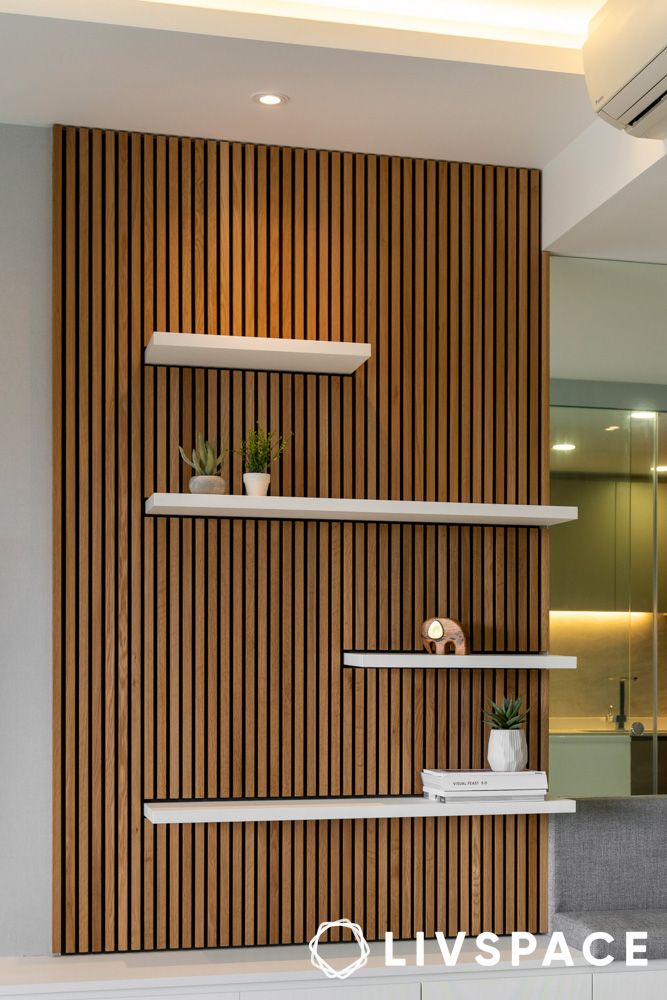 Open layouts are in trend, and so are wooden partition wall designs to demarcate zones. In fact, a wooden partition design like this can help you add depth and dimension to your area, while giving it a visual appeal that's classic and aesthetically pleasing.
10. Or, Find 100+ More Wall Designs
Still haven't found the idea that wins your heart? Check these 100+ designs we have rounded up for you to take your walls to the next level.
How Can Livspace Help You?
You can get the best of designs to choose from
We cut no corners in terms of the quality of work and materials
Our expert interior designers are trained to support even the trickiest of renovations
If you want to design your dream home or renovate your commercial space, book an online consultation with Livspace today.