An accent wall is a great way to give your room a detour from ordinary to amazing and we're not just talking about painting one panel in a different color from the rest. Check out our diverse collection of bedroom accent wall ideas that are sure to make an impression.
Bedroom Accent Wall #1: Textured Wall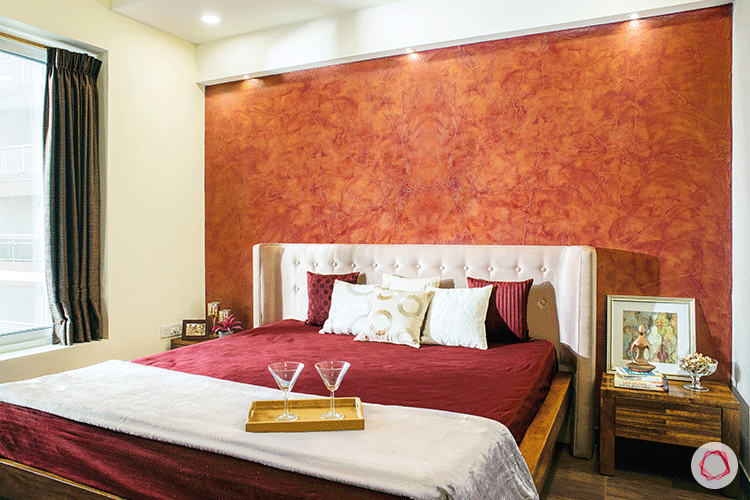 A common way of highlighting your space is by sheathing the wall with textured paint. Creative designs combined with varying hues can create stunning accent walls, eliminating the need for additional decor in the bedroom. This bedroom has a fiery feel because of the unique orange and red hued texture.
Bedroom Accent Wall #2: Mural Designs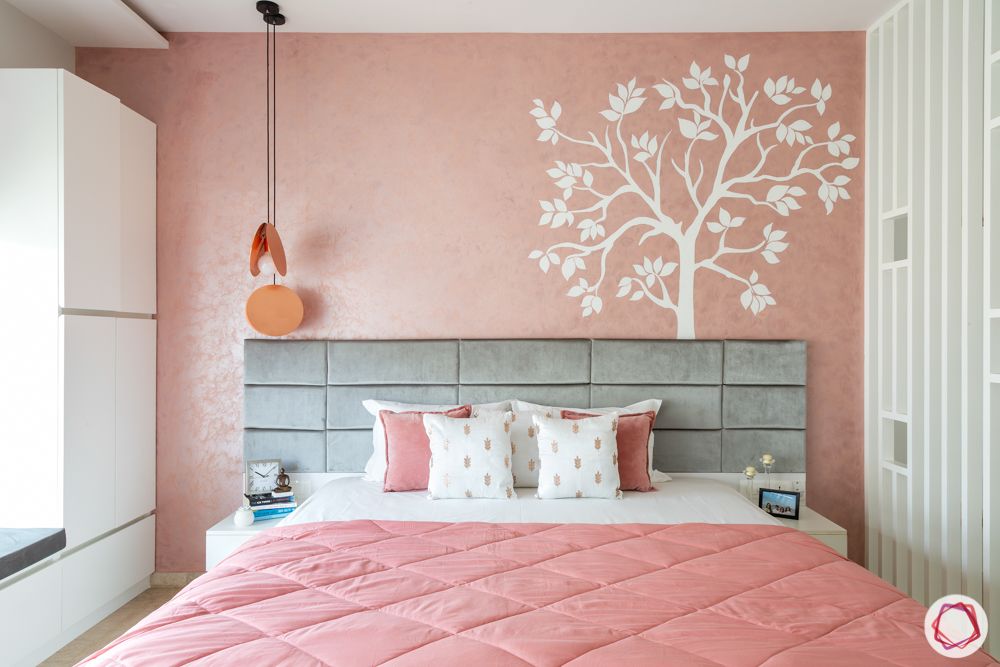 Ideally, your room should define your style and be personalised with things that you are passionate about.With blossoming flowers and a pretty rainbow, this bedroom's accent wall instantly resonates with nature and travel lovers. However, murals can have a riot of colours and patterns and can represent almost anything you want. The design options are endless.
Bedroom Accent Wall #3: Patterned Wallpaper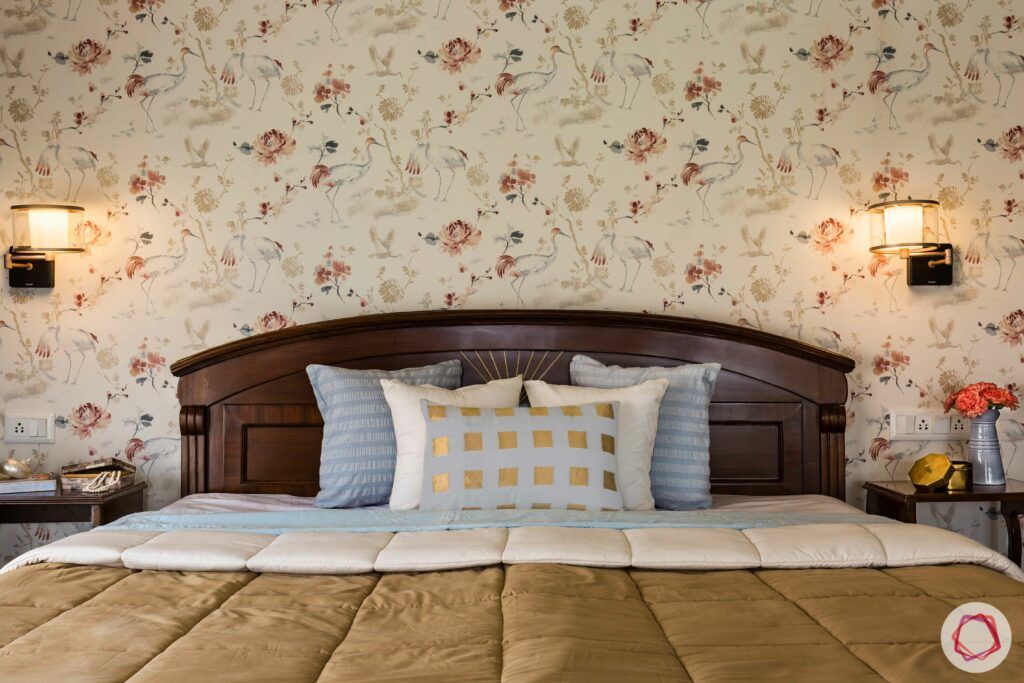 Printed wallpapers are an easy way of creating stunning accent walls. Choose a wallpaper that matches or contrasts with the theme of the bedroom to enhance the overall look and feel of the space. Patterned wallpaper can stand out or be subtle. Opt for designs that suit your personality the best.

Bedroom Accent Wall #4: Framed Designs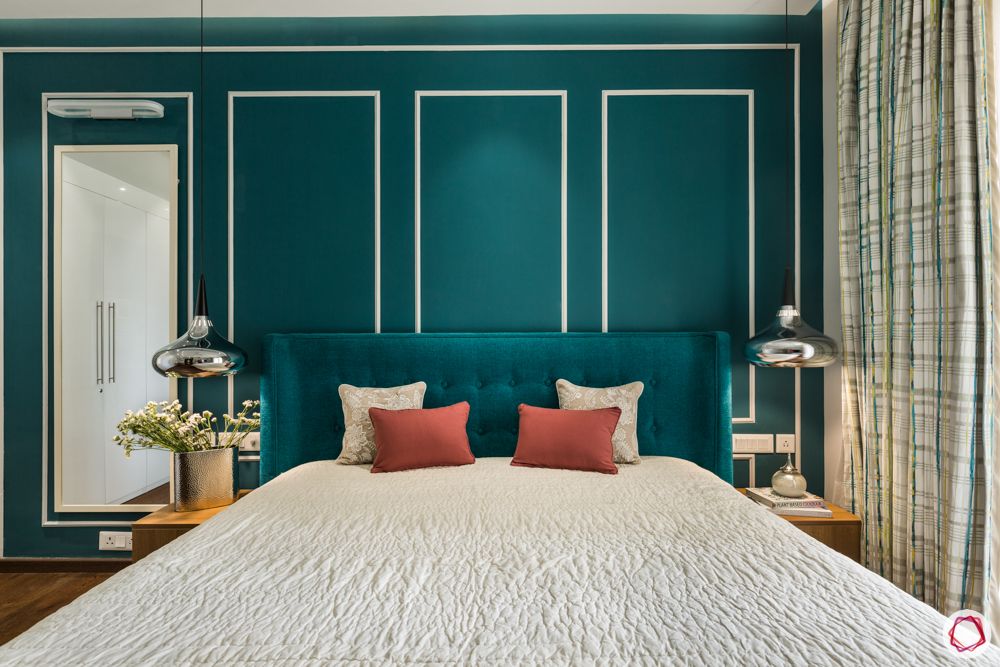 Creating designs on the wall using strategic moulding techniques is a great way of introducing subtle style to your bedroom. The frames or shapes formed can then be used to feature some prominent ideas such as a wallpaper, photographs, or paintings or even a full length mirror. This room has a rich turquoise theme with a contrasting touch of white wall trims.
Bedroom Accent Wall #5: Combination of Textures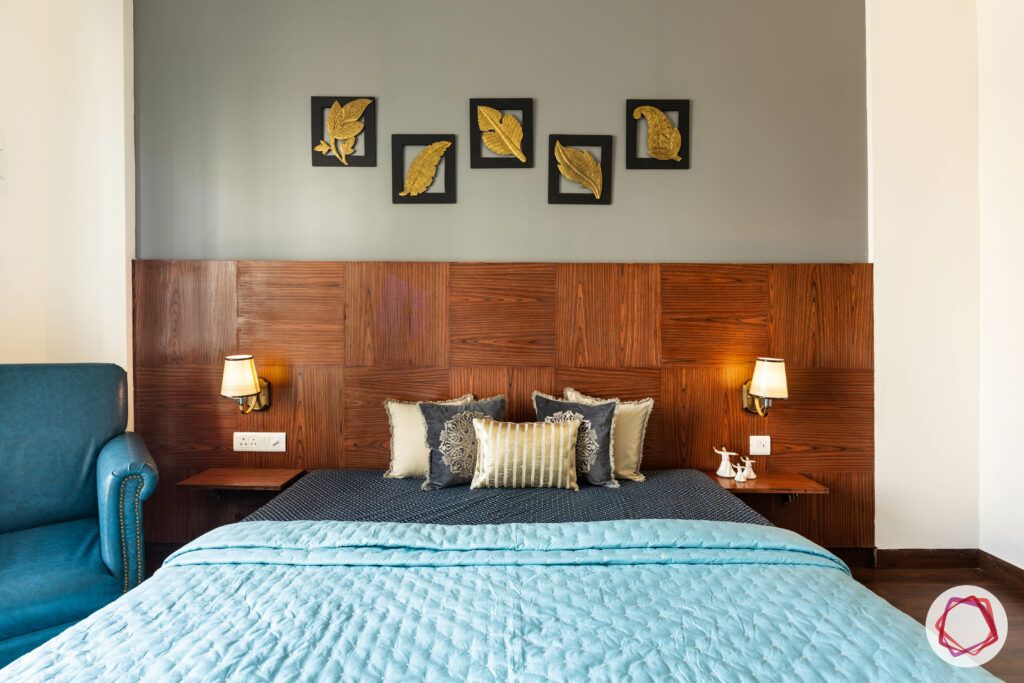 An innovative way to up the drama in the bedroom is to use two different textures or hues. In this bedroom, stony grey pairs beautifully with the wooden panelling, thus leaving a lasting impression. This room is both, warm and stylish due to its colour combination.
Bedroom Accent Wall #6: Mirror Designs
Often our bedroom is flooded with furniture and add-ons that create a congested look. Using high gloss or mirror finish wall panels gives depth to the bedroom, making it look larger than what it is. In this bedroom, mirror panels have been used creatively to open up the space.
Bedroom Accent Wall #7: Backlighting in Walls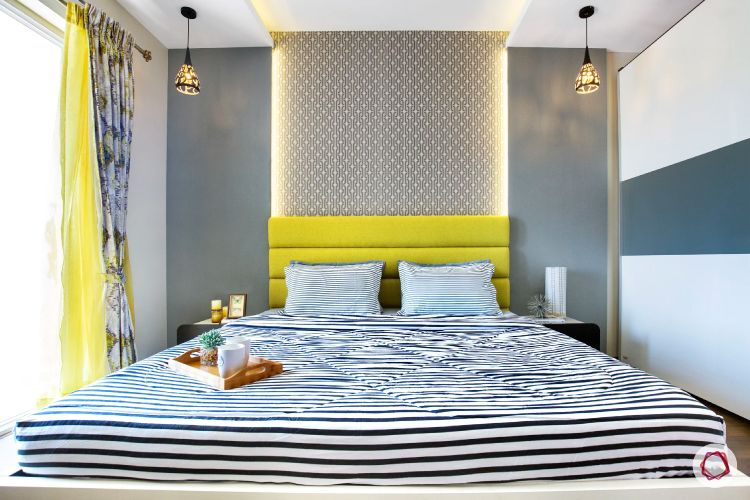 Nothing says plush like a unique backlit wall in the bedroom. They enhance the wall treatments, making it the focus of the room. Use strip lights to create a halo effect on one wall as an accent feature. These lights can double up as night lights if needed.
Bedroom Accent Wall #8: Wall Stencil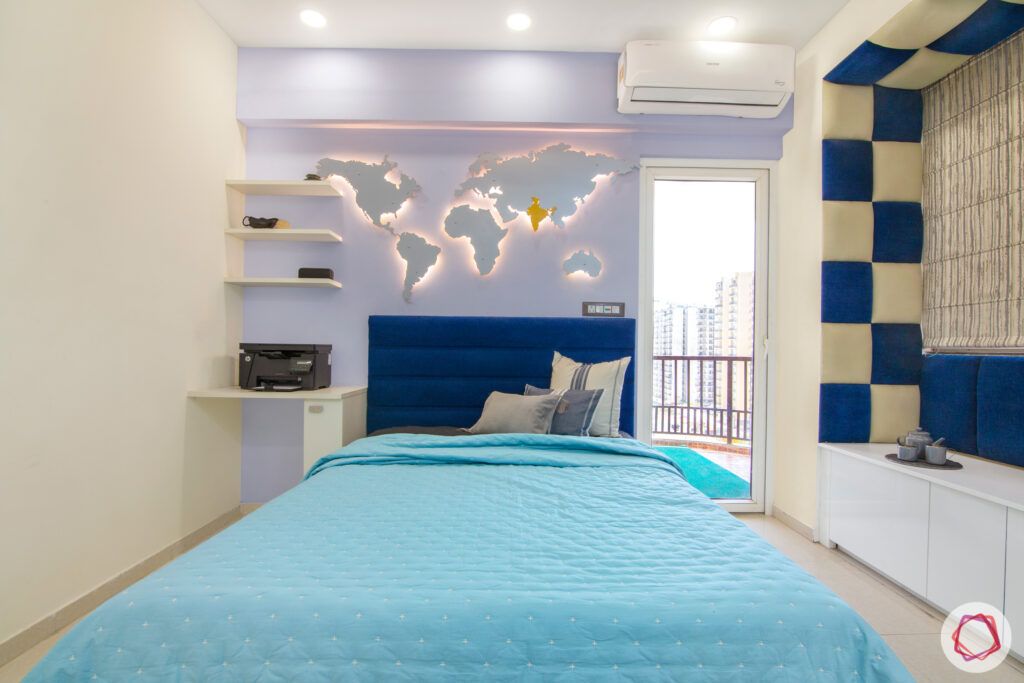 Wall stencils are a popular option among young homeowners who would like to add a 3D element to their room. These wall mounts come in various designs and can be the perfect representation of your personality.
Certainly, you're looking for wall treatments, so you might find this useful too! What's Better for Indian Walls: Paint or Wallpaper?
Send in your comments and suggestions.
— editor@livspace.com