The bedroom is where you start your morning and end your day. Therefore,the bedroom paint colours you choose can play a very important role in helping you destress and unwind. Conversely, if the choice for your bedroom colour combination is ill-advised, you might end up with a space that looks dark, dingy or claustrophobic.
This is because bedroom paint colours have the ability to invoke positive emotions and can make your room welcoming, cosy and cheerful. However, they also have the ability to do the opposite if not well-chosen. But worry not! We're here to ensure you make the right choice with a selection of the 30 best colour combinations for your bedroom.
#1: Coastal-Inspired Bedroom Paint Colours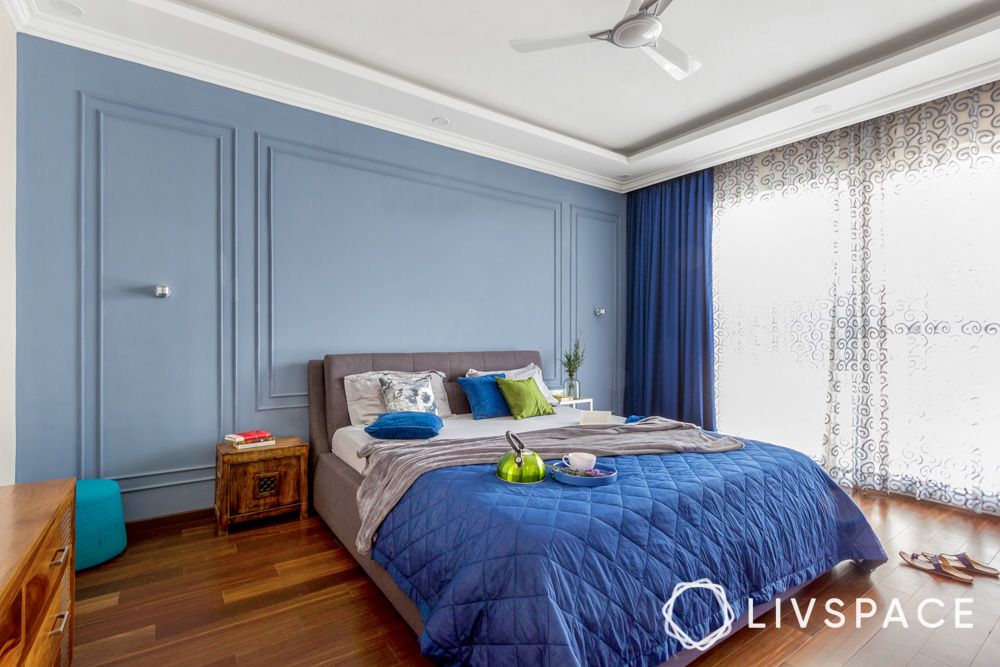 If you cannot decide on the best colour for bedroom walls, go for different shades of the same colour. This is called tone on tone. Using varying shades of blue paint for bedrooms can create a beachy effect as well as bring in a charming vibe. Use lighter shades on the wall to reflect light and make the room look brighter.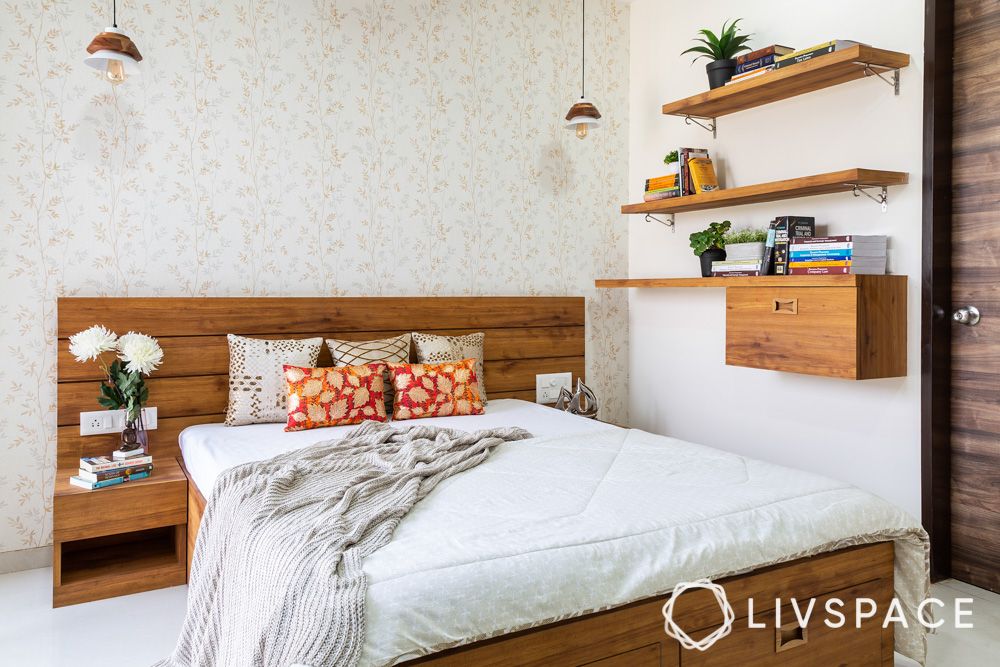 If you want Scandinavian-style bedroom paint colours, a combination of white and wood is the best option. Paints for bedrooms in neutral colours like white work well in small spaces but contrasting the shade with wood finishes gives it a touch of warmth. Wood is a natural tone that brings in the outdoors and creates a welcoming vibe. This is one of the best colour combinations for bedrooms for restful sleep.
#3: White Bedroom Colour Schemes With a Bright Pop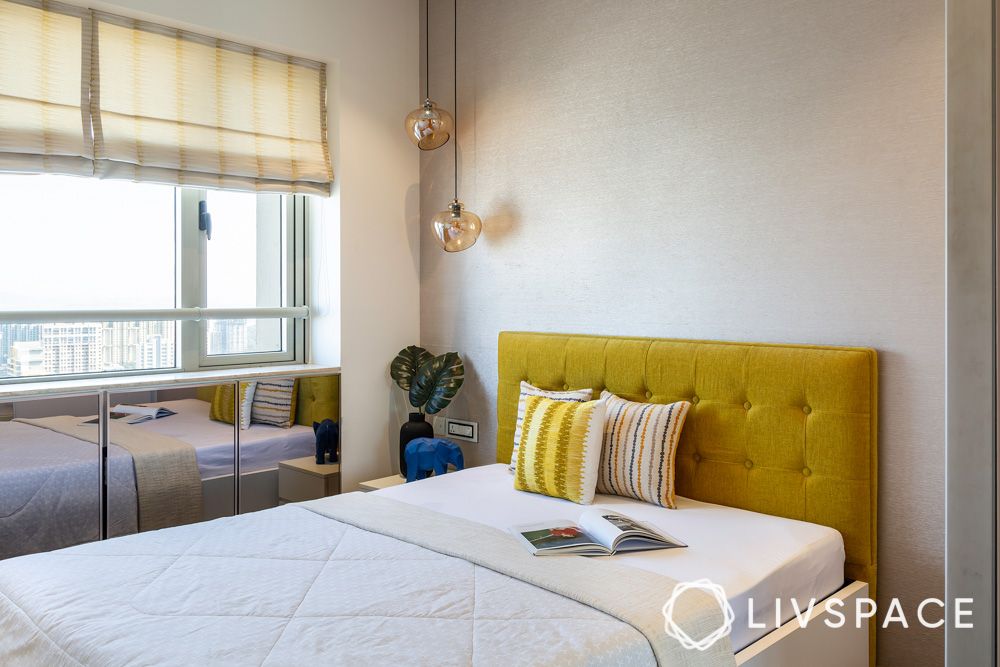 If you are looking for some of the best bedroom colour options, white with a bright pop is a great idea. A play of colours can be quite restricted in small spaces as they can feel cluttered and chaotic if not planned well. The safest route is to opt for white bedroom colour ideas with pops of colour in headboards, pillow covers, decor and other items. These bedroom paint colours bring in some vibrancy to the room.
ALSO READ: Colour Palette for Home: Single or Multiple Shades?
#4: Neutral Bedroom Paint Colours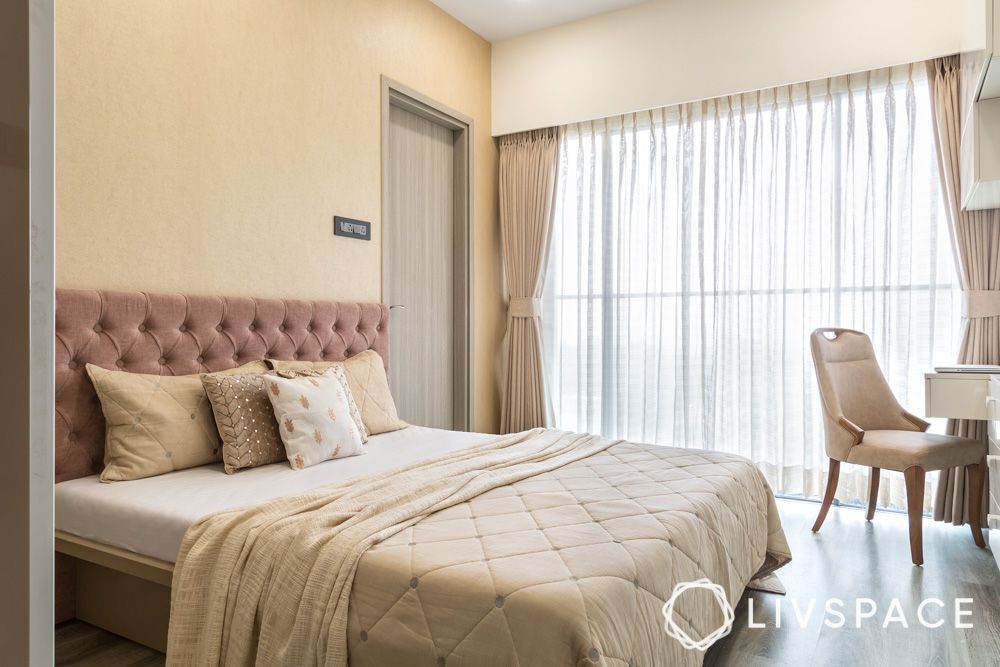 Looking for bedroom colour ideas that are not white? Try layering with neutral colours. Room colour combinations that include whites, beiges, peaches and cream work well together. In addition, the room appears classy with a touch of light colours that brighten up the space.
#5: Wall Painting Ideas for Bedrooms in a Bold Blue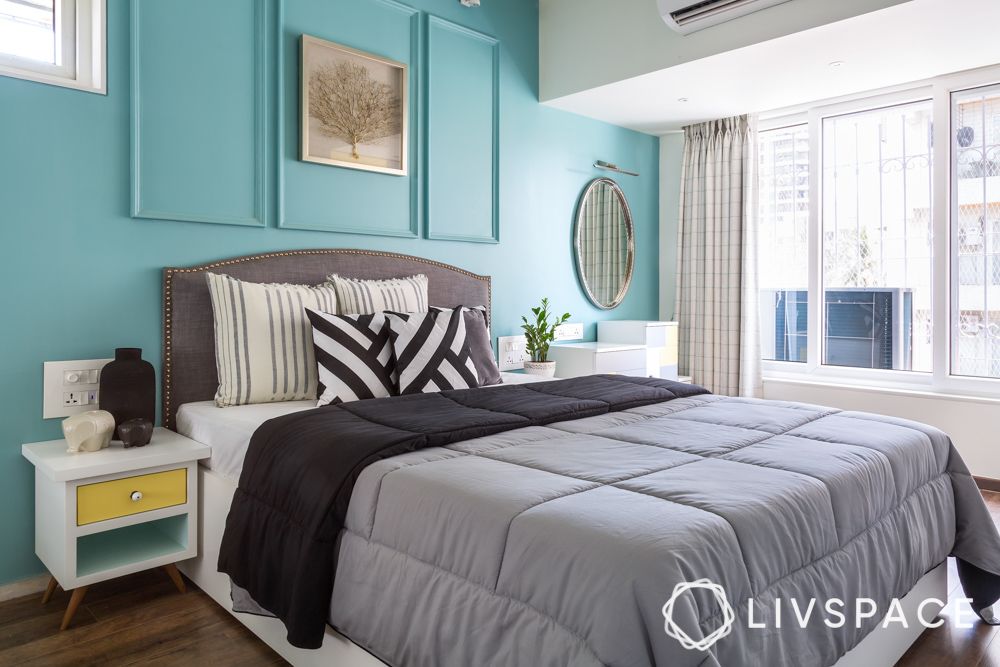 If you're looking for bedroom colour schemes that are easy on the eyes and relaxing, then blue is the right choice for you. The shade will remind you of the blue sky and ocean hues, and can be easily used to complement different design styles for your bedroom.
#6: Blush Pink Room Paint Ideas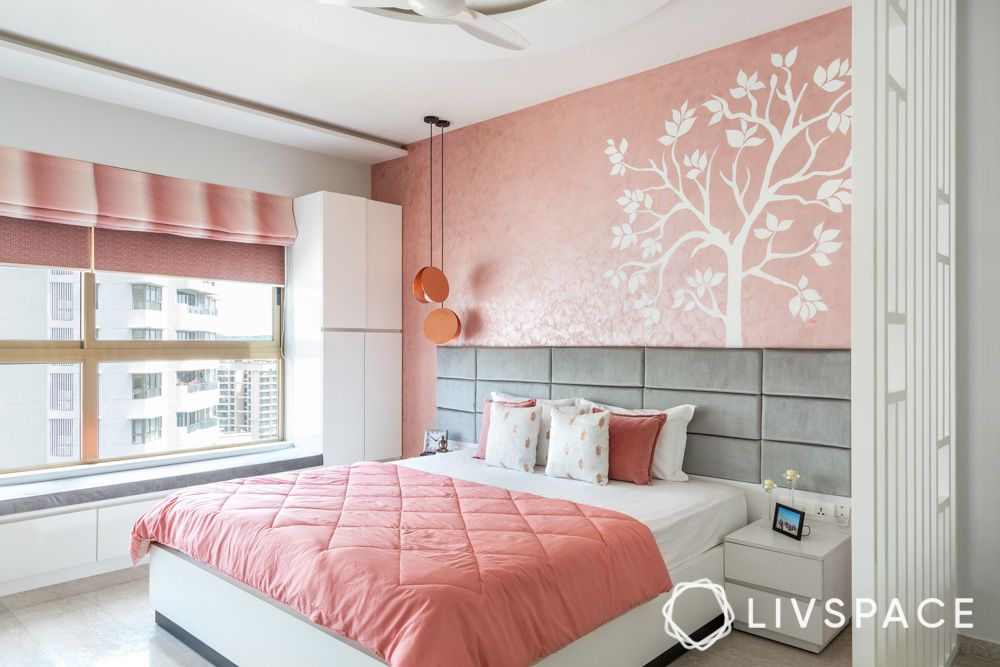 If you want elegant and soothing wall painting ideas for your bedroom, go for blush pink. You can make this work by either making it part of an accent wall or peppering your furnishings with this colour. Contrary to popular opinion, bedroom paint colours like pink don't have to be gender-based. They look great in all settings.
#7: Coral Bedroom Paint Colours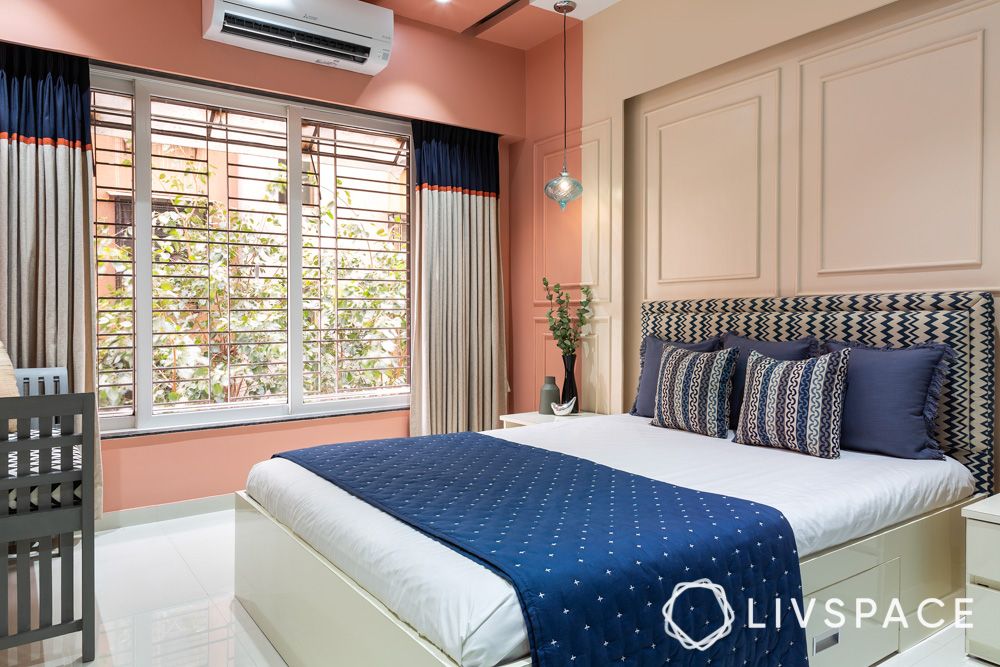 When it comes to room paint ideas, coral is something that you should try. A unique shade of soft pink and orange, a coral colour combination can create a soothing ambience in your bedroom. The best way to use this colour is to create an accent wall and keep the other walls neutral.
#8: Cream Bedroom Colour Schemes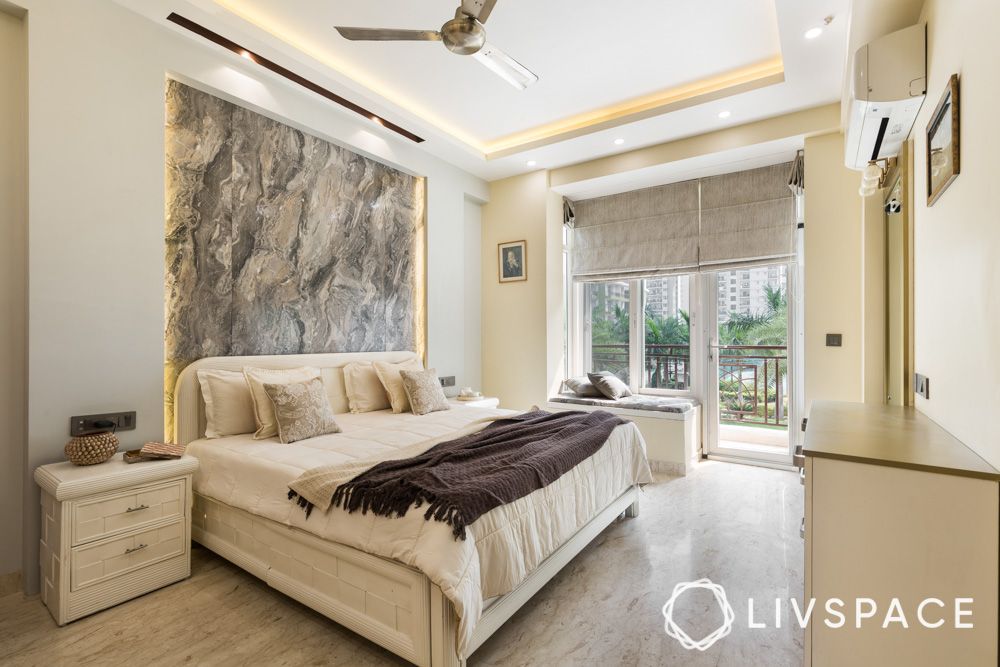 The choice of the best colour for bedroom walls depends on personal preference. However, if you ask us for one shade that looks good in all types of bedroom designs, we would say cream. The cream bedroom paint colour, while being easier to maintain than white, lends a refined sophistication to your space.
#9: White and Grey Bedroom Colour Ideas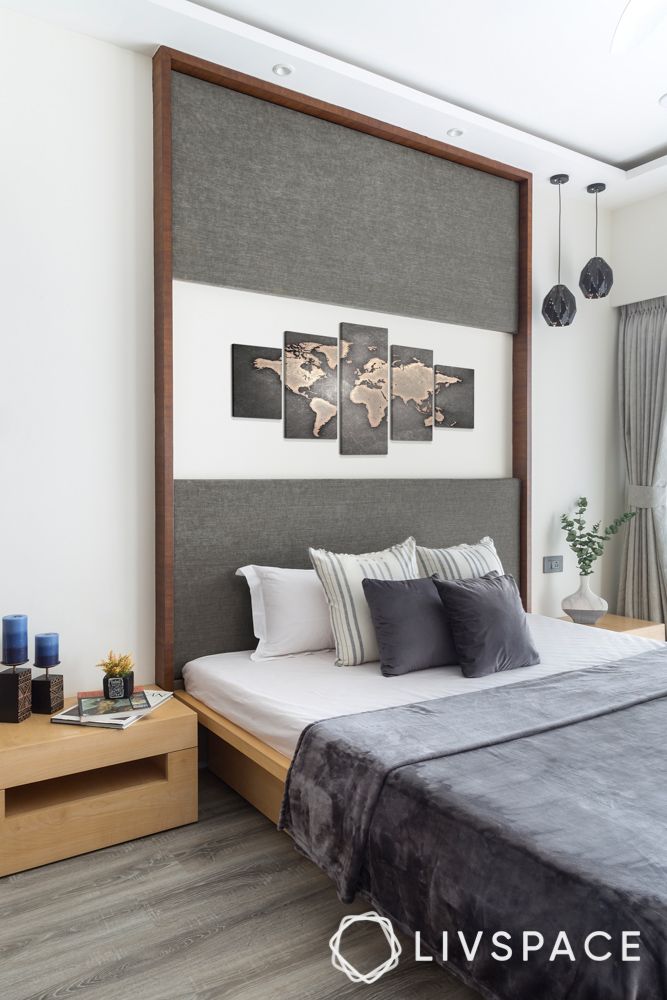 Paired with white, grey paint for the bedroom can help you set the tone for your space. In small bedrooms, the combination can open up the space and make your room look bigger. However, for small bedrooms, make sure to pick the right shade and texture of grey.
#10: Terracotta Room Paint Ideas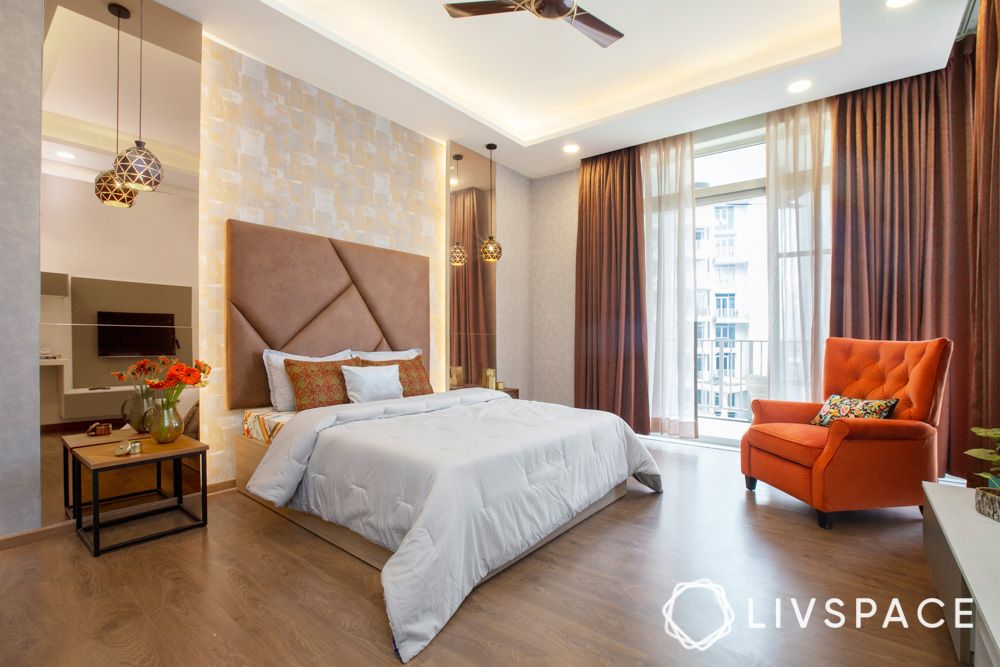 If you are looking for the best bedroom colour ideas, terracotta is a great option. While not a very common shade, layering your bedroom in terracotta bedroom paint colour can look stunning. This unique hue can make your bedroom look warm and inviting.
#11: Blue and Yellow Bedroom Paint Colours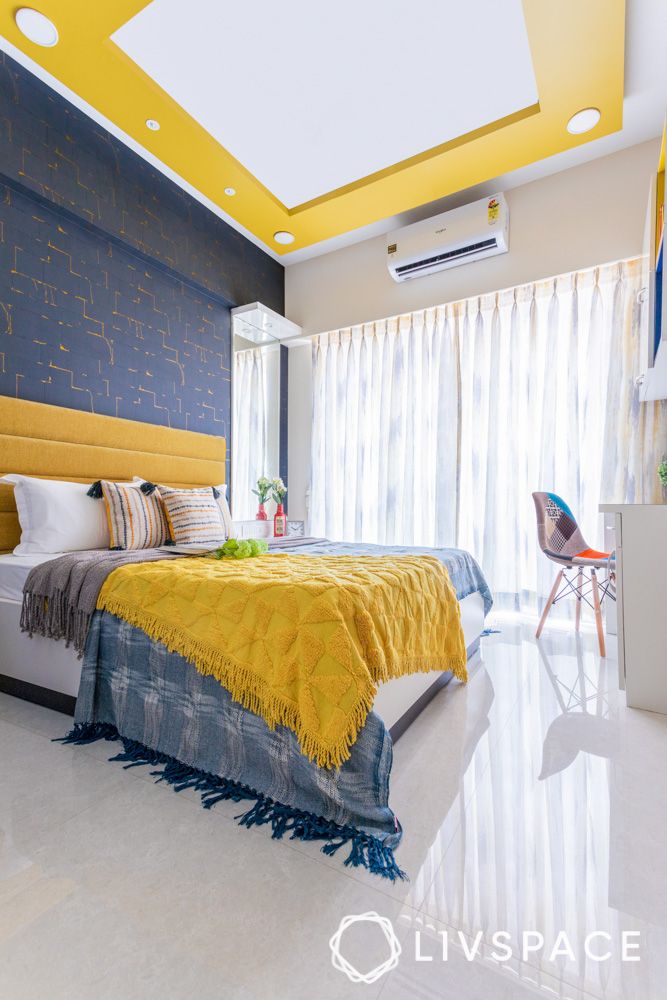 This midnight blue and the canary yellow room colour combination brings the space alive by creating a cheerful mood. The designers have balanced the vibe with a smattering of white furnishings in the design. Yellow bedroom paint colours can uplift the mood while blue is meant to provide tranquillity and peaceful sleep.
#12: Pastel Wall Painting Ideas for Bedrooms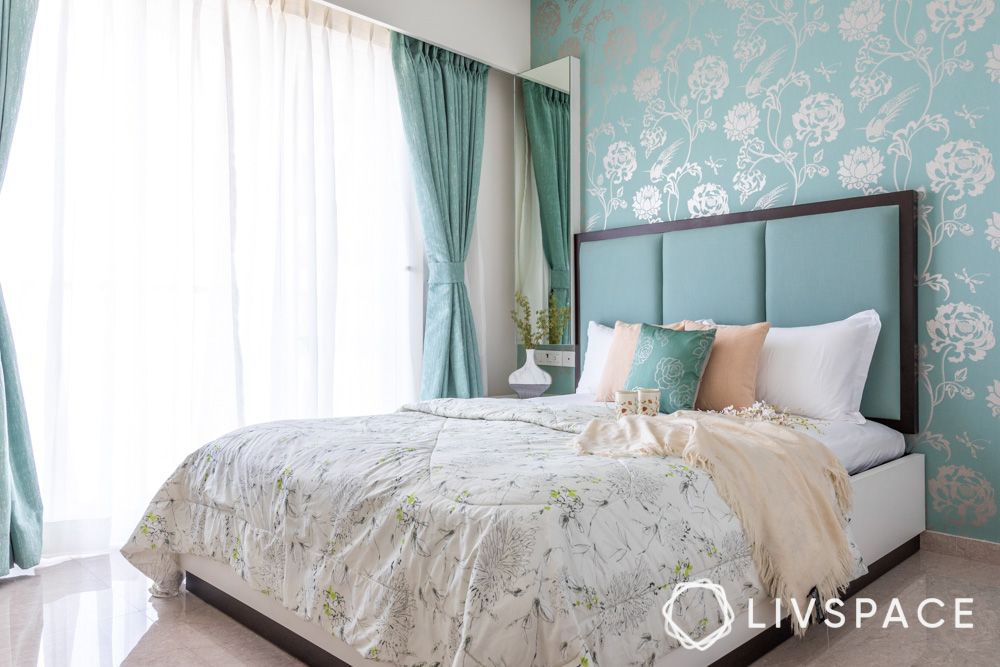 If you're looking for bedroom paint colours straight out of a Disney set, try going with a pastel shade. Pair it with sheer curtains, large headboards, and a canopy bed, and you get a setup right from a fairy-tale!
#13: Pale Greige Paints for Bedrooms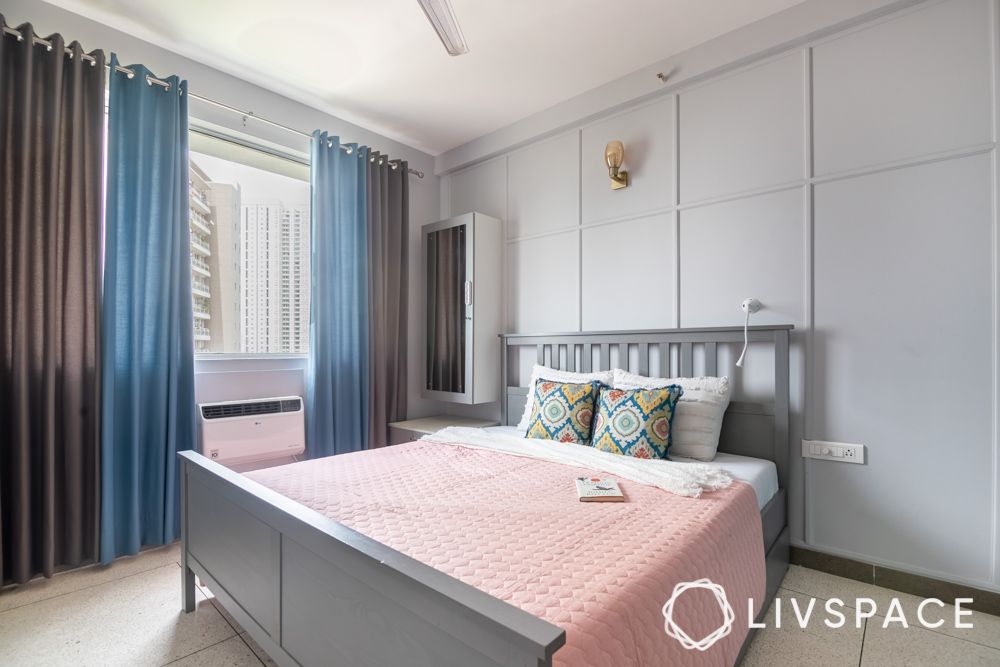 Can't decide between beige and grey? Choose both! This unique shade, also known as 'greige', is one of the best bedroom colours for contemporary bedrooms. To stop your space from looking monotonous, play around with furnishings in soft shades like pale pink and blue.
#14: Bedroom Paint Colours in Ivory
When it comes to evergreen bedroom paint colours, white is a classic. Whether you have a small space or a large one, white is that one colour that looks perfect everywhere. If elegance is the look you want, go for an all-white room like this one.
#15: Ochre and Teal Bedroom Colour Ideas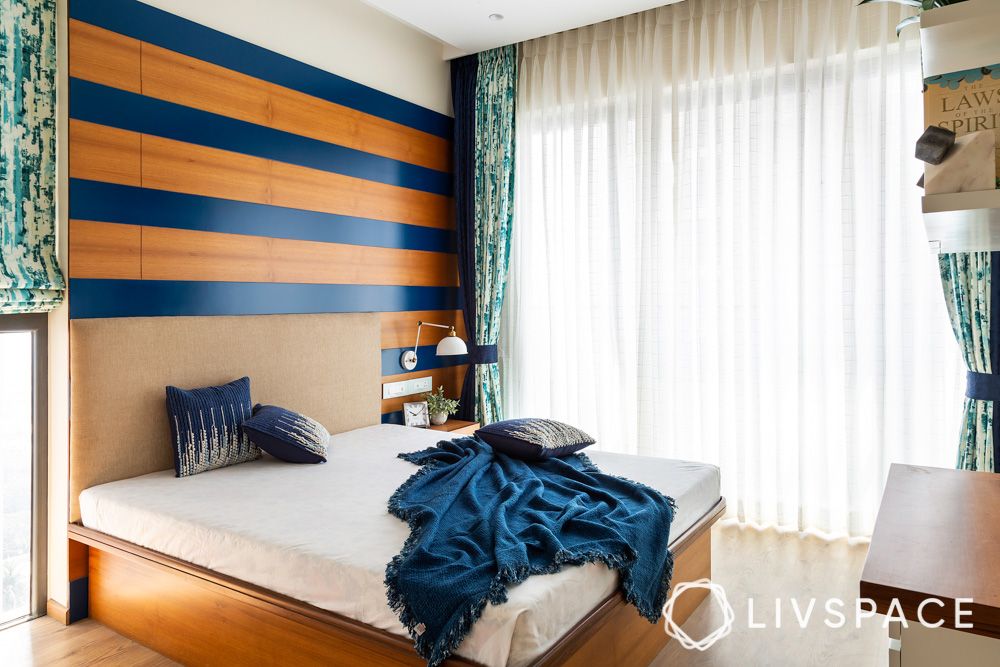 For large bedrooms, having a centrepiece is essential to give it a theme. And if you find it difficult to find just a single shade that can be the best colour for bedroom walls, opt for a bedroom colour combination. Teal and ochre work wonders in catching the eye and adding cheer to your bedroom. These bedroom paint colours can be used as an accent wall or they can be peppered in the furnishings for a beautiful look.
Here are more bedroom design ideas to choose from:
#16: Monochromatic Bedroom Colour Schemes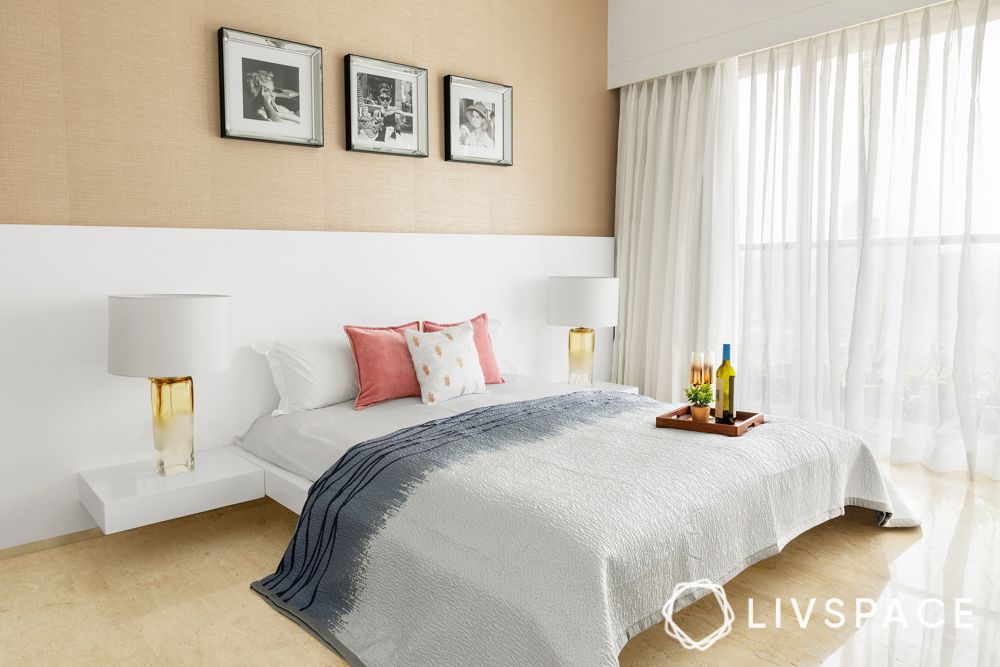 When you spend a lot of time in your room, you'll want to personalise it according to your taste. And that means a lot of personal knick-knacks and souvenirs . Choosing monochrome bedroom colour ideas can act as the perfect backdrop to whatever you want your bedroom to be.
#17: Brown and Beige Room Paint Ideas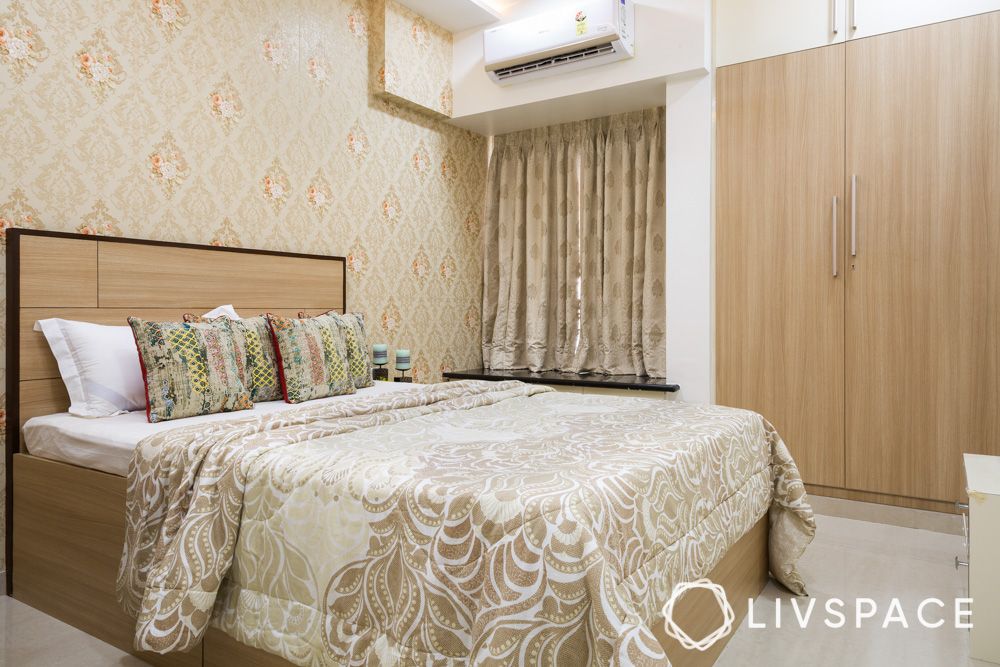 Your bedroom should be a serene and relaxing space. As such, the bedroom paint colours should correspond to this theme. Earthy tones are a great option for the bedroom. A room colour combination of brown and beige can lend warmth to your space while also being contemporary.
#18: Wooden Tones for Bedrooms With Texture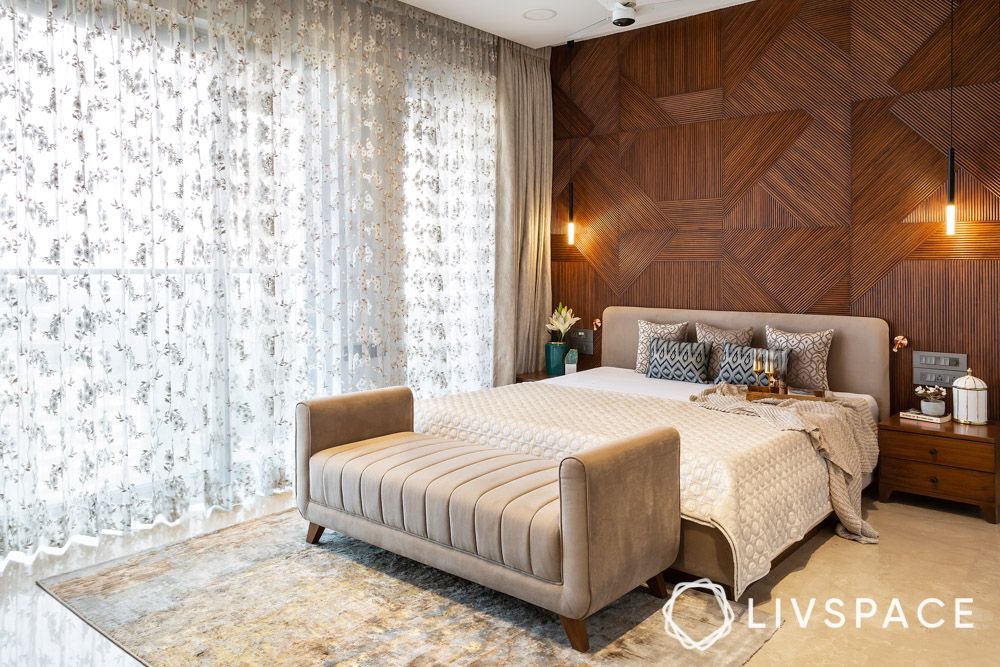 This is among the most classic bedroom paint colours, one that is evergreen and never goes out of style. Wood is associated with warmth, nature and comfort. Using this to decorate your room can make your room cosy and set a welcoming vibe. Heavy woodwork does consume space but then you don't mind that, do you?
#19: Bright Green Bedroom Paint Colours With Metallic Tints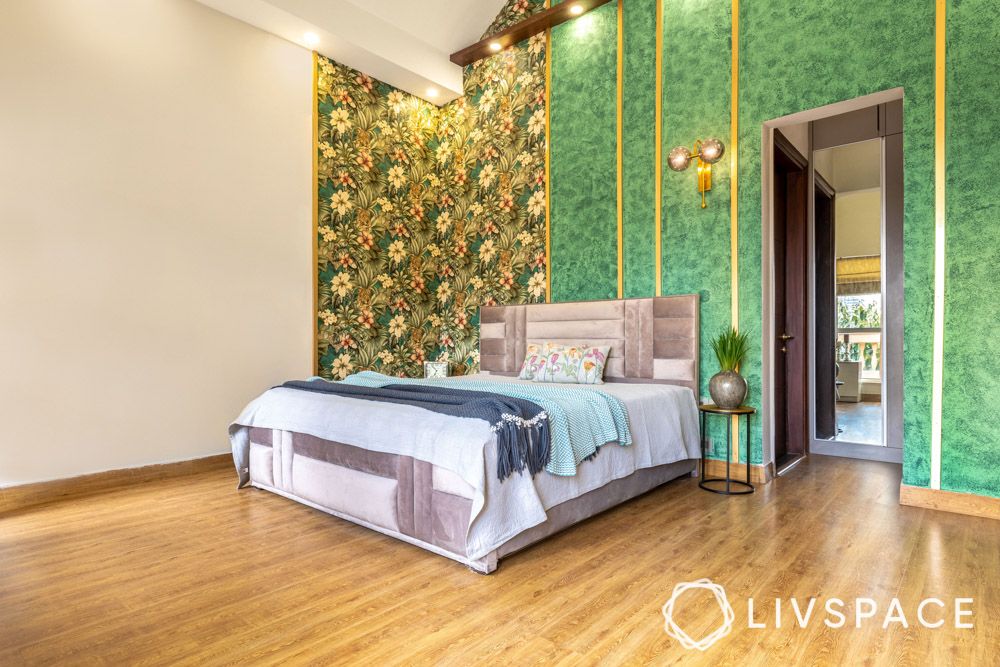 Some bedroom paint colours are associated with luxury, like bright green. Complemented with metallic tints like gold, green can lend a rich look to the room. If you're looking to snooze like royalty, then look no further and go for this royal room paint idea.
#20: Matte Marine Room Paint Ideas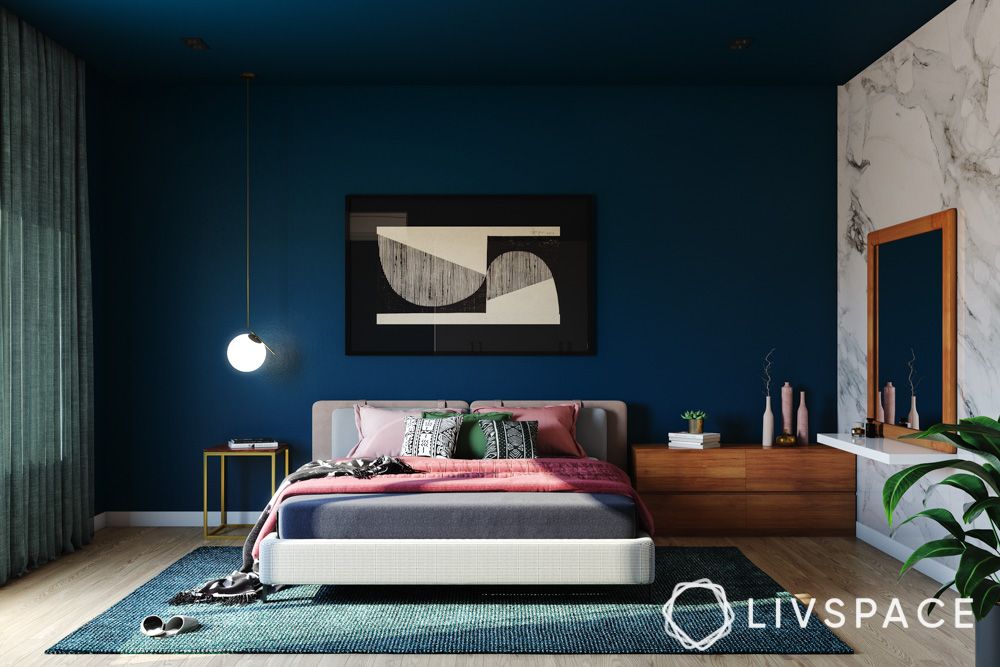 If you are someone who prefers darker colours, matte marine bedroom paint colours can look stunning. This shade isn't very common in Indian homes. However, bedroom colour schemes in this shade are not only very easy to maintain but also look great with most modern furniture.
#21: Mint Green Bedroom Colour Schemes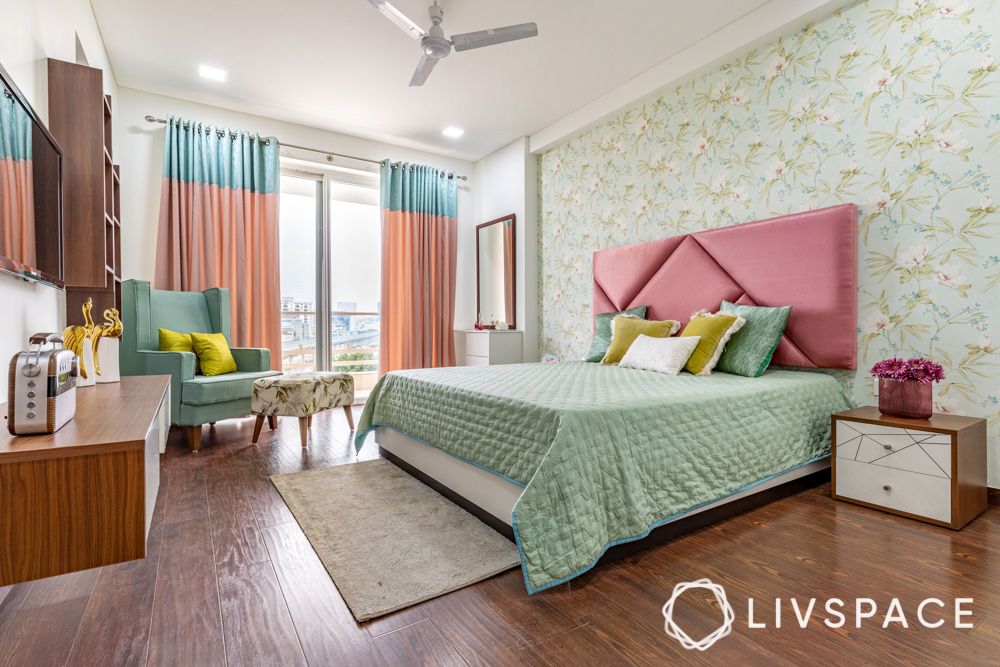 Mint green is that perfect calming sight at the end of a long day. This colour helps you unwind and destress. Plus, this is among the best colours to cool down your eyes after spending the day staring at digital devices. Then there's the fact that it looks amazing on bedroom walls. Moreover, it works wonders in a small bedroom that needs a pick-me-up!
#22: Dark Purple Bedroom Paint Colours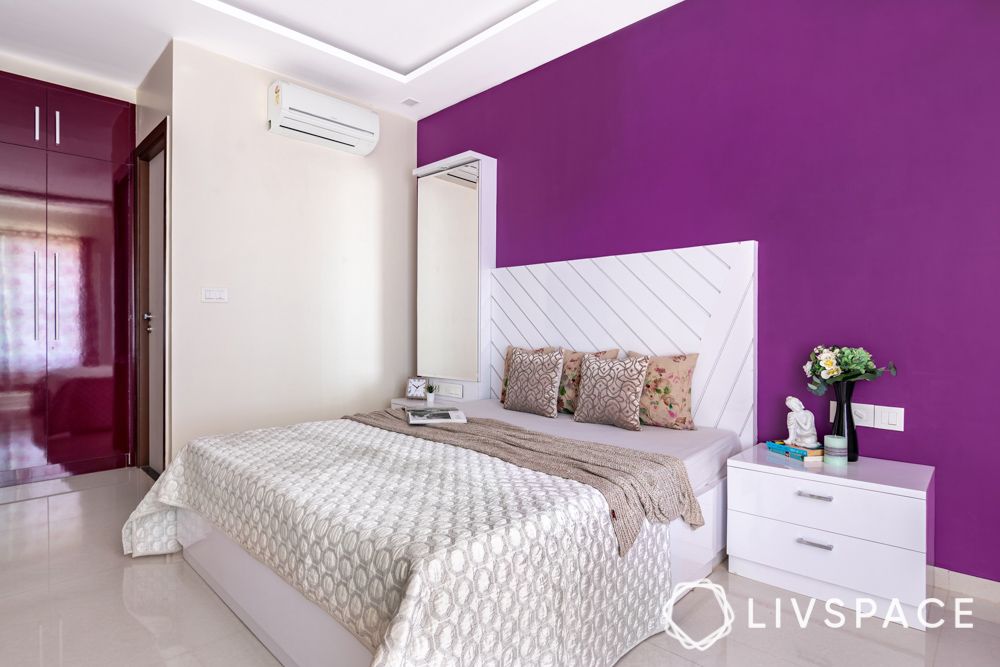 Decorating with purple isn't for the weak-hearted. The colour overwhelms most of the decor and furnishings in a room. However, bedroom paint colours like purple can make the space feel youthful and opulent. It can also lend a royal and elegant look as purple is closely associated with luxury.
#23: Soft Black Bedroom Colour Ideas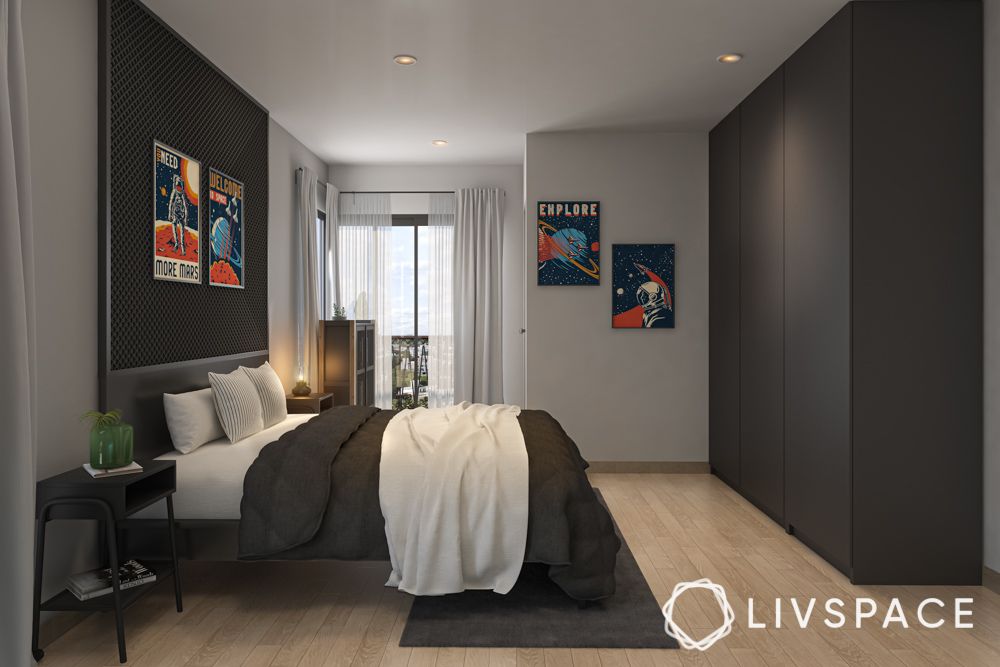 You will very rarely come across a black bedroom, especially in India. This is because black generally makes a space look smaller. Now, if you have a large bedroom, black can work very well. However, even with a small bedroom, you can make black work. Opt for wardrobes, furniture and furnishings in black while keeping the walls and flooring neutral.
#24: Zesty Pinks as Bedroom Paint Colours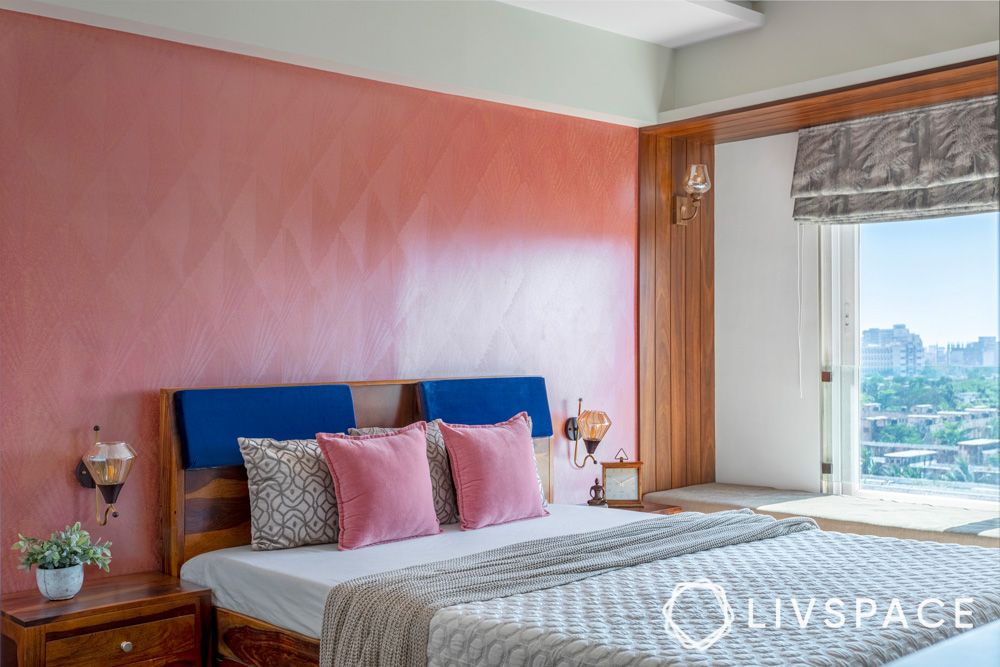 Pink is a favourite when it comes to bedroom colour ideas. This shade, a vibrant, zesty pink can add a fun flair to your bedroom. Pair this shade with wooden furniture for a warm ambience.
#25: Deep Beige Bedroom Colour Ideas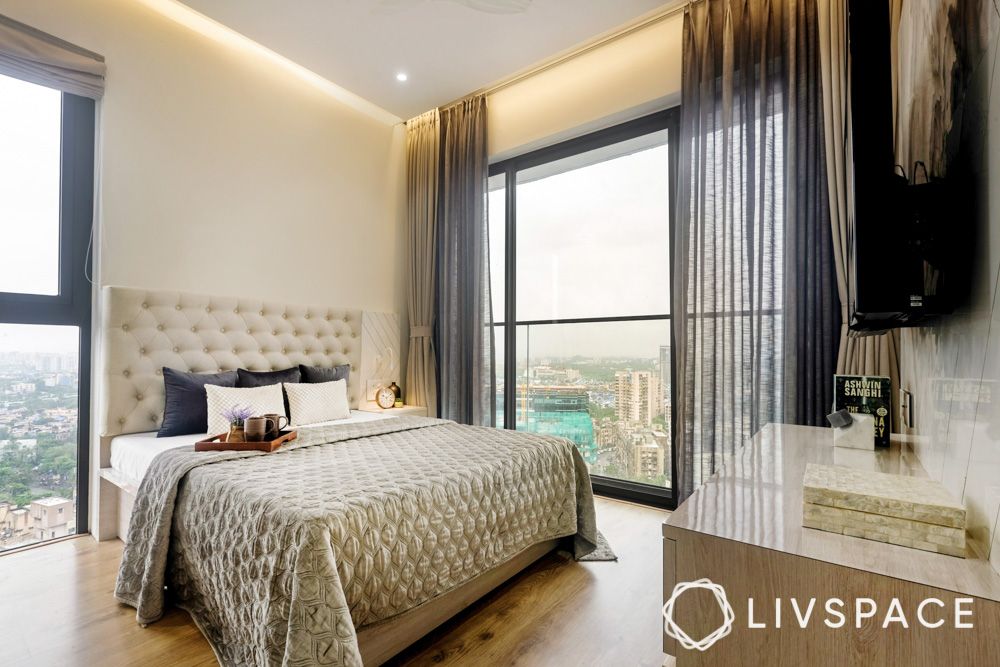 If minimalism is the decor style that you love, then deep beige is the colour scheme that you should choose for your bedroom. Such a shade, while being subtle, is also very low maintenance.
#26: Teal and Grey Are Among the Best Colour Combinations for the Bedroom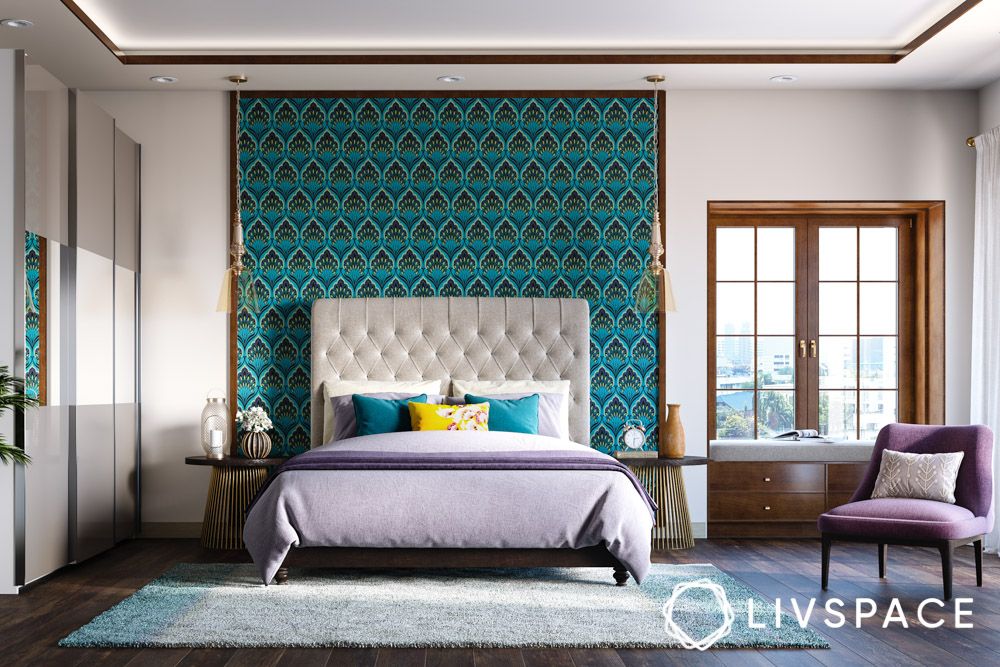 Among the most unique bedroom colour combinations is teal and grey. While grey by itself can look quite plain, you can transform the entire look by opting for something vivid like teal. Moreover, don't shy away from adding motifs and designs on your walls.
#27: Olive Green and White Bedroom Paint Colours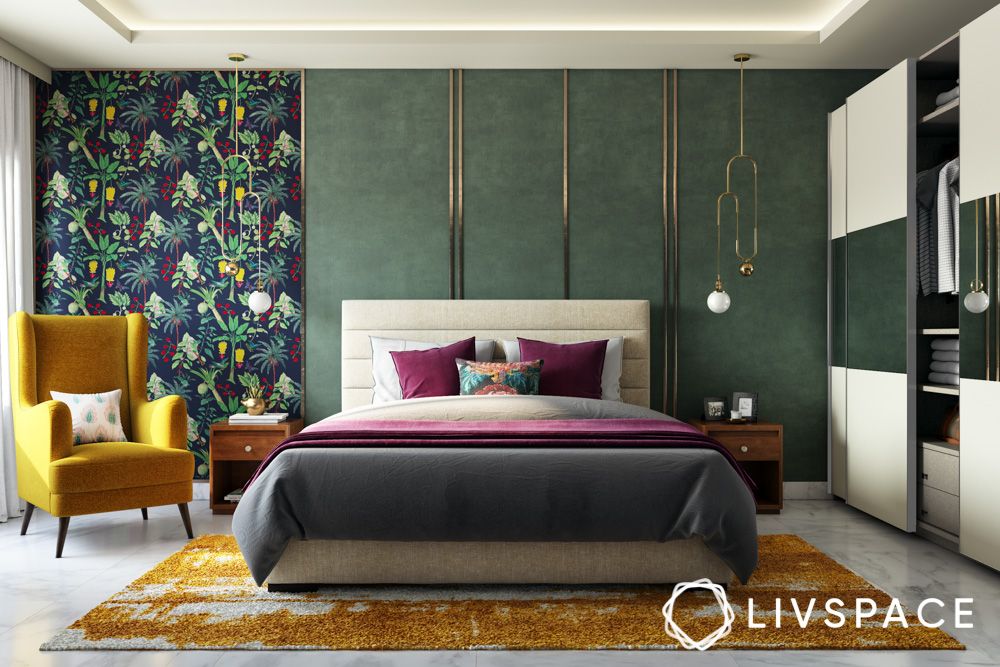 As mentioned earlier, green is one of the best bedroom colours to add a luxurious vibe to your space. Moreover, if you are someone who loves offbeat shades, why not go with an olive green wall paint colour? You can also create an accent wall on one end with the help of a floral wallpaper.
#28: Warm Tones of Brown and Grey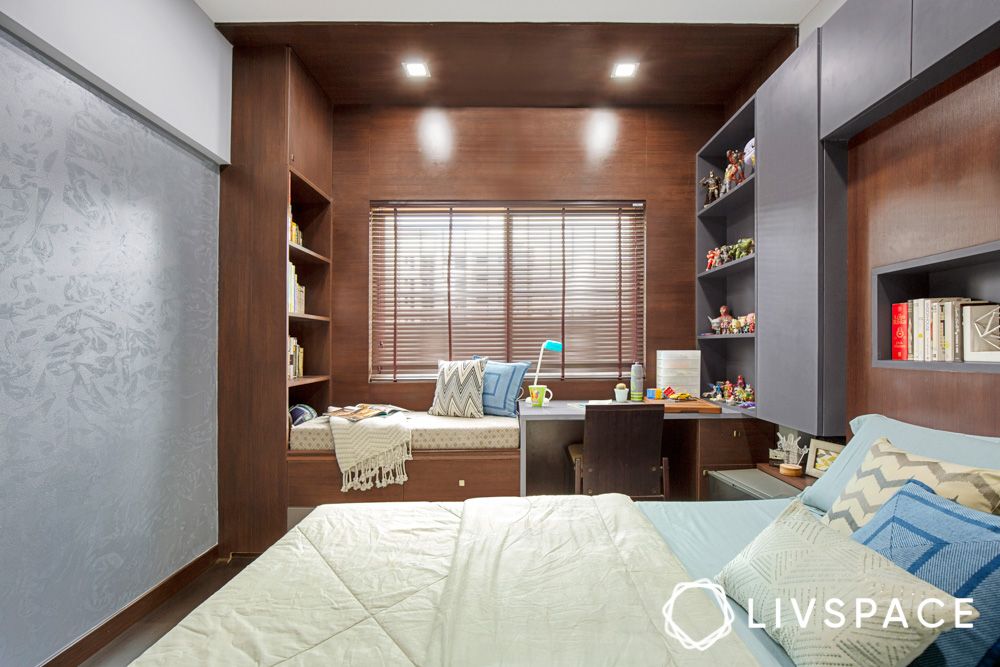 Your bedroom is your haven and thus should be a warm, cosy space. Popular bedroom paint colours that can create this effect include warm brown and grey. We love how cosy this bedroom looks due to the space-efficient furniture and the inviting colour combination.
#29: A Peach, Tan and White Bedroom Colour Combination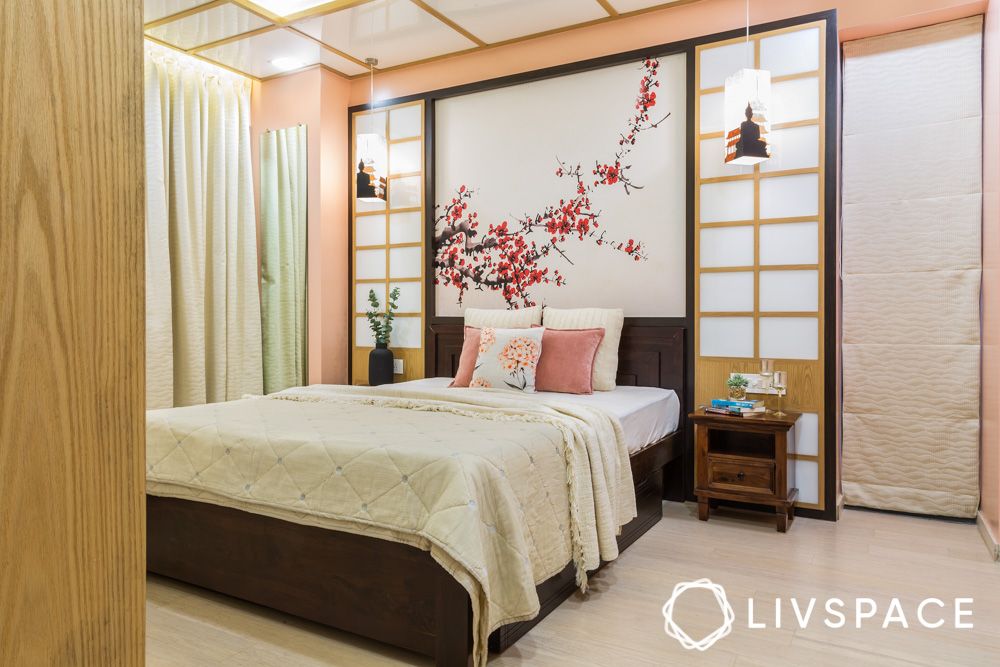 A soft bedroom paint colours can create a tranquil, zen ambience. So, if you are looking for appropriate colours, we say go with a combination of peach, tan and white. We love how this Japanese-inspired bedroom uses a mix of colours, finishes, motifs and lighting to create a serene atmosphere.
#30: Royal Tones of Gold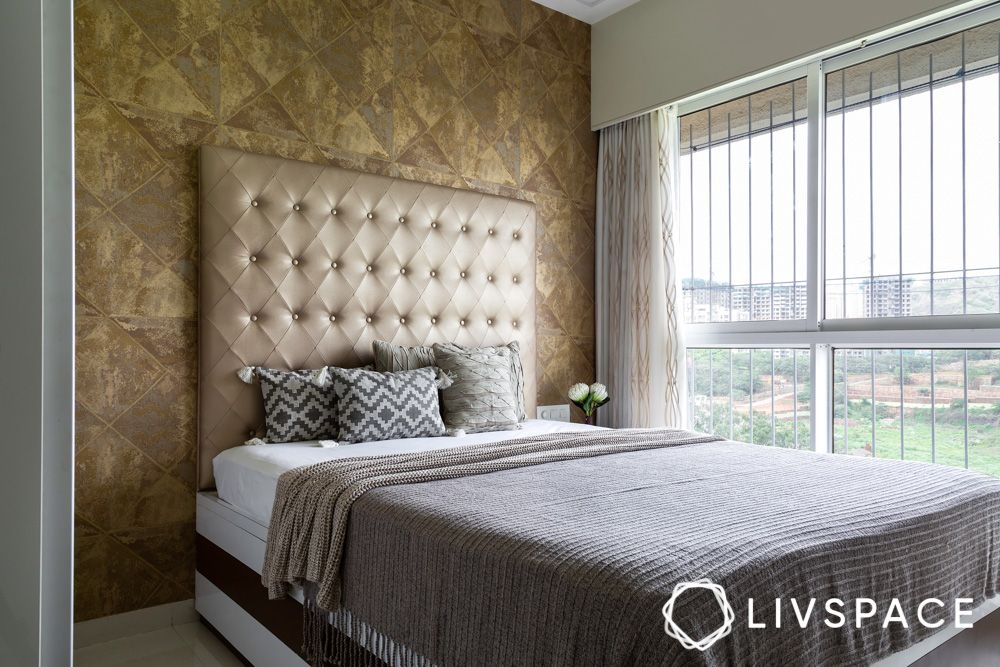 Nothing spells opulence like the colour gold. If a luxe look is what you want to achieve, opt for shades of gold as your wall paint colour. Additionally, don't forget to add textures.
Top Vastu Colours for Your Bedroom
Wondering what Vastu Shastra has to say about bedroom colours? The following table will help you:
| | |
| --- | --- |
| Colour | What It Symbolises |
| Blue | Serenity |
| Green | Healing, growth and abundance |
| Yellow | Happiness and positivity |
| Purple | Wealth, self-respect and poise |
What Is the Importance of Wall Colour Combinations?
Choosing the right wall colour combination is crucial as it sets the mood for your bedroom. In addition, colours also play a role in making your room look more spacious, airy or warm, as per your preference. Finally, considering painting is usually a long-term purchase, you would want to make sure that you get it right and do not regret your decision.
How Do You Choose Bedroom Colour Schemes?
To choose the bedroom colour scheme for your space, you first need to identify the look you want to achieve and the colours that you like. Also take into consideration the size of your room while choosing a colour scheme.
Bedroom paint colours can make or break the look of the room. The key is to use light and brightening colours for small bedrooms, bold and striking colours for larger rooms and a mix of both for medium-sized bedrooms.
ALSO READ: 10+ Vastu Colours for Bedrooms That Improve the Energy in Your Room
How Can Livspace Help You?
We hope you liked our bedroom design ideas. At Livspace, we provide personalised designs and superior finishes to ensure your bedroom design is both stunning and functional. Book an online consultation with Livspace today. To know how our customers feel about working with us, check out these Livspace reviews for more details!
Have any thoughts or suggestions you'd like to share with us? We're all ears! Drop us a line at editor@livspace.com.
Please note that the designs showcased within the story are subject to availability and will vary based on the year the homes were designed in. Consult our designers for more details on the latest designs.