Much ink has been spilt over huge houses and sprawling rooms being the epitome of luxury. However, small bedrooms can be made to feel as cosy or as luxurious as you want them to be. When designed well, small bedroom interior design can lead to functional spaces that serve as a retreat after a long day and leave no room for extra clutter (Marie Kondo would be proud).
Small bedrooms and style don't need to be the antithesis of one another. Even though the lack of space may feel like a burden at first, it's a golden opportunity to flex creative muscles. Furthermore, you can judge just how innovative one's design thinking can get.
Small Room Decoration Ideas #1: Add Colours Through Accessories
The prevailing mantra is that small bedrooms need lighter, brighter, whiter colours. That is indeed safe play, but there are also ways to use dark colours in a small bedroom interior design that will reflect a keen sense of design. Whites and neutrals like creams, off-whites, greys, beiges and ecru tones make a small space look bigger. However, you can break up the monotony without introducing visual clutter by incorporating pops of darker colours throughout the space. These colours could be channelled through a statement wall, textured rugs or upholstery.
Small Room Interior Design Tips #2: Make Use of Every Corner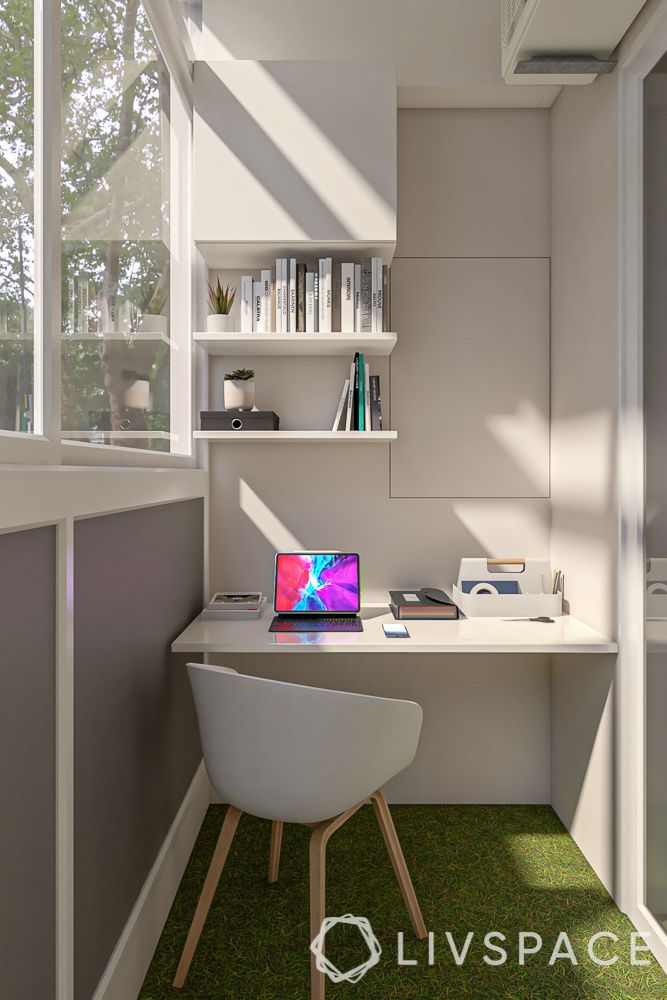 In an already small space, make sure you fully utilise every available corner. There is always a way to make use of every space. Take this home for example, we converted the extra area by the bedroom into a workstation. All we needed was a glass partition to separate the work office from the bedroom and make the small bedroom interior design more functional.
Also read: 6 Easy and Low Cost Ideas to Design a Small Rental Bedroom
Small Room Decor Ideas #3: Adding Textures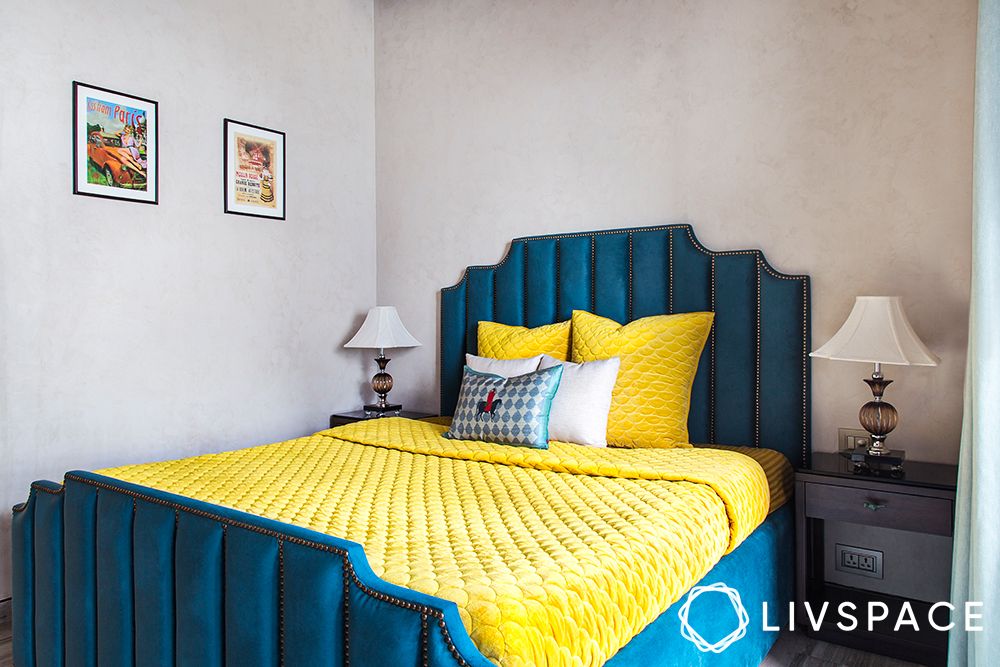 When it comes to adding layers of depth to a small bedroom interior design, textures can clinch the deal. This is especially true in rooms that use a dominantly neutral or white colour palette. Textures add depth and dimension without adding bulk to a room. 
A good way to incorporate texture into a space is to begin with upholstery. Velvet and suede can be used in upholstered bed frames, curtains, pouffes and ottomans. These fabrics instantly give off a luxe vibe regardless of what colour you choose – this way, even if you want to stick to a restricted colour palette, you can still achieve a dramatic look.
Small Room Interior Design Ideas #4: Add Shelving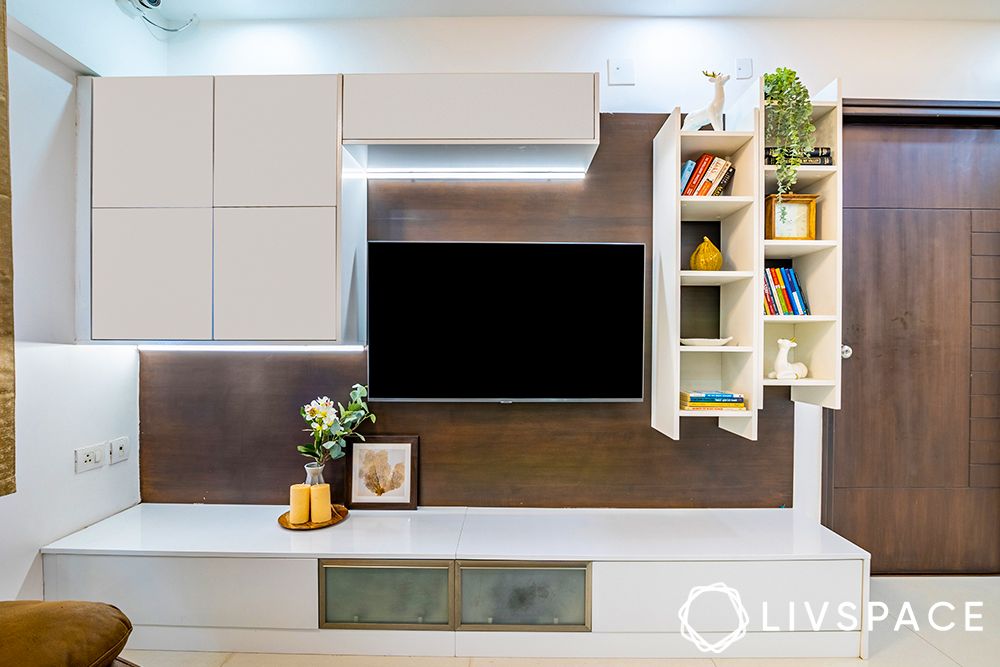 In a small room, lifting furniture off the floor can help to elevate the interior design and visually expand the space. Shelving is one such option. Wall-mounted shelves offer a lot of storage without taking up precious ground space. In this room, the TV is storage-intensive with a large number of opened and closed shelving options. It has both top and bottom cabinets to store the essentials. The floating shelves give a trendy look to the room as well.
Small Bedroom Design Ideas #5: Opting for Space-Saving Furniture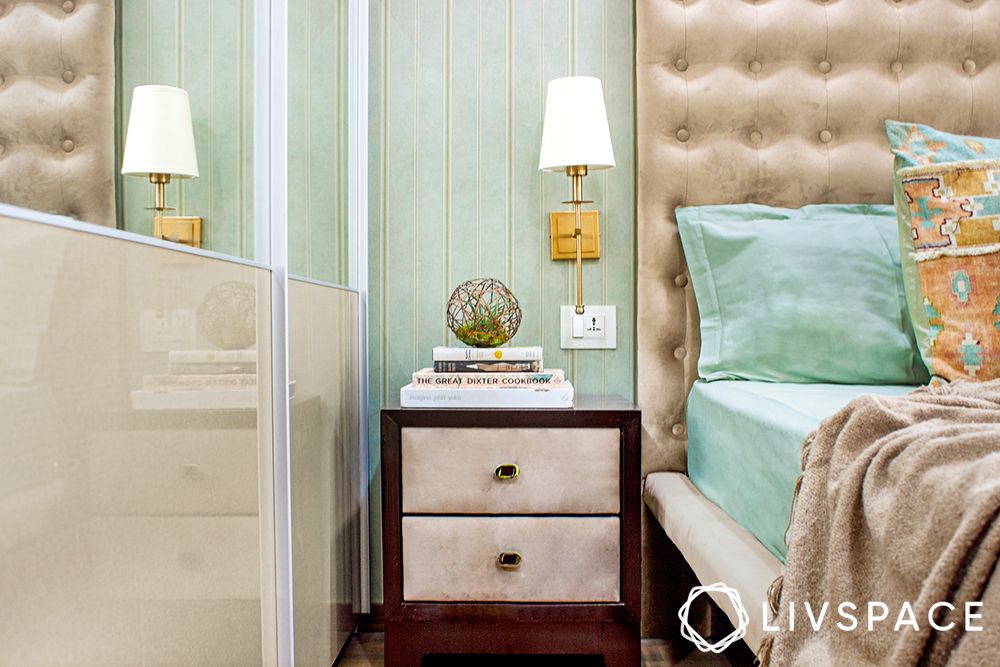 At some point in the design process, homeowners working on small room ideas will have to face the proverbial music and deal with space constraints. However, clever planning and the use of space-saving furniture will go a long way in finalising a design that is visually and practically seamless. For instance, you can add mounted lamps and sliding wardrobes in small bedroom interior design which do not take up much space.
Small Room Interior Design Ideas #6: Stay Organised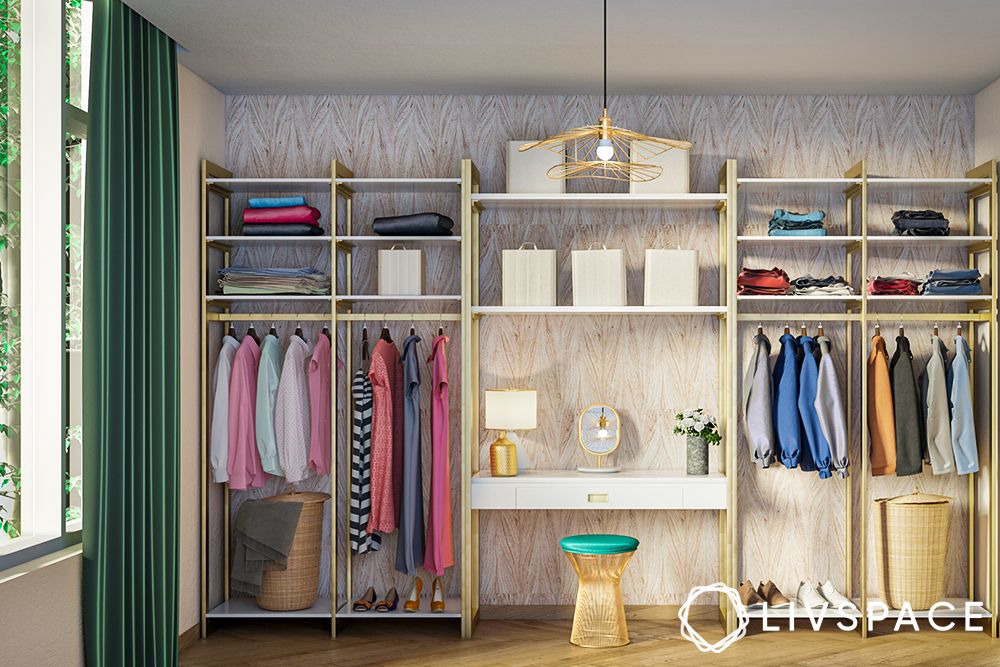 Whether you believe in the clutter-free principles of bedroom Vastu colours or just don't want to trip over a stray shoe again, staying organised will mean visual appeal and an accident-free room. The key to keeping small room ideas clutter-free is developing an organisational system. This system should be along the lines of 'a place for everything and everything in its place'.
Small Bedroom Interior Design Ideas #7: Find Space Where You Can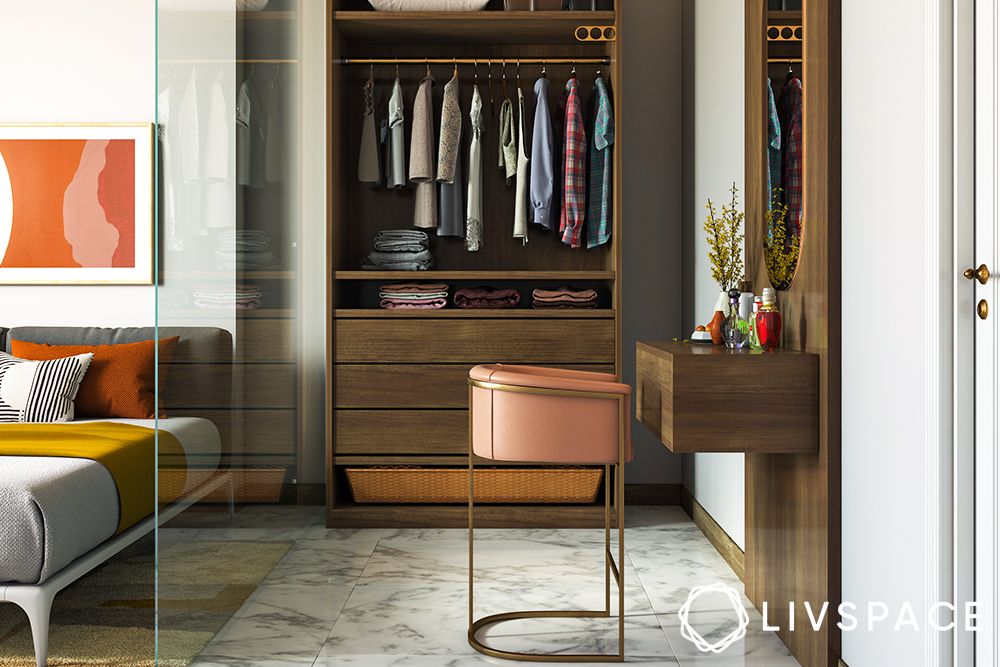 Check out this smart room idea that works well in a small space! Our Livspace designers used a glass partition to separate the sleeping and vanity areas. It is a small addition that makes a large impact, as it demarcates different zones but does not make the room feel any smaller.
Tips for Designing a Small Room #8: Utilise Window Space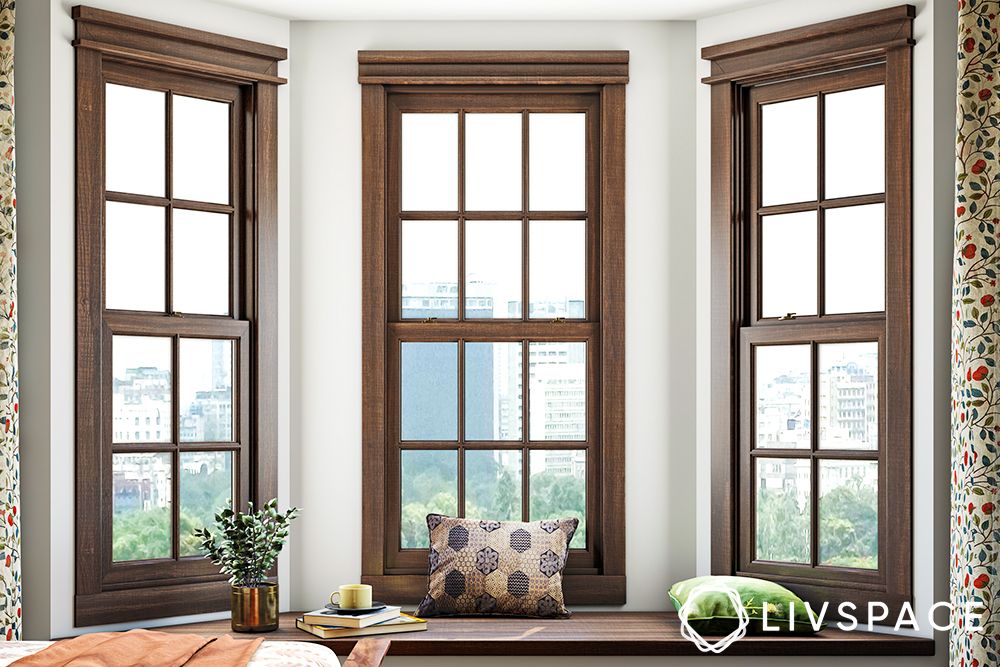 You're lucky if you have a bay window space in your bedroom. Don't let it go to waste. you can reform your bay widow area to seating area, coffee zone or a reading nook. Just throw some cushions, covers and a blanket to make it the most comfortable area of your room.
Also read: 10+ Simple Bedroom Interior Designs That You'll Love
Small Room Decor Ideas #9: Choose the Right Finishes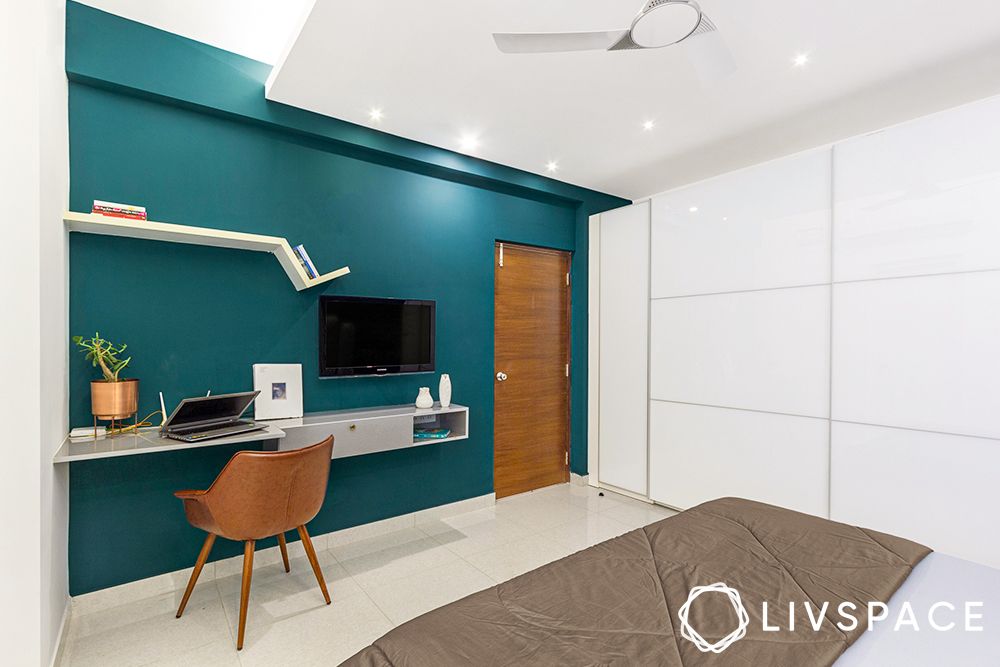 When picking out finishes, opt for ones that are durable and easy to maintain. High-gloss acrylics can be used to induce colour into the space and reflect available sunlight. On the other hand, matte laminates look a lot soberer. They are also available in a variety of colours and textures.
Veneer has the ability to replicate the texture and colour of wood, so for small room ideas that use a classic aesthetic, this finish is a good choice. Lacquered finishes are ideal to create reflective spaces that aren't glossy but still diffuse light.
Small Room Design Ideas #10: Go Vertical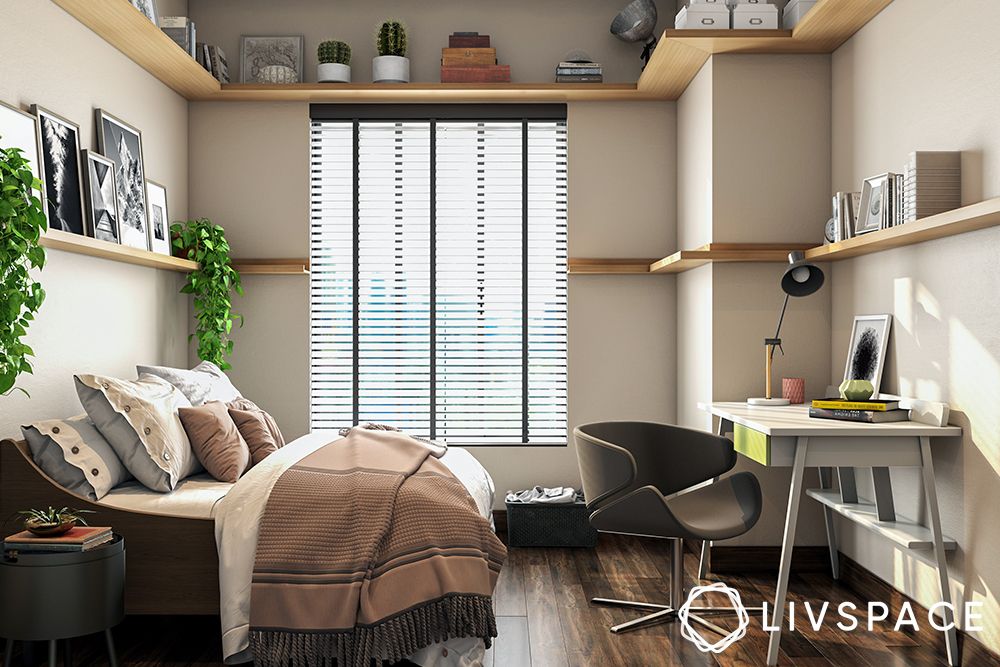 When your floors are cluttered and overcrowded, then it is time to look upwards. Make use of the vertical space of your room and install shelves on the walls and closer to the ceiling. Use them as display ledges, or to store items that you don't need regular access to.
Designing a Small Room Tips #11: Check Out These Space- Saving Solutions
A. Trundle Beds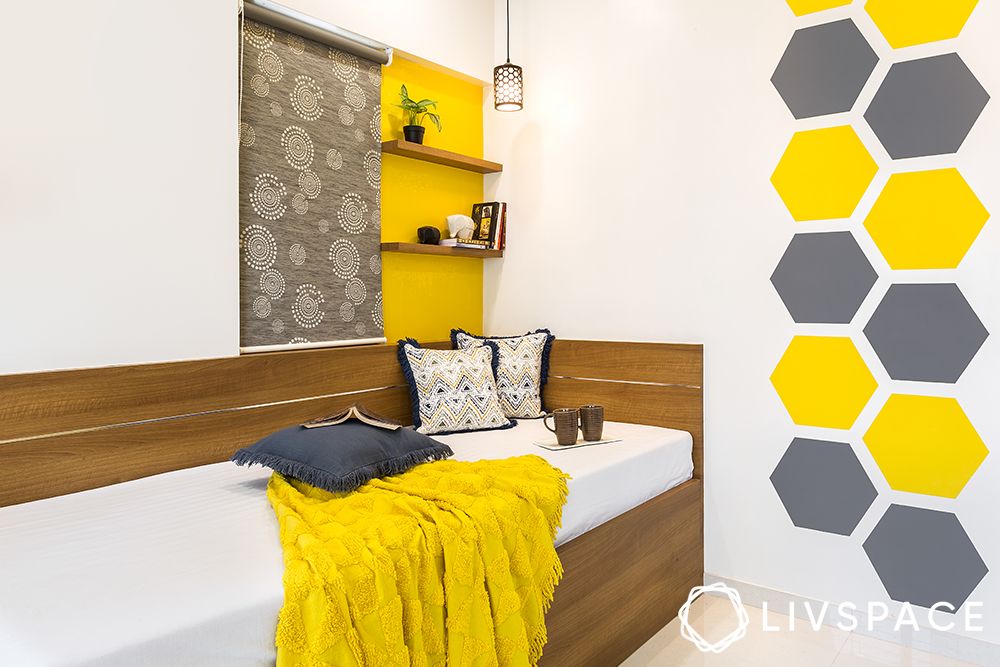 These beds are low, wheeled frames that are stored underneath a normal bed. The draw of a trundle bed is that it can be pushed back under the higher bed when not in use, and rolled out when needed. It also prevents the space from looking cramped. In rooms that are used by adults or growing children, trundle beds are more practical options than bunk beds. These are ideal for children and for use in rooms with a lot of vertical space.
B. Storage Beds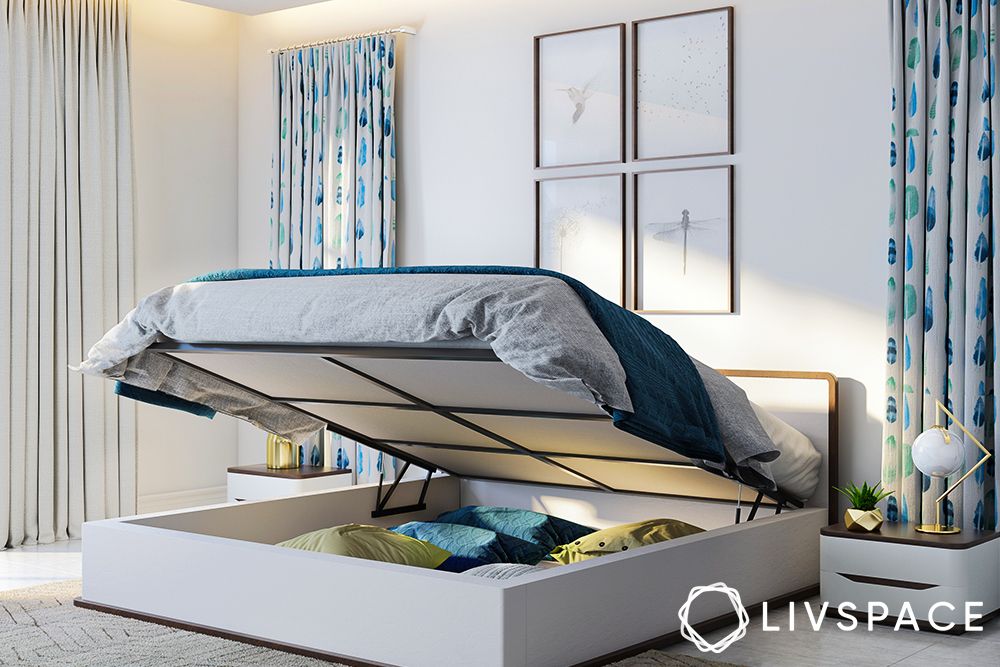 If you're looking to add storage to your room but don't have space left, then, storage beds are your best bet. These are beds that can be slept on but they also come with drawers or under-the-lid storage to keep bedding, cushions, clothes or any other items you want to store.
C. Floating Shelves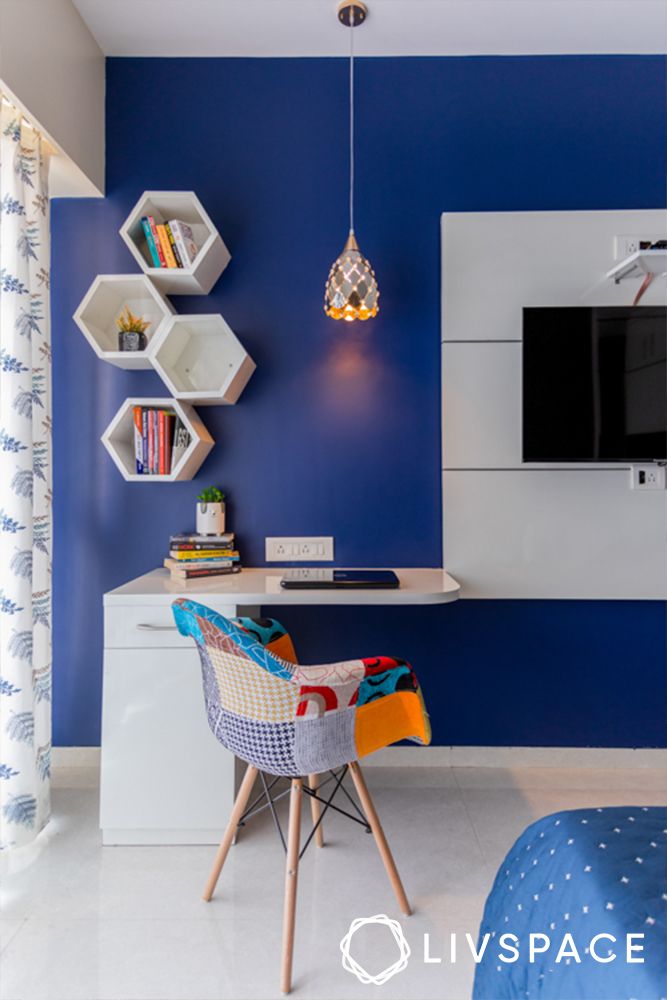 Another method of using vertical space is by installing floating shelves. They increase the available storage and make perfect display spots for decor elements. For a discreet finish, consider painting the shelves in a different colour from the wall. If you prefer a bolder look, wooden or contrasting shelves will become statement features in and of themselves.
D. Sliding-Door Wardrobes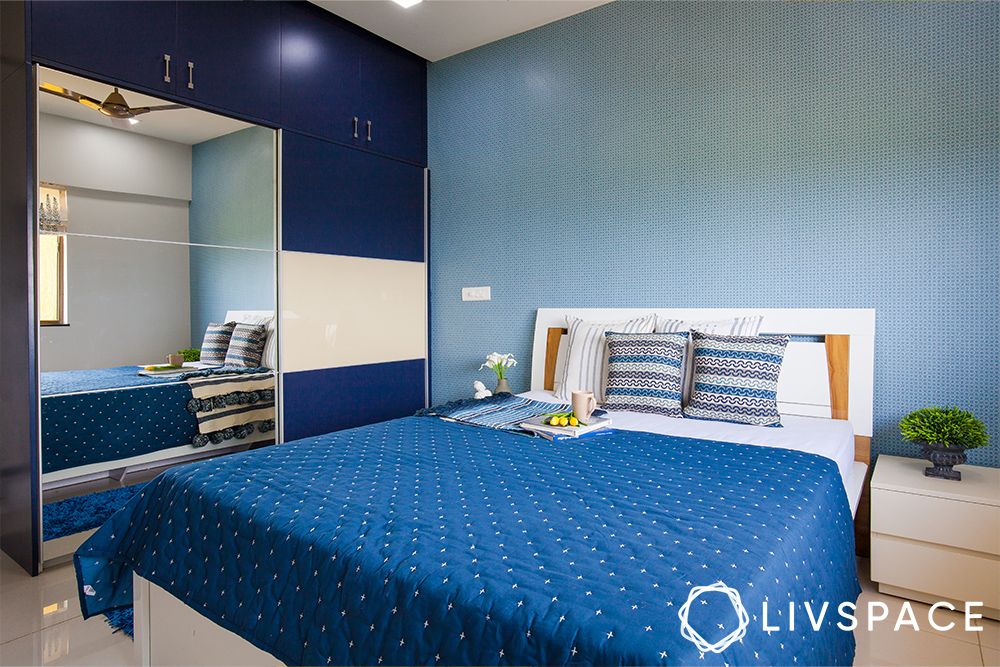 A space-saving marvel, sliding wardrobes provide all the functional benefits of a regular wardrobe. However, they use sliding doors instead of hinged doors. The obvious perk is that sliding doors do not take up any extra space. When they're open, unlike hinged doors which effectively block off a certain amount of floor space. For small room ideas that are using a restricted colour palette, sliding wardrobes can be painted the same colour as the wall. However, reflective or mirrored doors can reflect light and wooden finishes can lend the room a sophisticated look.
Small room ideas need not be boring. Practical or messy – it's perfectly possible to achieve a balance between the two extremes. It takes quite a bit of advance planning and clever furniture and organisation hacks, but the resulting design (and free square footage) is well worth the extra effort!
If you enjoyed these handy-dandy tips, take a look at: How to Design a Space-efficient 1BHK.
How Can Livspace Help You?
If you need help for a limited space room design or small room design, then seek professional help from Livspace. Our talented designers will deliver quality and safe interiors. Book an online consultation today. 
Send in your comments and suggestions — editor@livspace.com
FAQs
1.How Can I Decorate My Small Bedroom?
You can alleviate small space woes with clever space-planning and smart small room decoration ideas. Opt for items like floating shelves, multi-purpose furniture, and a curated colour palette.
2. What Is the Best Way To Use Space in a Small Bedroom?
Use storage beds, trundle beds, vertical shelves, floating shelves, sliding wardrobes etc. to use the space well in a small bedroom.
3. How Do Couples Style a Small Bedroom?
Couples like to design their small bedroom in a way that it is storage-intensive as well as lushly designed. For this, they can use floating furniture with lights.
4. How Do You Make a Small Bedroom Look Classy?
Add textures, finishes, art decor, throw pillows, hanging light fixtures to your bedroom to give it a classy feel and look.