The key to beauty is simplicity. Bedrooms are supposed to be about comfort and convenience. But, when the topic of designing an Indian home comes up, simple is far from what we envision. Although it is tempting to fill your home with a bit of drama, picking a high-maintenance bedroom design will mean investing time and energy in cleaning it. Considering our busy lives, one must keep an open mind to trying simple bedroom interior designs that are affordable to begin with and also easy to maintain in the long run.
We at Livspace specialise in making basic yet beautiful homes. To help you get inspired, we've shortlisted a few of our best ideas for simple bedroom interior designs that are easy to maintain.
#1: Simple Bedroom Interior Designs With Plenty of Natural Light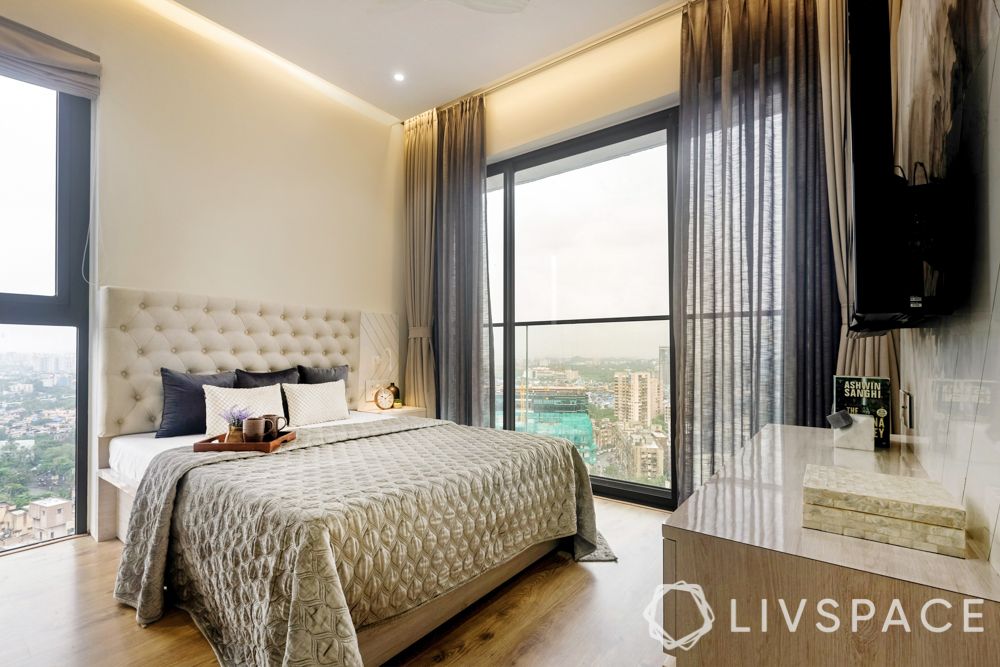 Along with space, the one thing we all want in our bedroom is ample natural light. No one wants to utilise electricity all day long, not when we are all deficient in vitamin D. Build your windows in a way that the grid is minimal, and the window frame takes up almost the entire wall of your bedroom. Amplify the light in your bedroom by pulling the blinds away and pushing your curtains right up to the ceiling. This will not only light up your space but also create the illusion of more visual space in your bedroom. Not only does your bedroom look brighter now but it also looks more spacious!
#2: Laminate Flooring for an Easy-to-clean Bedroom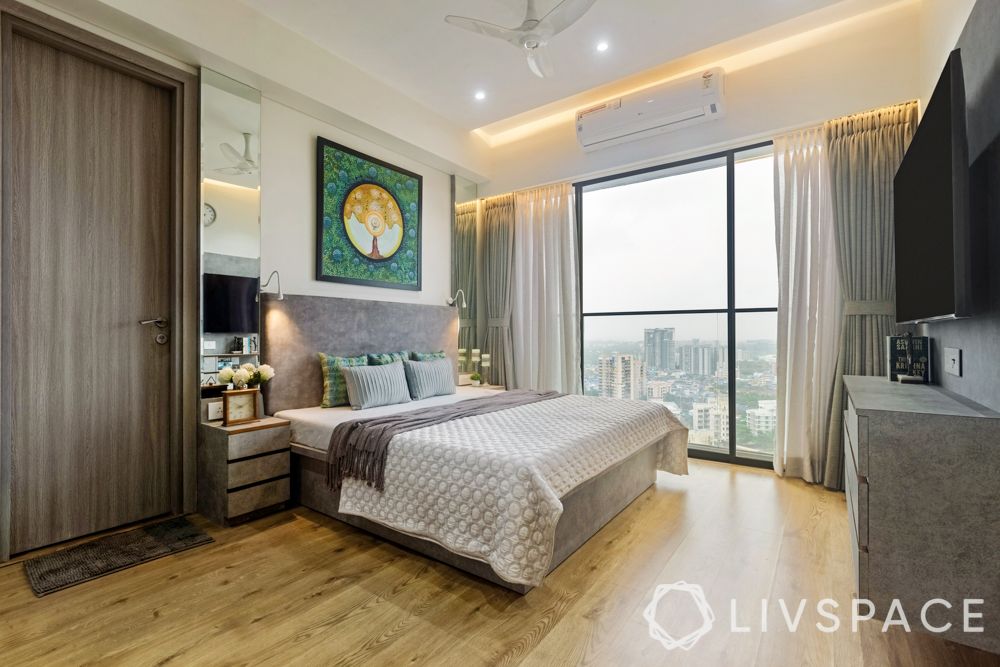 One of the simple bedroom decorating ideas you can incorporate for functionality is laminate flooring. Laminate flooring is a great alternative to hardwood flooring and also isn't quite the hassle to clean up. While you have to keep in mind that you cannot use water or harsh abrasives on the flooring, you can simply wring a microfibre cloth until it's almost completely dry and mop it up easily. The most amazing part about laminate flooring is that you don't really have to mop it every single day unless there's a stain on it, and it adds great spatial and visual appeal to the room. If you go for a lighter brown with your flooring, it brightens up the room.
#3: Simple Bedroom Interior Designs for an All-White Bedroom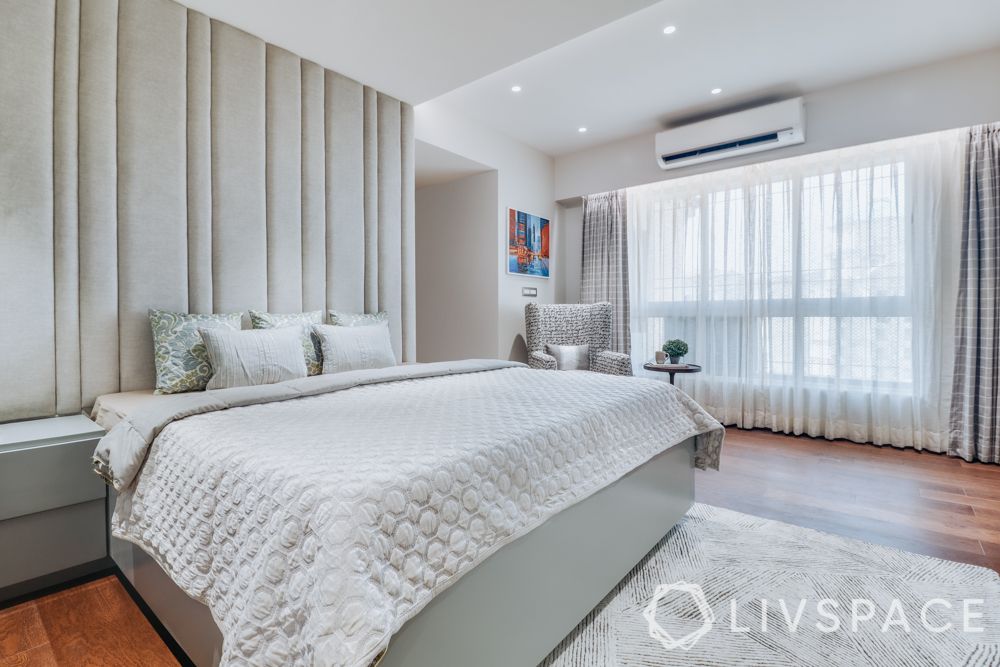 A brilliant contemporary bedroom design is to experiment with an all-white bedroom. More white means more reflected light in the bedroom. It's important to remember that all-white bedrooms don't have to be boring because white has many shades. You can layer your bedroom with different shades of white and add texture and drama wherever needed to create visual interest.
Pro Tip
#4: A Laminate Finish Makes a Simple Bedroom Design Low Cost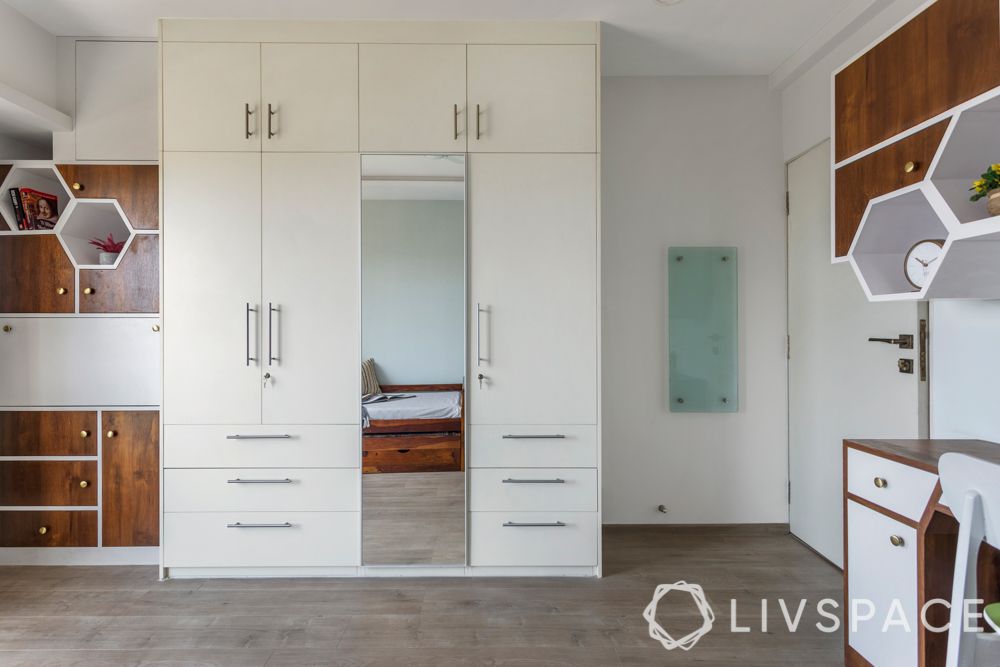 Just see the amount and variety of storage in that wardrobe! Wondering if it costs a bomb? It actually doesn't because of the affordable laminate finish used here. Add some simple bedroom decor in the display cabinet and have this expensive-looking wardrobe in your bedroom.
#5: Simple Bedroom Interior Designs With a Pop of Colour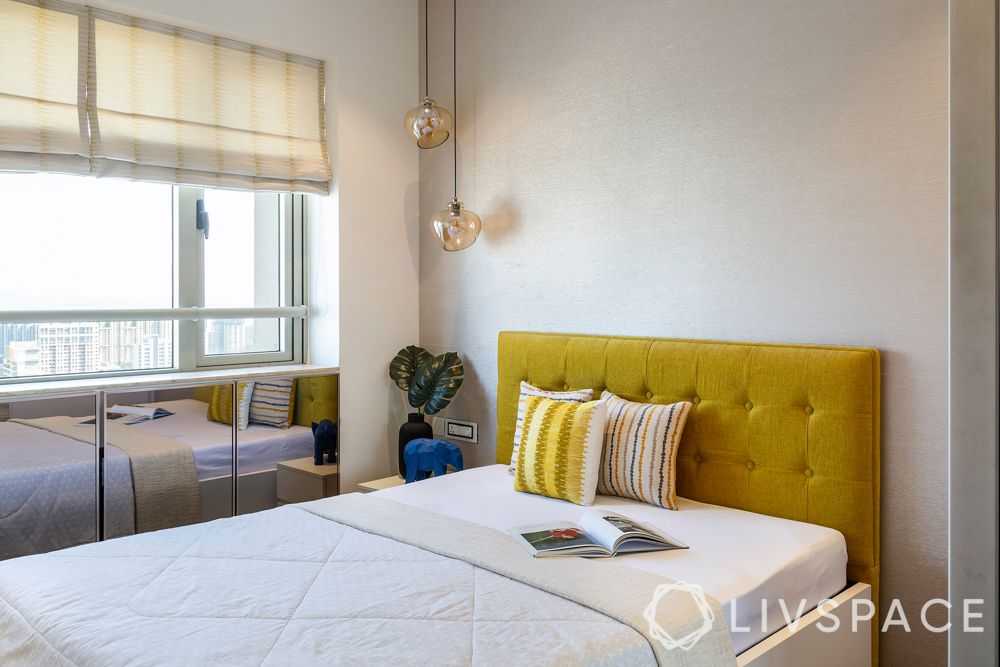 For a lot of middle-class Indian homes, colour is a non-negotiable factor. The key is to maintain a balance. If you'd love to move away from an all-white or neutral design, take it one step at a time. A great idea for bedrooms could be adding one or two solid pop colours. You can add them in your simple bedroom decorating ideas to create a focal point. Add a bright colour against a neutral tone and you have a beautiful pop of colour in your bedroom.
#6: Unique Modern Bedroom Design With Low-height Bed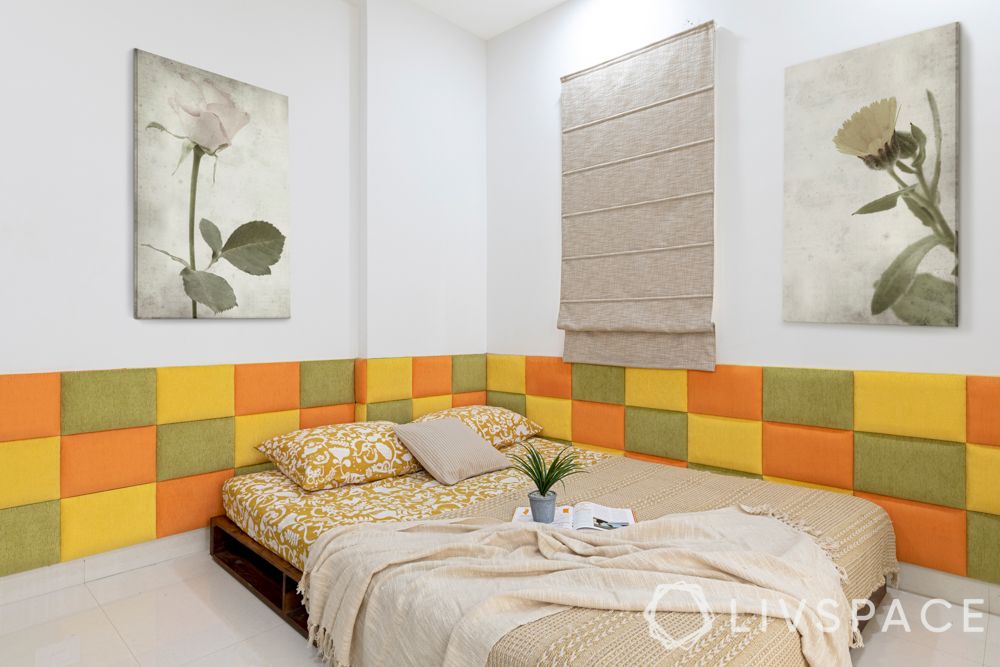 An out-of-the-box idea for a simple bedroom design is to simply lower your bed and prop it up against a corner wall. Utilise and accommodate the spatial angles in your bedroom to create a cosy corner for yourself. Layer up the space with simple bedroom decor, fluffy pillows and cushions to create a colour palette that works for you. You can also use the vertical space that has now been freed up to create storage or display art to add some style to your bedroom.
#7: Versatile Simple Bedroom Interior Designs for Him and Her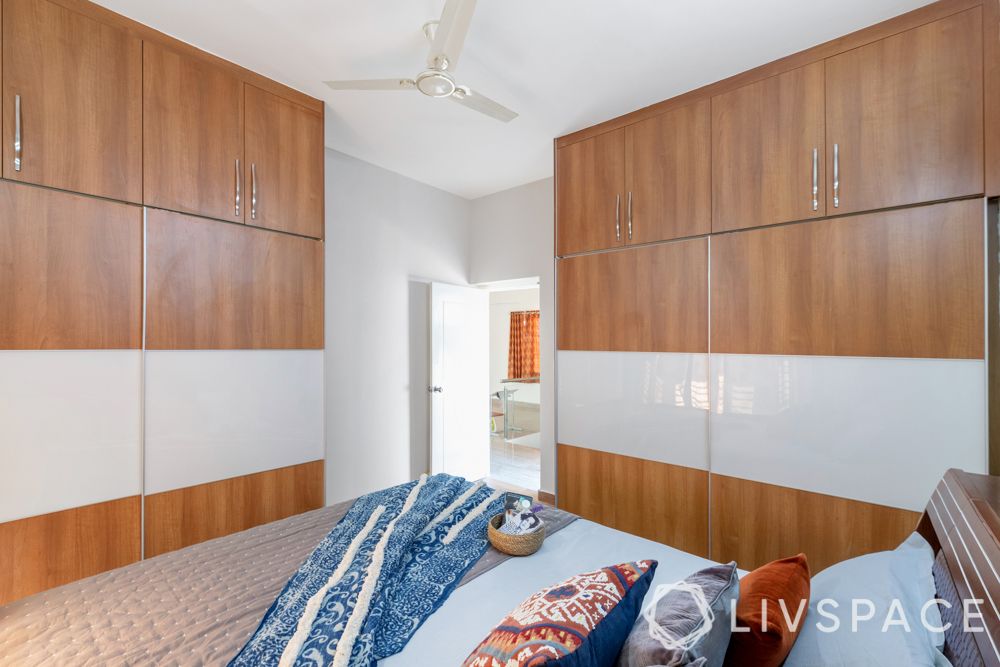 Storage space is the first thing that comes to mind when one thinks of a bedroom and its functionality. This is especially true if you want to prevent battles over closet space with your spouse. You can always utilise the space around your bed to create some extra storage for yourself and the missus/mister. His and her wardrobes are the trend in modern bedroom designs.
PRO Tip
#8: Build Smart With Wall-to-Wall Wardrobes for Small Bedrooms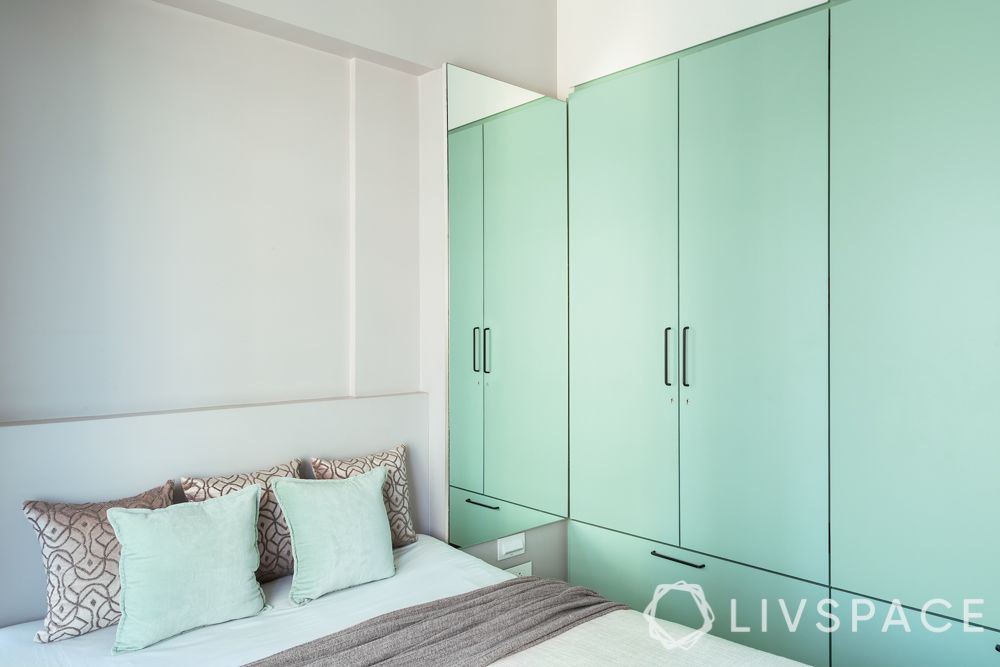 If you're looking for a smart option to utilise all the space you have in your bedroom, a wall-to-wall wardrobe is a perfect idea. It not only maximises storage space and save floor space but also give your bedroom a fourth wall that is different from the others. In this bedroom, the wardrobe adds to the colour palette that is chosen for the room décor beautifully.
#9: Warm Wooden Finishes for Simple Bedroom Interior Designs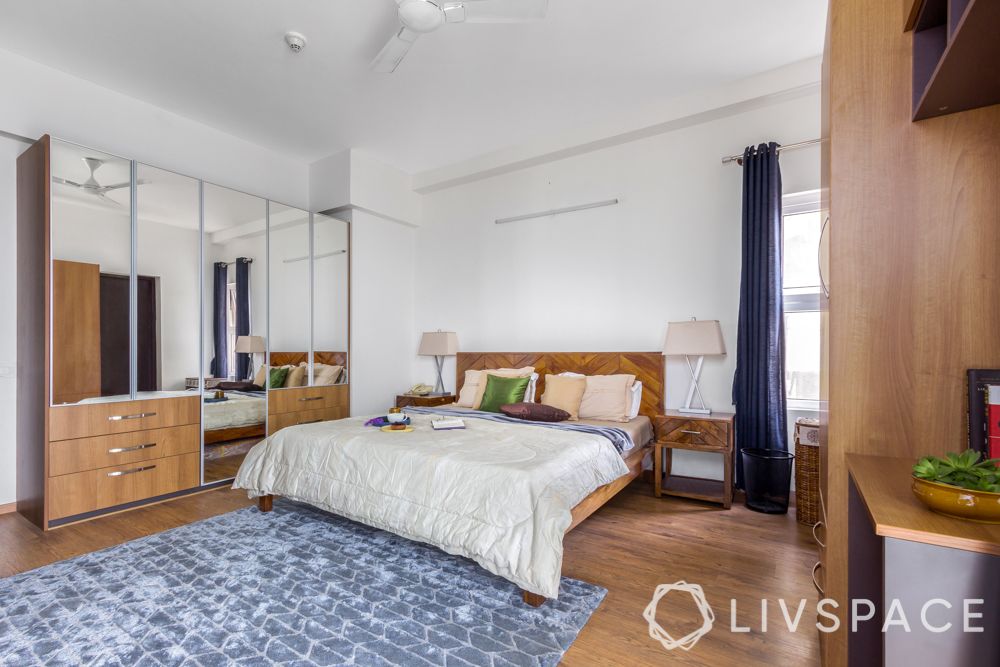 To create continuity of design in your bedroom, take wooden finishes one step further. Team up your flooring with the furniture in your bedroom. Amplifying the brown tones will not only create a beautiful neutral-toned brown base palette for your bedroom, but it will also give your room consistency in design. You can always balance the browns with blues by adding a rug and curtains for a pop of colour.
#10: Tidy Up with Simple Bedroom Decorating Ideas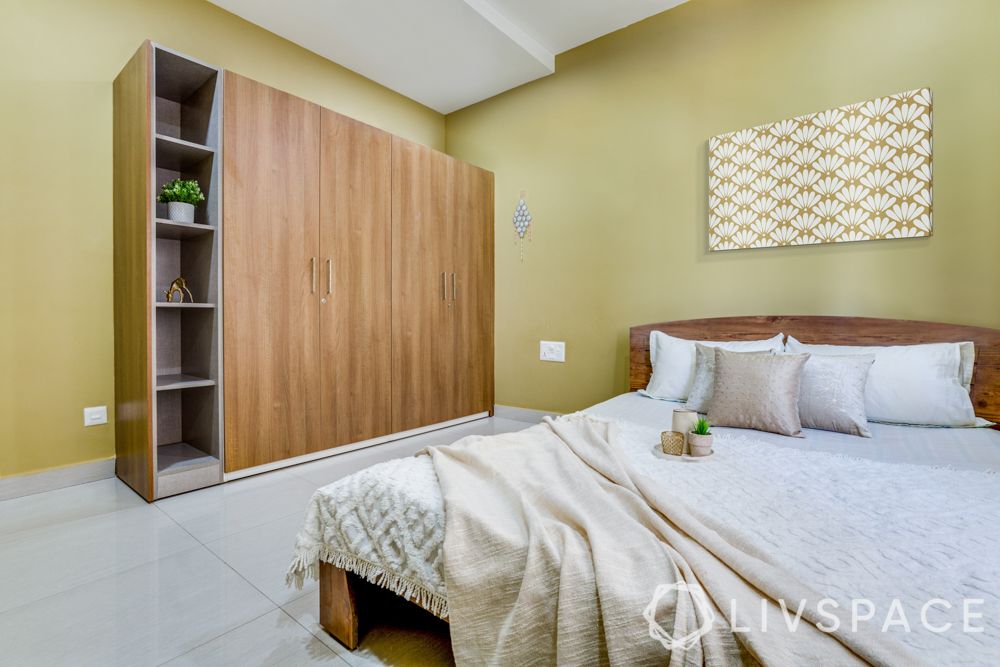 A no-nonsense approach to simple bedroom design would be to maintain a bare-essential-minimalist kind of space. Keeping your space clutter-free and stored away is one way to make your bedroom look spacious and sleek. Decrease the clutter by keeping only what is absolutely needed at arm's length, and the rest can go into storage perpendicular to your bed, or under it. Not to mention, a decluttered bedroom is much, much easier to keep clean.
#11: Floating Furniture for Small Simple Bedroom Interior Designs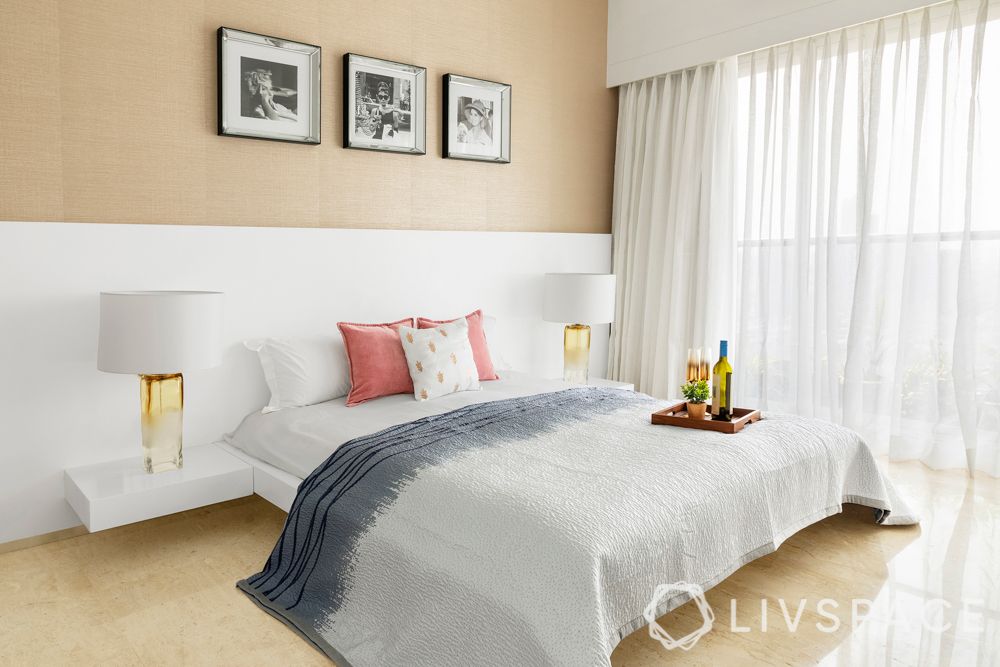 Another way to make your bedroom look stylish and spacious is to use floating furniture. Floating furniture is quite the modern-urban trend we see in middle-class Indian households. It helps to make your simple bedroom interior designs look chic. It also optimises the space and creates pathways for traffic flow around the room.
Pro Tip
#12: Glossy Finish for Small Bedroom Design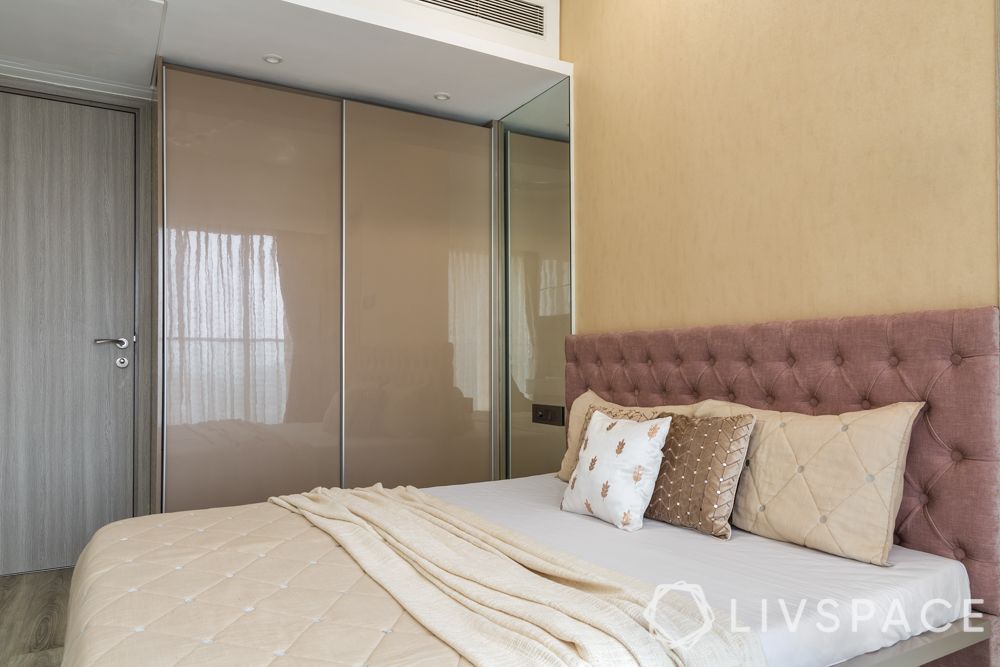 If you want to move away from the traditional wooden look, you can always go for acrylic wardrobe finish and match the neutral tones with your décor. This beautiful acrylic sliding wardrobe neutral creamy peach shade goes hand-in-hand with the dusty pink headboard and the white and cream coloured cushions. This can help you create a monochrome palette and give you a simple bedroom design without too much hassle.
Pro Tip
Got yourself a stunning bedroom but something does not look right? You may be making these common bedroom design mistakes! Check them out, along with easy solutions.
For more bedroom design ideas, check out:
How Can Livspace Help You?
We hope you found our ideas useful! If you want beautiful interiors for your home, then look no further. Book an online consultation with Livspace today. Have any thoughts or suggestions you'd like to share with us? We'd love to hear you out. Write to us at editor@livspace.com.