Trends come and go from year to year. This year, amongst the top interior design trends, is minimalism. Minimalism refers to a design style symbolised by open layouts, clean lines and simple colours. Moreover, the motto of this design style is 'less is more', making it a perfect choice for modern apartments. If you are looking for some minimal home inspiration, we've compiled our favourite minimalist bedroom ideas from Livspace homes.
#1: The Warmth of Wood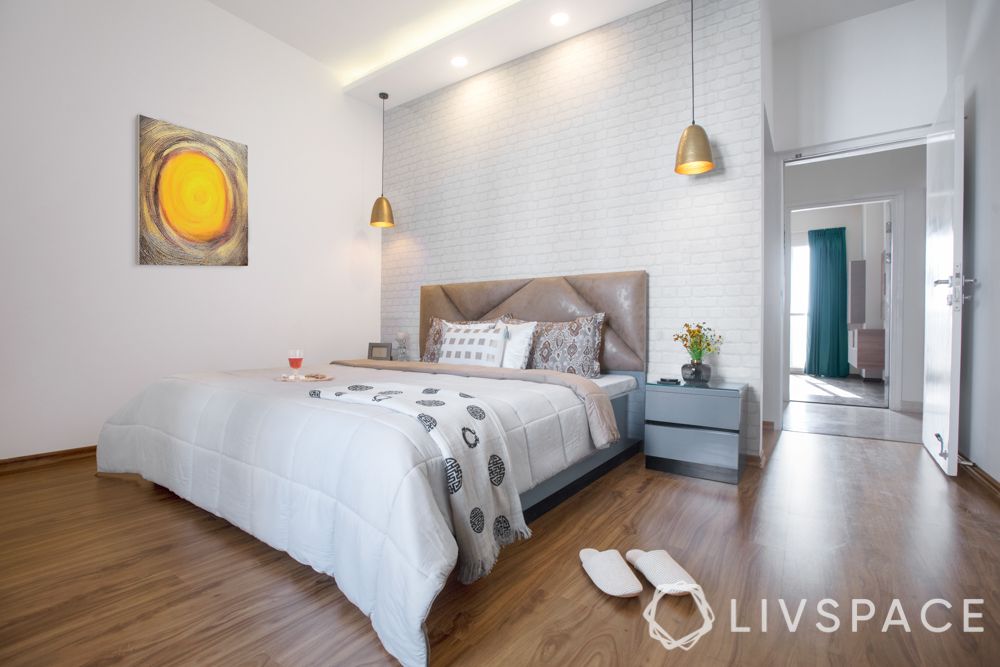 What We Love: The wooden flooring! A minimal bedroom design ideally has the least amount of decor. In order to add depth, opt for wooden flooring for some warmth. If cost is an issue, you can choose laminate flooring that looks like wood.
#2: Neutral Beauty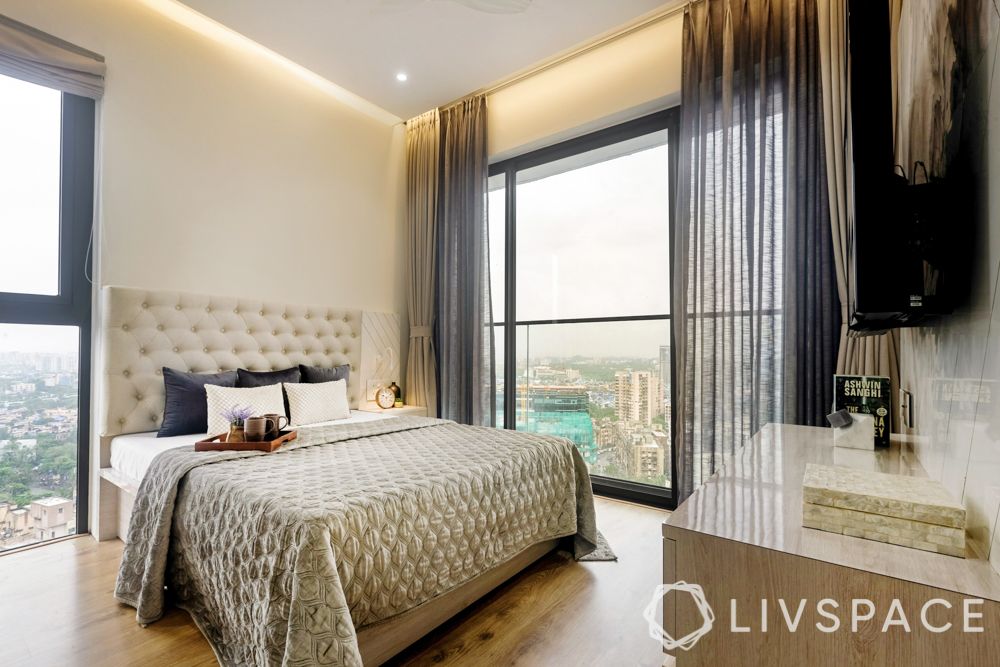 What We Love: The soft beige colour palette. A minimalist bedroom should not have any loud colours or too many colours. Shades like beige and cream give an elegant look and are easier to maintain than white.
#3: Add Some Texture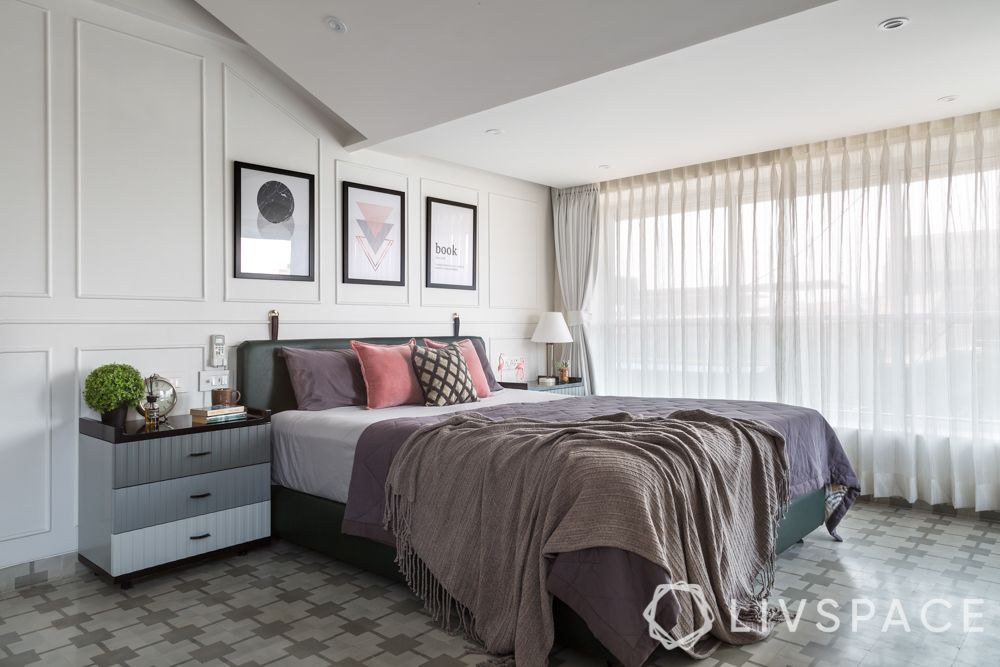 What We Love: The gorgeous textured flooring. A minimal bedroom design with neutral colours can make a space look bland. To avoid this, add texture. There are different ways in which you can add texture to a minimalist bedroom. Here, the linoleum flooring and wall trims give some depth and design to the otherwise plain room.
#4: Go Vertical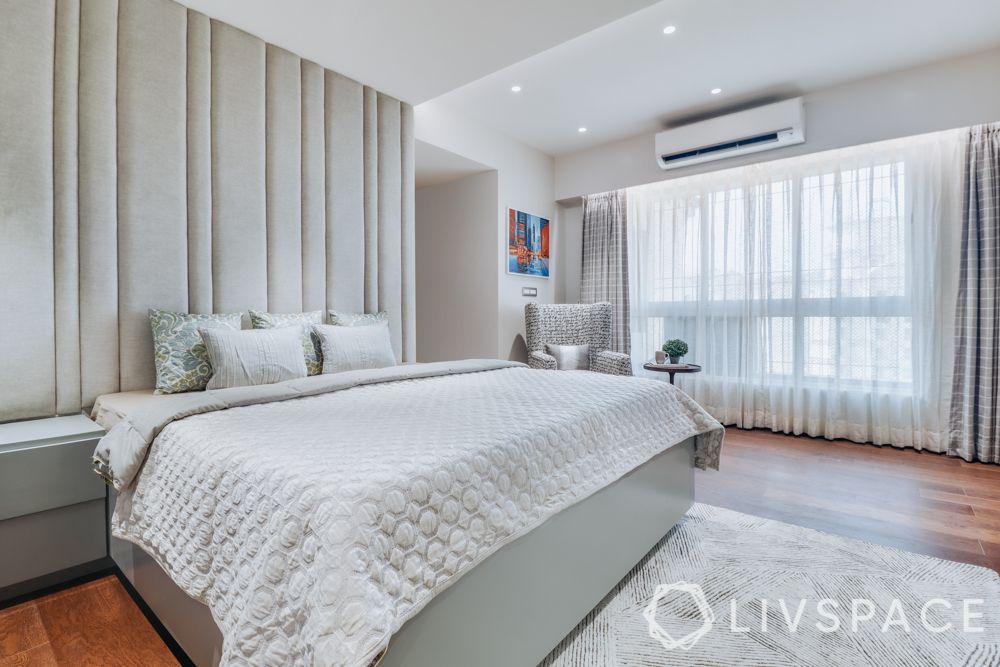 What We Love: The elegant headboard wall. A minimalist interior design bedroom is generally symbolised by bare walls. But if you want to add some drama while also elongating the look of your room, go for vertical designs. An easy way to do this is to opt for a headboard wall with vertical designs, like in this bedroom.
#5: Clean and Clutter-free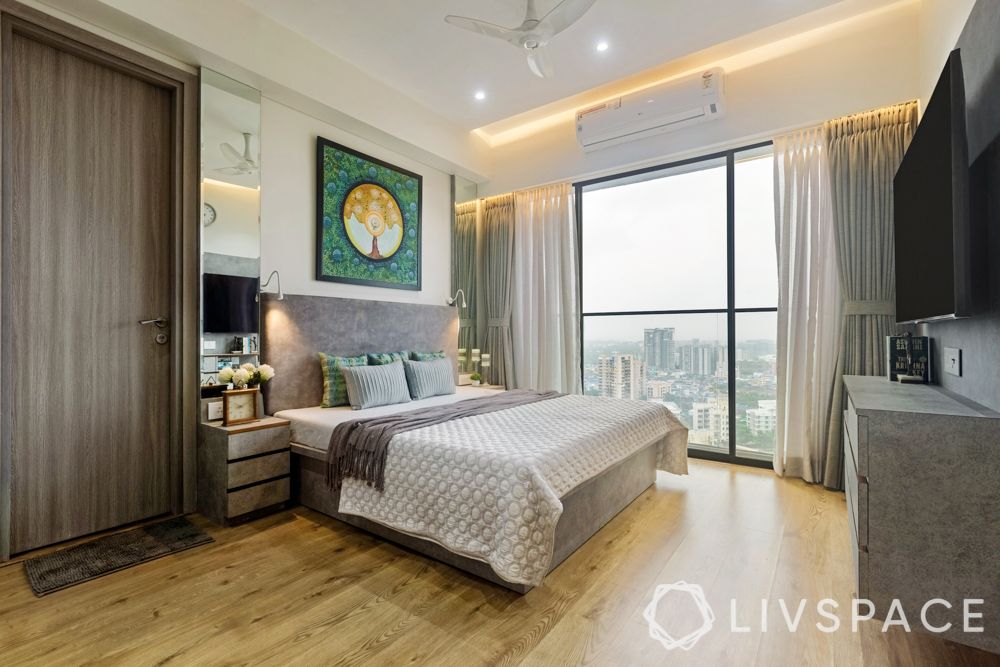 What We Love: The clean layout. A minimalist bedroom interior should always be clutter-free. And this Mumbai home gets the look perfectly right! The designer kept it simple with just a bed and storage units. The gorgeous flooring and wall art add some texture and colour.
#6: Monochrome Magic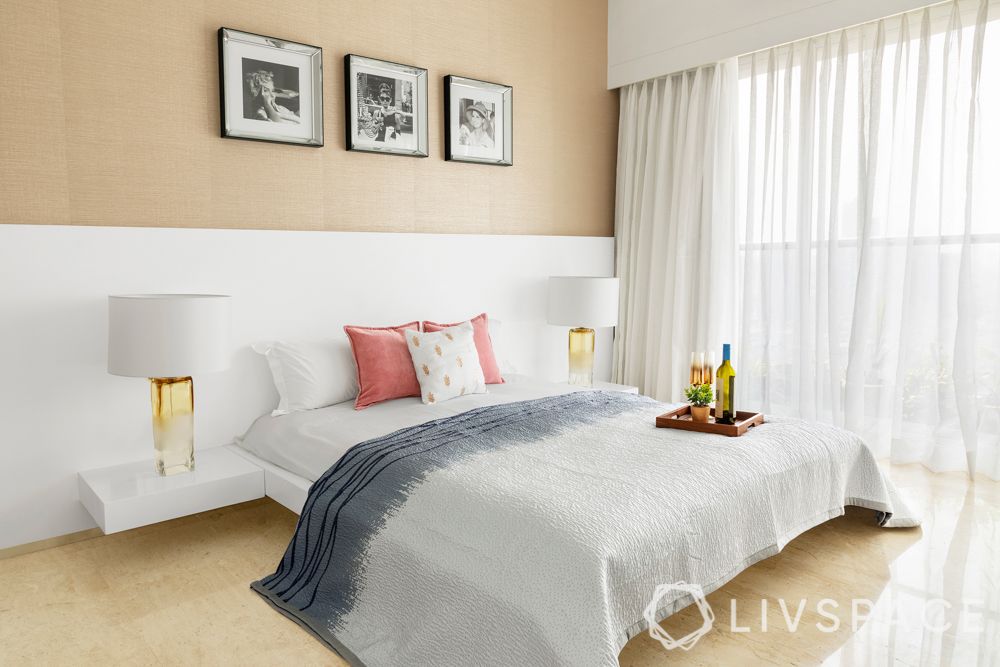 What We Love: Who could say no to this gorgeous monochrome bedroom? If you are looking for minimal bedroom ideas, a monochromatic theme is a very elegant choice. This is also a good idea for someone who doesn't like neutrals and wants a subtle pop of colour in their minimalist bedroom.
#7: When Modern Meets Minimal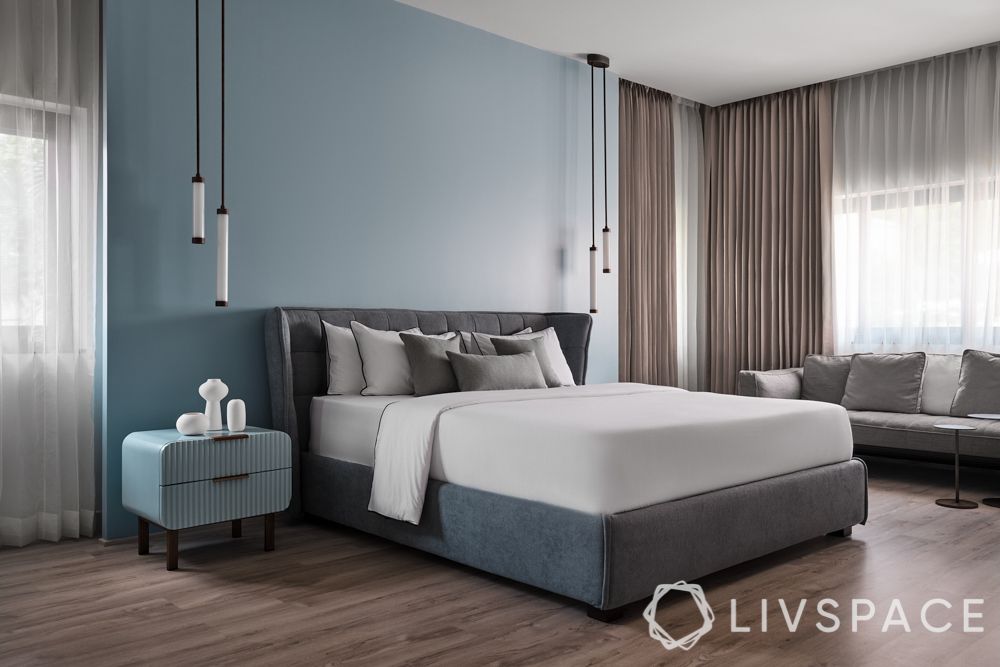 What We Love: The unique colour palette. A great twist to a minimalist bedroom interior is the modern minimal style. This design style combines the best features of minimalism and modernity. This modern minimalist bedroom design, for instance, is clean, spacious, clutter-free and boasts a gorgeous duck egg blue palette.
#8: Stick to the Basics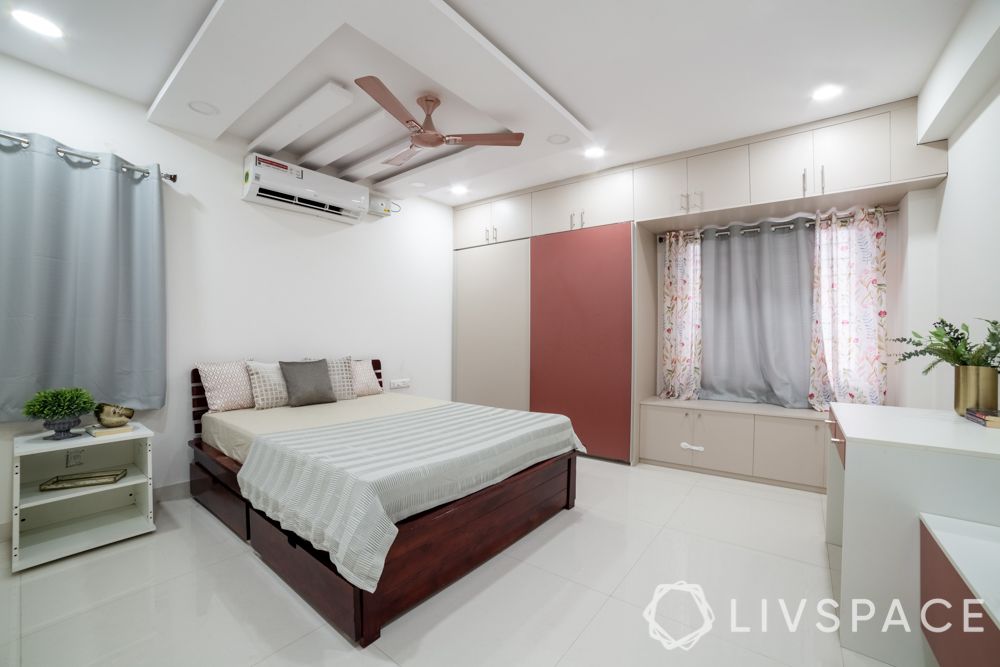 What We Love: The simplicity! You can never go wrong with a simple and basic design. This Hyderabad minimalist bedroom is as simple as it gets, with a bed, wardrobe and storage. However, to maximise storage, the bedroom has extra lofts and storage under the bay seating.
#9: Whimsical Whites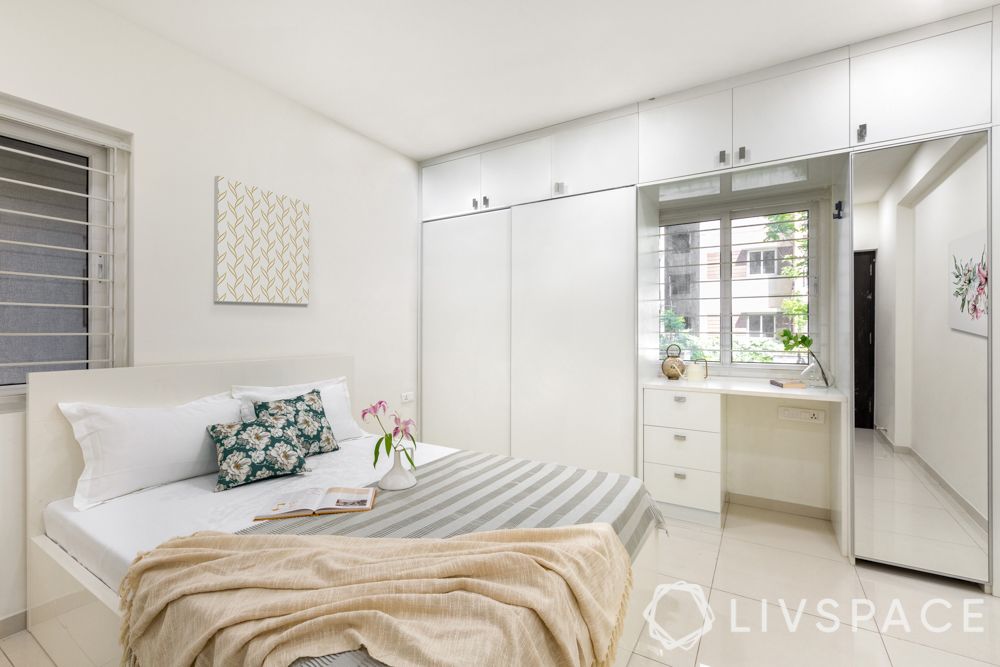 What We Love: When it comes to minimalist bedroom decor, white is always a winner! While an all-white minimalist bedroom may seem tough to maintain, you can easily opt for a low-maintenance finish like laminate. Choosing to go white is also a good option if you have a compact bedroom as white opens up the space.
#10: Go Big With Bare Walls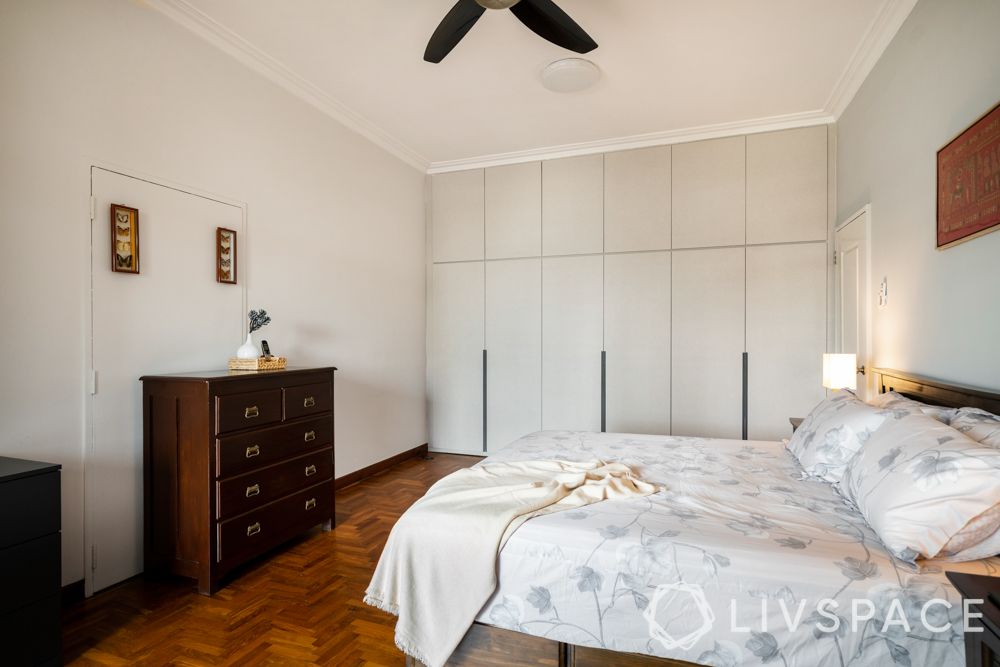 What We Love: The use of wooden designs to add depth. A minimal bedroom ideally should not have any decor on the walls. Hence, this minimal bedroom design has plain bare walls. However, to add some colour, texture and depth, our designer opted for a wooden cabinet and wood-like flooring.
These were our favourite minimalist bedroom design ideas from Livspace homes. Also, check out these 15 minimal living room ideas.
How Can Livspace Help You?
We hope you found our ideas useful! If you want your home to be just as beautiful, then look no further. Book an online consultation with Livspace today. Delivering safe home interiors has been our No. 1 priority. Click here to find out how interiors are being delivered following all safety protocols.
Wondering how our customers feel about working with Livspace? You can check out the Livspace reviews here!
Send your comments and suggestions at editor@livspace.com