Compact homes have become increasingly popular among new homeowners and city dwellers and that's not just because of affordability. People now prefer compact homes for easy maintenance and simple living. As a result, we find many homeowners looking for space-saving furniture ideas and designs that are practical and serve multiple purposes. This is why we're here to tell you the different kinds of smart furniture ideas to look for when you're furnishing a compact home.
You need furniture that makes the most of every inch available while also being multipurpose and stylish. So, we've handpicked some of our favourite space-saving furniture for small apartments to create an uncluttered and storage-intensive home.
1: Make Use of a Drop-Leaf Table
A clever example of space-saving furniture design is the drop-leaf table. Its innovative design is perfect for small spaces as it offers added counter space without being bulky. If you're in the market for space-saving furniture ideas, you certainly do not want to miss out on this design.
2: Consider Using a Pull-Out Kitchen Table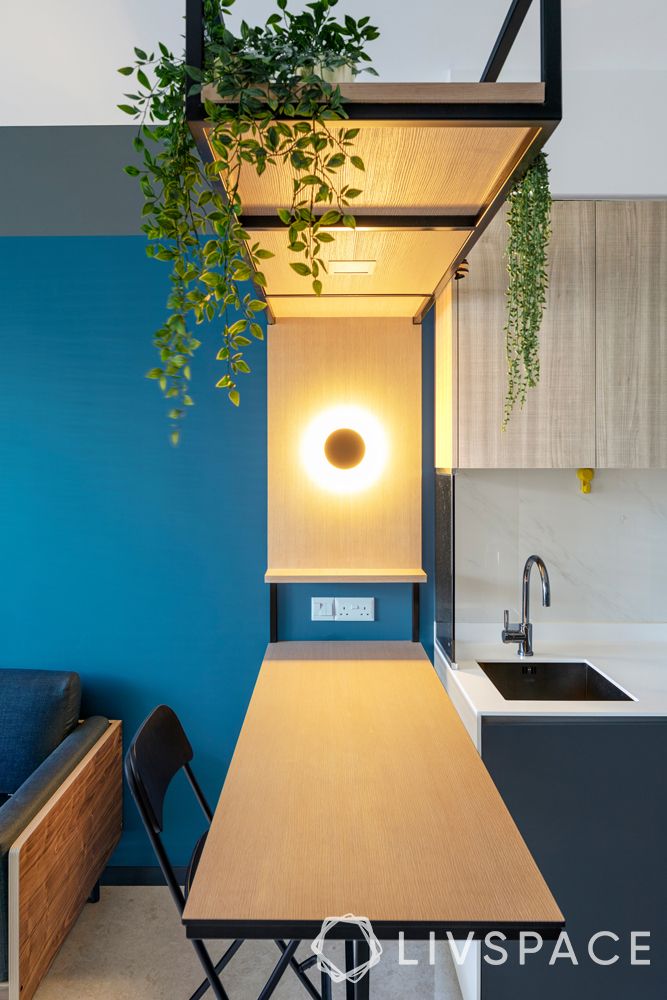 Small kitchens are most often in need of space-saving furniture ideas that ensure the space doesn't look cluttered. Luckily, this can easily be achieved with an extendable kitchen table. This is one of those smart furniture ideas that can serve more than one purpose — like this extendable table can also double up as a breakfast counter! It all depends on how you install it.
3: Go for Stackable Chairs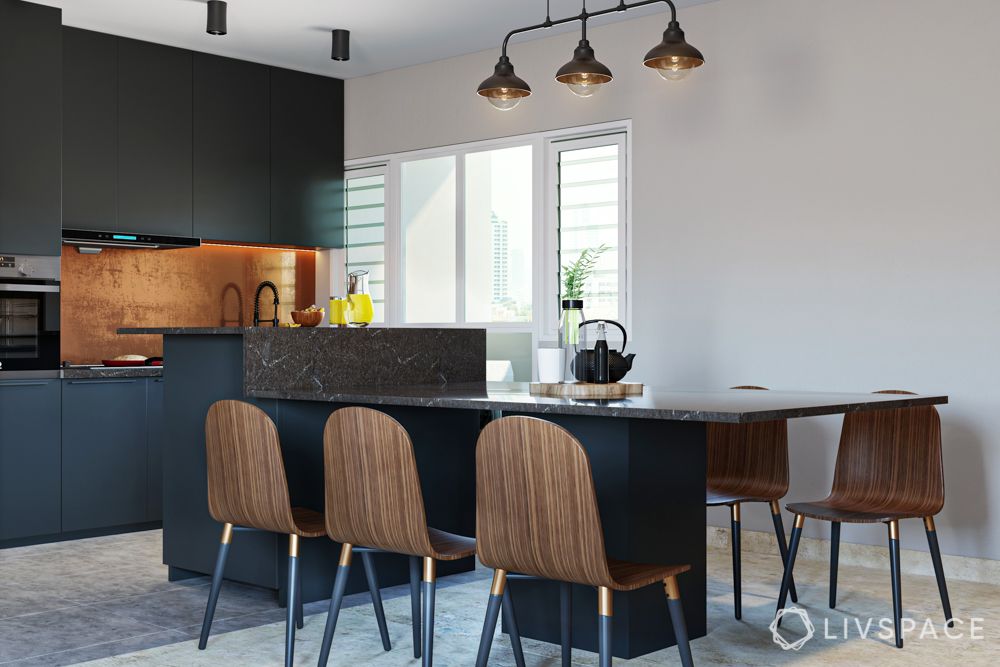 Apart from investing in space-saving furniture ideas, you can also explore making your existing furniture serve your space better. A good example of this would be by stacking your kitchen chairs when they're not in use. Consider employing this tip as part of the planning for your space-saving furniture for small apartments and it can easily help clear up more space.
4: Use a Space-Saving Desk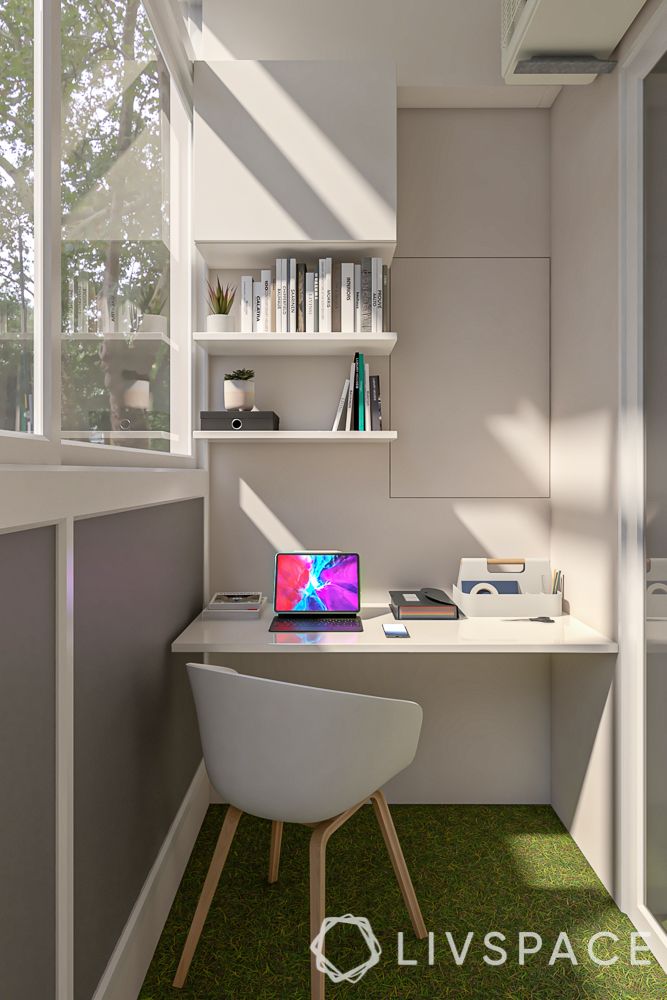 Not all space-saving furniture ideas need to be elaborate or intricately designed. In some cases, you can even implement simple customised furniture solutions for your space, like this space-saving desk. Throw in a wide shelf or a sleek table top in any unused corner of your room to create a simple workstation.
5: Explore a Storage Bed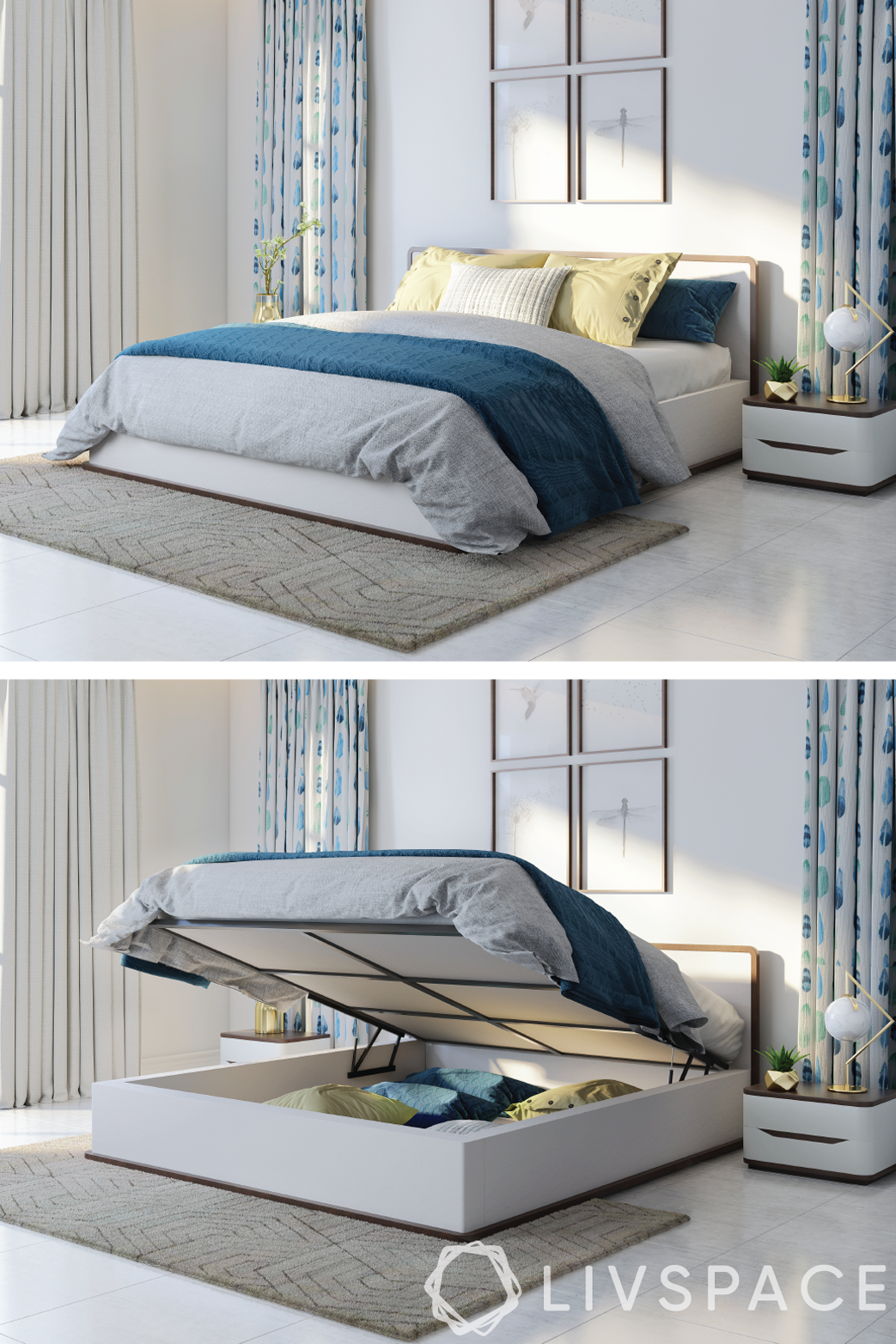 Why occupy more floor space with bulky storage units when you can invest in a useful hydraulic bed for your space-saving furniture ideas? With this, you can stow away clothing items, shoes and even suitcases for the season. Storage beds also come with drawers or pull-outs, open and lift-up units, making them a great space saver for bedroom furniture.
Also Read: Hallway Table Designs That Fit Into Any Kind of Home 
6: Murphy Bed as a Space Saver for Bedroom Furniture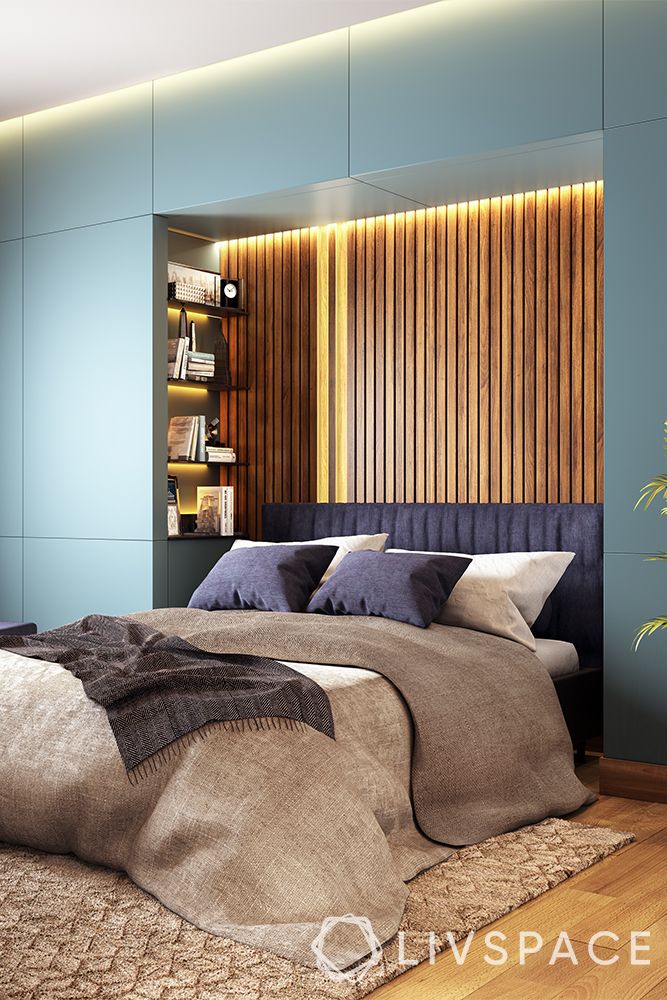 Besides a hydraulic bed, another type of modern space-saving furniture you can explore for the bedroom is the Murphy bed. Murphy beds are great space-saving furniture ideas that can help open up the floor space in a compact room, as the bed itself retracts into the wall when not in use. 
7: Try a Pull-Out Sofa Bed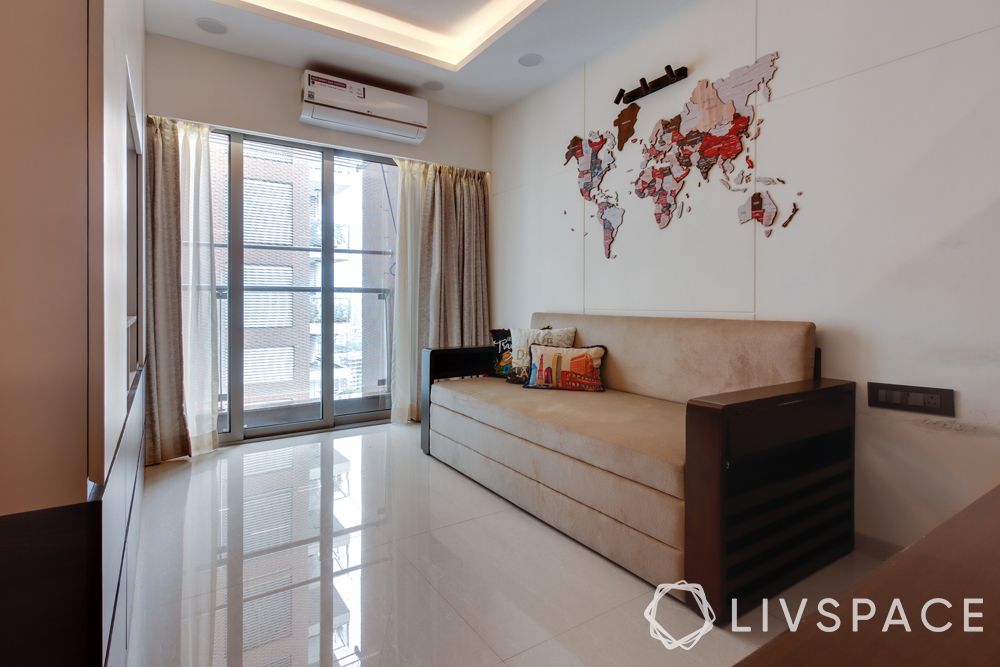 When it comes to space-saving living room ideas, you definitely want to consider a futon or a sofa bed. Both these space-saving furniture ideas offer multipurpose utility to the room, as they can be used as a bed or as seating, depending on the situation. You can even use them in spare rooms or study rooms so they can double as space-saver bedroom furniture.
8: Tables With Built-In Storage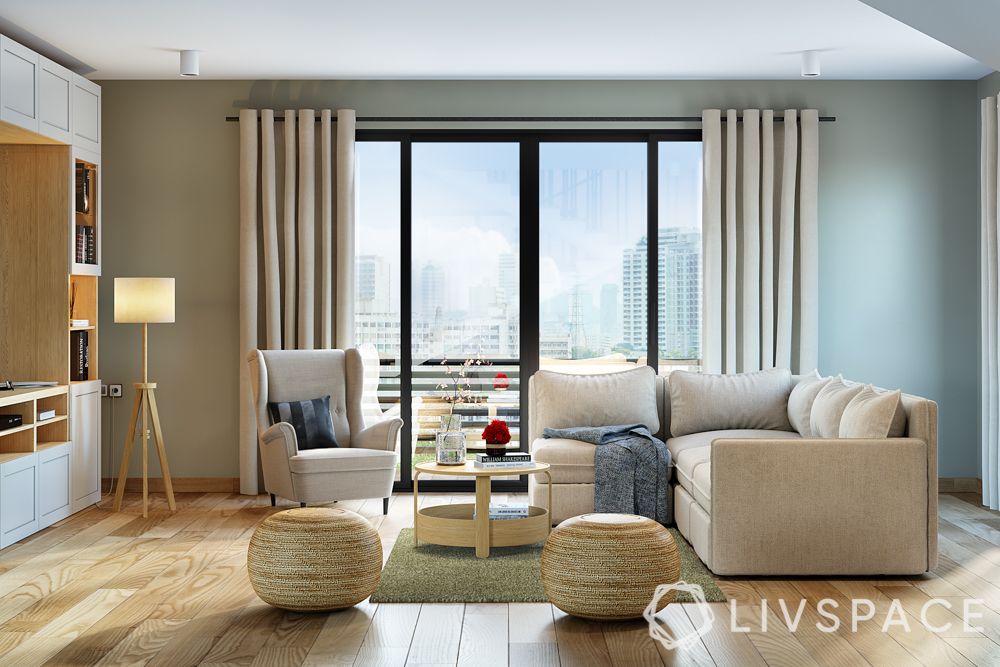 Space-saving furniture ideas can even be as simple as using tables that come with storage solutions. You can either go for modern space-saving furniture with built-in storage, or keep it simple with an open-storage coffee table. 
9: Save Space With a Multipurpose Crib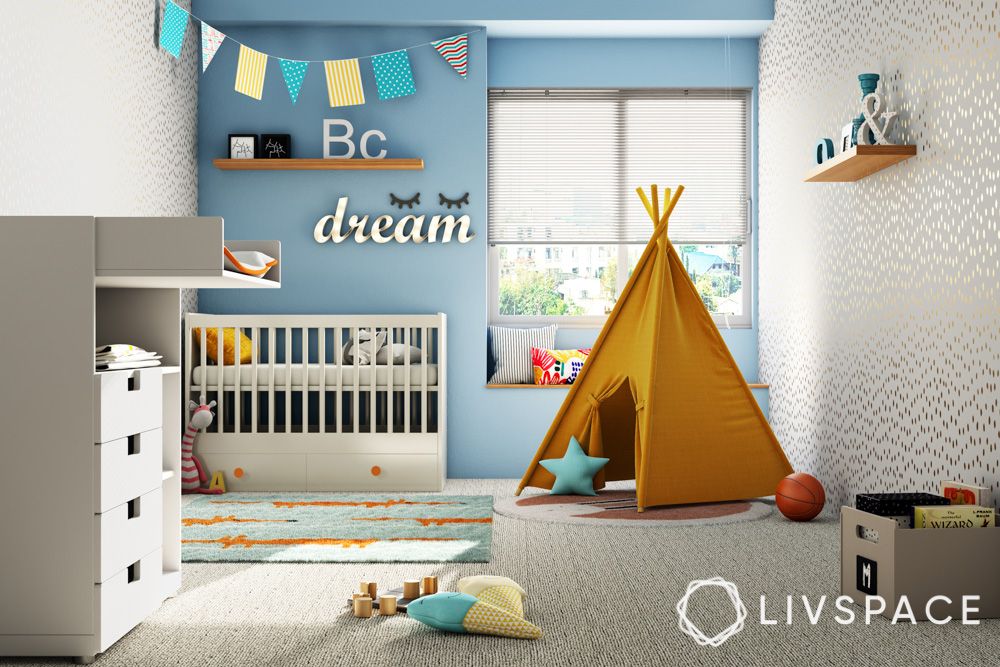 The more space-saving furniture ideas you use in the baby's room, the better. You can make this possible by looking for a crib that comes with concealed drawers to hold toys and other items. This type of space-saver bedroom furniture is especially helpful as it can open up the rest of the room for playing and other activities. 
10: Make More Room With Bunk Beds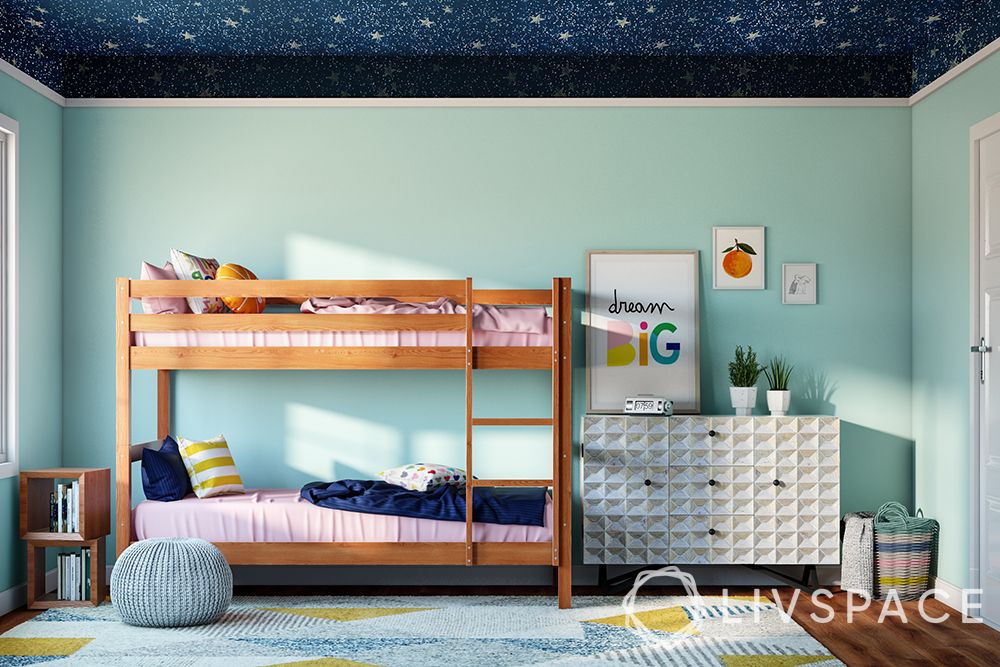 It's better to embrace vertical space-saving furniture ideas when it comes to children's rooms since they require sufficient floor space to play. This is why a bunk bed makes a great fit for a kid's room. 
11: Experiment With Nesting Tables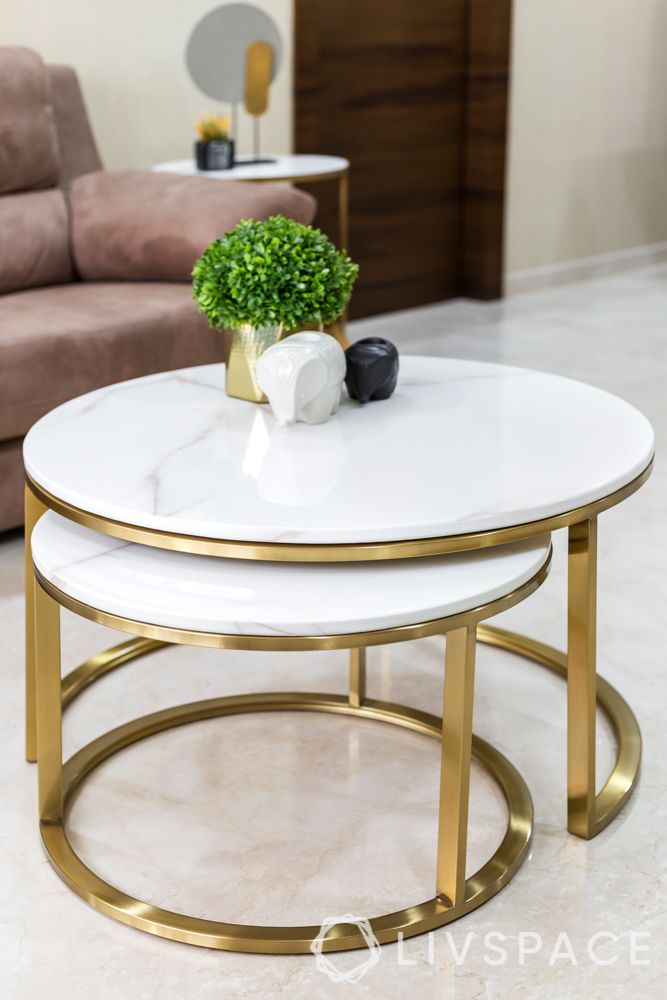 Nothing says space-saving furniture design like a pair of nesting tables! Tables that offer this ability work especially well in compact rooms with insufficient space for coffee tables. You can keep them nestled when not in use and bring them out as space-saving furniture ideas when you have company. 
12: Conceal Storage With a Pop-Up Coffee Table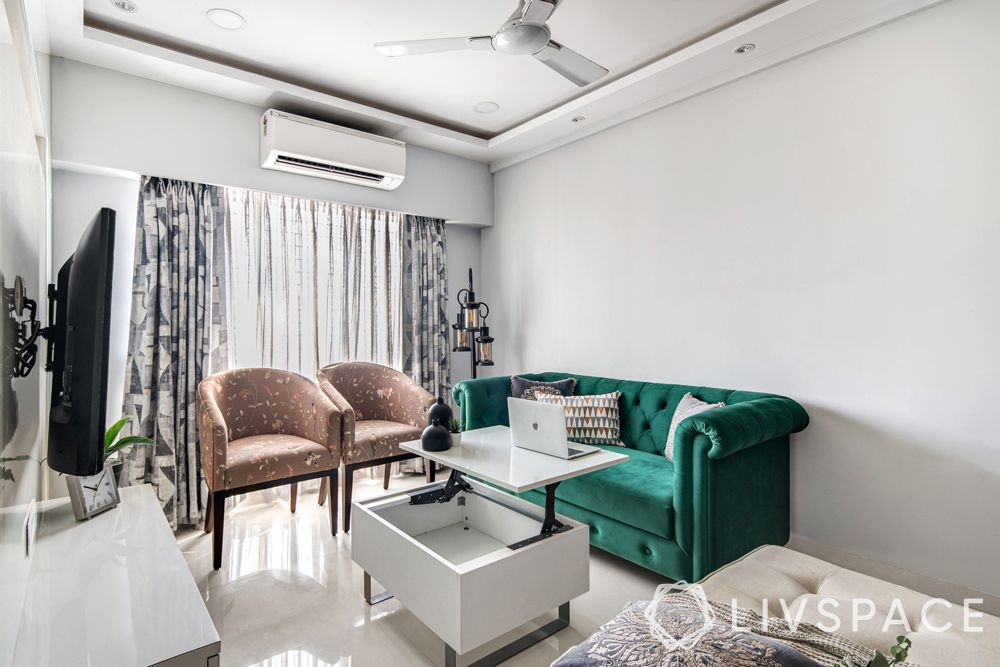 If your living room doubles up as your workspace, a pop-up coffee table is one of the best space-saving furniture ideas you'll find. All you need to do is pop the top and use it as a heightened table while using the bottom storage space for your documents and cables. 
13: Go Vertical With Multipurpose Shelving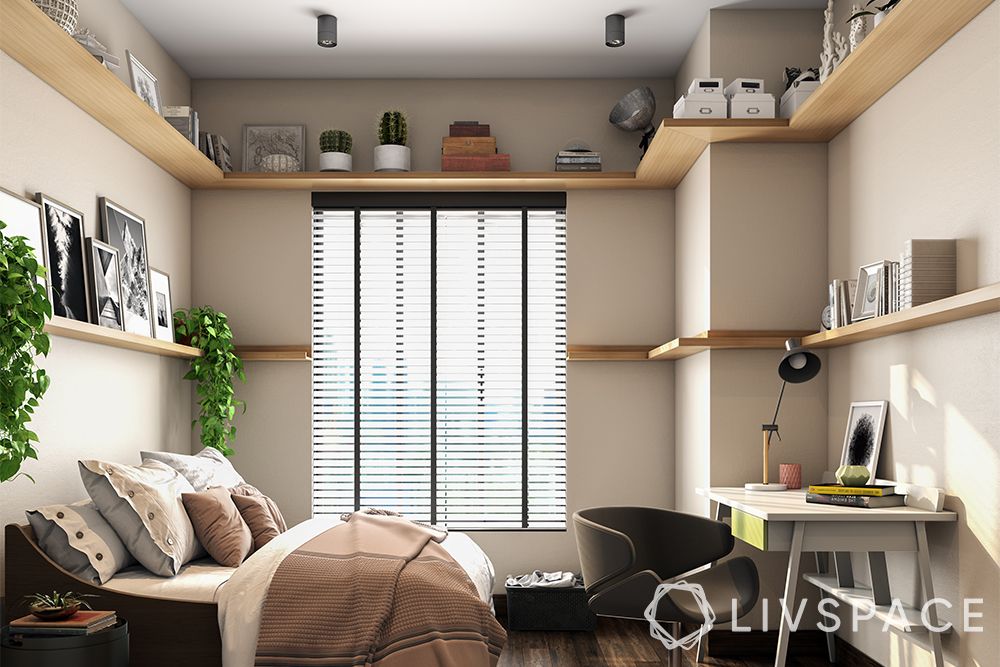 There's no better way to open up your floor space than to embrace vertical space-saving furniture ideas! Wraparound wall shelves are a great example of space-saving furniture for small apartments. You can use these shelves to store everyday items, or as a display area too.
Also Read: Trending Furniture: The Best of Couches, Beds & More!
14: Get a Customised Sofa With Storage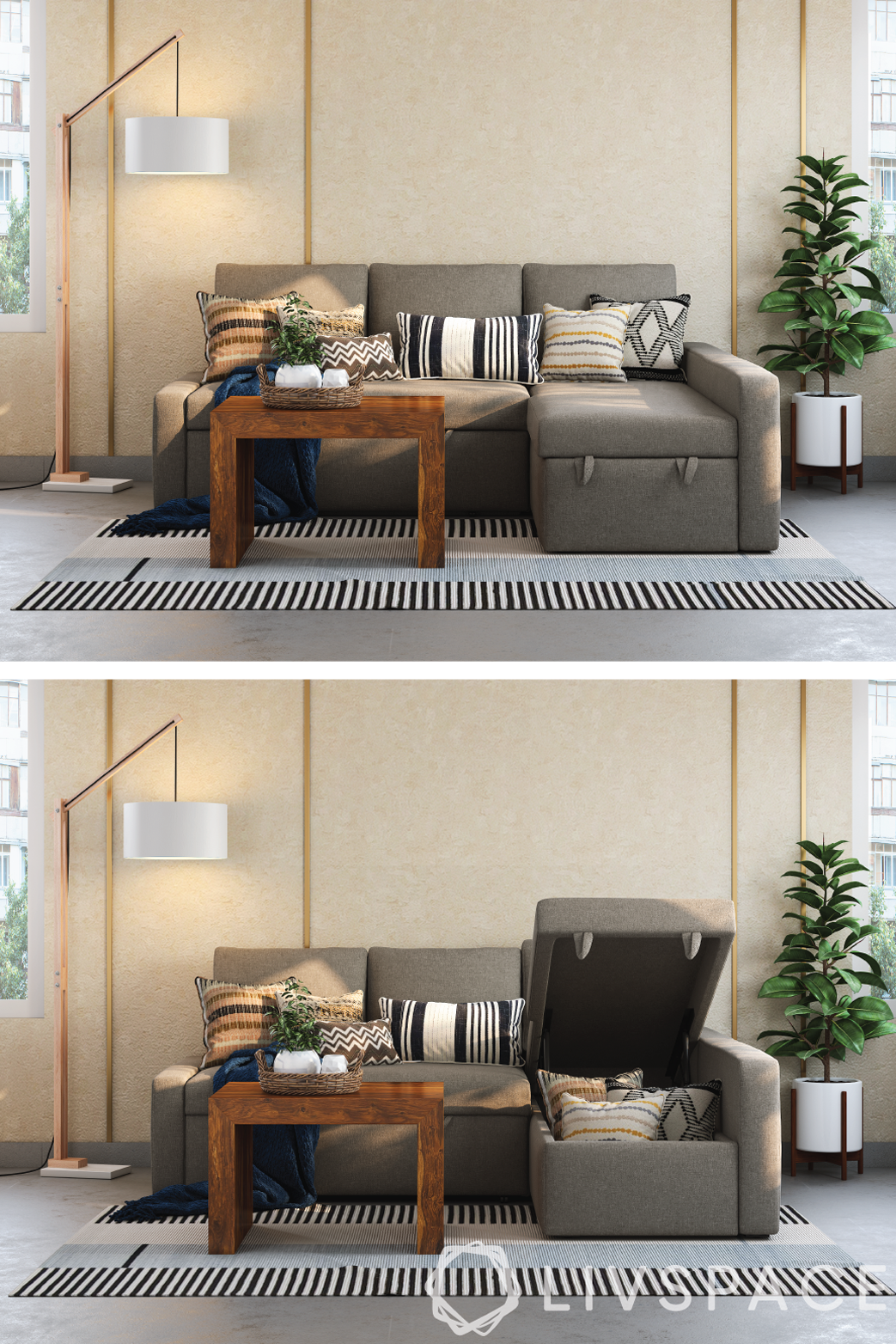 Sectional or L-shaped sofas and space-saving furniture ideas always go hand in hand. These pieces provide sufficient seating and pair well with simple ottomans, chairs or even floor seating. This way you can cut down on purchasing a chest of drawers that would take up more space.
15: Play Around With a Utility Cart
Simple yet unassuming, a utility cart can really help you save space in any room you store it in. Being one of the more easy-to-incorporate space-saving furniture ideas, you can even use the as extra counter space for your bar area.
16: Optimise Internal Wardrobe Space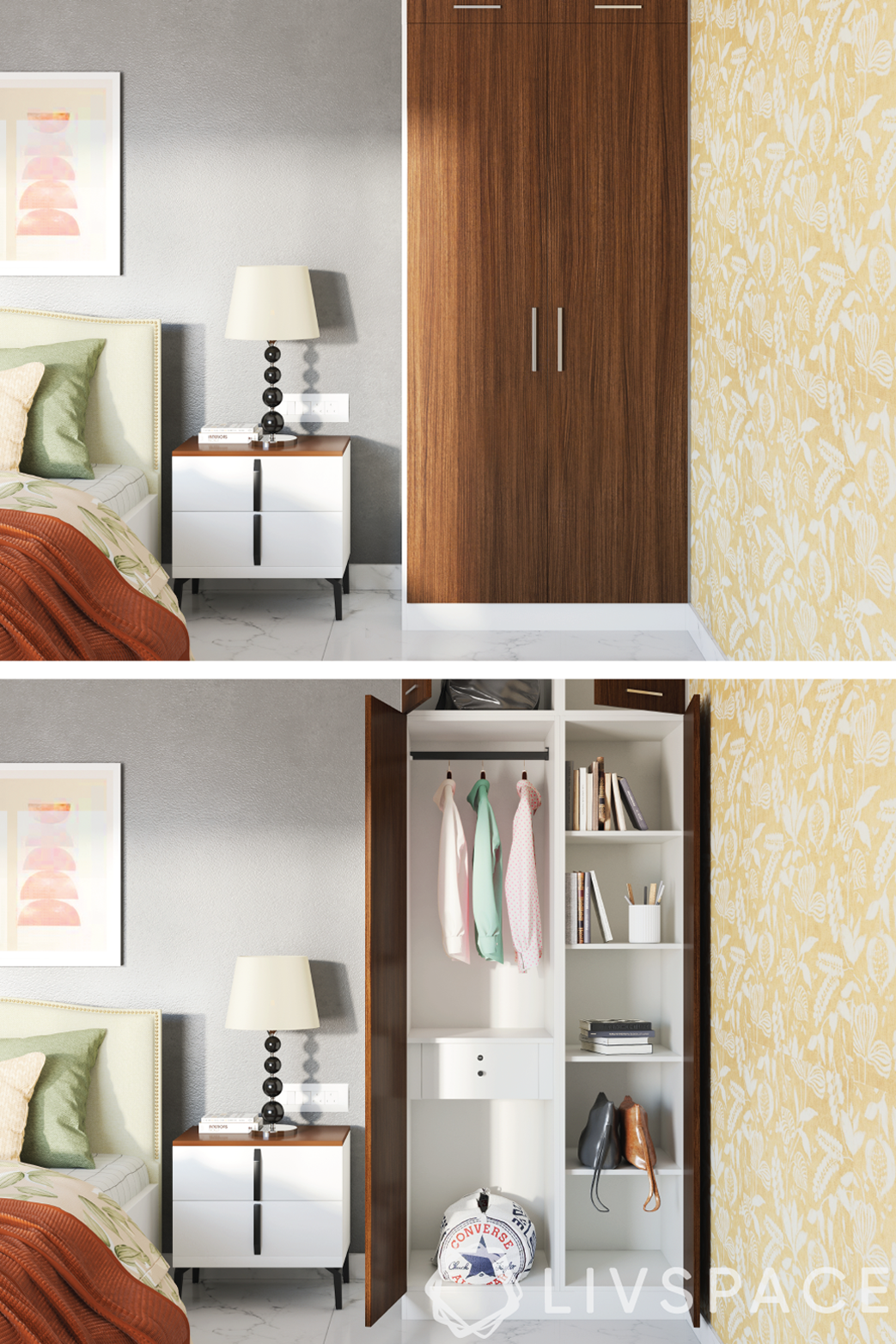 If you have a compact room with limited storage, ensure that you opt for a wardrobe with loft space as one of your space-saving furniture ideas. Try to pick a design that sections the internal space into two halves so you can segment your belongings better. 
17: Explore Shoe Storage Ideas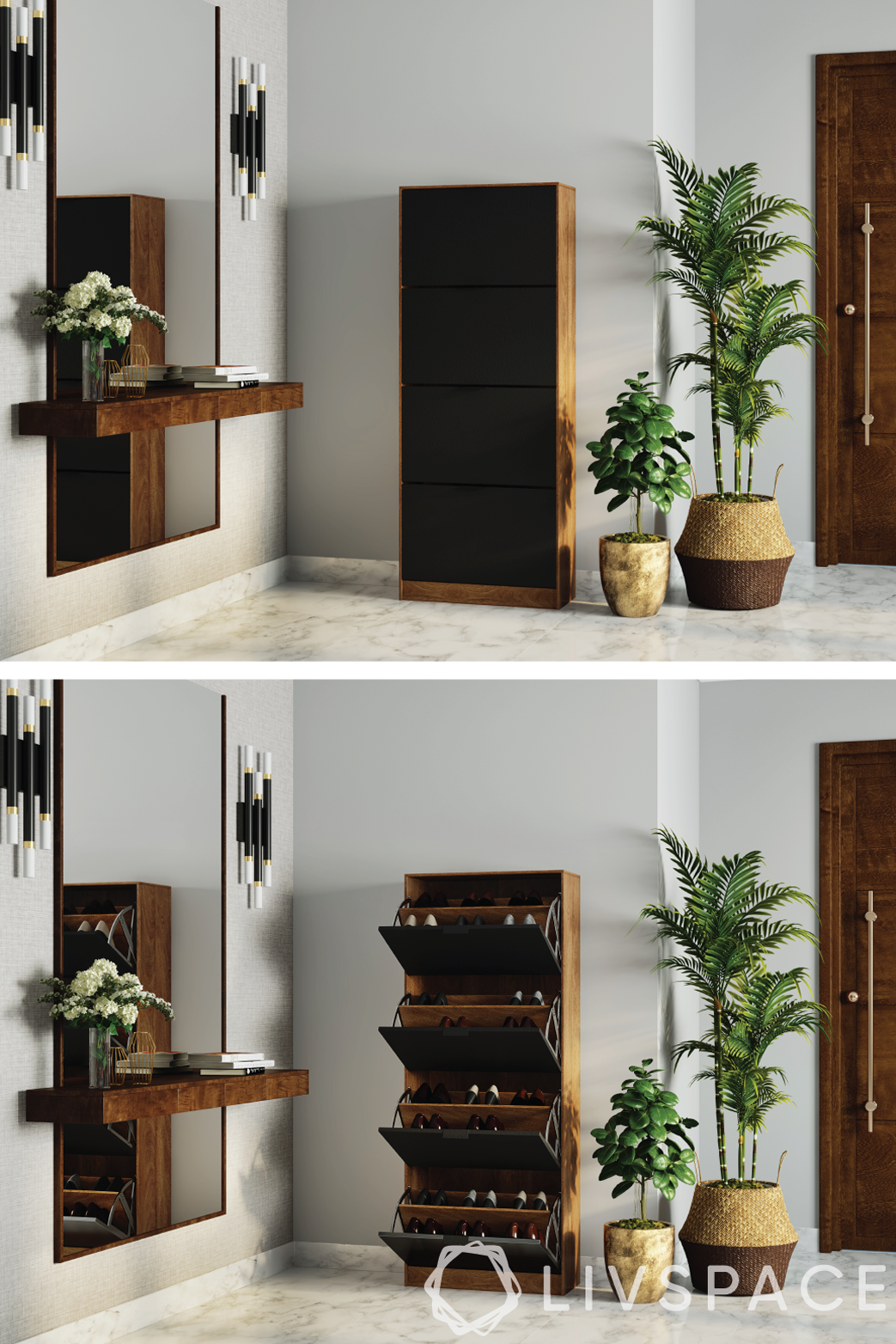 Nobody likes a cluttered foyer. That being said, it's important to invest in sleek space-saving furniture ideas that don't take up too much space. Similarly, a great space-saving furniture design that can stow away shoes is the vertical shoe cabinet. This movable unit holds shoes vertically, taking up less floor space and more wall space.
18: Maximise Kitchen Storage Units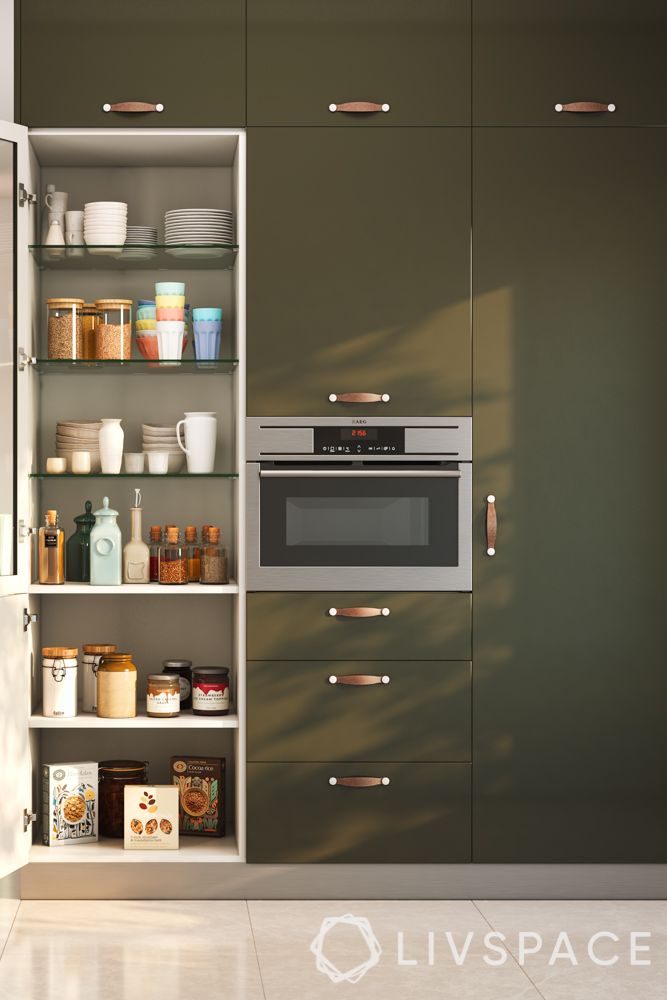 If you're opting for a modular or semi-modular kitchen, ensure that the design includes several storage units for crockery, food items and containers. You can opt for space-saving furniture ideas like a tall unit, which is designed to maximise storage in a kitchen. It works as a pantry and is used to store non-refrigerated items. 
19: Pack More Storage Into the Bathroom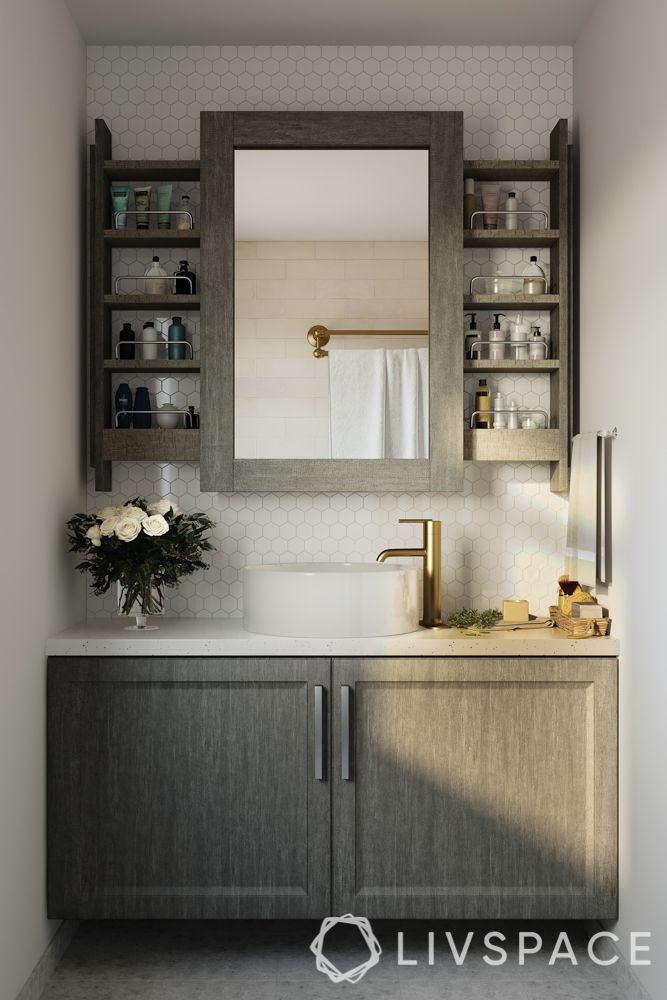 In most cases, if the bedroom vanity is not cluttered, the bathroom is. This happens when the bathroom doesn't have sufficient space for cosmetics and products. Make the most of the bathroom with space-saving furniture ideas under the sink, behind the mirror and on the walls. 
Wondering if you can do the same with a pooja unit? Create a Compact Mandir in Your Flat with these tips.
FAQs
1. How Do You Save Space in a Small Room?
Vertical storage solutions such as wall-mounted cabinets, open shelving units, and utility boards are the easiest ways to save space in compact rooms.
2. Why Do We Need Space-Saving Furniture?
Space-saving furniture helps better optimise your space and allows you to get more out of small or compact spaces. 
3. How Do You Organise a Small Room With a Lot of Stuff?
Try to get rid of clutter by doing away with things you do not need or use. For whatever is left over after decluttering, use concealed storage options to store the rest. 
4. What is Modular Space-Saving Furniture?
Modular space-saving furniture is nothing but furniture that can easily be customised to fit the needs of the layout or room.
How Can Livspace Help You? 
We hope you found these space-saving furniture ideas useful! If you too want storage-intensive interiors for your home, then look no further. Book an online consultation with Livspace today. 
Have some thoughts or suggestions you'd like to share with us? We're all ears! Drop us a line at editor@livspace.com.