Most homeowners who are looking for aesthetically pleasing interiors are now also looking at making the ceiling the focal point the home design! One of the queries we get asked most often is about false ceiling design for bedroom. Apart from making the bedroom look pretty, it serves multiple purposes you may be unaware of:
It can give your room uniform lighting or even fancy mood lighting
It can conceal any loose wiring on the ceiling
False ceiling can cover up any exposed beams in the construction
It provides insulation and reduces noise levels
It can be fire and water-proof as well
When designed well with good quality materials, a false ceiling can easily last more than 20 years, provided it's not subject to any extreme conditions.
Also read: Everything You Need to Know About False Ceilings (Including Cost)
Take a look at the latest designs in false ceiling for bedroom that were done by Livspace designers.
#1: Peripheral False Ceiling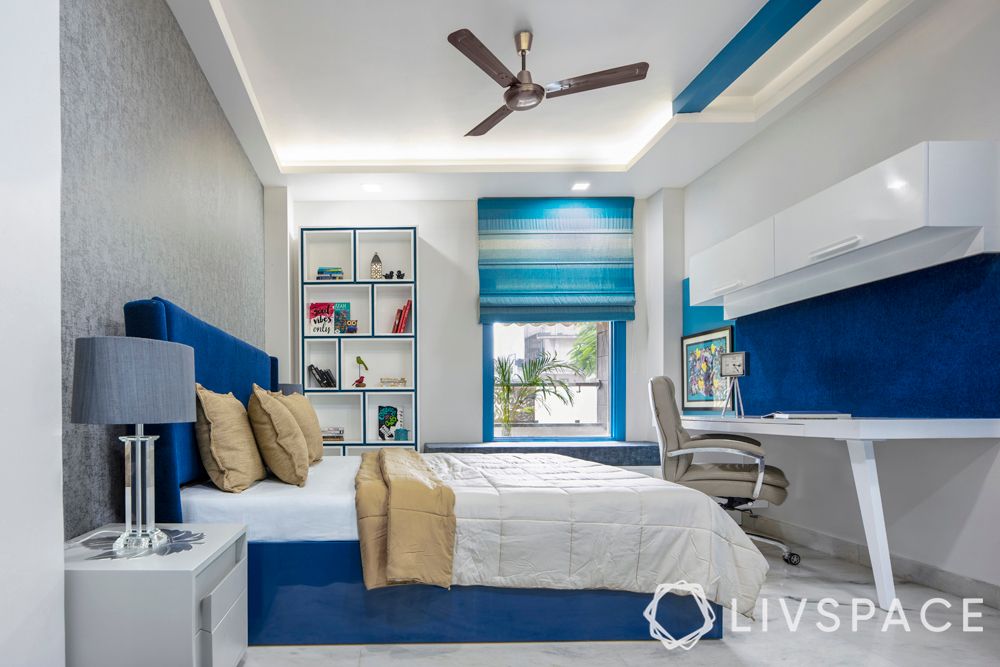 We love how this minimalist design manages to pop with a bit of blue, keeping in tune with the theme of the room. Best for low ceiling rooms, the peripheral false ceiling, as the name suggests, runs around the edges of the walls. You can add some diffused lighting for the most part and some spotlights for the study corner.
#2: Inverted Cove With Recessed Lighting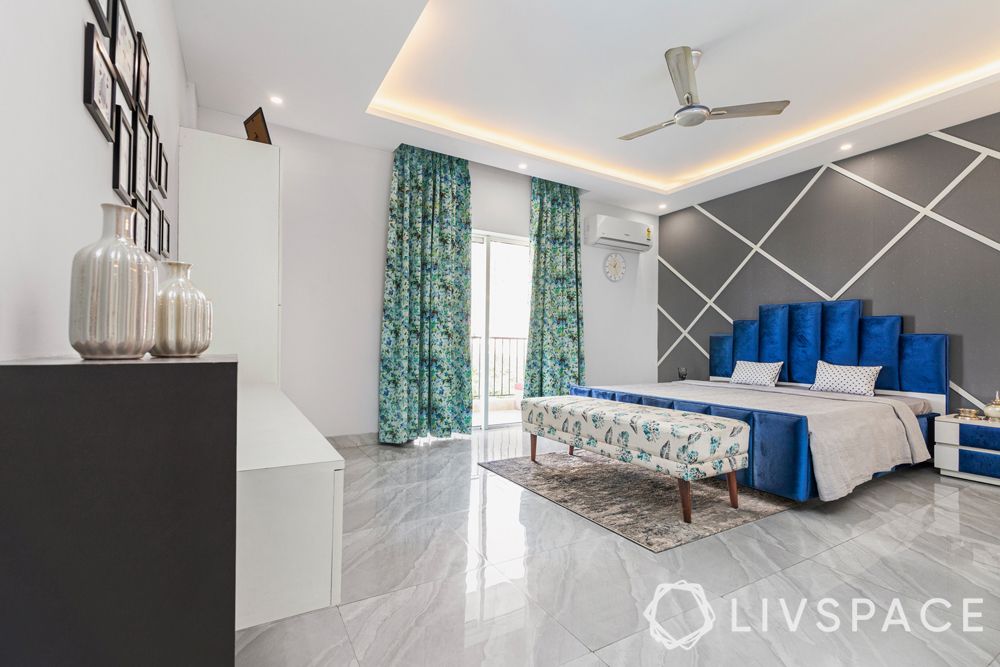 If your room's ceiling is too high, this is your go-to option. It manages to reduce the height while keeping the look minimal. You'll also find it easy to work in a fan or chandelier into the design.
#3: Groovy Cove for that Show-Stopper Appeal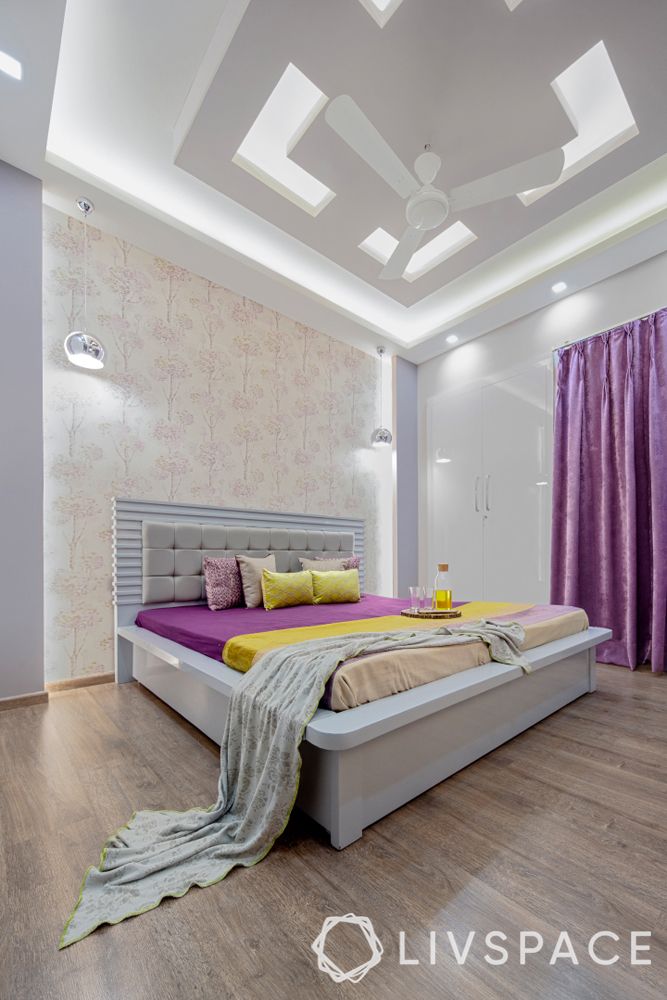 This is the modern showstopper – for those who embrace drama in all its glory. It disperses light uniformly across the room, and adds detail to the high ceiling.
#4: Playful Designs for a Kids Room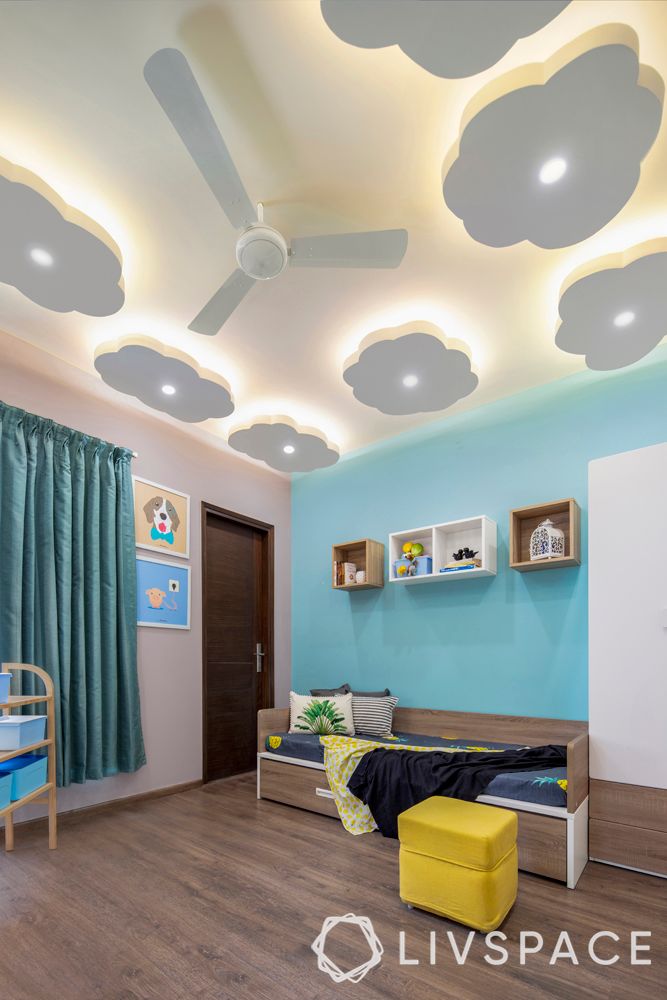 Who said adults should have all the fun? This kids room designer went with a cloud pattern for the false ceiling design for bedroom. It's oh-so-playful and whimsical, and blends easily with the pink and blue shades in the room.

#5: Panelled False Ceiling Design for Bedroom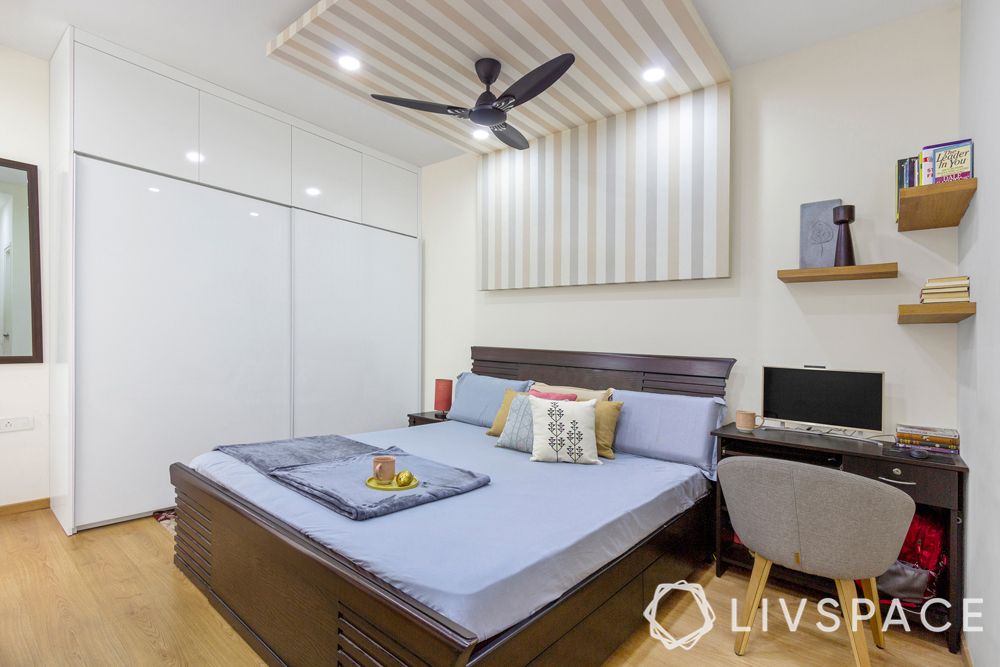 This smart striped look has been put together with MDF panelling and covered in wallpaper for that canopy-like effect in your bedroom. It's the smart and economical choice for false ceiling when compared to false ceiling or gypsum!
#6: Paint with an Inverted Cove for that Dramatic Effect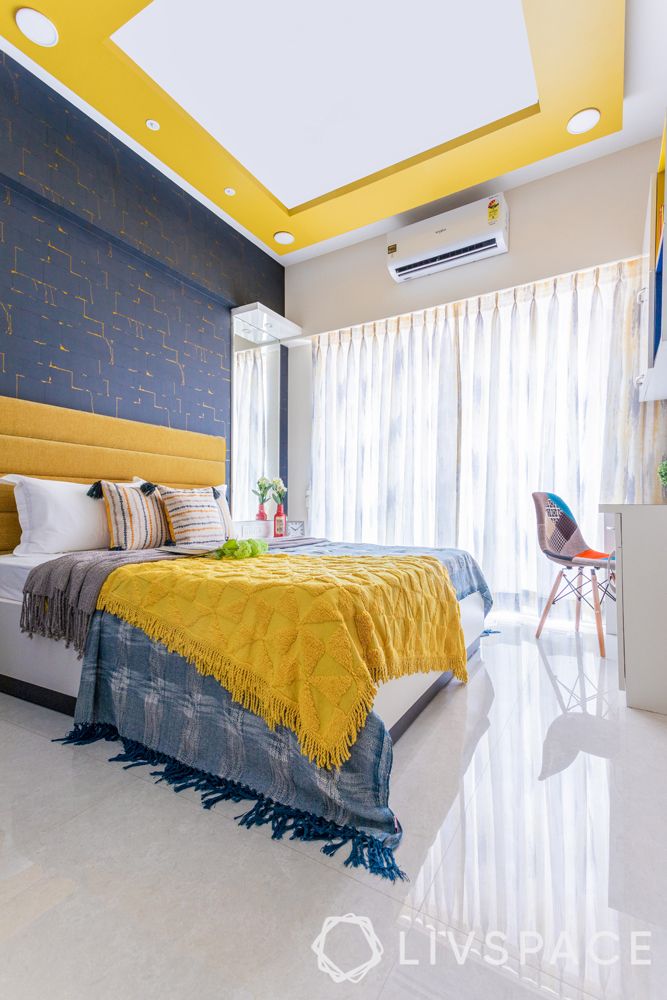 A dash of Duco paint to match the bright yellow headboard on an MDF or ply panelling can give your bedroom a pop of colour! It also gives the room uniform lighting.
#6: Wooden Rafters for an old World Charm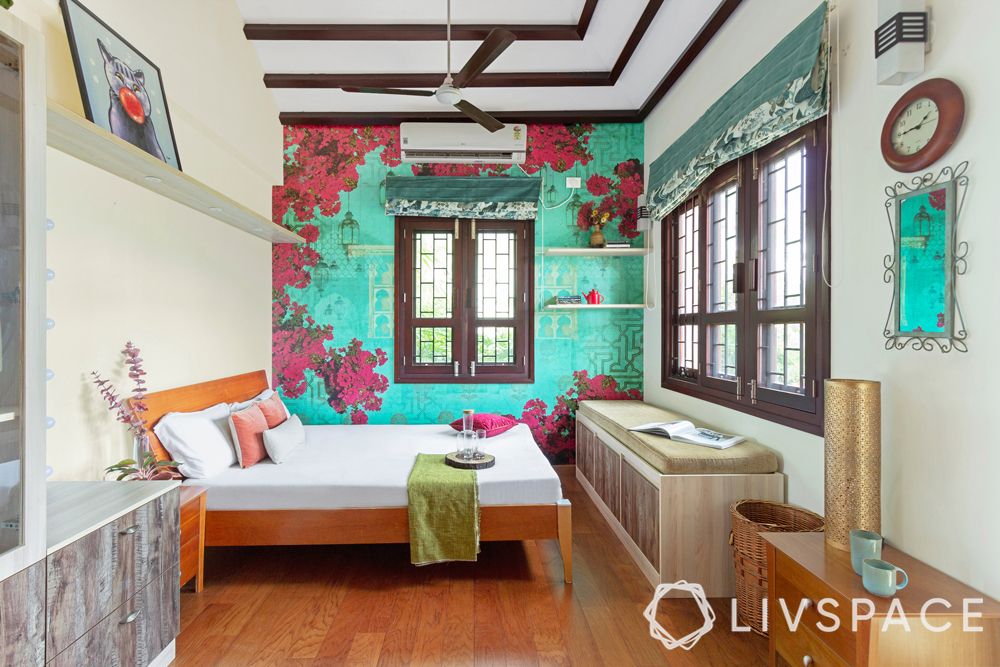 Wooden rafters in the ceiling can bring back a yesteryear feel! And when combined with a bold, floral print on the walls, one can almost hear a record of Rafi playing in the background while your grandma whips up a batch of your favourite cookies.
#7: Inverted Cove with Spotlights for Focused Lighting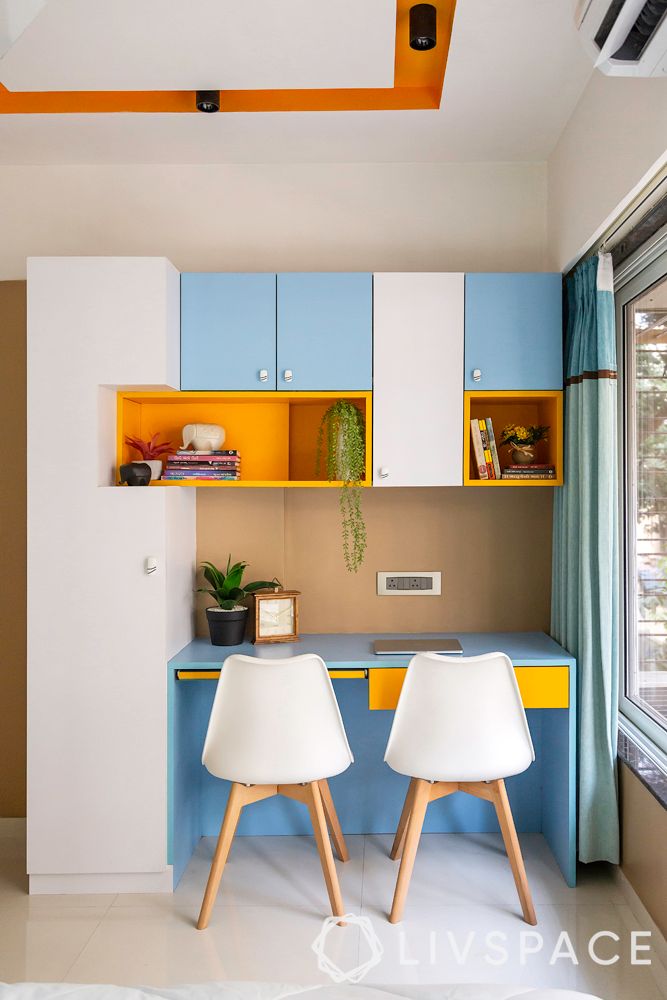 This designer used orange paint in the inverted cove of the POP ceiling to match with the cabinets. Instead of using recessed lighting, track/spot lights have been used for this study corner within the bedroom.
#8: Wooden Details with Inverted Cove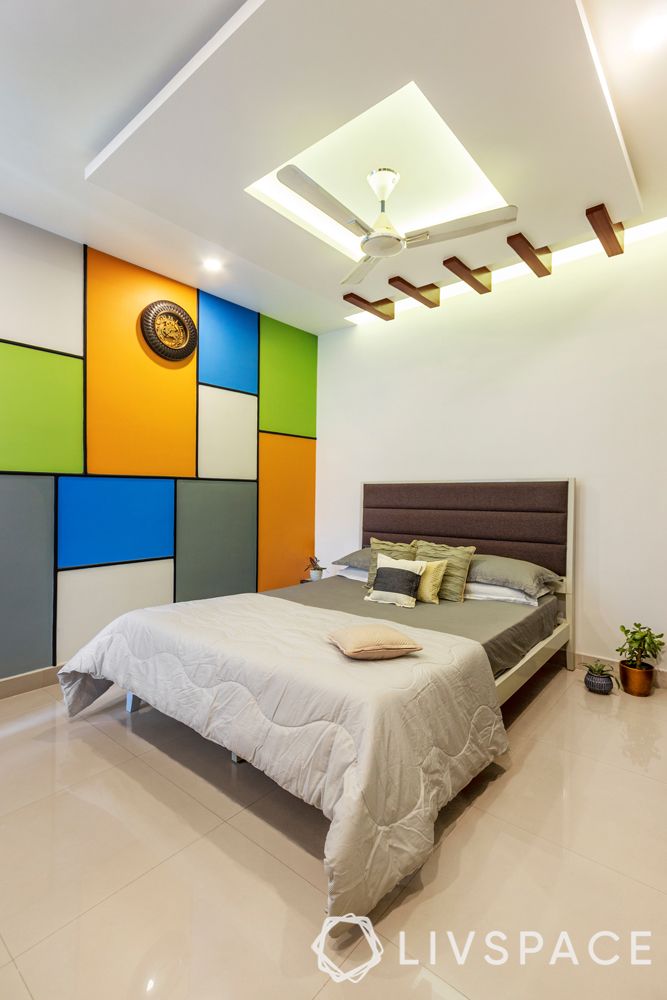 This is a basic inverted cove design made interesting with wooden rafters around the edges for that added detail. It adds class and warmth to the bedroom, if you ask us!
#9: Curvy False Ceiling with Wallpaper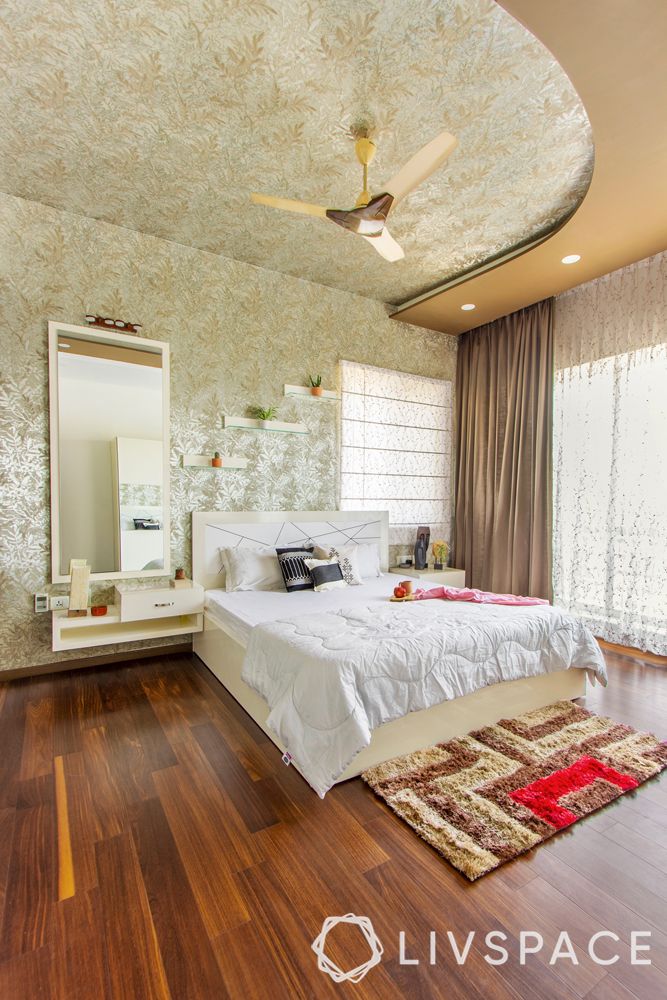 The wallpaper extends from the wall to the ceiling and the extra curved POP panelling has taken care of the lighting while adding drama to the room!
#10: Zig Zag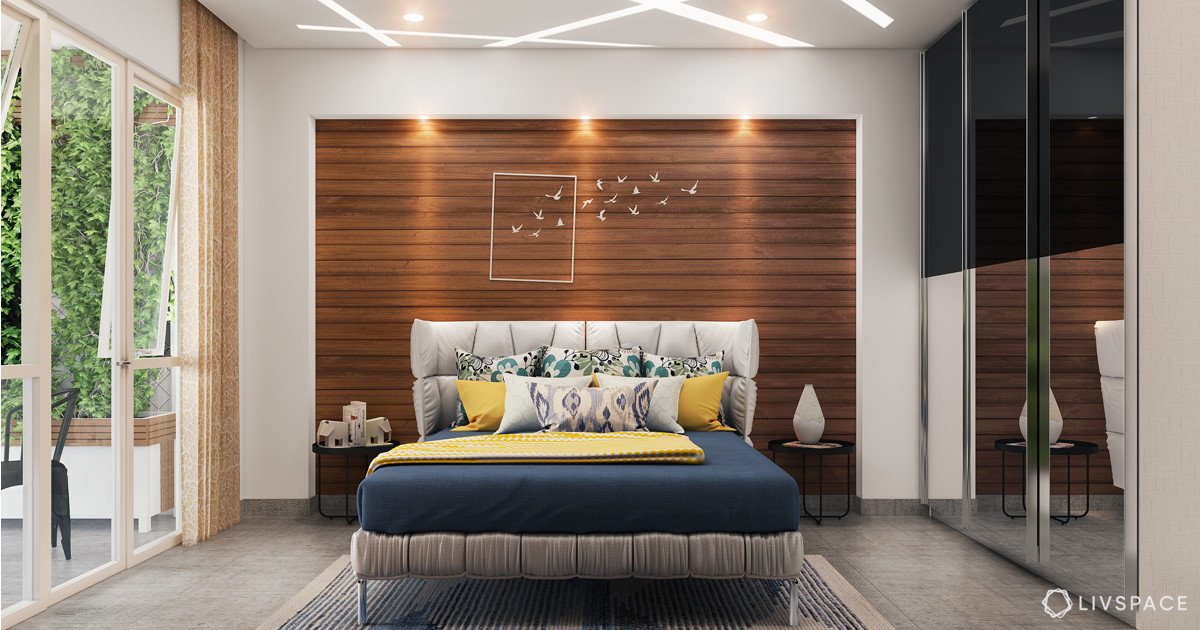 Easily installed in 30 minutes, this backlit panel can be the quick solution you need for your bedroom lighting. This design is trendy and gives your room beautiful diffused lighting.
#11: Chevron Patterned Wood Panelling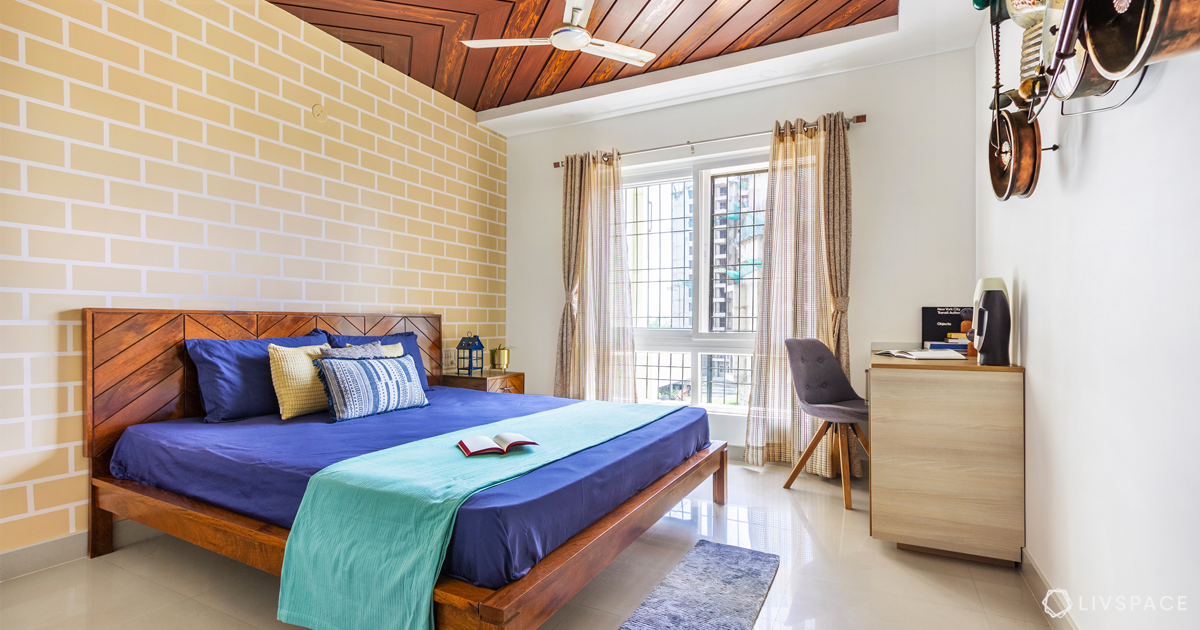 Elegance, thy name is wood panelling! This gorgeous chevron pattern matches the headboard of the bed and becomes the focal point for this room that's been kept simple in its design.
#12: Platform Panels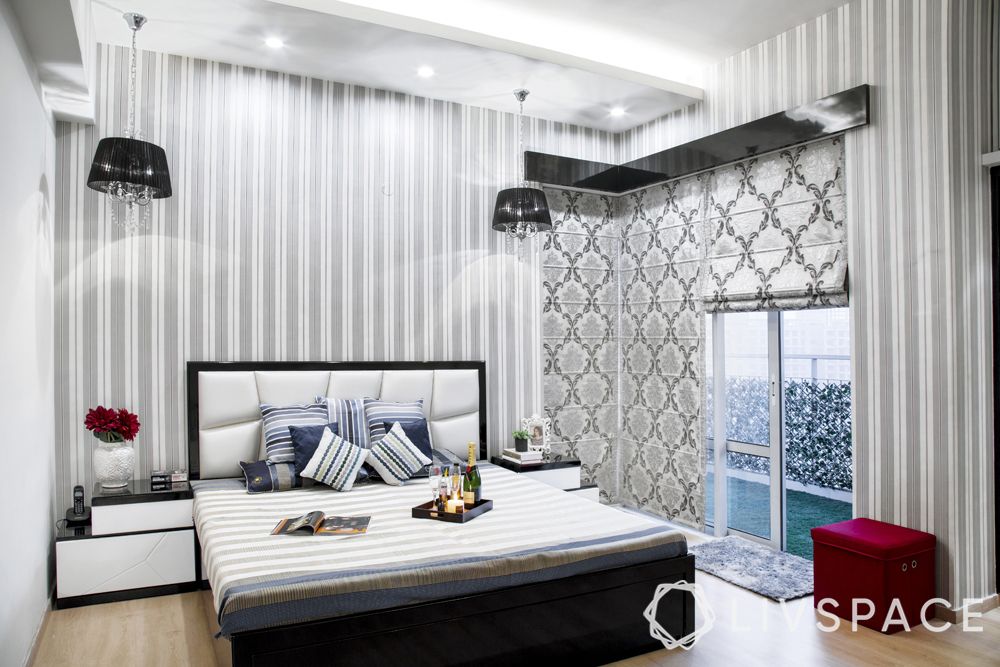 This false ceiling is restricted to the periphery above the headboard with some lighting – backlighting, spotlights and extended pendant lights for added effect! It's minimal and serves the purpose of hiding all the wiring, while keeping the cost low.
Liked these false ceiling designs? Check out these 7 amazing wooden false ceilings.