False ceiling design for bedrooms has been one of the most popular requests we receive. In fact, most people love false ceiling designs because they can become the focal point of any bedroom. Apart from being a decorative element, a modern bedroom ceiling design also has a number of useful features:
A false ceiling design for your bedroom can give it uniform lighting or even equip your room with fancy mood lighting
It can conceal any loose wiring on the ceiling 
It can cover up any exposed beams in the construction 
Your room's ceiling design also provides insulation and reduces noise levels
Moreover, ceiling designs for bedroom can be fireproof and waterproof
Provided that it is not subjected to extreme conditions, your ceiling design when made with good materials, can last up to 20 years
Take a look at these false ceiling designs for bedroom for more inspiration.
#1: Raise the Bar With Peripheral Ceiling Designs for Bedroom
This minimalistic blue ceiling design adds a pop of colour to the bedroom, while aligning with the theme of the room. Ideal for low-ceiling bedrooms, the peripheral design runs around the ceiling edges, as you can see in the picture. To enhance the look, you can add some diffused lighting and use a few study corner spotlights, like in this image above.
#2: Experiment With Recessed Lighting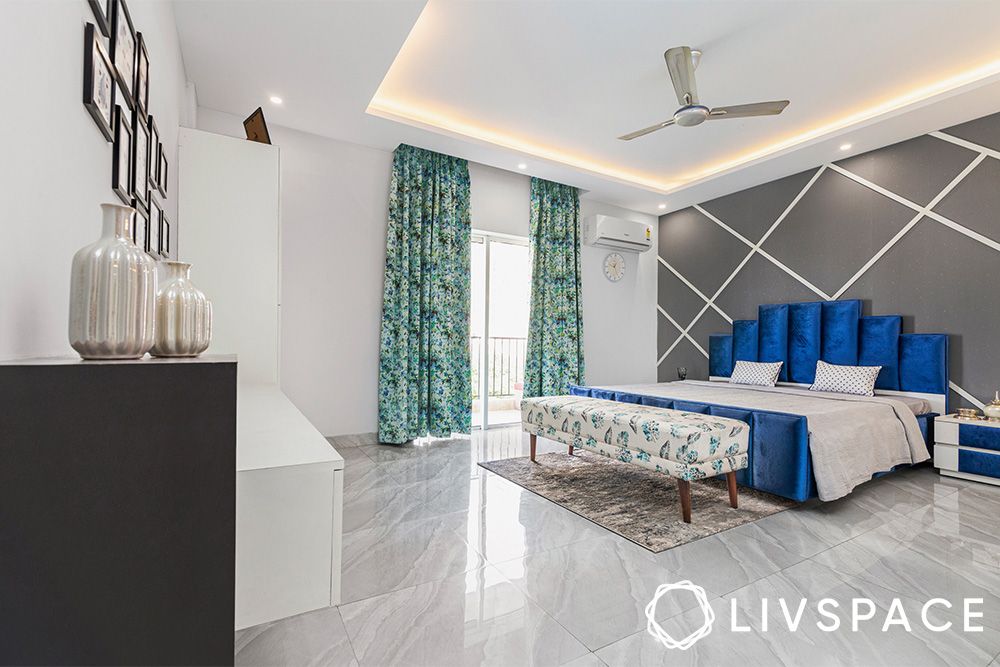 Looking for the perfect false ceiling design for exceptionally high ceilings in your home? Then let this be your go-to option. It manages to add a few layers to your ceiling while keeping the look minimal. Additionally, work in a fan or a low-hanging chandelier and this modern false ceiling design will make it look perfect.
#3: Play With Shapes Like This Show-Stopper Ceiling Design Does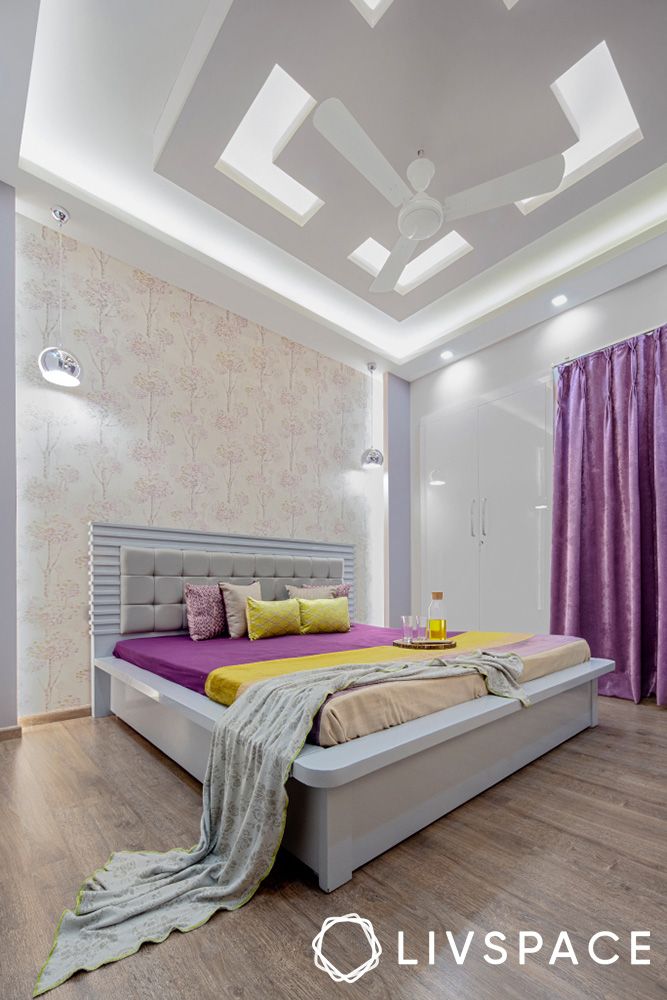 Add the touch of drama with this modern masterpiece of a geometric ceiling design for bedroom. In the same way as the previous one, this latest bedroom ceiling design disperses light evenly across the room and adds brag-worthy details to the high ceilings.
#4: Get a Dreamy False Ceiling Design for the Kids' Room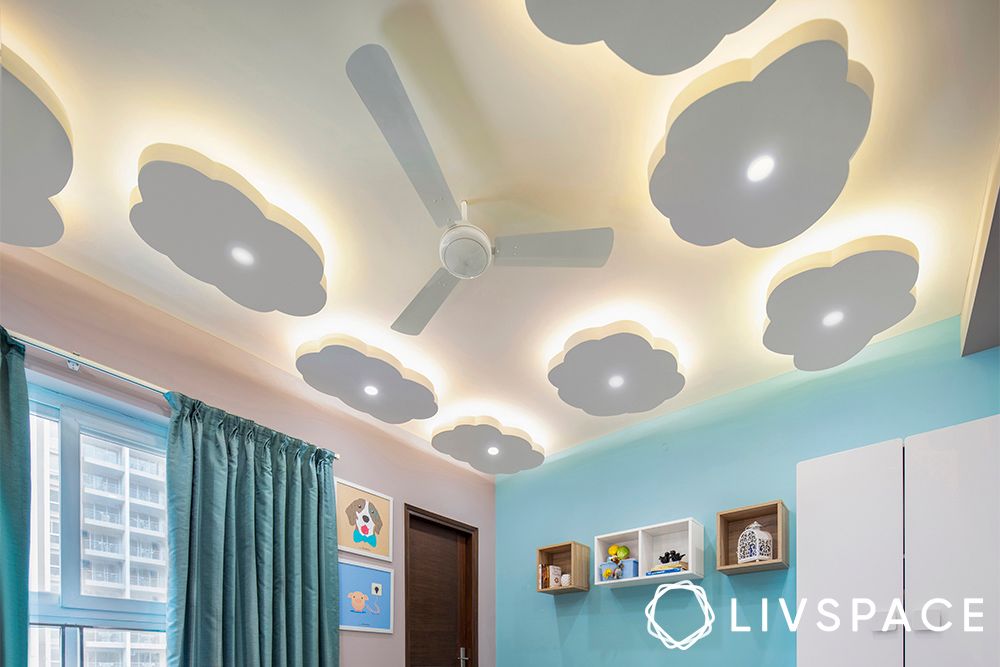 Who said beautiful false ceilings were just for adults? Kids can have all the fun too! Take a look at this dreamy kids' room that has a cloud-shaped false ceiling design. It's playful, imaginative and it blends easily with the pink and blue palette of the space, making it a perfect ceiling design for a small bedroom.
#5: Add Drama With Panelled False Ceiling Designs for the Bedroom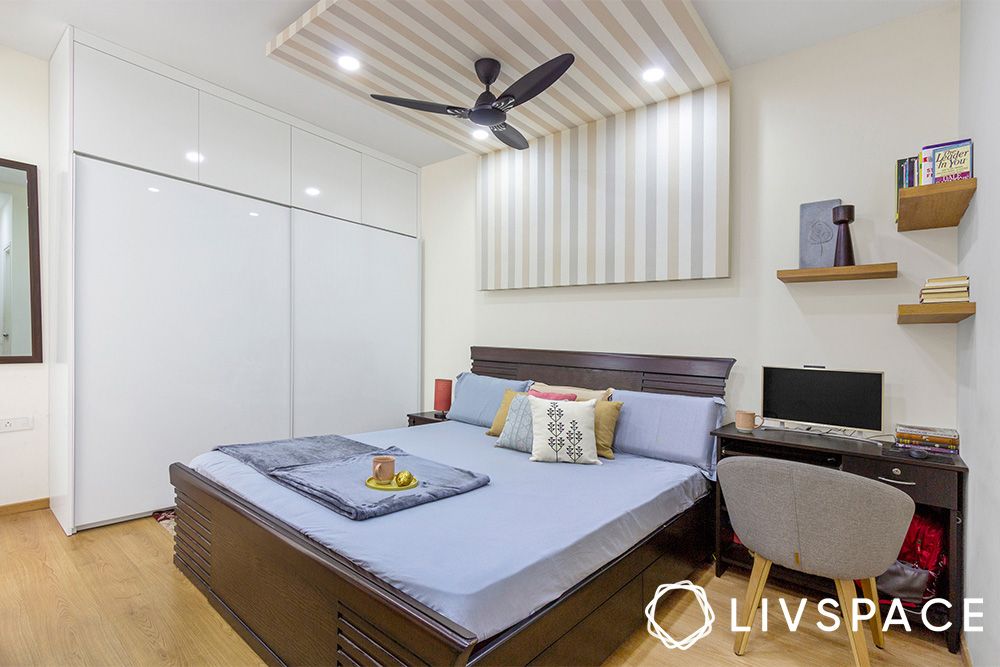 Put together with MDF panelling and covered in wallpaper for the canopy-like effect, this small bedroom ceiling design has a clean striped look. It's smart and cost-effective when you compare it to other gypsum designs, and not to mention the fact that it looks great!
#6: Paint the False Ceiling Designs for Colourful Bedrooms
You know why this ceiling design stands out in the bedroom? The dash of yellow Duco paint that matches the sunny headboard (on an MDF or ply panel) can give your bedroom the much-needed pop of colour. Also, such false ceiling decor ideas help you balance the colour distribution in the room.
#7: Use the Old-World Charm of Wooden Rafters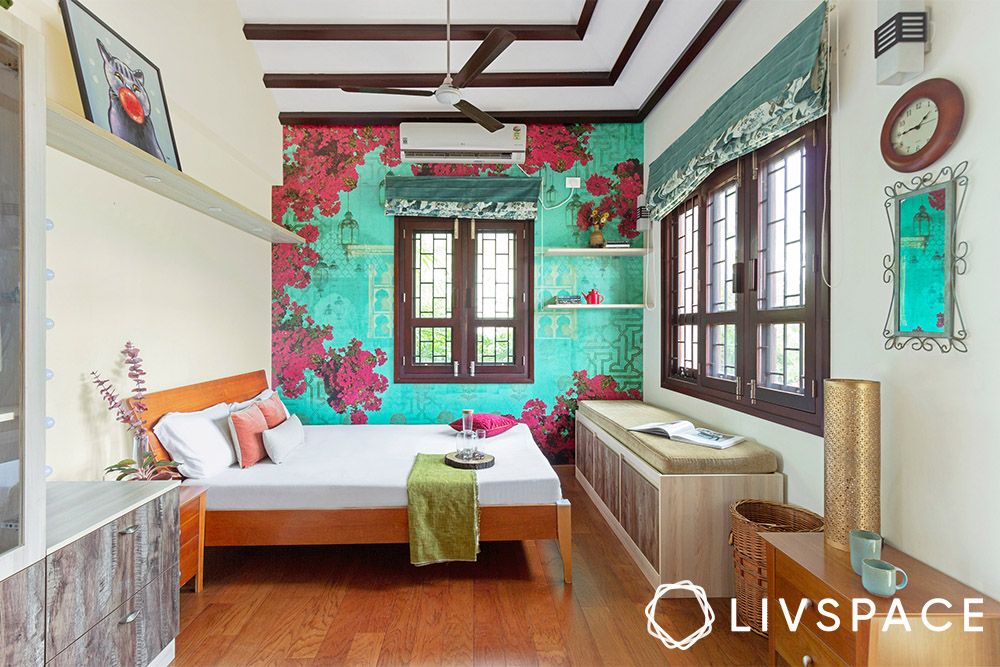 False ceiling designs featuring wooden rafters give such a beautiful vintage vibe to any bedroom. Take this room, for example. Its ceiling design combines the rafters with a bold floral print on the wall that casts a nostalgic effect on the best of us. Does it not make you recollect old memories of your childhood, as the radio played in the background and your grandmother made cookies?
#8: Achieve Focused Lighting With an Inverted Cove for Spotlights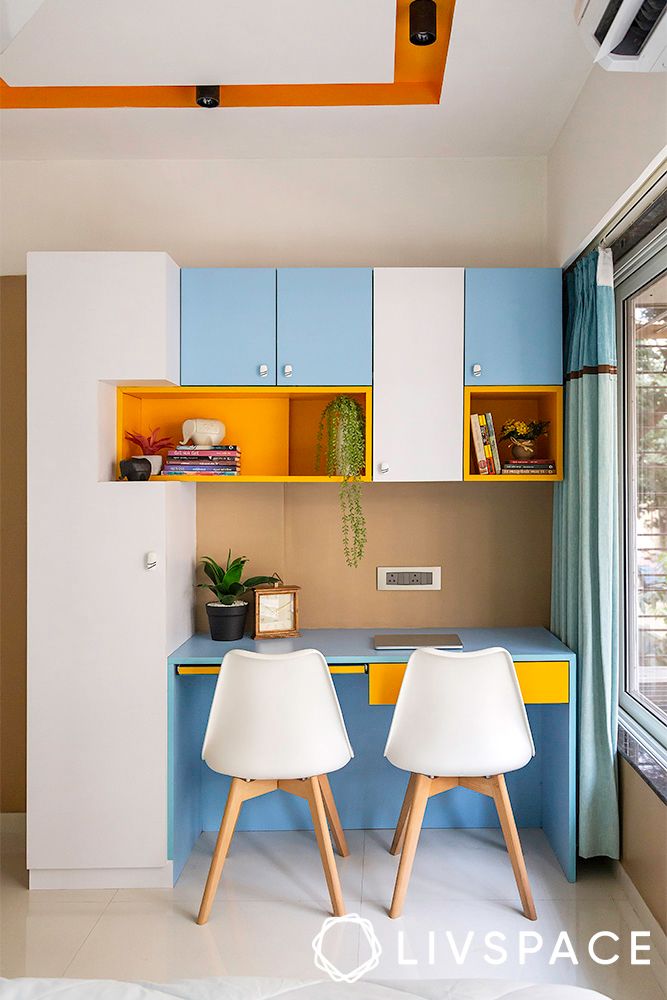 Our Livspace designer who worked on this latest bedroom ceiling design decided to use orange paint in the inverted cove of the gypsum ceiling to match the cabinets. The recessed lights have been swapped with spotlights in this false ceiling design for the study corner in the bedroom.
#9: Affix Wooden Details to an Island Ceiling Design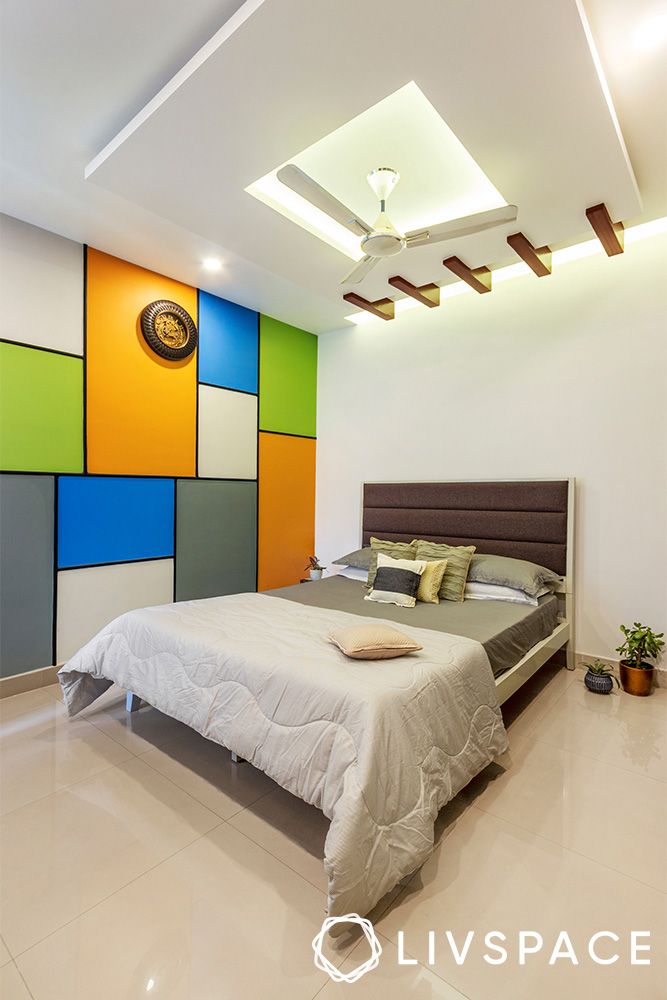 To add class and warmth to the bedroom, basic island false ceiling designs are made interesting with wooden rafters around the edges for that beautiful detail.
#10: Jazz-Up With Curvy False Ceiling Designs and Wallpaper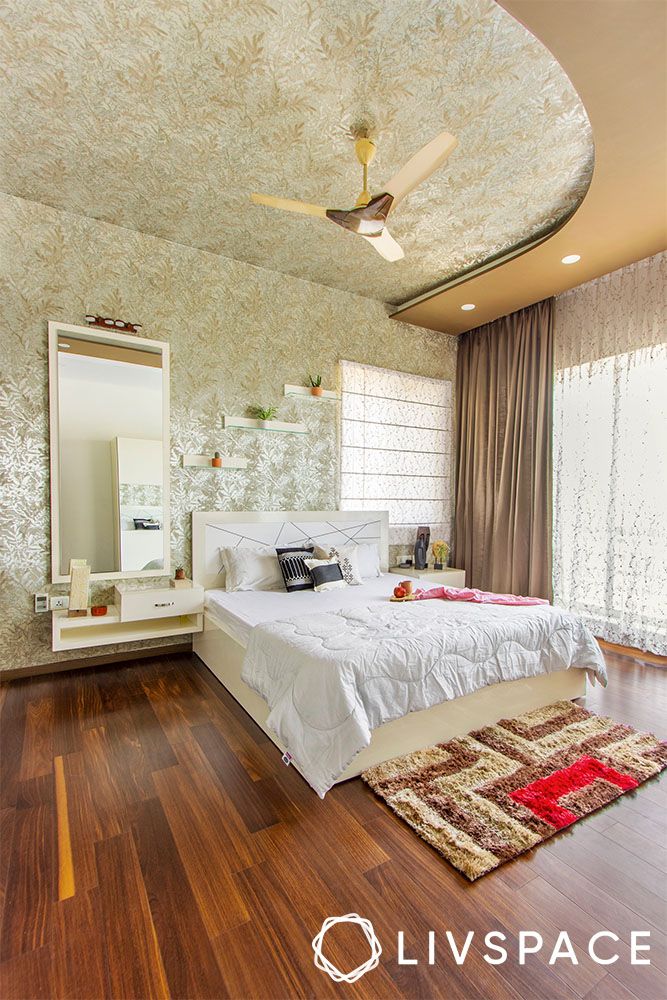 This new ceiling design in the bedroom, has a theatrical finish with the gypsum panelling. Additionally, the wallpaper extends from the wall to the ceiling and adds extra glamour to the room.
#11: Don't Shy Away From Personalising Your Ceiling Designs for Your Bedroom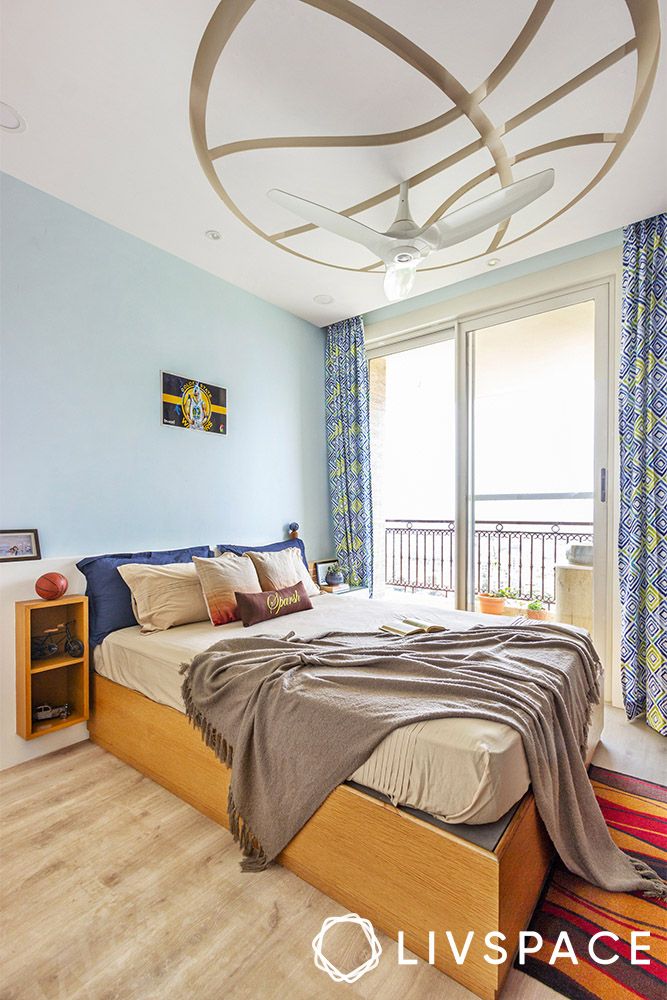 Don't worry about cove lighting in such designs, as you can still illuminate your bedroom with some warm diffused lighting to highlight your ceiling. This false ceiling design for bedrooms is trendy and gives your room a personal touch that can be quite inspiring.
Also Read: Which Type of Ceiling Is the Best for Your Stunning Home?
#12: Be Savvy With Chevron-Patterned Wood Panelling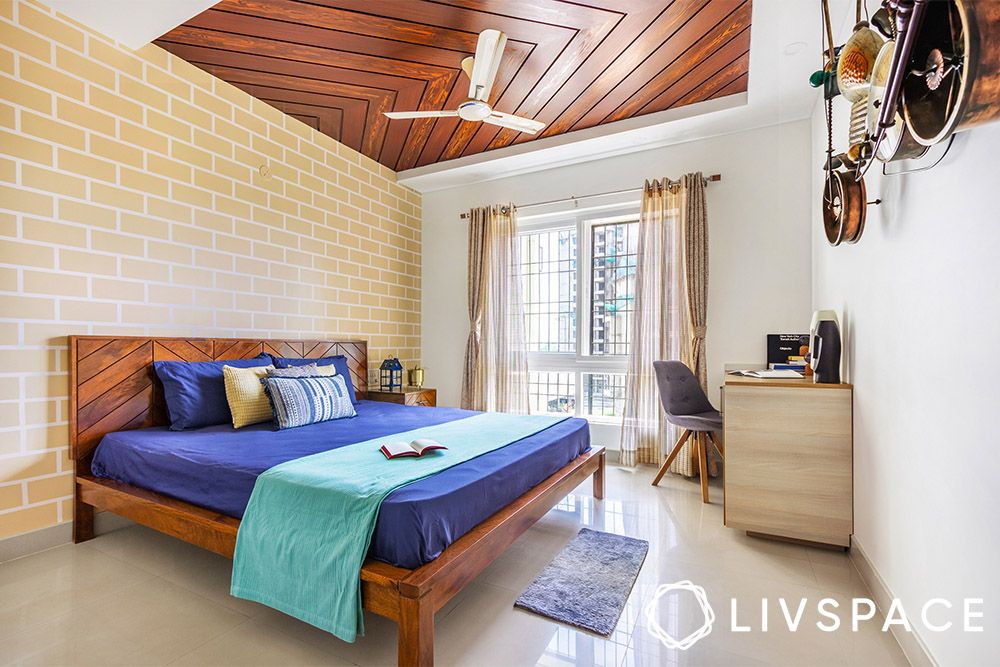 Elegance, thy name is wood panelling! This gorgeous chevron-patterned false ceiling design for the bedroom matches the headboard, thereby making the bed the focal point of the room.
#13: Keep It Basic With Platform Panels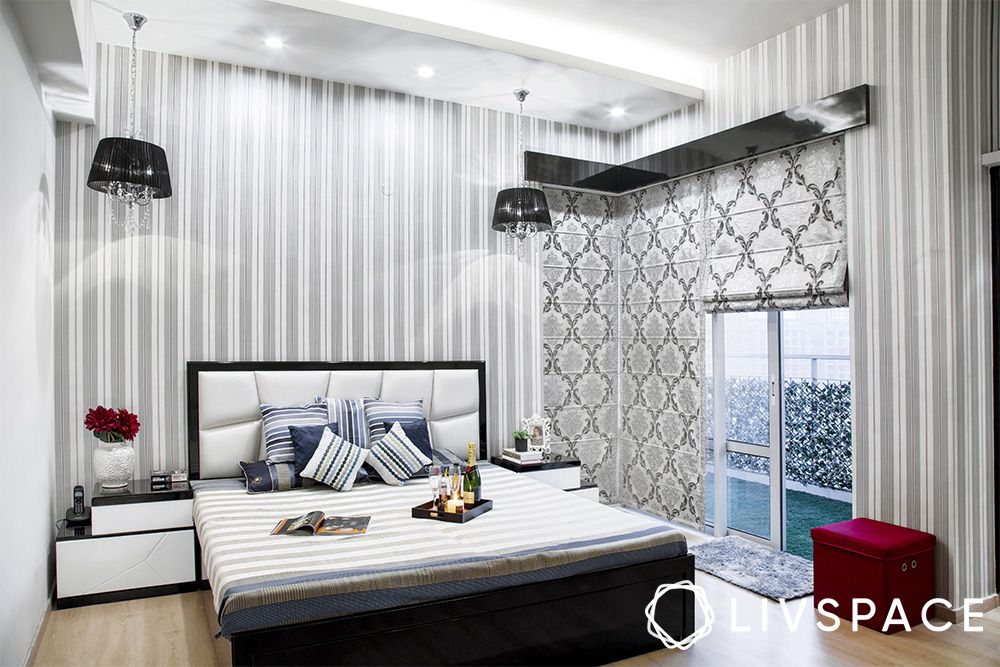 Such false ceiling designs for bedroom hide the wiring well while keeping the cost low. This modern ceiling design is restricted to the periphery above the headboard with a variety of lighting options—backlights, spotlights and extended pendant lights—for added effect!
#14: Opt for Tray False Ceiling for a Trendy Look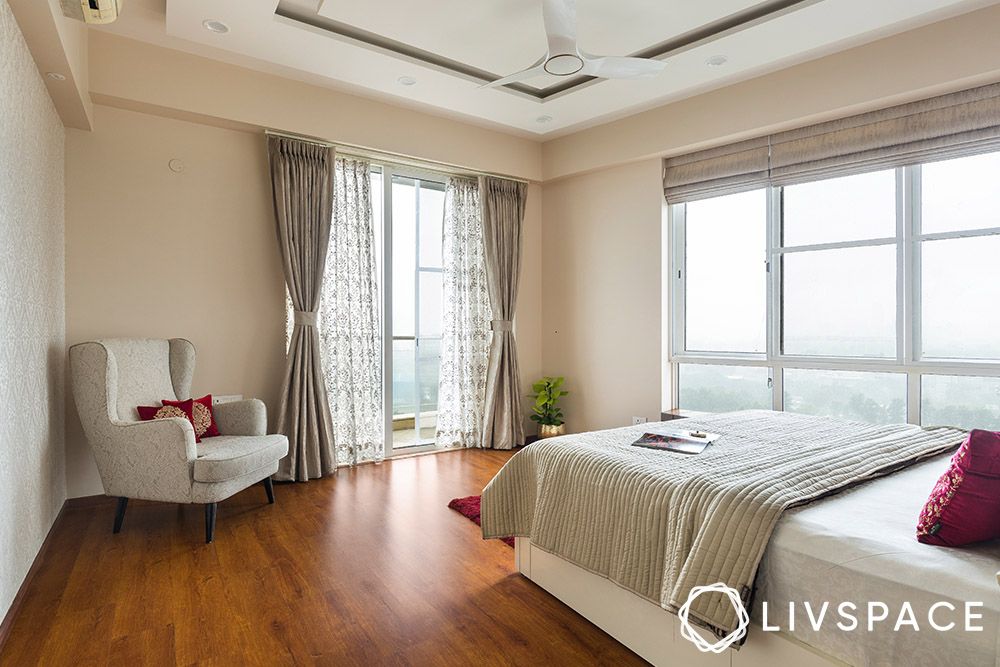 As the name suggests, a tray false ceiling design looks like an inverted tray. Whether you are looking for a small bedroom ceiling design or a large one, tray ceilings look perfect everywhere. To amp up the look, you can add recessed lights or spotlights. The tray shape ensures that the distribution of light is even throughout the room. 
#15: Choose Traditional POP Ceiling Design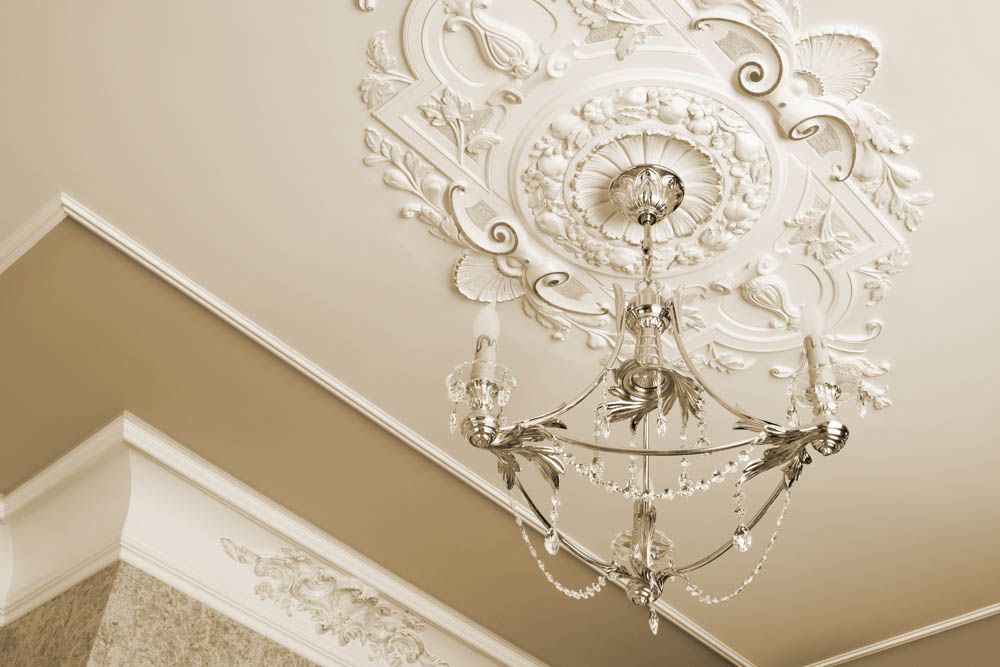 Nowadays, most homeowners are opting for a POP ceiling design for their bedroom, as it is not only versatile but also easy to install. POP is a quick-setting white powder that can be easily moulded into the design you desire, making it a popular choice among homeowners looking for an intricate bedroom POP ceiling design. 
#16: Pick a Soft-Edged Island Ceiling for Your Kids' Room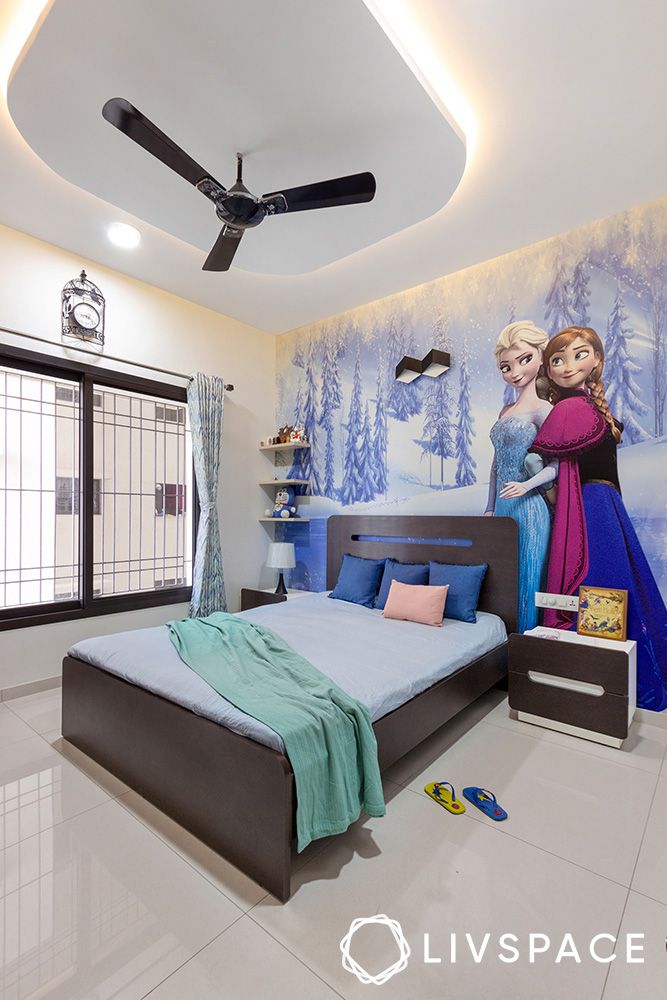 A rounded island false ceiling is a great option for a kids' bedroom. It's suspended and appears to float mid-air, thanks to the carefully hidden mounts. In this kids' bedroom, the soft backlights also create the illusion that the false ceiling is floating. You can also opt for a multi-level/layered false ceiling design for larger bedrooms.
#17: Don't Think Mirrors Are Only for the Walls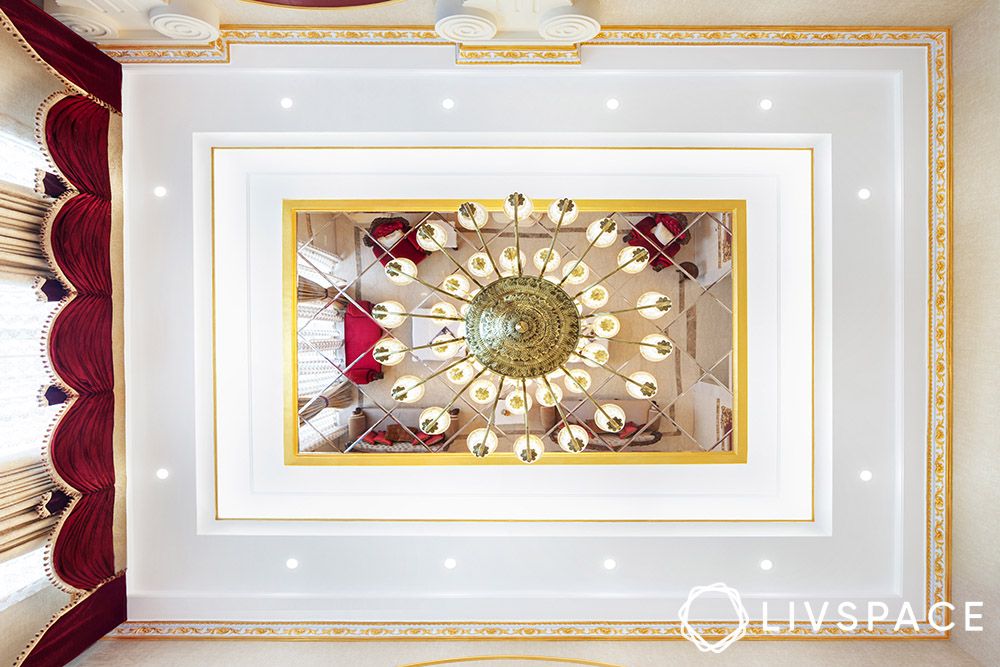 Tired of your compact bedroom? Did you know that your ceiling can make your room look spacious? If you are looking for ceiling designs for a small bedroom, you should choose a glass or a mirrored ceiling. That's because the reflective surface creates an illusion of space, thereby making your bedroom look much larger than it actually is. 
#18: Get Circular Design for Rounded Furniture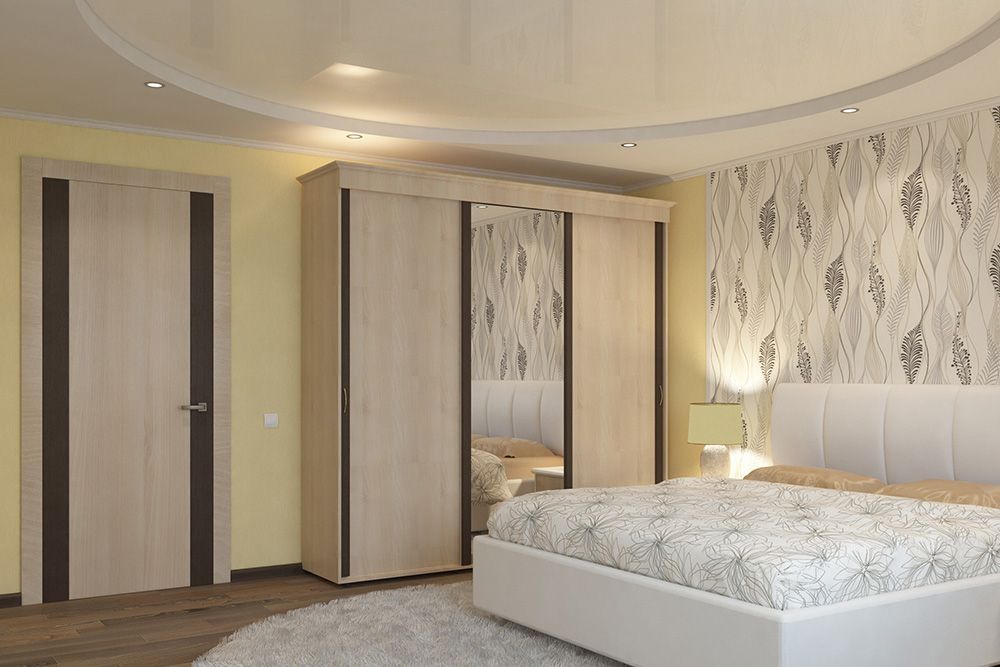 Circular designs are among the latest ceiling trends that are taking the market by a storm! This is especially popular in India, as a circular ceiling looks great when there is a fan. To magnify the effect, you can add recessed lights or spotlights. 
#19: Say It With the Pristine Look of Gypsum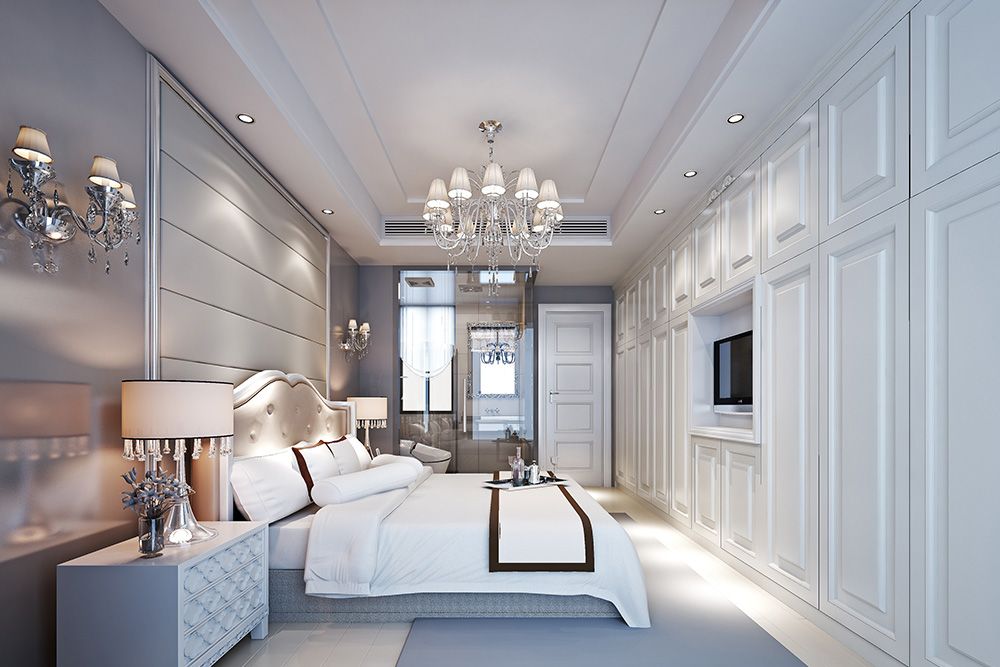 Apart from POP, gypsum is another popular material that we see in false ceilings. Gypsum is not only very durable, but also cost-effective. Moreover, a gypsum bedroom ceiling design also has sound absorbing qualities. 
#20: Think of a Parallel False Ceiling for the Gram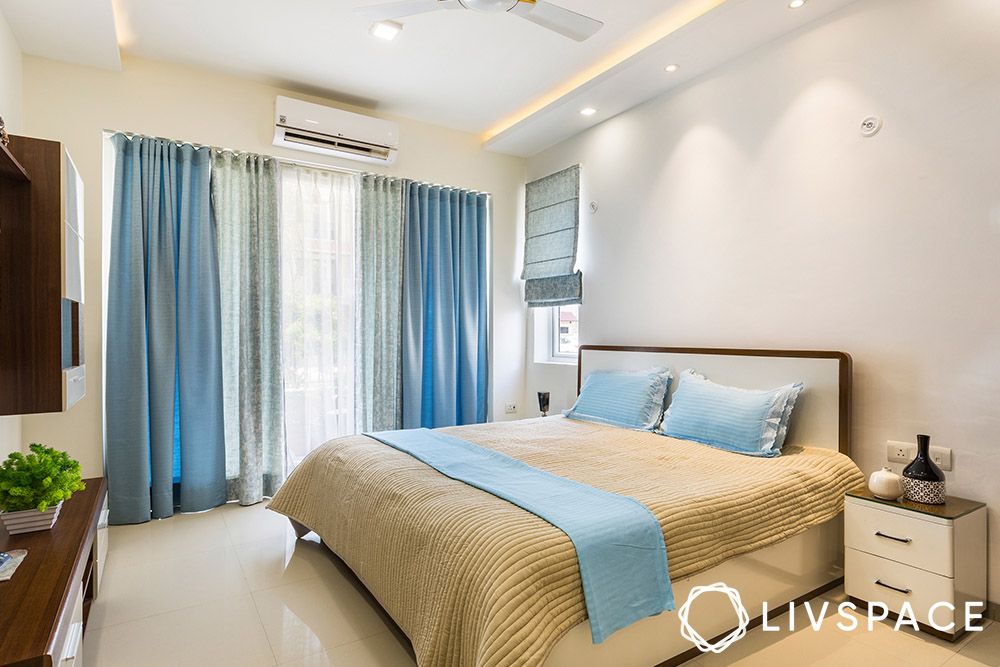 Minimal ceiling designs are evergreen and blend with all interior types! This is especially true for contemporary and minimal flats. Also, if you want a small bedroom ceiling design, white is a viable option as the use of white can open up the space and make the room look large. 
Also Read: All You Need to Know About Designer False Ceiling is Here
Check out bedroom design ideas:
How Can Livspace Help You?
We hope you found these room ceiling design ideas useful! If you want your home to be just as beautiful, then look no further. Book an online consultation with Livspace today. 
Wondering how our customers feel about working with Livspace? You can check out the Livspace reviews here.
FAQs:
1. What Is the Latest Trend in False Ceiling Design?
These days, many homeowners choose wooden ceilings made of MDFs, laminates or sometimes, even gypsum that has been painted to appear like wood.
2. How Can I Make My Ceiling Look More Interesting?
To make your plain ceiling more interesting, you can add a designer false ceiling to cover it, or a light wallpaper that will not make your room look dark and dull.
3. Which False Ceiling Design is Best for Home?
A gypsum false ceiling design is a popular choice among homeowners as it gives flexibility in design and budget, and is also good for fire- and sound-insulation.
4. Which Colour is Best for False Ceiling?
If you have low-height ceilings, then we recommend getting light colours for your false ceiling design. But if you have high ceilings, then you can enjoy more flexibility in the choice of colours.