What makes a room perfect? Is it the paint, the bed, the furniture or the ceiling? Truly, it's all of these combined! The ceiling design can transform even the blandest of rooms! Amongst ceiling designs, the most popular are false ceilings. Wood, MDF, POP, gypsum — false ceiling designs are usually made of these materials. In this guide, we will be discussing POP ceiling designing, their pros and cons as well as a look at some impressive designs!
What is POP Ceiling?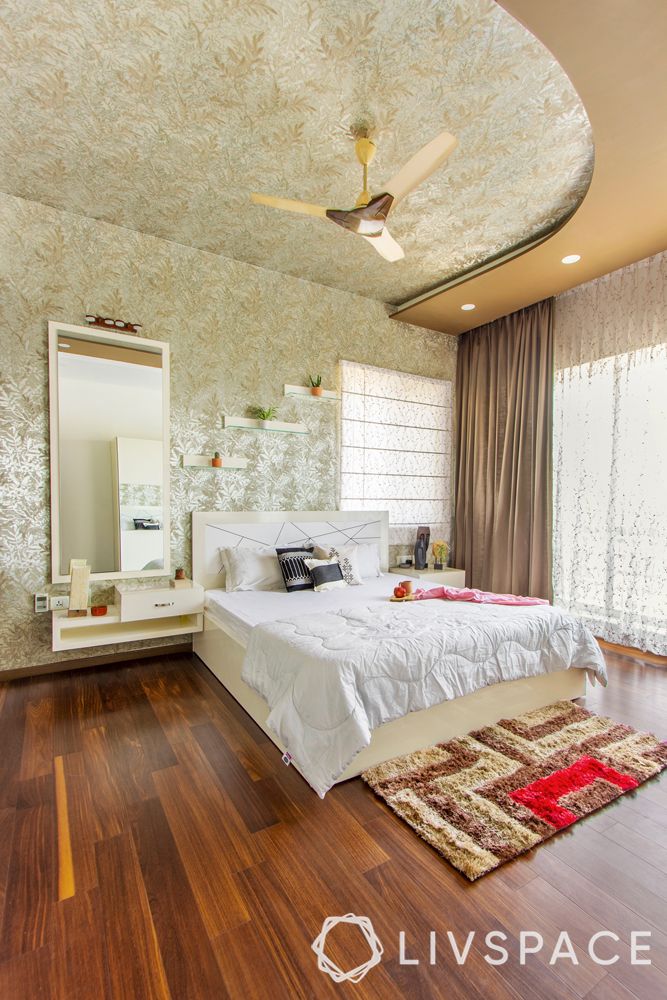 POP or Plaster of Paris is a common material used to create false ceilings, wall trims and other accent décor. This material is a quick-setting white powder which is made of semi-dehydrated gypsum. This lightweight and heat-resistant material is mixed at the site and makes for stunning ceiling designs.
Why is it a Popular Choice for False Ceilings?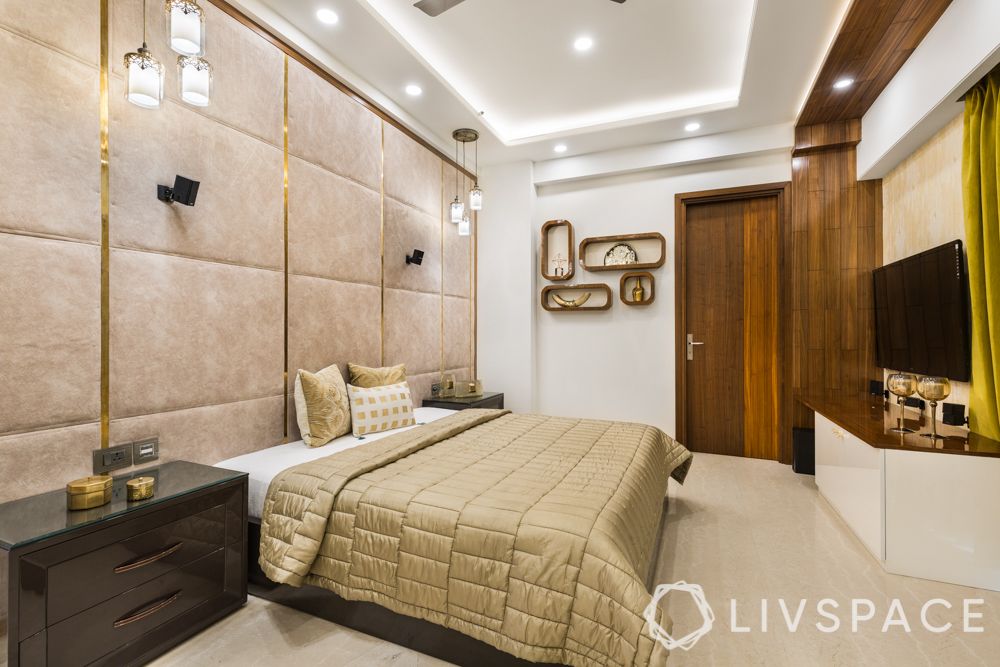 Be it for looks or lighting, false ceilings (POP false ceilings in particular) are a norm in most urban households. False ceilings made of POP have several advantages over other materials like gypsum, which makes them a popular choice amongst homeowners. The biggest reason for its popularity is that POP can be moulded into stunning designs.

Pros of POP Ceiling Designing
1. It is durable and can last for long without any wear and tear.
2. POP is fire and heat resistant.
3. It can be moulded into different shapes and designs.
4. After mixing with water, it is easy to apply on any surface.
5. It does not shrink while setting, thereby not developing any cracks.
Cons of POP Ceiling Designing
1. Not suitable for moist environments.
2. POP does not mix with cement.
3. It requires regular maintenance.
4. Hanging heavy objects can damage POP false ceilings.
5. It is more expensive than cement or cement lime plaster.
Cost of POP Ceiling Designing
POP false ceilings have a starting price range of Rs. 140 onwards.
Why is it Better Than Gypsum?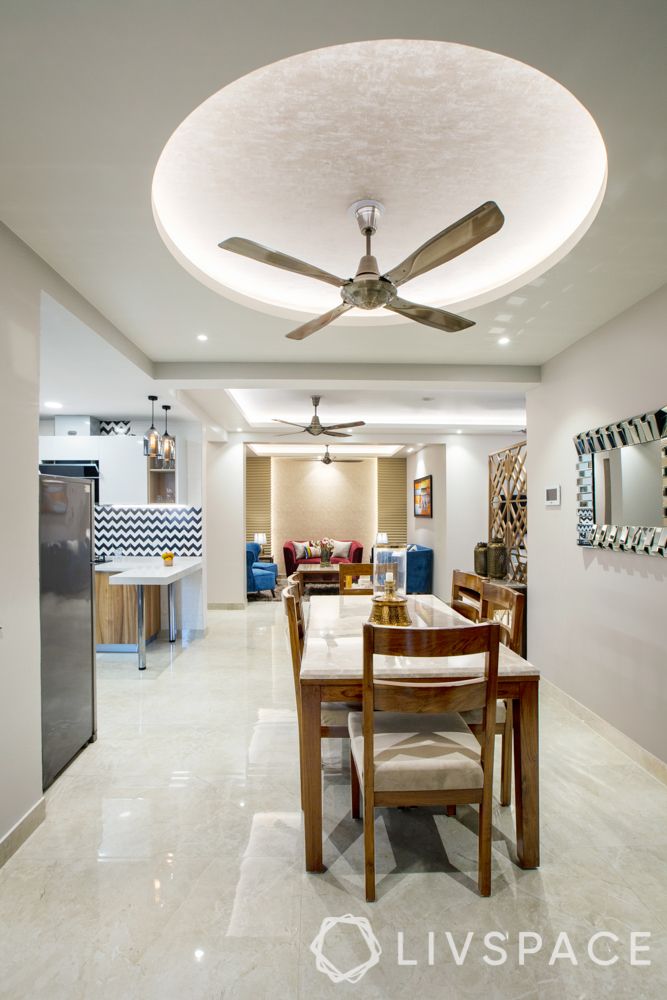 Gypsum and POP are the most common materials for false ceilings. POP is nothing but semi-dehydrated gypsum. However, POP enjoys certain advantages over gypsum, making it the better choice. The primary benefit of POP over gypsum is that it is at least 25-40% cheaper than gypsum. Also, unlike gypsum, POP is flexible and can be moulded into designs.
5 POP Ceiling Designs from Livspace Homes
Here are some of our favourite POP ceiling designing examples from Livspace Homes:
#1: Ceiling to Wall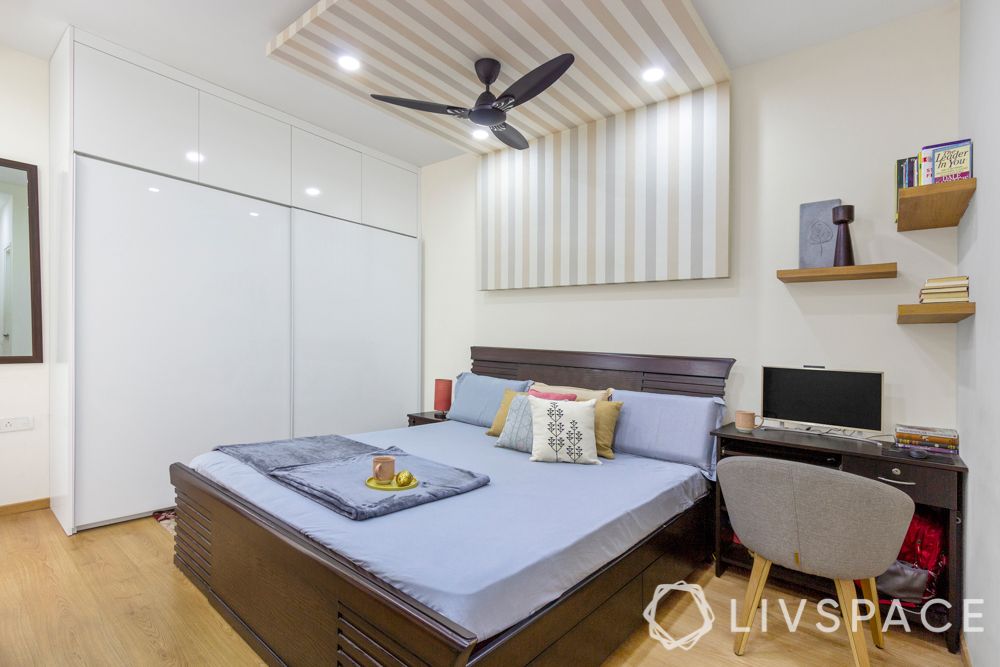 Not everyone likes a massive false ceiling. If you want something sleek and simple for your bedroom, then consider this POP ceiling design. The ceiling to wall panelling is minimal and does not take up too much space. Also, the striped wallpaper gives a contemporary look.
#2: Inverted Cove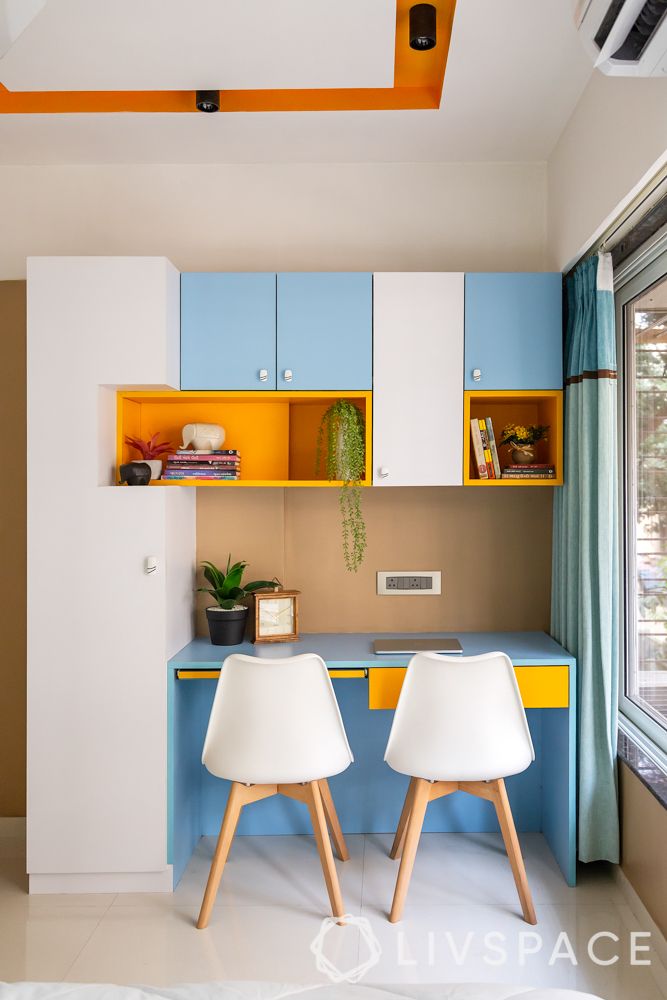 Another modern POP ceiling designing style is the inverted cove style. In this Livspace home, our designer created a POP false ceiling with an inverted cove. The bright orange paint not only highlights the cove but also matches with the cabinets. Also, the use of track lights instead of recessed lighting is an innovative choice.
#3: A Dash of Glamour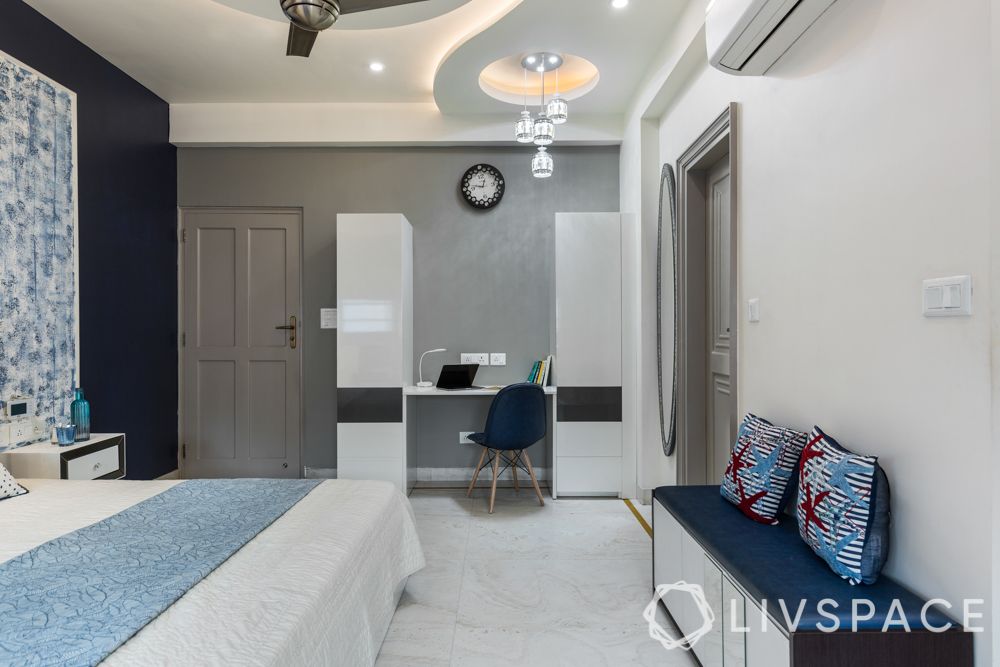 Who doesn't love some luxury and glamour?! A POP false ceiling is an easy way to add some oomph to your room without going overboard. For instance, this bedroom is quite simple and minimal. But the stylish, curved POP false ceiling with circular coves for lighting adds the necessary touch of jazz!
#4: Plus Minus POP Design
The plus-minus POP design is a type of ceiling design where there are protrusions or tucked-in bits in a regular false ceiling. This POP ceiling design is stunning and instantly attracts attention. While plus-minus POP ceiling designs can be very intricate, you can also opt for a basic one.
#5: Unique Box Designs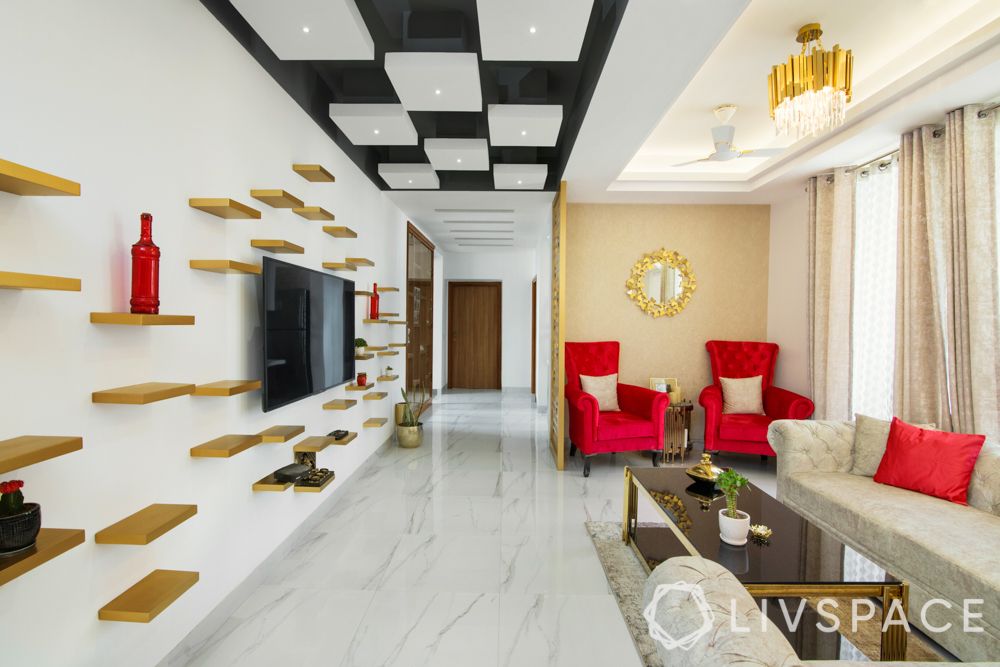 Looking for something unique for your ceiling design? Then you will love this POP false ceiling designing idea! In this Livspace home, our designer used POP to create a false ceiling with boxes. The monochromatic colours lend it a chic and voguish look.
Want more false ceiling design ideas? Check out 10+ stunning false ceiling designs from Livspace.
We love to hear from you! Write to us at editor@livspace.com