Hurry up and save your house from looking bland that lacks character! How do you do that? Well, there are a lot of ways this can be done — change the furniture, add some wallpaper or work on the ceiling. The best rooms are the ones that combine all the three with ample lighting to make a coherent theme. Let us focus on ceiling design today. When it comes to ceilings, wood, MDF, gypsum or POP are the most popular. We are going to majorly focus on POP design for ceiling and discuss their pros and cons, including some POP ceiling design examples from #Livspacehomes we love.
What is POP Ceiling Design?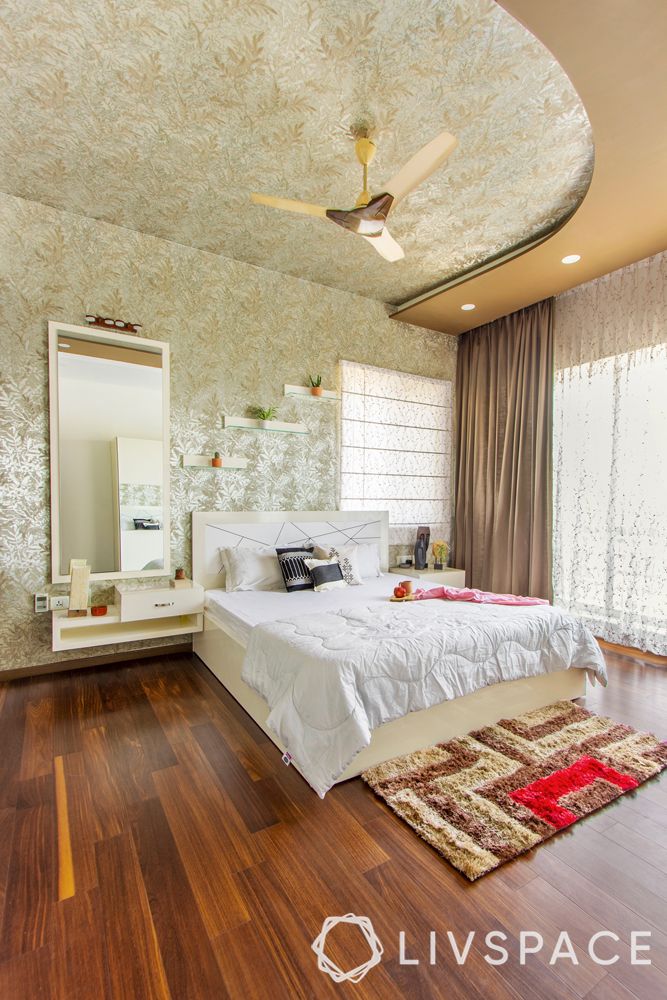 POP or Plaster of Paris is a commonly used material used to make false ceiling, accent decors and wall trims. POP is a quick-setting white powder made of semi-dehydrated gypsum. This lightweight and heat-resistant material is mixed at the site and makes for a stunning POP design for ceilings.
Why is it a Popular Choice for False Ceilings?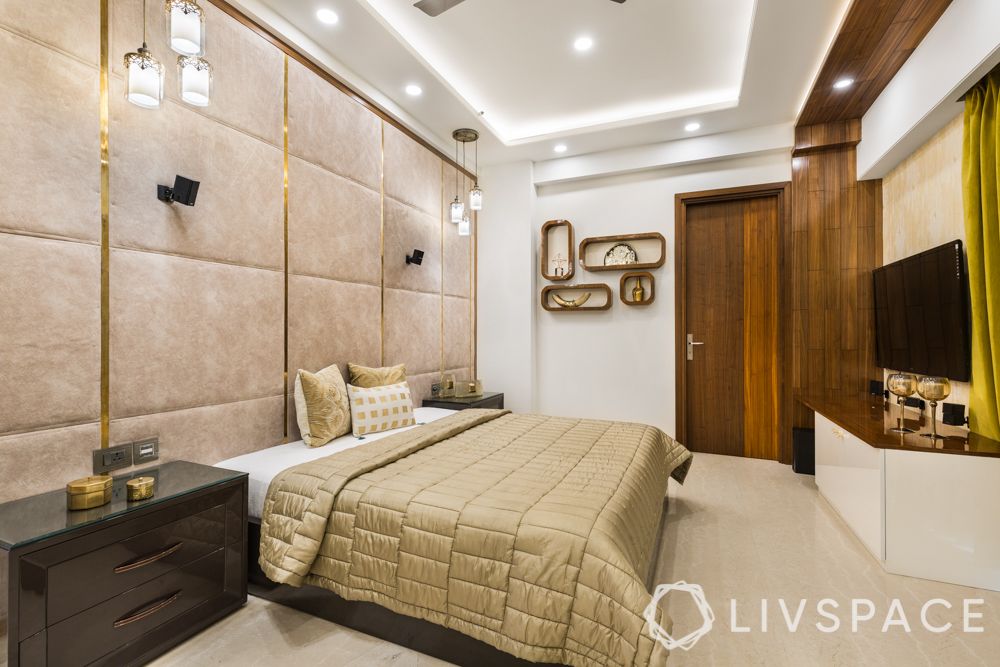 Seems like POP has made its way into most Indian households. POP ceiling designs are seen as a norm. It is preferred over gypsum for its versatile nature as it can be modelled easily into any design per demand.
Pros of POP Ceiling Designing
POP is durable and can last for long without wear and tear
It is resistant to fire and heat
Can be moulded into different shapes and designs
After mixing with water, it can easily be applied to any surface
Cracks do not appear after developing as it doesn't shrink while sitting
Cons of POP Ceiling Designing
May not be the best option in humid environments
POP and cement do not mix
Maintenance can be an issue
Hanging heavy lighting or decor can damage this ceiling design
More expensive than cement or cement lime plaster
Cost of POP Ceiling Designing
A POP ceiling can start from ₹140 onwards
Why is it Better Than Gypsum?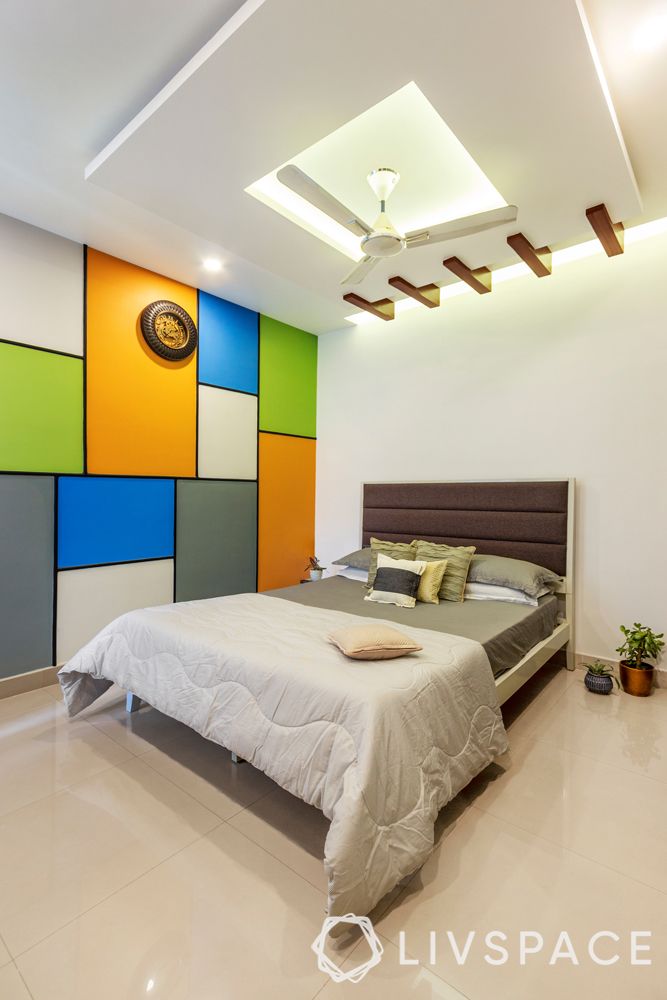 As stated, gypsum or POP ceiling are the norm in many Indian households. Even though POP is semi-dehydrated gypsum, it enjoys a bit more advantage over gypsum. The primary benefit here is that a POP is 25 to 40 per cent cheaper than gypsum. Also, unlike gypsum, POP can be moulded as per demand.
5 POP Ceiling Design Ideas from Livspace Homes
Here are some of our favourite design examples from Livspace Homes:
#1: Extended POP Design from Ceiling to Wall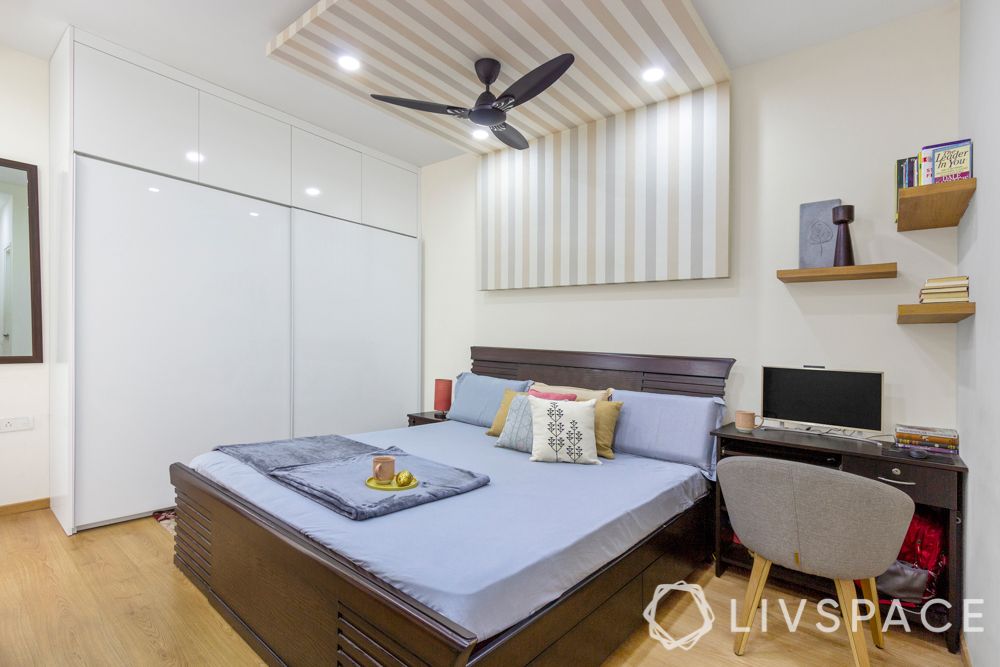 If you are a good ol' minimalist, then this design idea can be your pick. The ceiling-to-wall panelling is minimal and does not take up a lot of space. Also, the striped wallpaper is all about that contemporary vibe.
#2: Get a design with Inverted Cove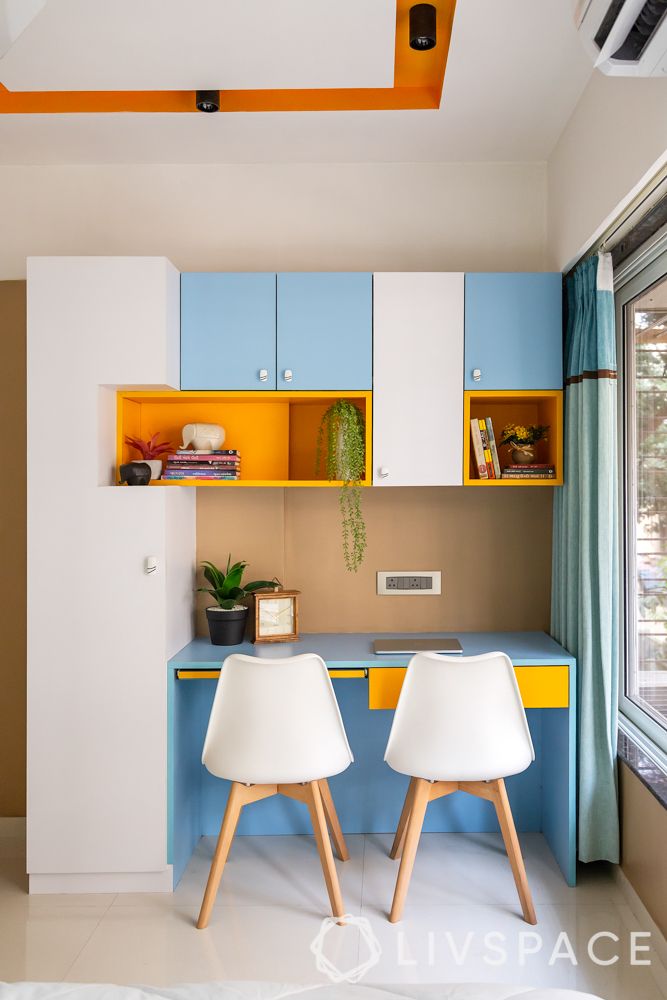 In this Livspace home, you can see the inverted cove POP ceiling design. This is another popular choice for Indian homes. The pop of orange not only highlights the ceiling but also complements the yellow cabinets below.
#3: Add Dash of Glamour: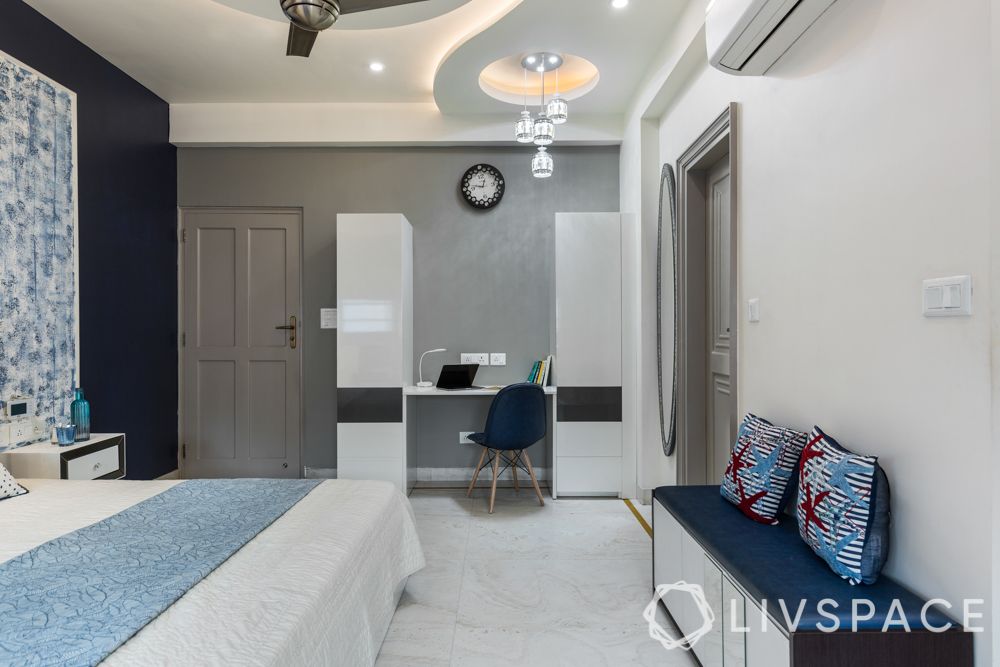 Want a design that also looks glamorous? Take notes from this ceiling design. This simple bedroom is amped up by the curved POP design for ceiling. Further, there is a mix of recessed lights and a beautiful pendant light to complement the look further. Nobody can refuse that this is one chic room.
#4: Consider Plus Minus POP Design
The plus-minus POP design is a type of ceiling design where there are protrusions or tucked-in bits in a regular false ceiling. Who can ignore this intricate design hanging from the ceiling? It instantly attracts attention and makes for luxe interiors. However, if this is not particularly to your tastes, you can always choose a POP ceiling according to your preferences.
#5: Try Out Unique POP Designs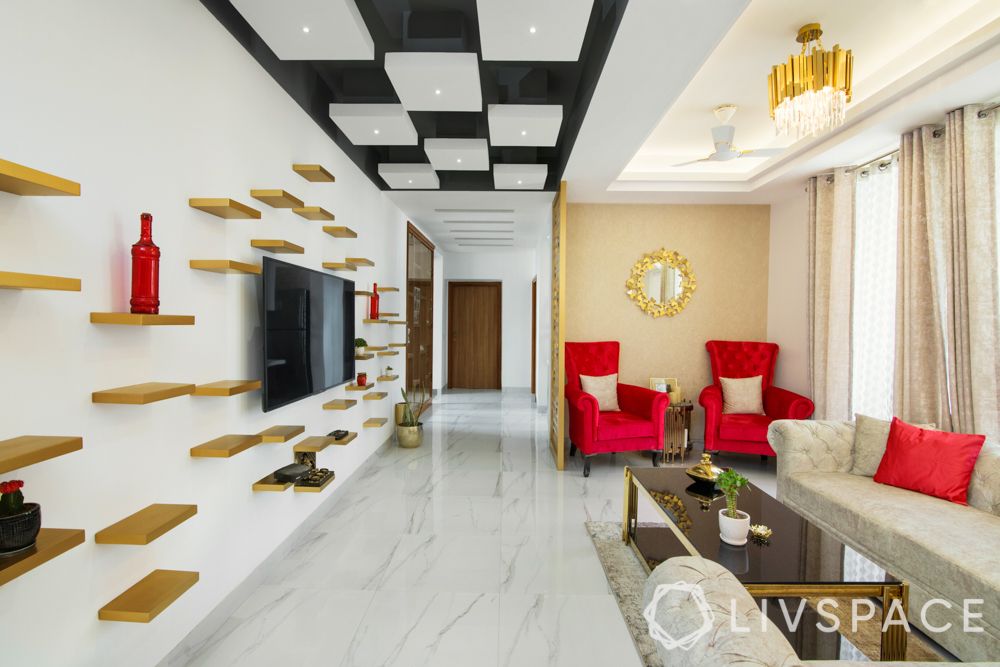 We love a POP design where we can see the playful personalities of the homeowners leave a mark on the ceiling. This ceiling design has boxed designs that especially complement the multiple hanging shelves around the TV. The monochromatic colour with pops of red make for a chic and voguish living room.
Want more false ceiling design ideas? Check out 10+ stunning false ceiling designs from Livspace. Wondering how our customers feel about working with Livspace? You can check out the Livspace reviews here!
We love to hear from you! Write to us at editor@livspace.com
How Can Livspace Help You?
We hope you found our ideas useful! If you want your home to be just as beautiful, then look no further. Book an online consultation with Livspace today. Delivering safe home interiors has been our No. 1 priority. Click here to find out how interiors are being delivered following all safety protocols.