Picture this. You are lying in your bedroom or living room and staring at the ceiling, wishing you could turn it into a beautiful canvas but have no clue where to start. Your wish has been granted! Ceilings are indeed an often ignored canvas, although they occupy a large area in a home. But you can put that space to good use and make a great impression by decking it up in the latest POP design. After all, a well-designed POP (aka Plaster of Paris) ceiling can bring all the elements of your home together and create a striking visual effect. If you don't have a lot of information on POP ceilings, no worries. We will begin from the basics and take you on a tour of POP designs for ceilings that will make you go from how to wow!
What Is a POP Ceiling?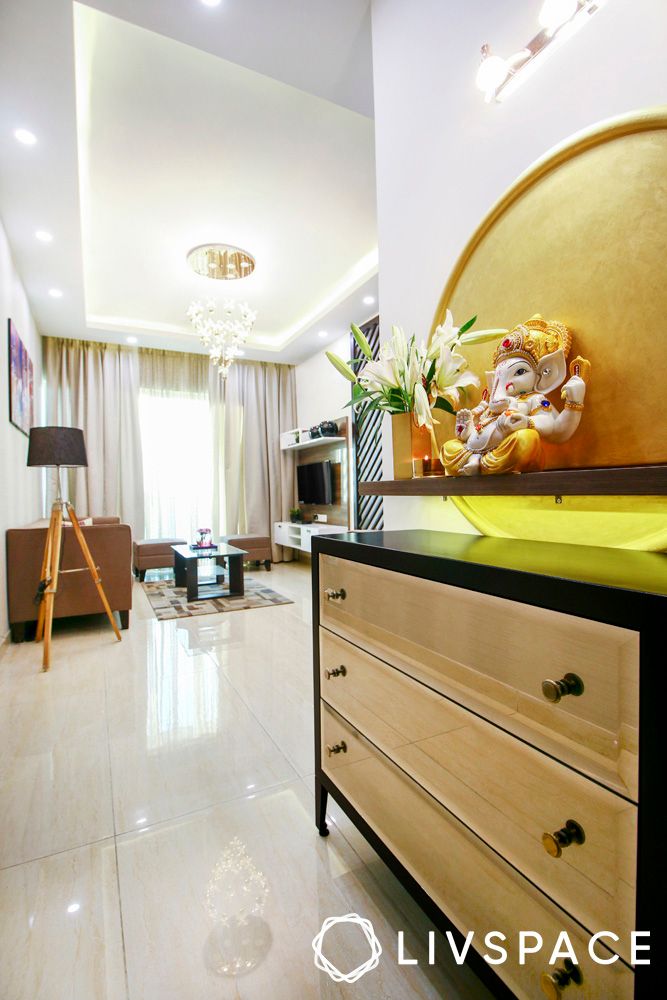 As far as making impressions go, custom wall and ceiling designs can make the grade instantly and become statement pieces of your stunning and creative home décor. Of all the materials used to create these eye-catching showstoppers, POP is certainly the most popular.
POP is a quick-setting white powder made from semi-dehydrated gypsum that hardens when allowed to dry after mixing with water. Hence, you can use it to make false POP designs for ceilings, designer trims and accent décors for your home interiors.
What Are the Advantages of POP Ceilings?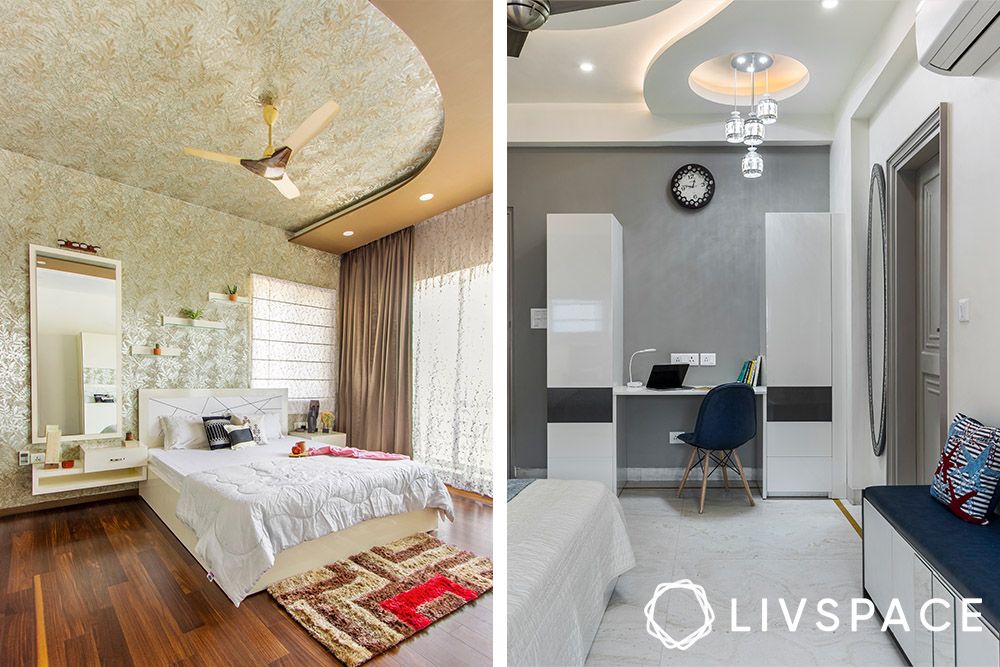 Getting a POP false ceiling design for your home is a good idea because Plaster of Paris has the following characteristics and benefits:
It is durable, lightweight and fire resistant
POP has low thermal conductivity, thus making it a good insulating material
It is easy to colour POP surfaces
POP shows no shrinkage while setting and hence you won't find any cracks in the surface
It is easy to mould POP into any required shape, including curved ones
It provides a high gloss and smooth finish to the final design
Due to these distinct features, POP also offers a lot of scope for experimentation. Additionally, a POP ceiling helps to hide unsightly cables.
What Are the Best POP Ceiling Designs?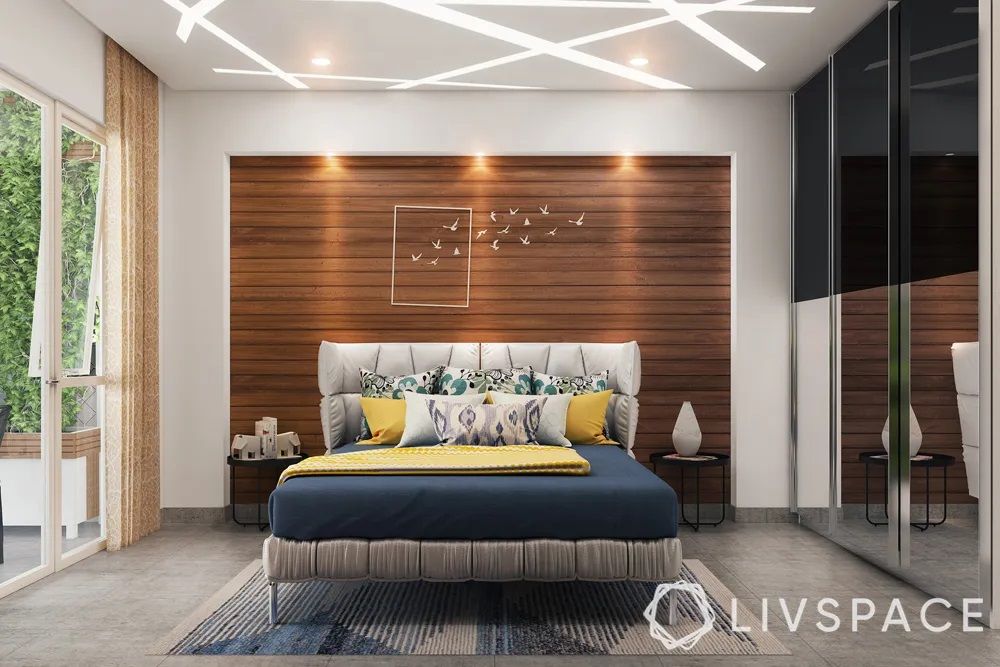 Before you pick the best POP design for the ceilings in your home, you have to consider multiple factors such as your budget, the overall theme of your home, the colour palette and the requirements of that space. Your best option can also change depending on whether you want a POP design that is simple or grand.
POP Ceilings for Bedroom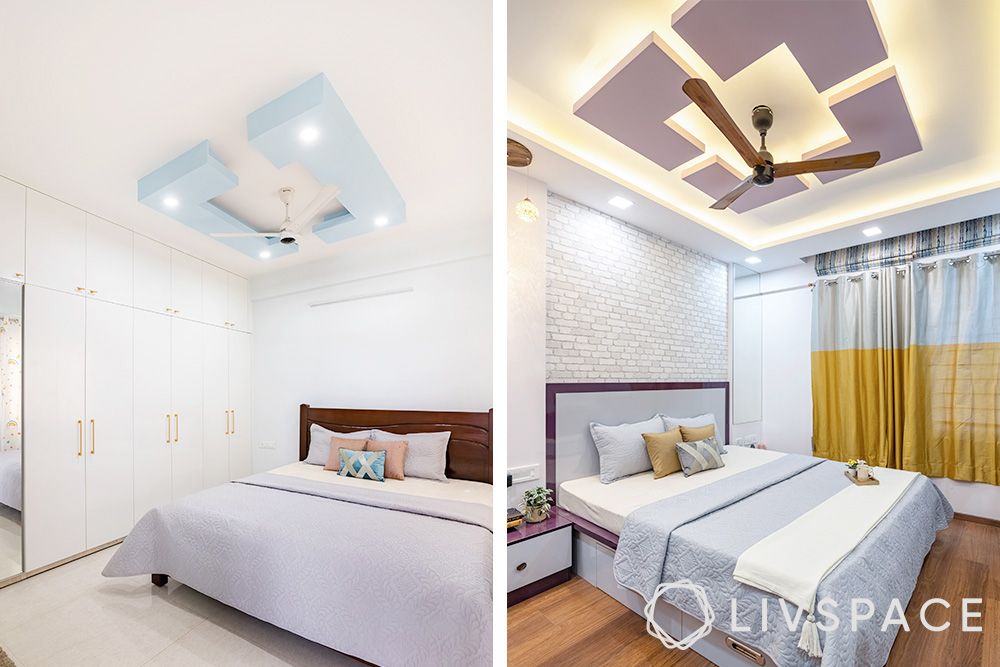 A POP design for the ceiling can give your bedroom a clean and finished look. It also helps to hide exposed wires. Additionally, you can add recessed lighting to the space to give it a warm and inviting look. POP design for this room can be elaborate with intricate details and can also be decorated with wallpapers, vibrant colours and patterns, and even stunning chandeliers. Alternatively, you can opt for a simpler and smaller POP false ceiling, especially if you are short on space.
Kitchen POP Design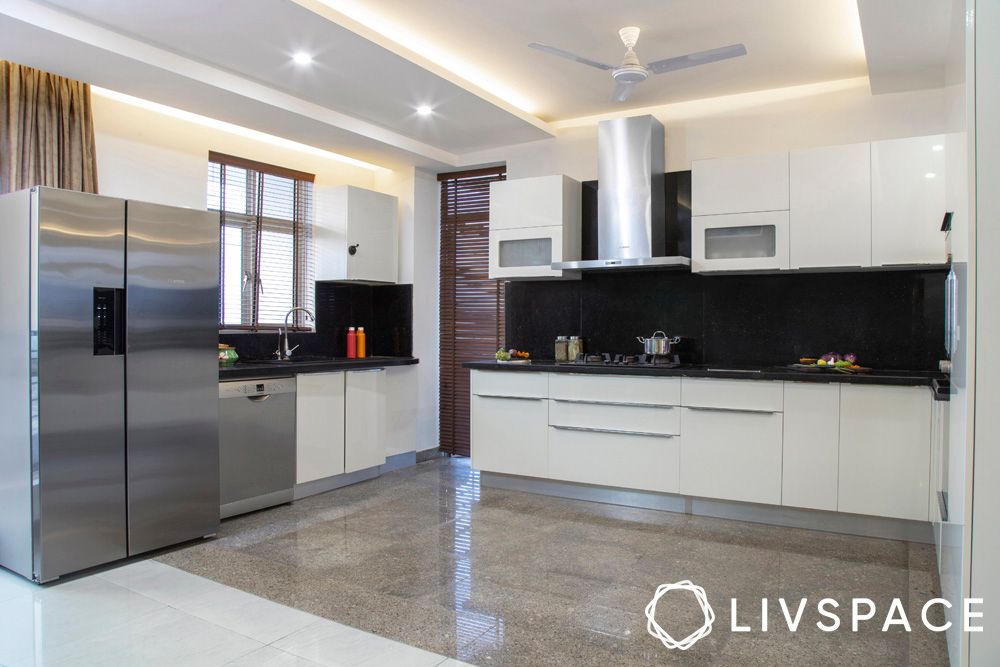 A simple POP design works well for the kitchen. Not only does a POP kitchen ceiling enhance the aesthetics of that space, it also allows light to be uniformly distributed throughout the working area. Hence, tasks can be easily carried out no matter which part of the kitchen you are working in. Also, remember we mentioned earlier that POP has low thermal conductivity and offers great insulation? Hence, it helps to keep the temperature down in the kitchen. And who would say no to sweating a little less while cooking, right?!
POP Design for Dining Room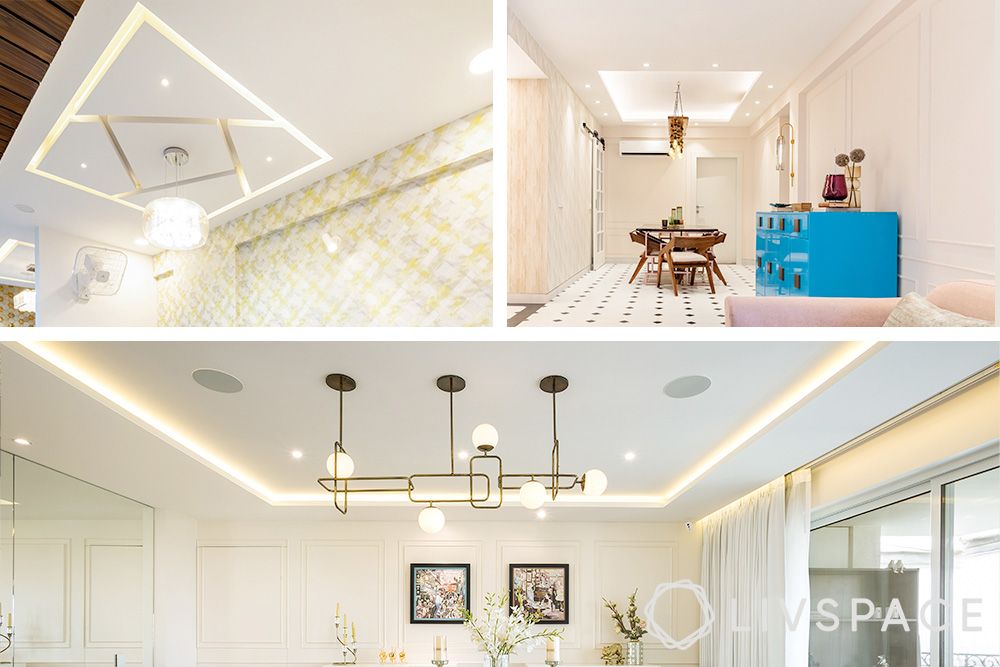 You can entertain guests at your home like a king without having to spend like one. Simply install a modern POP design above your dining table, complete with elaborate chandeliers and recessed lighting, and see your humble abode transform into a space fit to host even royalty.
POP Ceiling for the Living Room or Hall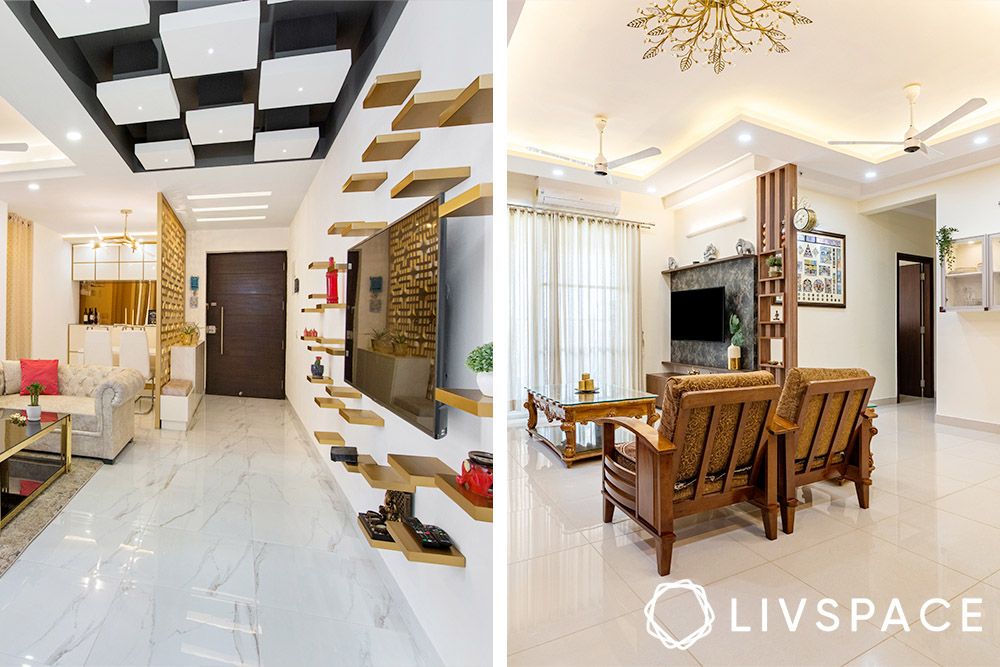 First impressions matter and your living room offers you an opportunity to do just that. A POP design for this room can be quirky, stylish or grand, depending on the overall tone of your home. POP design for the ceiling in the hall can be in the same shape as the room. If you have a large living room, you can use a POP false ceiling here to create visual divisions. Hanging lights, mirrors, quirky shapes, decorative POP designs, and vibrant colours – all of these can further enhance your false ceiling. Who knows, your beautiful POP ceiling might inspire great conversations with your guests!
Also Read: How to Calculate the False Ceiling Cost? This Easy Guide Will Help You
Bathroom POP Ceiling Designs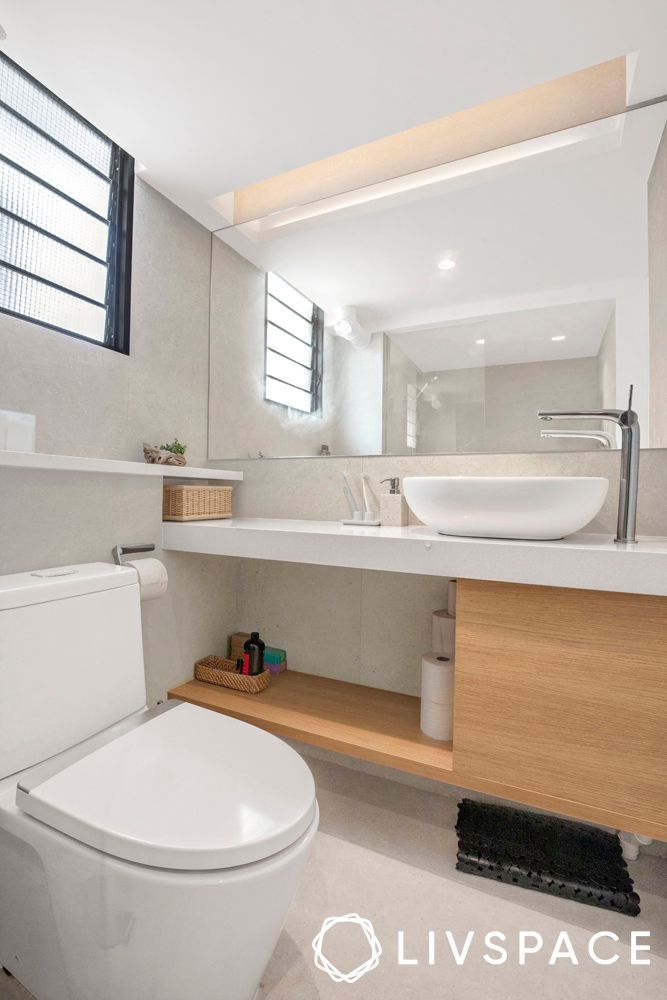 How can you hide all wires/cables, improve safety and have a great looking bathroom, all at the same time? With a POP false ceiling design, that's how!
Pooja Room POP Ceiling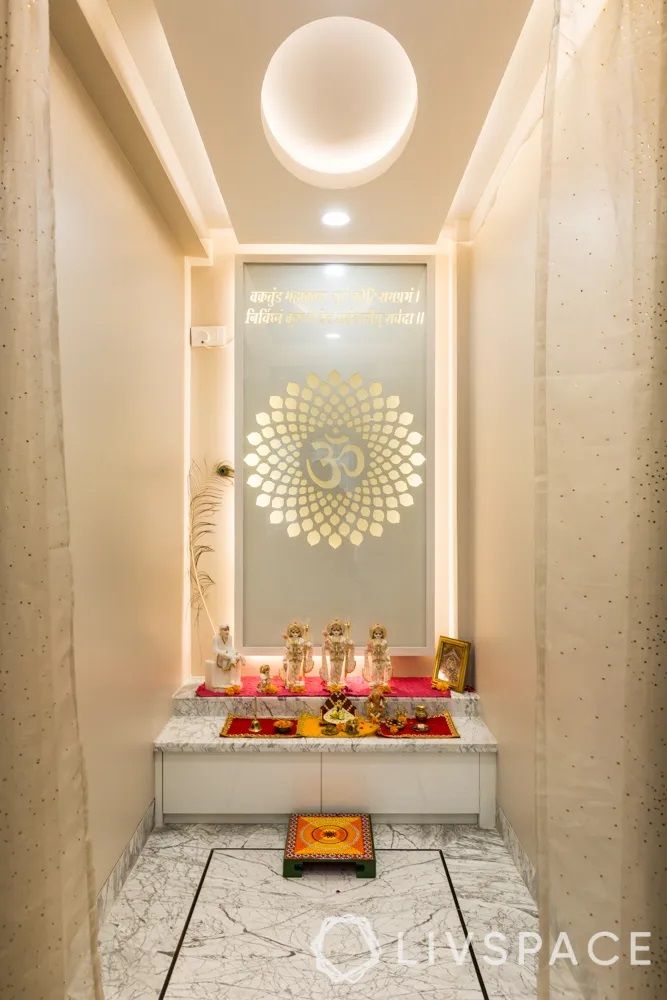 The pooja room in your home is a private, peaceful place where you can feel connected to divine power. Adding a simple POP design here will only enhance the divinity you experience in this room. You can also opt for a circular POP design for the ceiling with strip lighting to cast a soft glow in your pooja room. Adding a backlit panel engraved with religious inscriptions can further improve its impact.
POP Design for Balcony Ceilings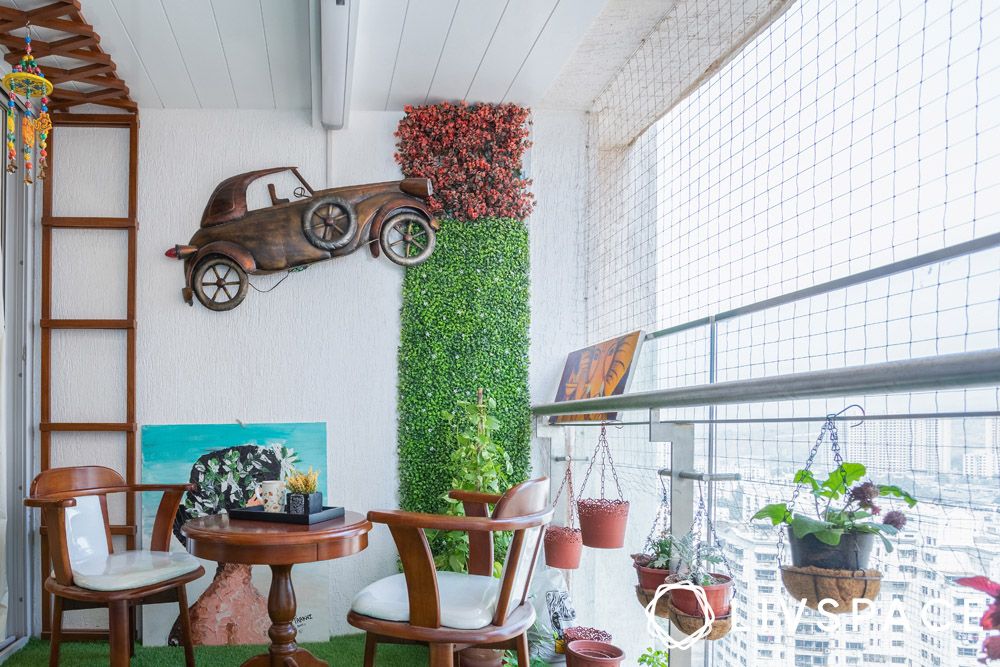 A POP design for the ceiling, especially in a small balcony, is a brilliant way to improve its look without spending a whole lot. Try and give it the look and shape of white or brown wooden rafters if you love earthy tones. If you are more on the adventurous side, you can paint it the colour of the night sky and deck it up with glow-in-the-dark or hanging stars. So what if you can't always see the stars from your balcony? A starry POP ceiling can work as well!
Wall to Ceiling/Extended POP Designs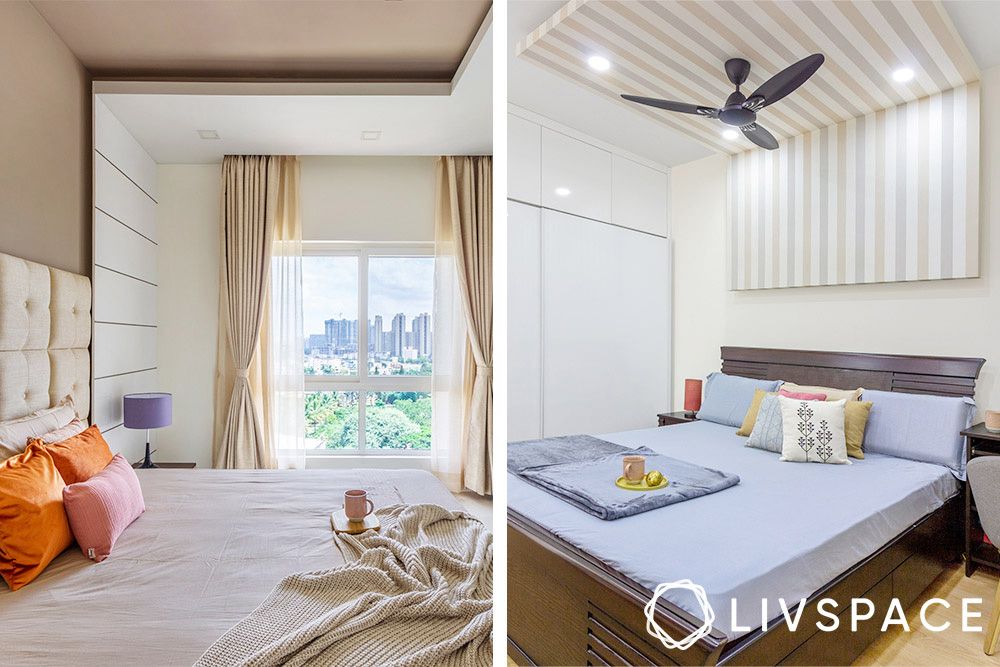 One of the less explored but creative POP design ideas is a wall to ceiling or extended design. An extended false ceiling is a simple way to get your ceilings to stand out. This is a clever trick that works especially well in the POP panel designs for bedheads and media consoles. It serves by piquing the interest of visitors while also straying from traditional ceiling-only POP ideas. Match the aesthetics of the wall and the ceiling panels to communicate the home POP design effectively.
Circular or Round Shape POP Design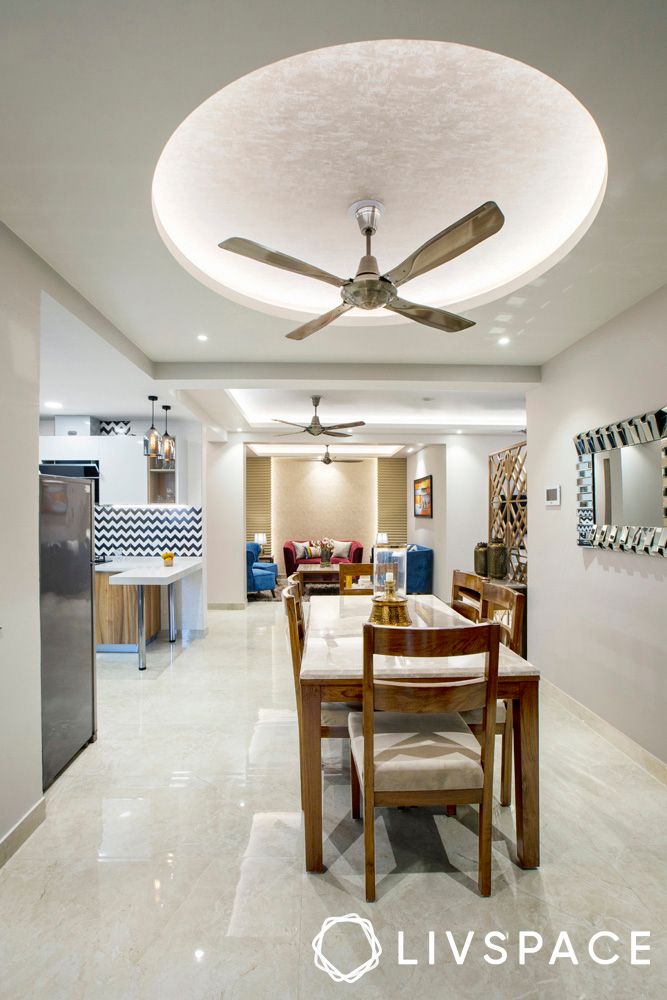 If you don't fancy rectangular or squarish false ceilings, then round it up! Modern simple POP design trends include playing with colours, patterns and shapes. You can simply swap a boxy false ceiling for a circular one to add more interest in an otherwise regular POP design.
Rectangle POP Design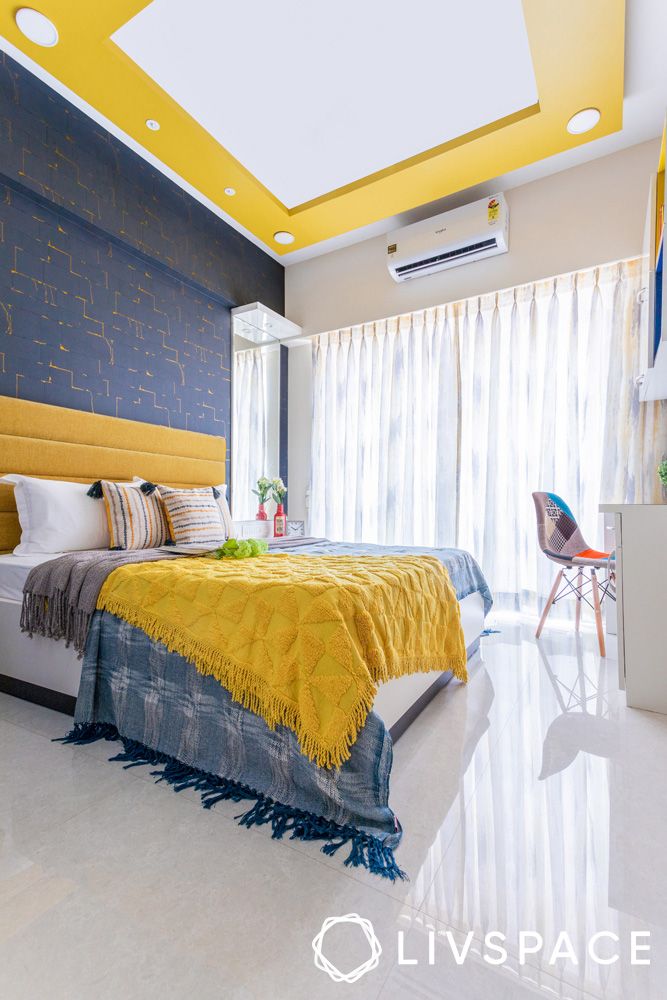 If you are a fan of the tried-and-tested, consider a rectangular POP design for the ceiling. Pick the same or complementary colours from the existing décor to paint the ceiling as it helps create a beautiful synergy.
Square POP Design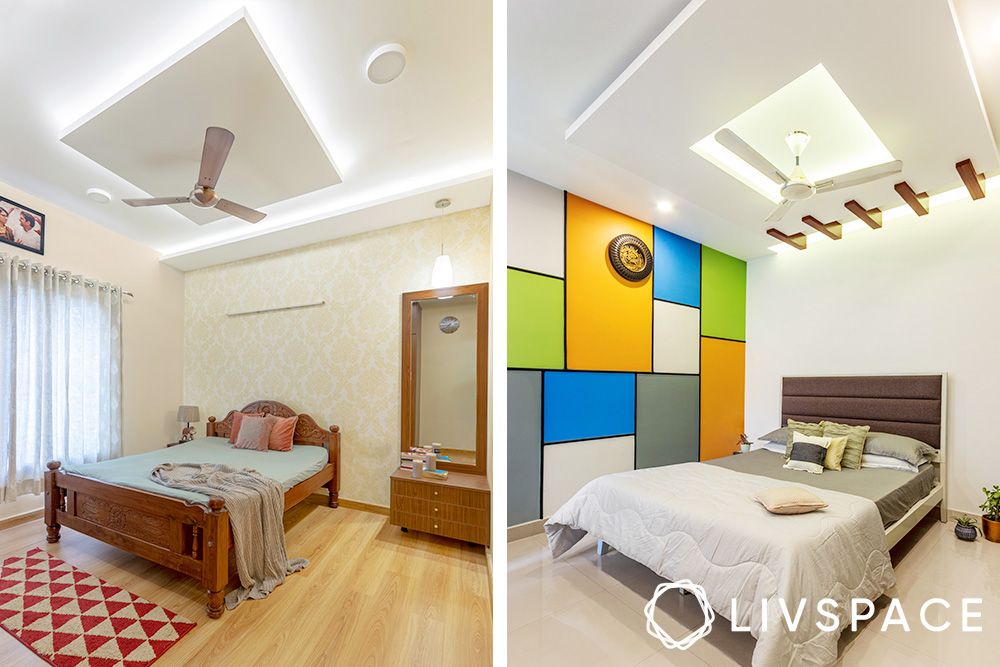 If you liked the rectangular POP false ceiling but need an alternative that takes up less space, a square false ceiling can come to your rescue.
After going through these designs, you may feel that the standard shapes don't cut it for you. Instead, you want to see some of the latest POP designs. OK, we got you!
POP Ceiling Design With Flowers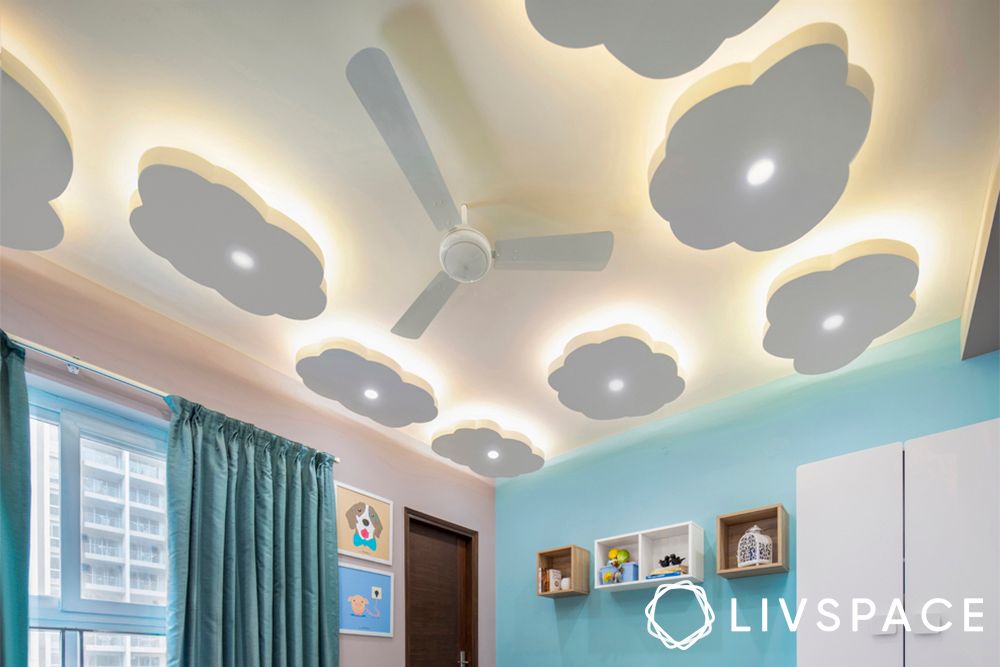 Roses are red,
Violets are blue,
Flowers can grow,
On the ceiling, too!
Didn't we tell you that POP can be moulded into ANY shape? So, try a new POP design with flowers and add a touch of the dreamy and whimsical to your room.
POP Ceiling Designs With Shapes and Colours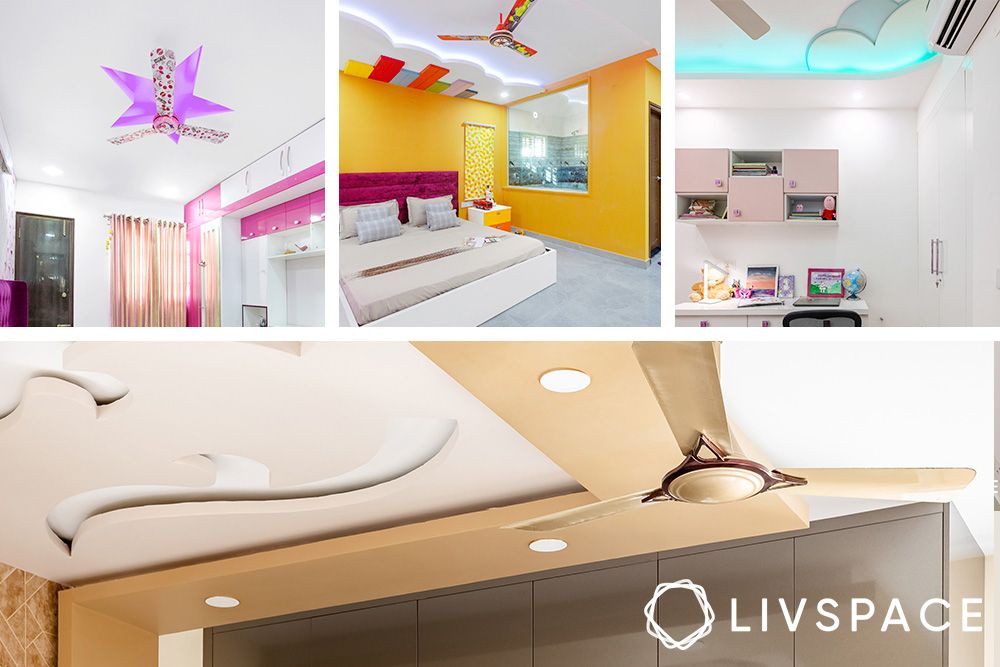 There's probably no shape that you can't create out of POP. Stars, leaves, clouds, birds, butterflies, fish, animals, rainbows – all painted in vivid colours. Just let your imagination go wild! 
3D POP Ceiling Design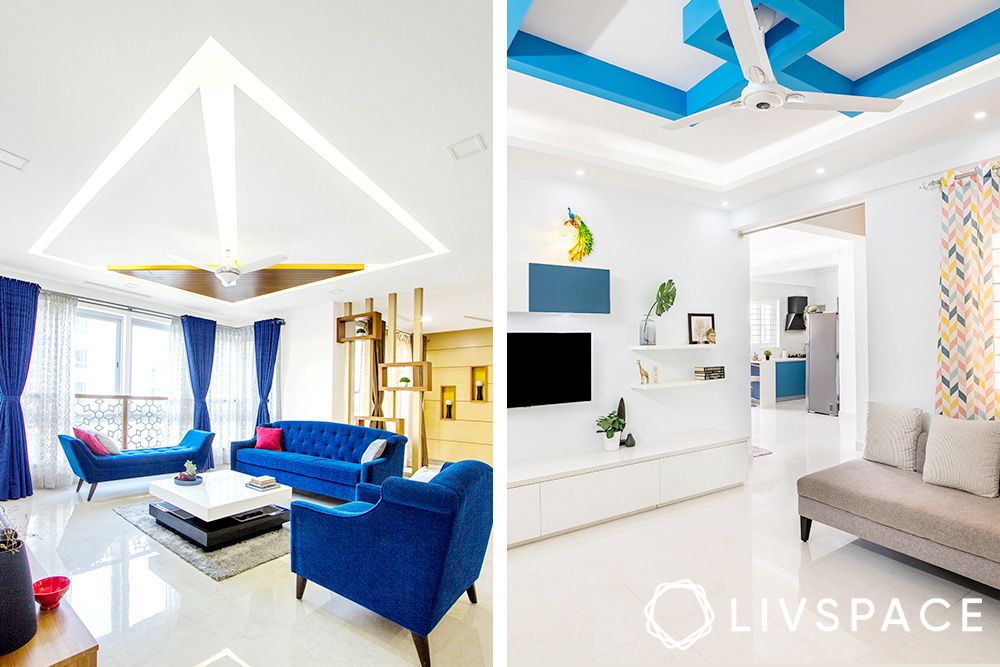 POP design for ceilings can create a 3D spatial definition within a room. Also, the various levels perceived by the eye make the POP ceiling design seem higher than it is. So, a 3D POP ceiling design offers a pleasant break from plain, flat ceilings and makes the room seem sufficiently decked up.
Jali and Honeycomb POP Ceiling Design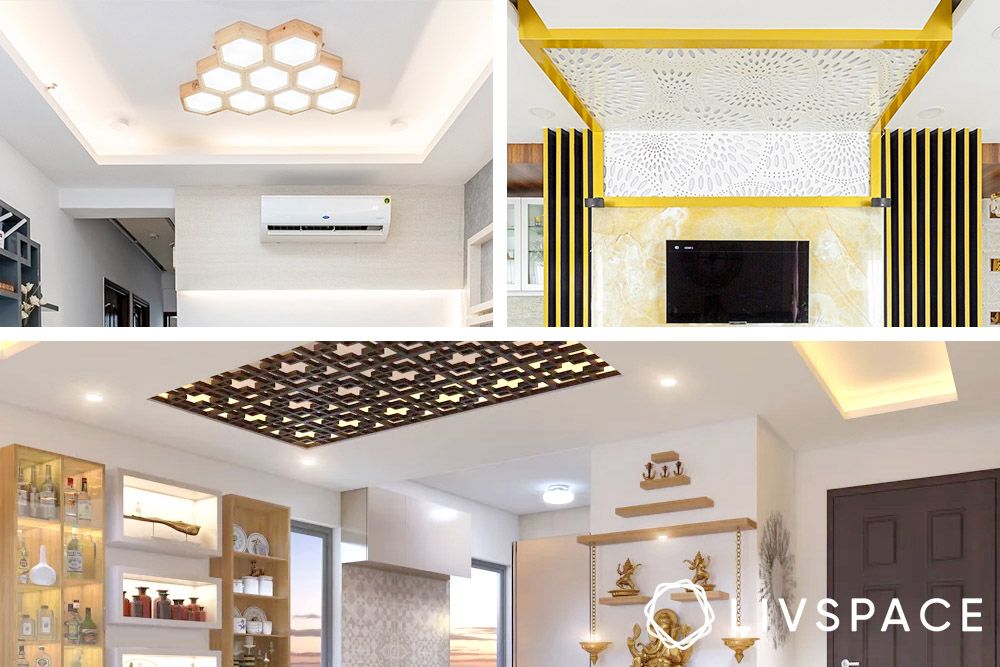 Interesting visuals can be created with POP ceilings decked with decorative elements. Some of the latest POP designs forgo a chandelier in favour of other striking elements like a jali pattern or a honeycomb light fixture.
POP Ceiling Design With Wood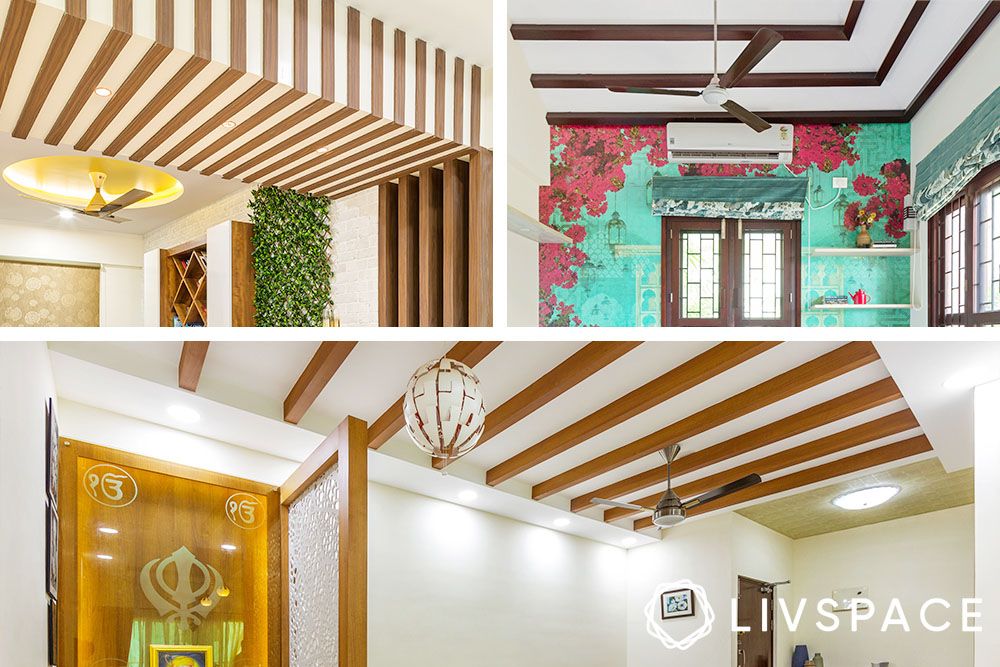 If your home has an earthy tone, a POP design for ceiling with wooden rafters can be a great fit in your interiors.
POP Ceiling Design With Glass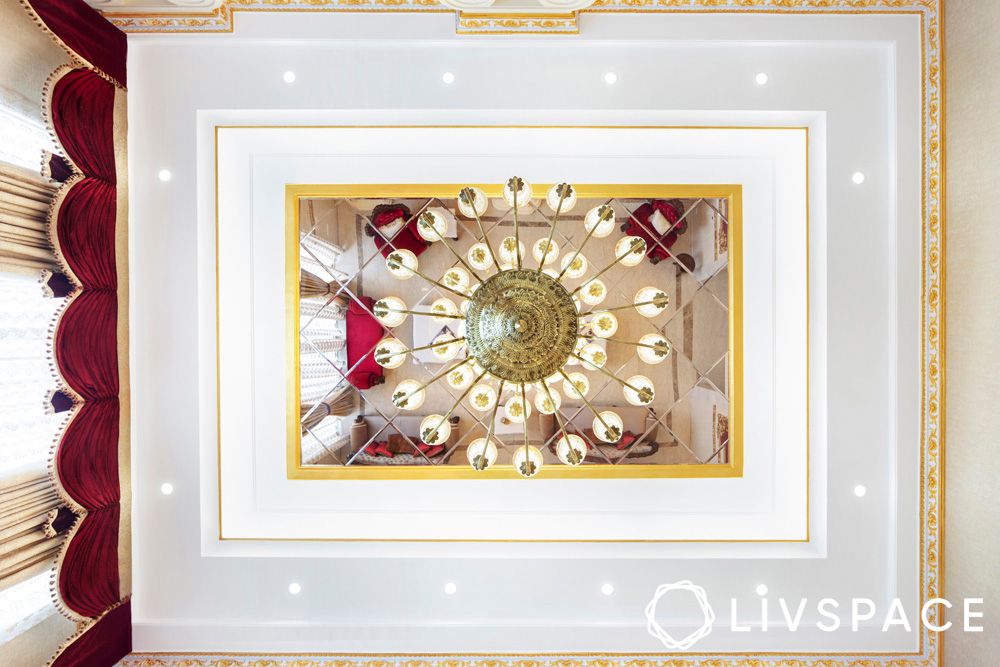 Whether you have a small room and want to make it look bigger or a large one that can do with some extra grandeur, putting a large mirror on your POP design for the ceiling is a great idea. Add a pendant light or golden chandelier and watch your room transform.
Inverted Cove POP Design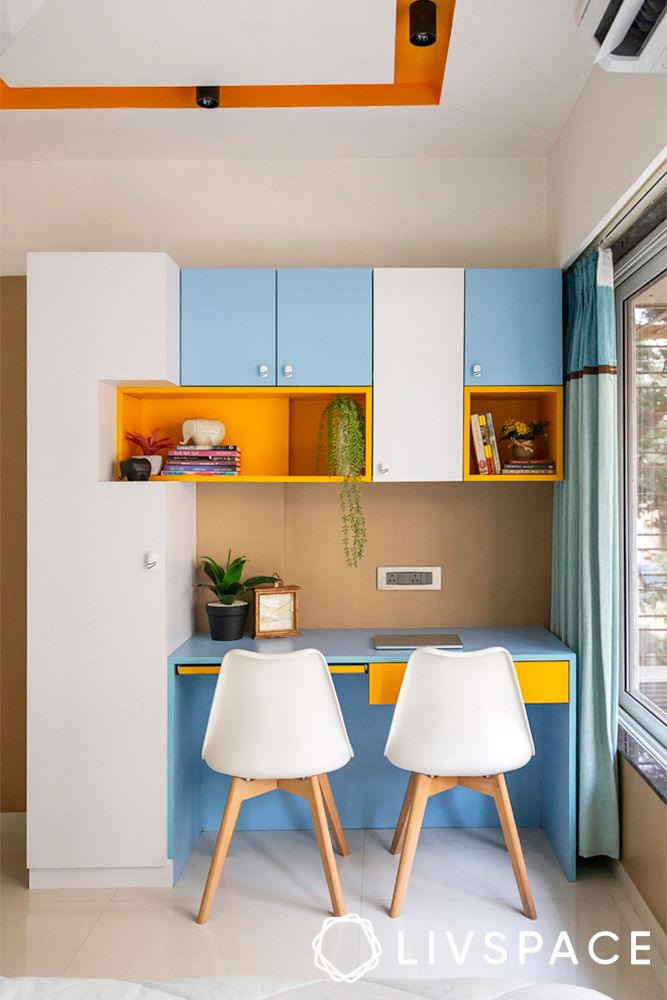 While a glass POP false ceiling is ideal for a smaller room, an inverted cove POP design is best suited for a room with a high ceiling. It helps to visually decrease the height of a room. You can hang a chandelier or place track lights in the cove for an ambient effect.
Plus Minus POP Design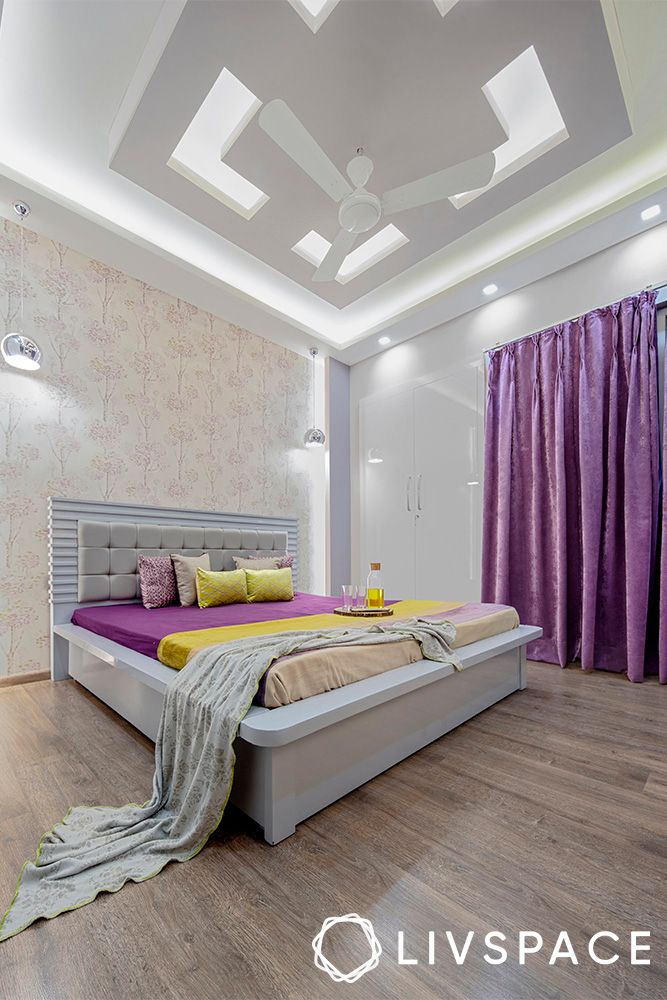 A Plus Minus POP design idea is for all those who love elaborate décor. A simple design can be converted into a Plus Minus by either having protrusions from the ceiling or tucking in some bits. This design works well for bigger rooms.
Also Read: 20+ Stunning Plus-Minus POP Design Ideas You Need to Explore For Your New Home
Decorative Elements With POP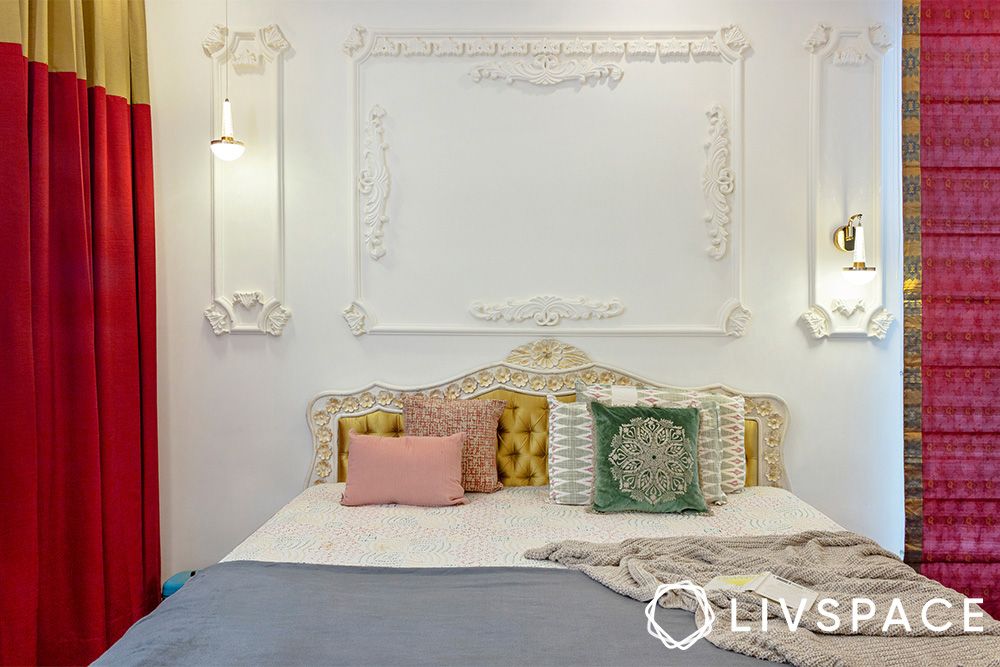 Ceilings are not the only space that benefit from a POP makeover. Walls are another area where you can add decorative elements made from Plaster of Paris to create a stunning visual effect.
Alternatives to POP Ceilings
You are probably convinced by now that a POP false ceiling is a great idea for your home interiors. But, like a good desi, you might want to do your due diligence before you make a choice, correct? We understand you. So, let's check out two popular alternatives to a POP false ceiling design.
Wooden False Ceiling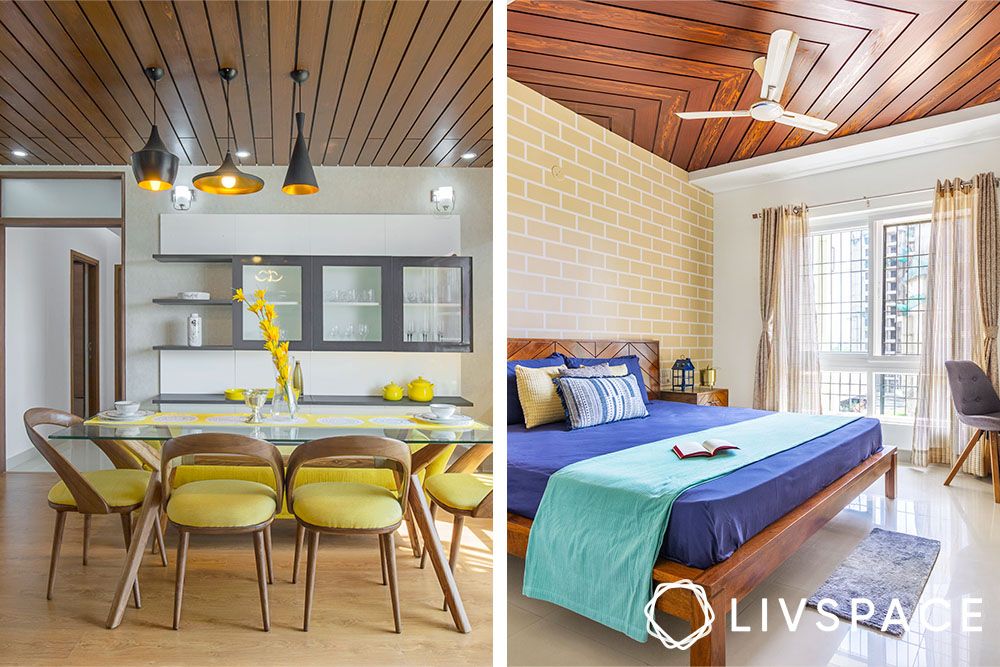 A false ceiling made from wood lends sophistication to any space. Wooden panels are available in different patterns and textures, and you can also paint them if you wish. However, wood is fairly expensive and also not easy or economical to maintain. In contrast, you won't face both these issues with a POP design for your ceiling. If you still want to install a wooden false ceiling, make sure that the wood is of good quality and also treated to prevent termite attacks.
PVC Ceiling Design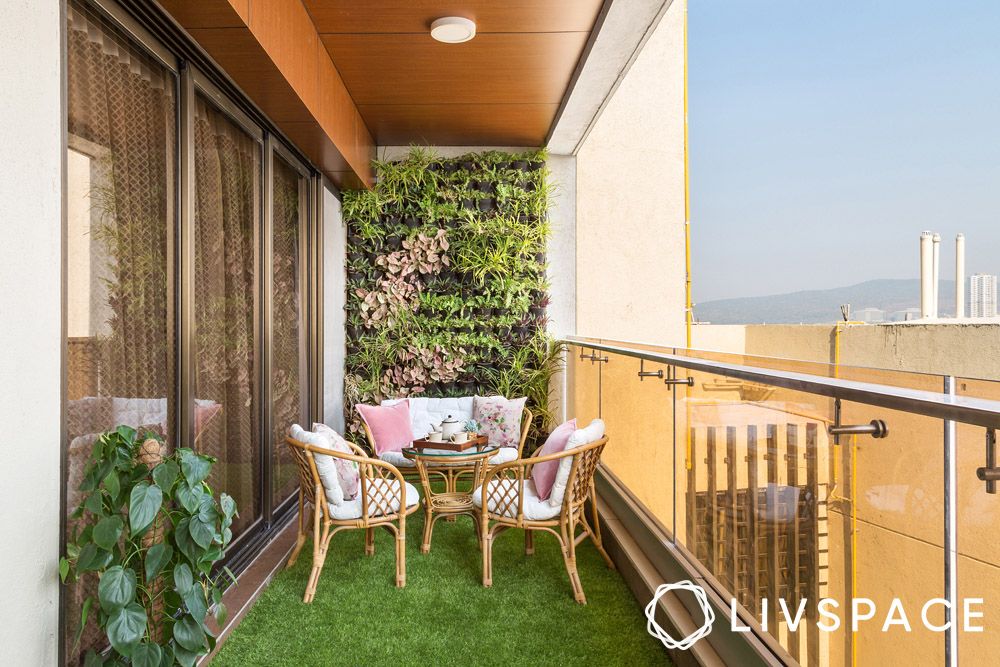 Polyvinyl chloride or PVC is a strong yet lightweight material that can be used to create a false ceiling. It has a seamless finish and is available in many colours, designs and sizes. It is one of the most affordable and sturdy materials used to create false ceilings. Additionally, it is waterproof and termite-proof and will not allow fungal growth. However, since it is basically plastic, it may not look as luxurious as a POP design for ceilings. Unlike POP, the joints between PVC panels are usually clearly visible.
It is possible that your heart is now set on a POP false ceiling after going through all these points. If so, great choice! If you are still not sure, read on to learn how no or low maintenance a POP ceiling is. We are positive it will be an easy choice after that.
Tips to Maintain POP Ceilings
Since POP is a highly durable material, its maintenance is also fairly easy. If you spot dust or cobwebs on a POP ceiling, you can use a dry duster or a broom to quickly sweep it off. Stains or marks can be wiped off with a microfibre or any other soft cloth dipped in a diluted soap/detergent solution. Easy-peasy, isn't it?
We hope you picked up some great POP design ideas via this tour and are ready to see a beautiful new frame every time your eyes stray upwards in your home.
How Can Livspace Help You?
We hope you found our ideas useful! If you want beautiful interiors for your home, book an online consultation with Livspace today.
FAQs
1. What Is a POP Design Ceiling?
POP (Plaster of Paris) is an economical and versatile material made from semi-dehydrated gypsum. When it is used to make a false ceiling, it is called a POP ceiling. 
2. Which Is the Best False Ceiling Material?
There are multiple materials available in the market to help create false ceilings. Which is the best one really depends on your budget, needs and space. That being said, POP is an economical, durable and versatile option to consider.
3. Is POP Good for the Ceiling?
Yes. POP has various functional, economical and aesthetic benefits, making it a great choice for a false ceiling.
4. What Is the Advantage of POP Ceiling Design?
The advantage in choosing a POP design for your ceiling stems from the qualities of POP. Plaster of Paris is durable, heat, fire and weather resistant, and easy to mould and colour. Moreover, it does not crack and offers a smooth finish to the end design.