The fifth wall or the ceiling has remained anonymous for years in India; it was always white, no matter the colour of the walls. With the advent of wooden ceilings, plain boring ceilings are slowly going out of sight and mind. The reason that a wooden false ceiling is earning favour is that it is versatile — it can be as classic or as modern as you want it to be.
You can also opt for something that stretches across the entire ceiling or highlights just a segment of it. Hence, bid adieu to plain white ceilings and bring in wooden false ceiling designs to elevate your home's aesthetic. We've put together some inspiration to get you started.
What Are Wooden False Ceilings?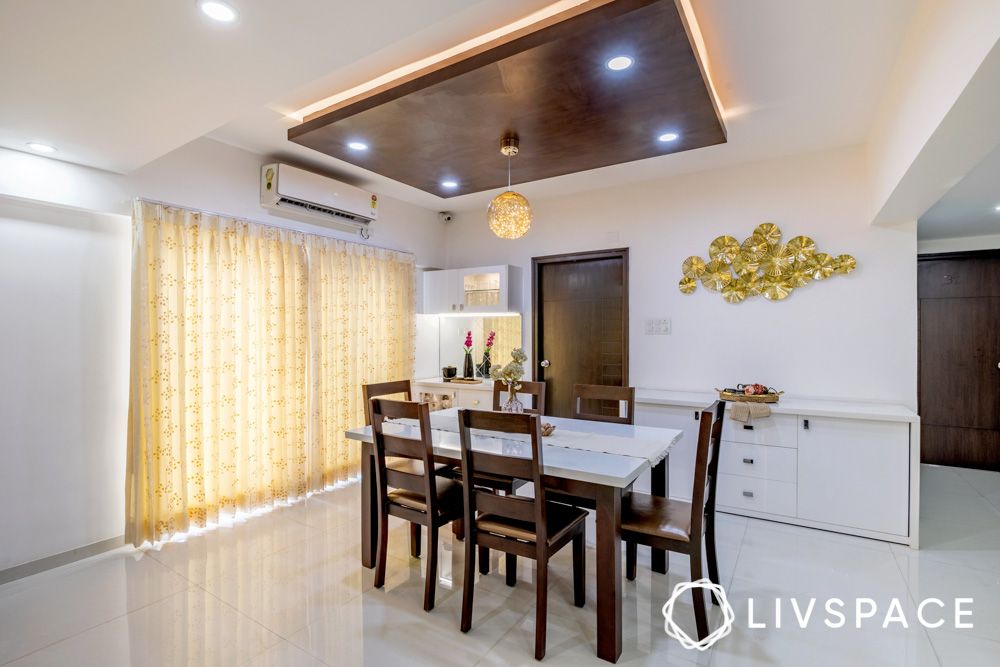 Wooden false ceilings are suspended ceilings that are either made of real wood or look like they are made of wood. The external wooden imitation can either be made of laminates, veneer or paints. And invariably, these ceilings succeed in adding warmth and style to your home.
What Are Wooden False Ceilings Made Of?
Blockboards are usually opted for designing a wooden ceiling. As for the finishes, natural varnished wood, lacquers, melamine, and laminates are used for wooden ceiling designs. You can also use these materials in combination with others like glass, gypsum, and metal.
Why Should You Install a Wooden Ceiling Design?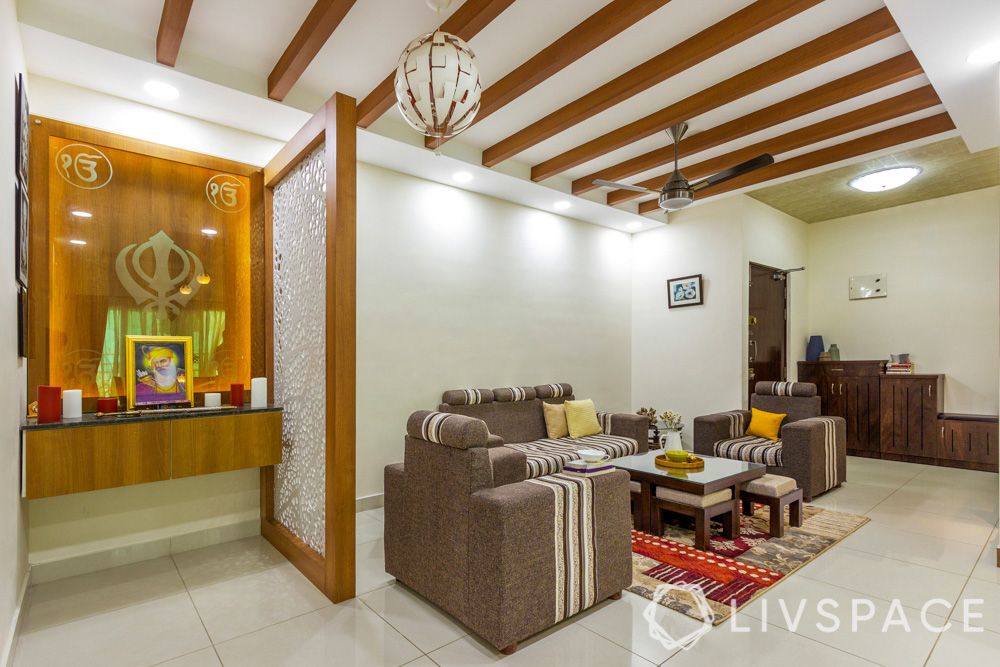 Traditionally, wooden ceilings have had multiple benefits, such as, they:
#1: Absorbs Sound
As wood is a porous material, it functions as a natural acoustic absorbent. You can also opt for sound-absorbing acoustic panels to control the reverberation of sound in the room.
#2: Saves Energy
A wooden ceiling design for the bedroom might reduce your need for using an air conditioner, thus, reducing energy consumption. The wood and the air between the ceilings (original and false) act as a heat insulator, so your room remains cool for longer.
#3: Provides Strength
If you're planning to install heavy lights in your false ceiling, opt for a wooden ceiling design. With this, you can install more lights without fearing that the ceiling will sag.
#4: Easily Installed and Removed
Out of different types of false ceiling materials, wood is considered the easiest to install and remove. If you are opting for wooden false ceiling design panels, the wooden planks can be installed and dismantled with ease.
#5: Comes in a Variety of Finishes
Wooden false ceiling designs give you a wide choice of finishes, from glossy to matte and textured finishes. You can also choose from laminate, veneer, and other natural varnished wood.
#6: Eco-Friendly
If you're environmentally conscious, this is a major point in favour of wooden ceilings. Once disposed of, they will decay naturally, causing little damage.
Disadvantages of a Wooden False Ceiling
Disadvantages of wooden false ceiling designs are not many, but they can influence your decision of choosing them for your home.
#1: Ceiling Height Reduction
Wooden false ceilings, can reduce the ceiling height and make your room appear smaller than it is. Your room will, however, still look cosy.
#2: Cost of Material
When compared to POP or gypsum, wooden ceilings can be expensive to use in your home. But given that POP and gypsum aren't sturdy enough to support your heavier lighting accessories, wood may become your safer option.
#3: Vulnerability in Humid Places
Wooden false ceilings are more vulnerable to termite attacks and warping in extreme humid conditions. However, they are the most favourable in cold climates.
#4: Maintenance
Maintaining wooden ceilings can be challenging for some people as, typically, it attracts dust. However, there are many hypoallergenic finishes which make their surface resistant to dust.
Why Choose a Wooden False Ceiling Over Other Types of Ceilings?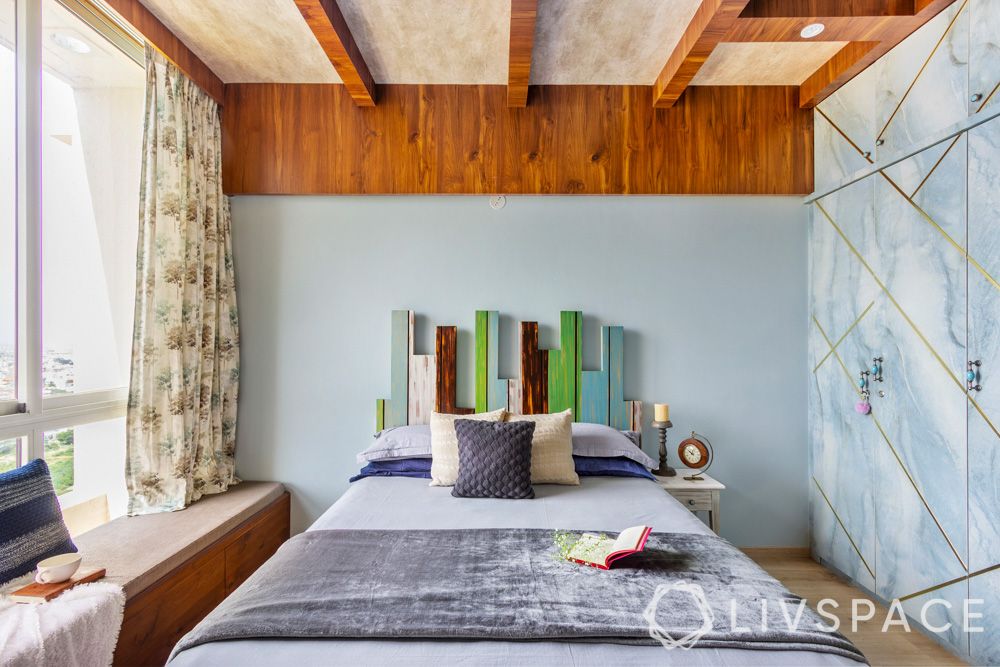 POP false ceilings are available in a wider range of colours and designs. But they might not be the best option if you live in a humid environment. Unlike a wooden false ceiling, the POP one can absorb water over time and sag. Moreover, POP is not as robust as wood and can be easily prone to damage. Moreover, wooden planks can also be easily replaced, but the POP false ceiling will be difficult to restore.
Other options are the gypsum ceiling designs. Gypsum is a naturally occurring mineral comprising calcium sulphate dihydrate. It is used to create gypsum boards that are used in gypsum false ceilings. While gypsum is highly durable and cost-effective, it can only be used in rooms with high ceilings as it can occupy more space. Unlike wood, gypsum cannot be moulded. It is also prone to water-retention.
Type of Ceiling
Advantages
Disadvantages
POP
-Mouldable
-Less expensive
-Requires skilled labour
-Brittle & hard to repair
Gypsum
-Less expensive
-Clean look
-Easy to maintain
-Not very sturdy
-In case of damage,
replacement is the only option
Wooden
-Clean look
-Plush vibe
-Higher appeal
-Eco-friendly
-Relatively expensive
-Can be hard to maintain
How to Install Wooden False Ceiling Designs?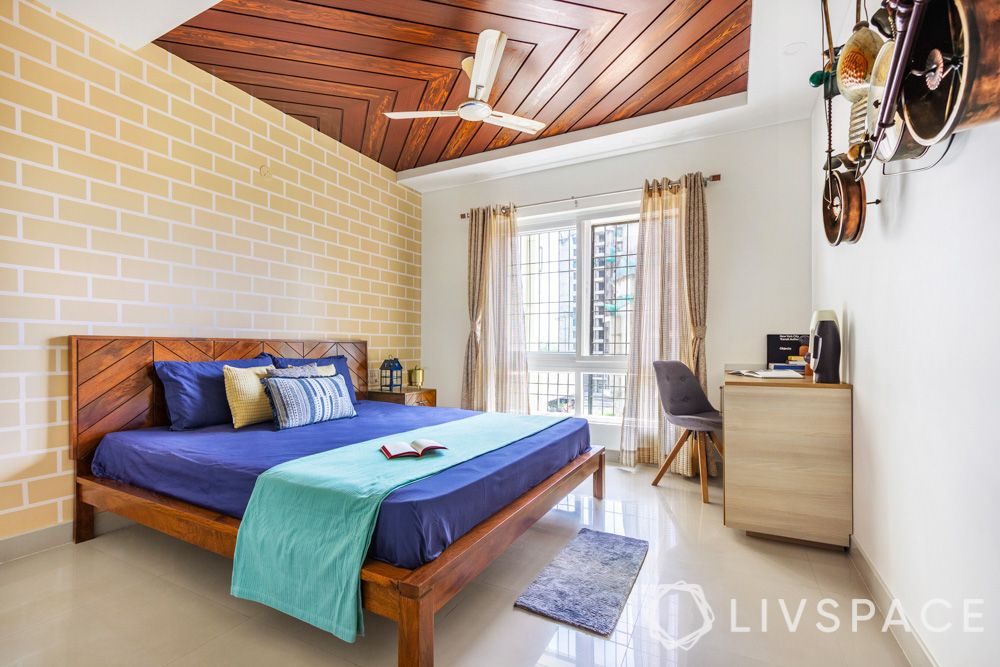 To kick-start the process of building a wooden false ceiling, build a frame that accommodates the structure that's been planned. Mark out the desired height of your wooden ceiling design from the floor along the walls, and add wooden struts to support the structure.
You can then install the wooden panels, and use your choice of paints and finishes to complete the look. Remember to leave adequate space to prevent the panels from touching walls. Also, make sure that there are cavities to install lights at optimal distances.
In conclusion, wooden false ceilings are not just stunning, they are functional too. So, choose a wooden ceiling design that resonates with your purpose and aesthetic.
Best Wooden Ceiling Designs for Your Home
Take a look at the 10 best wooden false ceiling designs so that you can design a home that speaks to you.
#1: A Simple Wooden False Ceiling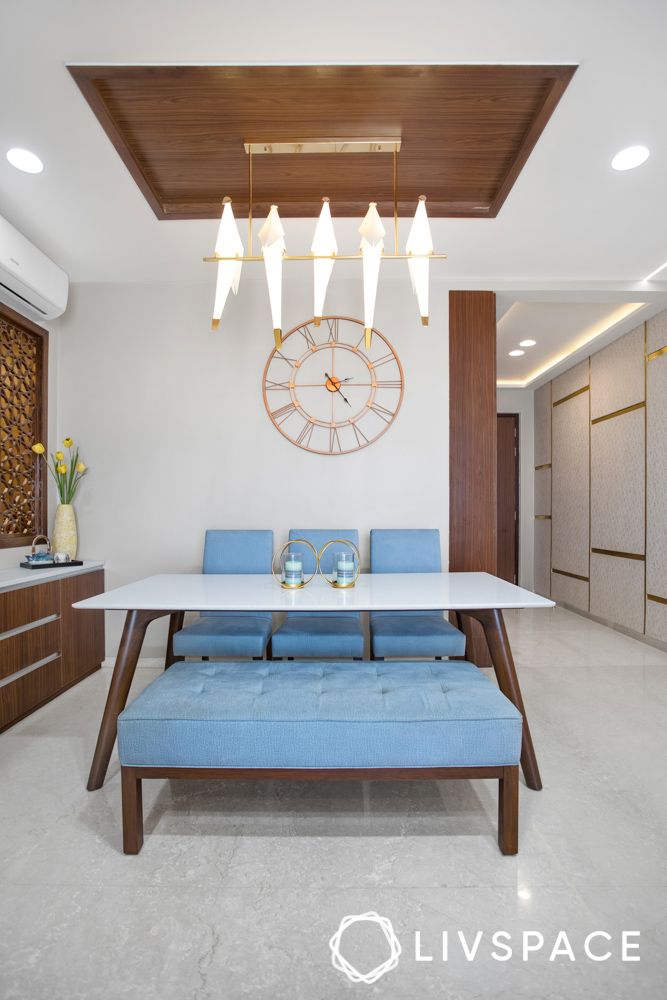 Wooden ceilings are a great way to bring attention to a particular region in your home. For instance, in this picture above, the wooden ceiling is highlighting the dining area and the contemporary lighting fixture attached to it.
#2: A Luxurious Wooden Ceiling That Spells Metal Magic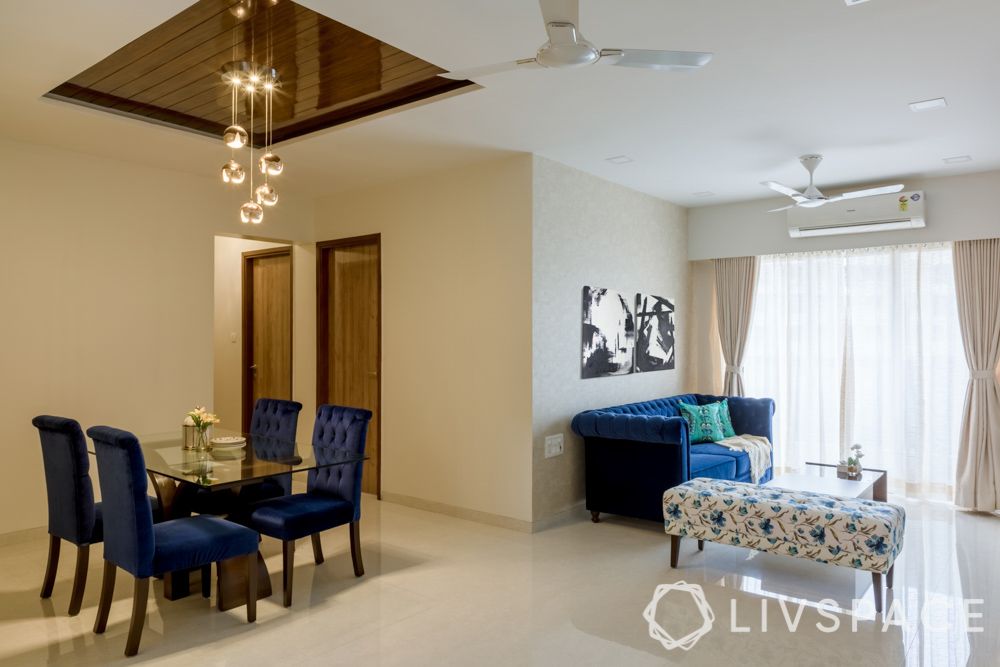 Nothing spells elegance quite like polished wood paired with warm metal accents. Stylish pendant light fixtures attached to a wooden false ceiling can really brighten up a room, as showcased in this dining area. This adds a touch of shimmer to your interiors.
#3: A Contemporary Wooden False Ceiling Design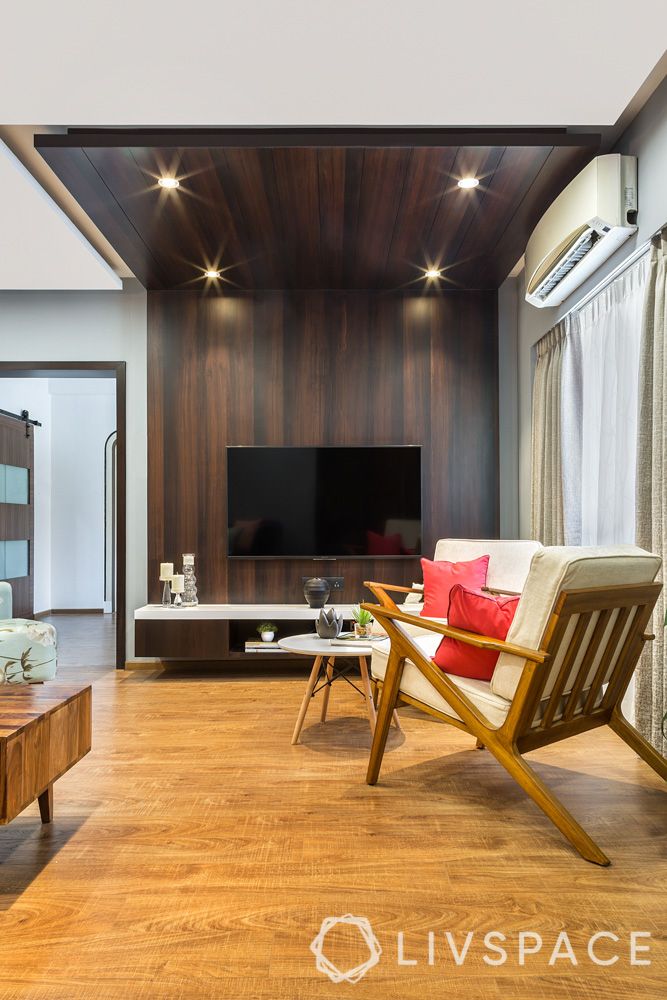 Wooden panelling continued from the accent wall to the false ceiling is very attractive, as seen in this tasteful lounge area. This design can be accentuated even more using recessed lights and cove lights in your living room.
#4: A Simple Wooden Ceiling With Layered Lighting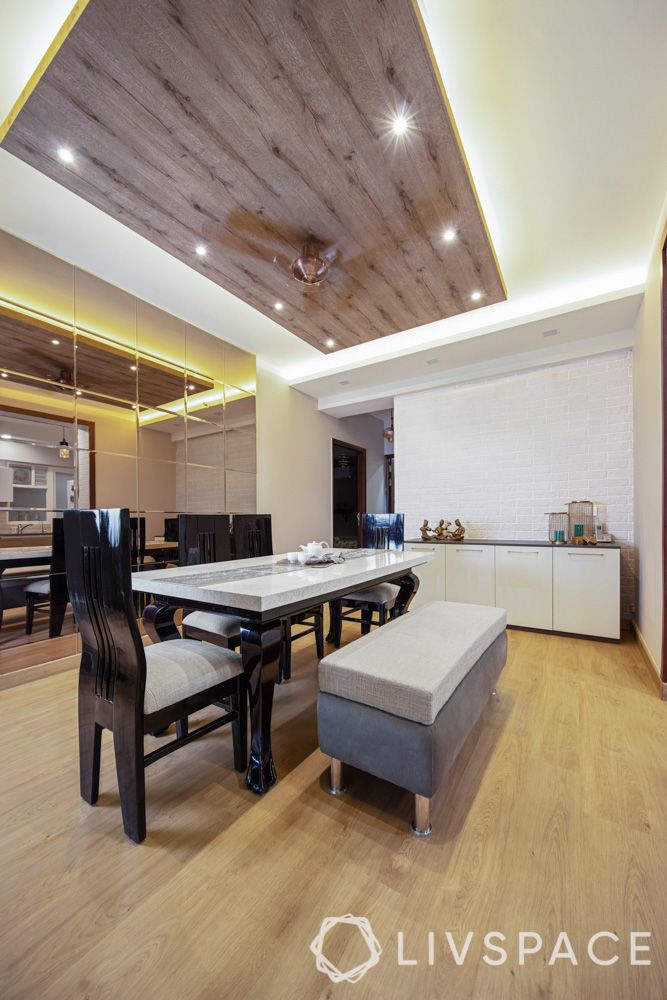 LED lights and cove lights embedded in the wooden false ceiling cast a soft glow in this dining area, creating a mellow and restful mood perfect for mealtimes. When you do not want harsh lighting at home, these cove lights are your best bet.
#5: A Dimension-Adding Wooden Ceiling Design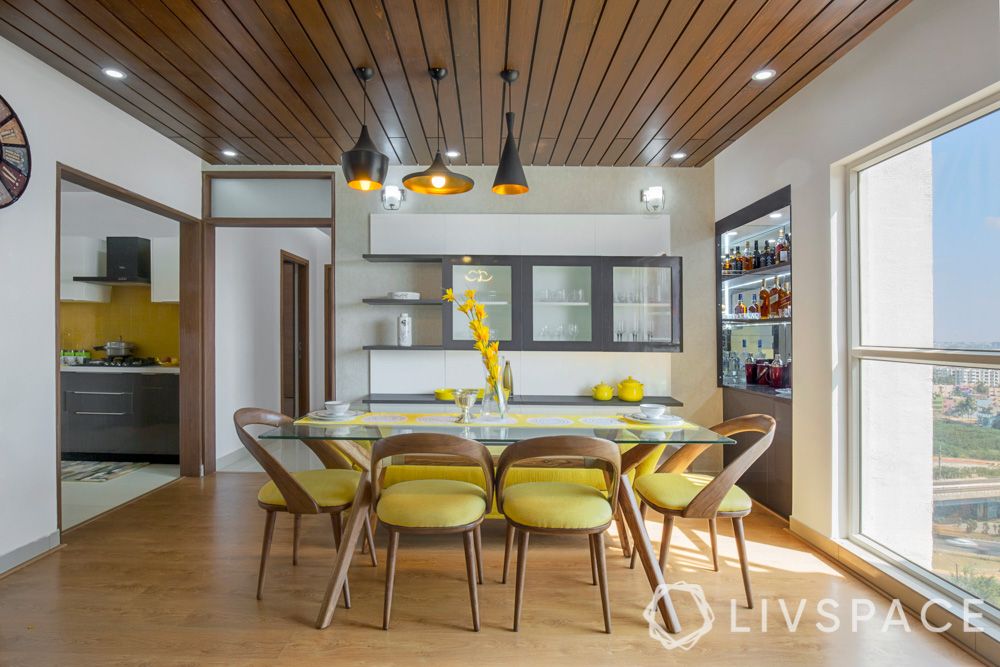 Wooden panelling over your dining area helps create a more defined space. It's also cosy to look up at the warmth of a modern wooden ceiling design as you share a meal.
#6: A Wooden Ceiling With an MDF Lattice
Latticework wooden ceiling panels, paired with the right type of concealed lighting, can be a really interesting addition to any room. However, these can be custom-made in different patterns to suit your taste. Subsequently, using this at your entrance will make the space look more imposing.
#7: A Modern Ceiling With Wooden Rafters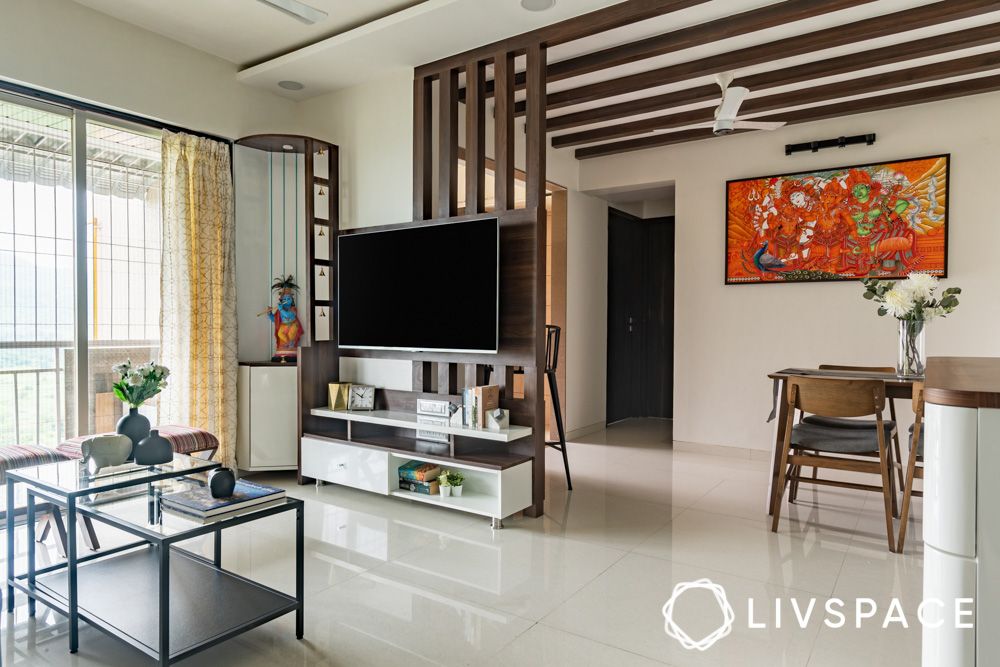 Wooden rafters are another way to add a note of refinement to your interiors. Therefore, you can either have these cover your entire ceiling or use them to highlight only one portion. This dining room had rafters put up to set a charming modern ambience.
Also Read: Why Modular Rafters for Your Ceiling is the Perfect Choice for You
#8: A Traditional Wooden False Ceiling Design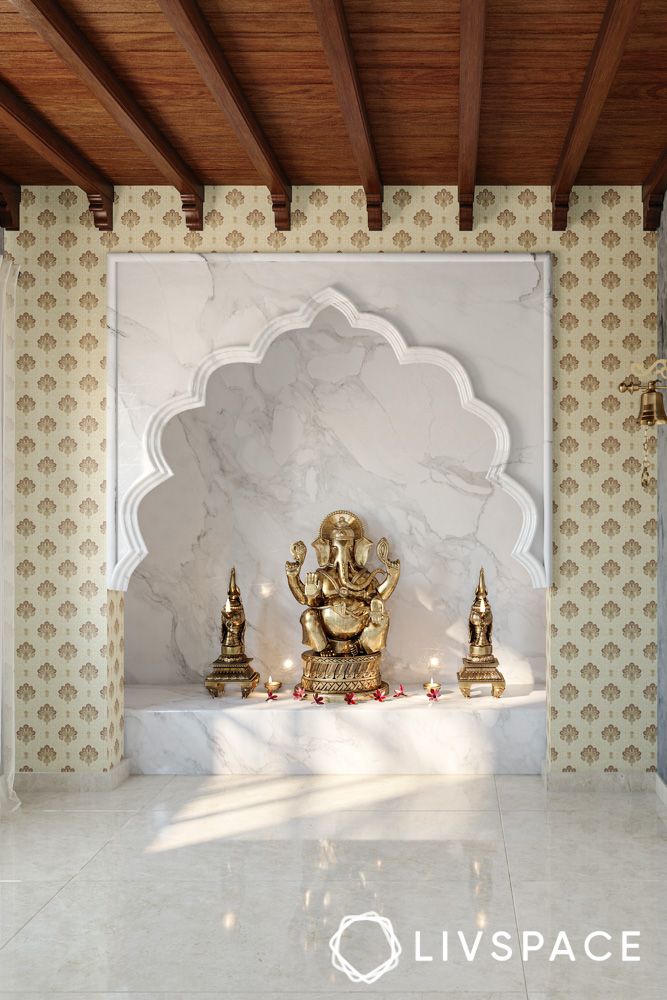 If you like, you can also make these rafters look traditional/vernacular. This way you can influence the whole mood in that part of your home. However, using ceiling lights apart from chandeliers can challenge the traditional appearance of the ceiling. So choose your ceiling fixtures wisely in this case.
#9: A Coffered Wooden False Ceiling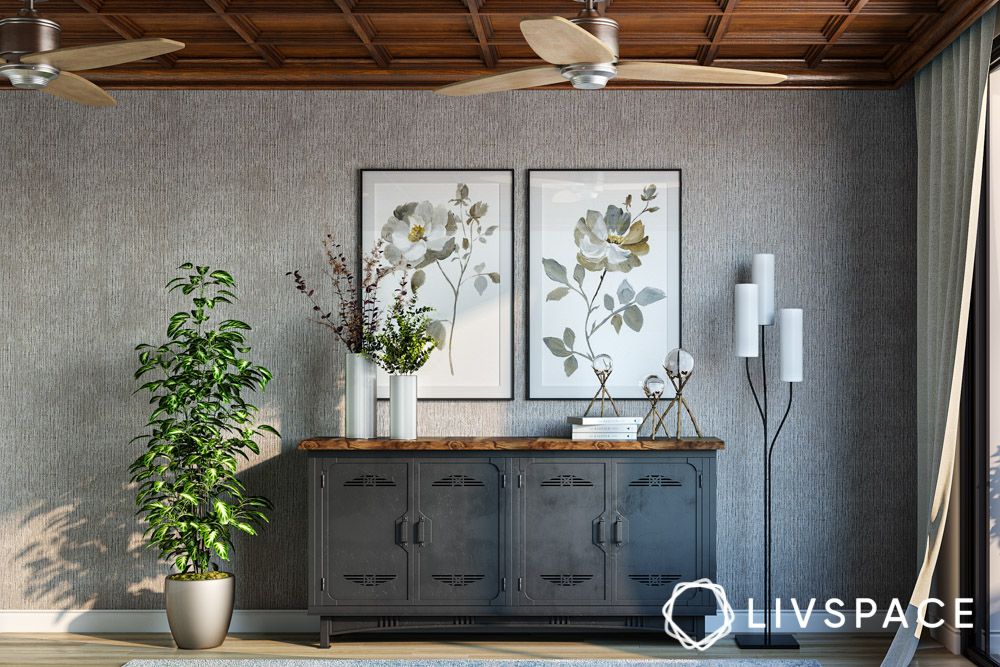 This ceiling design is quite vintage compared to the rest, but it still maintains its appeal. It is commonly built in the colder regions where preserving heat inside the room is of essence. Nevertheless, it has found its way in urban homes, simply for its looks.
#10: A Textured Wooden False Ceiling Design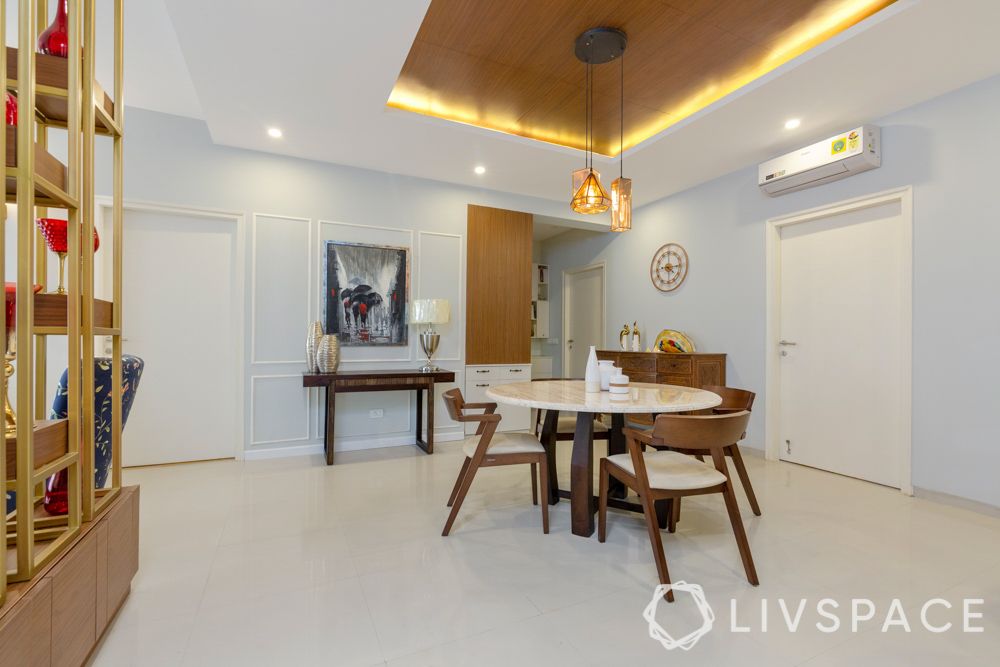 Your wooden ceiling design doesn't have to be plain. Subsequently, you can opt for a textured one made of planks or place it in a groove to add more visual interest.
Also Read: How to Perfect the False Ceiling Design for Your Home: A Complete Guide
Check out false ceiling designs:
How Can Livspace Help You?
If you want your home to be just as beautiful, then look no further. Book an online consultation with Livspace today.
We love hearing from you! Write to us with your comments and suggestions at editor@livspace.com