The fifth wall or the ceiling has remained anonymous for years in India; it was always white no matter the colour of the walls. With the advent of wooden false ceilings, plain boring ceilings are slowly going out of sight and mind. The reason that a wooden ceiling is earning favour is that it is versatile — it can be as classic or as modern as you want it to be. You can also opt for something that stretches across the entire ceiling or highlight just a segment of it.
Hence, bid adieu to plain white and bring in wooden false ceilings to elevate your home's aesthetic. We've put together some inspiration to get you started.
What are wooden false ceilings made of?
Blockboards are usually opted for designing a wood ceiling. As for the finishes, natural varnished wood, lacquers, melamine, laminates etc. are predominantly used for ceilings. Another highlight of wooden false ceiling designs is that these can be customised in combination with other materials such as glass, gypsum, metal etc.
Why should you install a wooden false ceiling?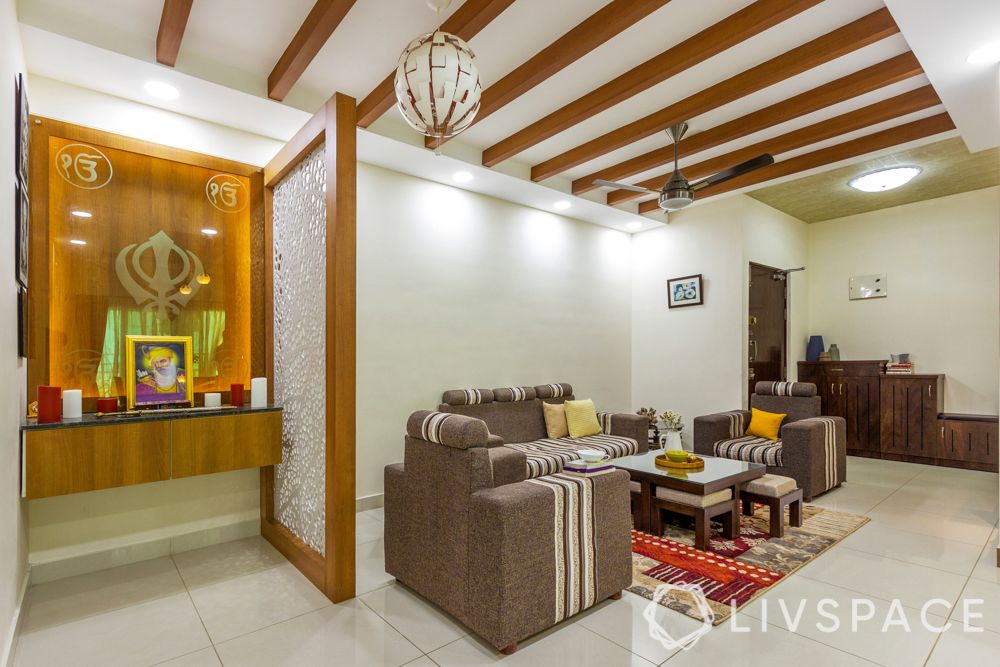 Traditionally, these ceilings have had multiple benefits, such as:
#1: Absorbs sound: As wood is a porous material, it functions as a natural acoustic absorbent. You can also opt for sound-absorbing acoustic panels to control the reverberation of noise in the room
#2: Energy-saving: A wooden false ceiling reduces the amount of space that needs to be cooled down using an air conditioner, thus reducing energy consumption. Moreover, wood is a heat insulator, so your room remains cool for longer
#3: Strength: If you're planning to install lights in your false ceiling, opt for a wooden design. With this, you can install more lights without fear that the ceiling will sag
#4: Easy installation and removal: Of different types of false ceiling materials, wood is among the easiest to install and remove. If you are opting for wooden ceiling panels, the wooden planks can be installed and dismantled with ease
#5: Choice of finishes: Wooden false ceilings give you a wide choice of finishes, from glossy to matte and textured finishes. You can also choose from laminate, veneer, and other natural varnished wood
#6: Eco-friendly: If you're environmentally conscious, this is a major point in favour of wooden false ceilings. Once removed, they will decay naturally, causing little damage.
Now that we have covered the pros of wooden false ceilings, let's look at some cons. Wood is pricier than the other materials used for false ceilings. It is also high maintenance because wood is prone to termites and the change in the weather.
Why choose a wooden false ceiling over other types of ceilings?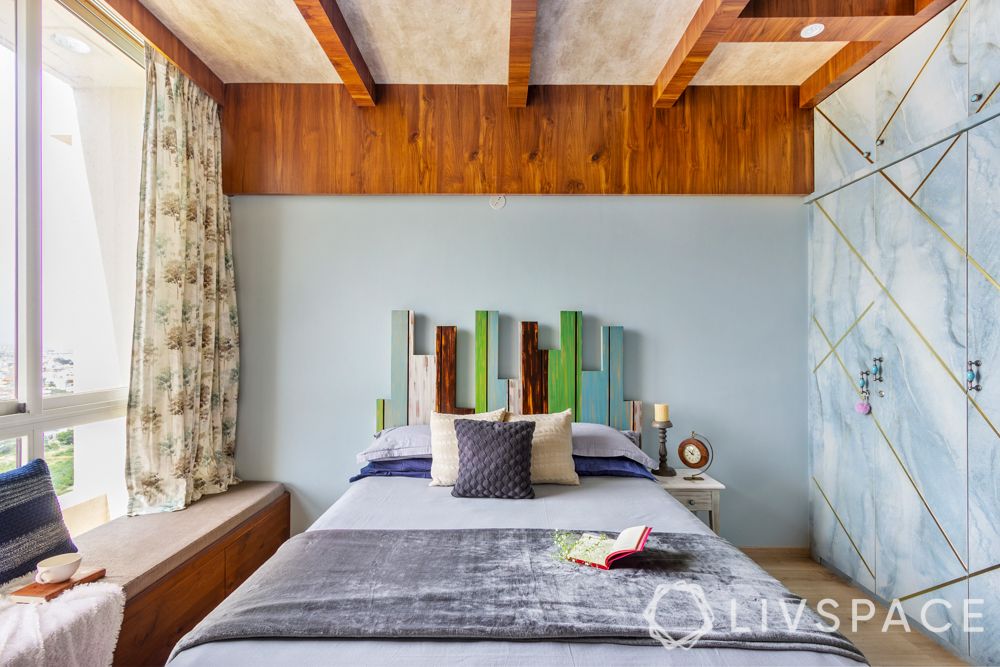 If POP false ceilings have caught your fancy, we're not surprised. These are available in a wider range of colours and designs. But a word of caution — POP might not be the best option if you live in a humid environment. Unlike a wooden false ceiling, your POP one can absorb water over time and sag. Moreover, POP is not as robust as wood and can be easily prone to damage. However, while wooden planks can be easily replaced, your POP false ceiling will be difficult to restore.
Another option for a false ceiling material is gypsum, a naturally occurring mineral comprising calcium sulfate dihydrate. It is used to create gypsum boards that are used in gypsum false ceilings. While gypsum is highly durable and cost-effective, it can only be used in rooms with high ceilings as they occupy more space. Unlike wood, gypsum cannot be moulded. It is also prone to water retention.
Wooden False Ceiling Installation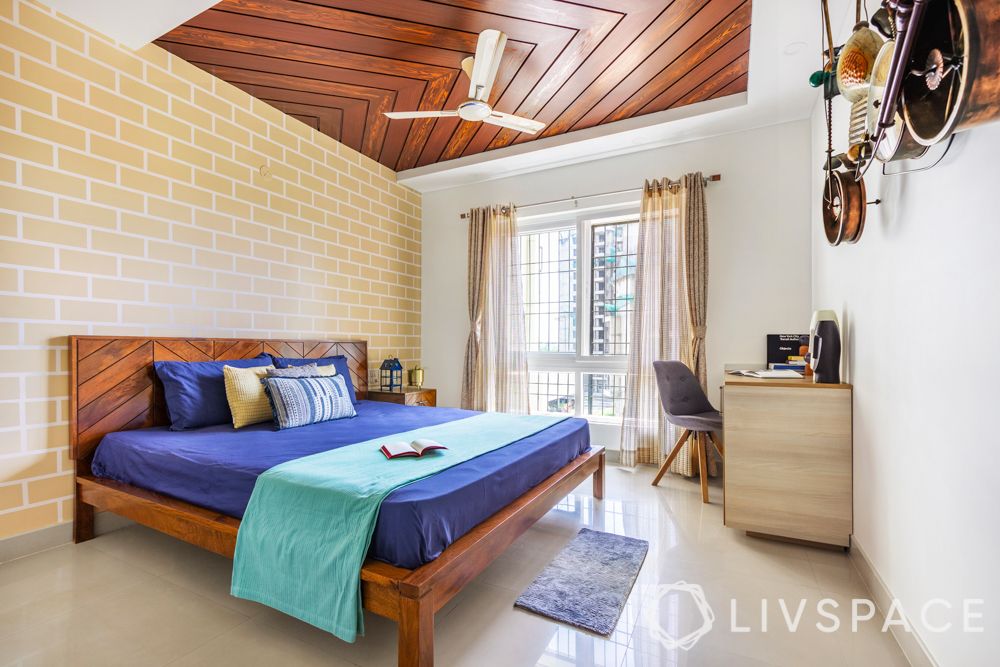 To kick-start the process of building a wooden false ceiling, build a frame that accommodates the structure that's been planned. Mark out the desired height of your ceiling design from the floor along the walls and add wooden struts to support the structure. You can then install the wooden panels and use your choice of paints and finishes to complete the look. Remember to leave adequate space to prevent the panels from touching walls. Also, make sure that there are cavities to install lights at optimal distances.
In conclusion, wood false ceilings are not just stunning, they are functional too. So, choose a design that resonates with your purpose and aesthetic.
Best Wooden Ceiling Designs for Your Home
#1: Metal magic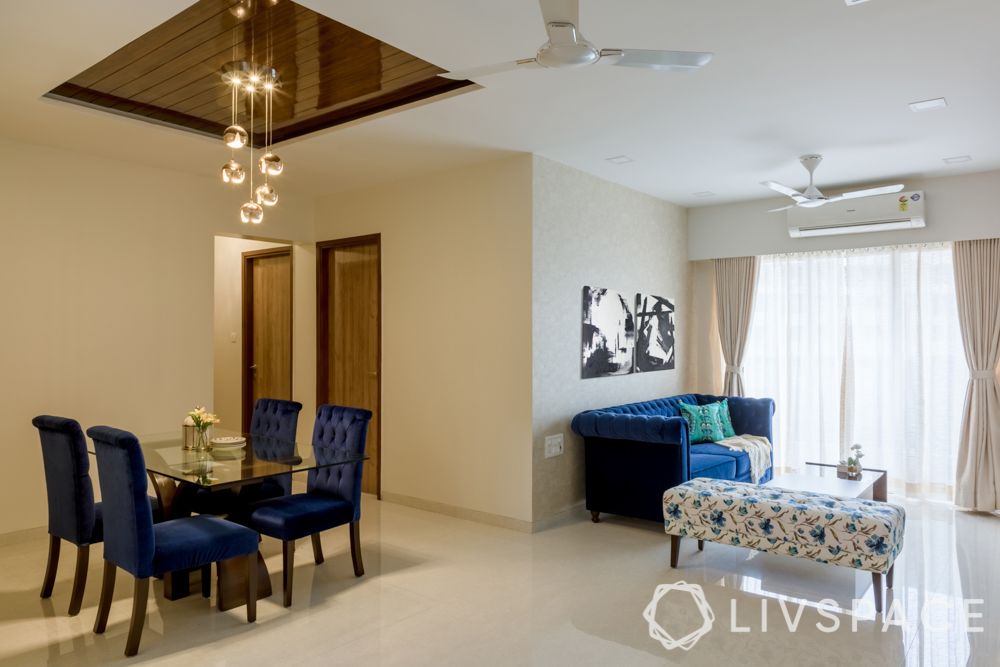 Nothing spells elegance quite like wood paired with warm metal accents. Stylish pendant light fixtures attached to a wooden false ceiling can really highlight a room, as showcased in this dining area. This adds a touch of shimmer to your interiors.
#2: Tasteful Recessed Lighting
Recessed lighting can enhance the look of your wooden ceiling accents, as seen in this tasteful lounge area. Easily installed in wooden false ceilings, these lights will illuminate your room brilliantly. Consequently, suspended chandeliers can be added to highlight each zone beautifully.
#3: LED to the Rescue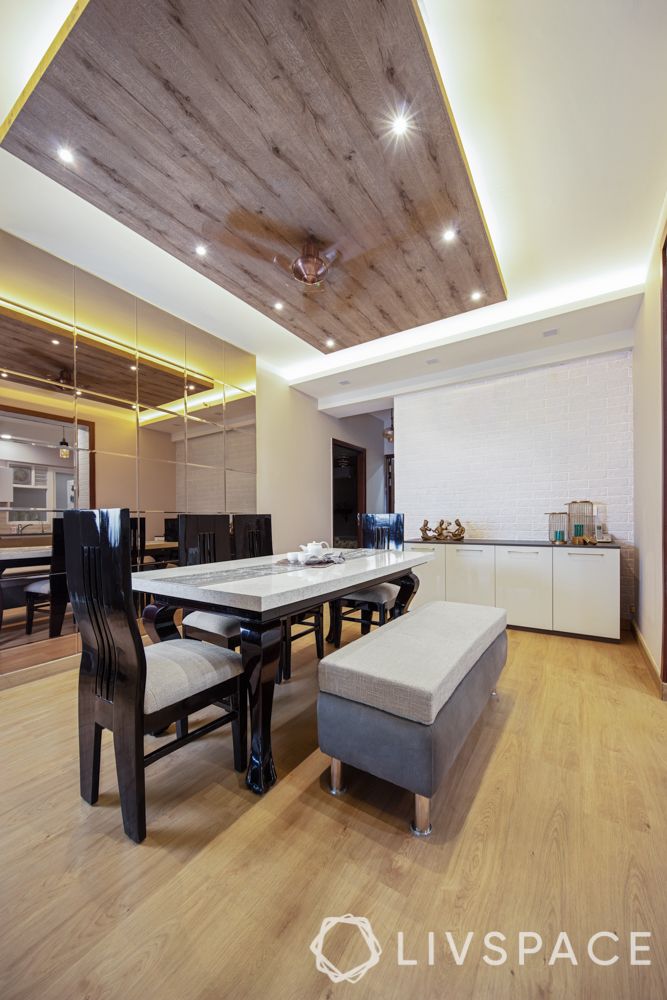 LED lights embedded in the wooden false ceiling cast a soft glow in this dining area, creating a mellow and restful mood perfect for mealtimes. When you do not want harsh lighting at home, these LED lights are your best bet.
#4: Play With Dimensions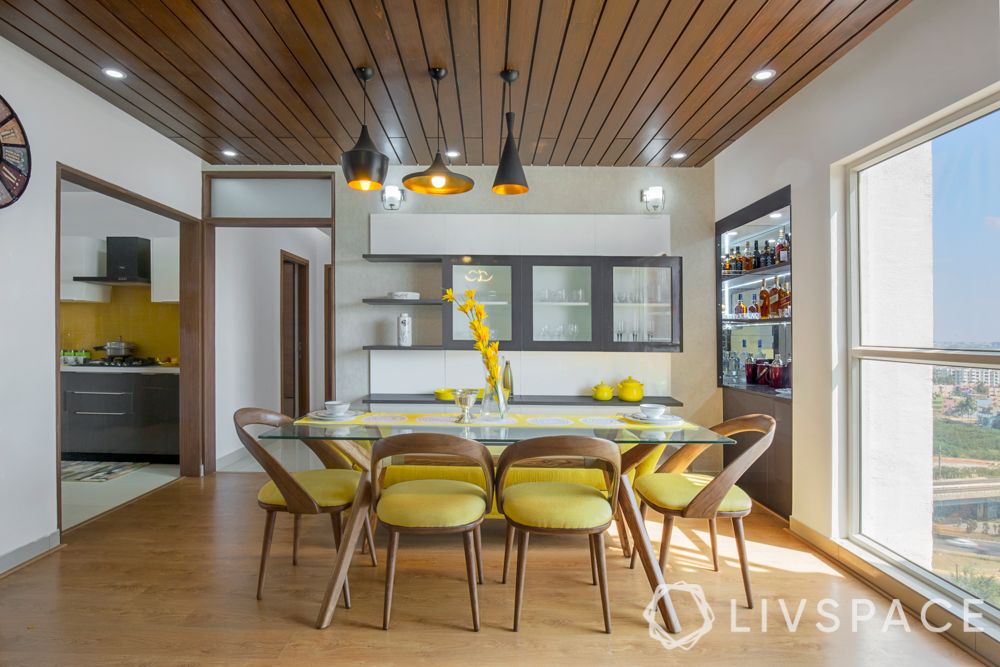 Wooden panelling over your dining area helps create a more defined space. It's also cosy to look up at the warmth of a wooden ceiling as you share a meal.
#5: Unique Lattice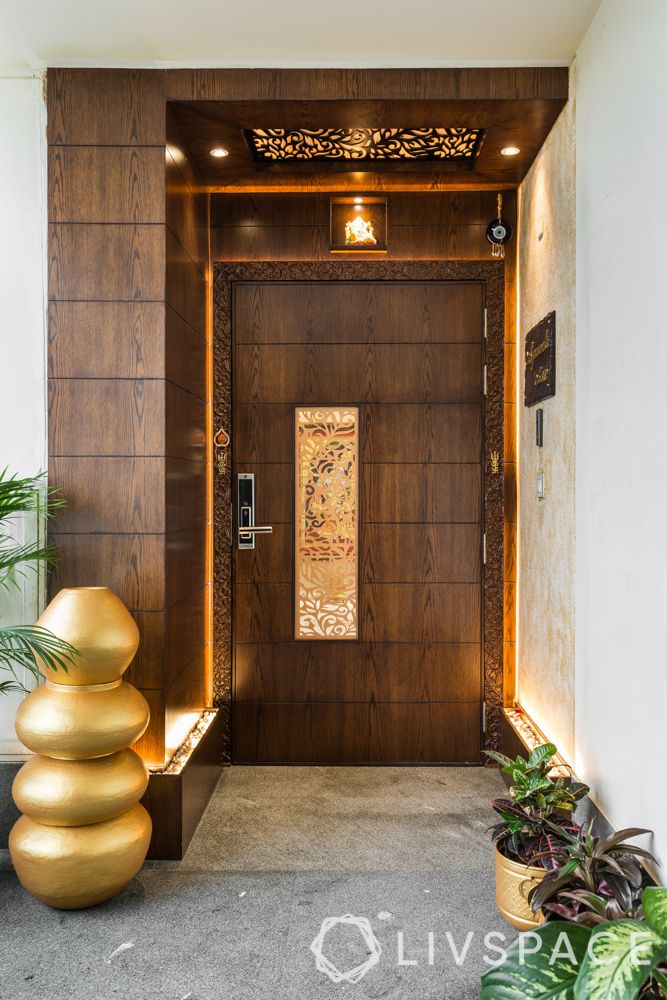 Latticework wooden ceiling panels, paired with the right type of concealed lighting, can be a really interesting addition to any room. However, these can be custom-made in different patterns to suit your taste. Subsequently, using this at your entrance will make the space look more imposing.
#6: Get in Rafters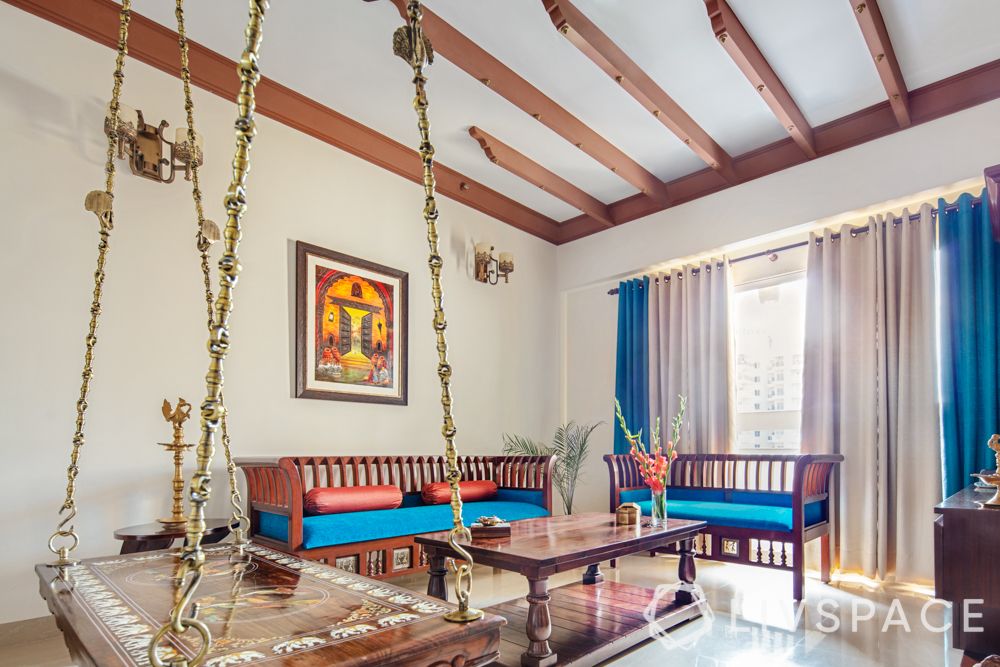 Wooden rafters are another way to add a note of refinement to your interiors. Therefore, you can either have these cover your entire ceiling or use them to highlight only one portion. This living room had rafters put up to set a charming traditional ambience.
#7: Ditch Plain, Choose Texture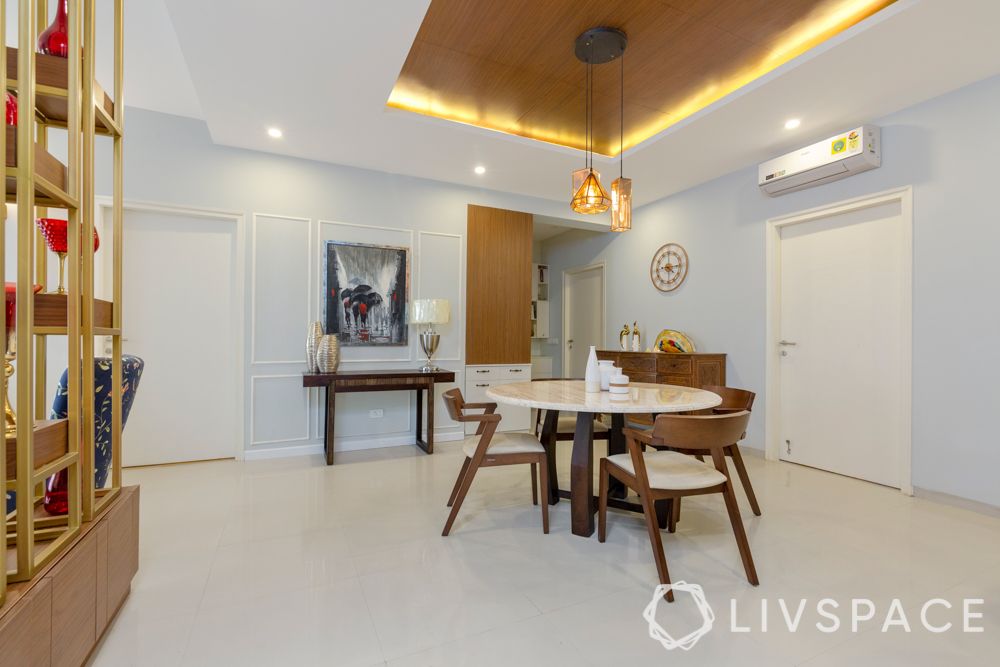 Your wooden ceiling doesn't have to be plain. Subsequently, you can opt for a textured one made of planks or place it in a groove to add more visual interest.
How can Livspace help you?
Like our wood ceiling ideas? You can get it too with Livspace's expertise. Book a consultation with our expert designers to get safe and quality interiors. You can learn more about our COVID-19 safety standards here.
Want some more ideas to make that fifth wall look unique? Take a look at these 5 Ways to Spruce Up Your Ceiling.
Send your comments and suggestions to editor@livspace.com