So you've been eyeing that designer false ceiling for your home for a while now but you don't know how to go about it? We know how much our readers love false ceilings and we keep getting queries about the same. There are concerns about the installation, cost, maintenance and much more. We have compiled a list of the most FAQs about false ceilings and answered them for your ready reference.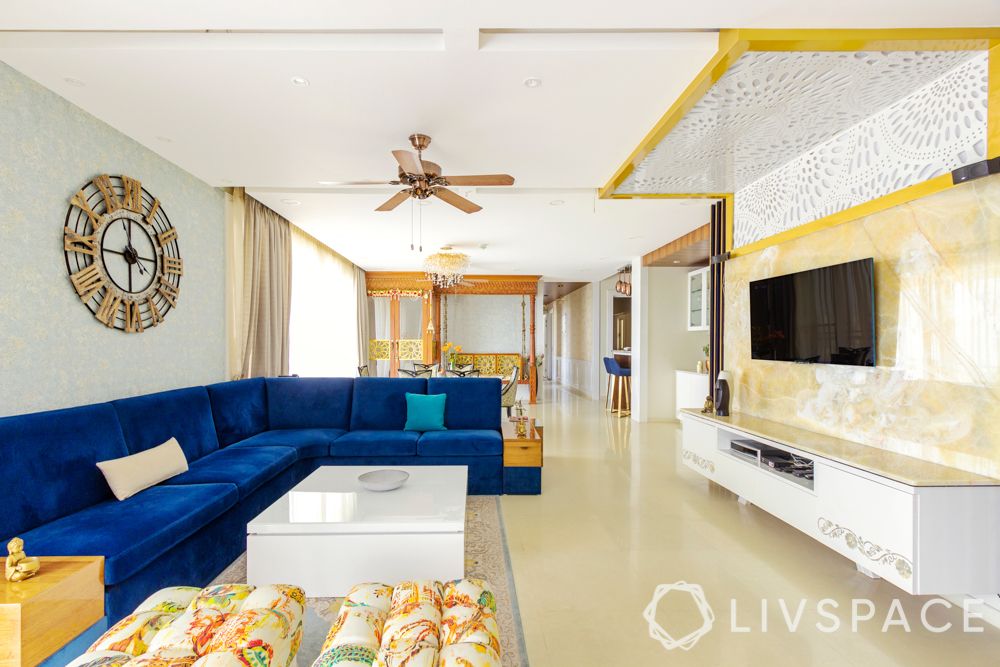 Question #1. Which board/material is best for false ceilings?
False ceilings are usually made of gypsum board, which is lightweight and easy to install. These are also very versatile and can be moulded into a number of shapes.
At Livspace, we use high-quality materials with standardised specs and from top brands like Gyproc. Boards with following specs are used for Gyproc Plasterboard:
Thickness: 12.5 mm
Width: 1219 mm
Length: 2438 mm
While picking the board for your false ceiling, ask your seller or designer for these specs to ensure the best quality.
Question #2. In which room does a false ceiling look the best?
While you can get false ceiling work done in practically any room at home—people get it done in kitchens and bathrooms too—living rooms are the ideal space to get that designer false ceiling. Since this room is the largest, it can create the maximum aesthetic impact on the overall look of your home.
Question #3. How much does a false ceiling cost in India?
The cost varies on design and material, but prices can start from as low as ₹80 per sq ft for a standard quality of designer false ceiling. The rates slightly vary based on which city you are in.
At Livspace, pricing starts from around ₹14,000 for a standard 12ftX10ft room. The prices can vary a lot depending on the design and the labour and material quality.
Question #4. I have a low budget, which type of false ceiling can I get?
If you cannot invest in a full-blown false ceiling, we suggest you go in for a peripheral false ceiling instead. This one runs across the borders of the ceiling as opposed to the entire ceiling. This is also good for rooms that do not have a high ceiling.
Also, to make your money spent worth it, you should look for quick installation and guarantees on the false ceiling, which we provide.

Question #5. What kind of lights can be used with false ceilings?
Various types and colours of spot lights and strip lights (ceiling needs to have cove for it) can be used in a designer false ceiling. For colours, try white, warm white or yellow. You can also mix and match for creating different moods. If you are opting for cove lights, then you can use both strip lights and slim LED tubes, depending on the requirement.
Question #6. How durable are false ceilings?
POP false ceilings are highly durable and can sustain for years without wear and tear. Same is the case with gypsum false ceilings. Once installed, you do not need to worry about it. With high quality raw materials, catering to standardised specs assured by Livpsapce, you get highly durable ceilings.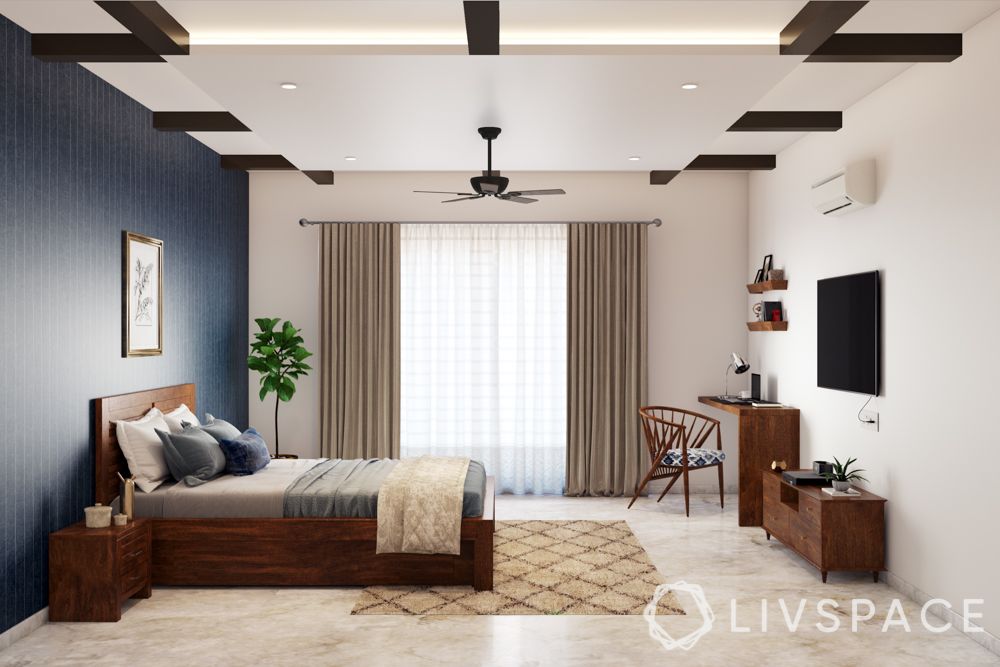 Question #7. Are false ceilings heat/fire-resistant?
Special fire-resistant gypsum boards are available in the market. Certain gypsum boards are built to resist heat and if there happens to be a mishap at home, your false ceiling will emit water in the form of steam. Now that's a great reason to invest in a designer false ceiling for sure!
Question #8. Does false ceiling reduce heat?
Yes! If you feel that your air conditioner is not being able to bring the temperature of your room down, or you live on the top floor of your building, then you must get a false ceiling. They are equipped with thermal insulation properties that will keep your room cool.
Question #9. How long does it take to install a false ceiling?
At Livspace, we need around 3 working days to install a false ceiling of less than 100 sq ft. All this, provided the raw materials, tools and instruments are available at the site. On an average, you can get a false ceiling installed in about less than 10 days from anyone in the market.
Question #10. What is the minimum overhead distance required in a room to get a false ceiling?
Minimum height from the floor should be about 8.5 to 9 feet. In the case of sheds and garages it should be around 8 feet.
Question #11. Can I change the design of my false ceiling after a few years?
Yes, you can change your false ceiling after a few years, however you will incur considerable cost in demolition of the existing ceiling and then getting a new one.
In case of minor renovations in the false ceilings, a part of it can be repaired without disturbing or breaking the entire false ceiling. You will just have to bear the repairing cost which is nominal.
Question #12. How can I clean or maintain my false ceilings?
Gypsum false ceilings can easily be cleaned like any other plastered surface. They do not require any special maintenance. A designer false ceiling is always finished with a coat of paint and for ceilings that have luster or oil paint, all you need is a damp cloth to clean it periodically.
Question #13. Is there a possibility the false ceiling will fall down?
It does not fall down in all likelihood, however in an extreme event of very poor quality raw material and substandard installation it might happen. But you do not need to worry, gypsum false ceilings are very lightweight and cannot harm you in any way.
We hope we have clarified most of your common doubts about false ceilings. For design inspiration you can check this out: Bye, Bye, Boring Ceilings! For all the available types of false ceiling, make sure to read Everything You Wanted to Know About False Ceilings.
Check out false ceiling designs:
Send in your comments and suggestions to editor@livspace.com.