Your bedroom lights design plan can affect your emotional responses and moods, changing them from cheerful to romantic and exhausted to intimate with the flicker of a switch. To influence your mood positively without compromising on the amount of light is not a Herculean task anymore. With a plethora of lighting options available, you can easily get a layered bedroom lights design plan. You can use each of these layers separately to evoke different moods or do various tasks in your bedroom.
Designers today are suggesting homeowners go in for a layered bedroom lights design for a holistic experience. This includes a combination of ambient lighting, accent lighting and task lighting. Let's take a look at each of these lighting ideas for bedroom, and how you can implement them as a part of your bedroom decor.
#1: Layered Bedroom Lights Design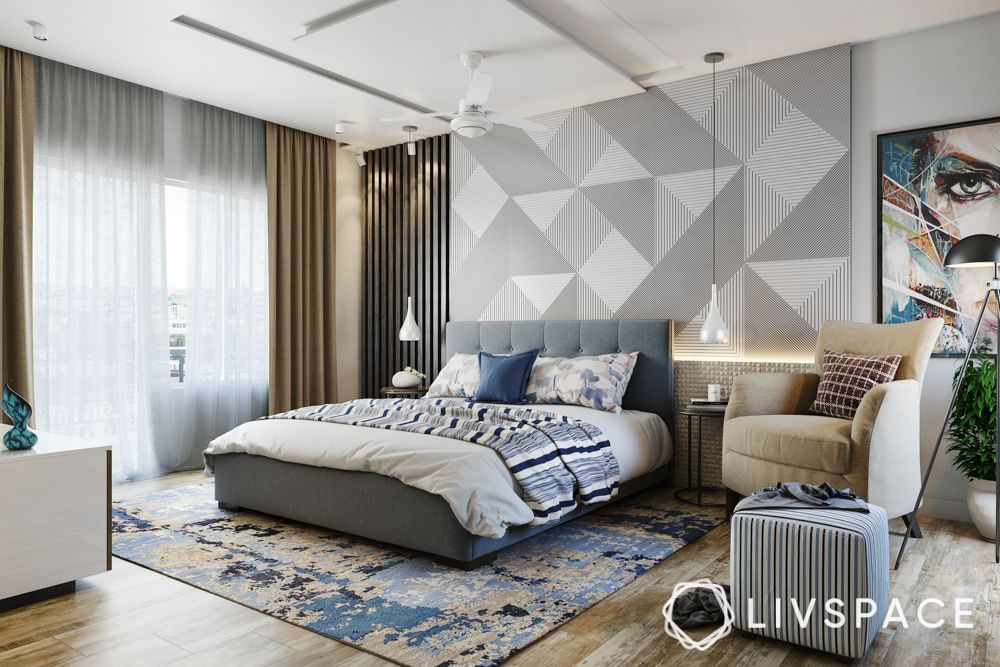 Layered lighting is a very common terminology that you must have heard. It basically means layering different types of lights to create the ambience you desire. However, while layering lights in your bedroom, you must remember that a bedroom lights design at all points of time should be soft and comforting, creating a relaxing ambience.
Blues and greys have a calming effect, making them a good choice for your bedroom. In this room, a mix of recessed lighting and pendant lights have been used.
#2: Bedroom Lighting Ideas Modern — Chandeliers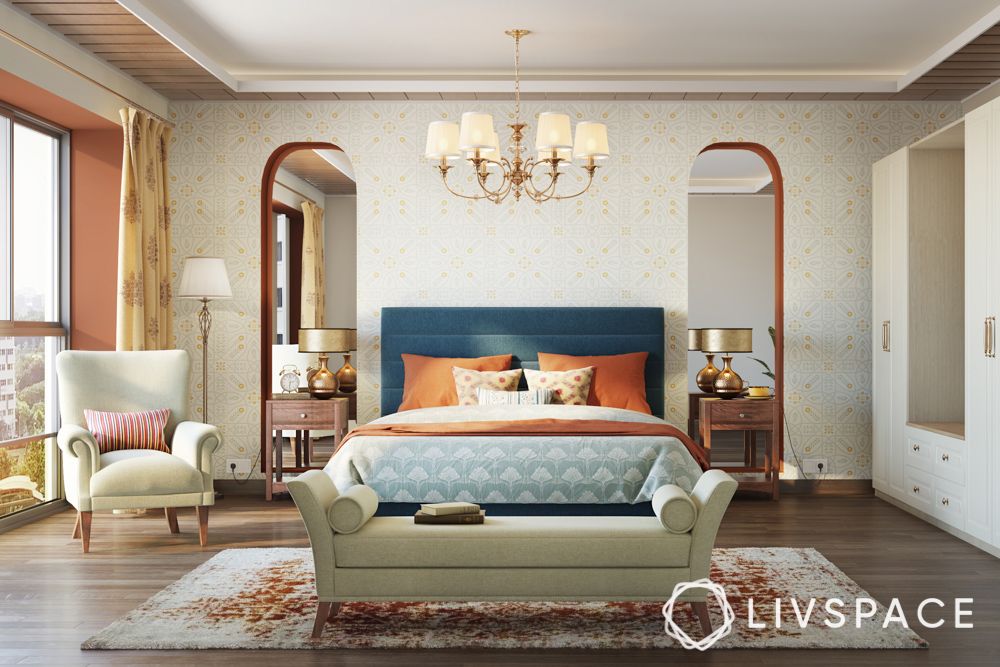 Looking for lighting ideas for bedroom? Chandeliers are a great option! And since you can use LEDs in chandeliers now, they are no longer harmful to the environment. So go on, fulfil your dramatic side with chandeliers! However, there is this one thing you should keep in mind when it comes to such bedroom lighting ideas — they can be dim due to lesser lumen LEDs used in them. One way to combat this would be to supplement its illumination with more lights like bedside lamps or floor lamps.
#3: Recessed Bedroom Wall Lights Ideas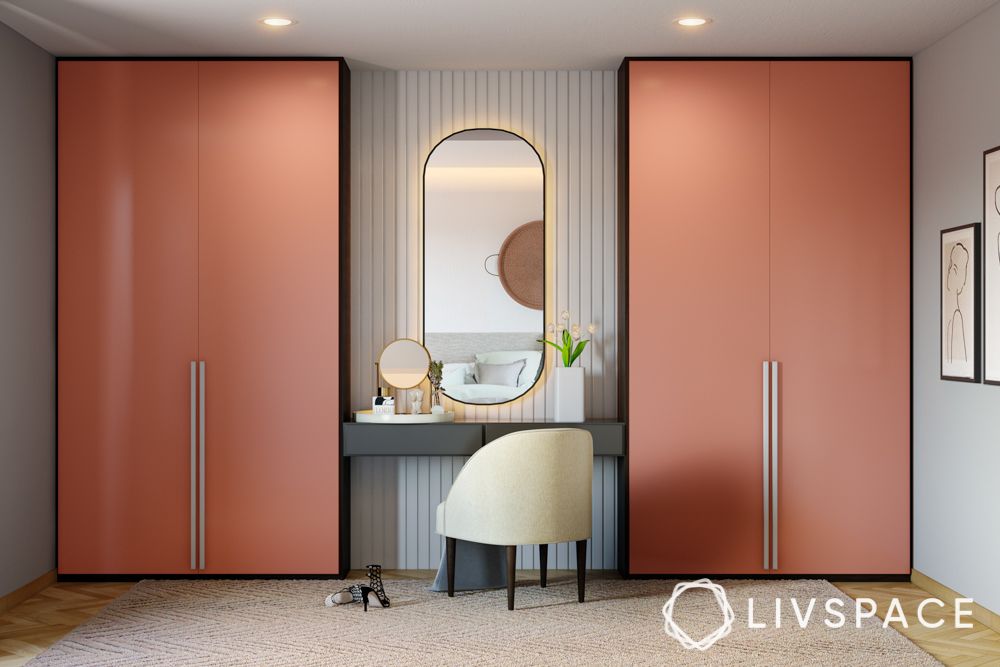 A recessed bedroom lights design can highlight your furniture. But it's always better if you layer them with direct task lights, especially for study tables and dressing tables. This will increase the efficiency of any work that you do in your bedroom. For instance, in this room, the LED lights behind the mirror cancel any shadows that the recessed lights create on your face when you sit on the chair.
#4: Small Bedroom Lights Design
Low-profile LEDs can act as spotlights, are highly efficient and don't steal attention from your furniture. They are discreet until switched on, and can help you focus on the task at hand. As a result, these bedroom ceiling lights ideas are perfect for small spaces.
#5: Flush-Mount Bedroom Ceiling Lights Ideas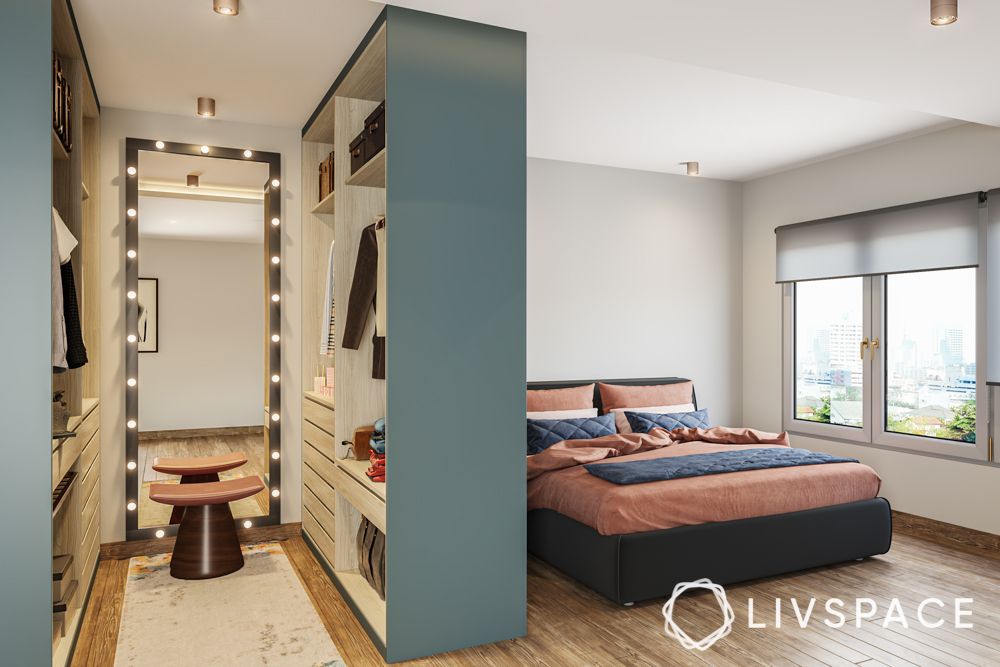 Most flush-mount bedroom lights design are large and look like fluorescent lamps. But you can also get the smaller ones that look like spotlights as they make for one of the best light decoration ideas for bedroom.
#6: Pendant Lights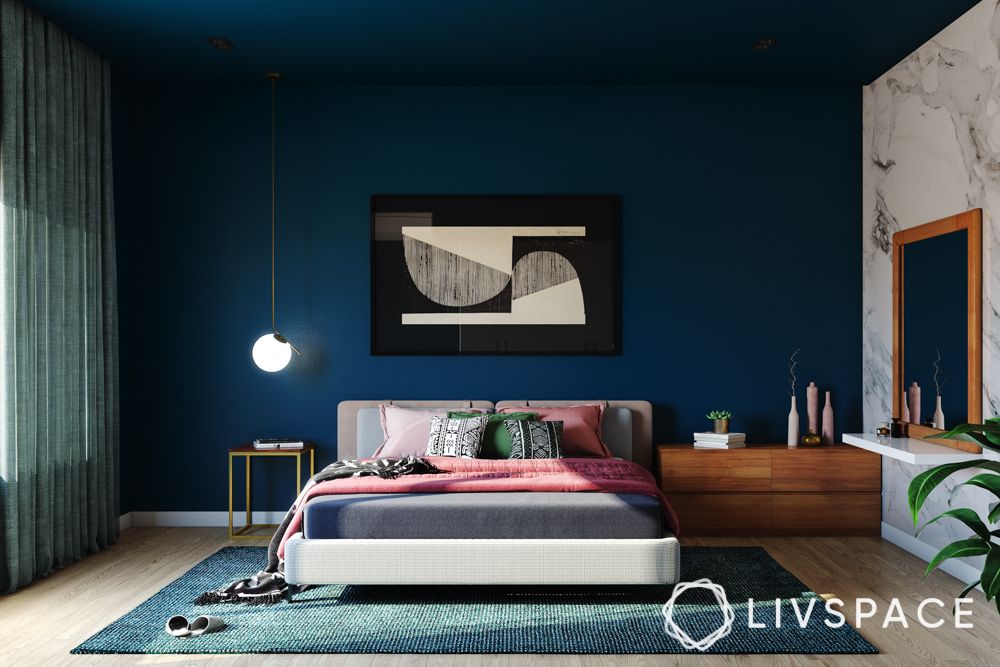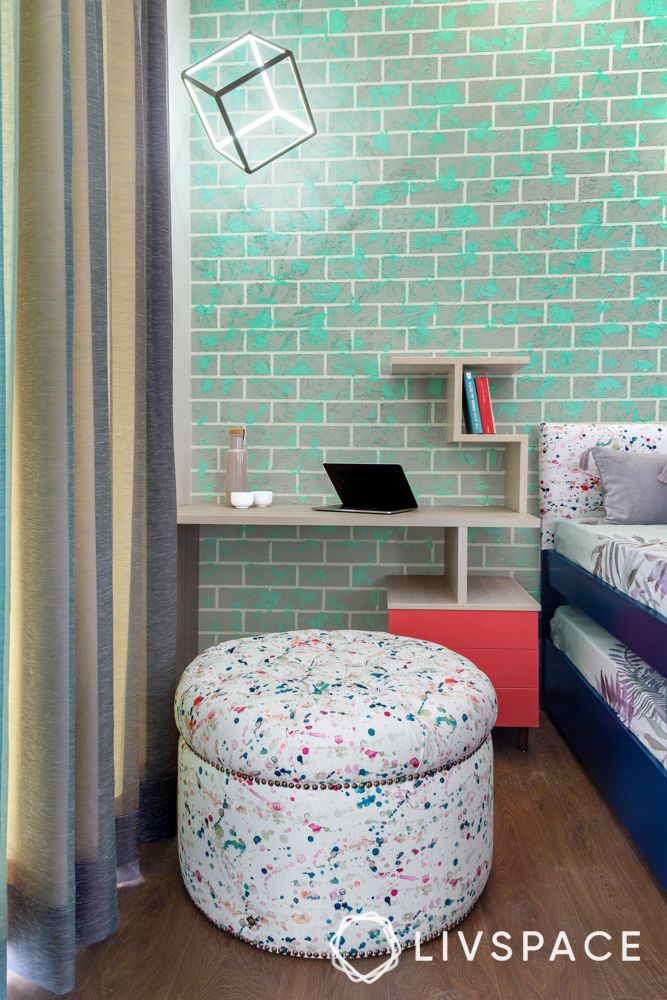 If you want lighting ideas for bedroom, then consider pendant lamps. They don't have to be installed in pairs and do more than just highlighting a corner or an object in the room. They have brighter LEDs and can be used for tasks as well. And since their designs are generally eye-catching, they can draw attention to themselves and the objects they throw light at rather easily.
#7: Wall Sconces for Bedrooms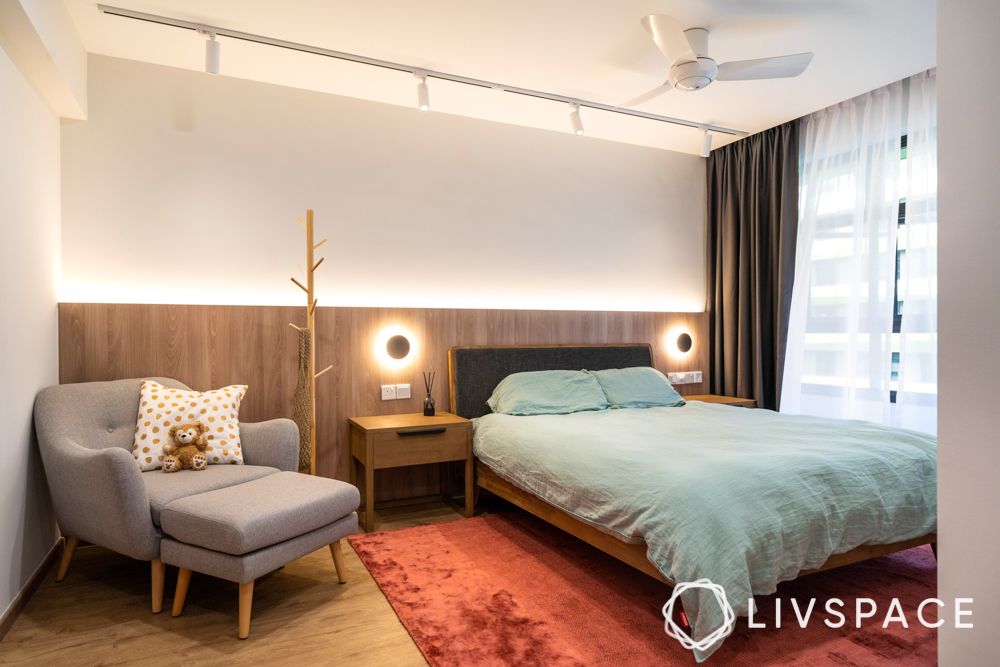 If you don't wish to use table lamps on your bedside anymore, opt for bedroom wall lights ideas like wall sconces that make for very attractive replacements. It isn't a rule that you use them in pairs. But, for the bedside, we recommend you install them on both the sides for better results.
#8: Bedroom Lights Design — Stylish Floor Lamps
Tall and slender floor lamps make bedrooms look bigger and their ceilings seem higher. Just like it is with fashion — vertical patterns on your clothes make you seem taller and slimmer. If you're wondering why floor lamps seem more attractive than bedside lamps, this is it.
#9: Colourful LED Panel Design for Bedroom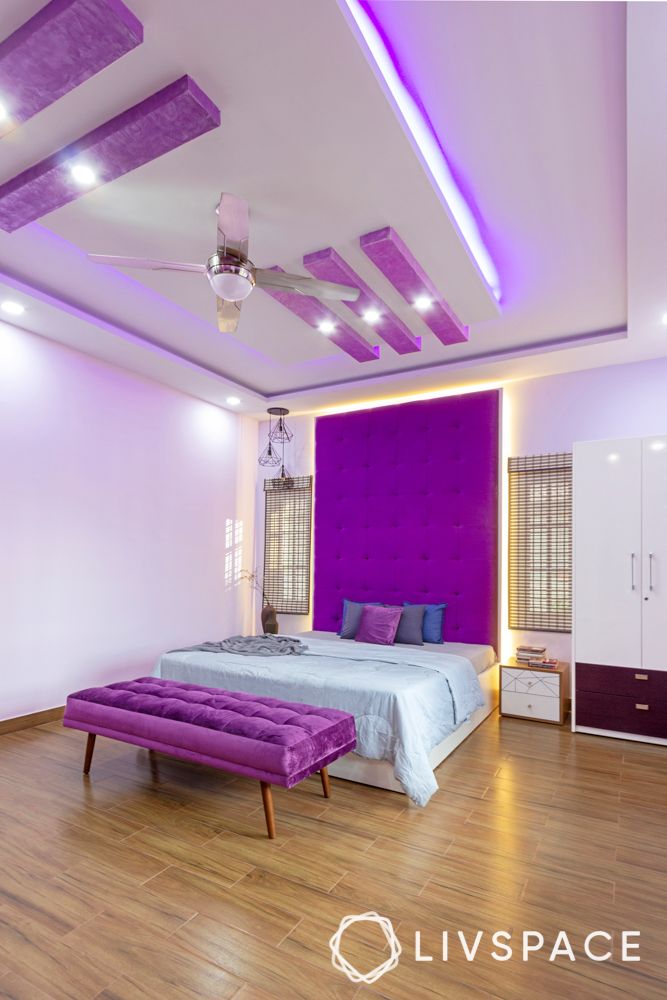 Your layered bedroom lights design plan doesn't have to be of the same colour. You can play around with the colours of your LED panel design for bedroom to bring out the most from these lights.
#10: Accent Bedroom Lights Design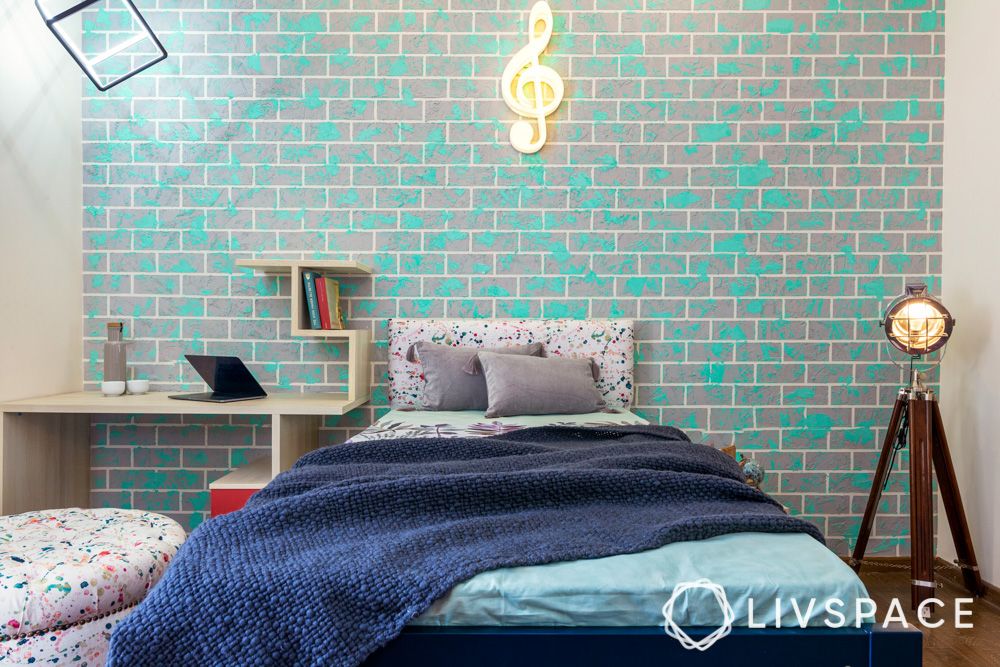 For highlighting an artwork, sculpture or even a texture on the wall, you can use accent lights. However, you need to ensure that the lighting source is well hidden or covered to draw attention only to the area being highlighted. Mood lights are a good option here.
#11: Industrial Lights for Bedroom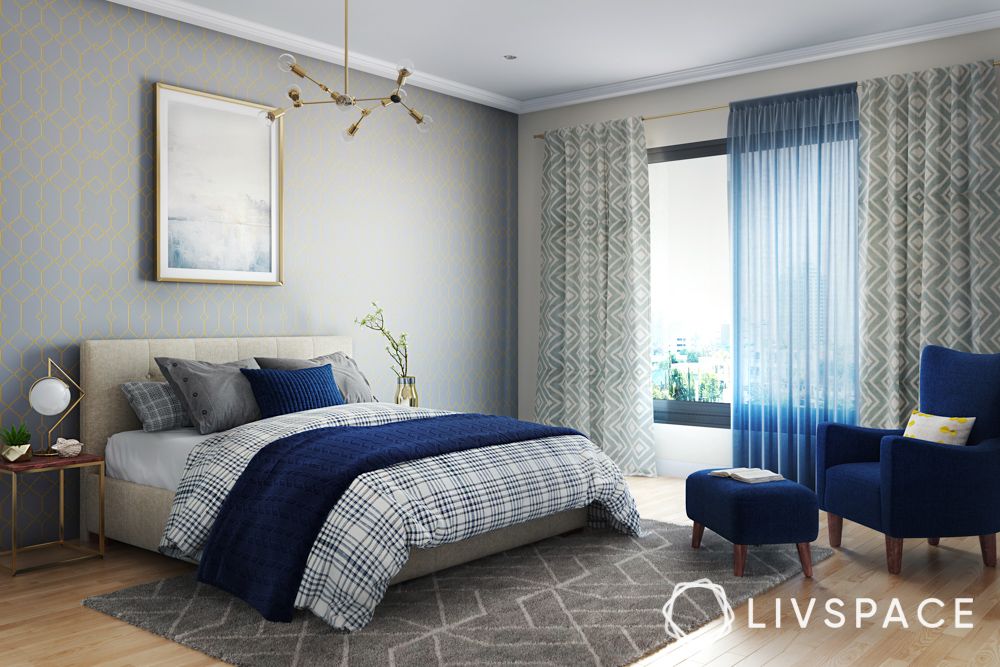 Since industrial chandeliers are mostly made of multiple spotlights, using this for ambience can be tricky. Whereas using them to accent your furniture is easier. These bedroom ceiling lights ideas have a very modern look. These metallic lights in your contemporary-style bedroom.
#12: Simple Bedside Lamps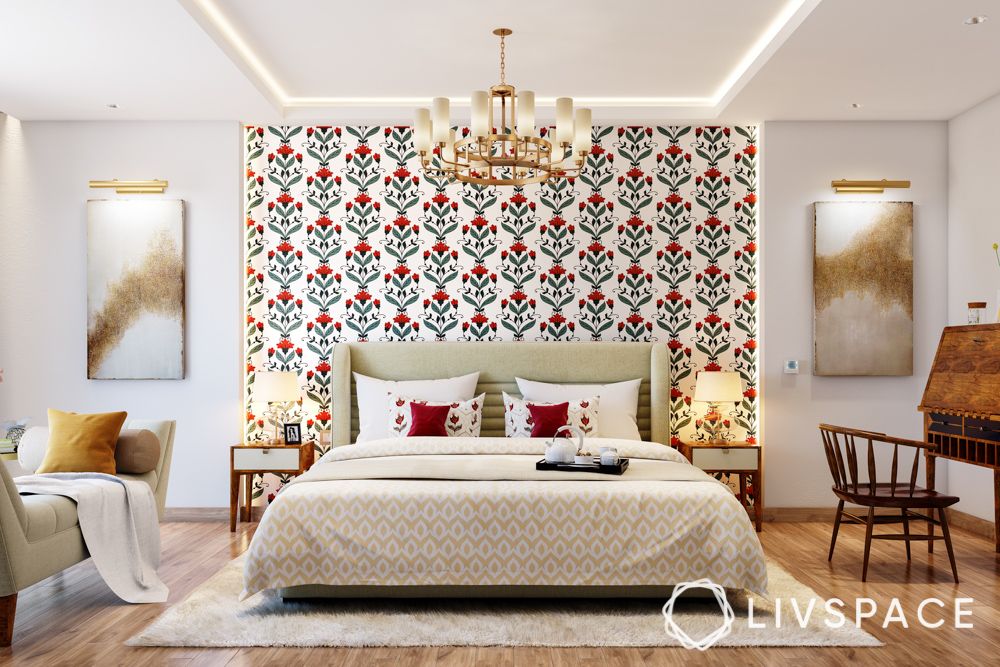 This picture shows a vintage bedroom lights design. Apart from the identical bedside lamps, there is a chandelier and two wide wall lamps to highlight the paintings. However, there are modern bedroom lighting elements too — the cove lights lining the accent wall and the false ceiling design. Overall, the room comes together as bright and beautiful with all the layers of lighting in it.
#13: Track Lighting Ideas for Bedrooms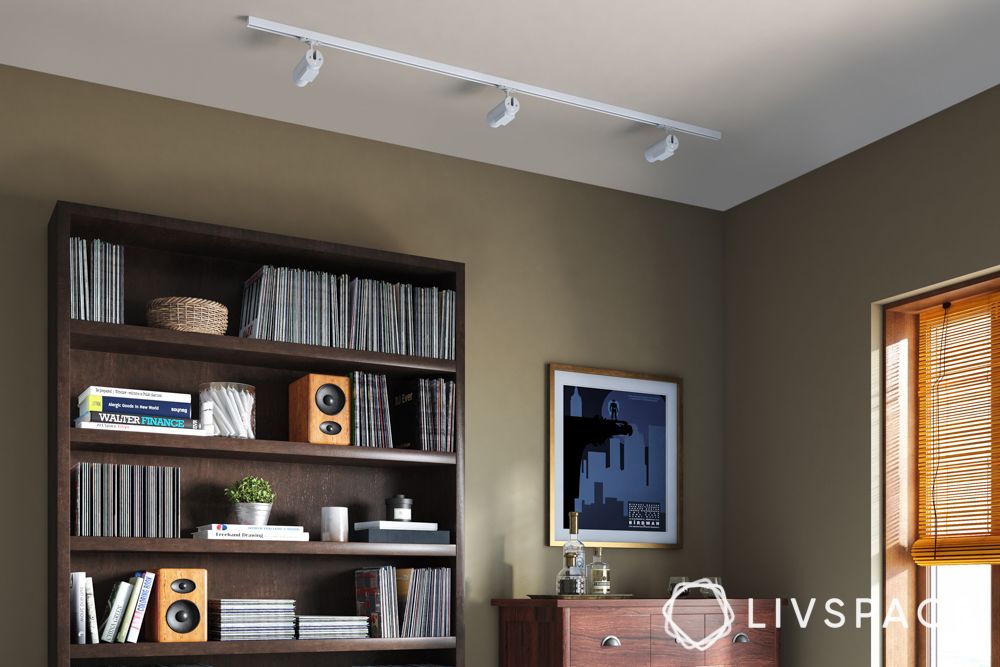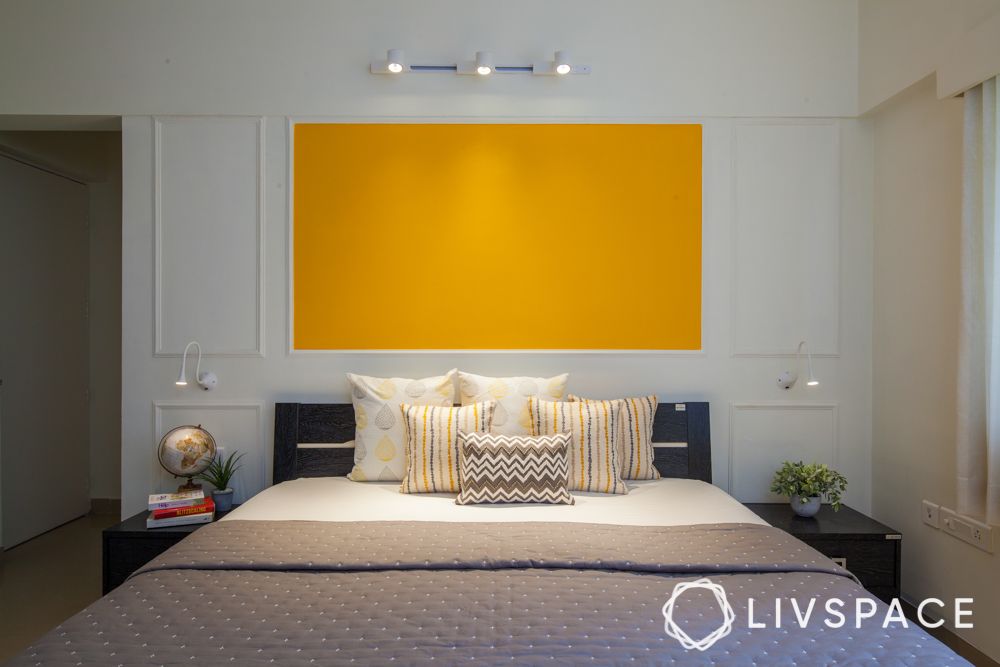 Typically, people tend to install these light decoration ideas for bedroom on the ceiling, in front of storage units or shelves. This does two things — one, it highlights the furniture, and two, it illuminates the items effectively to make the tasks around them easier.
#14: Ceiling Fans With Lights for Bedroom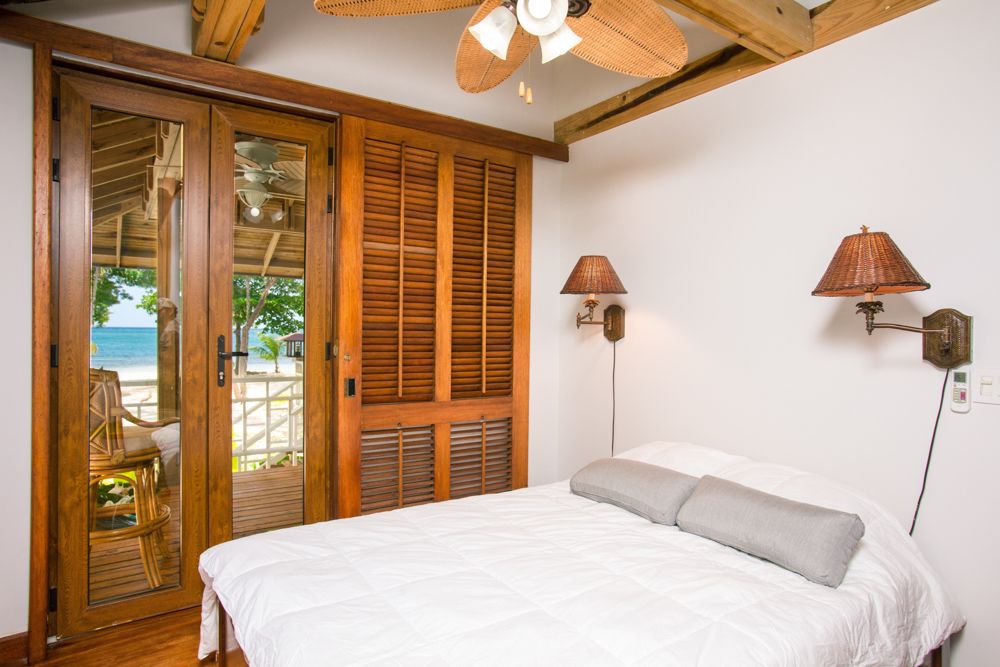 You will find that most Indian homes have one electrical provision in the centre of the ceiling. Even if there are more provisions around that one, placing lights on these and the fan in the central provision can interfere with the light in the room. This is due to the small size of the ceiling. In such cases, the best bedroom lights design plan is to mount the lights on your fan itself.
#15: Headboard Lighting in Bedrooms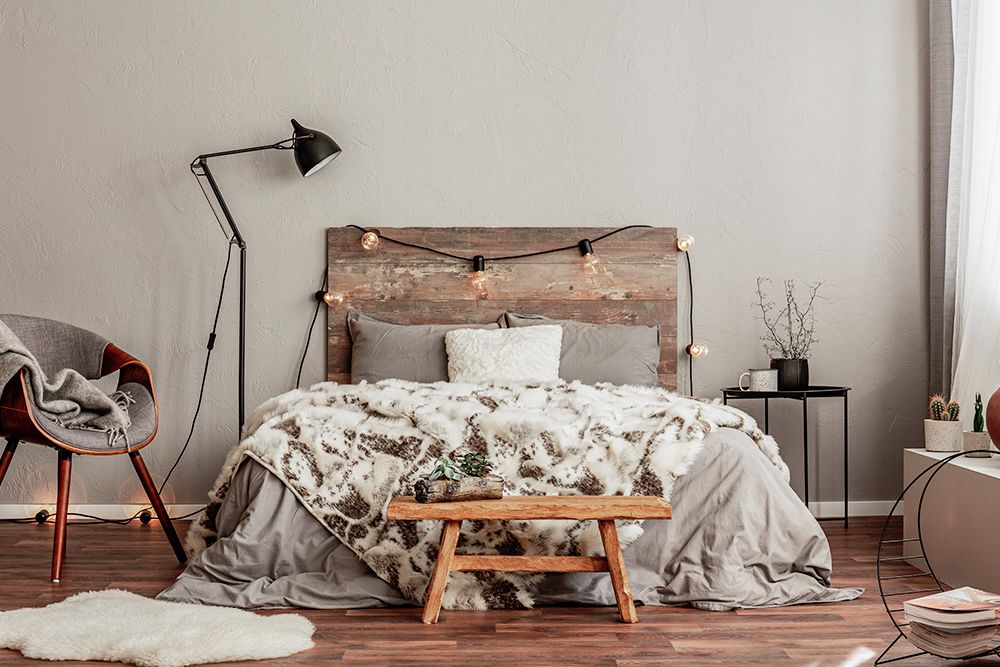 Some great lighting ideas for bedroom include adding lights to your bed headboard. You can do this in two ways. You can either choose to add lights to the headboard itself or add lighting to the headboard wall. In this room, the bed has been decorated with whimsical fairy lights all around the headboard.
Also Read: What Kind of Wood Makes the Best Bed?
#16: Hanging Bedroom Lights Design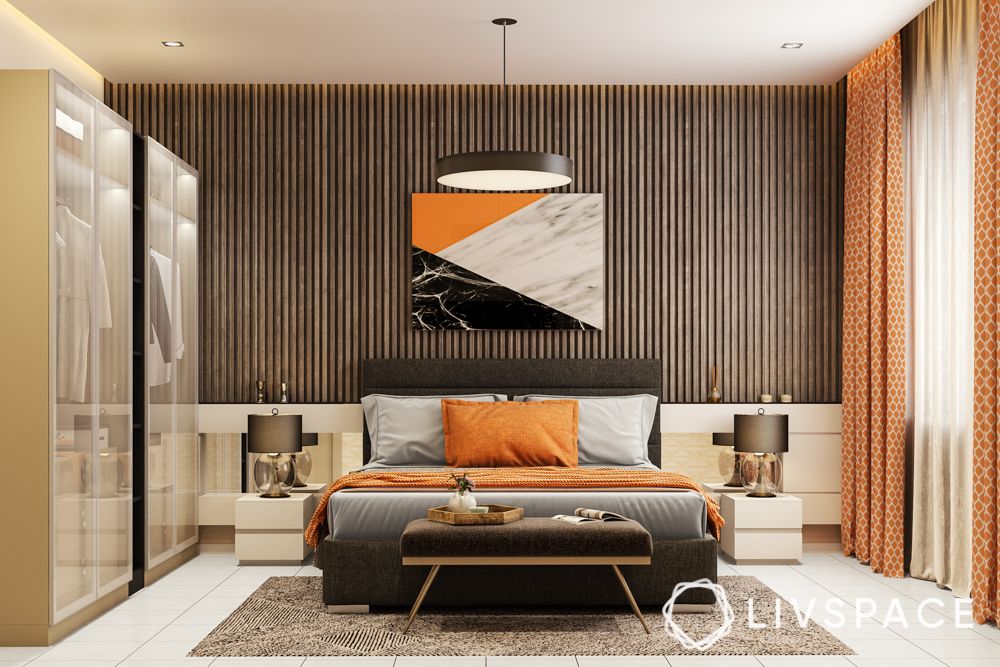 Large hanging light decoration ideas for bedroom placed in the centre of the room create a central focus as well as illuminate the entire room.
#17: Adjustable Lighting or Artificial Intelligence(AI) Bedroom Lighting
Futuristic bedroom lighting helps adjust the hue and brightness of the lights according to your moods. These can be expensive to install and sometimes quite tricky to use. But if you are tech-l savvy, then why not?
#18: Cove Lights in the Back Panels or Accent Walls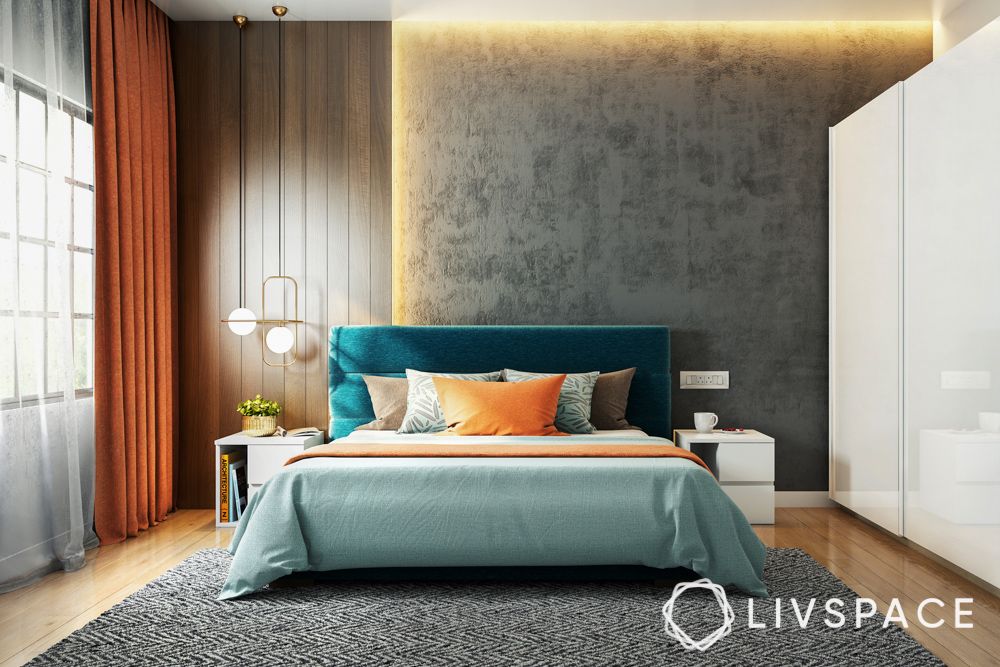 Use cove lights in your bedroom lights design to highlight your walls, furniture and other surfaces. They help to give more character to your room. Moreover, their use is not limited to ceilings. And since there are strip LEDs available now that don't require wiring, you can start exploring this bedroom lights decoration idea by yourself.
#19: Cove Lights in False Ceilings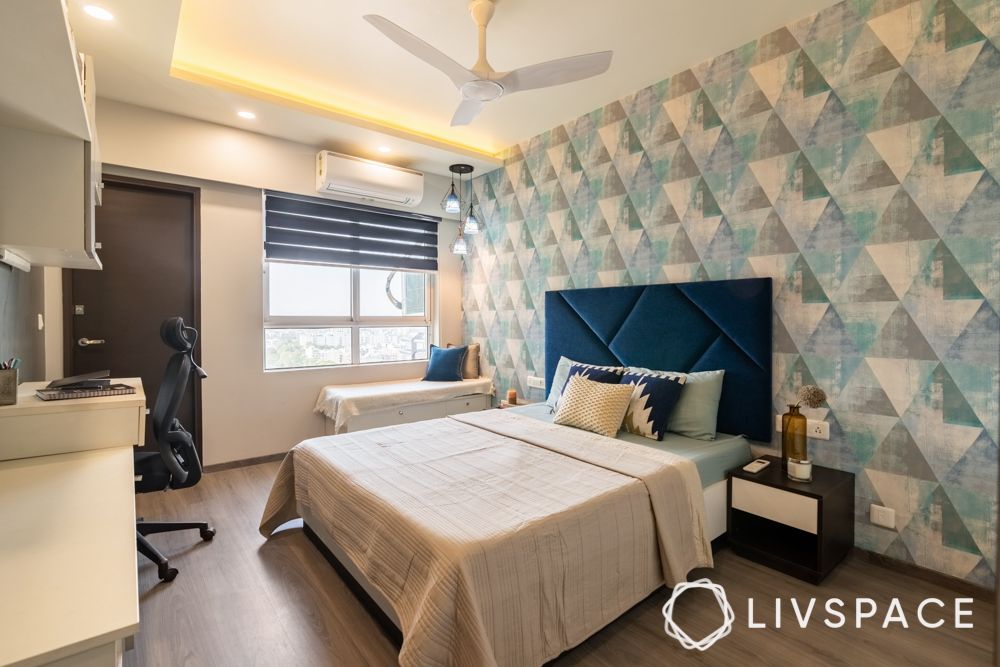 When it comes to accent lighting, cove lights are a good option. Going wrong with cove lights in your false ceiling is almost impossible. Plus, bedroom design ideas with warm LEDs never disappoint and can instantly transform the look of your bedroom.
#20: Twinkle Lights or Fairy Lights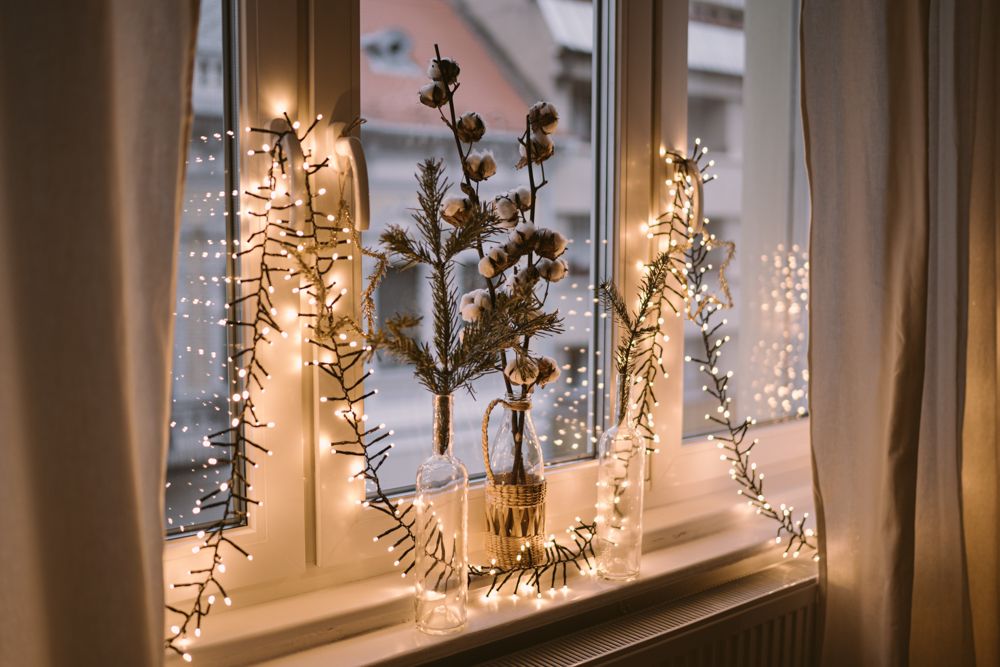 This is another light decoration ideas for bedroom that you can explore by yourself. A lot is in your control in this bedroom lights design as you can choose from a variety of types and colours to achieve the look you want in your home.
#21: Cantilever Lamps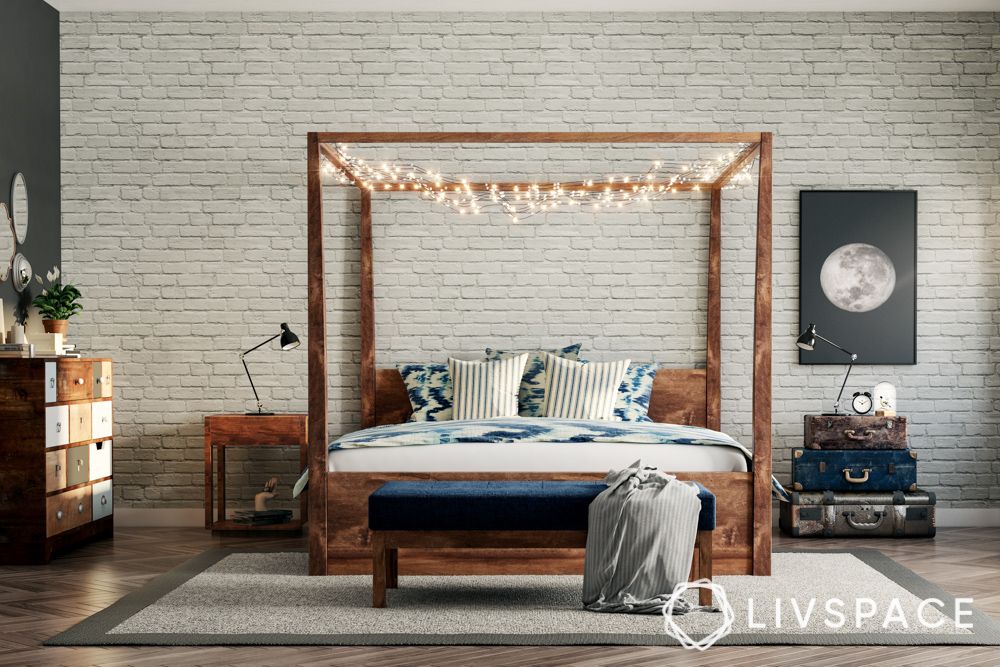 There are many advantages to using a bedside lamp. Since it is adjustable, you can modify it to throw light directly on your task. Other advantages of cantilever lamps include their practicality and durability in comparison to other lamps.
#22: Bedroom Lights Design for Attached Bathrooms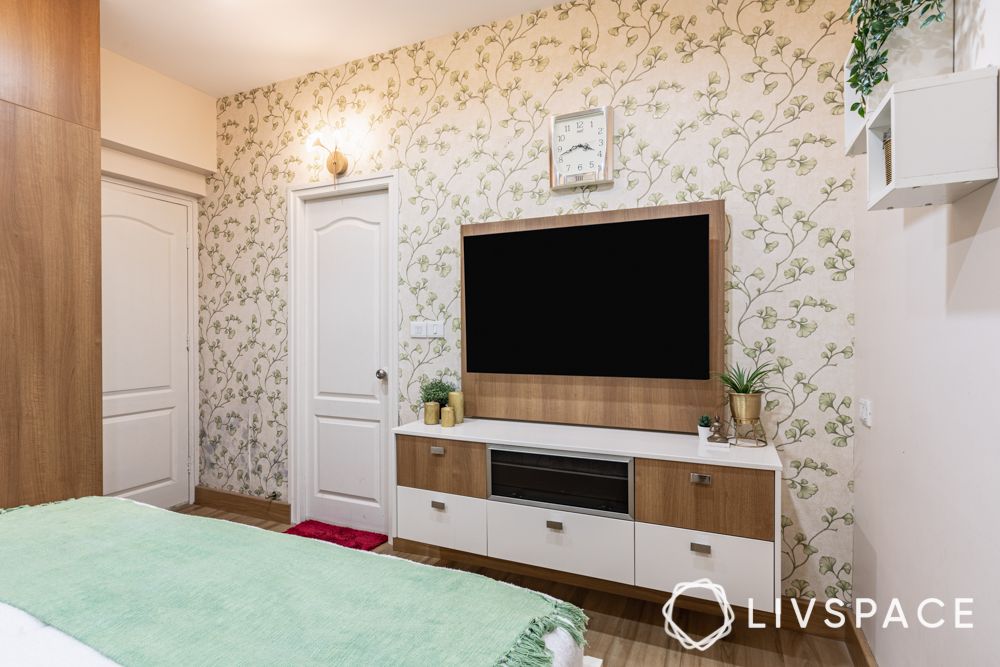 You really don't want to be blinded by harsh lights when you get up for your midnight nature's call. Any easy solution to this is to install low-voltage night lamps above the bathroom doors. Alternatively, opt for motion-detecting light strips under your bed.
We hope you like our bedroom lights design ideas that provide a holistic experience. These will enable you to do every kind of task in your bedroom.
Also Read: Vastu for Bedroom: Must Know Tips to Boost Positive Energy
Check out lighting tips:
How Can Livspace Help You?
We hope you found our ideas useful! If you want beautiful interiors for your home, then look no further. Book an online consultation with Livspace today.
Wondering how our customers feel about working with Livspace? You can check out the Livspace reviews here!
Send in your comments and suggestions to editor@livspace.com