Looking for ways to update the wall at home? If you're someone who likes experimenting with colours, patterns and prints, then wallpaper is something that you must try. It is the easiest way to turn a plain wall into an exciting accent wall in any room. From subtle prints to bold colours and so on, we have curated a gallery of wallpapers for you. Read on..
Design #1
If subtle is your calling, then opt for a wallpaper like this one. Perfect for your master bedroom, this will create a serene atmosphere for you.
Design #2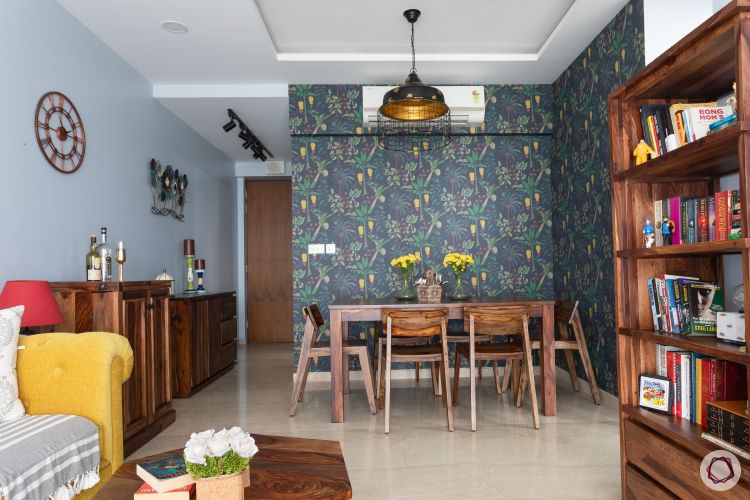 Game for some busy prints? A wall with such a lovely colour combination will make people stop and admire it for a while!
Design #3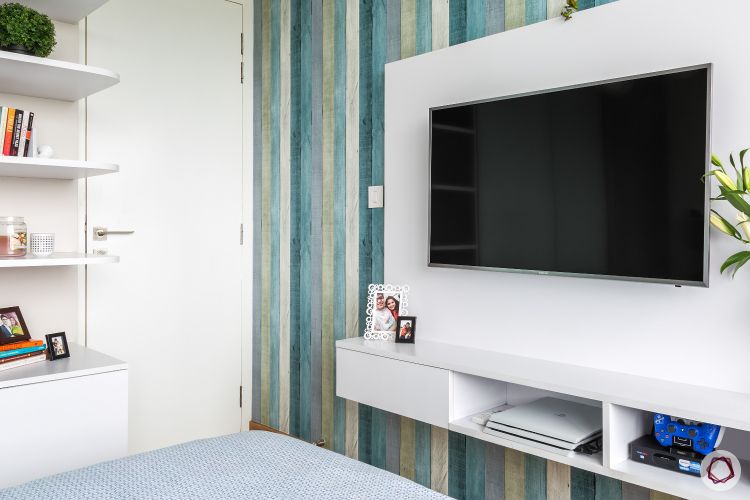 If you're looking for something modern and trendy, go for stripes on your wall. Choose colours that suit your personality and you're good to go.
Design #4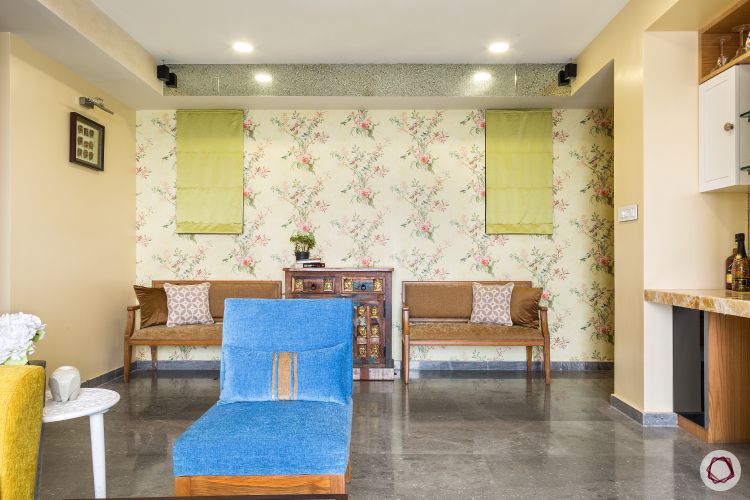 Classic florals are the perfect choice for people who are big on subtle style. Spaced out flowers on a neutral base is what makes this one unique.
Design #5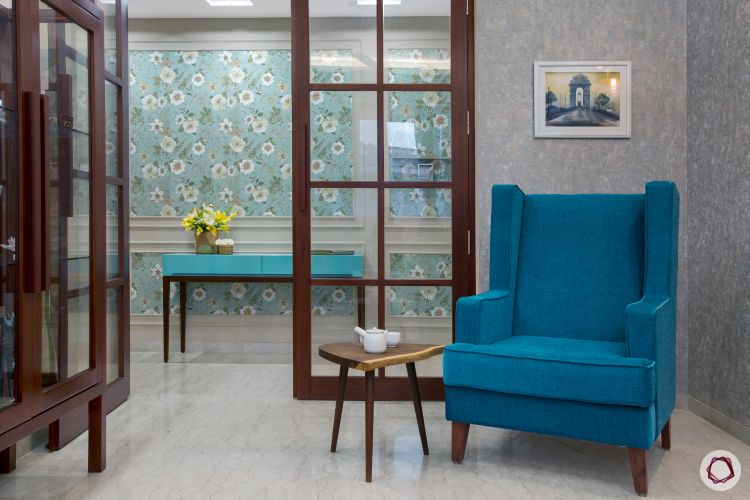 Fill the walls at home with dusky walls to make each one speak for itself. Colours like olive, sea green, grey, sage, etc are perfect for this.
Design #6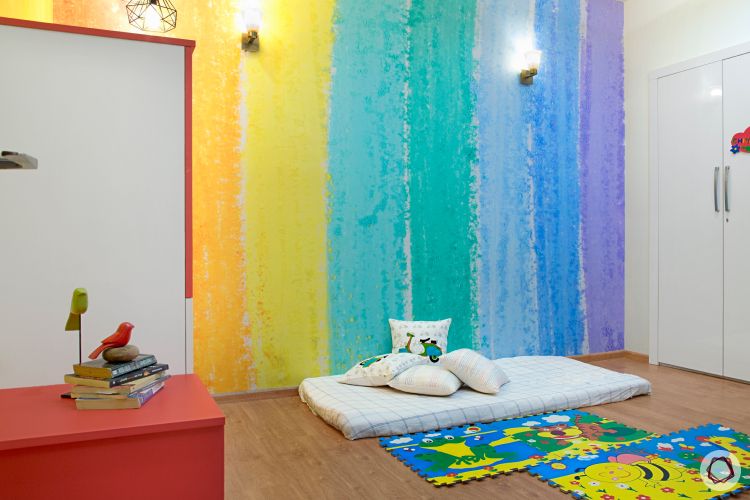 Wake up to a wall that look like a rainbow in the sky. Lovely, isn't it? Our clients in Noida did the same for their daughters' room. Read their story here.
Design #7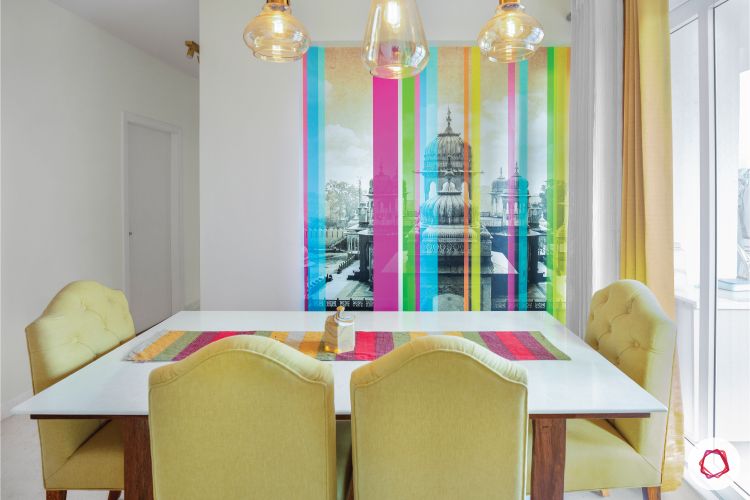 We are crushing over this trendy style of wallpapering a wall. Myriad colours with a black and white historical monument in the background. Classic!
Design #8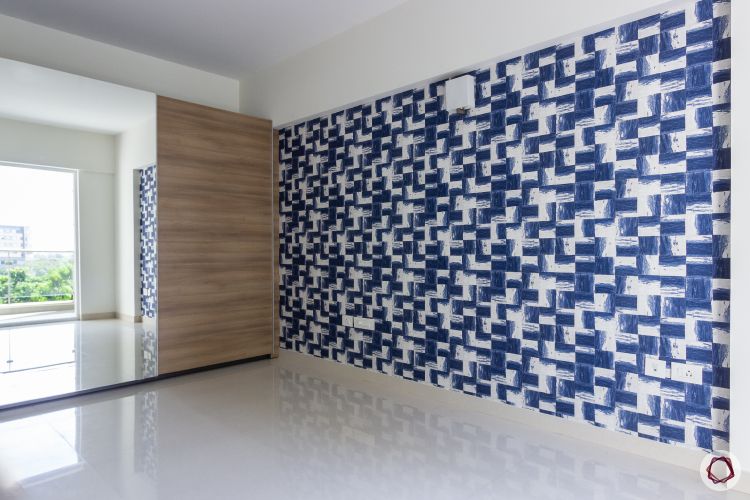 A 3D alternative can transform your room drastically. A combination of a loud colour with a neutral will give you the best result.
Design #9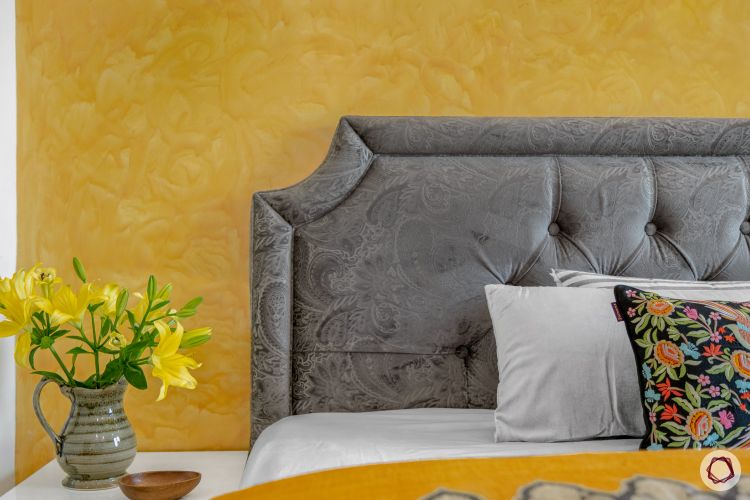 Add some shimmer to your wall with a hint of glitter in the wallpaper. A textured alternative will make it more interesting.
Design #10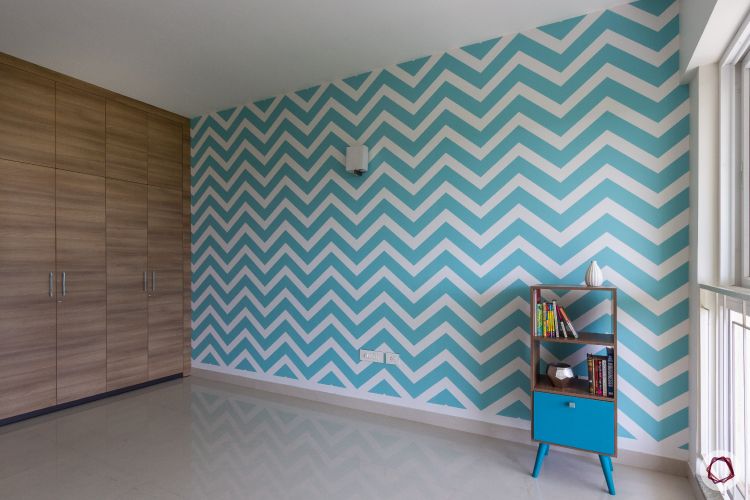 Go geometric and opt for something that looks visually appealing. Your room will instantly brighten up with this one.
Design #11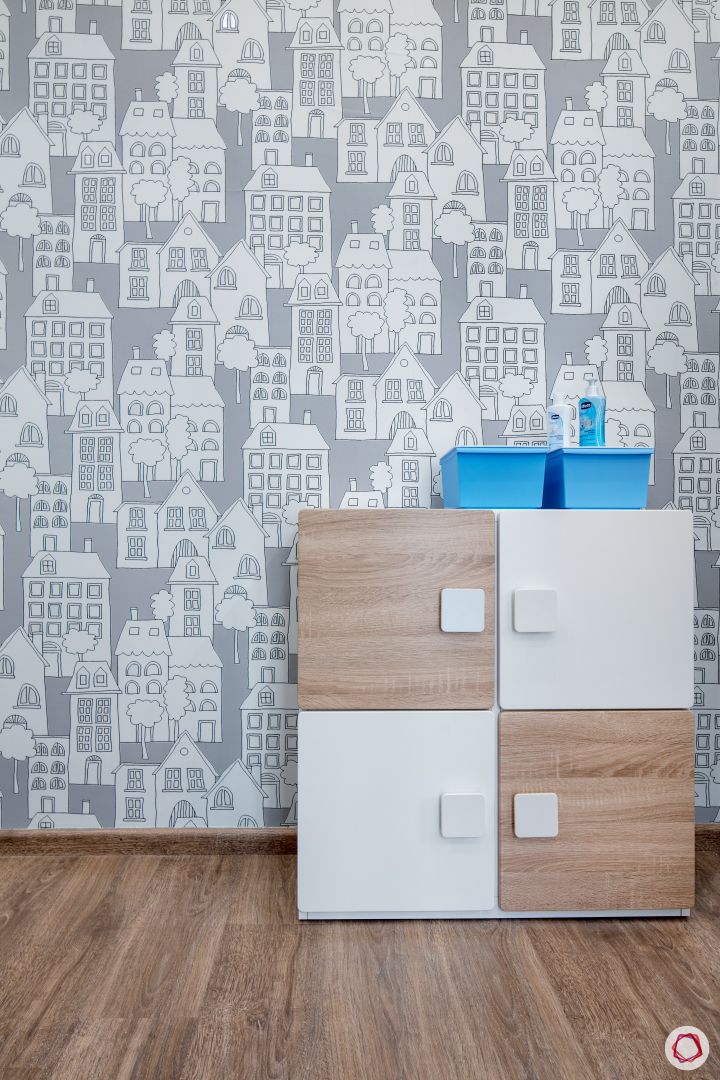 You don't always have to go bold in your kids' room. Kindle the imagination of your little ones with this printed version in grey.
Design #12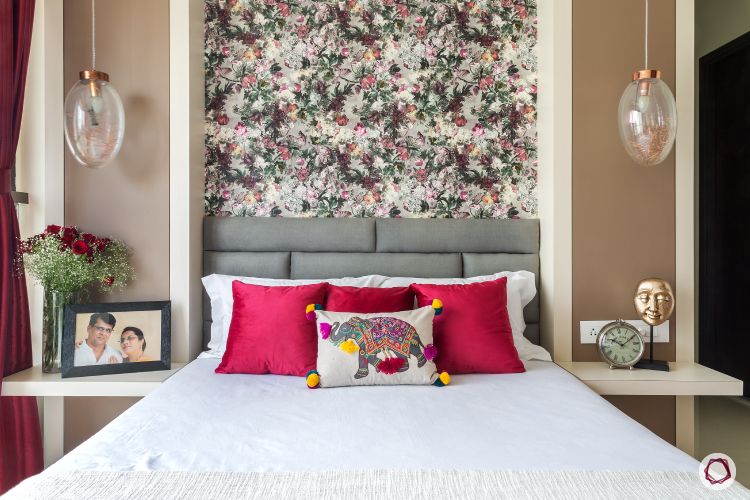 A section or a niche in your wall can also be utilised for this purpose. A beautiful floral version with colours that ignite your imagination.
Design #13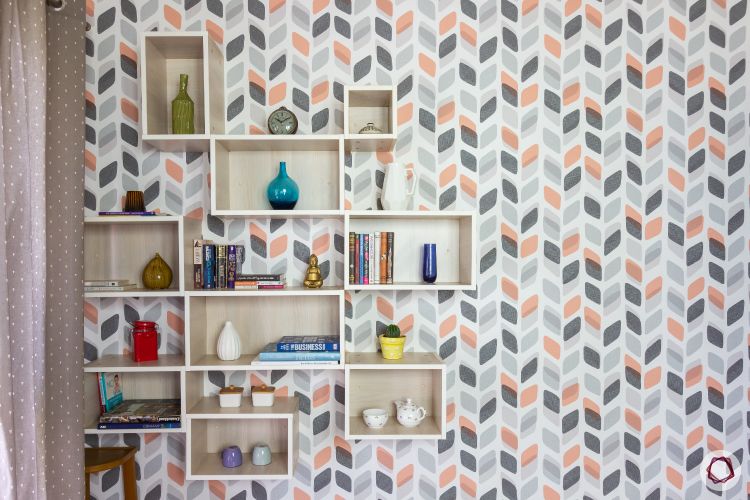 Isn't this such a pretty wall? We would love to have one at home. Wonderful interplay of peach and shades of grey for leaves!
Design #14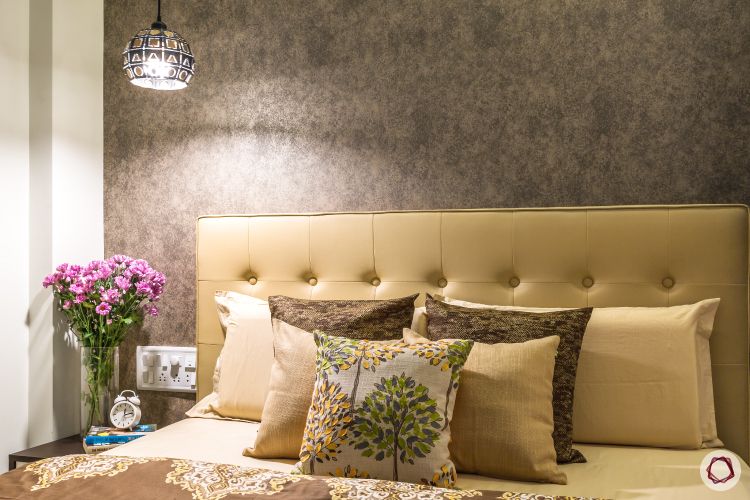 Earthy tones are most welcome in the master bedroom. A textured wallpaper in a dark-ish tone with appropriate lighting works well.
Design #15
Busy but not so busy is the mantra for this one. Prints that merge with the wall and colours that soothe your senses. A great combination!
Design #16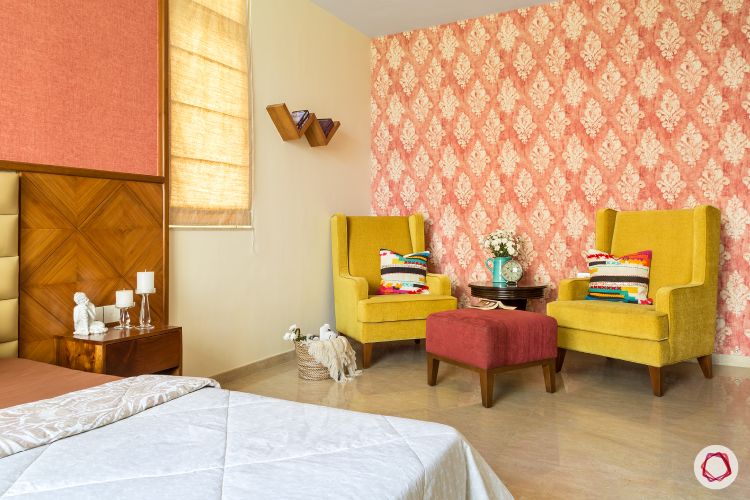 A classical print in an endearing tone of red is what this family chose for their home. Paired with yellow accent chairs, this one stands out.
Wallpaper Idea #17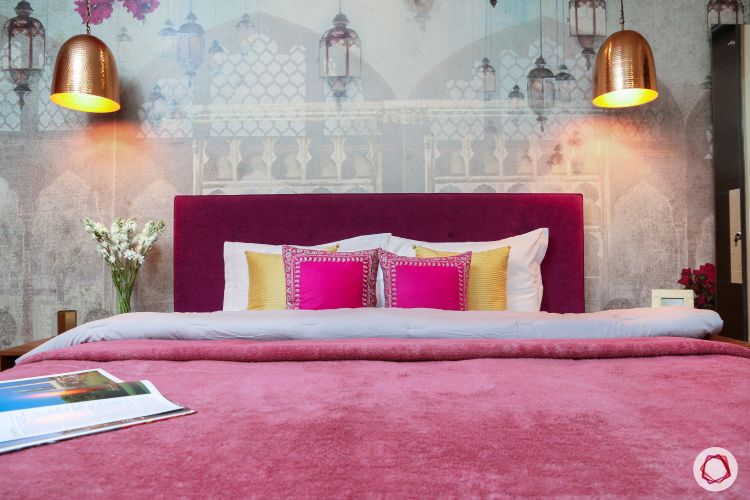 Bring the old world charm in your bedroom with a wall that spells nostalgia. This one takes you back in time like no other!
Design #18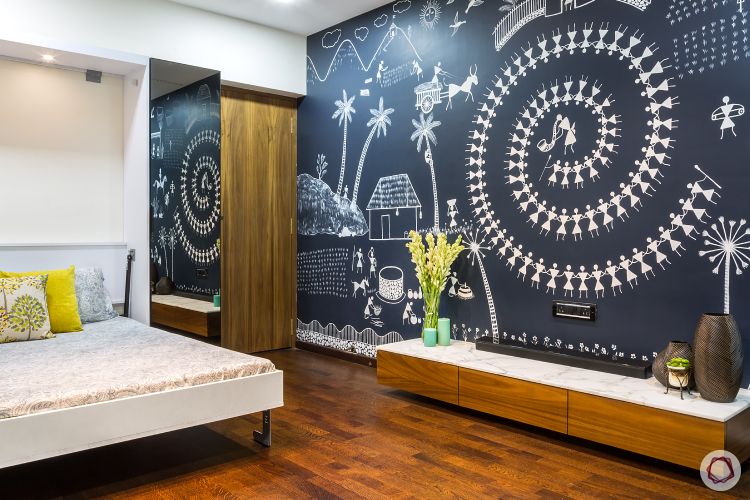 Warli print on the wall? Isn't this such a cool idea? Perfectly traditional and aesthetically appealing. You do not need anything else to jazz it up!
Design #19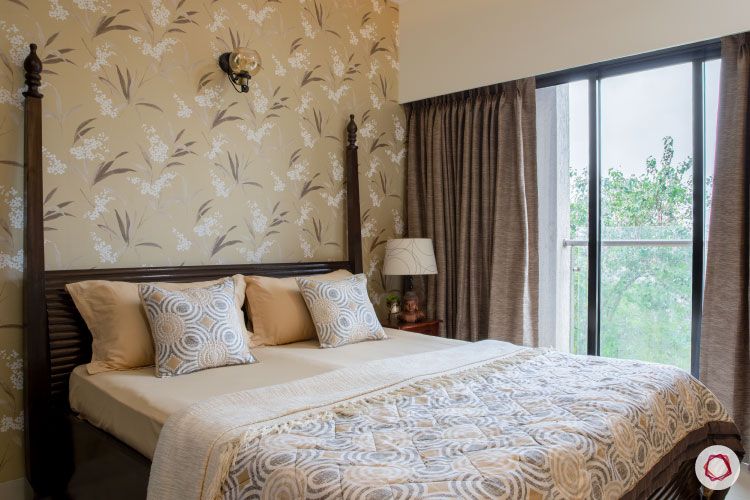 This one reminds us of the serene Autumn leaves and relaxes our senses. Don't you feel it too?
Design #20
Another classic idea, this will suit every room that has subtle colours in it. A very simple trick with no frills!
We also have some amazing Wallpaper Ideas To Transform Your Dining Experience. Do not miss these out!
Check out more wallpaper designs:
Send in your comments and suggestions.