House design photo inspiration filled with colours!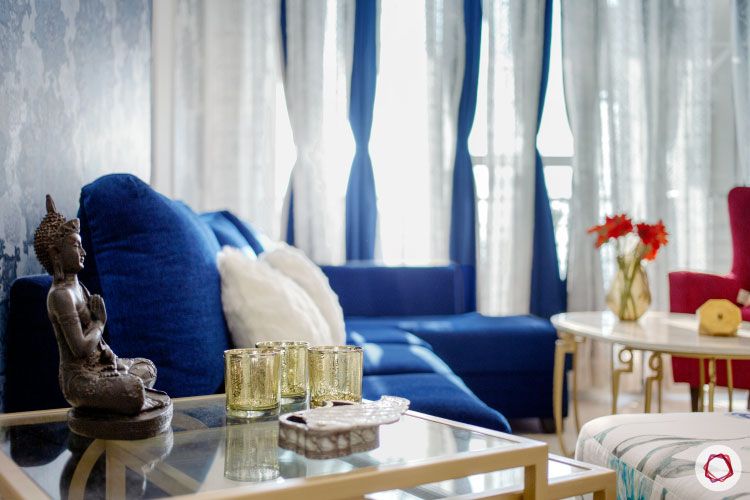 ---
Who livs here: Priyanka Verma with her husband Rakesh Verma and their daughter
Location: Cleo County, Noida
Size of home: A 3BHK spanning 1,700 sq ft approx.
Design team: Interior Designer Shabina Shahin and Quality Manager Sandeep Jain
Livspace service: Full home design (kitchen not included)
Budget: ₹₹₹₹₹
---
Cleo County in Noida, inspired by Egyptian architecture, is located in a sprawling locale and overlooks lush greenery. An ideal choice for working couple and families alike, this property is a dream come true for a lot of people. Our clients, Priyanka and Rakesh, hired Livspace for the sole reason that they wanted their dream home to be designed by a professional.
Thus, Shabina Shahin, their designer took on the humongous task of transforming their dreams into reality. With myriad options and innumerable designs, they zeroed in on the colour scheme and theme to follow for this lovely apartment. While you take a tour of this bright and airy home, do not miss out on the little details like the full-fledged bookshelf and the mirrored wall. You are in for a great surprise!
Compact & Cozy Living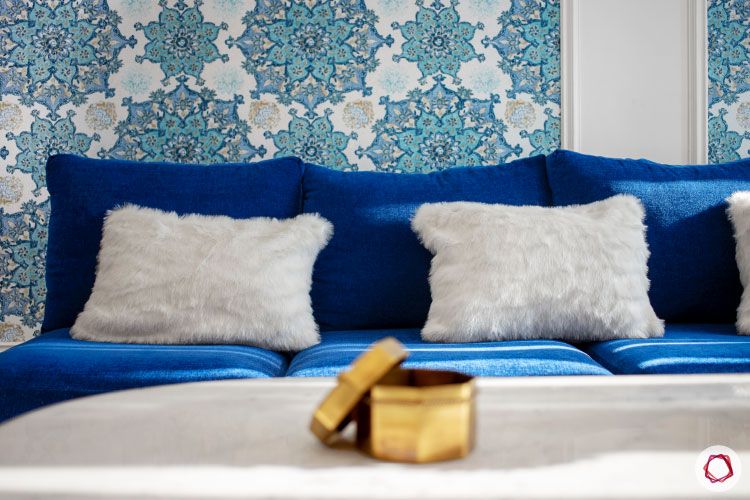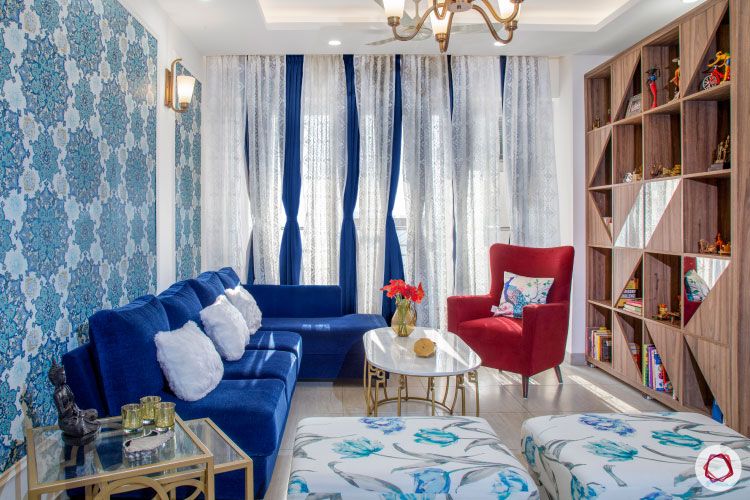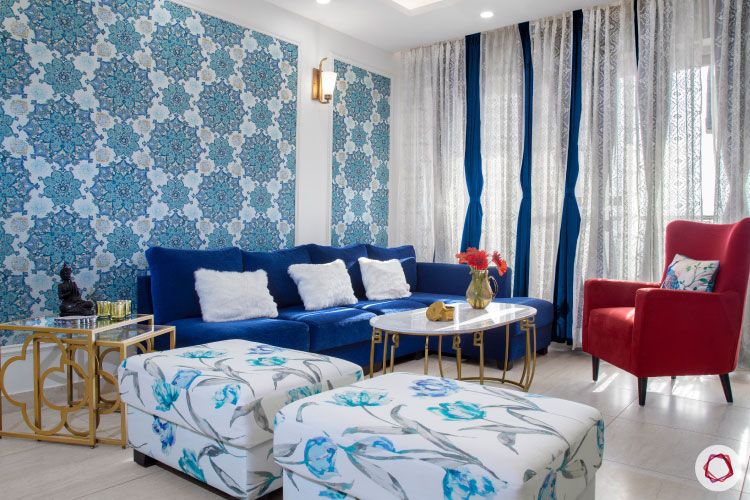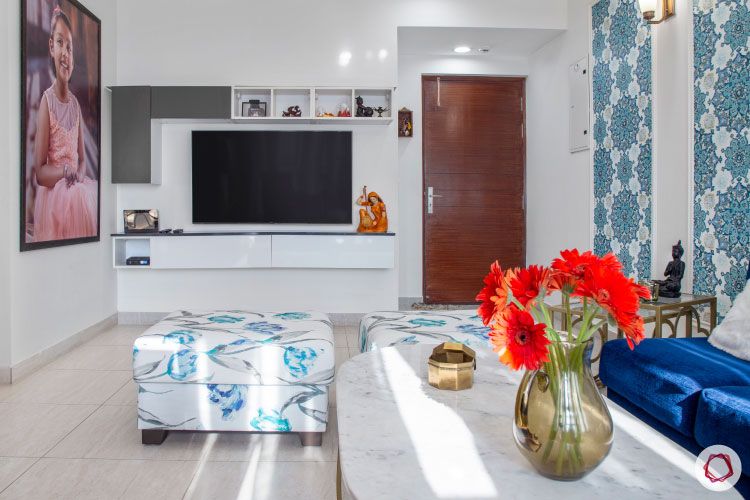 In the initial design discussions and decisions, both Rakesh and Priyanka had made it very clear that they want the designer to give them ideas and suggestions to choose from. Therefore, for the living room, Shabina chalked out a blue and white theme that the couple loved. In a bid to give them versatile seating options, she gave them an L-shaped sofa, ottomans and an accent chair for company. The walls wear a classic wallpaper that is broken with the help of trims that create an interesting visual.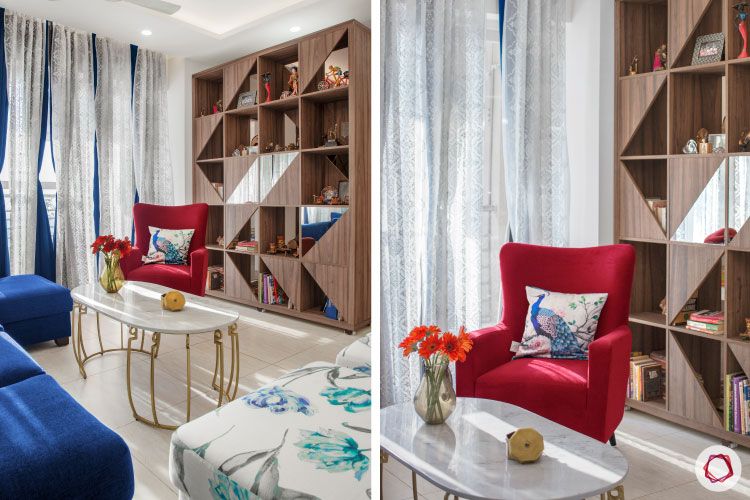 A very intelligent design solution stands right in the middle of the living-cum-dining room — the bookshelf. This is the ideal place for it, since a lot of natural light flows in through the attached balcony and one can enjoy some "me" time on the accent chair, with books for company. Shabina gave the bookshelf a designer look with diagonal cutouts and mirrors in between. This piece stand on wheels, that makes it easy for the couple to move it around.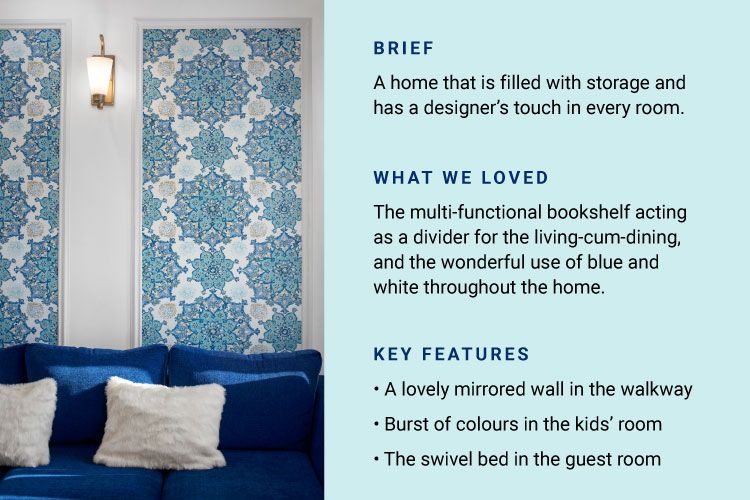 Mirrored Elegance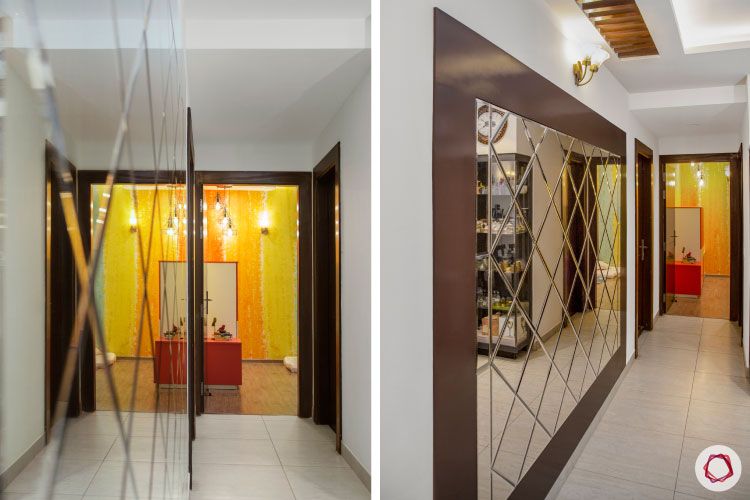 A personal favourite of the couple, this bevelled mirror wall stands tall in the walkway that leads to the rooms. With MDF battens on the false ceiling and strategically placed lampshades, this area look stunning in all its glory.
A Painted Canvas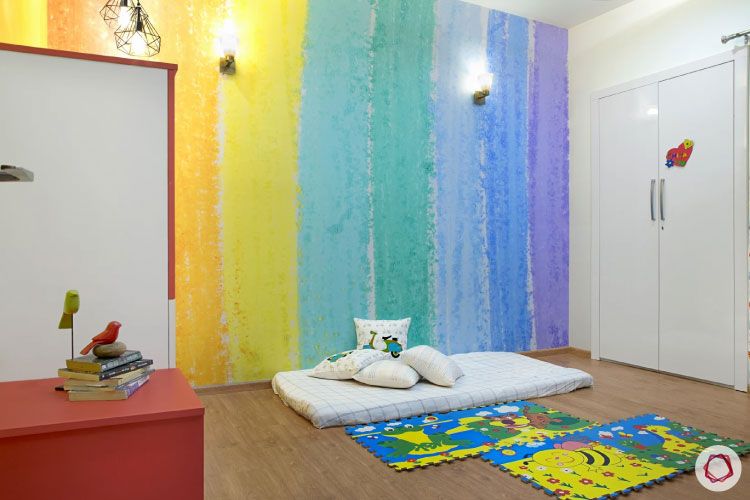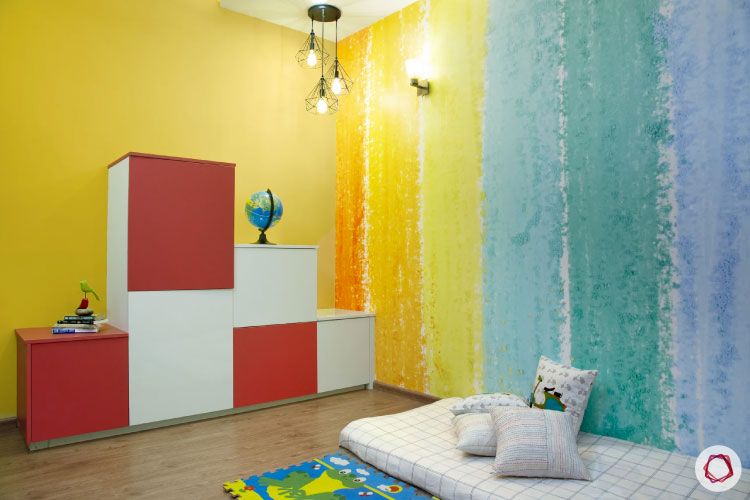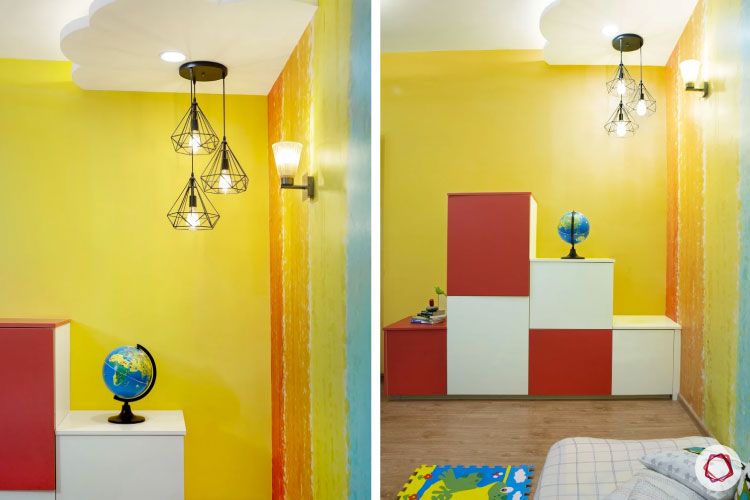 The kids' room is a riot of colours. Take a look at the rainbow wallpaper and the bright yellow wall beside it. Truly something that any kid would love, right? Well, the couple was clear about having myriad colours in this room so that it looks lively. Shabina also gave them this step-style unit in red and white to facilitate storage. The daughter can place a cushion on the edge and enjoy studying or reading by herself under the lovely cloud-shaped false ceiling with hanging cage light under it.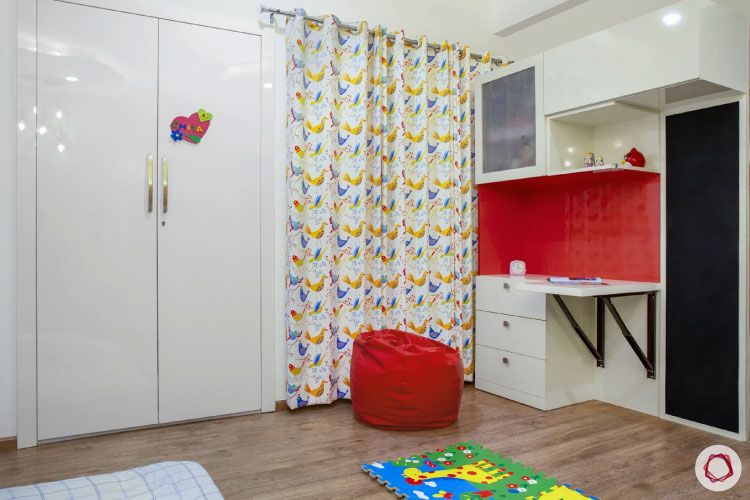 When vastu comes into play, you need solutions that do not interfere with the design and also do the deal. The couple wanted the study table to be East facing, according to vastu shastra, so Shabina gave them a foldable extension to the table that can be dropped down to make space for a chair. The rest of the unit is complete with drawers, shelves and cabinets in ivory.
Work Meets Leisure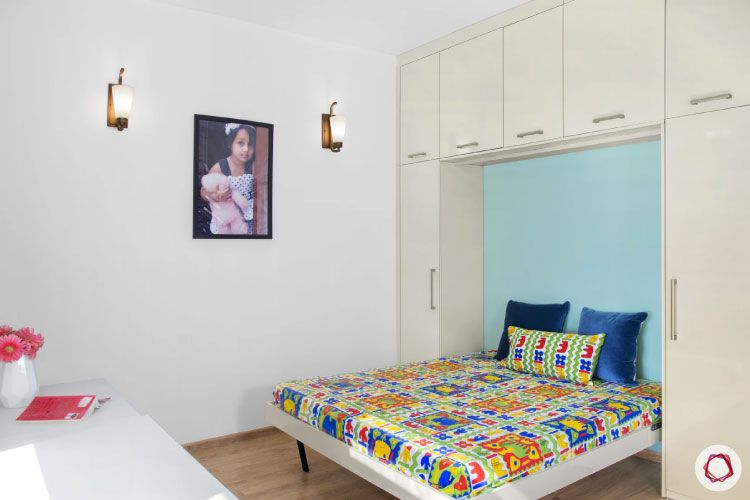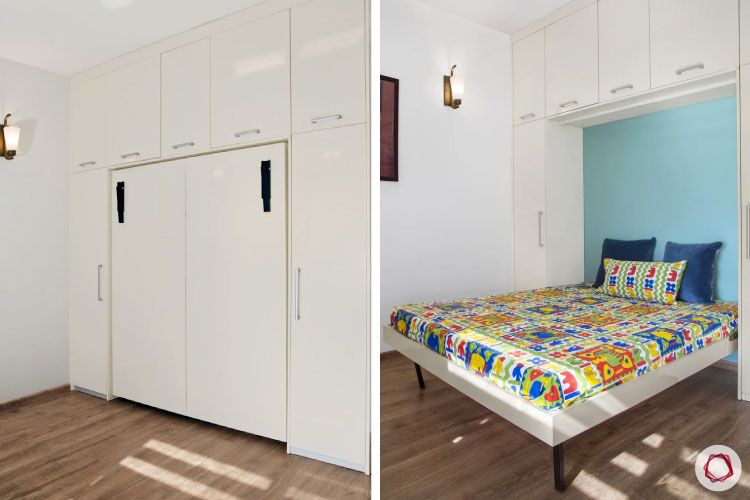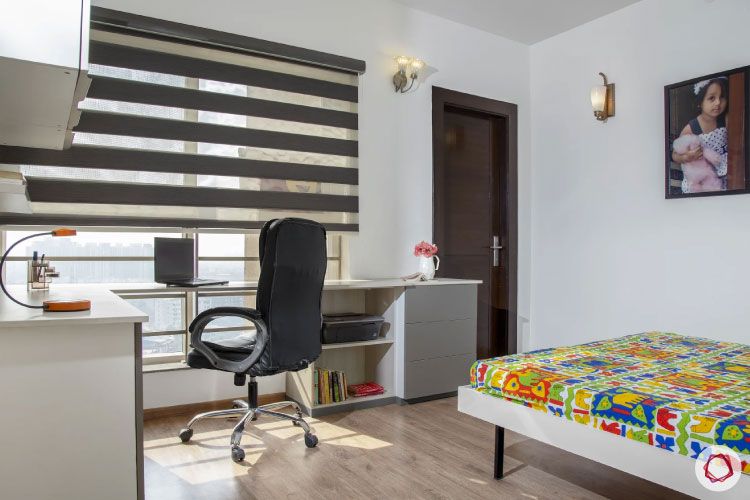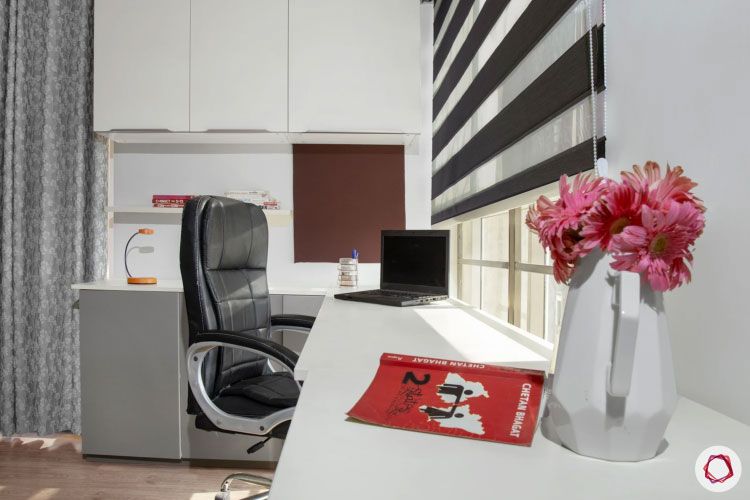 Since Priyanka works from home, she needed a room that is dedicated to herself. The guest room was the ideal choice, since they do not have a lot guests visiting them often. Therefore, Shabina suggested this swivel bed that folds into the cabinets. So, while Shabina is busy with work, her little one can play around next to her. The study table here looks more professional, with grey and white finish laminate and an office chair for company. A peg board makes life easy for Priyanka while she's busy keeping track of her work commitments and the blinds make sure that natural light can be controlled during the day.
Plush & Simple Bedroom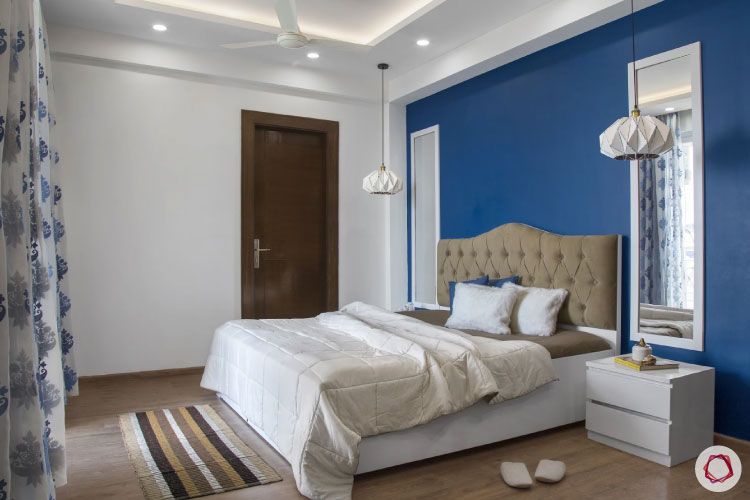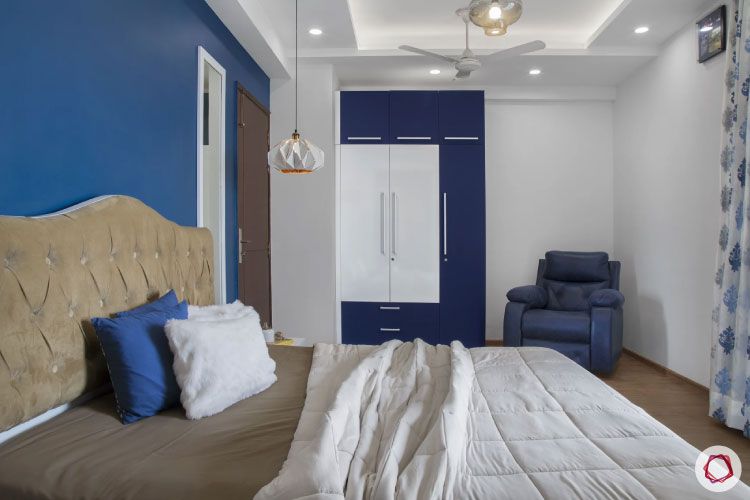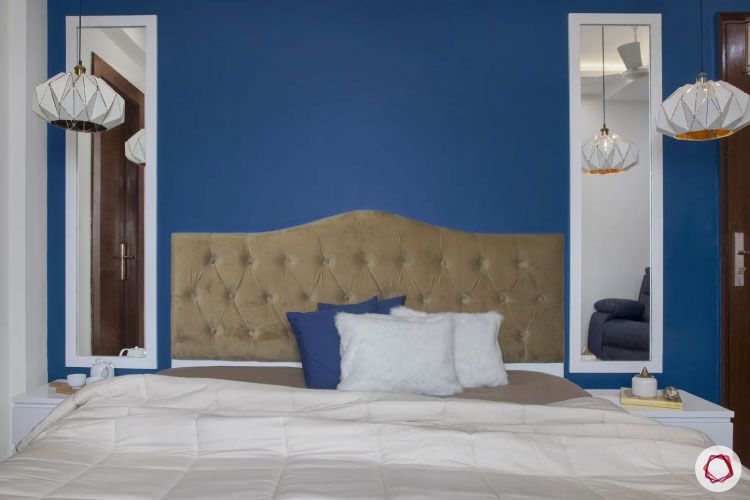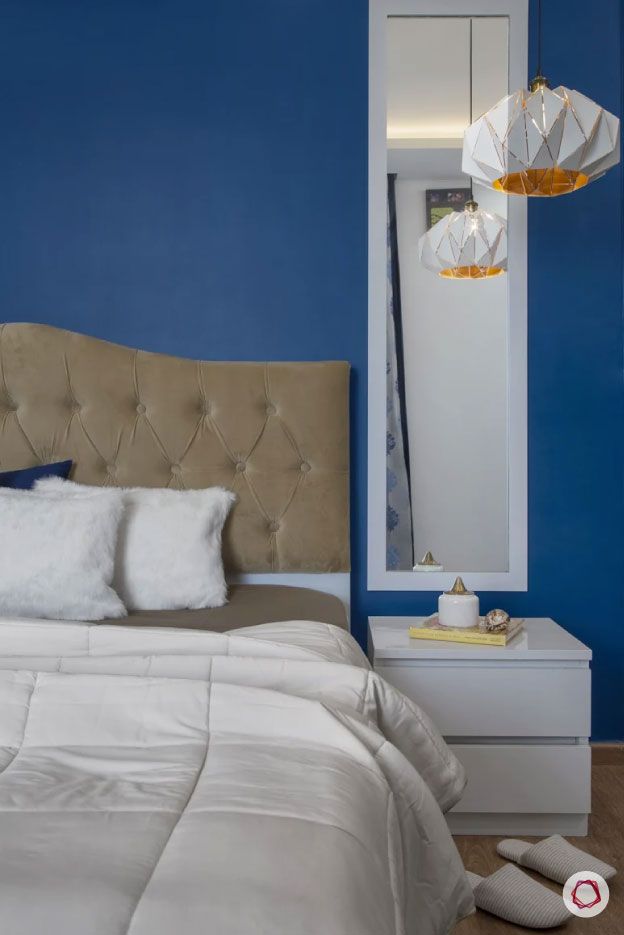 The master bedroom follows the theme with blue and white being the dominant colours and the rest of look is kept minimal. Both Priyanka and Rakesh love blue, hence Shabina gave a combination of blue with pristine white for the wardrobes. Also, since the two needed their own space to get ready for the day, she gave them separate dressers on either side of the bed, with pretty pendant lights to light up the space. A lazy-boy finds its place in the room in one corner, where they can relax and unwind.
"We are very happy as far as Shabina's designs are concerned. She did a fabulous job and gave us some amazing ideas for our home. I would also like to mention Rohit Singla, with whom we shared a great rapport. We love the compliments we receive from our friends and family and will definitely recommend Livspace to everyone!"

– Rakesh Verma, Livspace Homeowner

"This is my first project with Livspace and I must say, I learnt a lot of things while working on this one. I was given complete ownership of the design and the clients had to instill faith in me. We delivered the project well within the timeline and I learnt how to deal with last-minute snags and issues. It was a great learning experience for me!"

– Shabina Shahin, Interior Designer, Livspace

Also, check out another Beautiful Interiors at an Unbelievable Price at Cleo County.
Send in your comments and suggestions.