What is that one thing that sets an Indian home apart? It's our love for colours! A colorful home is typically one that suits our desi sensibilities. Hence, even when we adopt other styles, for example the contemporary style like Pateek and Ruchika Vasishta chose for their 4BHK in Gurgaon, it's a more vibrant version of the style.
The easiest way to have a colorful home without causing a clutter of colours is to add plenty of white space. And that has been done beautifully by Livspace designer Priyanka Tandon in this Emaar Palm Drive home!
Let's take a visual tour of this colorful home to take a few leaves out of Priyanka's design book.
For the living room: A rainbow of fresh shades against white walls
Prateek and Ruchika wanted their living room to have a mix of styles. Priyanka achieved this with white walls sporting traditional Victorian trims as well as contemporary wall-mounted horse installations. The fresh colors of the horses and the daybed is matched with peppy cushions on the L-shaped sofa placed across the room.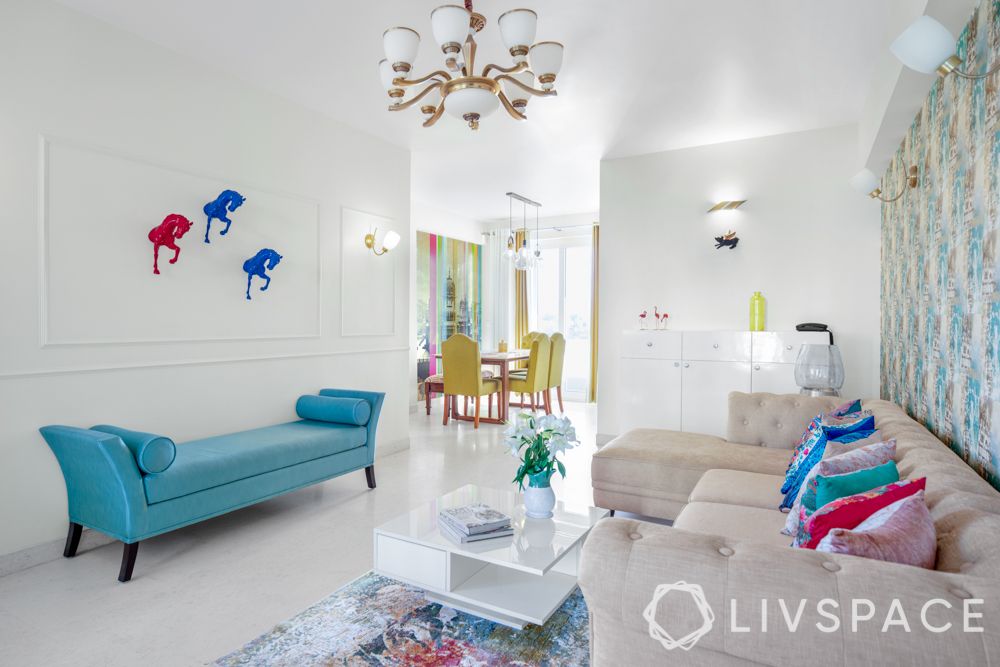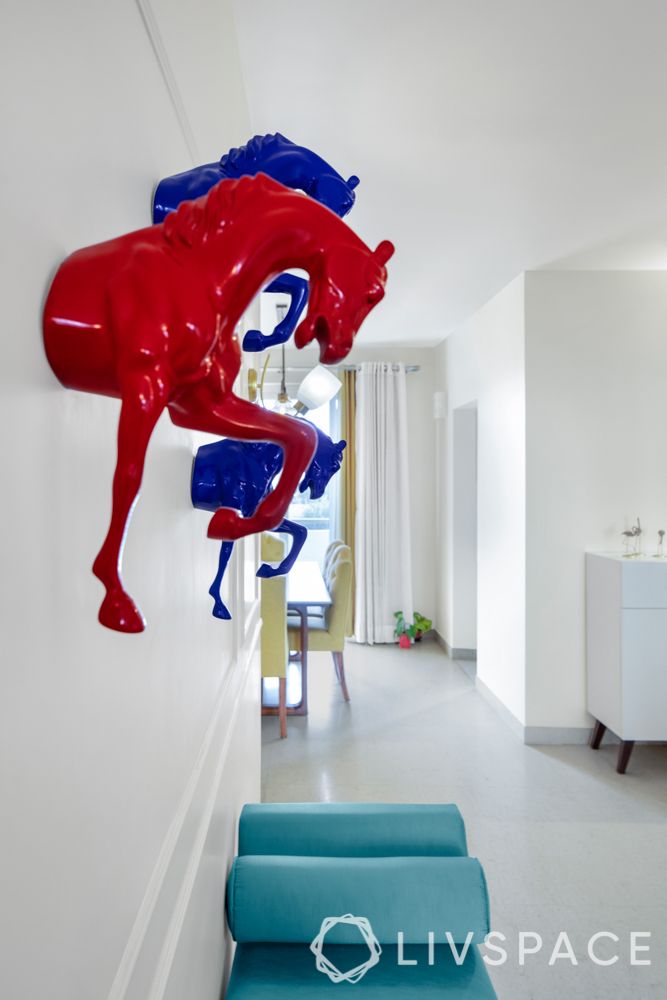 Like the wall accents? Get fresh ideas to turn bare walls into accent walls.

For the dining room: Retro wallpaper to create an accent wall
The dining area, which is Prateek's favourite part of the colorful home, is easy to stop. Guess why? This all-white space is highlighted by a bespoke wallpaper that alludes to the pop art of Andy Warhol. In fact, we see a unicorn head in similar neon shades in the passageway leading up to the bedrooms for continuity.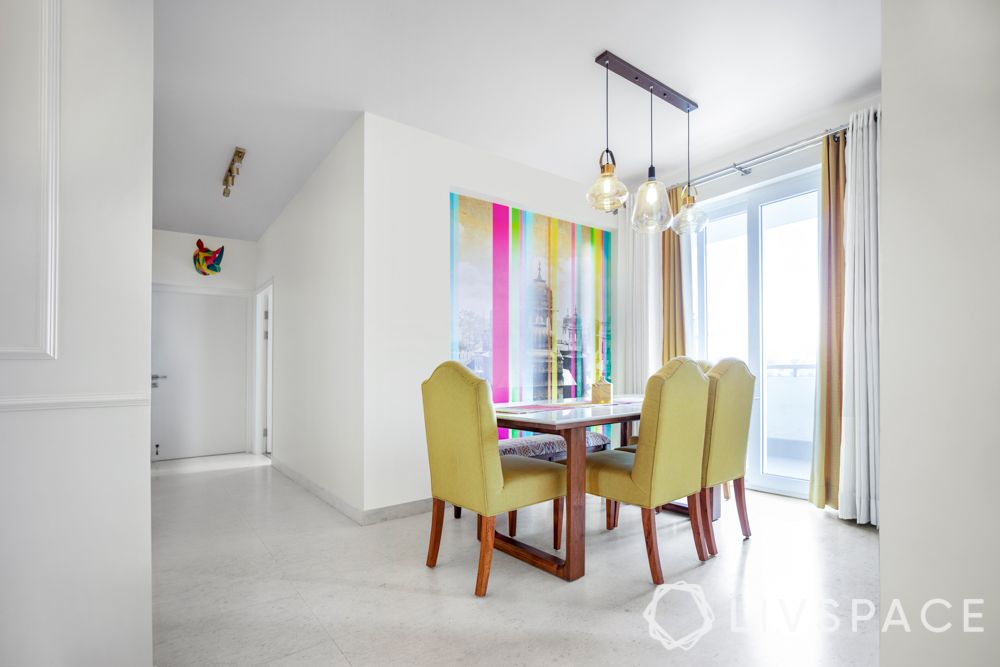 Did the wallpaper catch your eye? Here's an ultimate guide to choosing wallpapers for your home.
For the kitchen: Abstract tiles add texture to white country-style kitchen
The family's kitchen looks like it could belong in a cottage in the countryside! It oozes old-world charm with its all-white look (cabinets plus countertop). The cabinets have country-style grooves and handles to match. The only source of colour (and texture) in this kitchen are the backsplash tiles that cover the walls completely. The abstract floral pattern of the tiles is essentially the main highlight of this kitchen!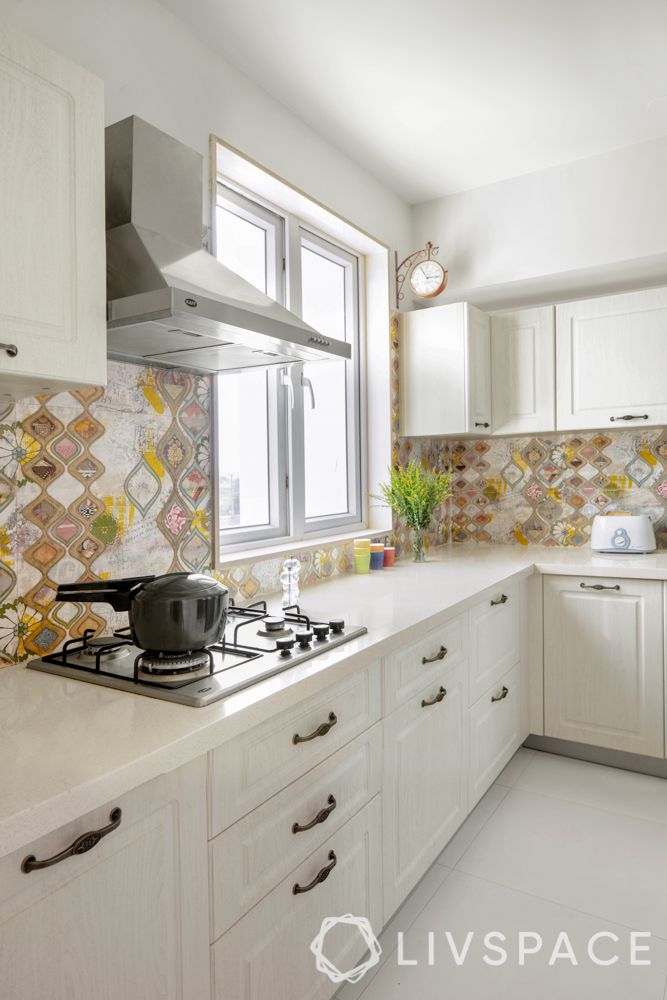 You can check out more white kitchen designs with pops of color here.
For the kid's room: A Mediterranean mix for breezy vibes
The couple's son had a fantasy of a bedroom that resembled the azure blue vibes of a Mediterrenean resort. So Priyanka mulled this idea over with the family and arrived at the perfect combination of colours. This room has all white walls with grooves and a special feature wall with a patterns blue wallpaper. We also see pops of Mediterranean colours like yellow in the chair and blue in the headboard of the bed. This is a room a young adult will not outgrow in a hurry!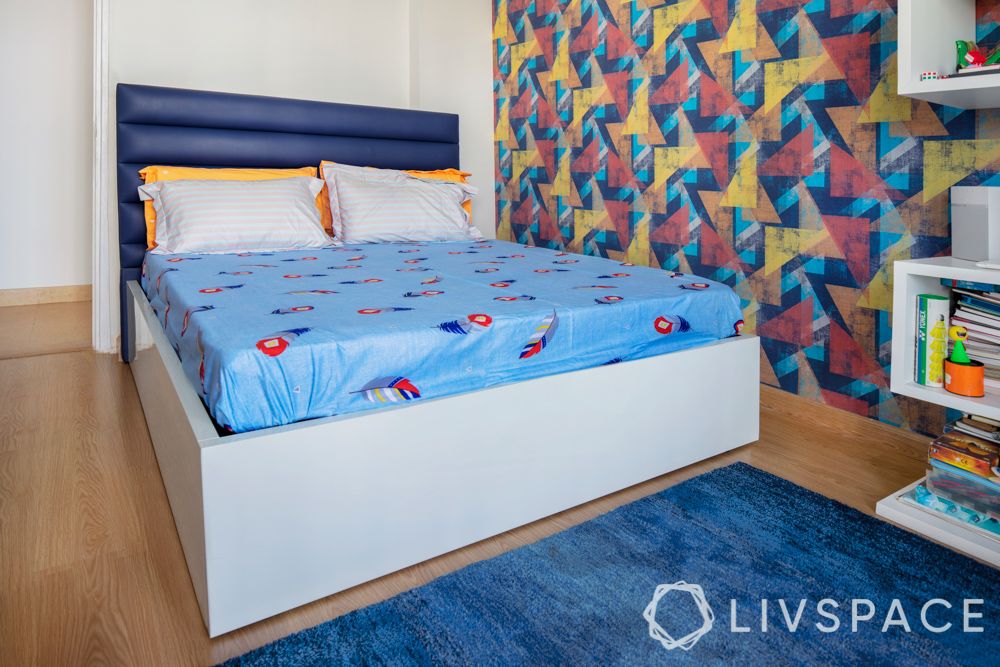 For the study: White + Green = Tranquil
While both Prateek and Ruchika pursue careers in finance, their real passion is writing. In fact, the lady of this colorful home is a published author. And the study is her think tank' or space to ideate. No wonder it has such a soothing vibe to it. Green is the colour of nature and it has an immediately calming effect on our senses. So if you want to create a space for tranquility, add pops of green to it like Priyanka has done. Also, don't miss the brick texture on the walls because white walls tend to look boring without any visual effect.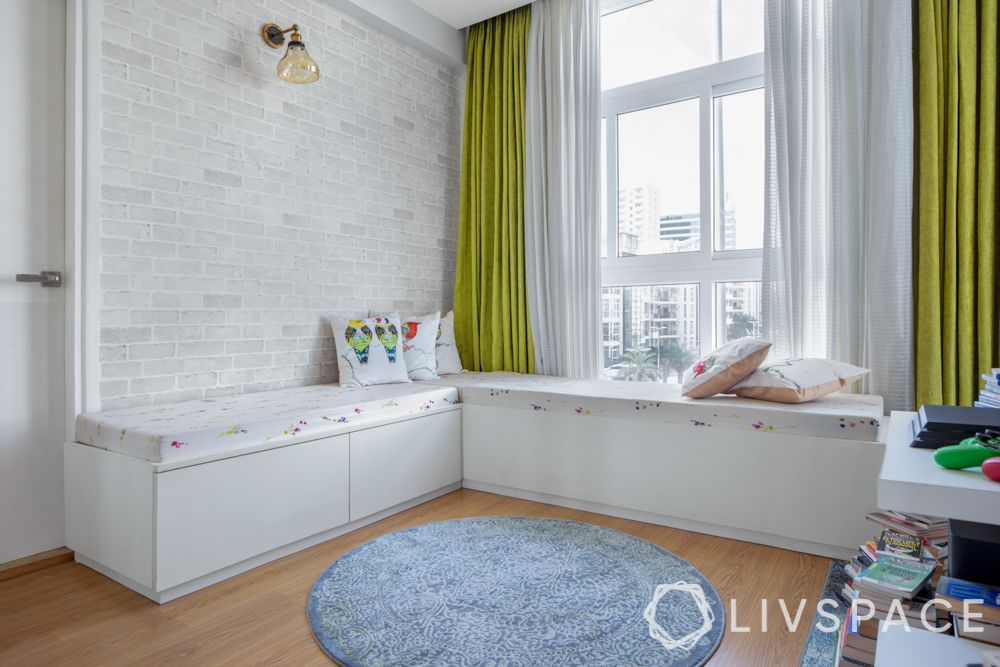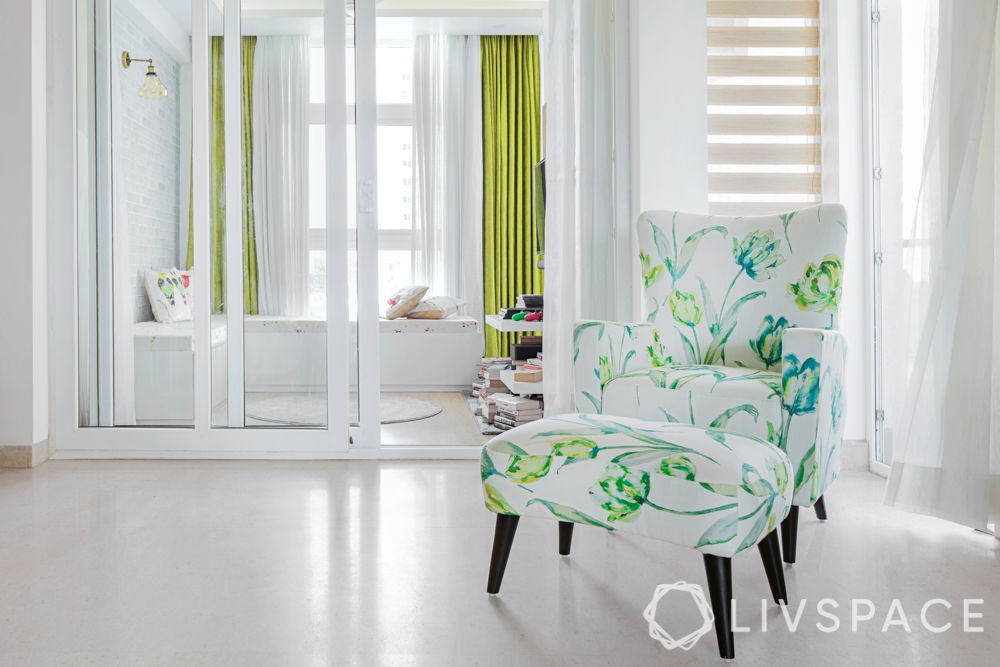 Having real plants is another way to add pops of green to your home. And if you are not a hands-on plant parent, here is a list of indoor plants for lazy people you might find interesting.
If you enjoyed this video tour, check out all the design details of the full home as well.
Send in your comments and suggestions.