Home. The very word fills us with warmth. But have you ever stopped to wonder what it really stands for? While it could mean different things to different people, the overriding feelings are that of safety, acceptance, comfort, privacy and the freedom to be yourself. If you have an interior house design to fulfill most of these needs, then you have a comfortable home to come back to.
But how do you achieve such an impeccable interior house design? It is usually with the help of an expert, which in this case, is an interior designer. In our quest to find out exactly what makes a home perfect, we caught up with our best designers and made them spill their best kept design secrets.
Behold. What you read here are some of designers' best kept secrets. It is also what goes into designing the best of homes.
#1: Designers can find you space that you didn't know existed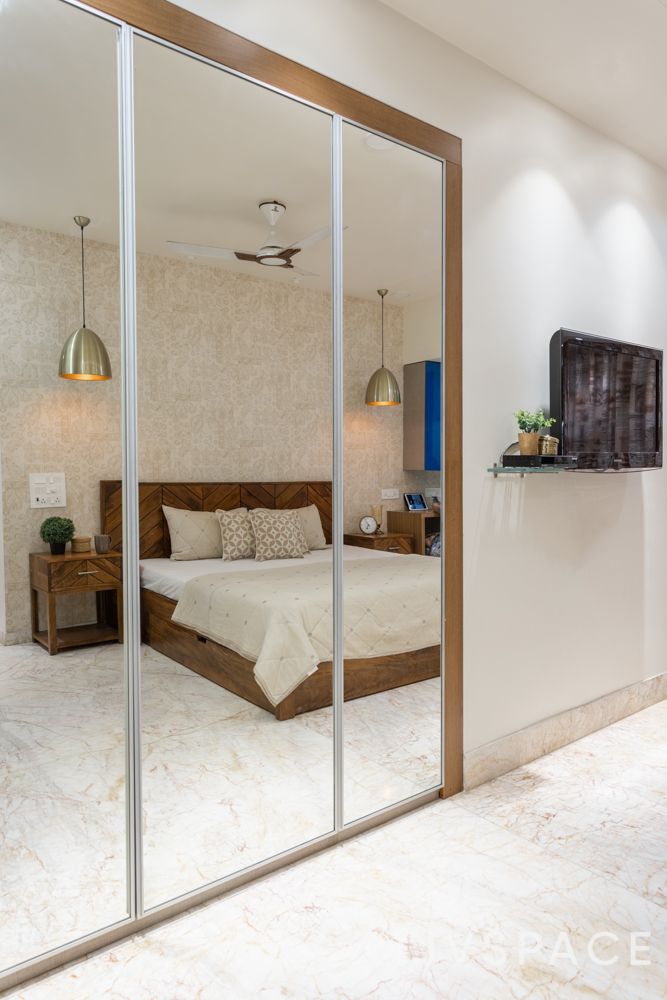 Homeowners often ask this question – why do I need an interior designer? Designer and architect, Yasin Shaikh, who specialises in designing compact homes, answers this question with a particular reference to Mumbai. And as we all know, the average home in Mumbai is smaller than those in the rest of the country.
Take this 3BHK in Mumbai for example. Yasin has cast the wardrobes in niches saving plenty of floor space in the bedrooms.
You can take a full tour of this home here.
#2: When space is scarce, glossy is good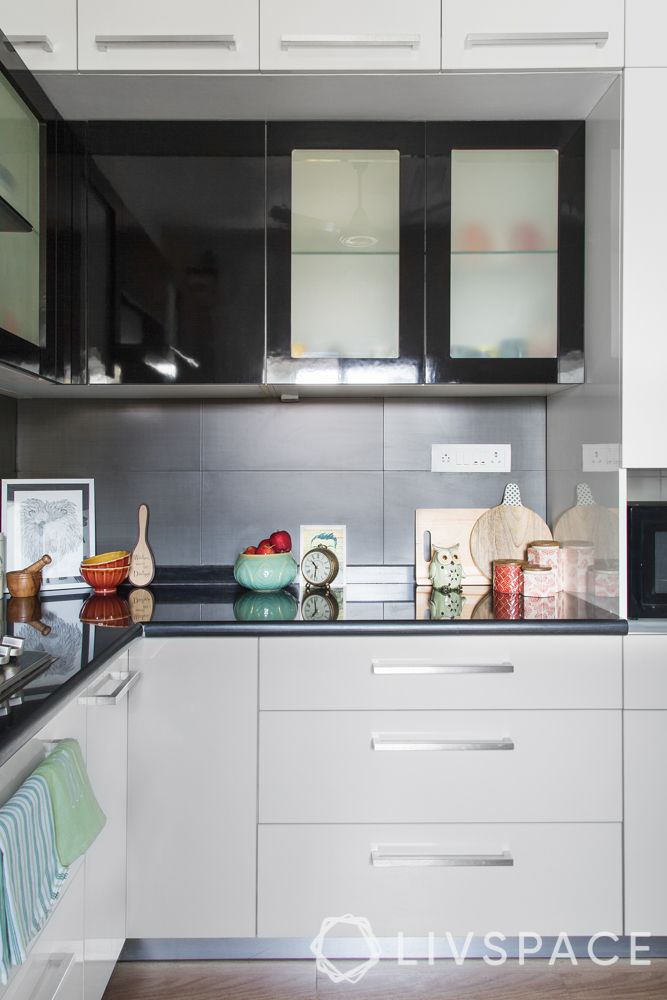 Is matte finish better for compact spaces or glossy? This is one of the most frequently asked questions from our readers. So we are mighty glad that our designer, Hansika Mota, got it cleared once and for all.
She gave us the perfect example of Nandini Gupta's versova kitchen. Nandini and her brother wanted to work with black and white. But black tends to suck all the light in a room. So Hansika suggested they use high-gloss laminate finish for shutters. This ensures that the cabinets are so glossy that you can actually see your reflection on them. Goodbye, mirrors!
You can get all the details about this kitchen here.
#3: You can balance any amount of colours with whites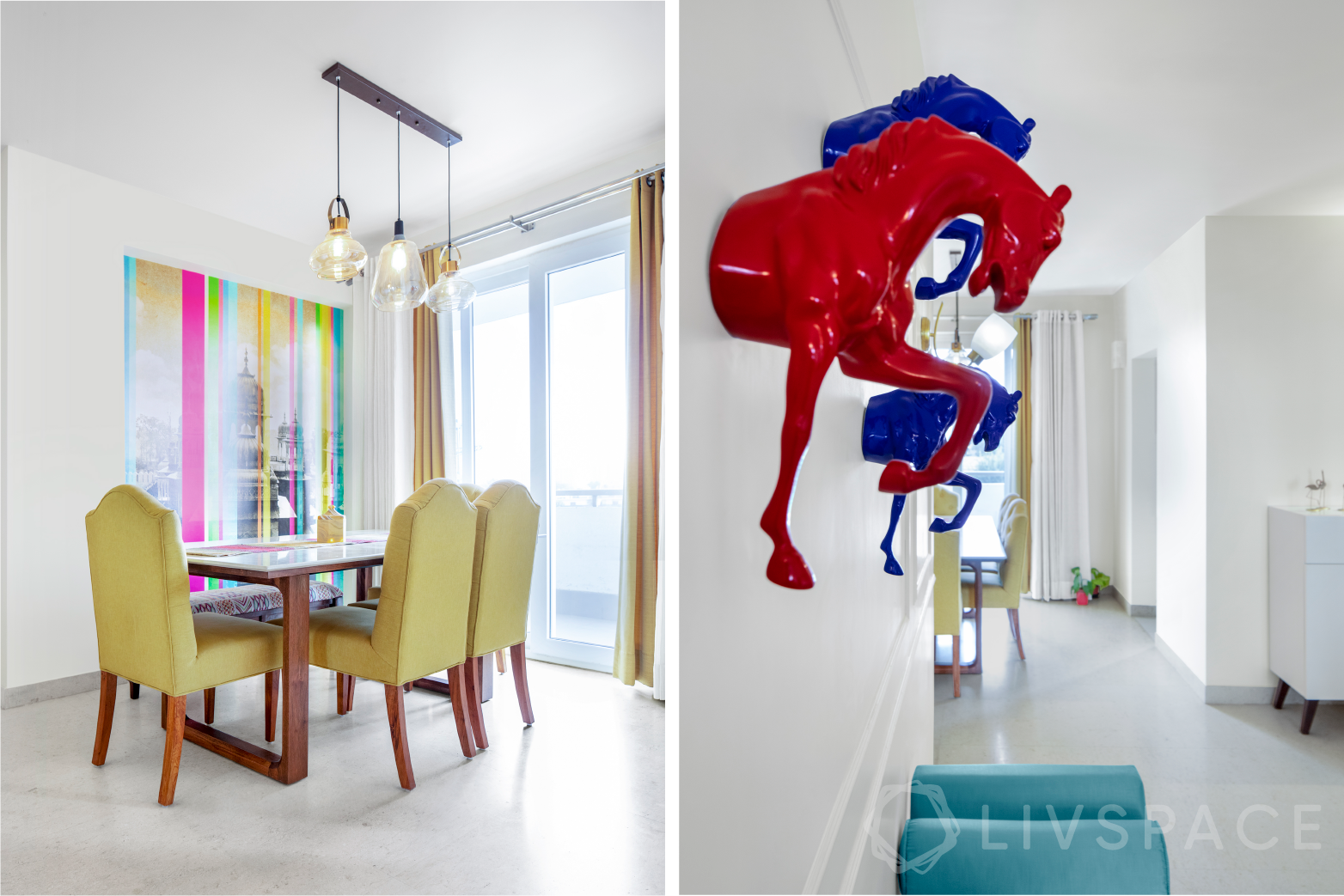 Let's face it. Loving all kinds of bright colours is an integral part of our desi identity. But if we are globe-trotting millennials, we also want to keep up with our contemporary sensibilities. And for that, many of us have to consciously avoid too many colours in our interior house design. It's a classic case of your heart and mind wanting completely different things.
Is there a middle path, though? If our designer, Priyanka Tandon, is to be believed, there is!
She exhibits her own advice articulately in this Gurgaon home that has vast expanses of whites punctuated with vibrant pops of colour.
You can explore this colourful (yet subtly so) home here.
#4: You can have your space and store it, too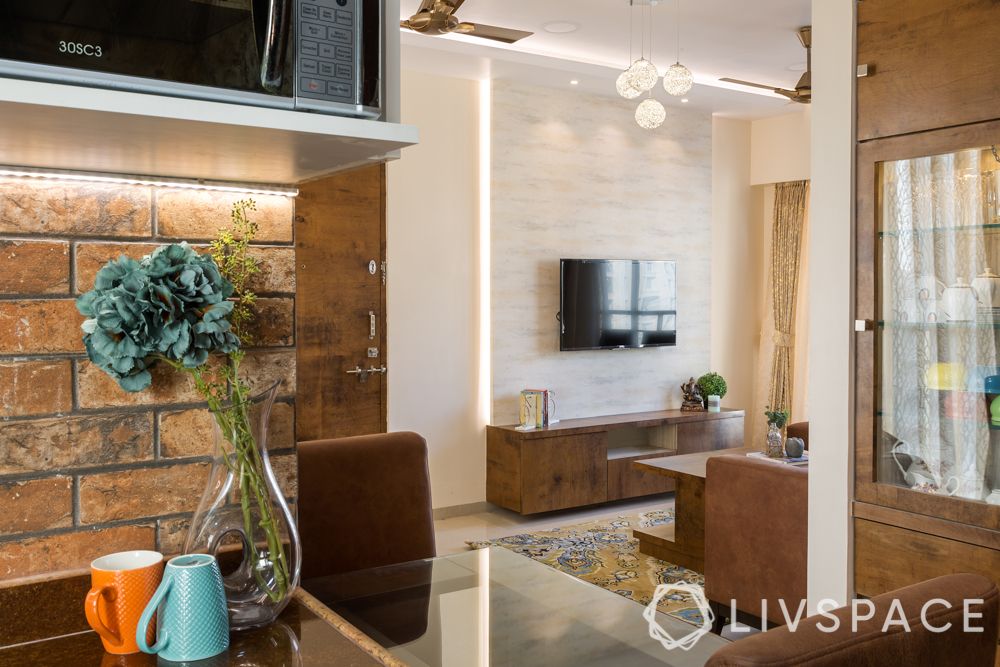 Life is often divided between what we want and what we need. In the same vein, space is something we want at home but storage is something we need. A compromise must ensure you get a favorable mix of the two. Unless you approach one of our designers for interior house design.
Wondering how that's possible? Let's take you to one of our Mumbai homes where Yasin demolished a common wall between the passage and the bedroom. In the dining space, he replaced the wall with a crockery cabinet. The cabinet opens up as a dresser on the other side. Wicked piece of work, isn't it?
Take a complete tour of this space-efficient home here.
#5: Know where to cut costs and where not to compromise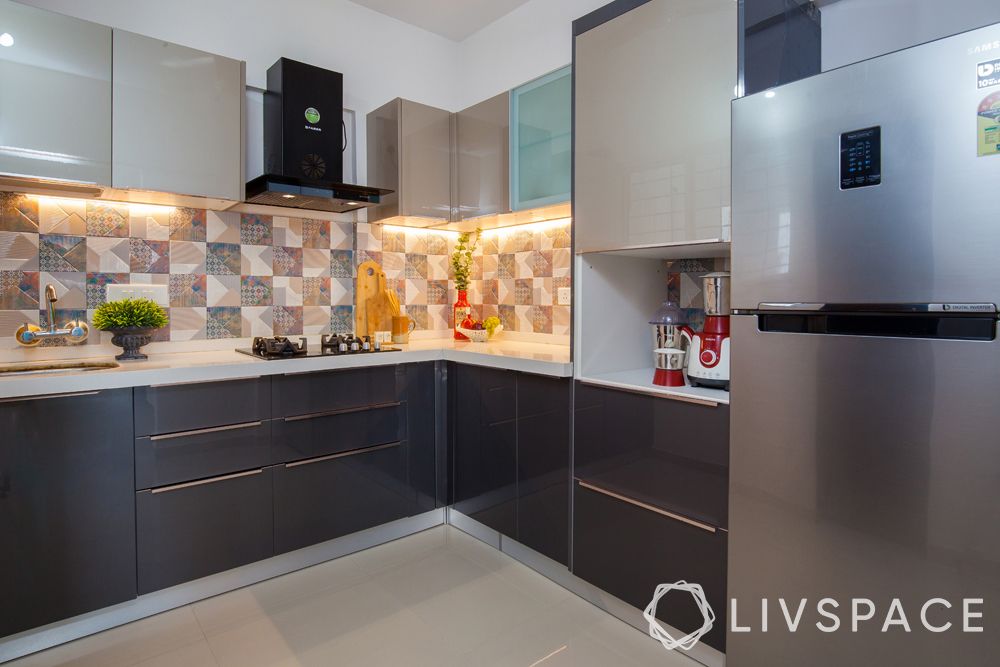 A good budget for interior house design is neither large nor small. Such a budget is appropriate because it covers your needs properly. Essentially, if you know where to save and where to splurge, you have your budgeting game on point! Let's illustrate this with a Pune home that got end-to-end interiors in just ₹10 lakh. And in this budget, a good 30% was spent on the kitchen. Want to know how that sufficed? Let's hear it from the designer herself.
To read our full interview with this designer, click here.
#6: You can segregate space without partitions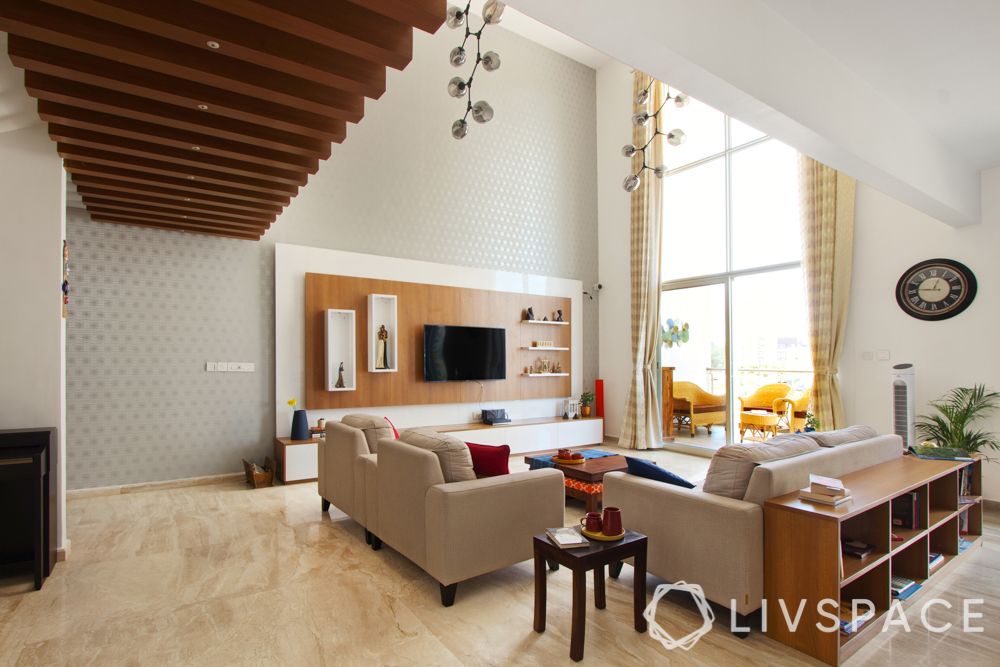 When you have a large space, it is important to segregate it into smaller segments so that they can work as independently functional units. But many homeowners are reluctant to segregate space because they feel it makes their rooms look cramped. Did you also think that space cannot be segregated without using partitions?
For instance, in this sprawling Bengaluru villa, Himani has used a language of design to sort the massive living room into units. The wooden rafters mark the entryway and the grey wallpaper covers the drawing room while a low-height bookrack separates the dining room from the rest. Ingenious house interior design, isn't it?
You can see the stunning elements of this villa here.
#7: Ever heard of 'design continuity'? Yes, it matters!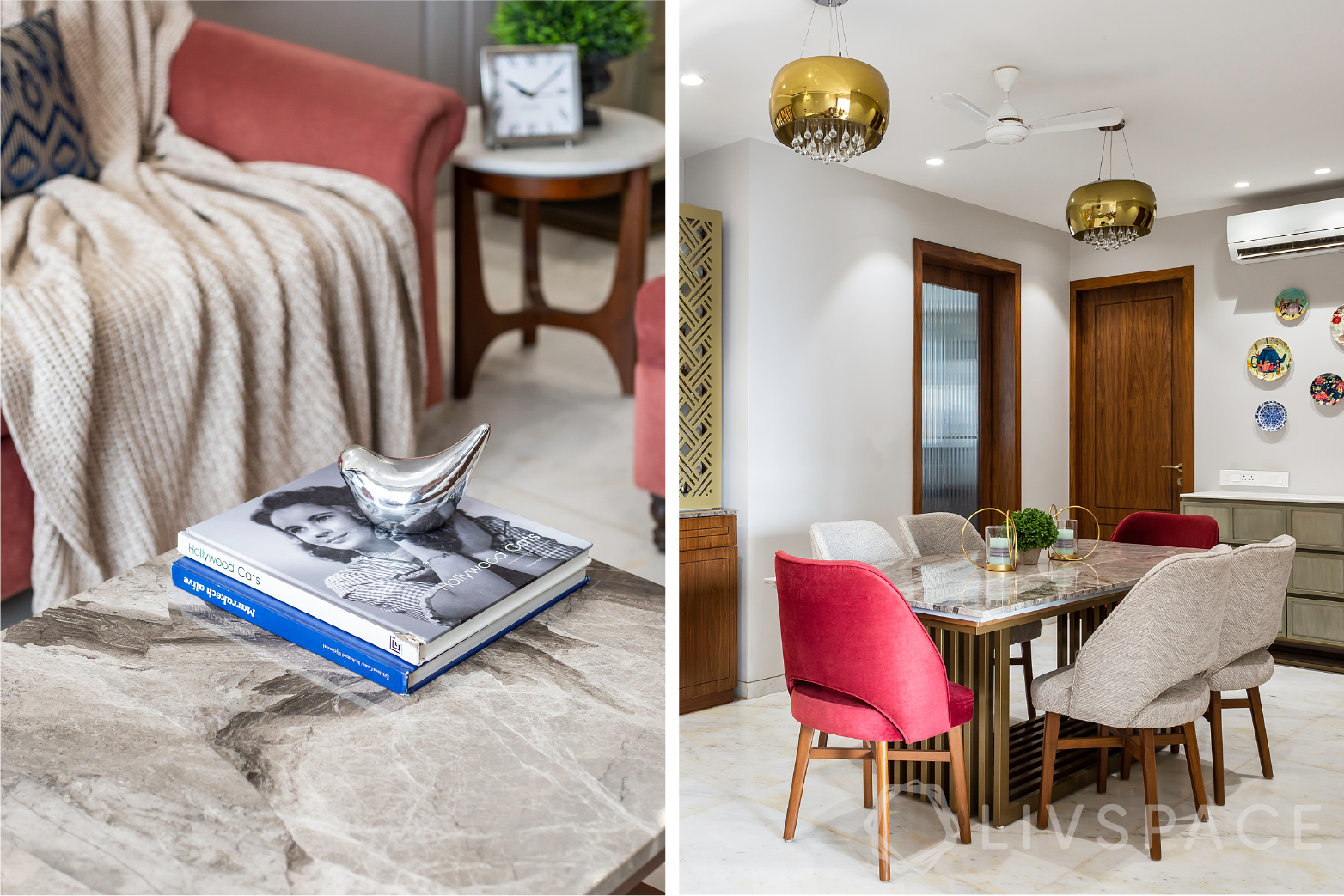 Has it ever happened that you entered a really well-designed home and instantly knew that you're in the presence of greatness? You see a well-crafted plan of design and it looks splendid. However, you can't put your finger on what is right with the interior house design. What you can sense but are unable to articulate is most probably house interior design continuity. It's a rather abstract concept but the aesthetic beauty of your home hinges on it.
The Mehtas' home in Mumbai is steeped in design continuity and owes its good looks to this concept. If you look carefully, two types of marble have been used in this home alternately, one is white and the other is grey veined. These two varieties reappear again and again on tabletops and flooring to make the home one cohesive unit. Also, did you notice that all the walls in this house are a mild grey in colour?
To take a detailed look at this pretty pastel home, click here.
#8: Stick to a style
Do you know where most Indian home designs fall short? It is our inability to stick to the elements of the style we want. Homeowners want specific elements of different design styles that don't necessarily go together in their home. This leads to a creative chaos and often mars the look of a home.
It requires some research to know and understand the origin and history of a style. Only when you do can you decide if it works for you. And once you have set your heart on it, you require gumption, like Puja Bhatia, to stick with the design aesthetics it prescribes.
PS: Don't pick the minimalist style and insist on having a chandelier in your living room for quirks! It just doesn't work.
And if you need inspiration on sticking to a style, do look at Puja's Gurgaon home.
#9: Never block a window, design around it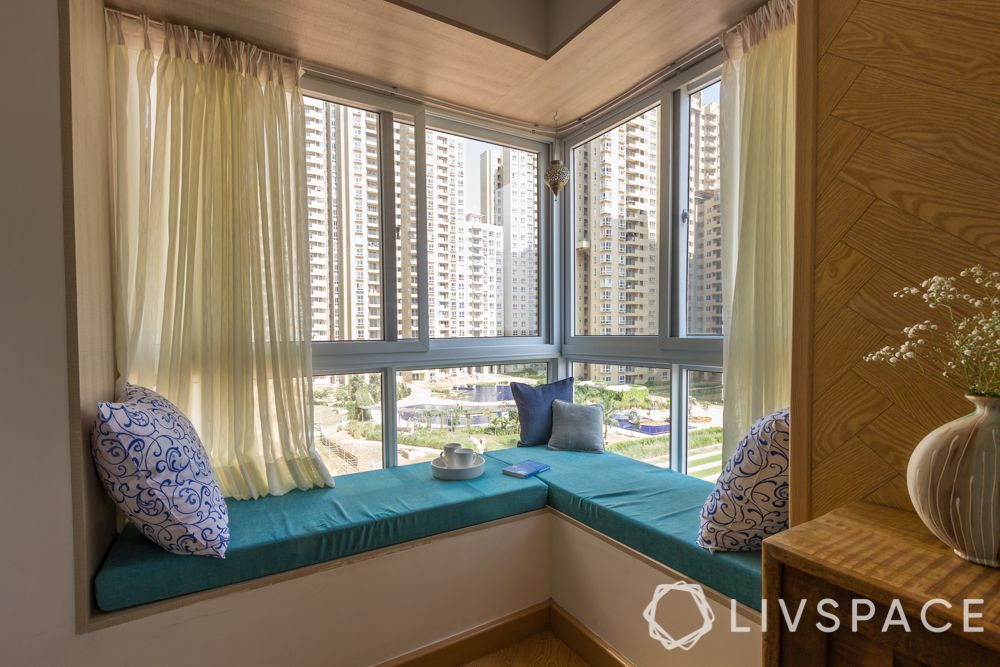 This is the rule of thumb for any kind of home design. You must never block natural light and ventilation no matter how pressing the need. Now how do you optimise space without making these changes? We'll let one of our best interior designers in Bangalore explain this.
This home is also pet-friendly and looks 'naturally designed'.
#10: Fake it till you make it!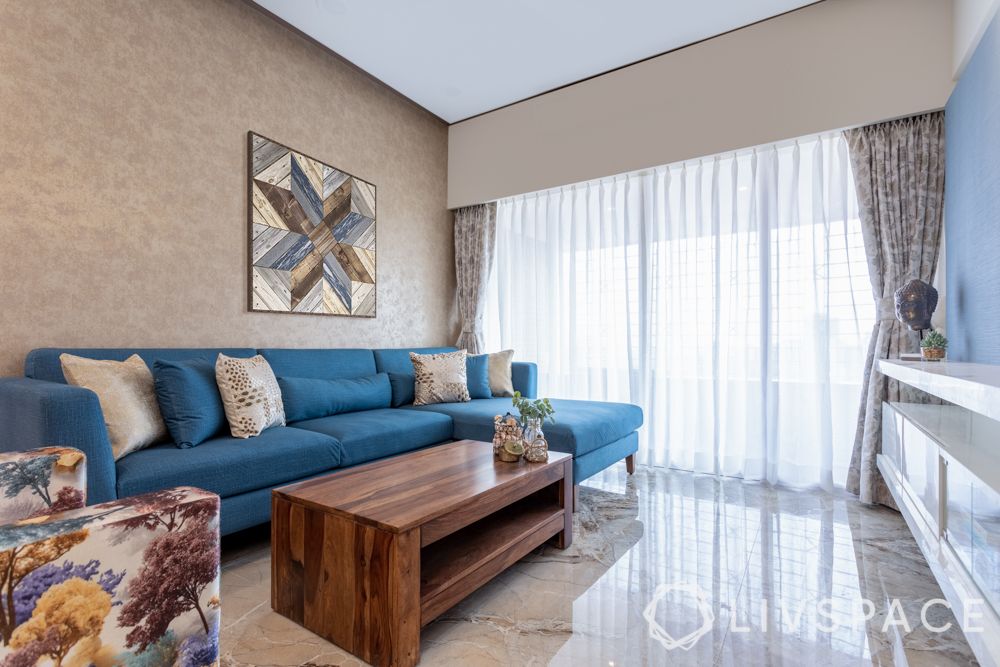 No matter how grand our plans might be for interior house design, budget constraints, more often than not, get in the way of those plans. However, you do not have to scrap your plans altogether. You just need to revise them with some witty advice from your designer.
There are more wonders in this Mumbai home inspired from the sun, sand and sea that you must explore.

#11: Invest in good-looking loose furniture if you're living in a rented home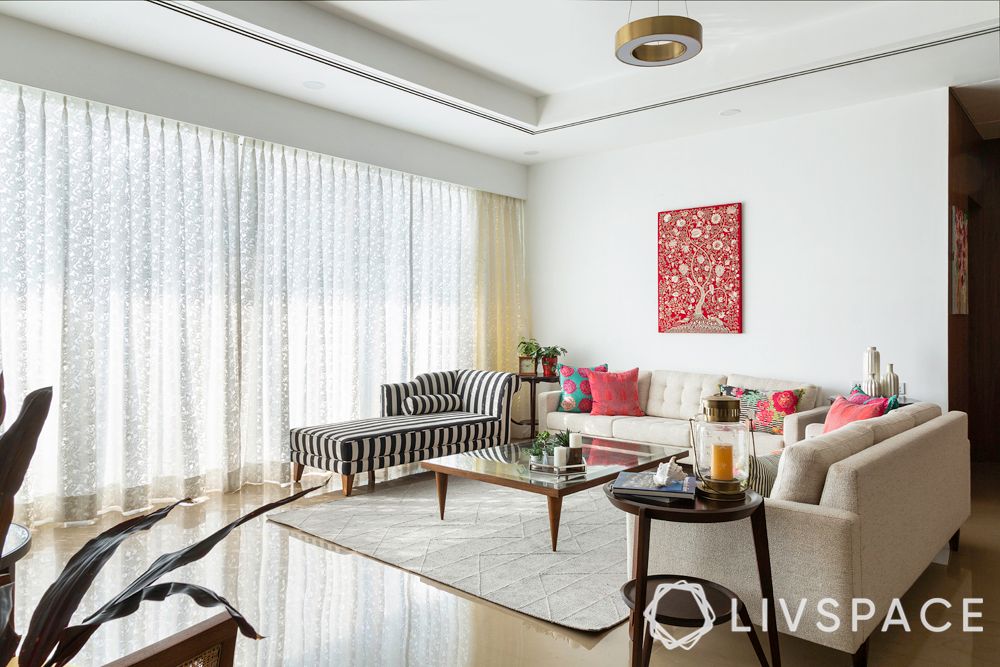 Many of us stay in rented accommodation, sometimes in spite of owning homes elsewhere. This happens mainly because we want to stay close to our workplace or other similar requirements. Naturally, there are many restrictions associated with being a tenant. You are not permitted to make any major structural changes or install custom furniture.
But if you're someone like Denise Baptiste who believes that wherever you live is your home, then some measures on your part can make your rented home your own.
Can you even believe that Denise Baptiste's home is a rented one? Do check it out here
#12: Being personal also means being unique
Having a 'personal' element is very important when it comes to interior house design. However, we seriously doubt if anybody ever broke it down why personality is important in design. What is personal cannot be repeated, and hence, it is unique.
Take this Bengaluru home, inspired by the 5 elements of nature, for example. Every aspect of this 3BHK is designed based on the homeowner's inspiration to associate with the elements of nature. And it also includes a Harry Potter-themed bedroom for their daughter.
You do not want to miss a full tour of this vibrant home. Click here.
#13: Knocking down a wall can change everything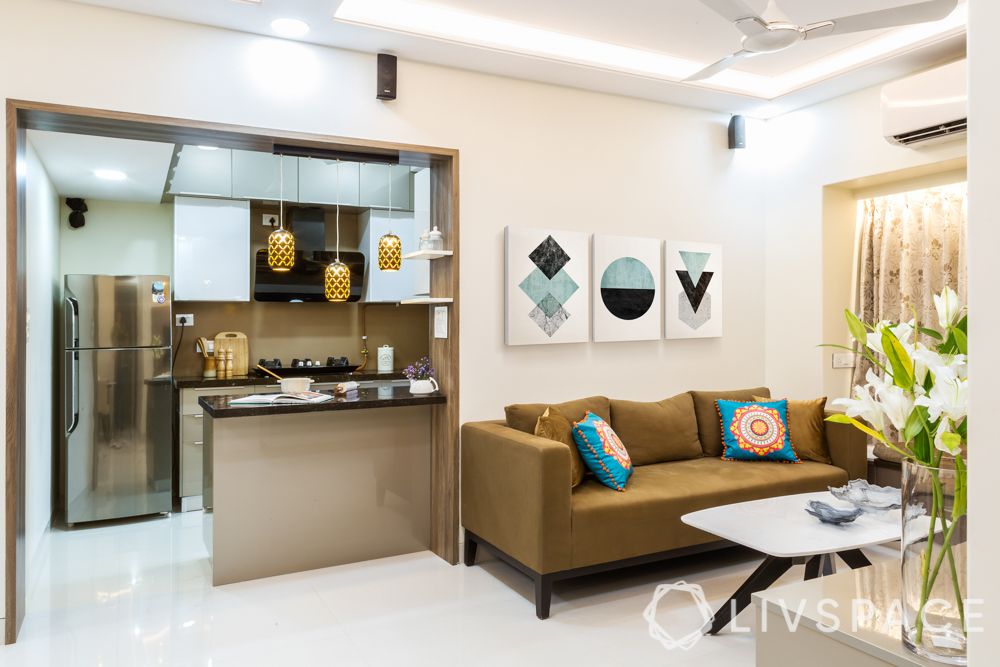 One small civil iteration can go a long way in changing the way your home looks. Demolishing a wall can buy you more space (provided it is done with a professional's advice). But the most common change is converting a closed layout into an open one. And how do we do this? By knocking down the wall that separates the kitchen from the living room.
This compact 2BHK in Mumbai, for example, looks so much better with an open kitchen.
Want to check out the rest of this vastu-compliant home? Click here.
#14: Form must follow function and that is more than just gyaan!
'Form follows function' is a design dictum associated with the mid-century modern style. However, it is quite universal in its appeal. Any kind of design must follow this thumb rule. How you interpret it changes from one designer to another.
For instance, Rishabh Shah has used this interior house design rule in a rather unique way for this 12-year-old MHADA apartment in Mumbai.
To see the complete transformation of this Mumbai 2BHK, click here.
#15: Your lifestyle should dictate your home's design decisions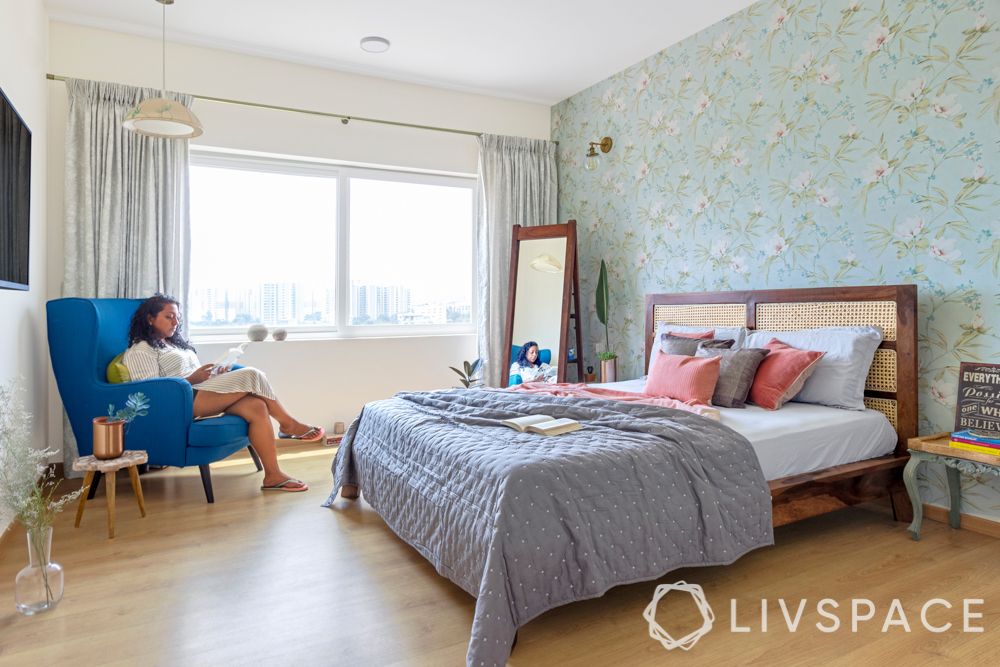 While doing your home interiors, there is one question that overrides all others: how do you live your life? And that determines how you want your home to support your lifestyle. HR professional, Shereen Abraham, is a single woman, a globe-trotter and a plant parent. She had no use for a third bedroom in her apartment but she did have the need for extra storage space for an ever-growing wardrobe.
So what did we do?
Catch a glimpse of this Bohemian home in Bengaluru here.
#16: It takes one pop of bright colours to change the look of your home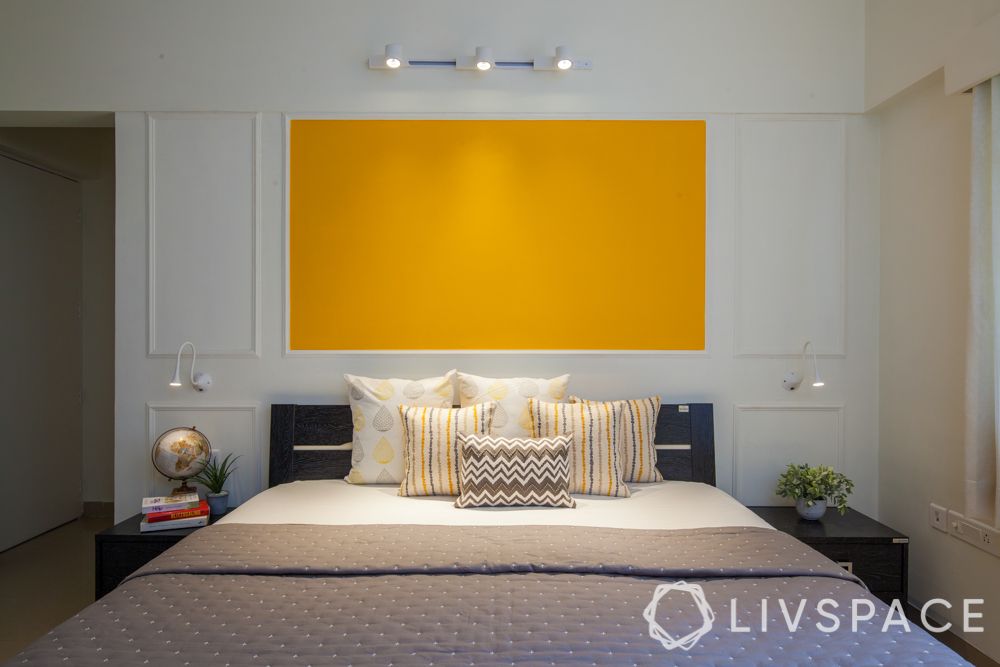 Colour is a design element that has a direct connection with our brain. Blues are serene, greens are soothing and it's hard to feel dull in a room that has a splash of sunshine yellow! If used carefully, every colour is capable of creating a mood. And it takes just one pop of colour to change the entire personality of a room.
Take this Pune home for instance. In an all white room, we have a square area of chirpy yellow and that elevates the energy of the room single handedly!
This home is a renovation project and also offers important budgeting lessons.
#17: Plants are not just for the gardens, you can decorate with them, too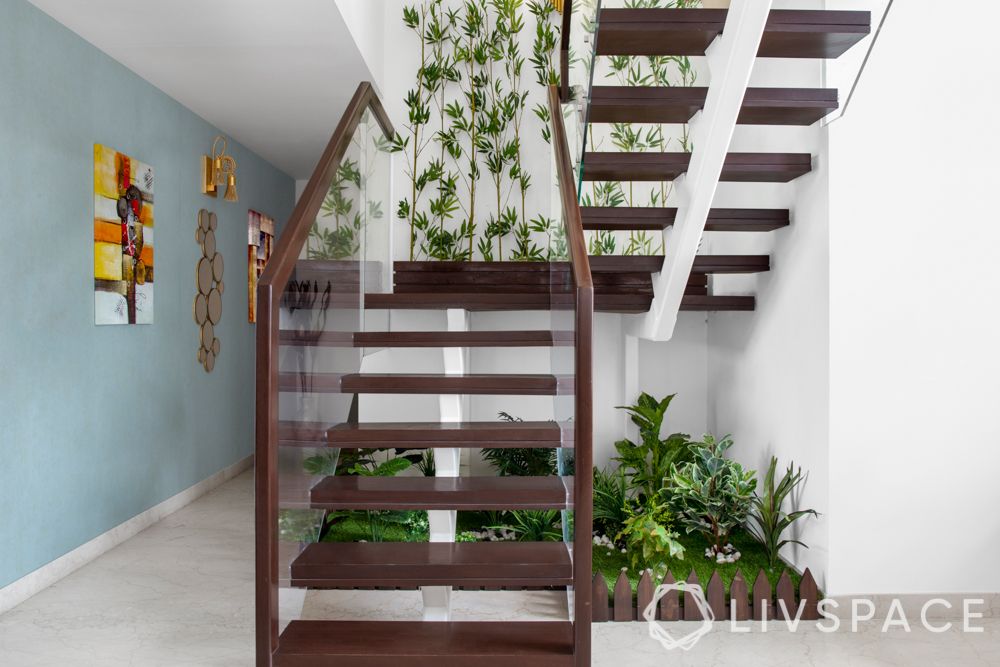 Not everyone is blessed with a green thumb. Naturally, not everyone of us end up becoming seasoned gardeners. But it is one thing to have the inborn talent for gardening and quite another to decorate with plants. If our trend forecast for 2021 is to be believed, biophilic design or interior house design with plants is here to stay.
Gurgaon couple, Rajesh and Priya, have no time for gardening. Yet, they were sold on the idea of having a green patch at home. So here's what we did.
Don't miss out on a full tour of this bold and beautiful duplex.
#18: Great foyers lead up to great homes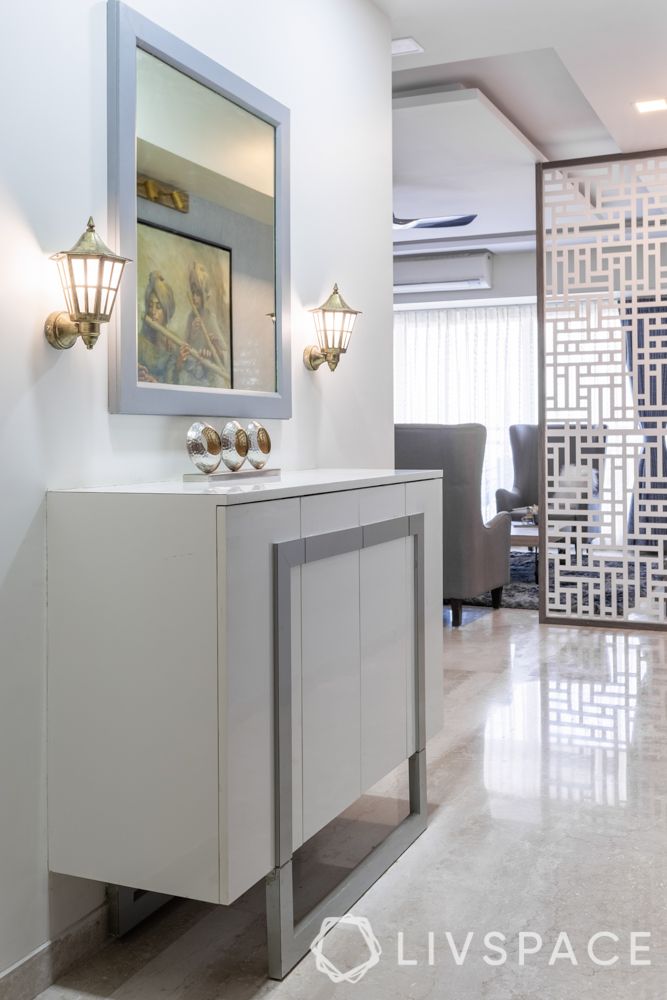 First impressions are often last impressions. So don't take any chances with a foyer. Not all homes have a foyer. So if you are blessed to have one, use it judiciously and to the best of your aesthetic abilities. The entryway should be a snapshot of what is to come in the rest of the interior house design.
That is why we love how this foyer gives a sneak peek into the gracious grey and contemporary style of Abhinav Kumar's Mumbai home.
Check out the foyer and the rest of this minimal home here.
#19: Homes must be designed for the safety of homeowners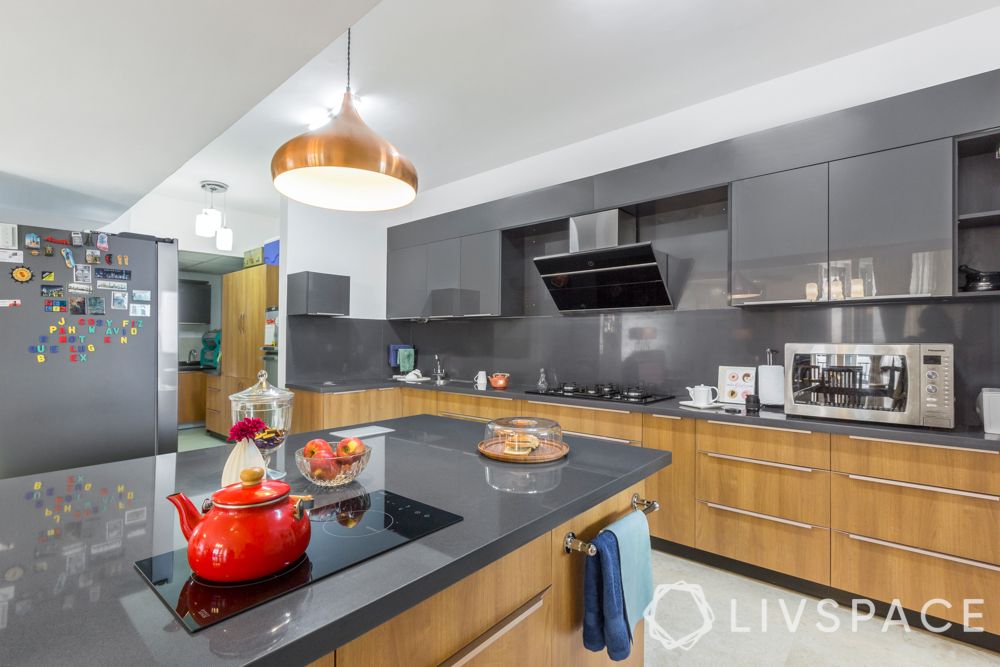 Safety is one of the primary feelings that we associate with a home. In a more non-metaphorical way, safety at home from accidents is also very important. This takes on an added importance when you have children or eldery people at home.
Rohini Kamat, one of our homeowners in Bengaluru, stressed on the importance of safety for her daughter and in-laws. Thus, we came up with a child and elder-friendly home for her!
You will find the turnkey interior solution in this home. Click here.
#20: Want the perfect fit? Customise!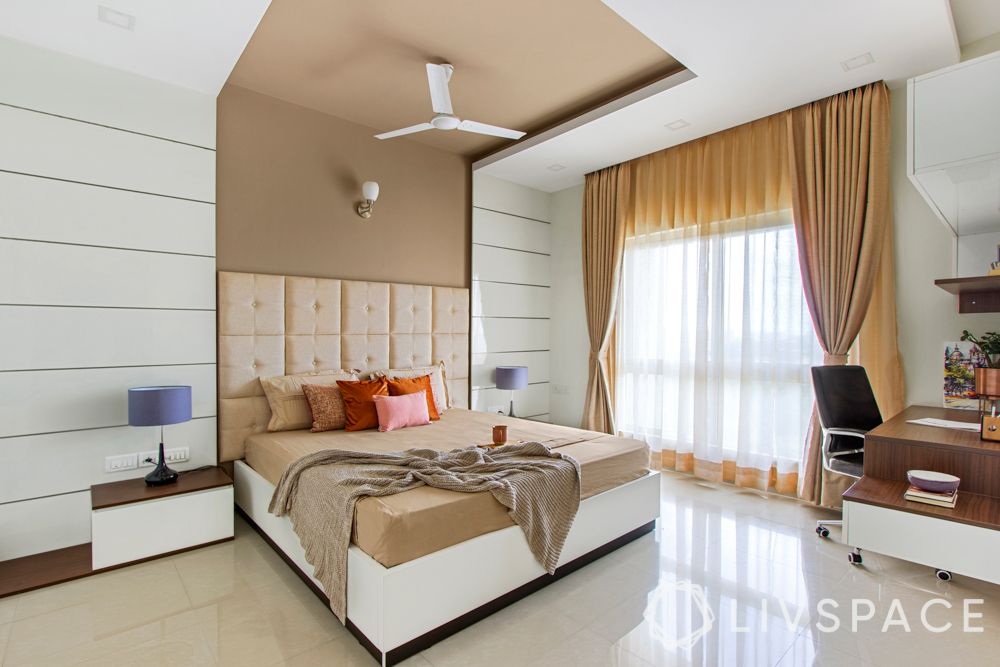 Do you dream of having furniture that fits every part of your home like a glove? Here's the deal. Such fitting without a fiddle happens only when you opt for customised furniture. And if that is what you're looking for, you will find Dennis Francis' home very inspiring!
Check out this Bengaluru home, that gives off a warm vibe, here.
#21: One wall wonders are real and they work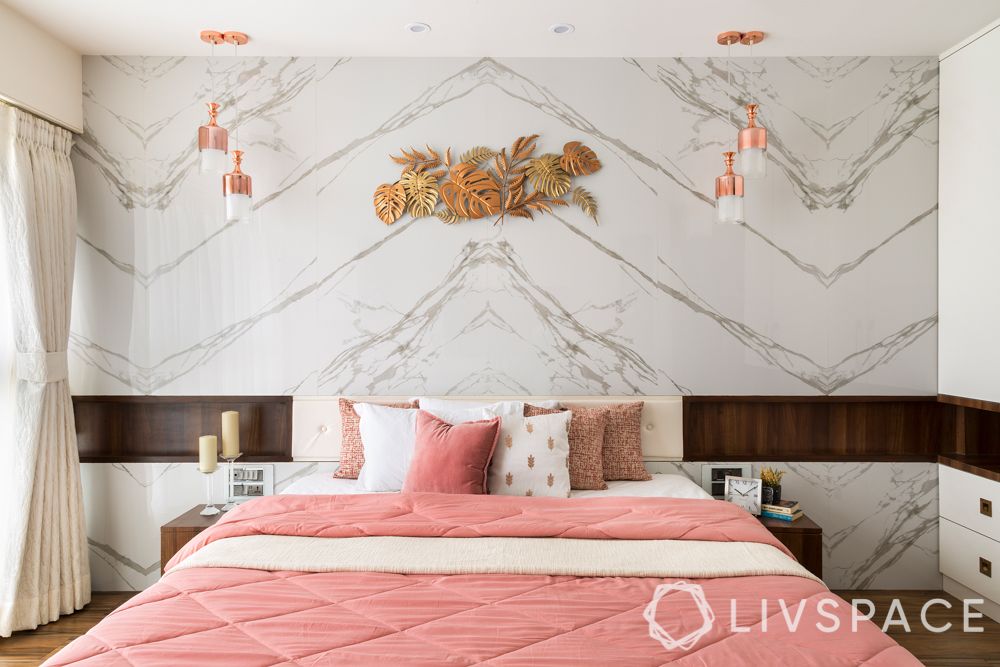 Storage, ease of maintenance, usability; these are features that make your home functional. But what makes your home memorable is a 'wow' element. And there is no need for false modesty here for who doesn't like a bit of oomph!
Junior interior designer, Aishwarya Choudhary, is of the opinion that Apurva Shah's Mumbai home is a mine of such 'wow' elements. There is one feature in every room that stands out and captures your attention completely. And her favourite is…
Check out the rest of the statement elements in this 3BHK here.
#22: Lighting can make or break any home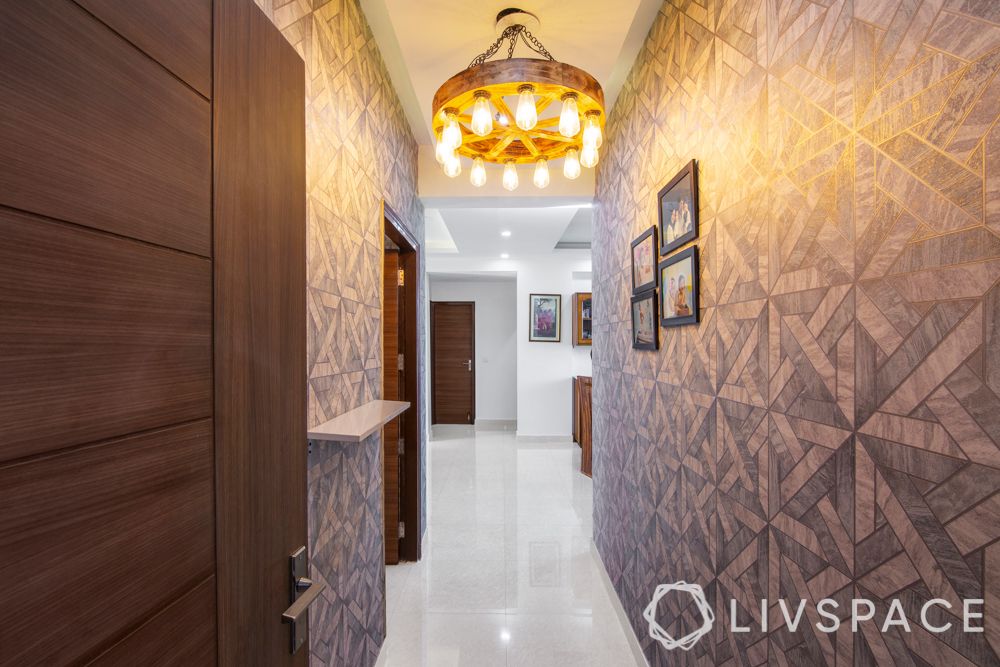 Even a piece of architecture as resplendent as the Taj Mahal looks better with the right kind of lighting. You need to see the Taj in the moonlight to know that! So imagine how much of a role lighting could have in your home.
Notice how this wagon wheel chandelier makes the passageway look layered? It's a trick of lighting we used in this Noida home.
Check out this warm family home here.
#23: Mix it up but get the mix right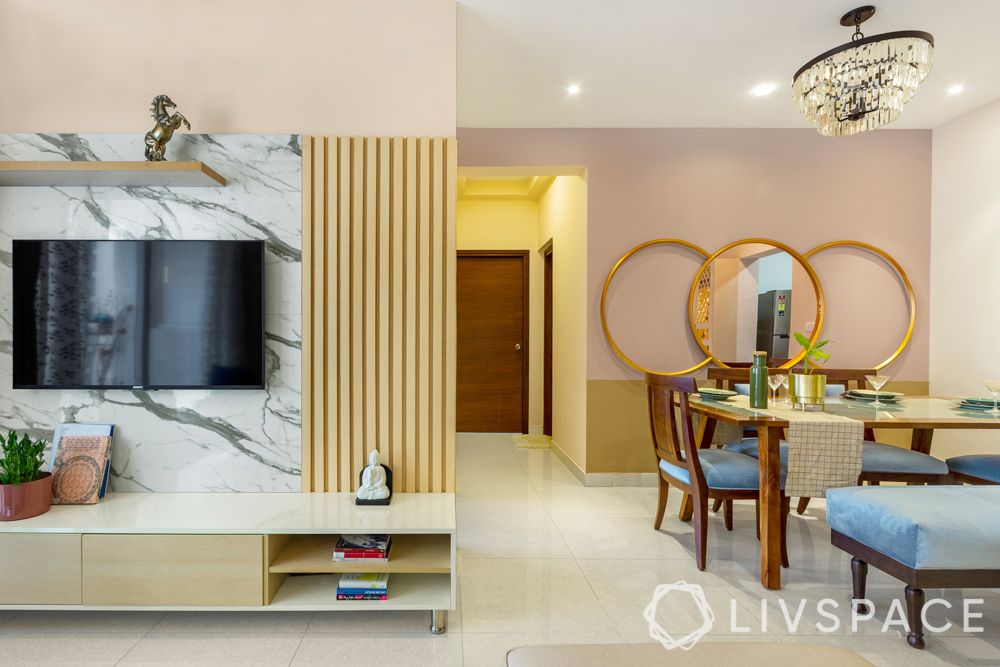 Let's face it, there is something inherently likable about mixing things up. No wonder eclectic is one of the most used design styles in India. But you must understand that eclectic design is about mixing things up in a deliberate way. It is not random and even if you do not see it, there is a method to the madness for all kinds of interior house design.
In short, don't try this at home by yourself. Instead, seek the expertise of a professional. That is how we put together this eclectic home in Bengaluru.
Take a video tour of this home here.
#24: Refurbishing is good for you and the planet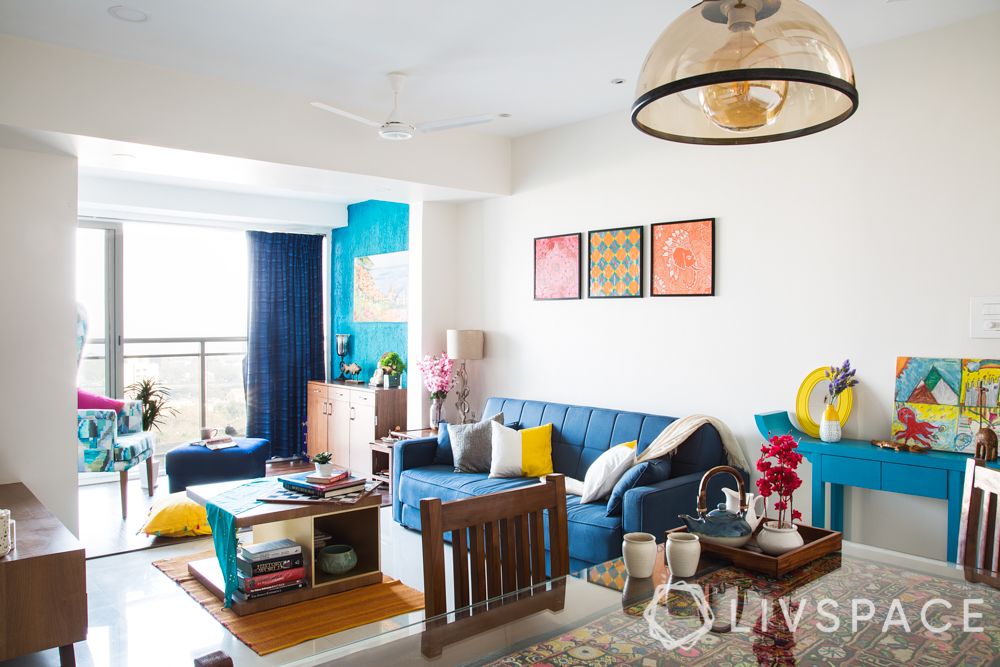 We Indians believe in preservation. Be it in our culture or our homes, we hold to that old piece of nostalgia or a heirloom armchair that has been in the family for generations. But is it necessary that your old furniture will fit into the scope of your new interior house design? No, it isn't. But you can always design around your old furniture or refurbish it to fit your new home, like how we designed Aparna and Omkar's Mumbai home.
Take a look at this refurbished Mumbai home here.
#25: All that's plush is not expensive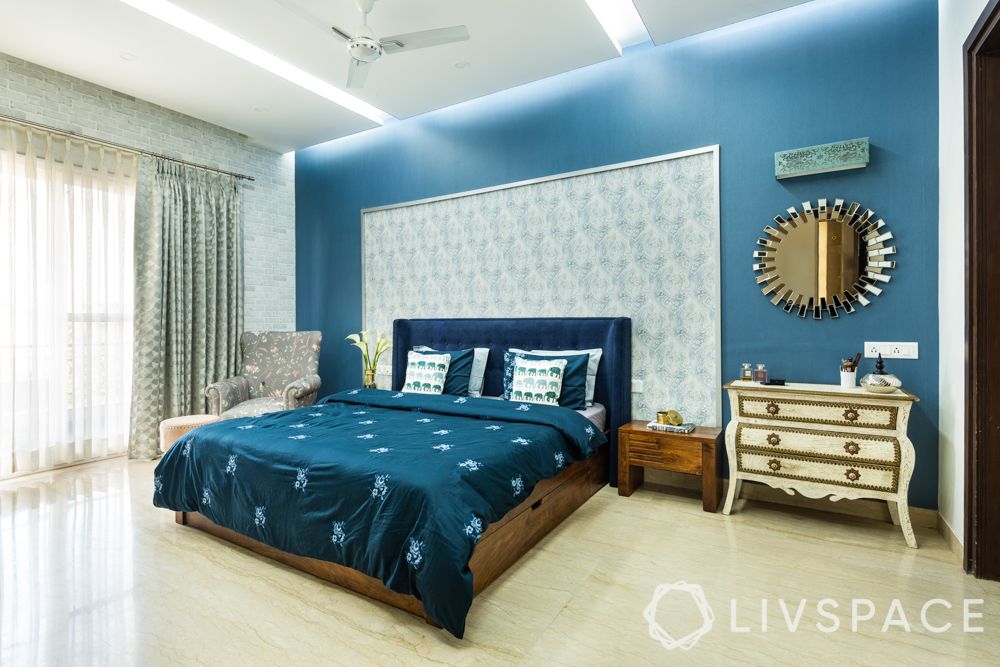 All that glitters is not gold. Sand can glitter, too. So you have to decide whether you want glitter or gold! Let's leave metaphors behind and give you a real home to explain this. When we designed a home for the Dudejas, a young couple in Gurgaon, they had a budget in mind. And we had to design a plush home within this budget.
Here's what we did…
Do check out the rest of this youthful home here.
We love hearing from you! Write to us at editor@livspace.com