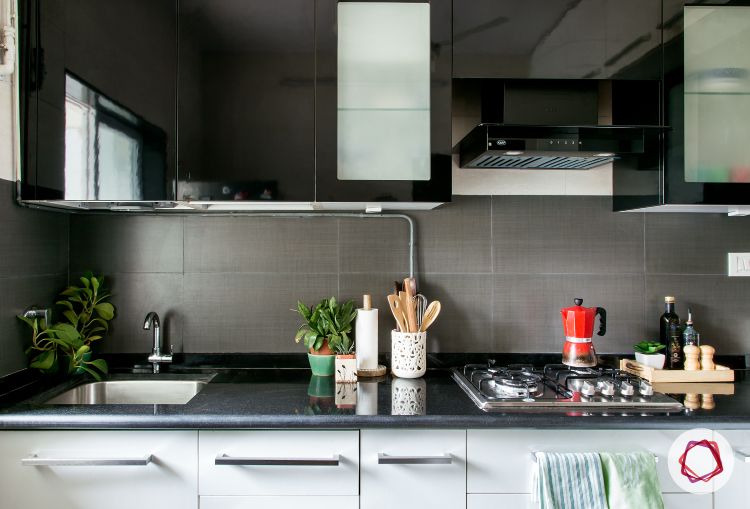 Picture credit: Anuja Kambli
---
Who livs here: Nandini Gupta
Location: Gold Crown Cooperative Housing Society, Versova, Mumbai
Kitchen size: 100 sq ft
Design team: Interior designer Hansika Mota with project manager Ramesh Chhogalal Parmar
Livspace service: Kitchen design
Budget: ₹₹₹₹₹
---
When Nandini Gupta walked into this 6th floor apartment that overlooks a clump of trees and rickety buildings, the mosaic flooring and large windows gave her waves of nostalgia and took her back to her home in Kolkata. Shortly thereafter, her dad and she sold off their ancestral home and immediately invested it in this apartment that was filled with old-world charm.
The only pain point? The kitchen. It had dated cabinets and barely-there storage options beneath the counter.
Designing her very own kitchen was going to be exciting. Having lived in Mumbai for the last 7 years and living out of rented apartments that too, kitchens have always been a space where Nandini just had to manage with either storage constraints or tolerate not-so-pretty cabinets.
Not a novice to design, the 31-year-old who's at the helm of her own production company, The Frog Pond Creative Solutions (of Khujli-fame, the Jackie Shroff and Neena Gupta starrer) had already dreamt up a black and white kitchen with some grey elements. It wasn't until she met Livspace designer Hansika Mota that the finer details began taking shape.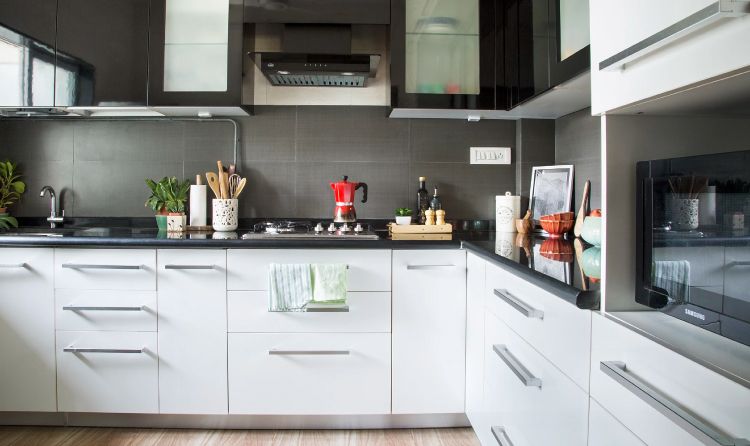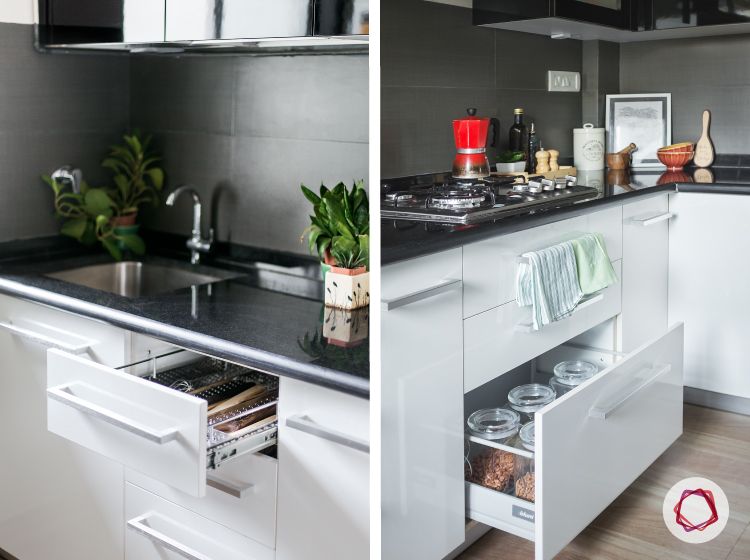 ---
The monochrome beauty is fitted with lots of tandem drawers, a cutlery unit, a spice pull–out, a corner unit with simple shelving and a tall unit to hide unsightly clutter.
---
For Hansika, Nandini and her brother Abhishek — who's the self-appointed interior's expert within the Gupta family — were unbelievably easy to work with. She excitedly remarks how the design details and costing were finalised in under 10 days.

Hansika helped Nandini visualise the monochrome modular kitchen with a subtle charcoal grey backsplash that makes a huge difference to the scheme allowing the black to feel jet black, and the white, crisper and sharper. Underfoot, warm oak tiles were chosen to imitate wooden flooring.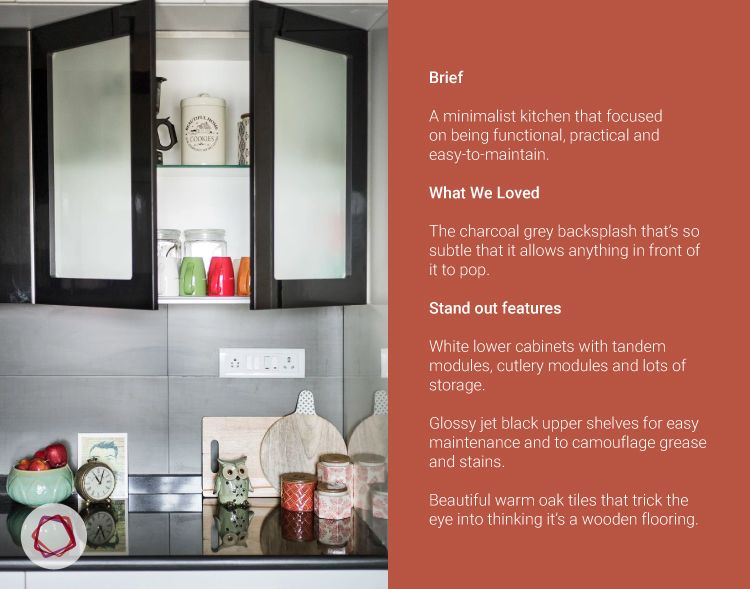 ---
The glossy jet black shutters are so glossy that you can almost smile at your own reflection!
---
Since storage is always hard to come by Hansika ensured Nandini had plenty of overhead storage in the same white glossy laminate.
The jet black shelves were given a few frosted shutters to help break the monochrome monotony. Simple glass shelves allow Nandini to display her fine ware.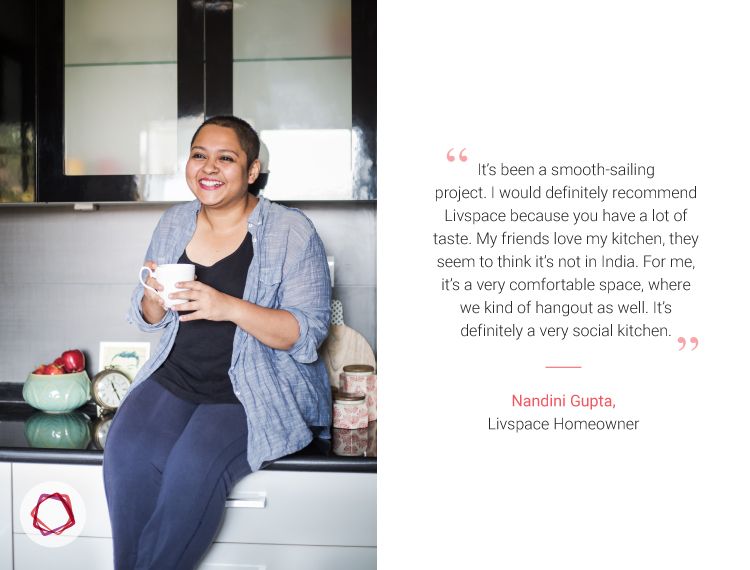 ---
Nandini loves how not just she but all her friends seem to be able to find things with absolute ease in her new modular kitchen.
---
Nandini's ecstatic because for the first time she can potter about her own kitchen where there are no drab-looking cabinets! She unabashedly admits that maintenance is probably a breeze because she only has time to whip up dinners and special meals, and not a run-of-the-mill dal-sabzi menu.
She flashes her captivating smile and quips how the kitchen has become a social space of sorts because everyone seems to plop themselves onto the granite counter while she gets some of her special coffee brewing.
---
Nandini and her brother were very clear from the beginning. They came to me saying they'd like to play with black and white. The three of us were on the same page, which is why we were able to finalise the design details in the second meeting itself.
– Hansika Mota, Livspace Interior Designer