Your day most likely starts with a cup of coffee made in the kitchen and ends with a quick midnight snack right before bed. You deserve to start and end every day in a space that's tastefully designed and perfectly crafted. . However, the kitchen almost always involves activities that are exhaustive and tedious. Therefore, unlike any other room in a home, the kitchen requires a lot of attention to detail when it is designed. So, choosing the types of kitchen layouts that work for you becomes imperative.
There are different types of kitchen layouts depending on size, style and needs. Plus, there are those that differ based on construction. We have covered them all in this guide. Read on to find out which one is best for you.
#1: What Are the Five Types of Kitchens?
You have probably heard of the five types of kitchen layouts. But in reality, there are actually six kitchen layouts. These are the six types of kitchens you should know about:
1. Straight, Single Galley Kitchen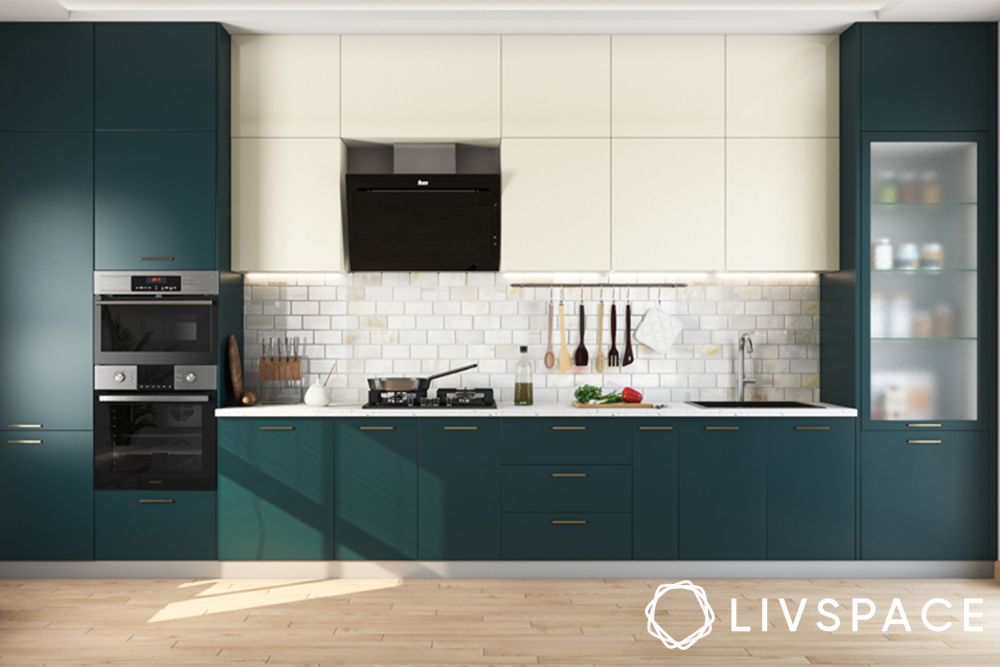 A straight kitchen or a one-wall kitchen has a single counter with one set of wall and base cabinets. It is linear and runs along the wall of the kitchen. The most important aspect to keep in mind is the golden triangle of a kitchen.
The hob/stove is at an equal distance from the fridge and sink, making it the most convenient layout for an easy cooking process. Lastly, we recommend not having a counter over 12 to 15 feet, as it might make moving around a bit tiresome.
Great for:
Small and studio homes, as they have the most space-efficient design
2. L-shaped Kitchen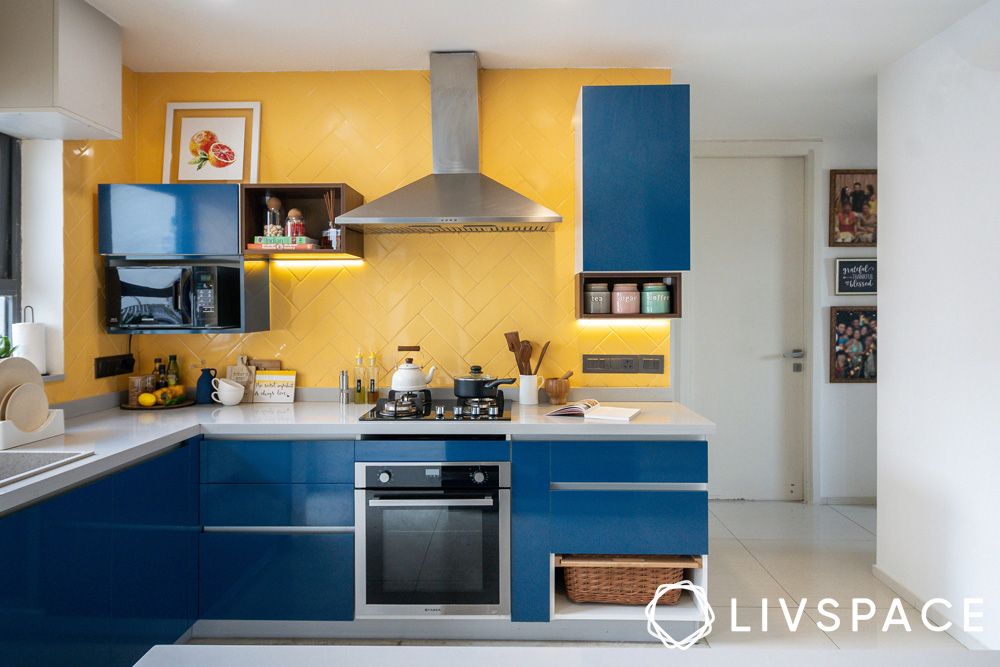 An L-shaped kitchen is the most common layout found in Indian homes. With ample counter space for many hands working in a cooking session, this layout is sure to derive the most productivity from it. This layout has clear work zones. The hob, the fridge and the sink being in proximity to each other ensures that you don't have to walk too much between zones.
Great for:
Large families with multiple people cooking and a small kitchen space
3. Parallel or Galley Kitchens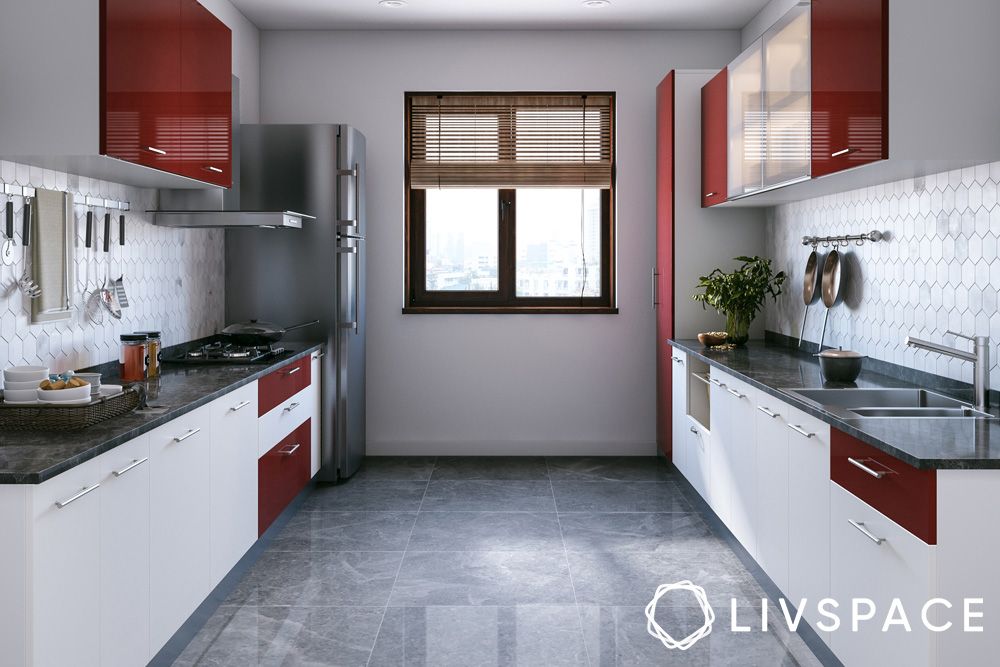 When there is ample space, a parallel kitchen can be an extremely productive layout. With two counters and two sets of cabinets, this kitchen type has multiple work zones. Besides, the hob, the fridge and the sink in the kitchen help form an ideal golden triangle, adding convenience to your daily cooking.
Great for:
A nuclear family with a medium-sized kitchen
4. U-shaped Kitchens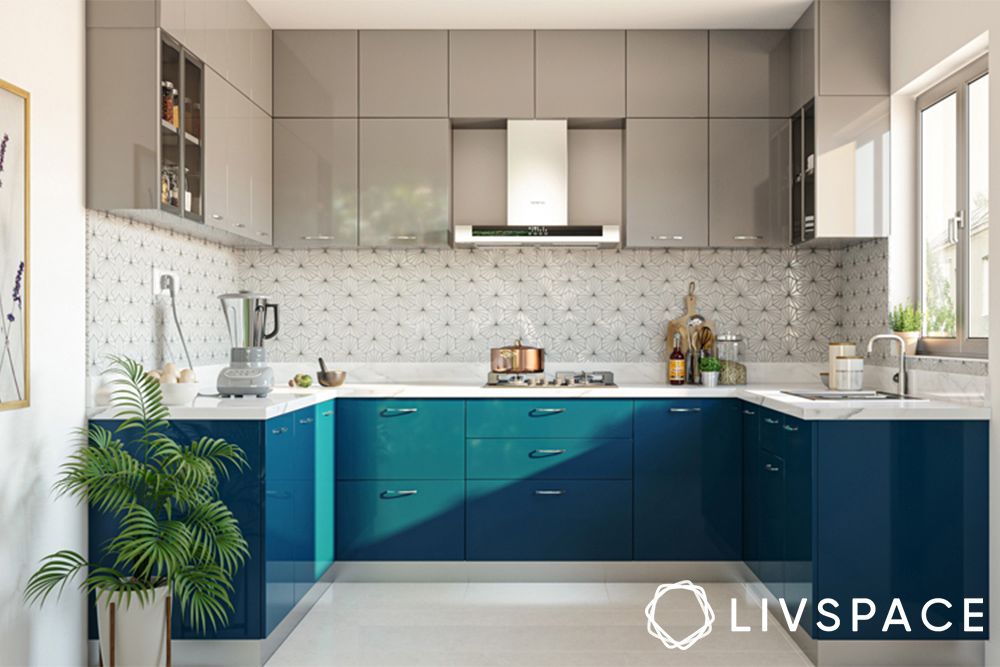 For more counter space, go one step further from a parallel kitchen and opt for a U-shaped kitchen. Moreover, this layout is ideal for large amounts of storage with three sets of base cabinets and two or more wall cabinets. This layout works best if you want to have individual work zones. This layout gives the fridge, the stove and the sink a counter space for each zone.
Great for:
Joint families with a medium-large kitchen
5. Island Kitchens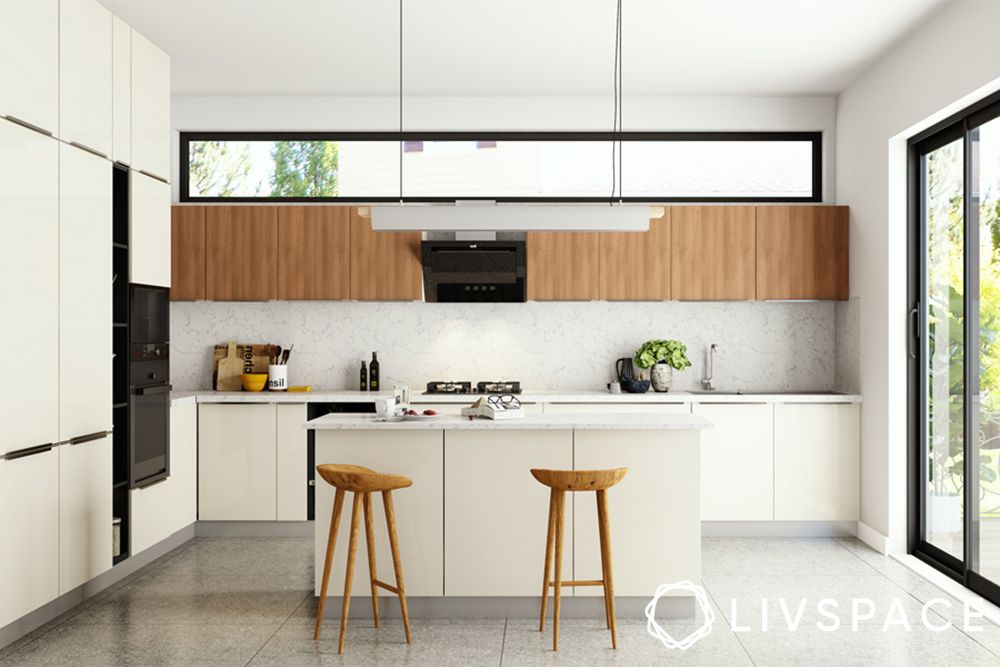 A kitchen island is a trending element you can add to any layout. This multipurpose counter can serve as a prep zone, a breakfast counter, or even a cook zone. We suggest getting an island counter only if there is enough space for movement.
Great for:
Families with kids and a large kitchen with plenty of space
6. (Bonus!) Peninsula or Breakfast Counter Kitchens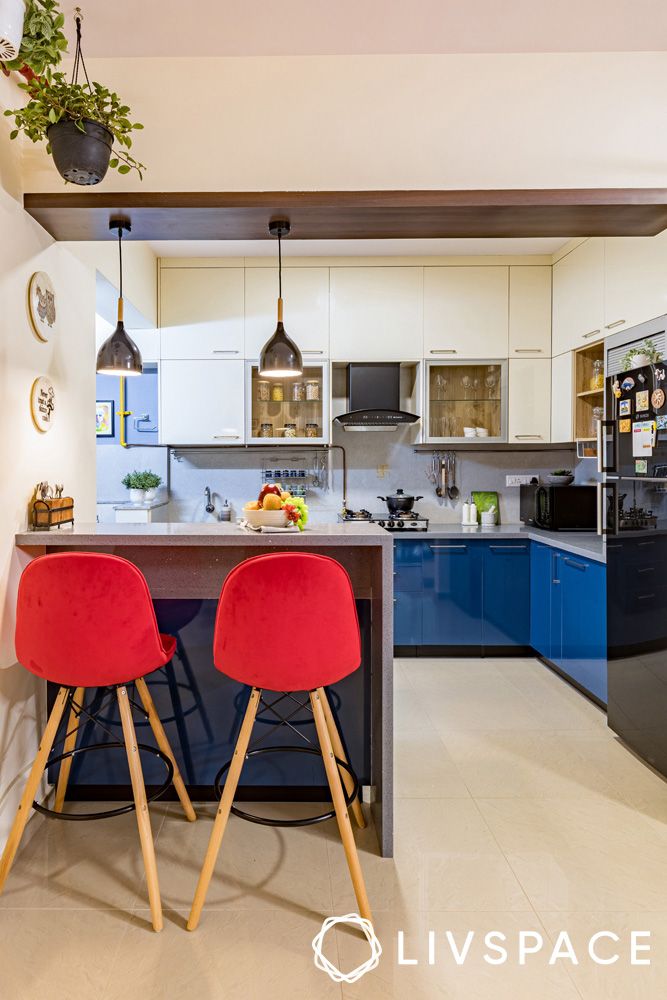 A favourite among our Livspace homeowners is the breakfast counters. A breakfast counter is an island attached to a wall, thus giving the kitchen extra counter space while adding seating to it. This layout is an example of the ideal golden triangle, where the hob is in the middle with the sink and the fridge on either side, making your kitchen a space of convenience. Another way to spruce this space up is by adding a bar cabinet and some lighting to make it into a breakfast cum bar counter.
Great for:
Small families and ideal for both spacious and minimal kitchen space
| | | |
| --- | --- | --- |
| Kitchen Layout | Area | Family Type |
| Straight | Small | Small |
| L-shaped | Small/Medium | Large |
| Parallel | Medium | Small |
| U-shaped | Medium/Large | Large |
| Island | Large | Small (with kids) |
| Peninsula | Small/Medium/Large | Small |
#2: What Are the Two Types of Kitchens Based on Construction?
While there are six types of kitchens based on layout, there are two based on construction. These are modular kitchens and carpenter-made kitchens.
1. Modular Kitchen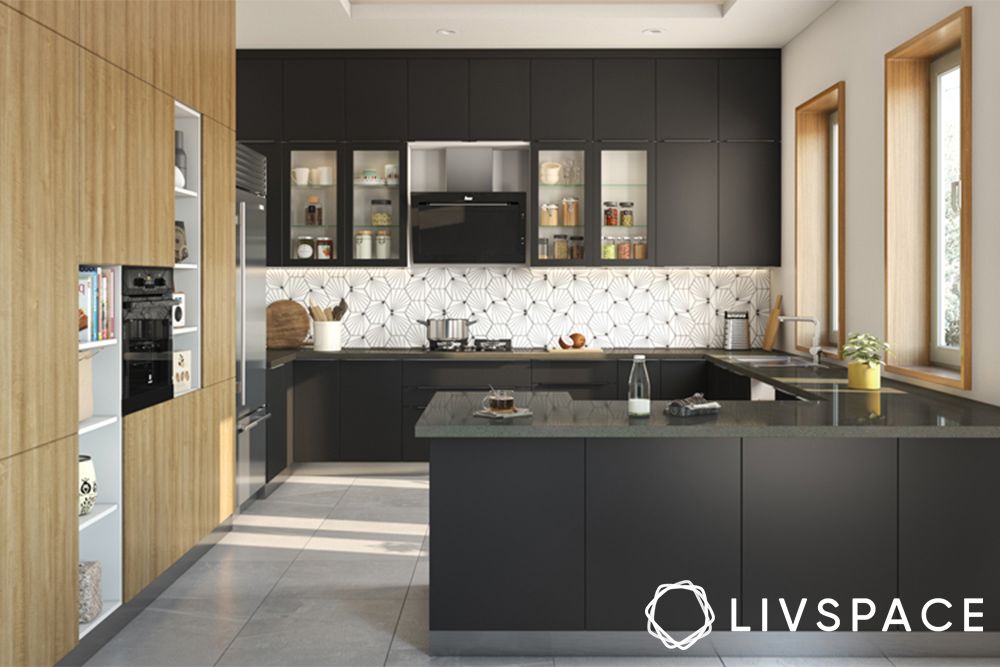 A modern home with a kitchen is almost always modular. A modular kitchen is completely dismountable and is made up of modules of cabinets. Therefore, this kitchen is ideal for homeowners who move around and would like to carry their kitchen with them.
The neat construction and layout of a modular kitchen gives it a sleek look.
Great for
High-budget homes that require an entirely new kitchen
2. Carpenter-Made, or Customised Kitchen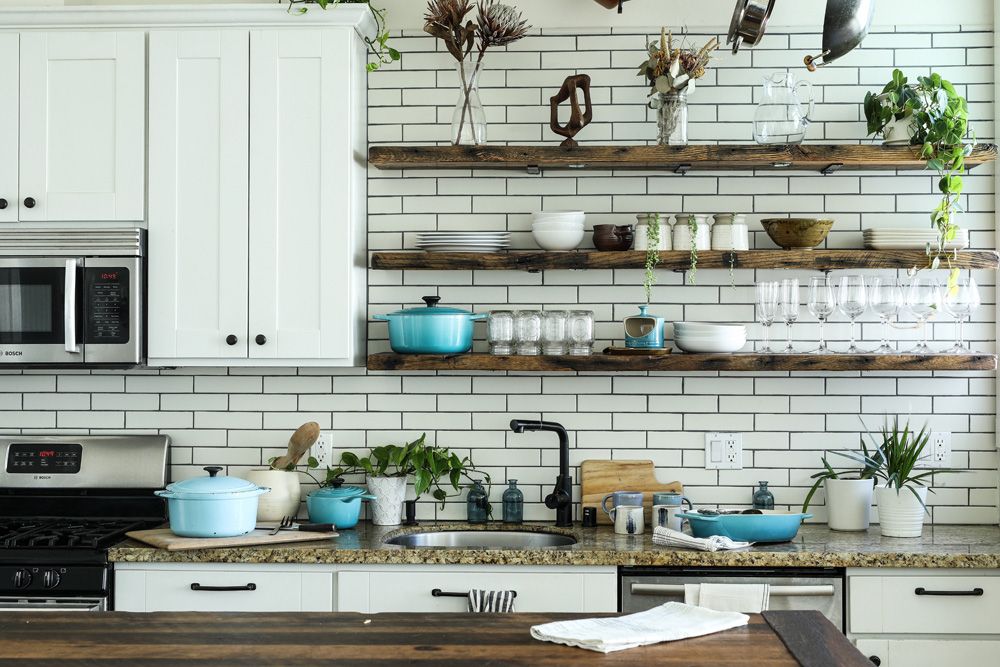 A carpenter-made kitchen is completely built from scratch by locally available carpenters. Subsequently, it cannot be dismantled, and the countertop is always fixed to the kitchen. A civil kitchen can be customised at every step, unlike a modular kitchen. However, quality and finish is always a concern since it is handwork. More often than not, it doesn't stand the test of time and requires constant renovations and can get expensive in the long-run.
Great for:
Low-budget renovations
#3: Which Type of Kitchen Is Best?
The answer to this question depends upon usage and requirement. What is best for one person may not be suitable for another. For instance, if space is scarce, a straight kitchen is the best option. On the other hand, if you have multiple people cooking in the same kitchen, an L-shaped layout can be the most convenient.
#4: What Is the Most Efficient Kitchen Layout?
Parallel kitchens are considered to be the most efficient. Parallel types of kitchen layouts come with two counters and two sets of cabinets. As such, there is extra space for prepping, cooking, cleaning and storing. In addition, a parallel kitchen layout always follows a golden triangle rule, thereby ensuring cooking is easy and convenient.
#5: What Is the Most Popular Kitchen Layout?
The most popular kitchen layout is the L-shaped kitchen. The L-shaped kitchen layout consists of two counter spaces running perpendicular to one another. This makes it perfect for multiple people to cook together, making it a popular choice among Indian families. An L-shaped kitchen layout also creates a functional triangle, thereby making it convenient to work in.
#6: How Do I Choose a Kitchen Style?
To choose the best kitchen layout or style that works for you, you first need to see the amount of space available. The second factor that you must consider while choosing types of kitchen is usage and how many people will be working in the kitchen at the same time. Finally, your budget will come into play. If you have a small kitchen space, opt for a straight kitchen. On the other hand, if your kitchen is spacious, and you have kids in your home, an island kitchen is the best option. For a narrow space, go for a galley whereas if you want to do it the old-fashioned way, a U-shaped one might be the most versatile.
How Can Livspace Help You?
We hope you found our guide on the types of kitchen useful. Whatever kitchen layout you choose, Livspace can help you build it. Book a consultation with our expert designers.
Wondering how our customers feel about working with Livspace? You can check out the Livspace kitchen reviews here!
Take our 9 Questions to Help Design Your Kitchen quiz to get started.
Send in your comments & suggestions at editor@livspace.com