Don't you just love how easily island kitchen designs can elevate the look of your home, while also easing your cooking woes? What's more, there are a multitude of island kitchen design ideas to choose from when it comes to selecting the right one for your space. Curious to know which one will suit your kitchen? Be sure to check out this comprehensive list!
#1: Island Kitchen Designs to Complement a Pop of Tangerine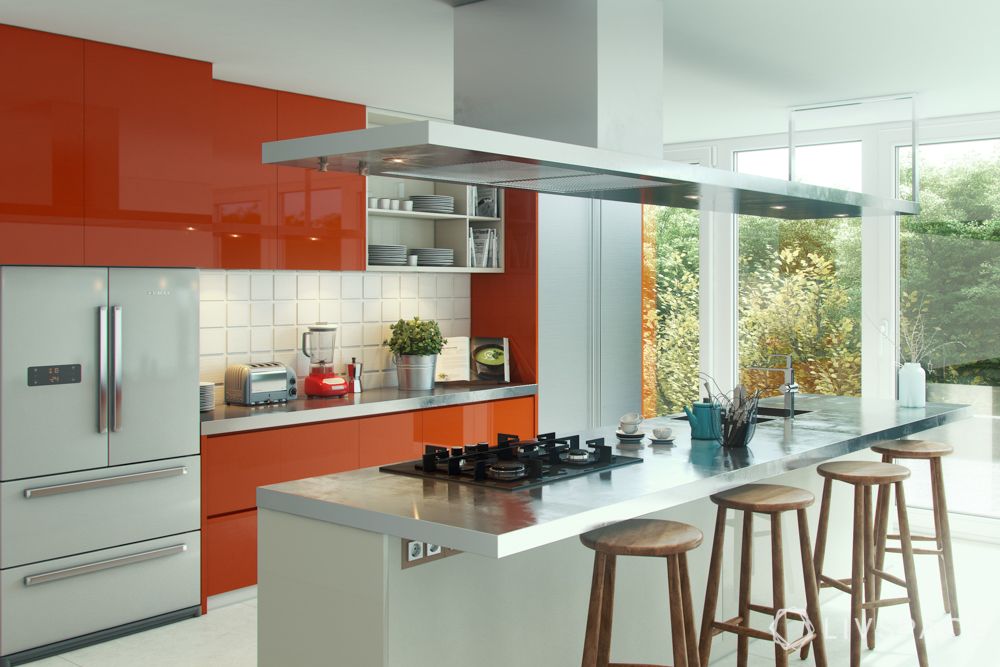 It's no surprise that a pop of tangerine can make things refreshing. This breakfast bar-cum-cooktop island kitchen is great for people who love cooking and entertaining.
#2: Island Kitchen Design Ideas That Act as a Boundary Between Rooms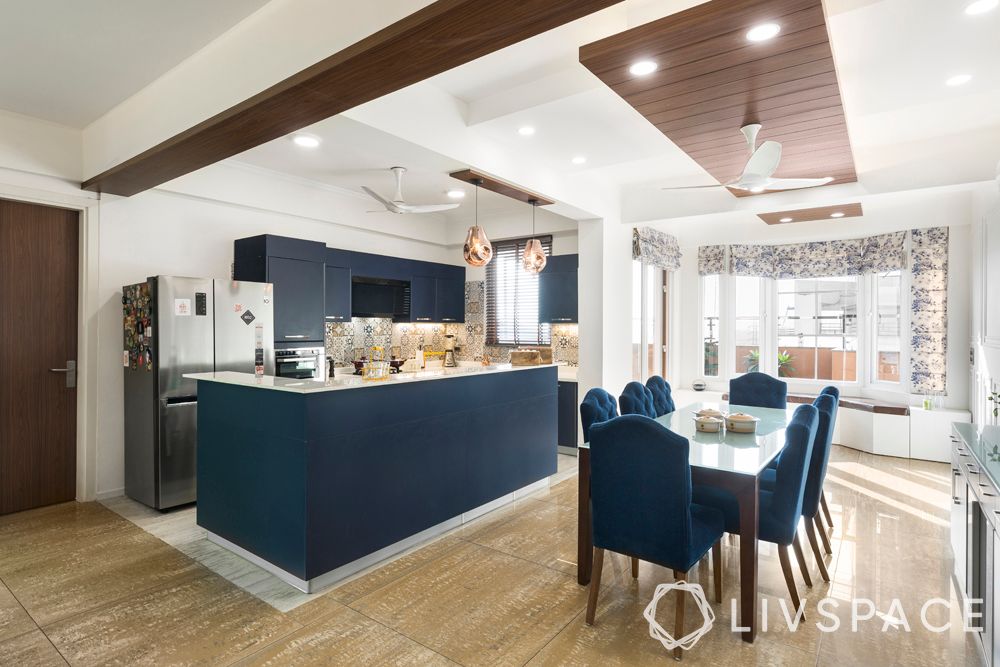 Love the look of an open layout but still want to demarcate space between two rooms? This is where using island kitchen designs as a boundary can come in handy.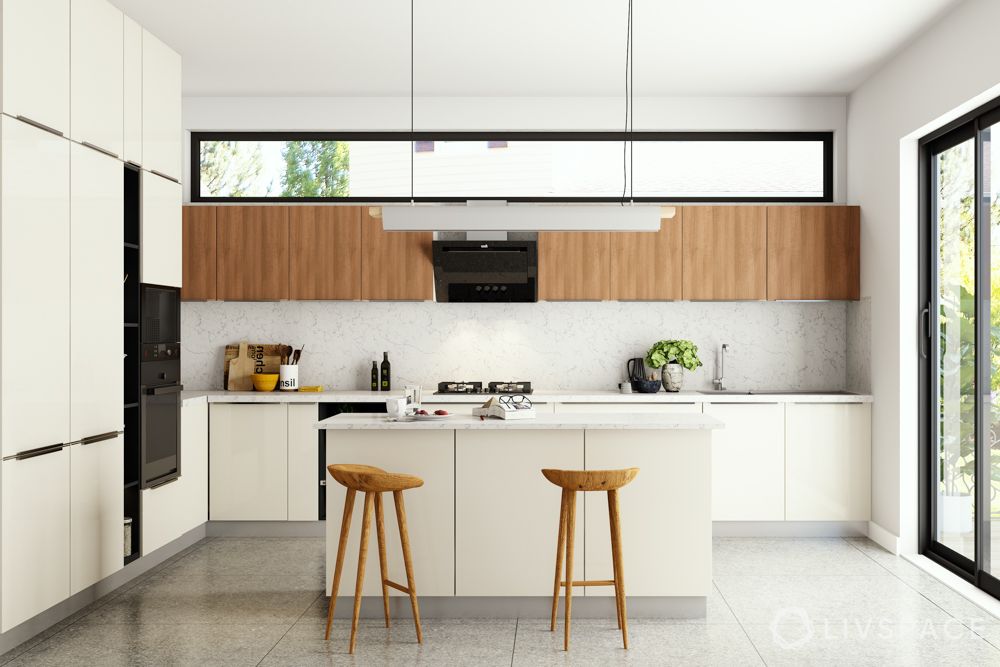 All-white is no more a nightmare in the kitchen. For Scandinavian design lovers, this island kitchen is a great setting to enjoy baking and cooking in style.
#4: Brighten the Mood With Shades of Lemon Yellow
If you're a fan of summer fruits, or bright colours, perhaps a vibrant shade of lemon yellow is for you. You can even bring in some fun handcrafted tiles to add interest to your island kitchen designs.
#5: Stain-Free Modern Island Kitchen Design With Dark Colours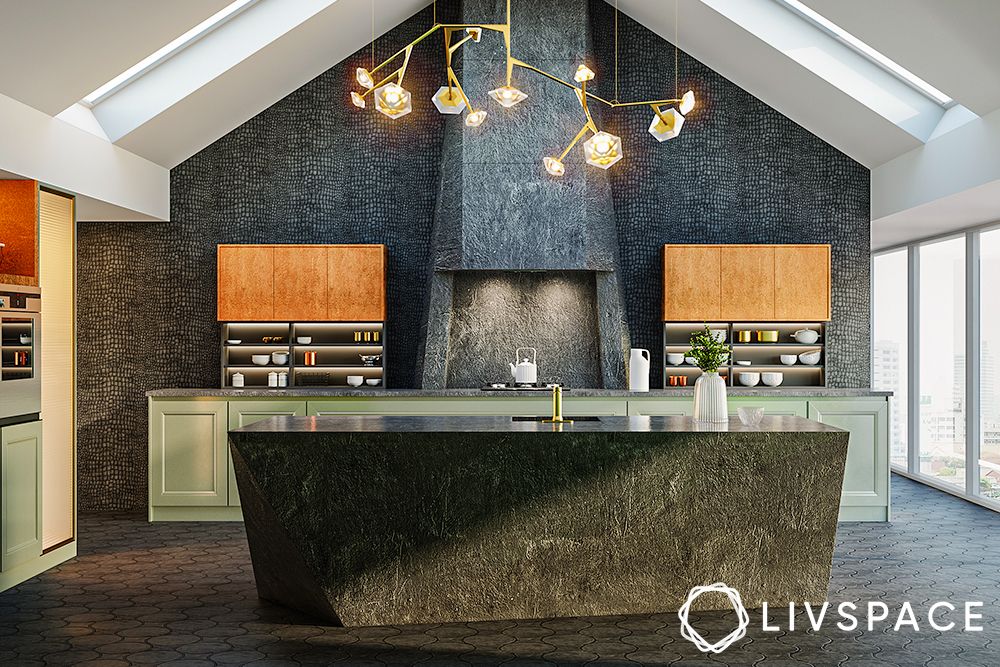 Afraid of stains? This modern island kitchen design employs textures, patterns and darker shades making maintenance a breeze. Designed with the golden triangle principle in mind, this island kitchen makes your cooking experience efficient and easy.
#6: Kitchen Island Ideas That Perfect Space Optimisation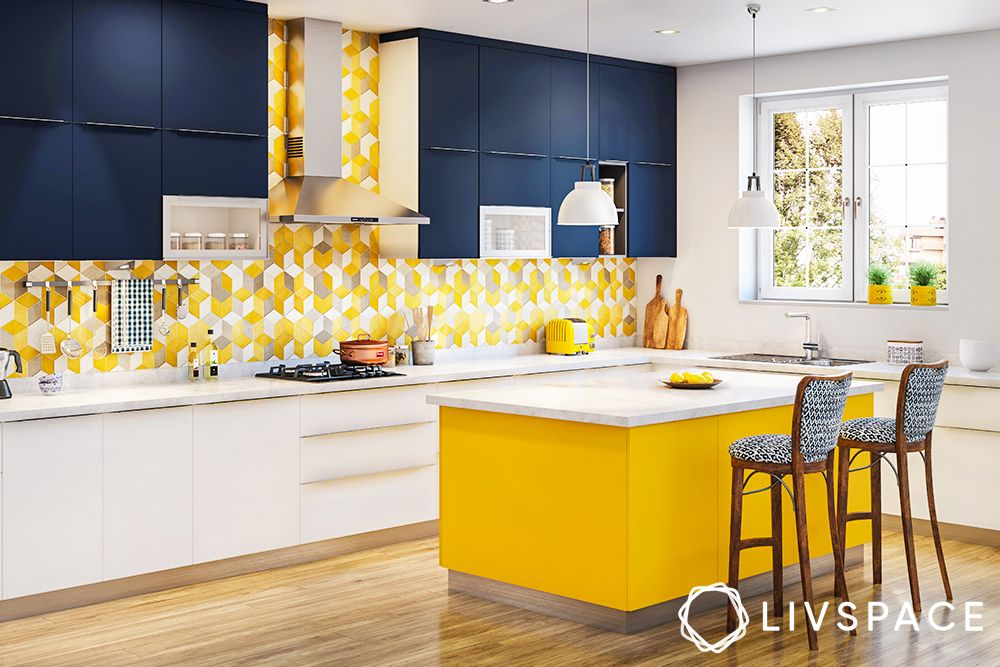 This design provides ample counter space and divides each station into specific work zones like prep work, wet area and cooktop. Now you and your family members can enjoy creating a delicious meal without the flow being disrupted.
#7: A Kitchen Best Suited for Small Young Families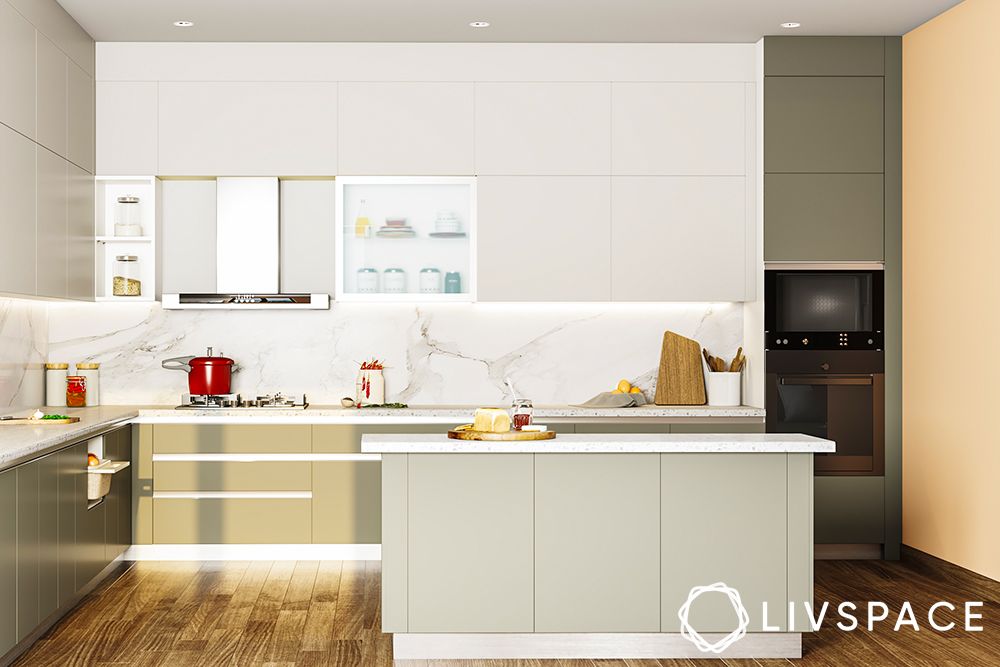 Whether you're newly married or a small family, this kitchen island is the best choice. Not too compact and not too large, small kitchen island ideas balance aesthetics and functionality to give you a great design.
#8: A Modern Kitchen Island Straight Out of a Magazine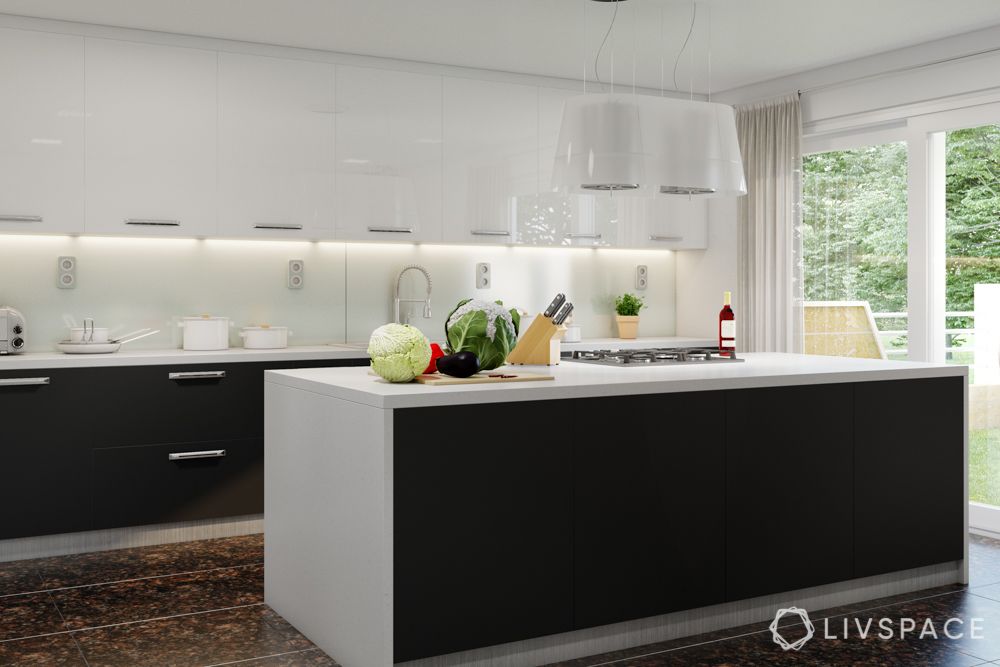 Dreaming of designer kitchen island ideas? Modern, stylish and functional, this design might just influence you to take up a kitchen remodel. If you have a lot of guests over, this kitchen will steal the spotlight.
#9: A One-Wall Kitchen Offers a Straightforward Approach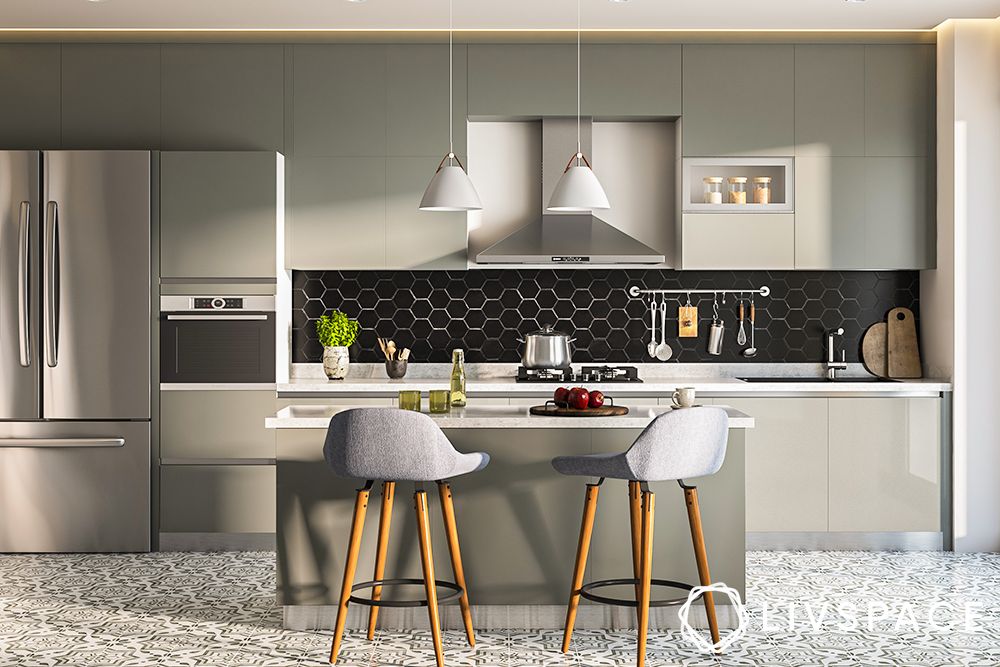 A simple straight kitchen paired with an island makes for the perfect design in an open layout. Not too cluttered or bare, this can work great for the singles out there!
#10: Who Said Monochrome Colours Are Boring?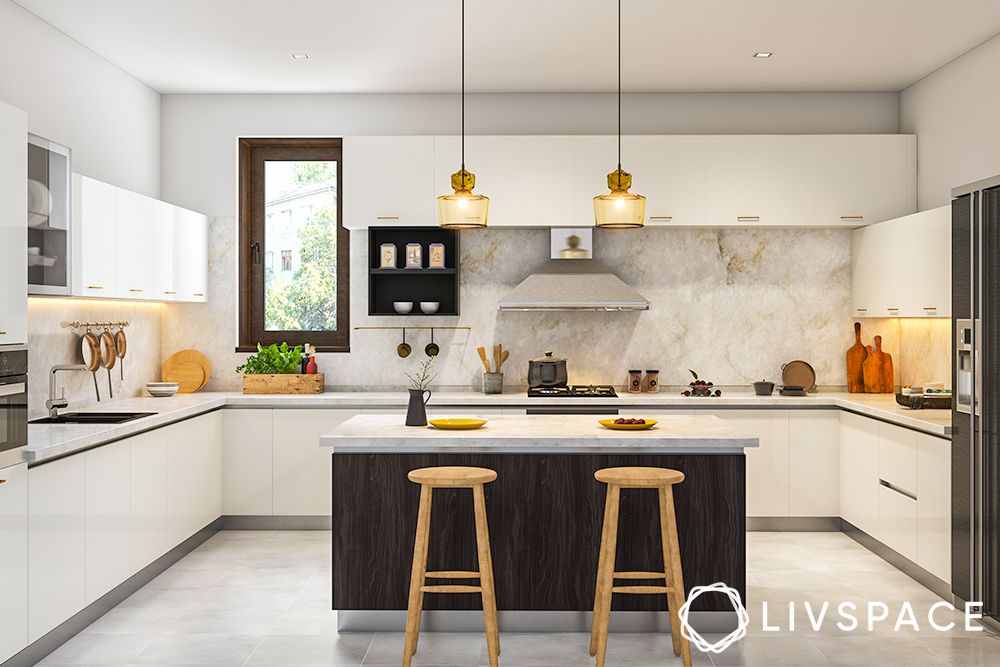 A classic taste of monochromatic hues, mixed with wooden tones, this island kitchen design creates a dream zone for cooking and conversations. This is a must for families who love to spend time catching up with each other while creating culinary masterpieces.
#11: Here's an Open Island Kitchen Design That Sparks Envy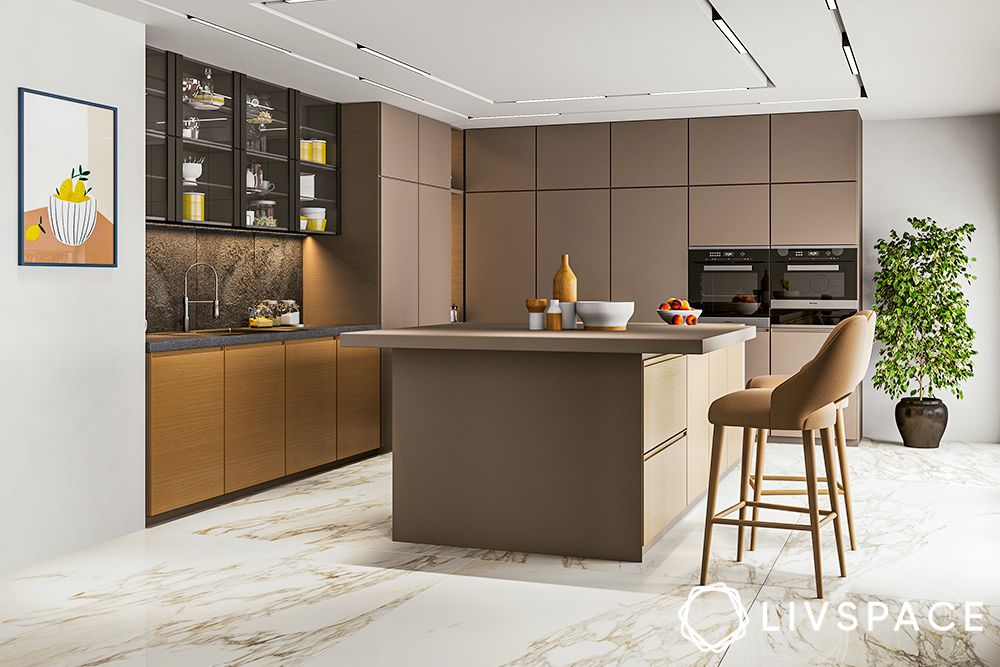 In need of some island kitchen design ideas that are perfectly contemporary? Perhaps this stylish open island kitchen design in warm shades of taupe might do the trick.
#12: Get Inspired By Pantone's Colour of the Year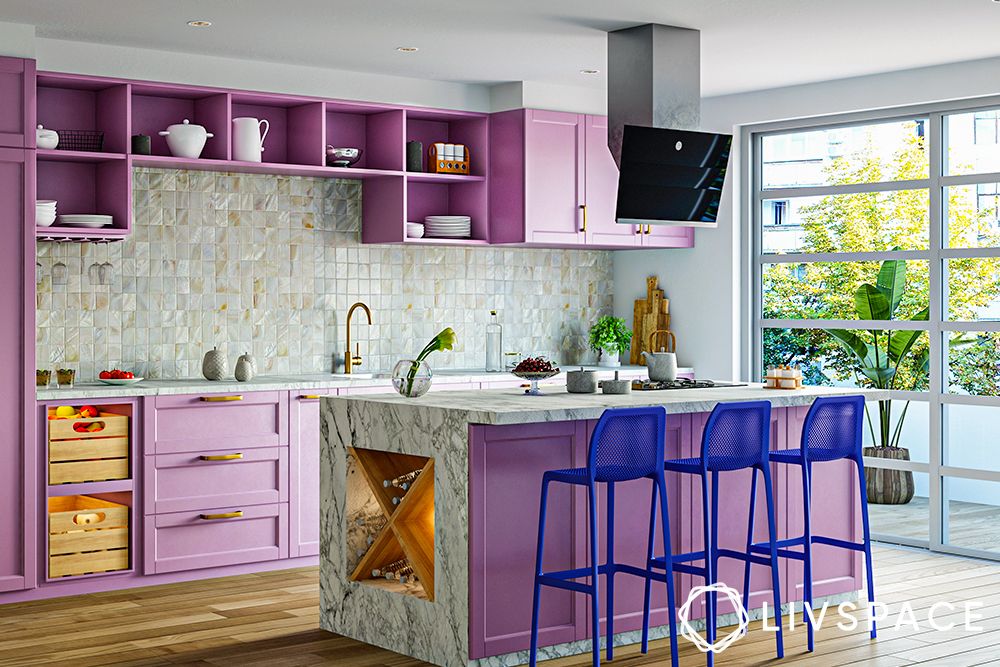 Ditch the ordinary and embrace trends with a fun Very Peri shade for your island kitchen designs. This is also a great way to add some character to your space.
#13: Go Bold With Shades of Sangria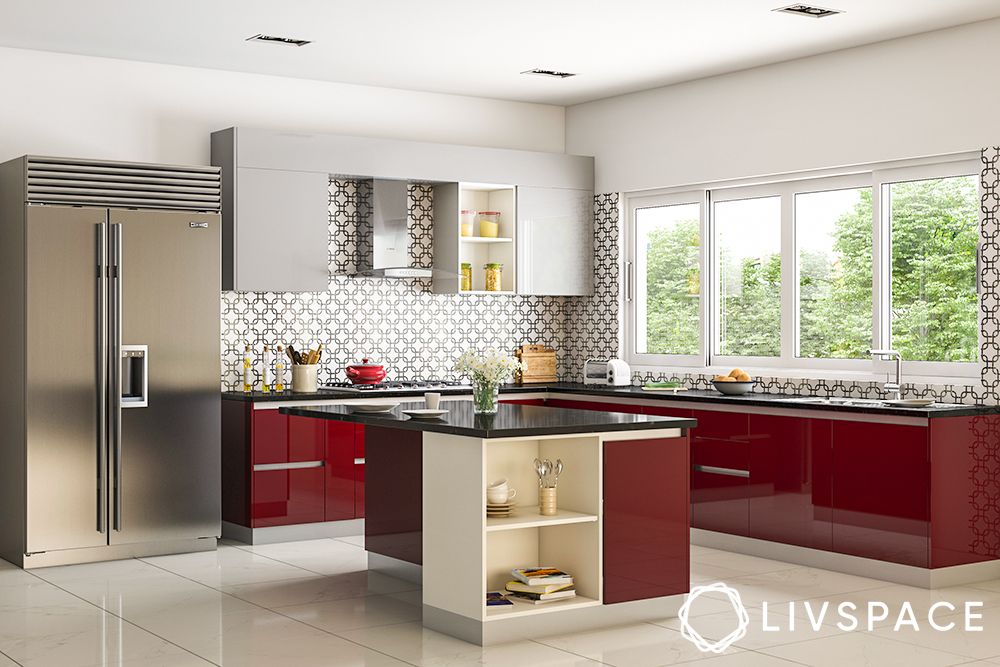 How do you like your sangria? If you like it dark, this kitchen island design is something you don't want to miss. We love how it offers the added advantage of open storage as well!
#14: Summer Colours Make for the Perfect Easy-Breezy Palette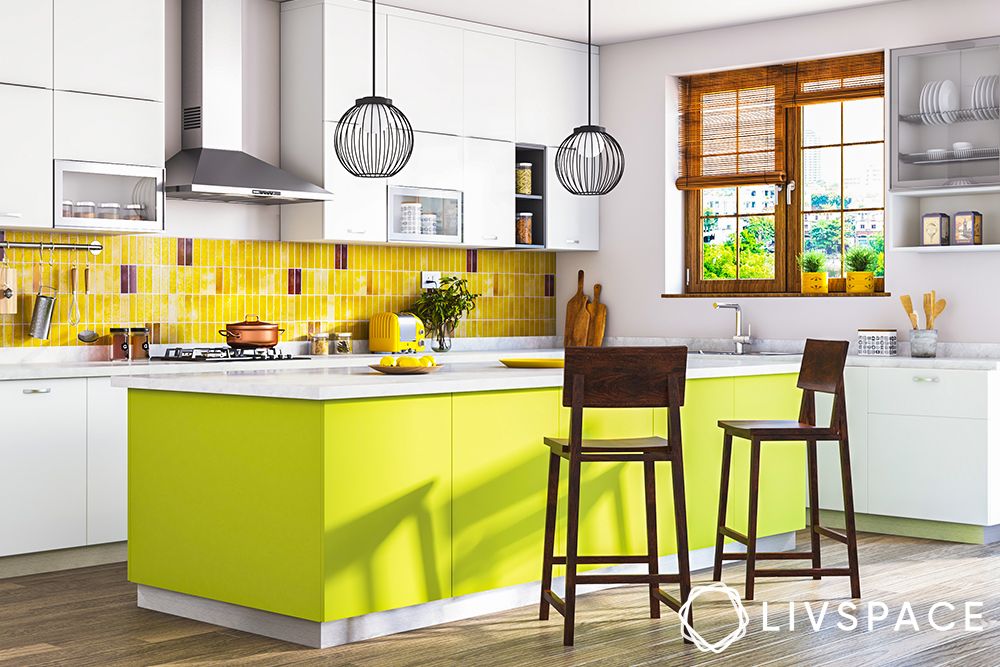 Nothing beats the heat like a cool summer salad. With the right shades, you can even recreate this vibe in your kitchen with a yellow backsplash and a lime green kitchen island.
#15: Why Not Add Some Contrast to Your Island Kitchen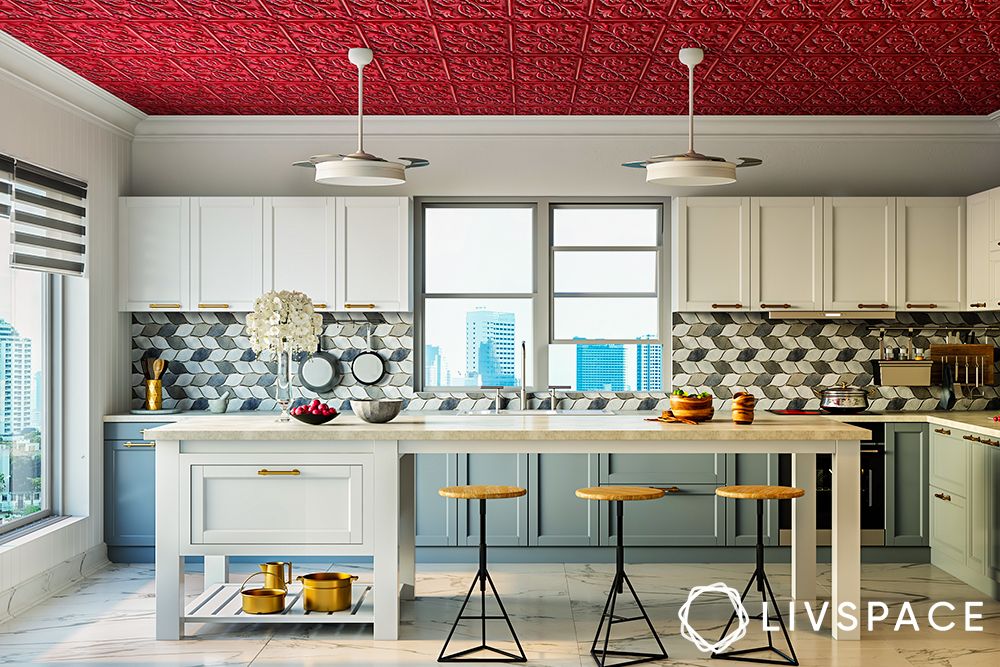 Tired of boring and basic island kitchen designs? It's time to spice things up with a contrasting ceiling design! Elevate your plain island kitchen by opting for a colourful ceiling design in complementary or bold colours.
#16: Some Earthy Colours Are a Must-Have for Calming Island Kitchen Designs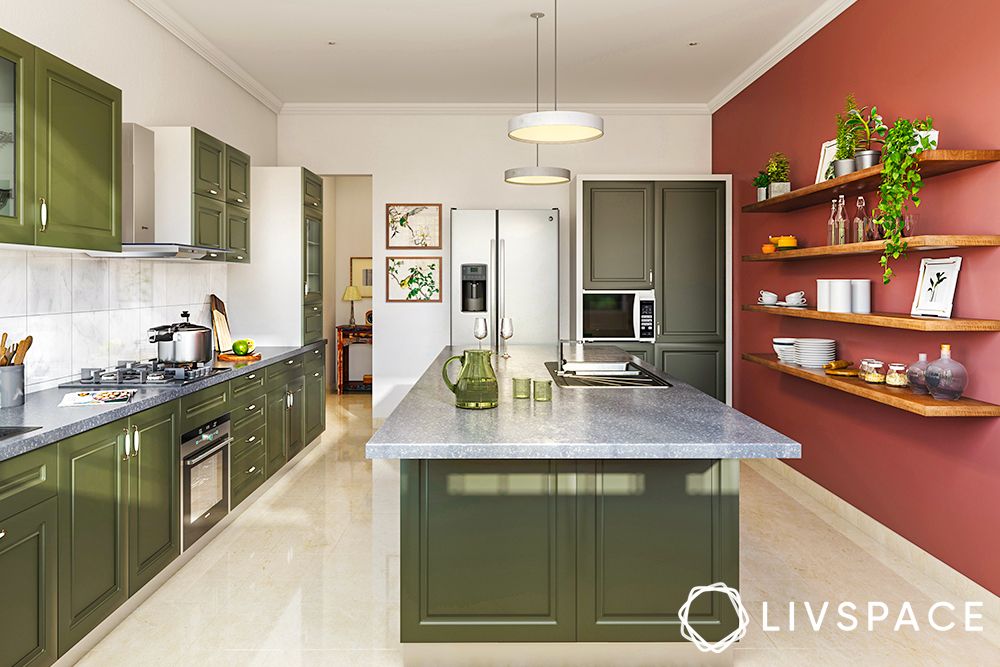 Earthy palettes can bring in a familiar warmth to your space that's both calming and invigorating. Complement your leaf green kitchen island design with a terracotta shade for the feature wall.
#17: Minimal Design Doesn't Have to Be Boring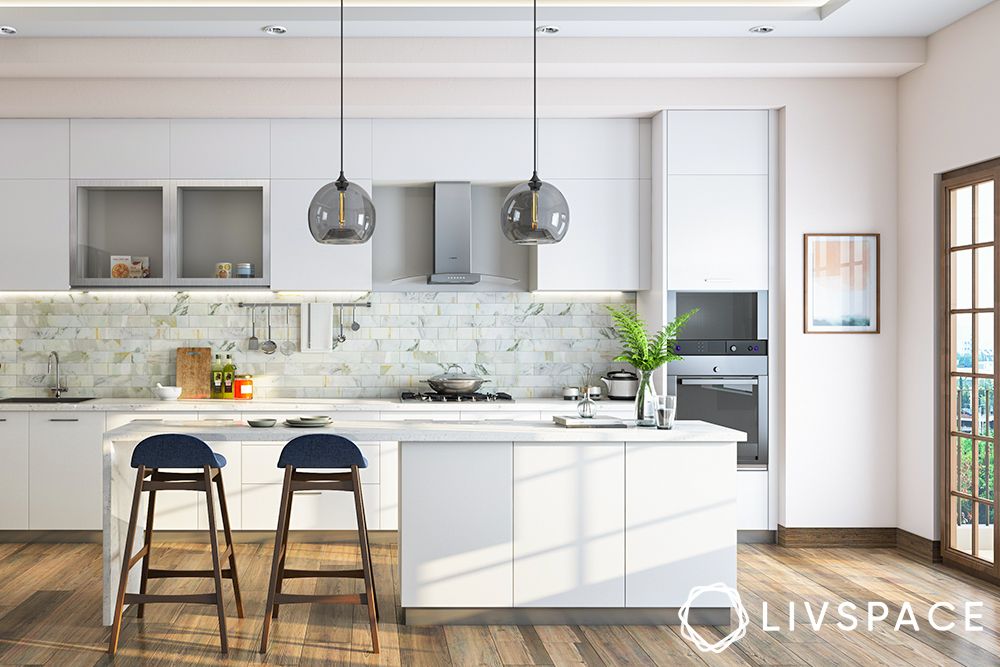 An all-white kitchen is a great way to keep things minimal and neat. Just be sure to opt for stain-resistant materials for your island kitchen and you're good to go!
#18: Embrace Simplicity With Small Kitchen Island Ideas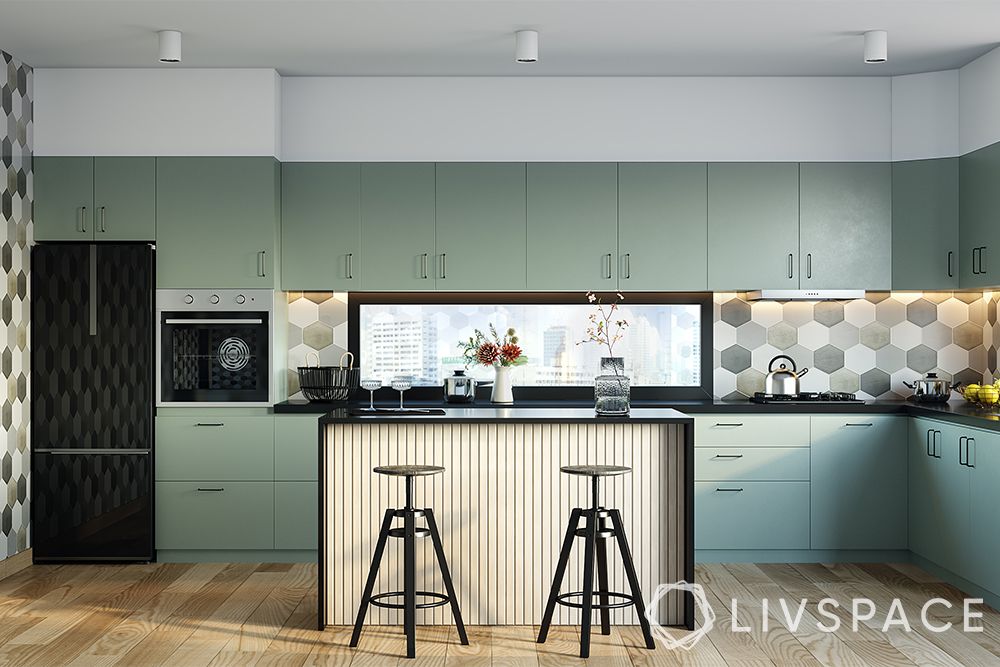 If contrasting or bold colours aren't your thing, you can always go for a palette that's easy on the eyes. This mint green island kitchen design pairs beautifully with the wooden floors of the kitchen.
#19: An Open Island Kitchen Design in Rich Mustard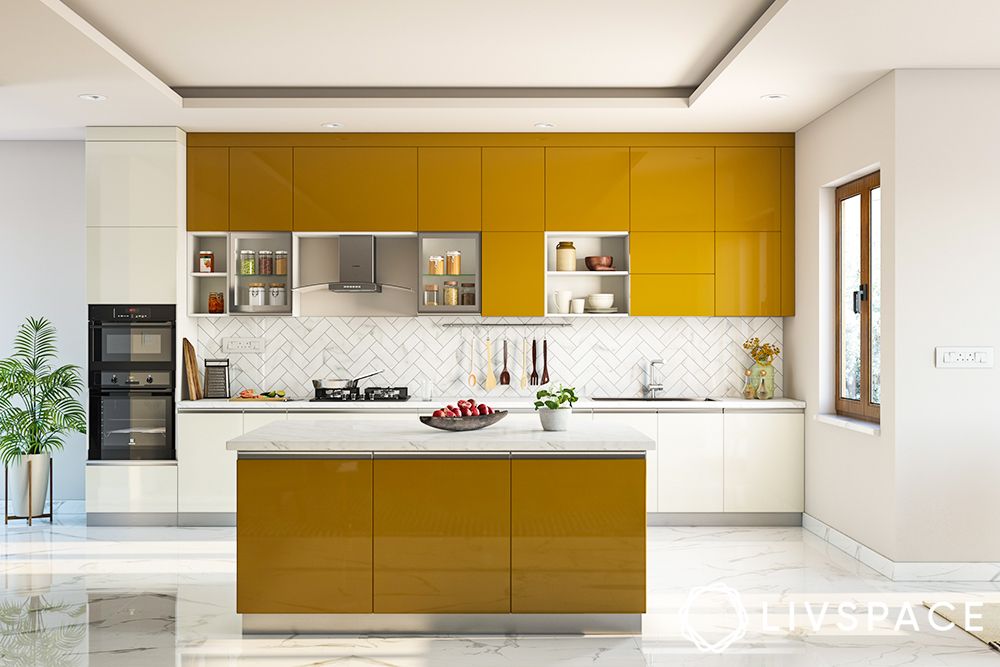 Mustard is a great autumn shade for island kitchen designs. It also works especially well if you're not a fan of lemon-yellow but still enjoy the vibrant yellow shades.
#20: Pair Your Island Kitchen With a Tiled Backsplash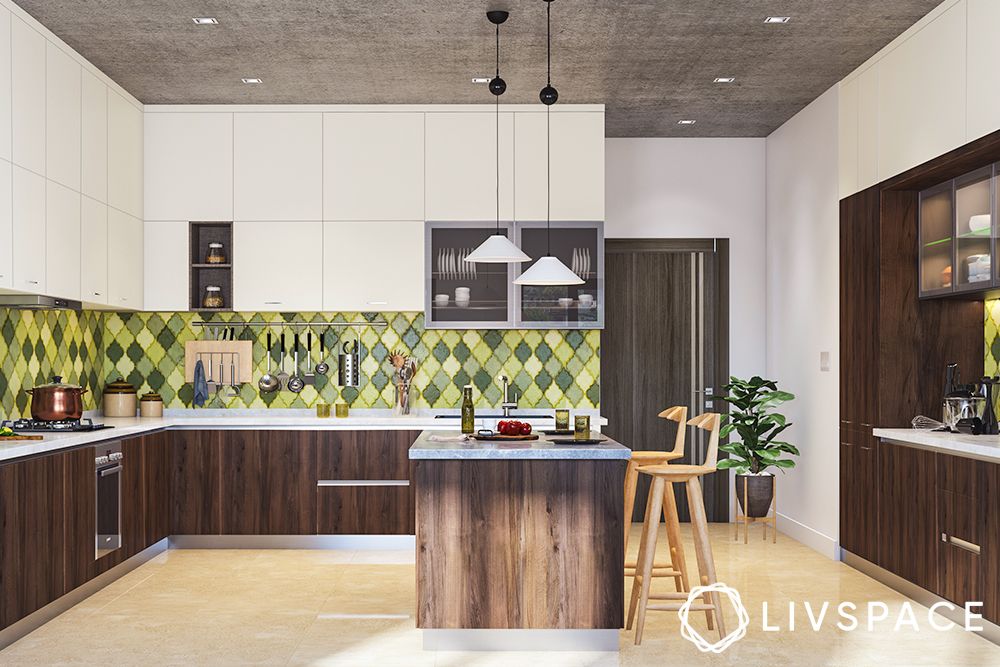 Since island kitchen designs tend to be the focal point of a kitchen, they might make the space look dull if it lacks design. You can add more interest to the space by going for a colourful backsplash in complementary colours to match it.
Also Read: 15+ Stunning Parallel Kitchen Designs for Homes of All Sizes
#21: A Simple Pop of Colour Is an Island Kitchen's Best Friend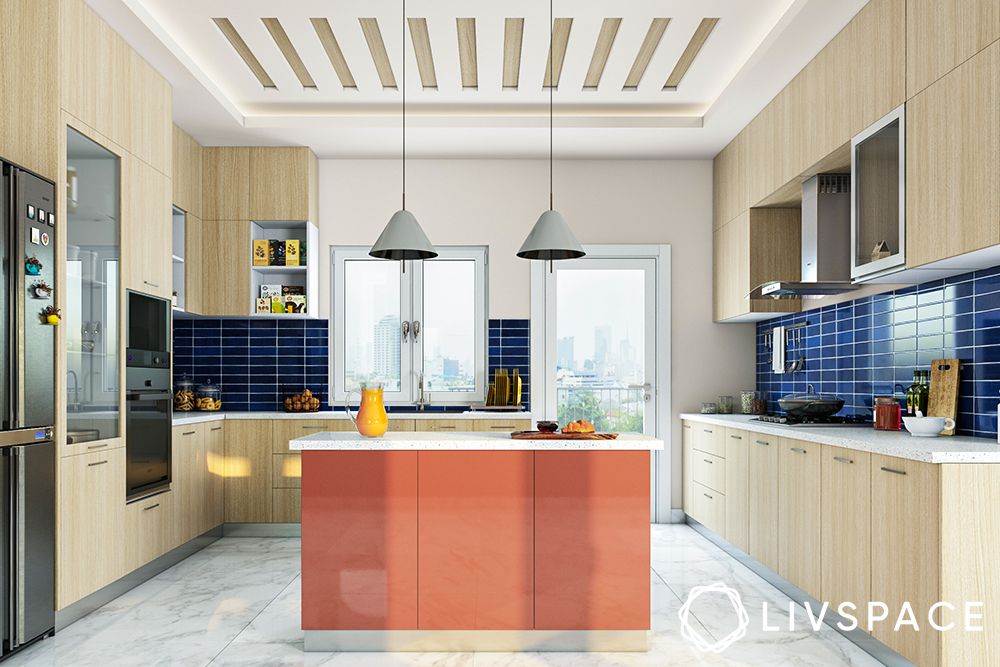 An island kitchen is a great way to experiment with colours. Turn things up with a very vibrant shade like orange to match plain interiors.
#22: Create Contrast With a Two-Colour Palette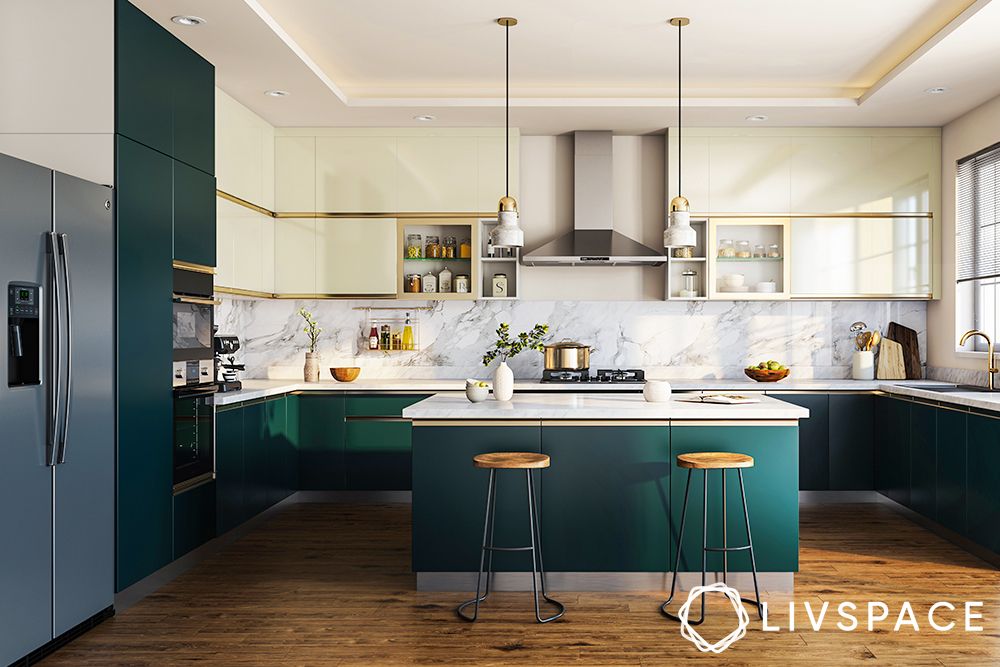 If you're in search of kitchen island ideas that bring in deep contrast, go for a dark green island to get the look. You can pair this with light shade kitchen cabinets to create visual interest.
#23: Anchor Your Space With a Bright Yellow Island Kitchen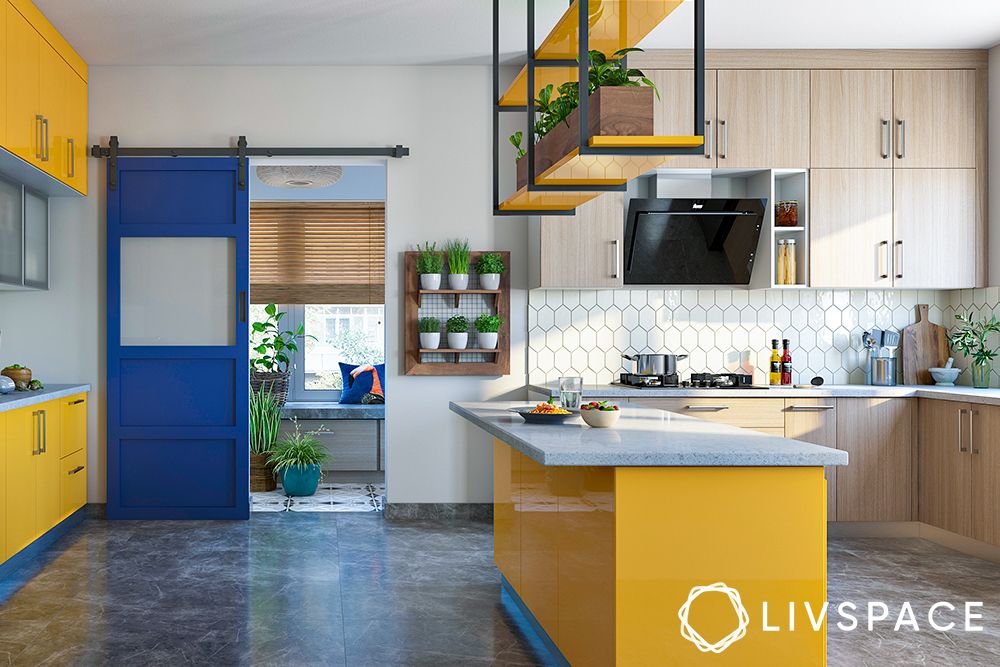 To further add to the storage space island kitchen designs bring, you can also opt for open storage above it. A simple open shelving unit above your island is the easiest way to recreate the look.
#24: Accessorise a Plain Island Kitchen Design With Pendant Lights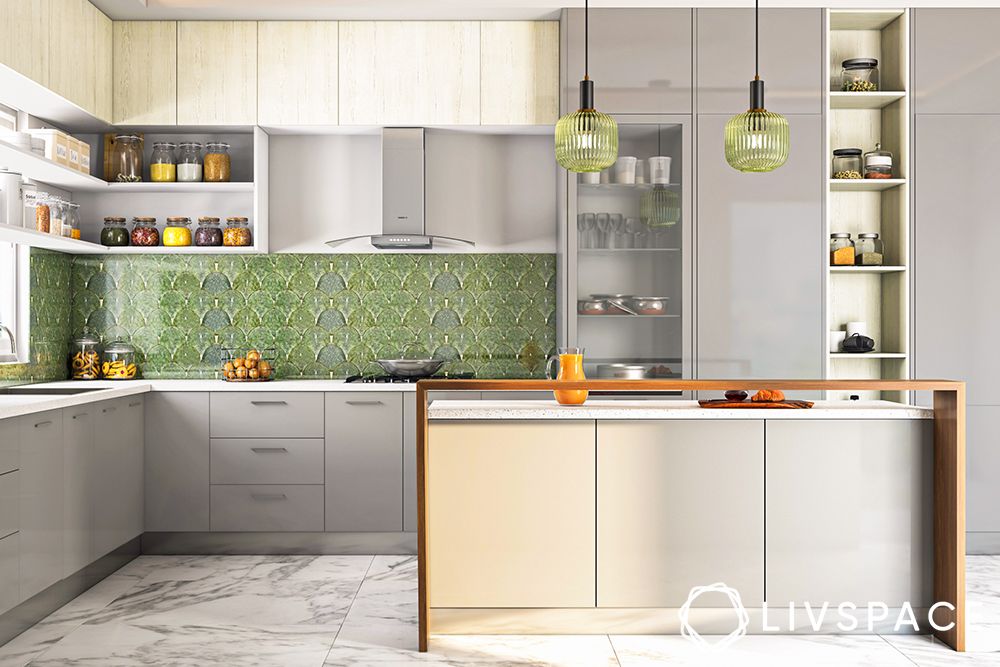 Not all island kitchen designs are elaborate and can use a boost when it comes to design. You can either go for add-ons that provide utility, or look at using pendant lights above the counter for a curated look.
#25: Consider Upcycling Furniture for Your Island Kitchen Designs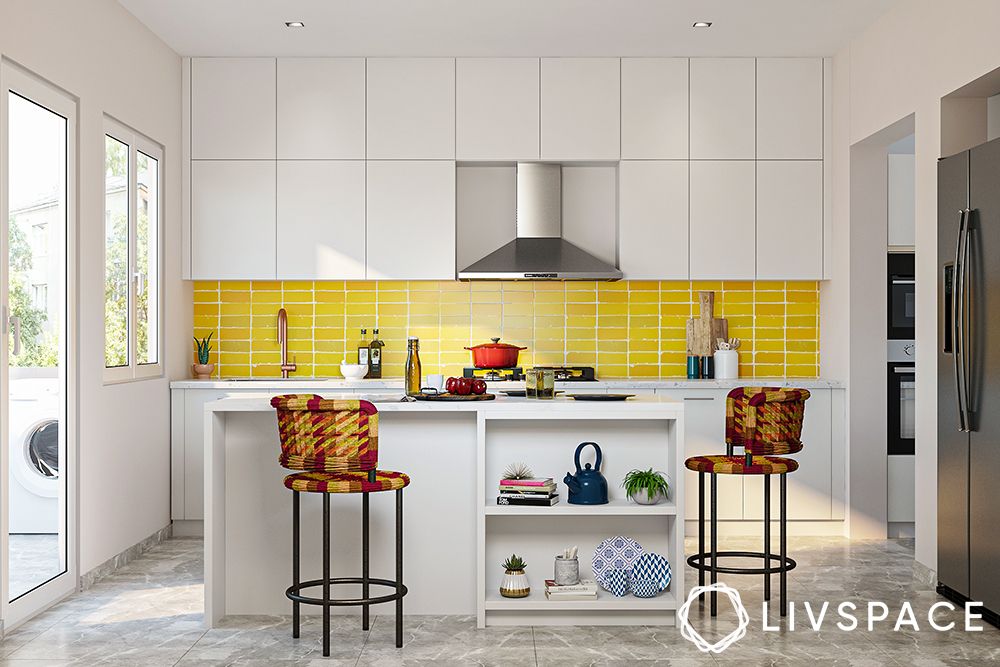 Not all island kitchen design ideas need to be made with premium materials and finishes. In some cases, you can even upcycle existing furniture to create this unit.
#26: Some Art Deco Themes for Lavish Kitchens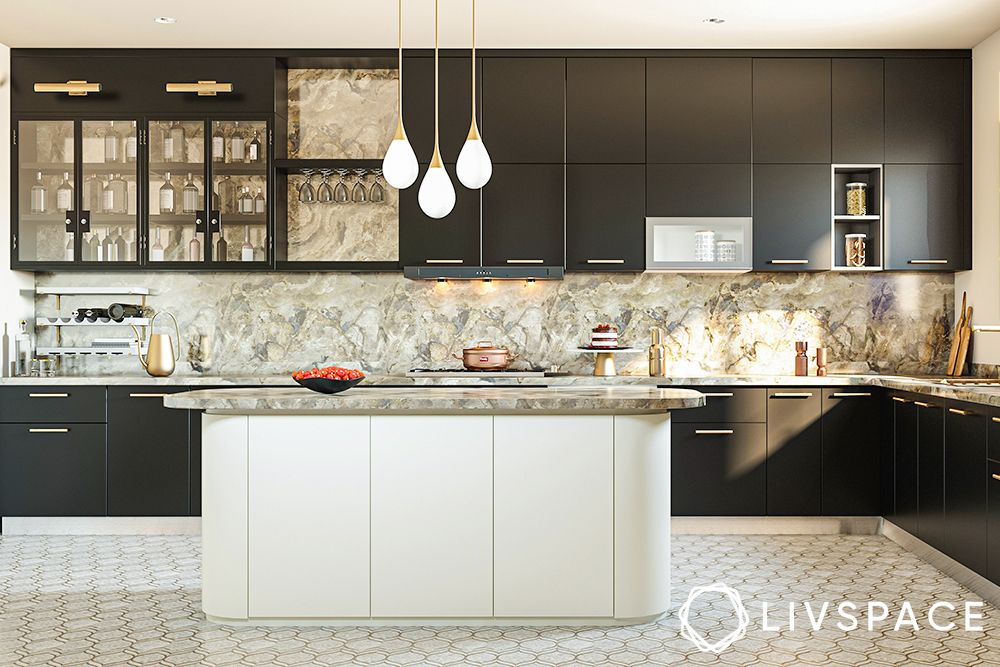 Are you a fan of jewel notes, rich colours and gold accents? If yes, an art deco-style kitchen island design is the one for you.
#27: Get a Goan-Style Kitchen for Vacation Vibes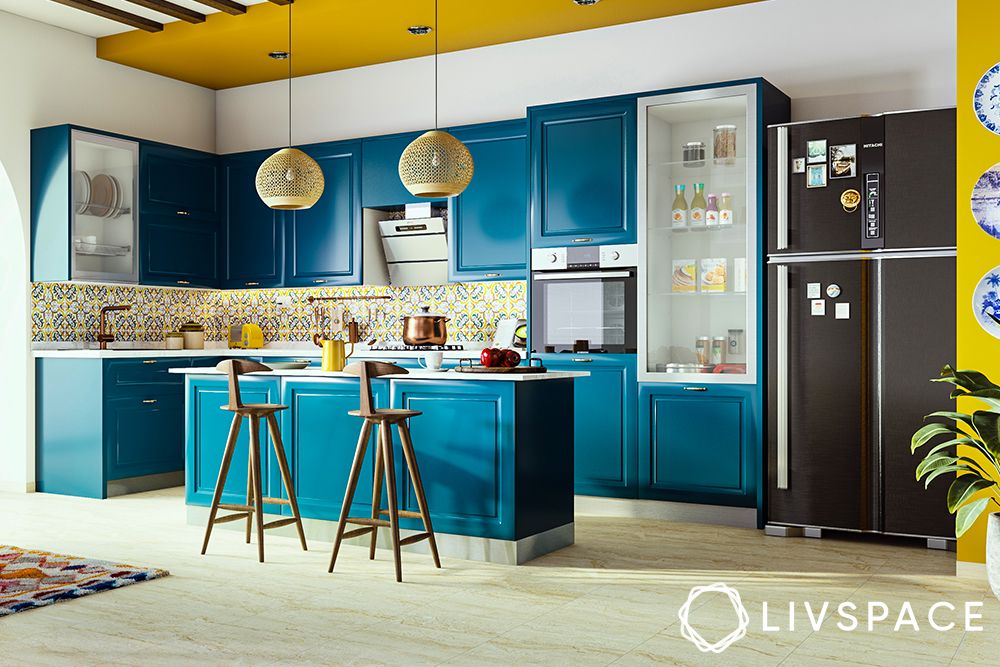 Indulge in full-time vacation vibes at home with a simple Goan-style island kitchen. The framed door design for the cabinets and island pairs beautifully to give this space a homely feel.
#28: Play With Patterns to Make Your Kitchen Visually Interesting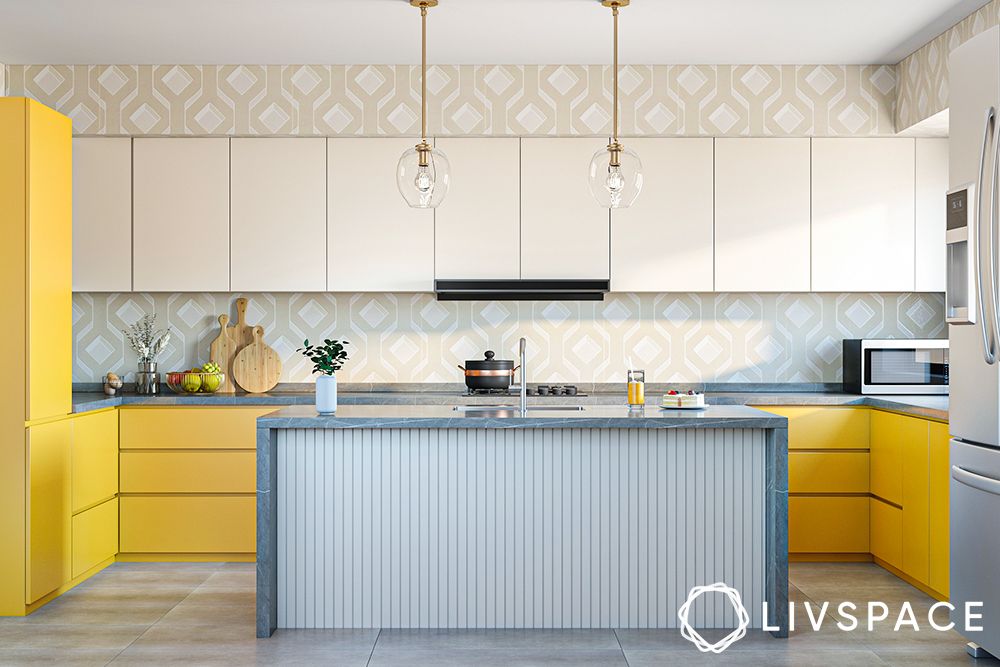 If you use wallpaper in your kitchen, you can also consider adding some textures or detailing to your island kitchen designs to match or contrast it. The vertical stripes for the island kitchen paired with the print on the wallpaper make the design more cohesive.
#29: A Little Luxury Never Hurt Anybody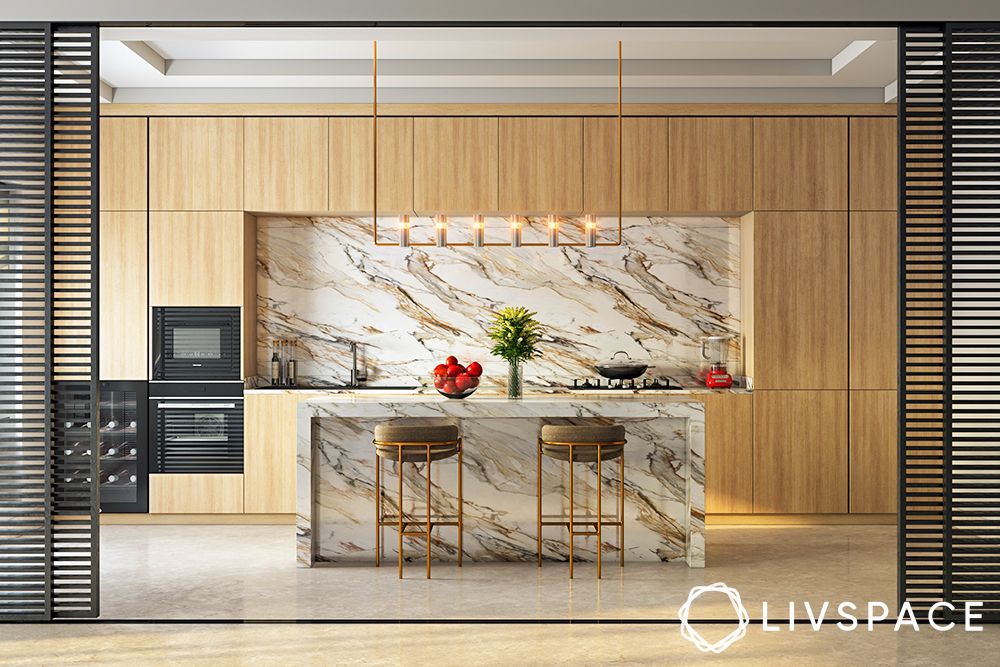 If your budget allows it, you might want to embrace a smidge of luxury for your island kitchen designs. Some kitchen island ideas to borrow from here are to go for a nice stone island in materials like quartz for the ultimate look.
#30: Explore Nature Themes With Wooden Accents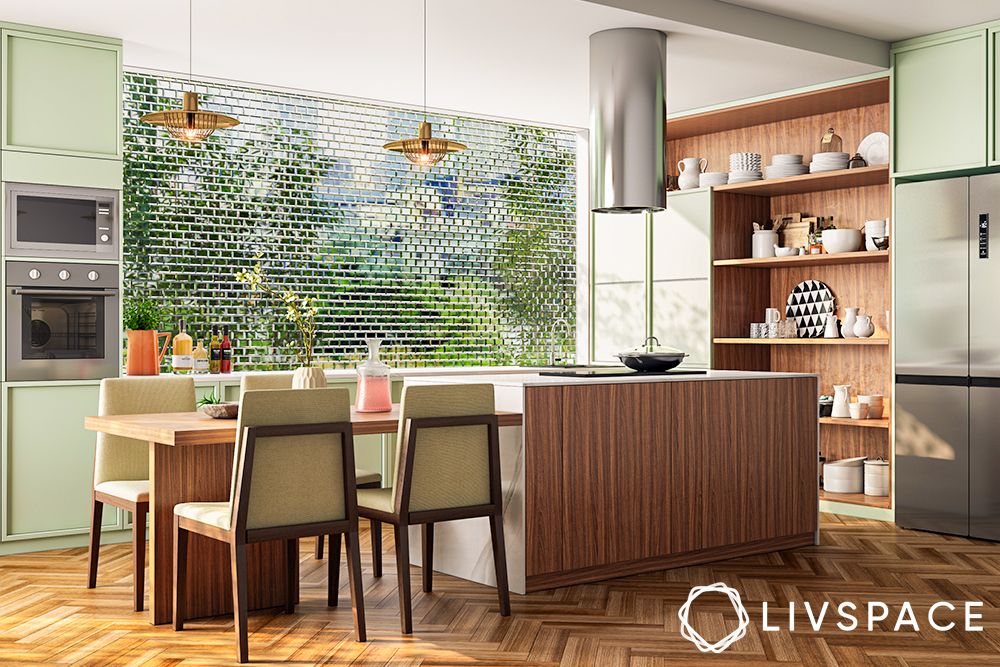 Besides going for earthy palettes, you can also experiment with wooden accents across your kitchen. A simple island kitchen with wooden finishes will undoubtedly add a touch of charm to any space it occupies.
#31: Modern Island Kitchen Design Made Easy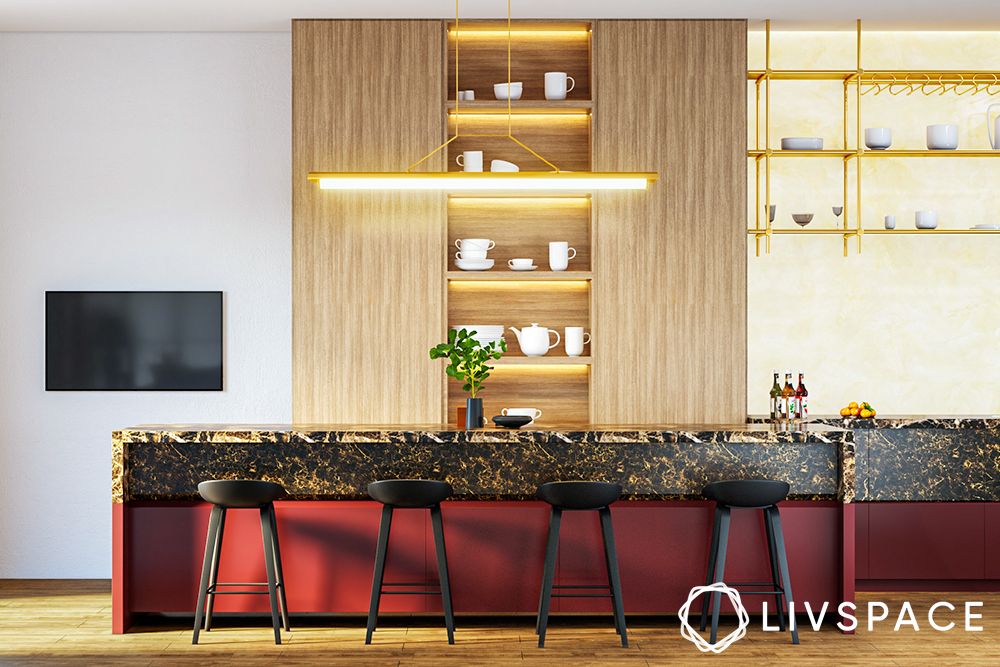 If a full stone island kitchen is too much of a commitment, how about going for a half-and-half design? Embrace stone materials for the countertop only and take your pick of materials for the rest of the unit. Also consider playing with rich colours to add in some contrast to your modern kitchen island.
#32: Implement Celebrity-Style High-Glam Island Kitchen Design Ideas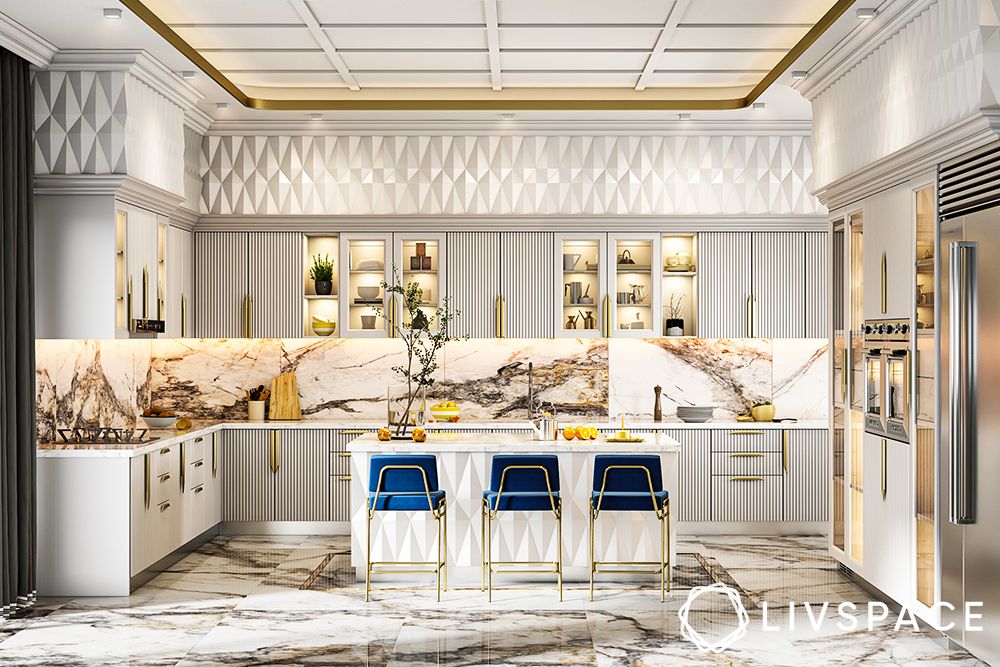 If you really want to go all out for your island kitchen design, this high-glam kitchen is the way to do it. With a design like this, you're bound to feel like a top celebrity.
Also Read: 10 Stunning Celebrity Kitchen Design Ideas to Give You a Glimpse of the Glam Life
#33: Are You Blessed With a Nice View? Why Not Go for a Resto-Bar Theme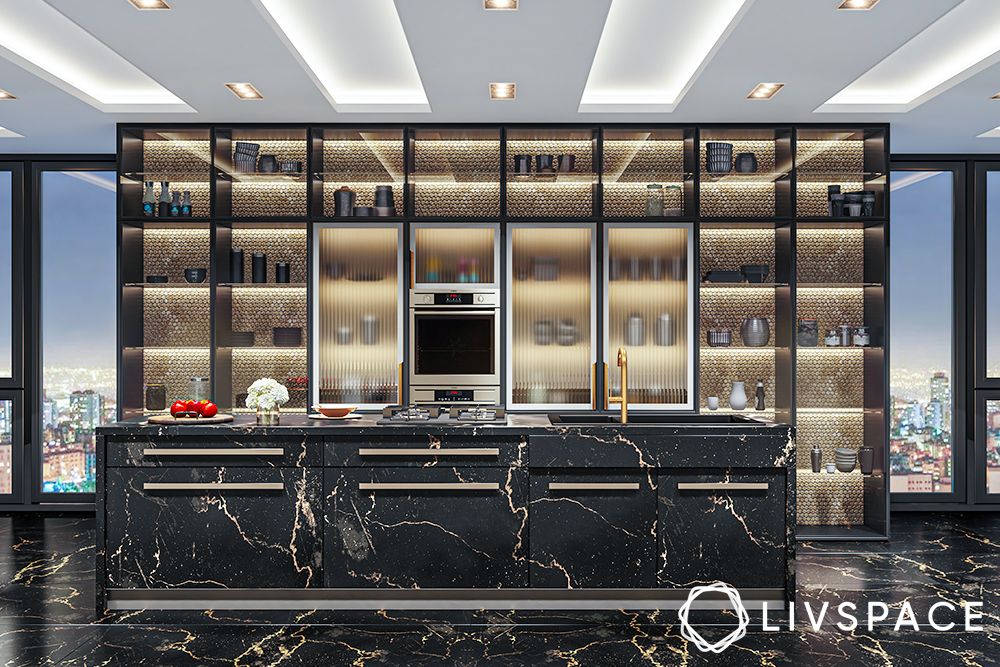 If you've ever visited a rooftop restaurant, you would have surely noticed how well their bars stand against the view. If that's a theme you've wanted to embrace for your kitchen, you can do so with a dark quartz island kitchen that's reflective of the evening sky.
#34: Maybe a Stainless Steel/Chrome Finish Can Give You the New-Age Look You Desire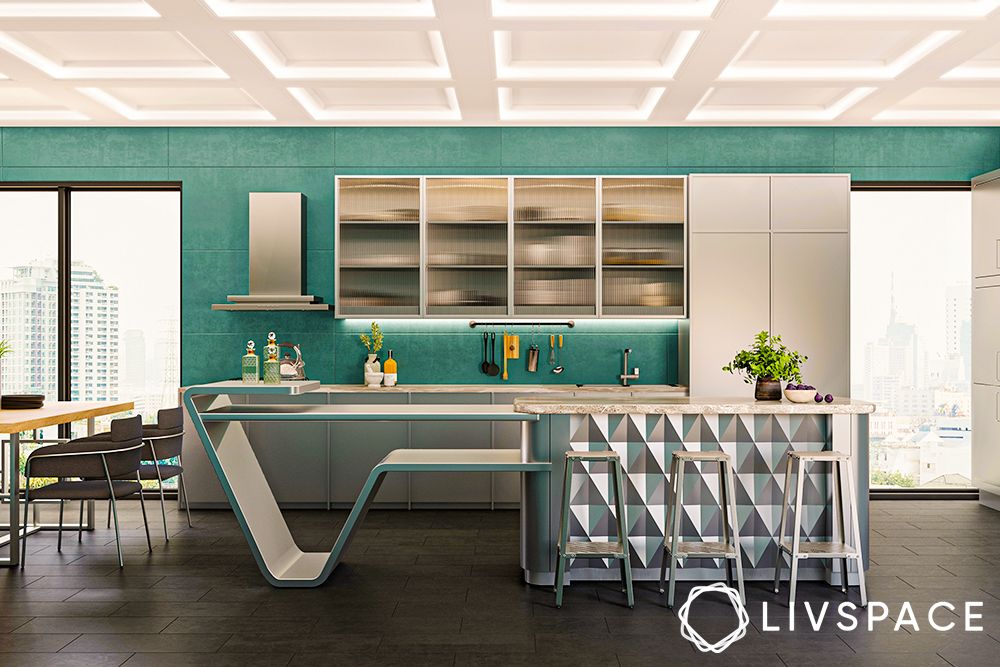 Tired of stone and other materials? Perhaps chrome or steel is more your speed. You can either go for a full chrome island kitchen or make things interesting with a modern design. The latter is also a great way to add an artistic element to your kitchen.
#35: Love the Industrial Style? Here's How to Get the Look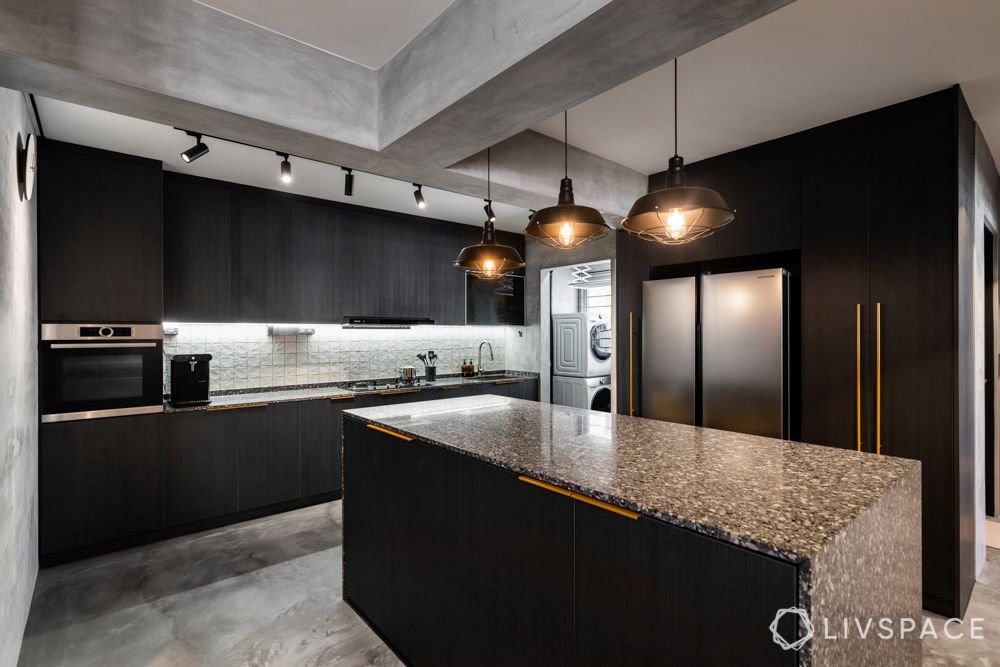 A great addition to industrial-style kitchens is none other than the stone island kitchen design. You can either use a full stone island or just dress the counter in stone and you're good to go. Pair this with cement floors for best results.
#36: Minimise Storage Concerns With Built-In Shelves/Drawers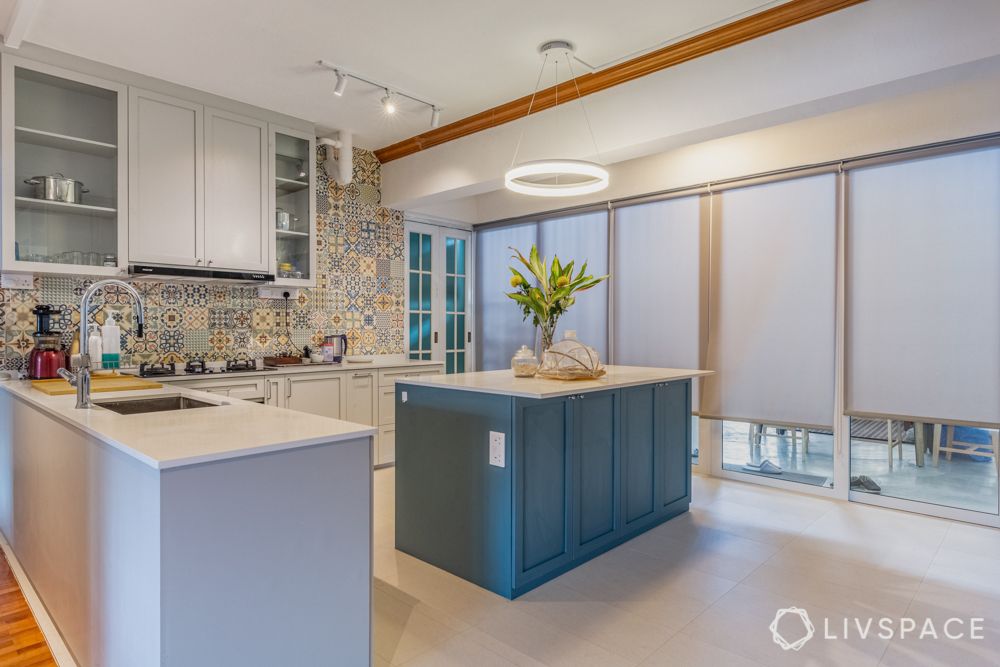 Island kitchen designs that come with storage are always a blessing to have, especially in compact homes. This island kitchen comes with an extended countertop and cabinet space within it. If you look closely, you can also see sockets on the side of it, making a very functional unit to have since it is multipurpose in nature.
#37: Go for an Extended Countertop in Your Island Kitchen Design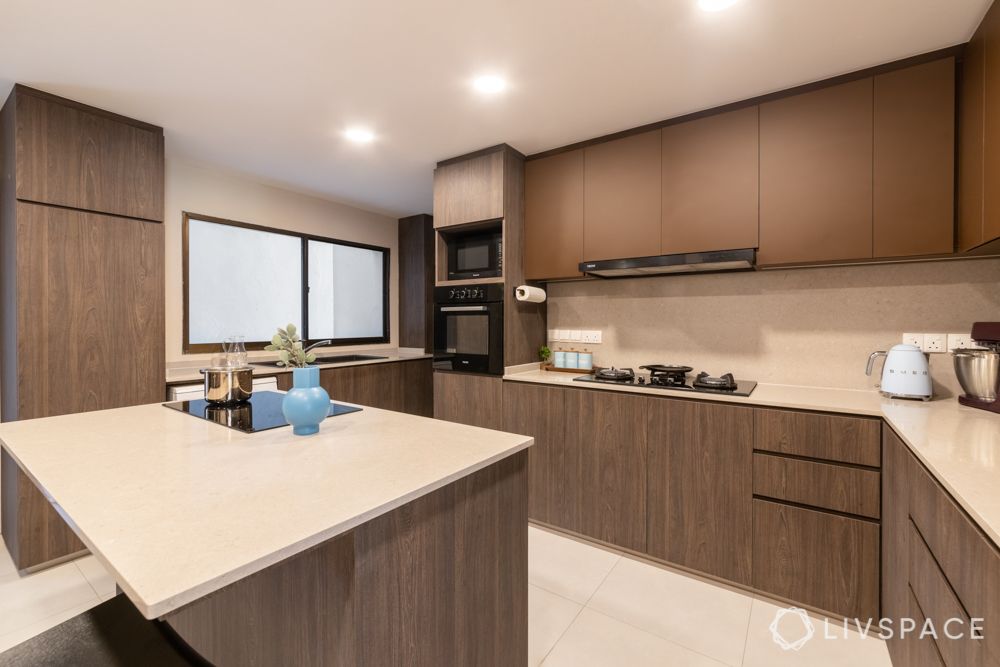 If you're running really low on counter space, extending your island kitchen counter can be a great help. You can use this extra space for meal preparation or even storage, depending on your needs.
#38: Extend Your Island Kitchen Into Your Dining Table
Multipurpose island kitchen designs are especially useful in compact homes with an open layout. If you're unable to create two separate areas for the kitchen and the dining room, why not combine them with your island kitchen!
#39: Jazz Things Up With Under-Cabinet Lighting for Your Island Kitchen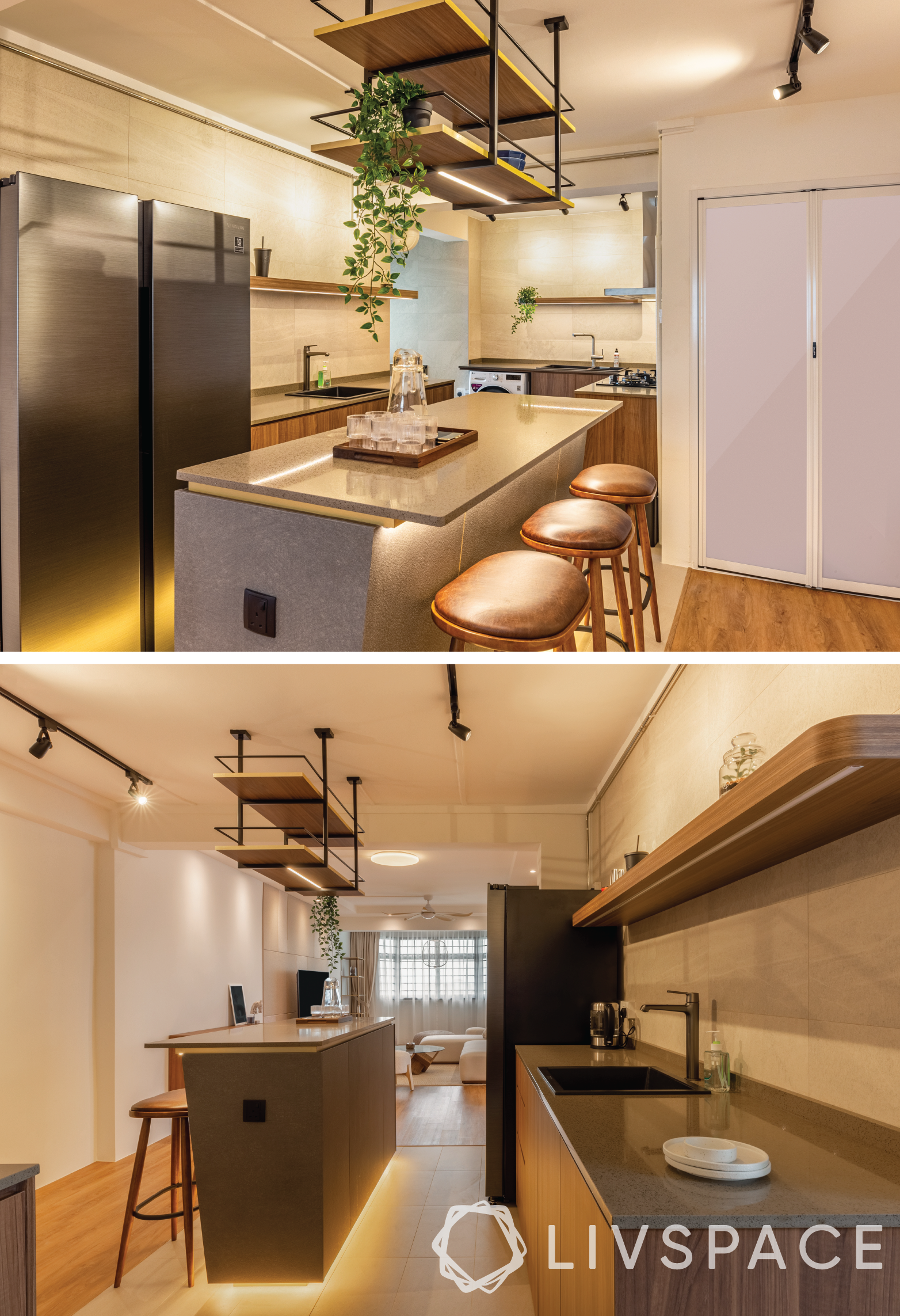 What better way to illuminate your space than with under-cabinet lights for the island kitchen. It also helps create the illusion of a floating island. This works especially well if your island doubles as a bar unit.
#40: Take a Mid-Century Modern Approach to Island Kitchen Design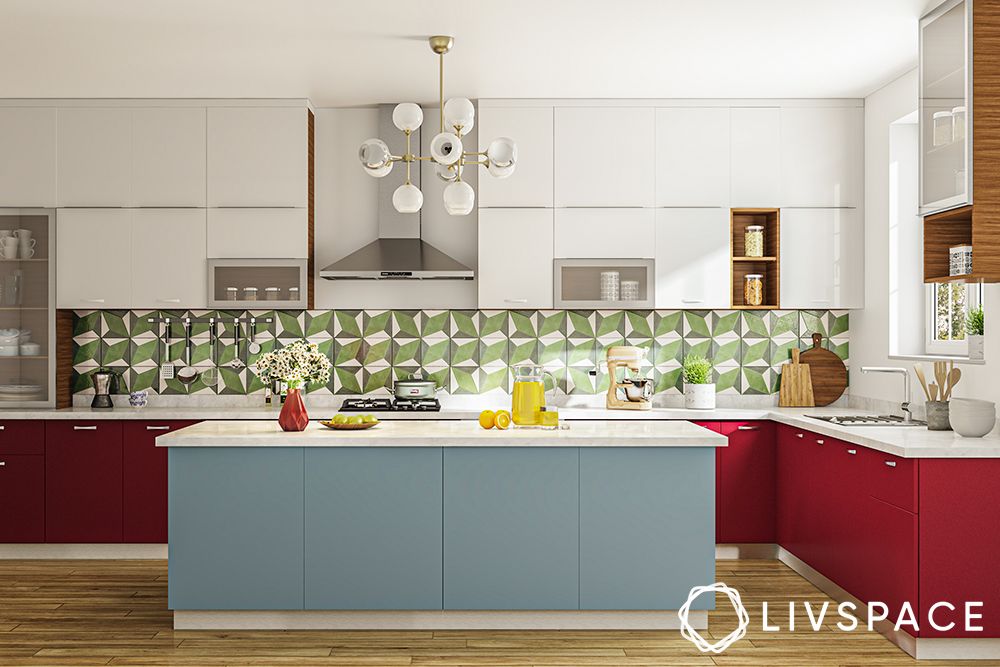 Vibrant colours and graphic shapes are a trademark of mid-century modern interiors. You can get the look by using a mix of complementary primary colours along with a patterned backsplash. Go for a muted shade for your modern kitchen island to ensure there's visual balance.
How Can Livspace Help You?
We hope you found this list useful! In need of more ideas? Check out 25+ Kitchen Designs That Will Inspire You.
If you want beautiful interiors for your home, then look no further. Book an online consultation with Livspace today. If you have any thoughts and suggestions you'd like to share with us, we're all ears! Drop us a line at editor@livspace.com.