Open kitchen designs are extraordinarily popular in the Indian home interiors market. This is because, firstly, we have been swept by a wave of modular kitchens, which have become something of a must-have for most urban households. Secondly, interior designs for kitchens require a giant share of the budget that most homeowners readily allocate for their interiors.
Along with the arrival of the modular kitchen, the concept of open kitchen designs has also taken centre stage. While Indian homes may not be the most natural accommodators of open kitchen ideas, the desi millennials who have travelled the world still tend to prefer these layouts. They are sold on some of the obvious advantages of an open kitchen, like visibility and accessibility. Also, our living spaces are shrinking and there is merit in open layouts to make the most of space. 
Are you toying with the idea of choosing an open kitchen in your house? Then you definitely need to see our curated list of the best open kitchen ideas from #LivspaceHomes.
#1: A Big Fat Indian Kitchen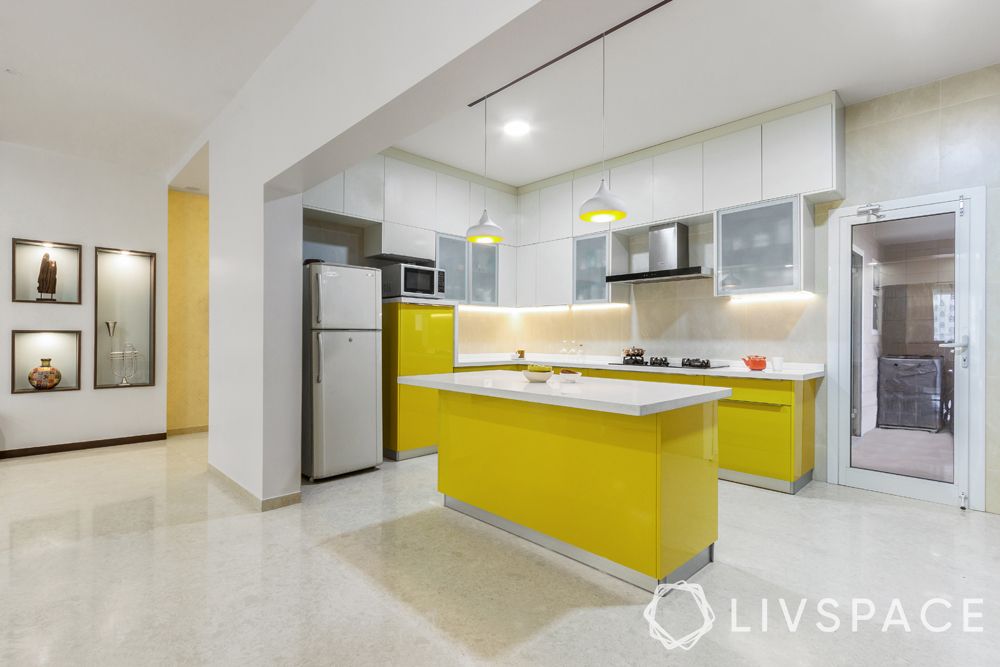 When you have so much space to work within an open kitchen, an island is the best option. Since it's visible from the living room, pick a striking pop colour to keep things interesting.
#2: A Galley-Style Interior Design for Kitchen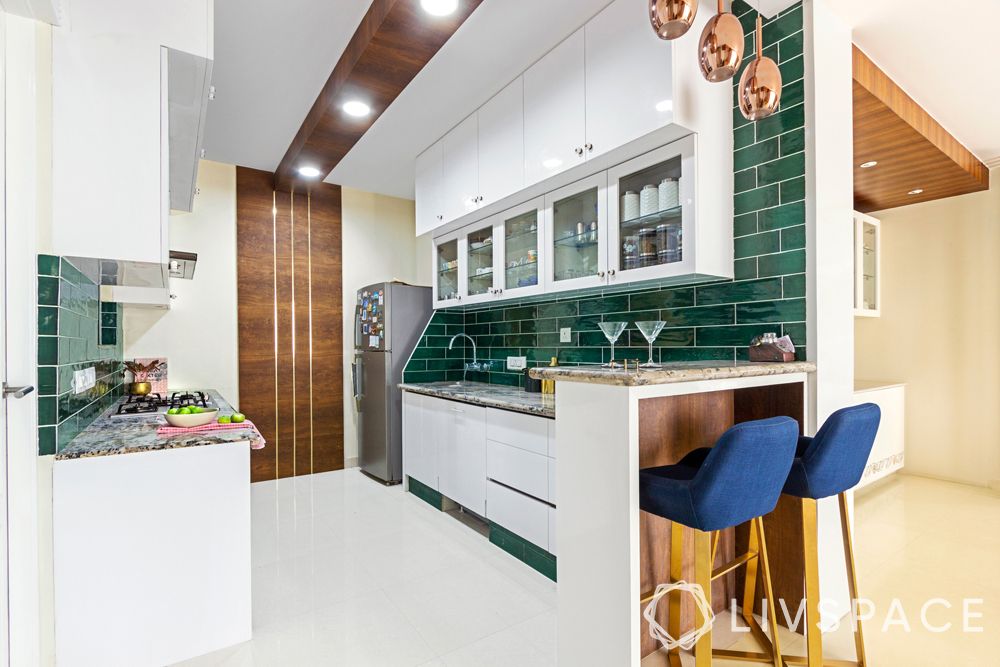 If you notice carefully, this kitchen has a parallel layout, which are ideal as open kitchen models. Also, there is a measure of privacy because the kitchen is not directly visible from the living area. 
#3: An Easy-to-Maintain Open Kitchen
One of the prime concerns in choosing an open modular kitchen is maintenance. Light colours will naturally take a lot of work to maintain. So, why not choose easy-to-maintain colours like greys and wooden tones for a low-key kitchen? All Livspace kitchens are available in a variety of colours and combinations to suit your home aesthetics.
#4: A Cosy Open Kitchen Design With a Breakfast Counter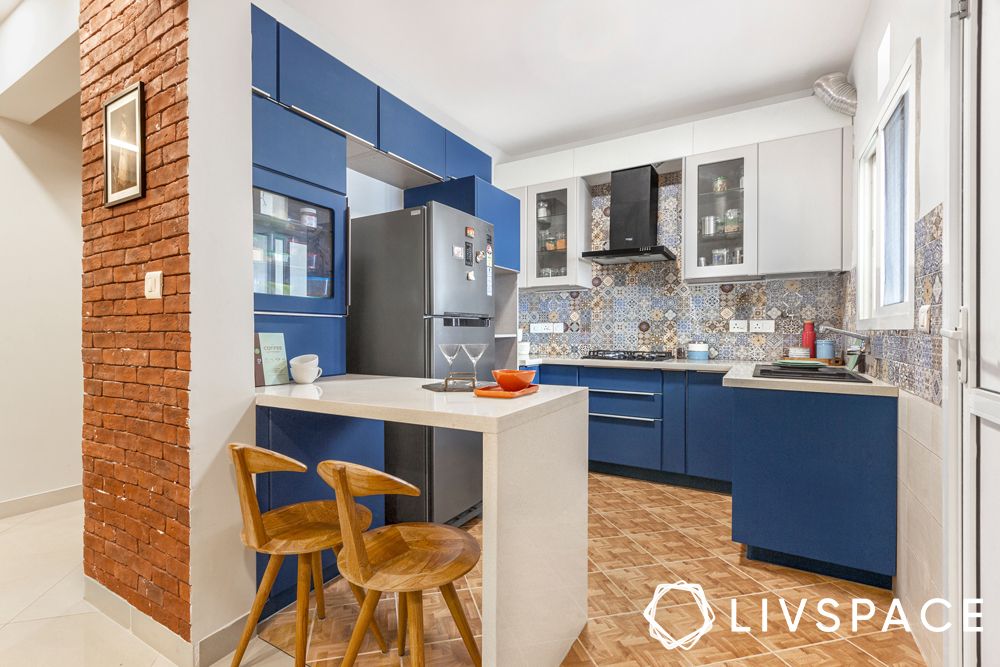 Breakfast counters are a natural extension of open kitchen models. And a nice cosy one like this, as opposed to an elaborate dining space, makes perfect sense for busy working couples. 
#5: An Open Kitchen With Hall Design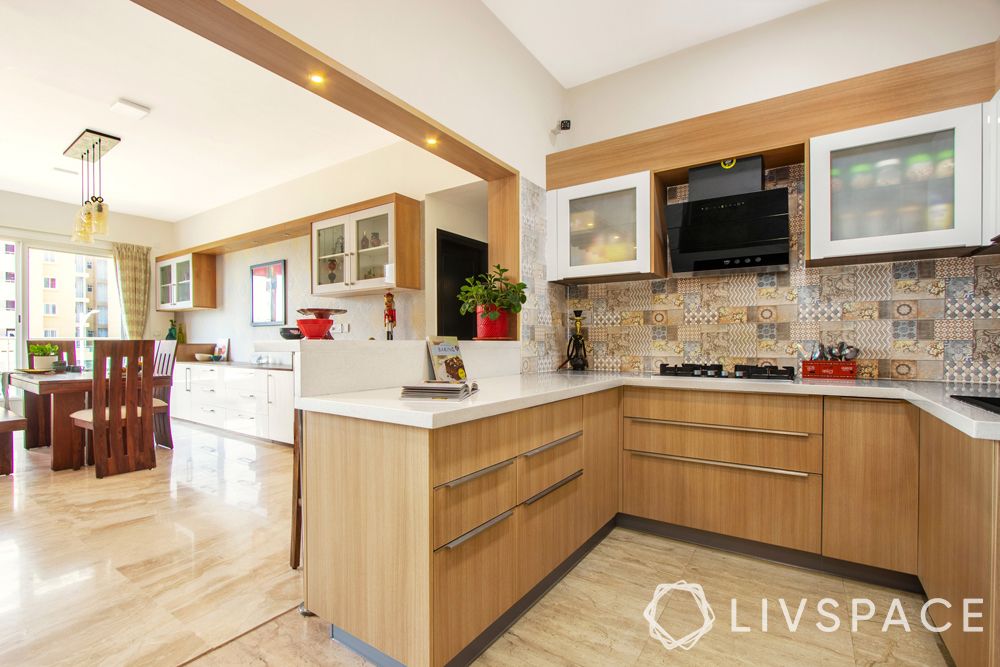 The open kitchen design will generally share space with the living area. That is why you should decorate your open kitchen design with living room colours and textures. For instance, in this interior design for kitchen, we see light woody tones just like in the living room, so it's a neatly designed unit.
#6: A Kitchen With Utility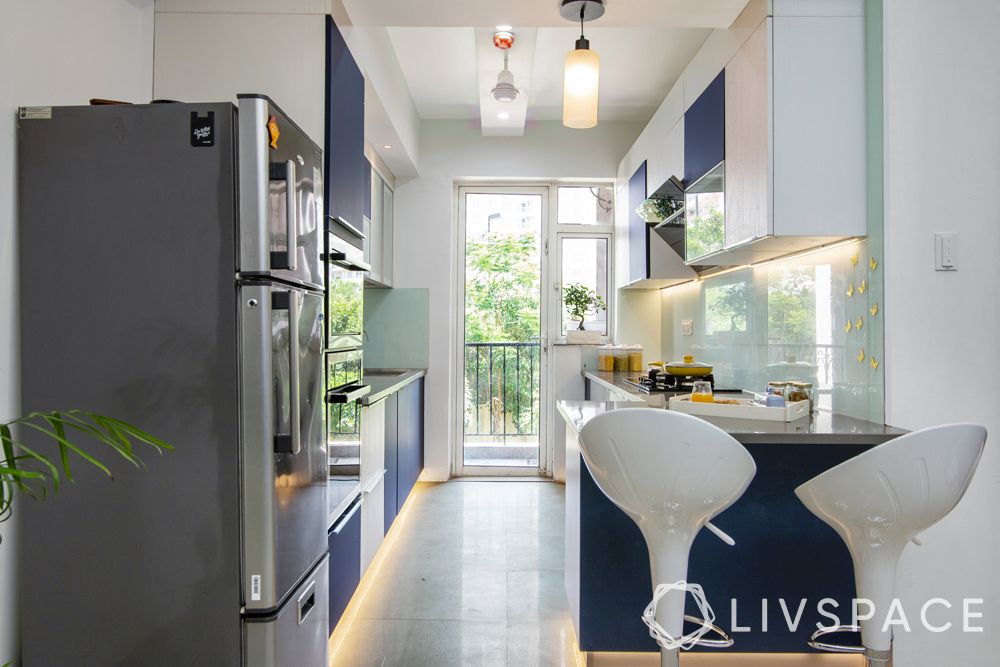 The one problem with an open concept interior design for kitchen is that it doesn't typically include the utility area. But that problem has been solved quite cleverly here by attaching an open utility to this open kitchen design.
#7: An Open Kitchen For Hosts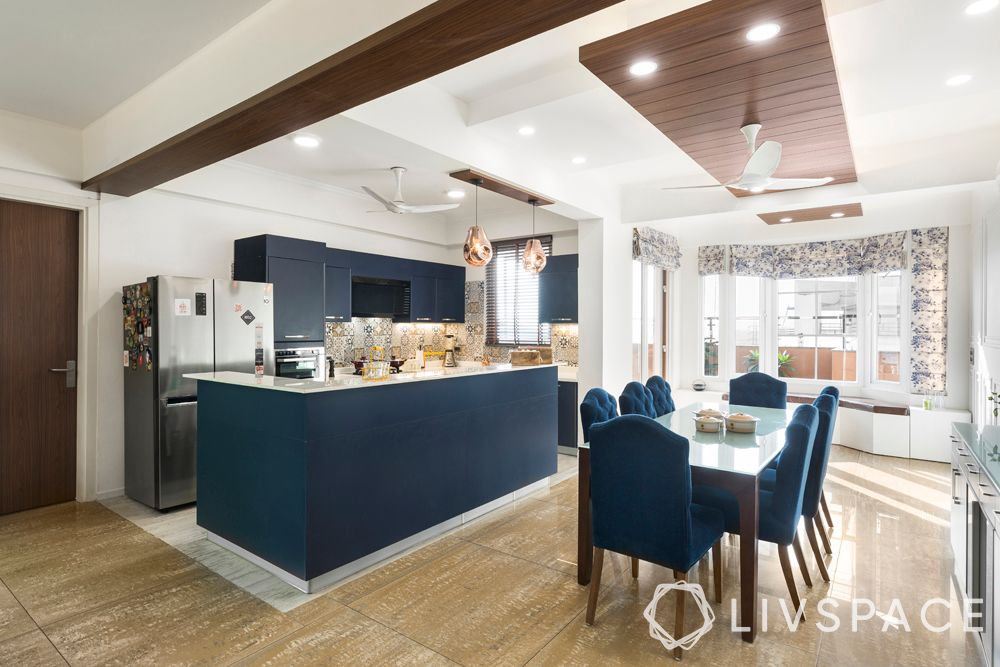 Wondering what makes this interior design for kitchen so great? The dining space looks like an extension of the kitchen, making this country-style open kitchen design great for dinner parties.
#8: An Open Kitchen Design With Extra Shelf Space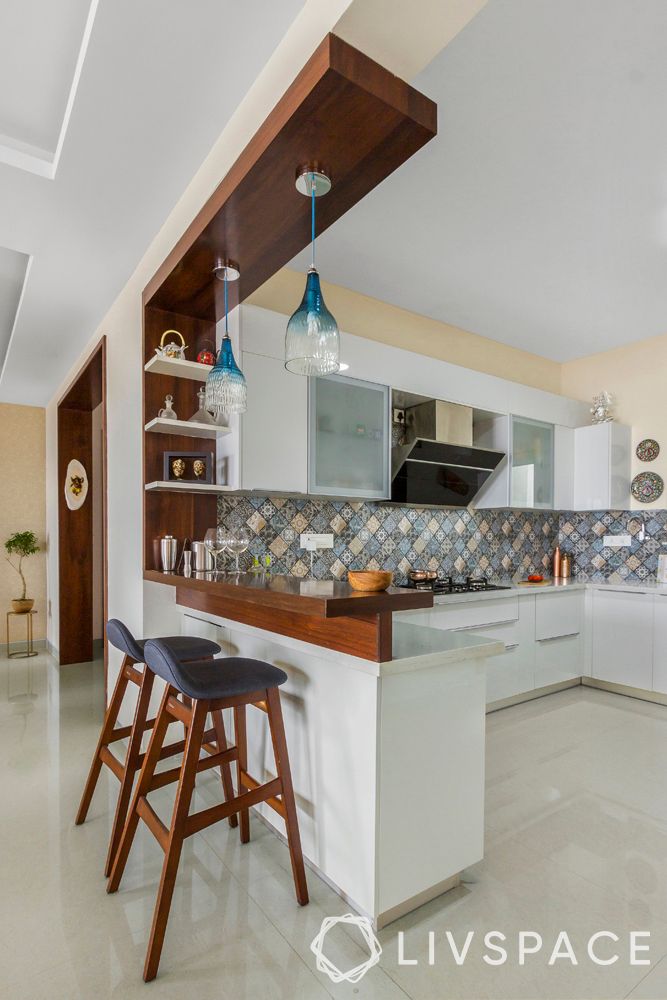 This is one of our favourite open kitchen ideas! Not only does this open kitchen have a breakfast counter but also some much-needed shelf space has been included here!
#9: A Kitchen With a Faux Partition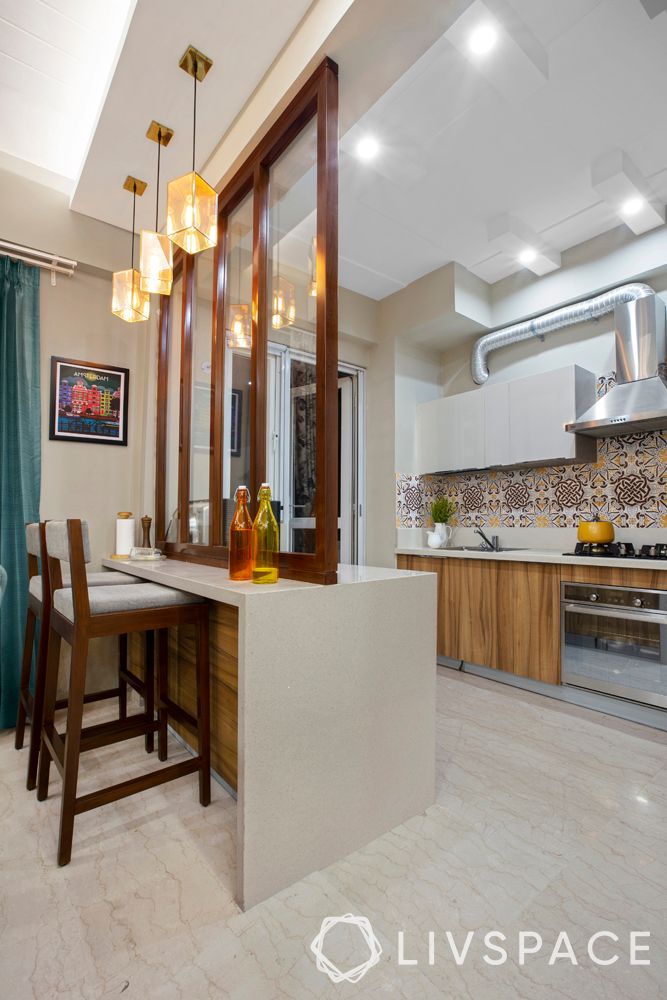 In Indian open kitchen models, we dread that our tadkas will find their way to the dinner table before the food does! But with a kitchen entrance design that has clear glass partitions like this, you can prevent that to some extent at least. 
#10: An Open Kitchen Design For Small Houses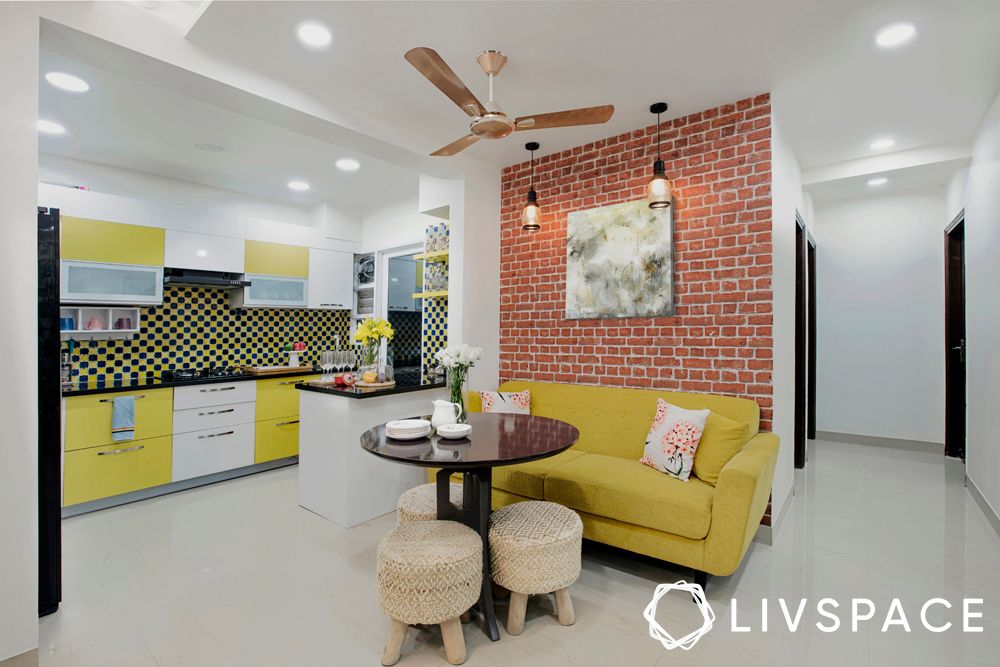 An open kitchen design for a small house like this makes it look bigger by opening up space. Also, don't miss the contrasting patterns in the living area and the kitchen backsplash. The use of yellow in both spaces ensures continuity.
#11: Open Kitchen Design Ideas With Jaalis and More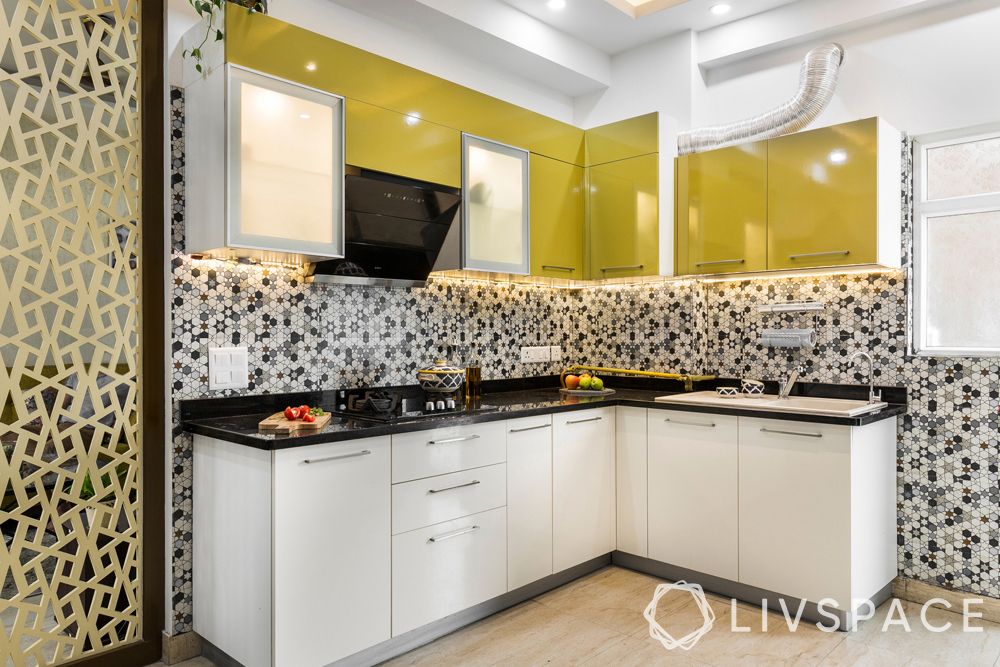 If you are looking to add some privacy in your open modular kitchen design, go for a jaali partition. It is an excellent way to provide some privacy to open kitchens without closing them up. However, they only reduce visibility and do not guard against smells or smoke. 
#12: The Quintessential Red Open Kitchen Design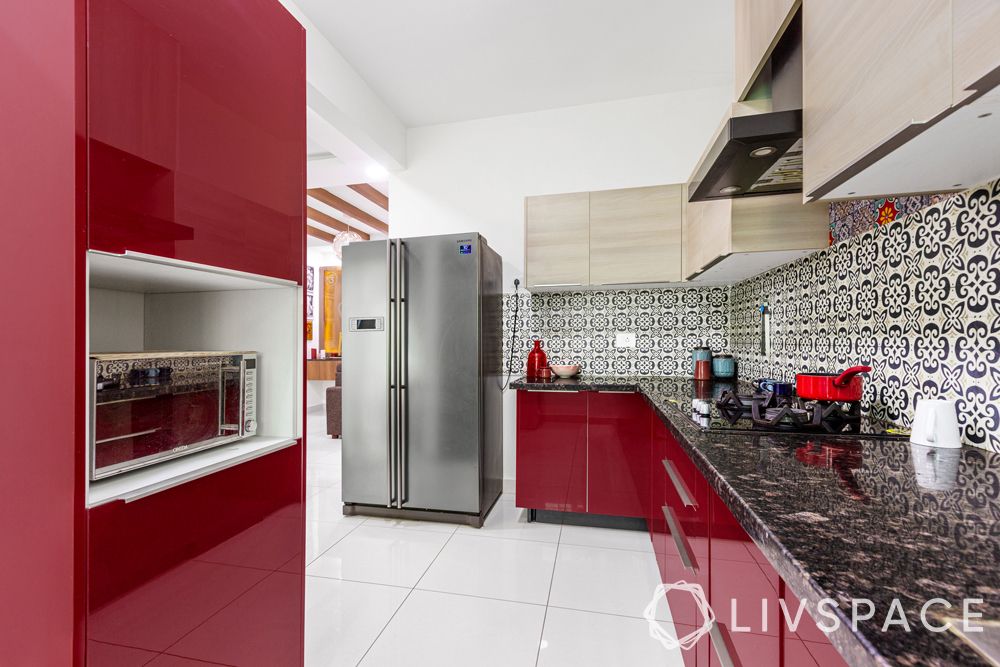 Red kitchens are a major hit among Indian homeowners. The fact that red is a vastu-compliant colour for kitchens could have something to do with it. In an open concept kitchen, it's hard to go wrong with a bright red design like this one.
#13: An Integrated Dining and Kitchen Area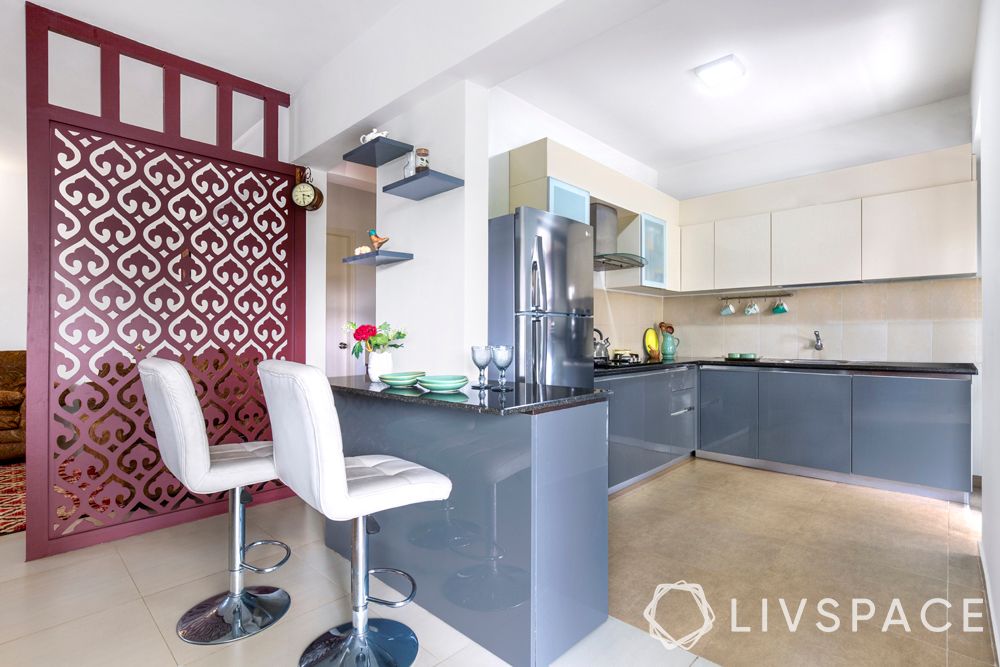 Notice how the partition here is not between the open kitchen and the dining space but the segregation is between the dining space and the rest of the living room? Such open kitchen design in hall ideas score big on accessibility because serving food becomes so much easier.
#14: An L-Shaped Open Kitchen Design in a Compact Flat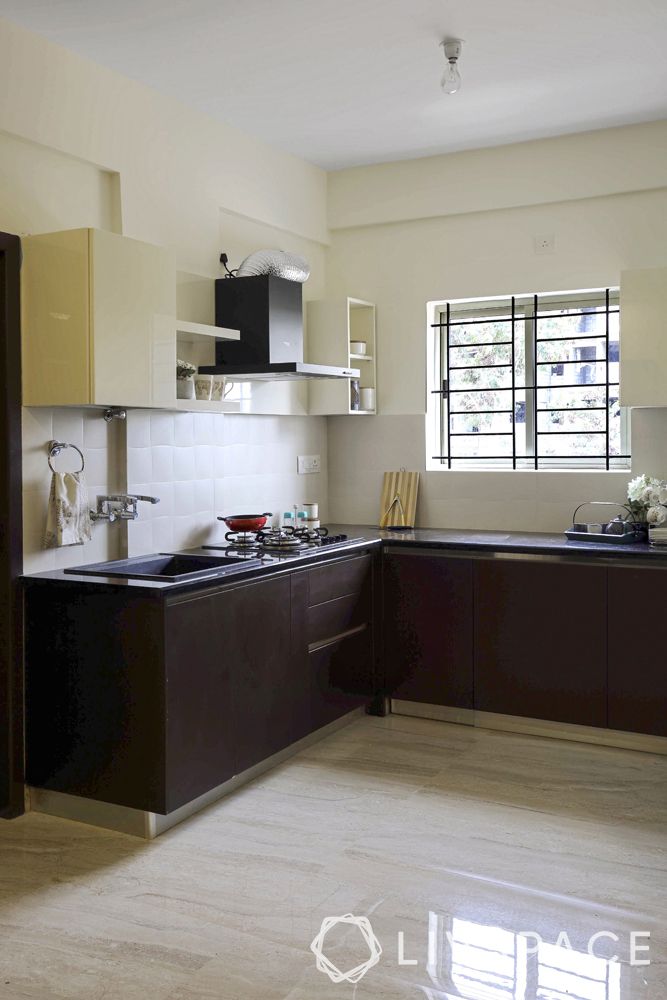 You don't need more than a corner for setting up a small kitchenette in studio apartments. Such corner kitchens are best left open. 
#15: A Perfectly Rustic Kitchen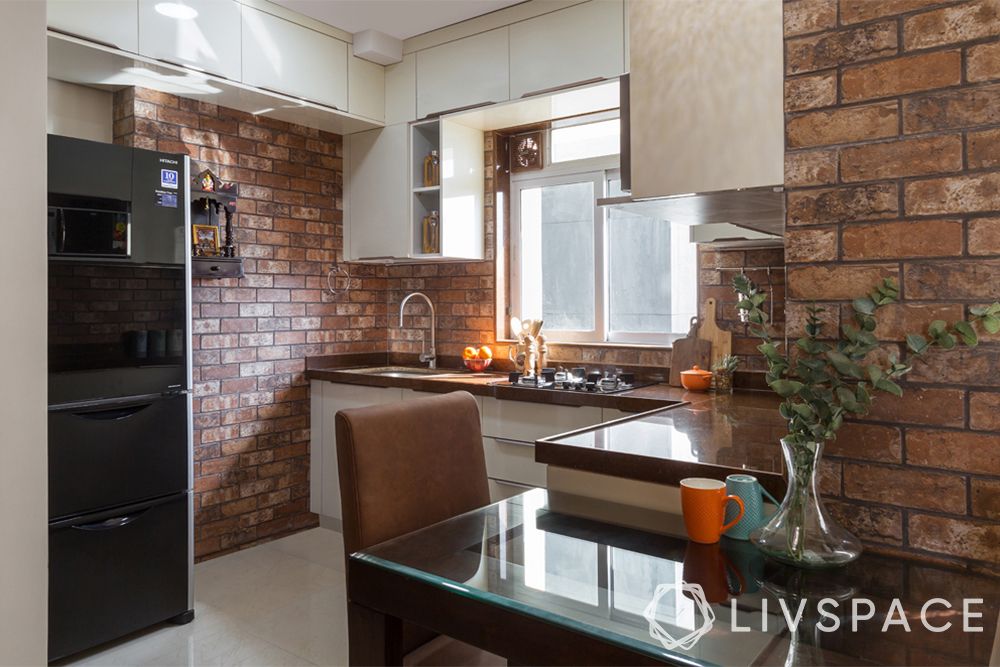 When the exposed brick wall extends from the open kitchen to the mini dining area, we know it's all about food — cooking, serving and eating!
#16: A Kitchen Behind the Vertical Garden Wall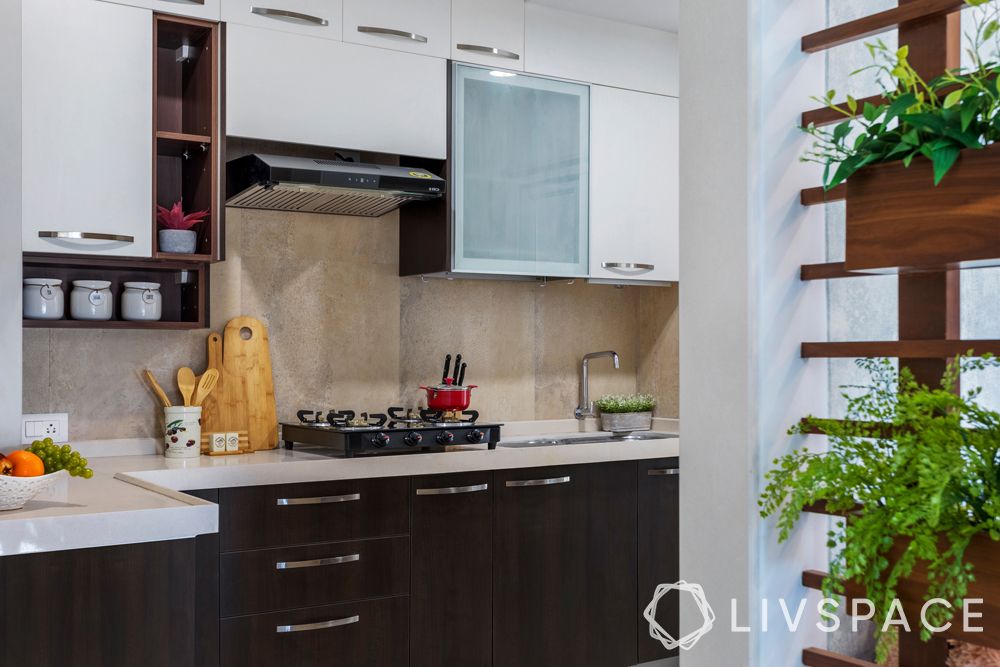 Guess what we did with this rather compact open kitchen design. We extended the counter in this open kitchen outwards and covered it up with a vertical garden! Cool, isn't it?
#17: A Whimsical White Kitchen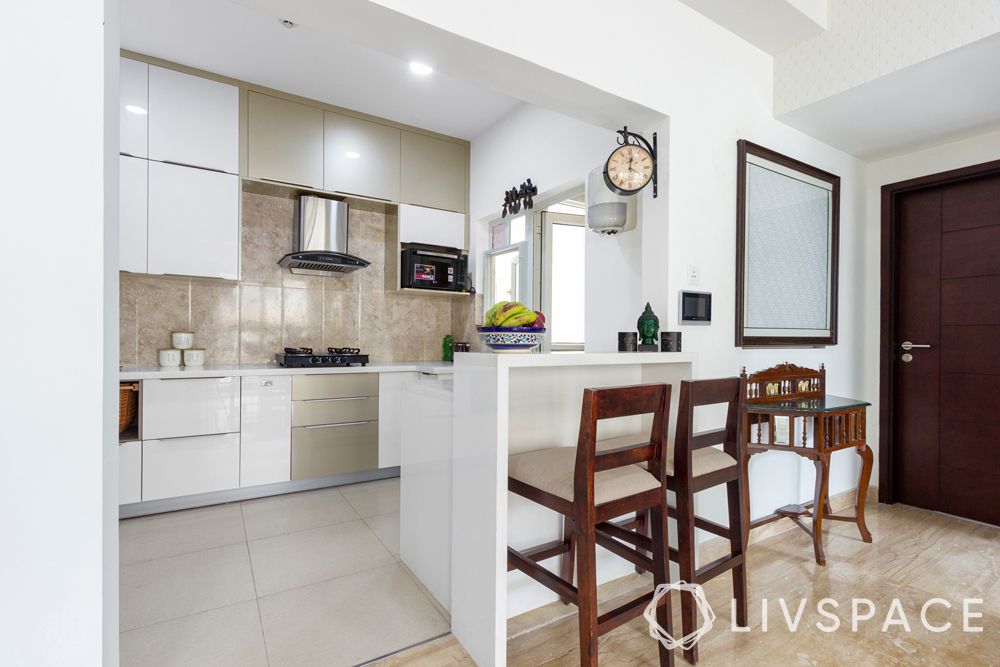 Not every all-white kitchen is impractical, particularly if you go for easy-to-clean finishes like acrylic. In the pictures above, the white open kitchen design perfectly complements the wooden furniture of this home. 
#18: A U-Shaped Layout for Maximum Utility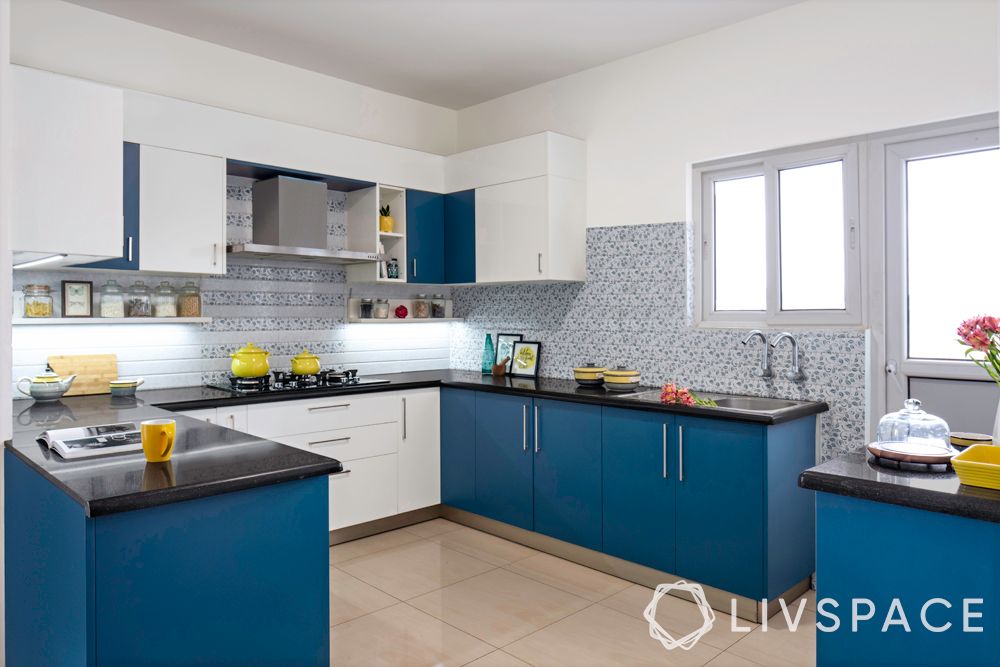 When the agenda is to have as much storage space as possible, always opt for a U-shaped open kitchen design like this one. It won't look cramped because it's open!
#19: An Open Kitchen With an Architrave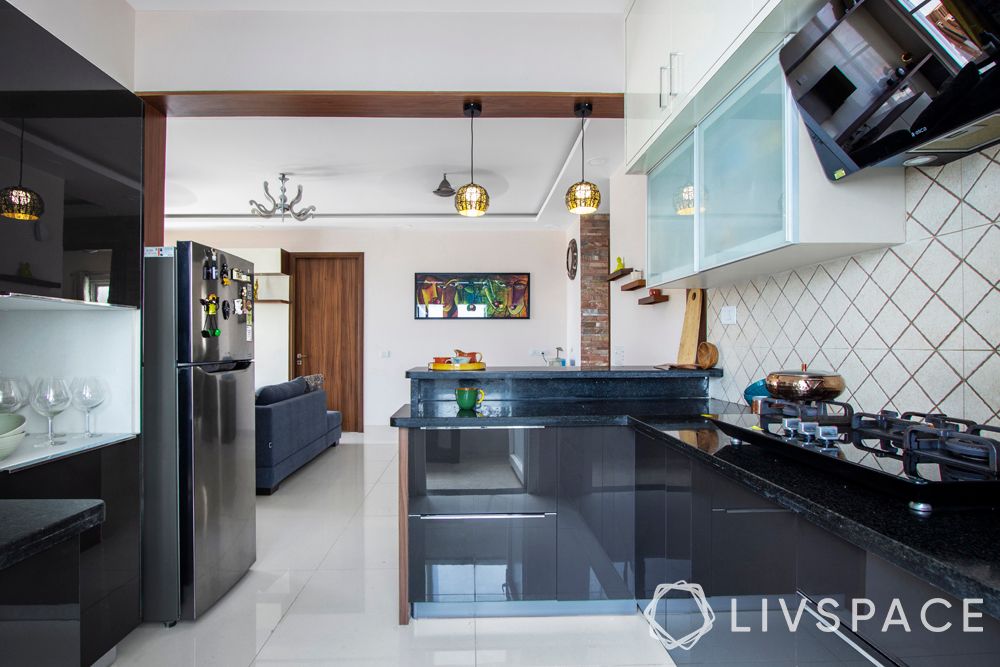 Open layouts are all about not closing up space. However, it is always a good idea to segregate space. For instance, the open kitchen design here is marked off by the wooden architrave at the entrance.
#20: A Kitchen That Raises the Bar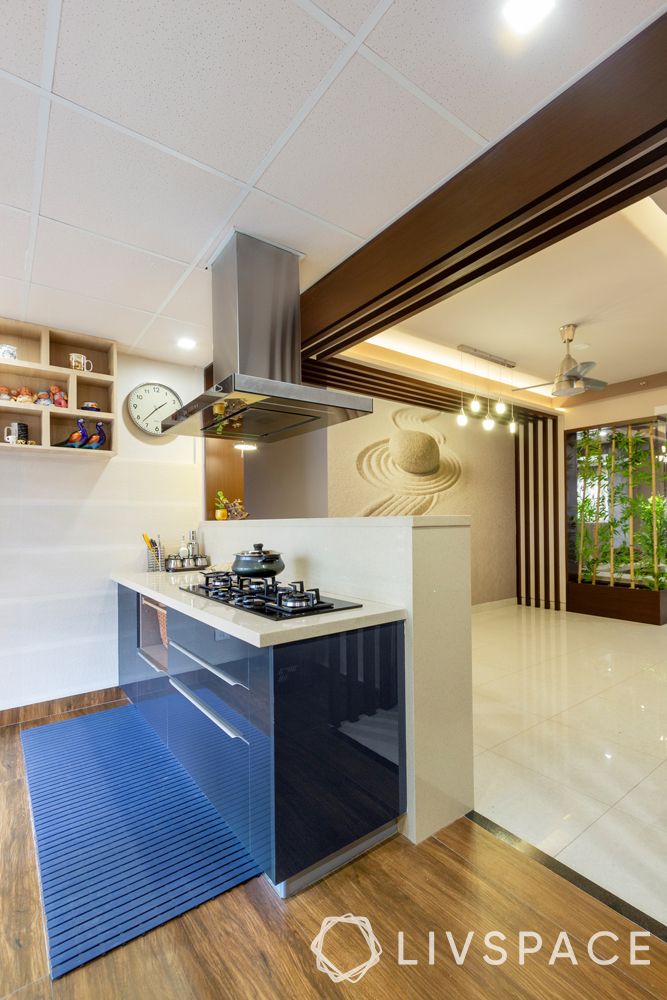 All it takes is a couple of ceiling rafters and a raised block of wall to have an open kitchen with hall design. This is, by far, our most European and minimal open kitchen design!
#21: An Open Kitchen That Can Be Closed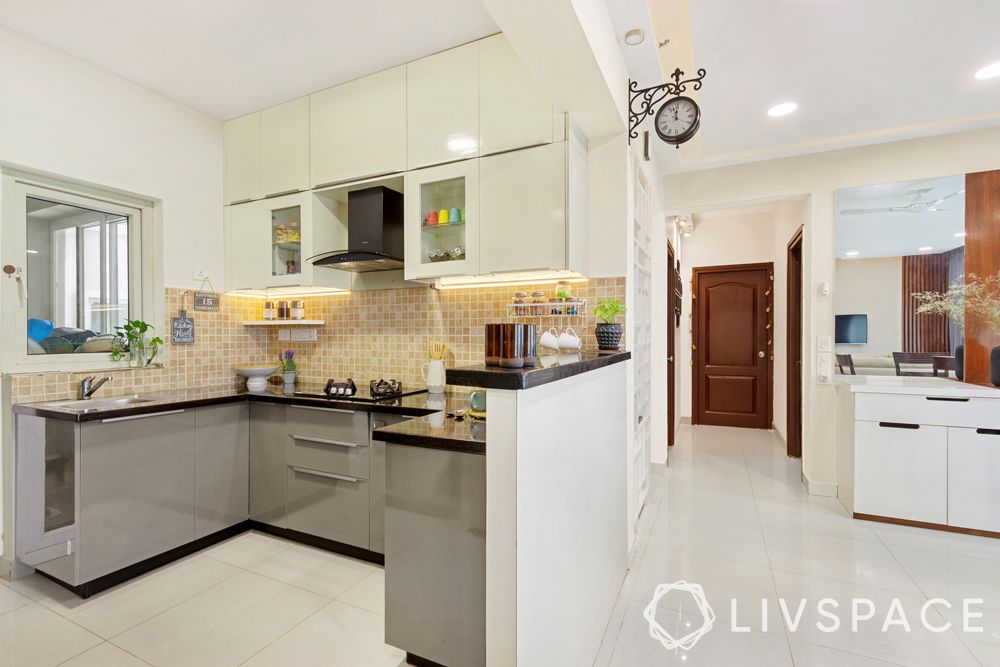 Most builders these days offer open kitchens as a default in most flats. But they must be cognizant of the fact that some homeowners might prefer closed kitchens. That is when they offer kitchens like these. It is open but can be easily converted into a closed unit. 
#22: A Kitchen With Extra Counter Space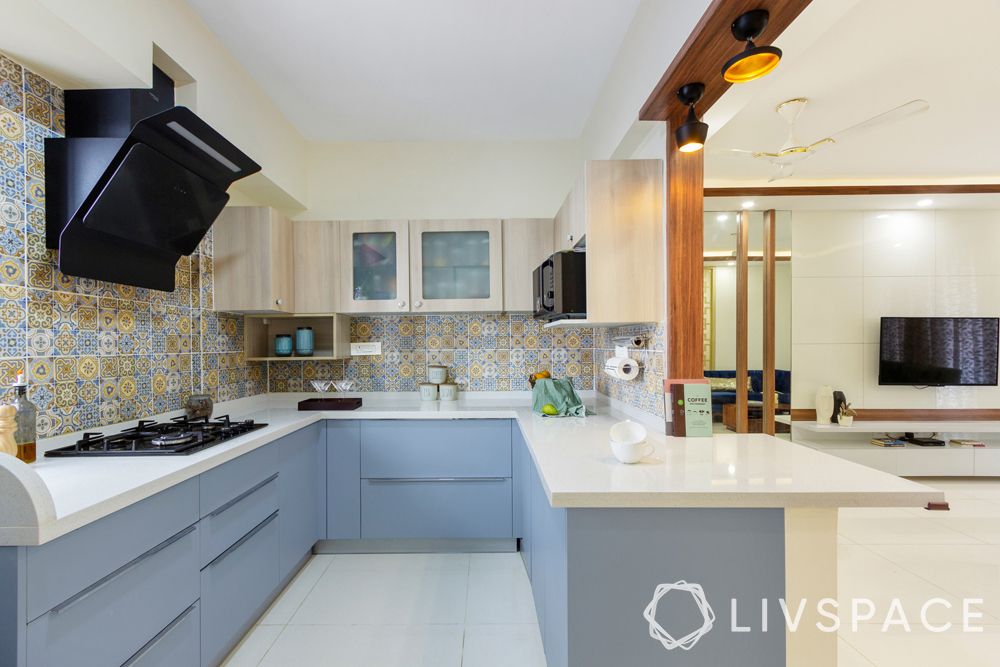 When you have an open kitchen design, you can actually extend the counter space beyond the cabinets, like a ledge. This space can easily be used to keep cooked food.
#23: A Dry Area Kitchen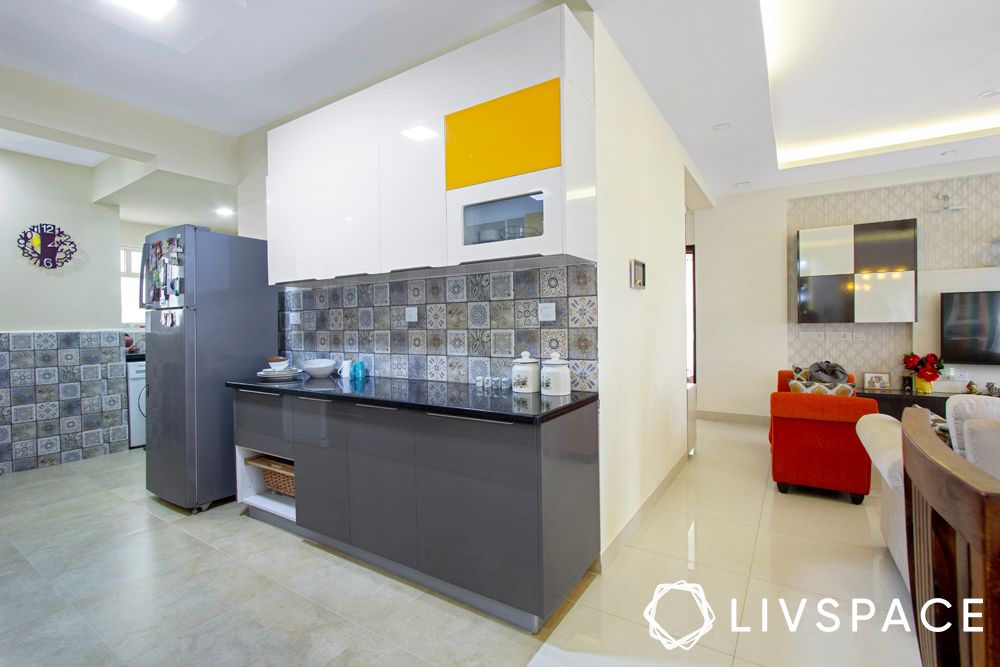 Dislike cooking but looking for open kitchen ideas? This is a good option for you. The part of this kitchen that adjoins the living area has no cooking place. It is a dry kitchen where you can only brew tea or assemble a sandwich.
#24: A Seamless Open Kitchen Design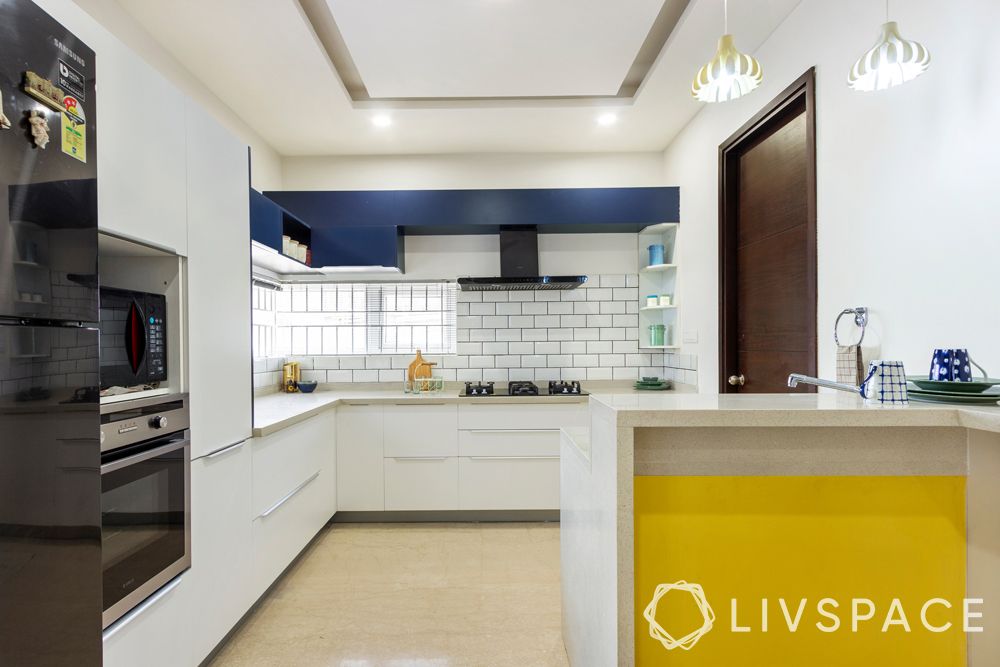 When you have an open kitchen, it makes sense to keep everything covered. This kitchen with top-to-bottom covered cabinets and in-built appliances is the perfect example of a seamless design. 
#25: An Open Kitchen With Pretty Flooring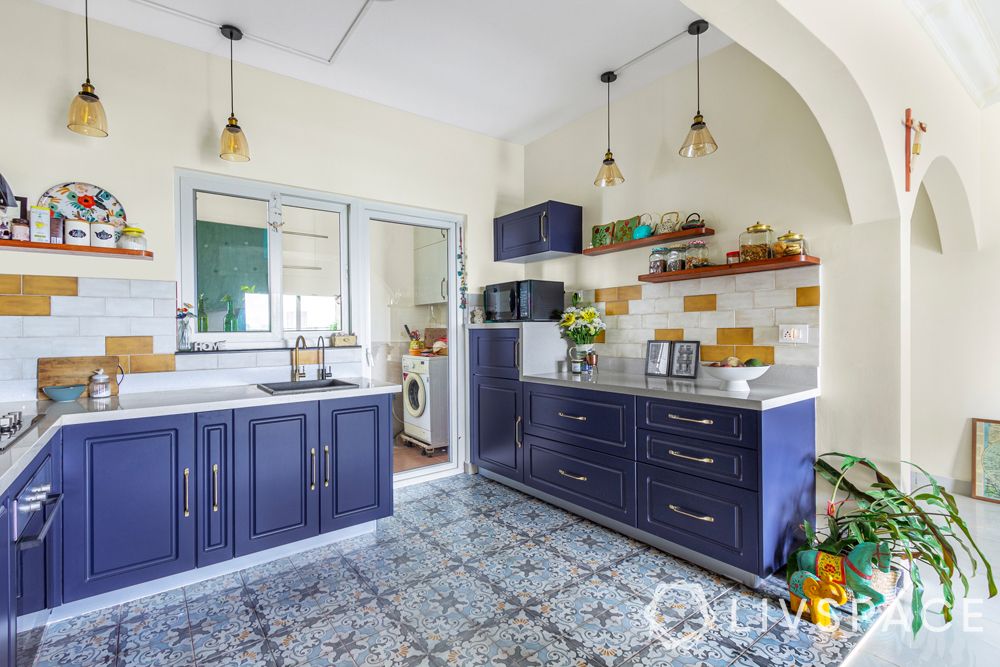 Statement flooring in an open kitchen serves two purposes. Firstly, it looks great. Secondly, it segregates the kitchen from the living room.  
If you have found your inspiration in these open kitchen designs, also learn the 5 most important things to know before opting for an open layout.
How Can Livspace Help You?
We hope you found our ideas useful! If you want beautiful interiors for your home, then look no further. Book an online consultation with Livspace today. 
Wondering how our customers feel about working with Livspace? You can check out the Livspace kitchen reviews here!
Send in your comments and suggestions at editor@livspace.com