If you have moved homes, you must have realised that some kitchens are easy and comfortable to use while others are not. This rarely has anything to do with how the kitchen looks. Good looks never really hurt anyone. But at the end of the day, the kitchen, at its core, is a purely functional space. So if it is not as easy to use as it should be, it means that your kitchen modular design is flawed.
It is also highly likely that one of the following kitchen design errors, which are grievous but all too common, is messing up your comfort. So let's look at the worst design mistakes for kitchens and also learn how to fix them.
Kitchen Modular Design Mistake #1: Not respecting the Work Triangle
The work triangle in a kitchen, or the golden triangle as it's often called, comprises the hob, the sink and the refrigerator. According to kitchen design experts, these three elements in a kitchen should form an equi-distant triangle. This basically makes a kitchen convenient to use. If this is not the case, you'll be walking around in circles, wasting time and energy.
You can get all the deets about the kitchen work triangle here.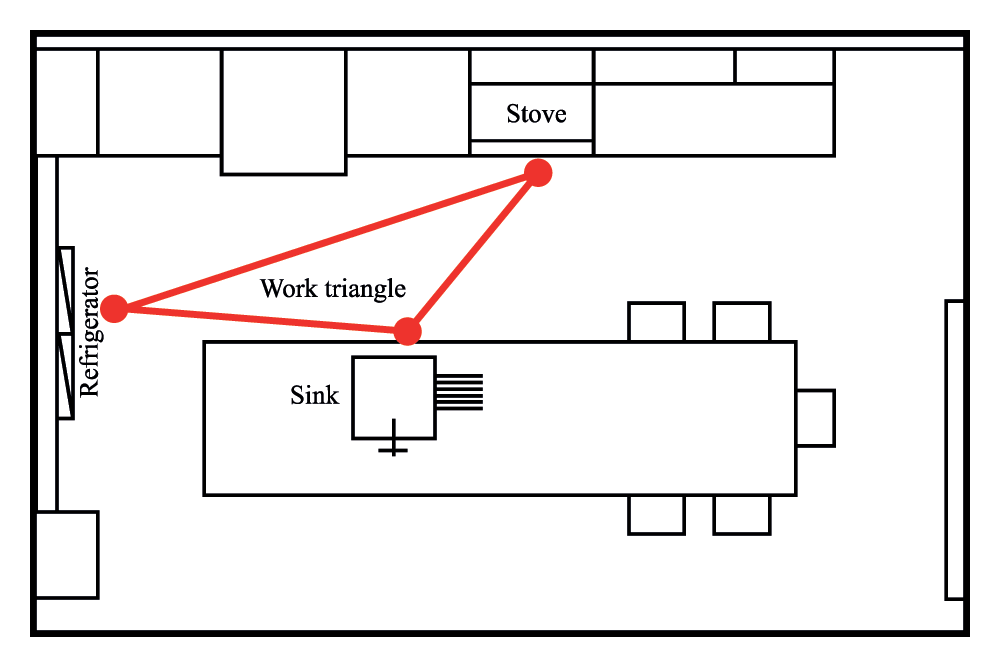 How to fix it?
You cannot possibly move your sink but it is possible to move the hob (unless it's inbuilt) and refrigerator. So we suggest you move things around a little to get the closest possible version of the golden triangle. And the next time you redo your kitchen, keep this thumb rule at the core of your design.
Kitchen Modular Design Mistake #2: Picking the wrong layout for your space
Typically, the kitchen layout is just handed to you by the builder; it's not something a homeowner plays an active part in picking. However, the layout plays a crucial role in determining how comfortably you can move around in your kitchen. It also has a bearing on how much storage space you get.
The design error, in this regard, could be having the wrong layout for the amount of space you have and also for your requirements. But it manifests itself in many different ways.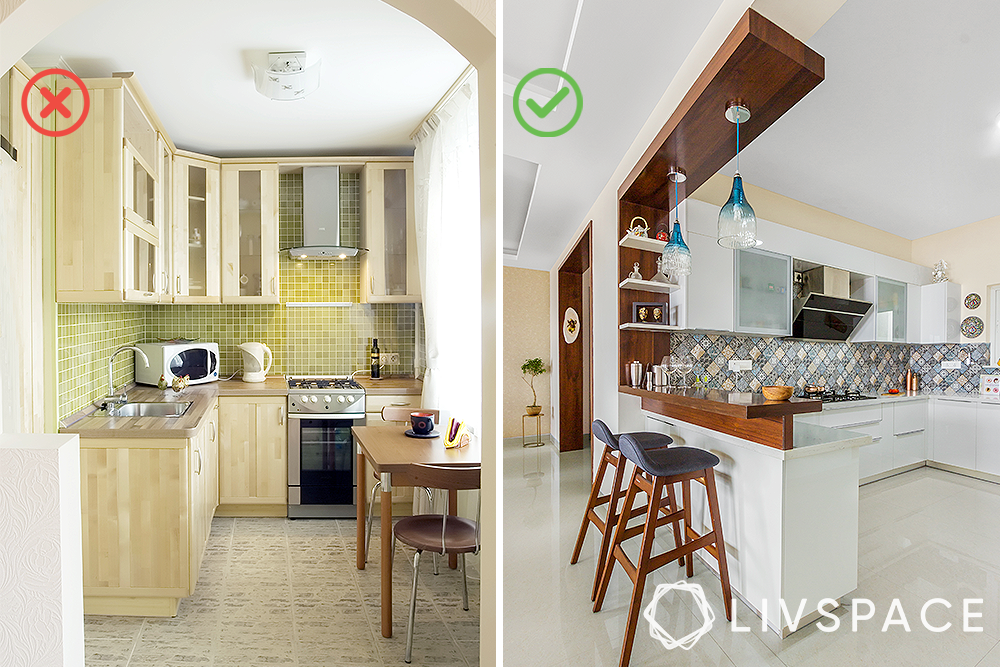 How to fix it?
The solution to this kitchen design problem will depend on exactly what you want from your space. For example, you can make a cramped kitchen look more spacious by knocking down one wall. In a straight kitchen, you can add more storage and counter space by choosing a parallel layout. The trade off is that you lose out on floor space. If you require more storage space, you can easily convert an L-shaped kitchen into a U-shaped one by just adding a slab.
Kitchen Modular Design Mistake #3: Blocking windows or thoroughfares
Any designer worth his/her salt will tell you that they never block a window or opening. Particularly for kitchens where you need good natural lighting, it makes no sense to block windows or thoroughfares that lead up to other spaces.
How to fix it?
So what do you do when you want to take in a utility space or balcony into your kitchen without blocking a window? All you have to do is opt for a wall-to-wall window or French windows to ensure neither natural light nor ventilation is obstructed. Trust us, it is worth giving that up for storage!
Kitchen Modular Design Mistake #4: Having just one kind of lighting
If you have ever used a kitchen that has just one tubelight or just recessed lighting, you would appreciate the enormity of this problem. For a multi-functional space like a kitchen, your approach to lighting also needs to be multi-pronged. Or else you will have a blinding light where it's not necessary and shadows where you need light.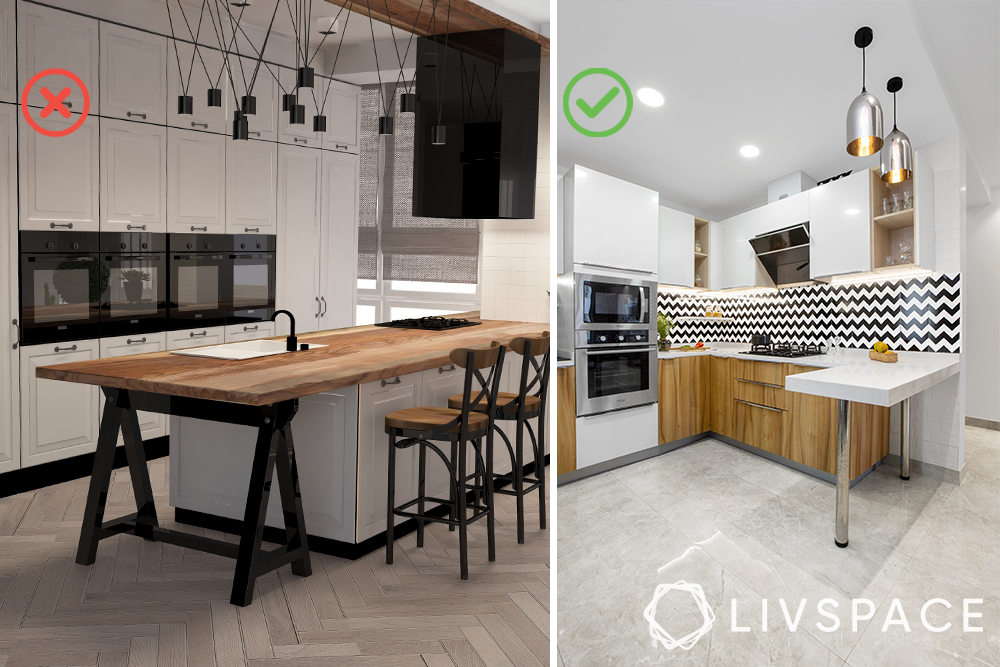 How to fix it?
To begin with, you need ambient lighting for the entire kitchen. You need to supplement this with task lighting under the cabinets to light up the countertop when you're prepping. The chimney usually has a light that can brighten up your cooking area. Over and above this, you might want to have a statement light if it's an open kitchen or if you have a breakfast counter.
Kitchen Modular Design Mistake #5: Having dead spaces in the corners
No matter how far you reach out, there are come corners in kitchen cabinets that are not fully accessible. These corners are essentially dead spaces that aren't serving any purpose unless you convert them into usable space.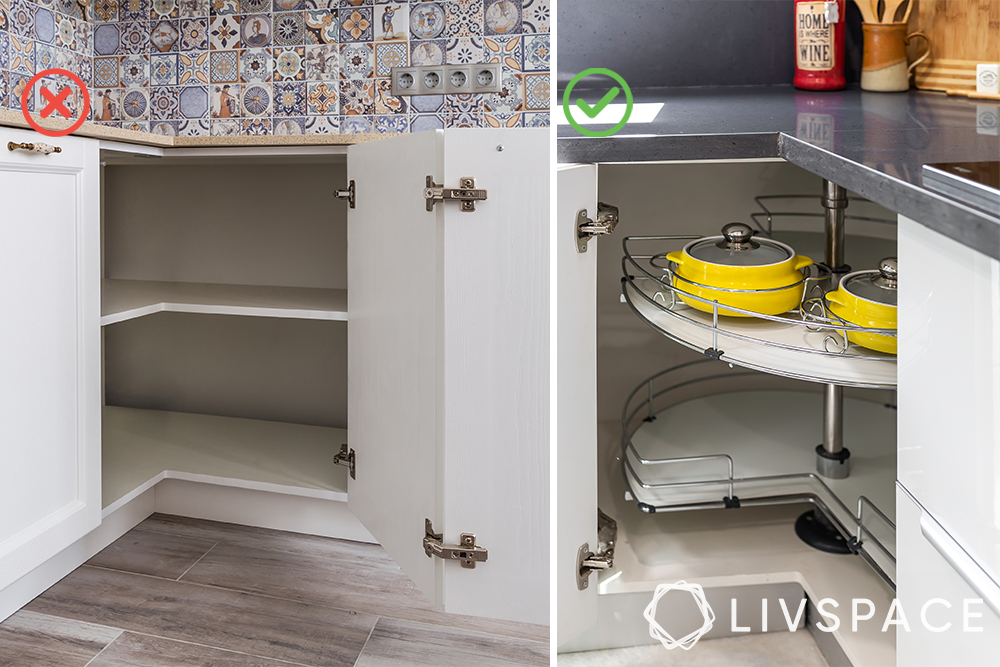 How to fix it?
This problem has a rather simple solution. All you have to do is get a carousel unit, which is an easily available accessory. This revolving kitchen accessory allows you to access storage space that was otherwise unusable.
Kitchen Modular Design Mistake #6: Not having a pantry
You may think that you do not need a pantry because you don't really stock up on groceries that much. But the year of 2020 taught us otherwise! Even the most frugal shoppers stocked up on groceries during the initial lockdowns. Moreover, having just one unit for the groceries ensures that you do not need to look for anything in the other cabinets; you have everything in one place.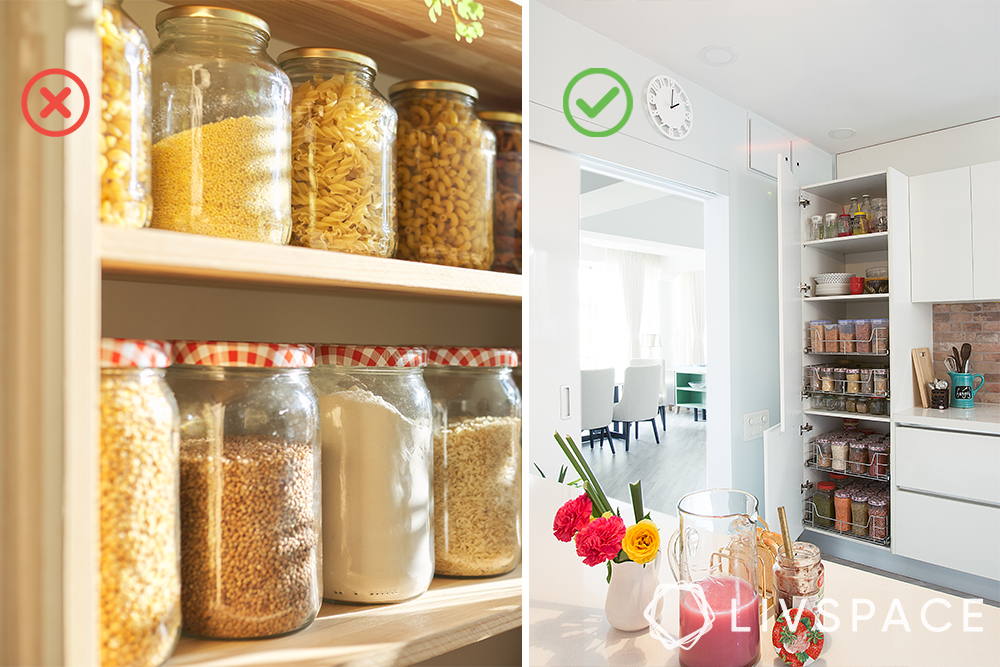 How to fix it?
Most designers suggest that every kitchen should have a tall unit that is fitted with a pantry pull-out accessory. This comes at a cost but always pays off in the end.
Want to know why all designers recommend tall units, click here.
Kitchen Modular Design Mistake #7: Cutting corners while buying a chimney
No matter how many windows you have in your kitchen, they are no replacement for a chimney. You must understand that modular kitchens were not devised to withstand the sizzle of our tadkas.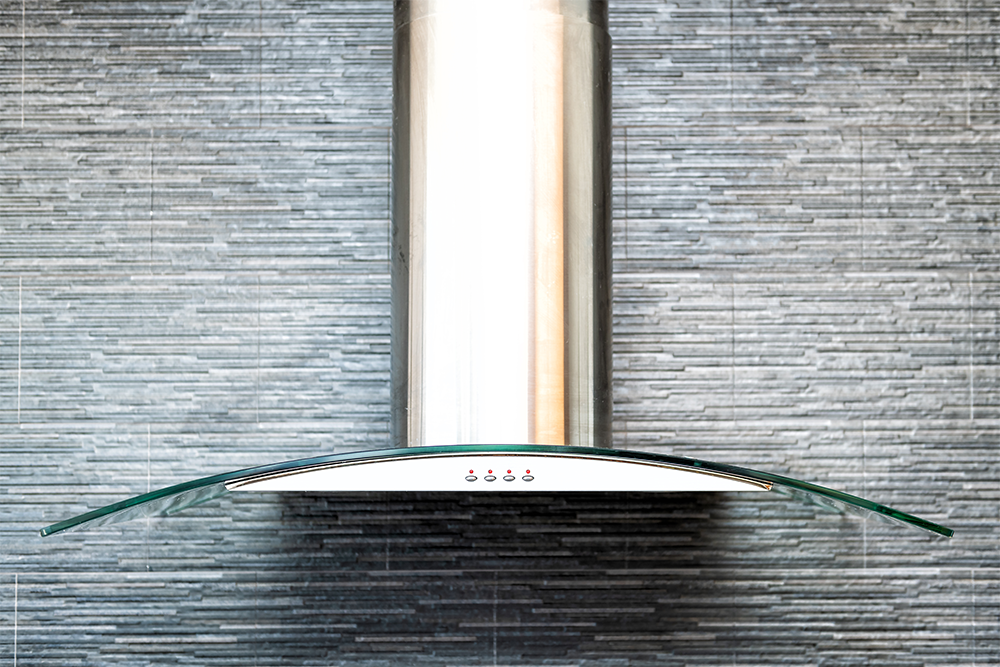 How to fix it?
Easy enough, buy a good chimney. If your kitchen has no windows, buy an even better one. And if it's an open kitchen, get the best one that money can buy!
Find out how to buy the best chimney for your kitchen here.
Kitchen Modular Design Mistake #8: Not designing for your height
Are you perpetually standing on your tiptoes to get stuff out of the upper cabinets? It can start to get uncomfortable beyond a point especially because it's completely unnecessary.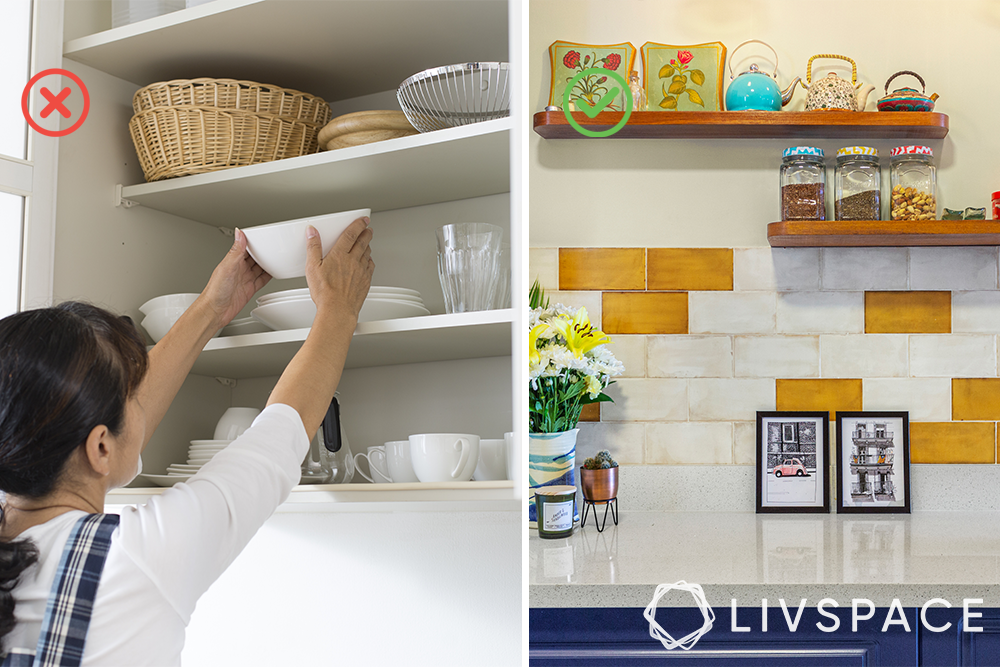 How to fix it?
At a design level, you can fix this problem by designing wall cabinets that are easily reachable. If you're shorter than average, you have the option to skip wall cabinets altogether and only have open shelves. A stop-gap arrangement would be to get a two-step ladder and use it when you need to access the upper cabinets.
Kitchen Modular Design Mistake #9: Insisting on a kitchen island irrespective of the size of the kitchen
It's true that kitchen islands are useful but they are also space-consuming. So the decision to have a kitchen island cannot be based on whims and fancies. It must involve some genuine space planning. For instance, if you have a parallel or straight kitchen, island designs must be ruled out. Moreover, island kitchens only work in open layouts. If you have a closed kitchen, don't insist on having a kitchen island unless it's a very large space.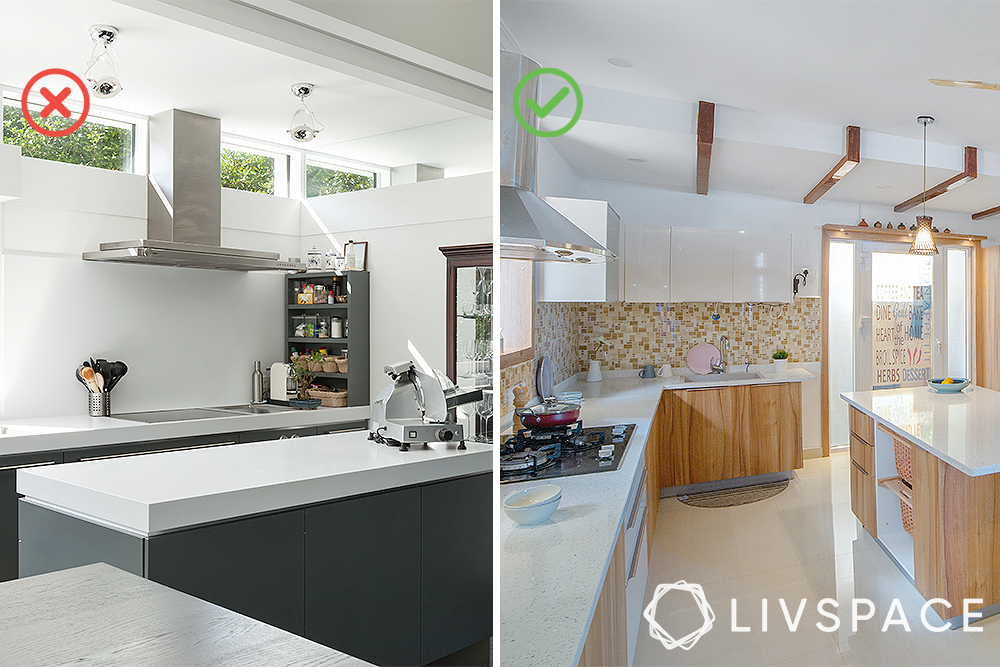 How to fix it?
Technically, you cannot fix this problem without demolishing once you have installed a kitchen island. So think before you get one installed. Kitchen islands are strictly for very roomy kitchens.It fits best into L-shaped or U-shaped kitchens that have an open layout. In smaller kitchens, you might opt for a kitchen island if it is optimised to be sleek and compact.
There are other ways to increase counter and storage space in your kitchen. You can read about them here.
Kitchen Modular Design Mistake #10: Underestimating your storage needs
It is okay to overestimate your storage needs because, hey, extra storage never hurt anyone! But having less storage space is a major problem. It is also a multi-faceted problem because you end up keeping extra things on your counter space, crowding it up even more.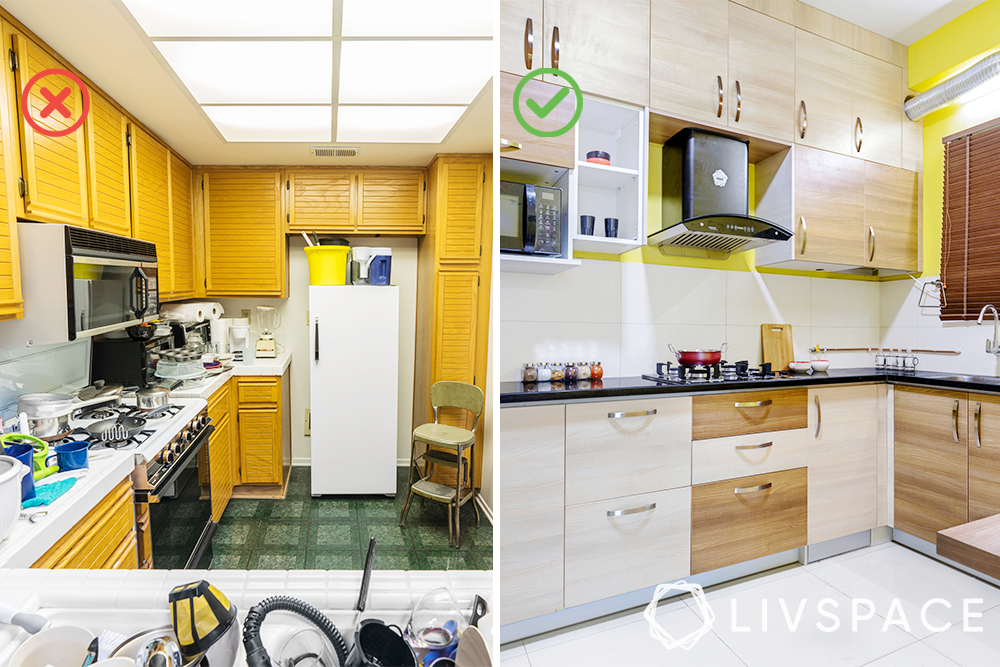 How to fix it?
An affordable solution to this problem is to get wall-mounted racks or glass shelves that can be installed easily. You can also buy off-the-counter movable cabinets or racks for storage.
If you found this piece useful, don't miss the 10 design mistakes that are silently ruining your bedroom.
Check out kitchen designs:
Send in your comments and suggestions.