Modular kitchens have become somewhat of a necessity these days. Any homeowner moving into a new home typically opts for a modular kitchen and wardrobes, at the very least. However, homeowners have often found themselves questioning whether a modular kitchen is the only choice for them. Yes, we can see that question taking shape in your head, too – is there an alternative? In fact, for those who might not know, a semi-modular kitchen is a wonderful option you can explore!
What Is a Semi-Modular Kitchen?
A semi-modular kitchen is a kitchen that is installed without making any structural changes in the room. This means that the tiles, sink and countertop given by the builder in your flat, remain as is. Custom modules get added without changing or removing these pre-existing fixtures and plumbing layouts.
What Didn't You Know About a Semi-Modular Kitchen?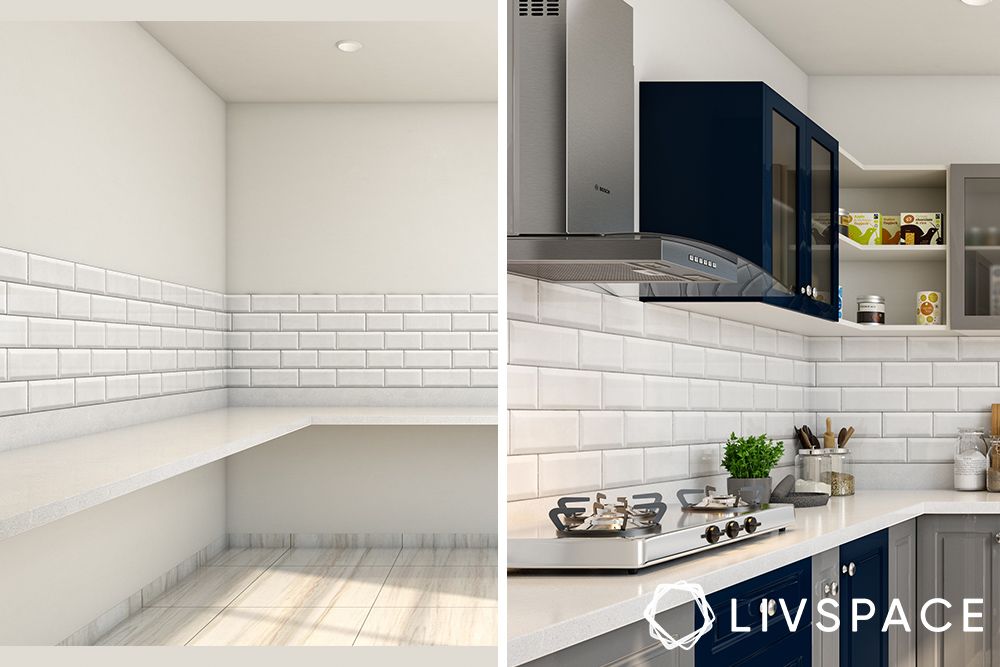 This type of kitchen is also called a civil kitchen because it is installed without making any civil changes to the kitchen. A fully modular kitchen, on the other hand, might require some civil changes, however. But a low-cost semi-modular kitchen design can be installed without tampering with the existing kitchen, thereby making judicious use of your resources.
What's the Difference Between a Semi-Modular Kitchen and a Modular Kitchen?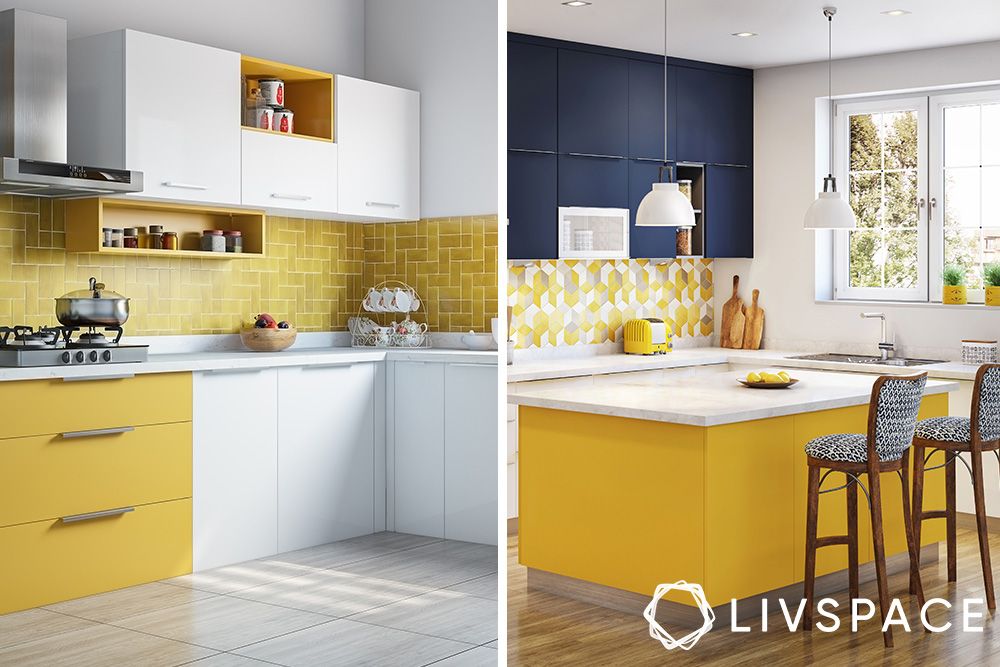 SEMI-MODULAR
MODULAR
SITE CONDITION
Can be installed with/without civil changes
Can only be installed with civil changes
CUSTOMISATION
Can be customised
Can also be customised
TIME
Usually takes longer than
45 days to be ready
Can be delivered in 45 days
A Semi-Modular Kitchen Structure
Contractors usually measure and build the semi-modular kitchen units directly on the site. And sometimes, if the cabinets require standard-sized shutters, they use factory-made ones to quicken the process. However, that leaves room for errors. That's why we at Livspace ensure all our modular products are automated and precision-engineered to deliver nothing but the best to you!
Modular kitchen units, that basically come in the form of full boxes (to be assembled on site), are attached next to each other to build the whole set-up. Semi-modular units, on the other hand, share their side walls and thus, use less material. And if your kitchen walls have tiles even under the kitchen countertop, then the contractor might also suggest you to not build a wooden back for your cabinets. Hence, the total semi-modular kitchen price can often be less than that of modular ones.
Also Read: 5 Kitchen Transformations That are Inspiring Us
When Do You Need a Semi-Modular Kitchen Design?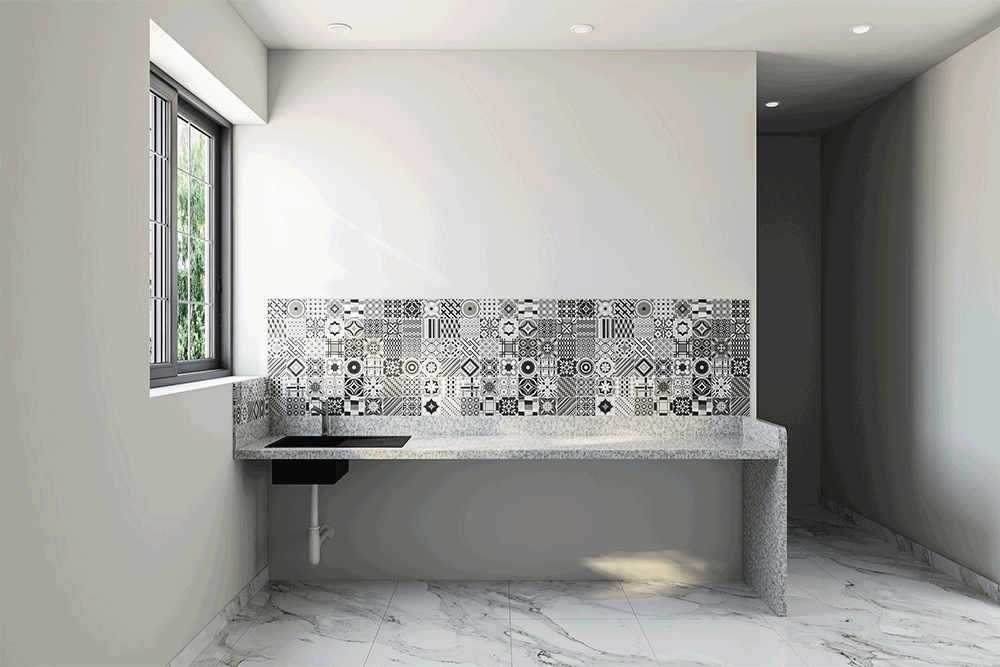 Now, we all know that modular kitchens are very useful and efficient. No wonder they are so popular. But whether you should opt for a low-cost semi-modular kitchen design or a modular one depends on many factors.
Here are some of the reasons why a semi-modular kitchen design might be the right choice for you:
Your builder has already given you a countertop and a sink, or you want to retain the existing counter/sink/tiles in your kitchen. In short, you don't want to make civil changes.
You have a kitchen that is irregular in shape, so you'd prefer opting for a semi-modular kitchen design.
You want to ensure complete space utilisation and customisation. With a semi-modular kitchen design, you can customise the dimensions of the cabinets as per your specifications.
Additionally, you might want to opt for semi-modular kitchens, if you have pillars or columns in the lower half of your kitchen that you don't want to tamper with.
Semi-Modular Kitchen Finish and Quality
Since contractors build semi-modular kitchen units on the site, the finish and quality are not as impressive as the factory-made modules. Skilled labourers often manually paste and trim the laminates and edge bands, which show in the final finish of the modular products.
But when they build these semi-modular kitchens with extreme care and time, they can even end up looking like fully modular ones.
In fact, you can also opt for a semi-modular kitchen design with precision-engineered factory-made modules of Livspace. That's how we ensure that we're the best in line.
Repairing a Semi-Modular Kitchen
To repair a semi-modular kitchen design, you'll need to set some time apart for your vendor to fix it on site. Or, you could opt for Livspace's modular products that have superior technology to ensure nothing comes in the way of you and quality.
The DuraBuild technology ensures you get sturdy modules whereas the AntiBubble technology keeps air bubbles out and the Aquabloc prevents moisture from messing with your modular products.
Semi-Modular Kitchen Price
Let's face it: we Indians are a price-sensitive lot. So, when you tell us that something is great, it has all the positives, and you should totally go for it, our immediate response is that it must be expensive. But, for once, you will be surprised. Semi-modular kitchen prices are usually 10 to 15% lower than that of modular kitchens.
Let's hear what our in-house expert has to say about the semi-modular kitchen costs.
Customising a Semi-Modular Kitchen
Again, since vendors usually measure, cut and build these units in your home itself, you can customise semi-modular units to a great extent. You can control height, width and depth of the units easily to fabricate a more personalised design.
Delivery and Installation Time
Timelines for semi-modular kitchens are not always reliable (especially when you're dealing with carpenter-made modules). A lot of decisions take place in this highly customisable undertaking. And more often than not, the installation time is longer than 45 days. However, we at Livspace are known for building semi-modular kitchens within 45 days or less.
Semi-Modular Kitchen Design Ideas in India
Technical details apart, civil kitchens are just as good-looking as their modular counterparts. In fact, the only way you can tell the difference is when you open the cabinets. So, if you are in need of some inspiration, make sure you explore some of our ideas:
#1: A Two-Toned Cabinetry for Kitchen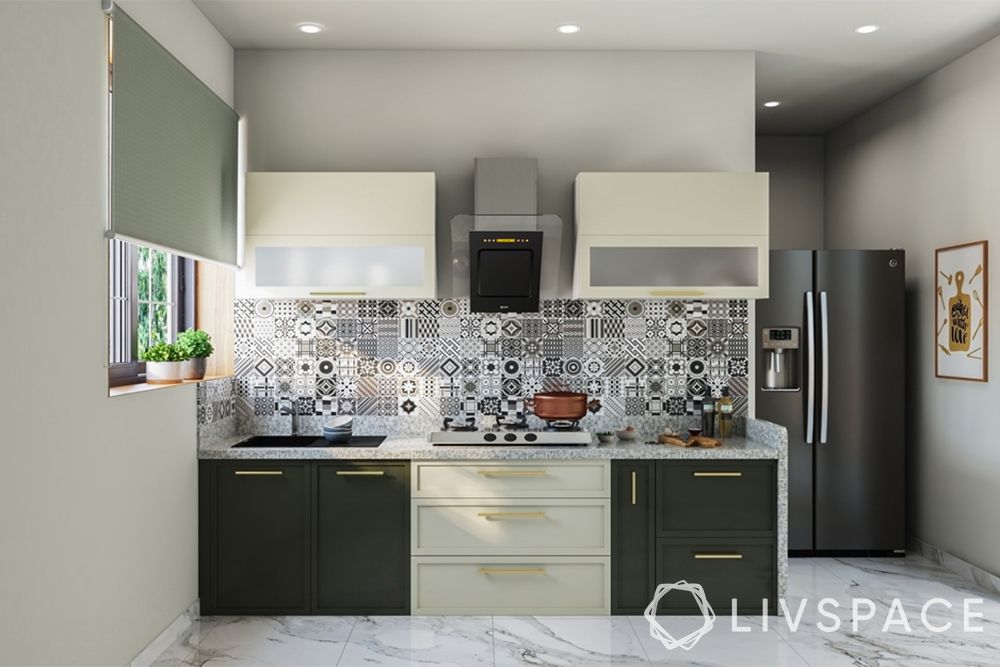 A mix of neutrals and white is perfect for a compact kitchen like this one. Moreover, the darker neutrals pop against the lighter ones.
#2: Corner Units for an L-Shaped Kitchen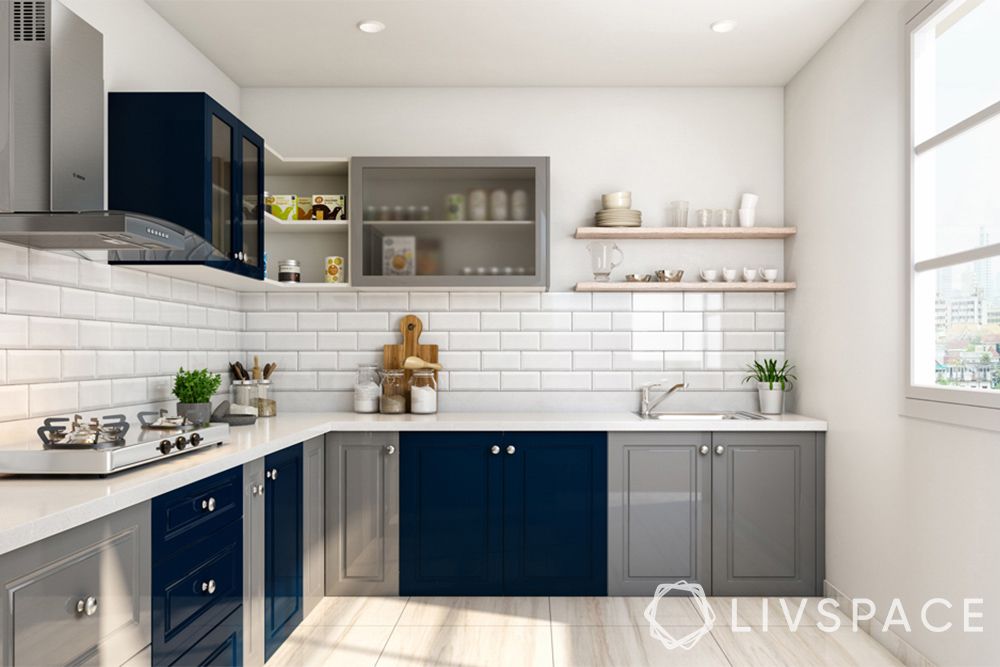 Accessing all the space in the corners of an L-shaped kitchen is difficult. Hence, go for open shelves or, opt for carousel corner units that make reaching for far away items easier.
#3: Open and Closed Storage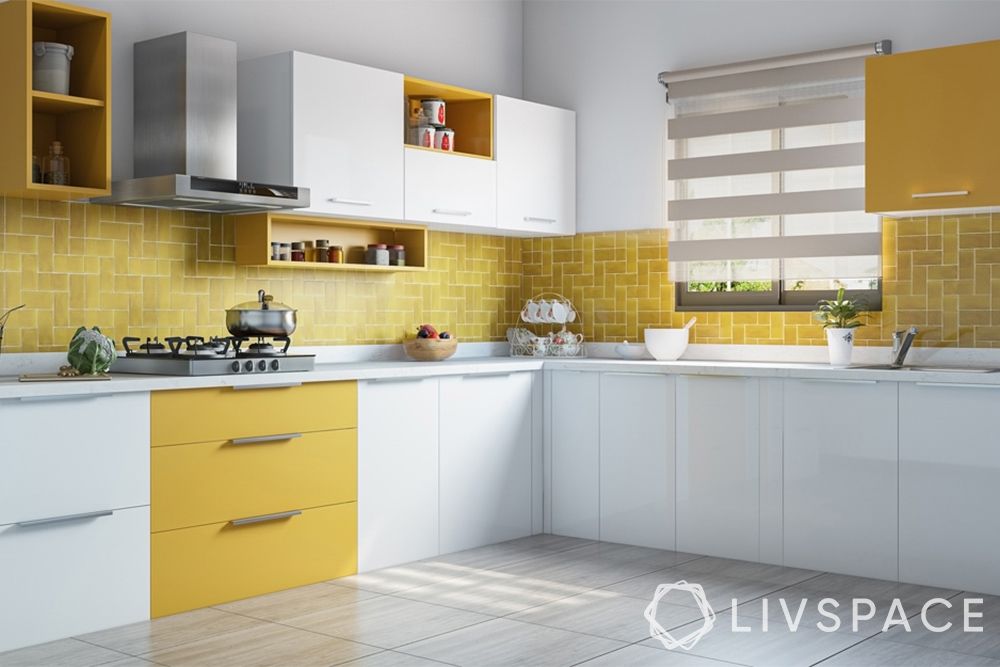 Even when you opt for our semi-modular options, you can still have both open and closed storage options. They are not only easy to access, they are also cost-saving.
#4: A Pop of Colour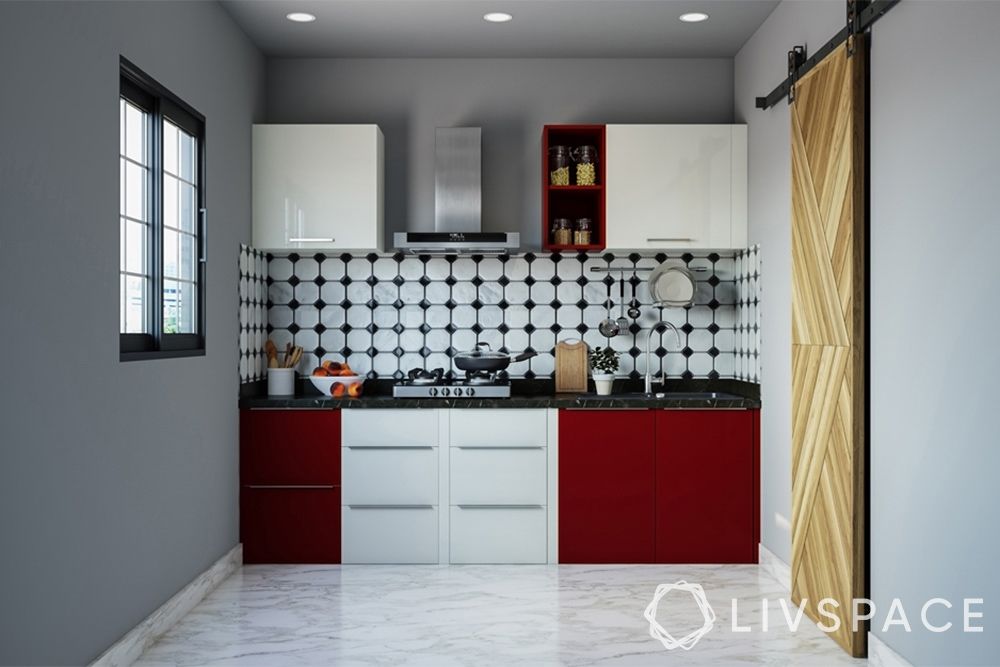 Everybody loves a red kitchen, be it modular or semi-modular! You can also choose other colours like yellow that lift the mood in your kitchen and are vastu-friendly at the same time!
#5: Wooden Finishes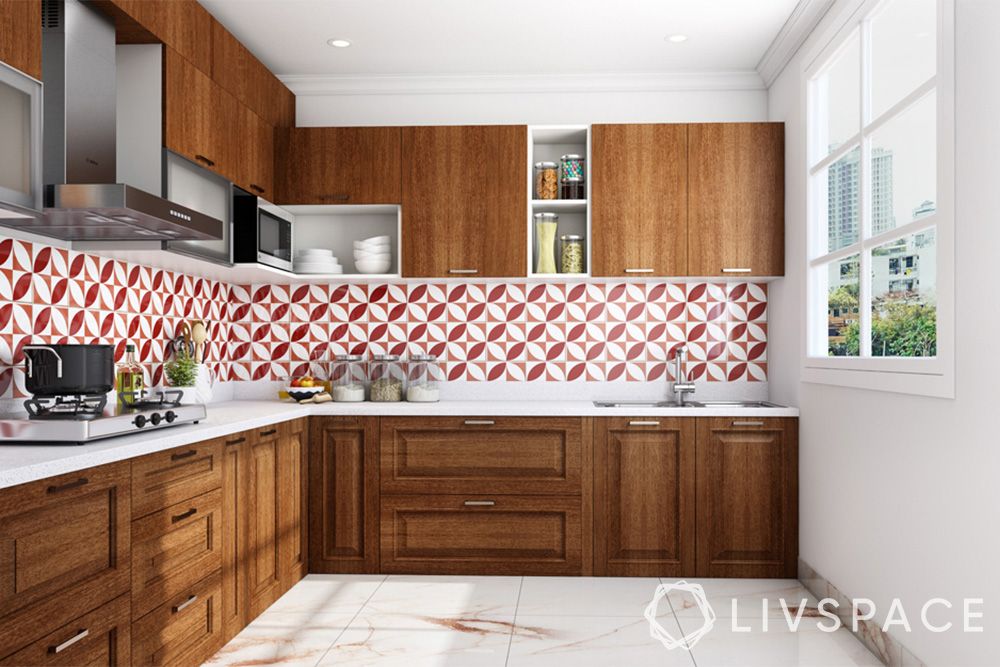 There is nothing quite as elegant as wooden tones when it comes to kitchens. And this wooden kitchen totally proves it. Additionally, wood is a vastu-compliant, warmth-adding material that you cannot miss out on.
Also Read: 12 Kitchen Design Styles That are Best Suited to Indian Homes
So, the next time you're planning to renovate your kitchen, remember there are more than modular kitchens available in the market. And if you found this article useful, also explore: A Comprehensive and Easy Guide to Modular Kitchen Designs and Price.
How Can Livspace Help You?
If you want your home to be just as beautiful, then look no further. Book an online consultation with Livspace today.
We love hearing from you! Write to us with your comments and suggestions at editor@livspace.com