Modular kitchens have become somewhat of a necessity these days. Any homeowner moving into a new home typically opts for a modular kitchen and wardrobes at the very least. Most people do not stop to question whether a modular kitchen is the right choice for them. Yes, we can see that question taking shape in your head, too — is there an alternative? In fact, for those who might not know, a semi-modular kitchen is a wonderful option. And what's more, they are now available with Livspace.
Not sure what a semi-modular kitchen is? Let's break it down for you!
What didn't you know about a semi-modular kitchen?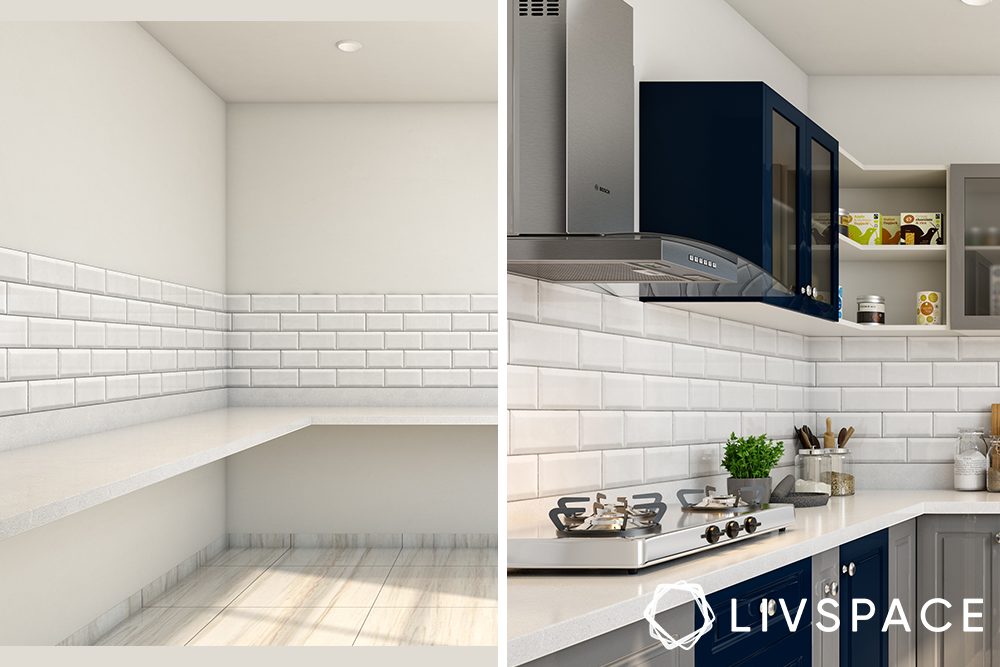 This type of kitchen is also called a civil kitchen because it is installed without making any civil changes to the kitchen. For instance, if your builder has already installed a sink and a countertop, you cannot install a fully modular kitchen without demolishing these. But a semi-modular kitchen can be installed without tampering with the existing kitchen, thereby making judicious use of your resources.
What's the difference between a semi-modular kitchen and a modular kitchen?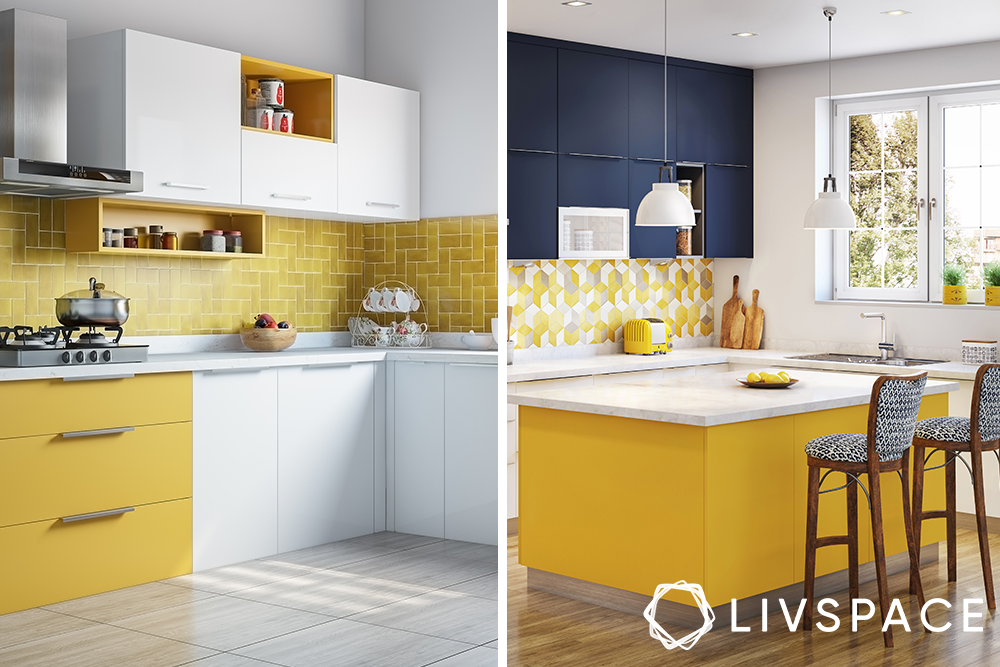 | | |
| --- | --- |
| | MODULAR |
| SITE CONDITION | Can only be installed in a completely empty kitchen |
| MAKE | Modules are factory-made and assembled on-site. |
| CUSTOMISATION | Pre-set dimensions. Minimum customisation is possible. |
| MATERIALS | Made with plywood and a set of finishes. |
| TIME | Can be delivered in 45 days. |
| REPAIR | Has to be disassembled per module and fixed in the factory. |
| | |
| --- | --- |
| | SEMI-MODULAR |
| SITE CONDITION | Can be installed even if you want to retain the counter, sink or other features. |
| MAKE | Made primarily on-site. Some parts like cabinet doors are made in factories. |
| CUSTOMISATION | Kitchen can be customised to fit different and often irregular dimensions. |
| MATERIALS | Can incorporate strong materials like aluminium that have a higher resistance to corrosion. |
| TIME | Can be delivered in 45 days. |
| REPAIR | Has to be fixed on-site. |
When do you need a semi-modular kitchen?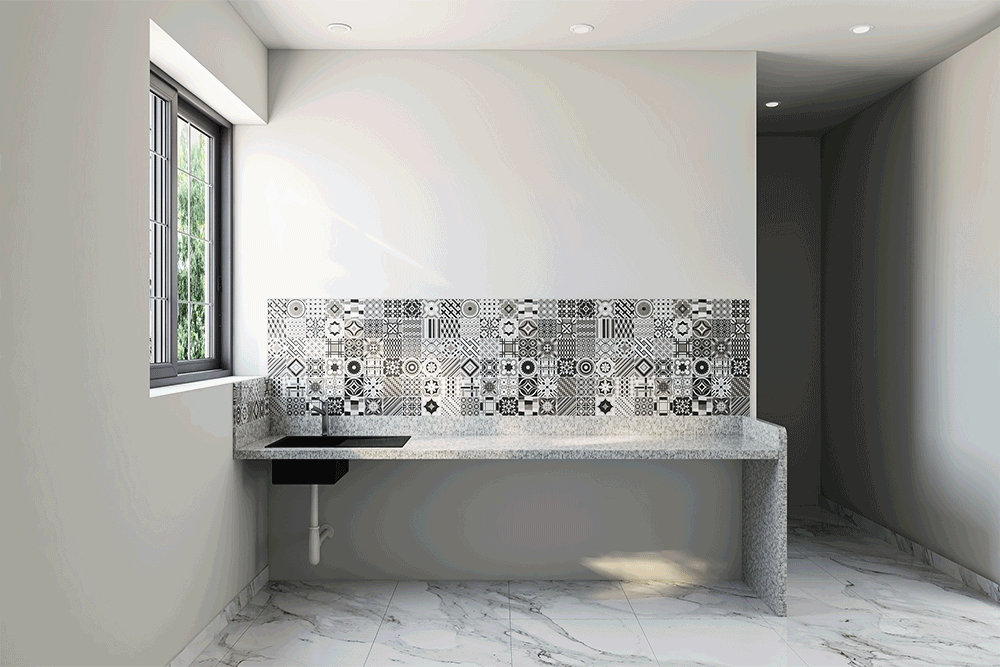 Now, we all know that modular kitchens are very useful and efficient. No wonder they are so popular. But whether you should opt for a semi-modular or modular kitchen depends on many different factors.
Here are some of the reasons why a semi-modular kitchen might be the right choice for you:
Your builder has already given you a countertop and a sink, or you want to retain the existing counter/sink/tiles in your kitchen. In short, you don't want to make civil changes.
You have a kitchen that is irregular in shape so modular cabinets will be difficult to fit in.
You don't want a plywood kitchen. Instead, you want something more durable like aluminium.
You want to ensure complete space utilisation. As modular kitchens come in pre-set dimensions, this may not be possible. But with semi-modular kitchens, you can customise the dimensions of the cabinets as per your specifications.
Additionally, if you have pillars or columns in the lower half of your kitchen that you don't want to tamper with.
Cost of semi-modular kitchens
Let's face it, we Indians as are a price-sensitive lot. So when you tell us that something is great, it has all the positives and you should totally go for it, our immediate response is that it must be expensive. But, for once, you will be surprised. Semi-modular kitchens are quite cost-effective and definitely not more expensive than modular kitchens.
Let's hear what our in-house expert has to say about the cost of a semi-modular kitchen.
Semi-modular kitchen designs in India
Technical details apart, civil kitchens are just as good-looking as their modular counterparts. In fact, the only way you can tell the difference is when you open the cabinets. So, if you are in need of some inspiration, make sure you explore some of our designs.
#1: Two-toned kitchen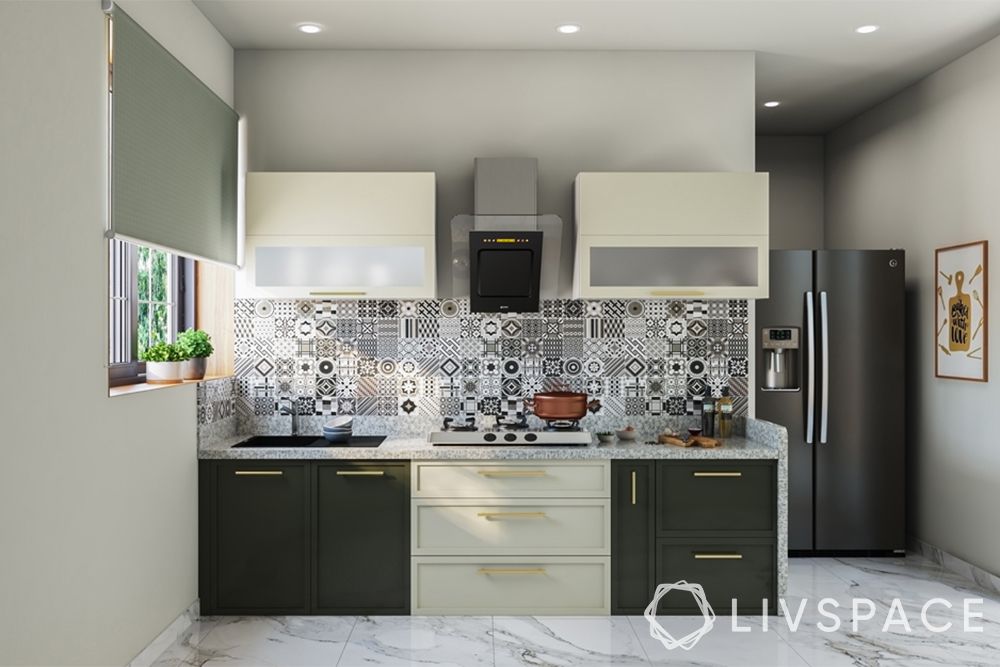 A mix of neutrals and white is perfect for a compact kitchen like this one. Moreover, the darker neutrals pop against the lighter ones.
#2: L-shaped kitchen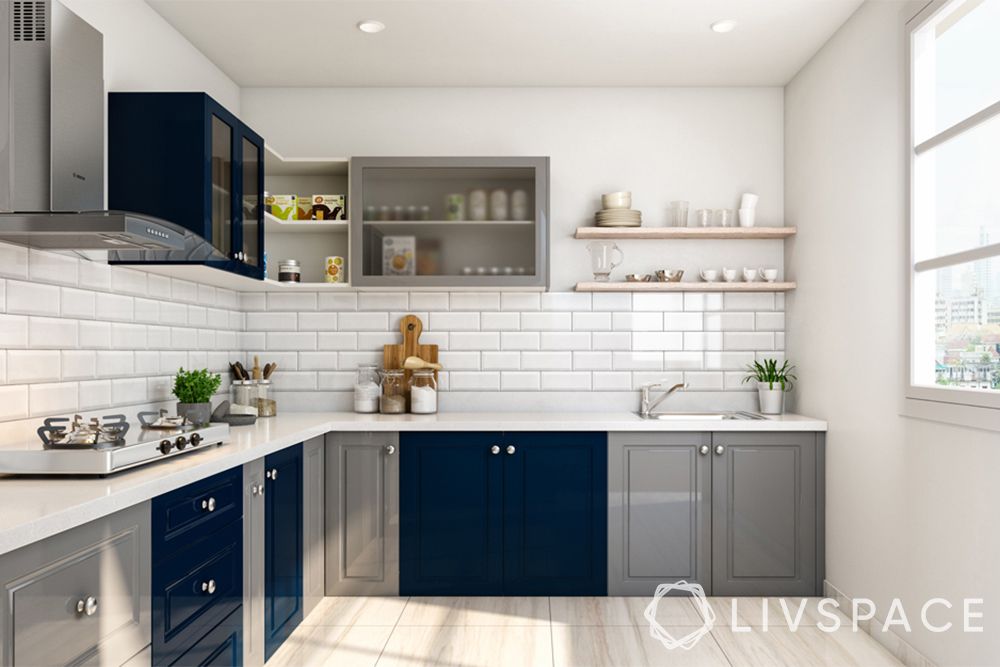 We follow the thumb rule that we must never block a window. In fact, this L-shaped kitchen is proof. 
#3: Open and closed storage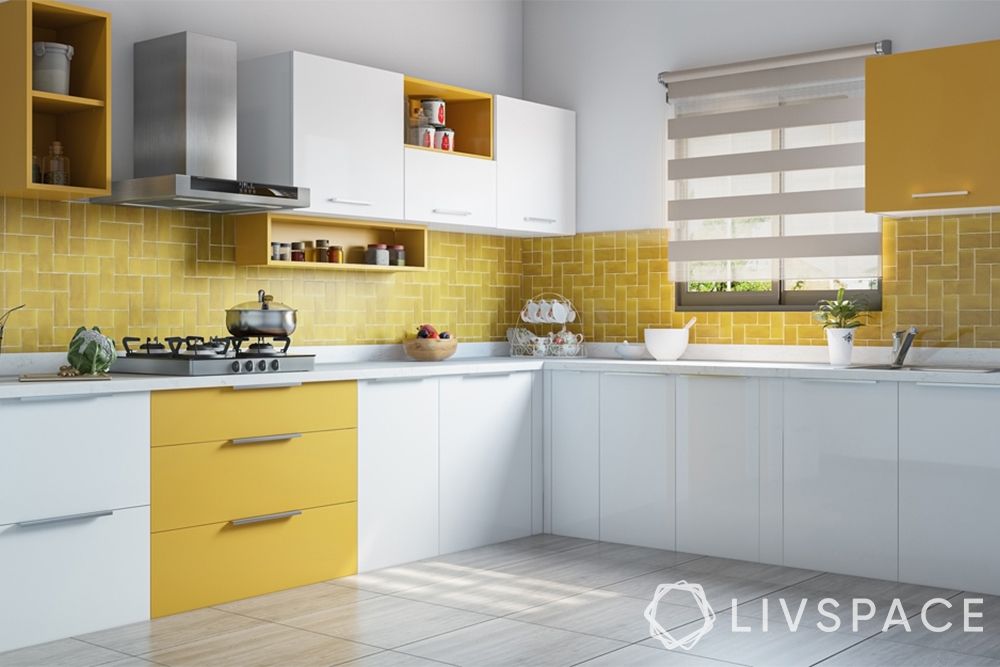 Even when you opt for our semi-modular options, you can still have both open and closed storage options.
#4: A pop of red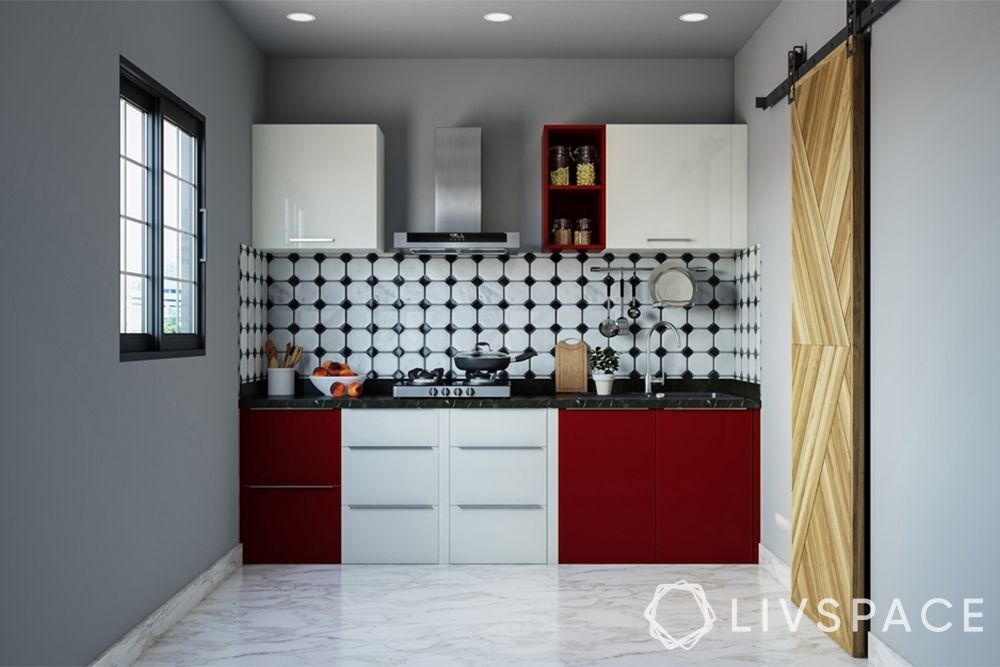 Everybody loves a red kitchen, be it modular or semi-modular!
#5: Wooden finish for the kitchen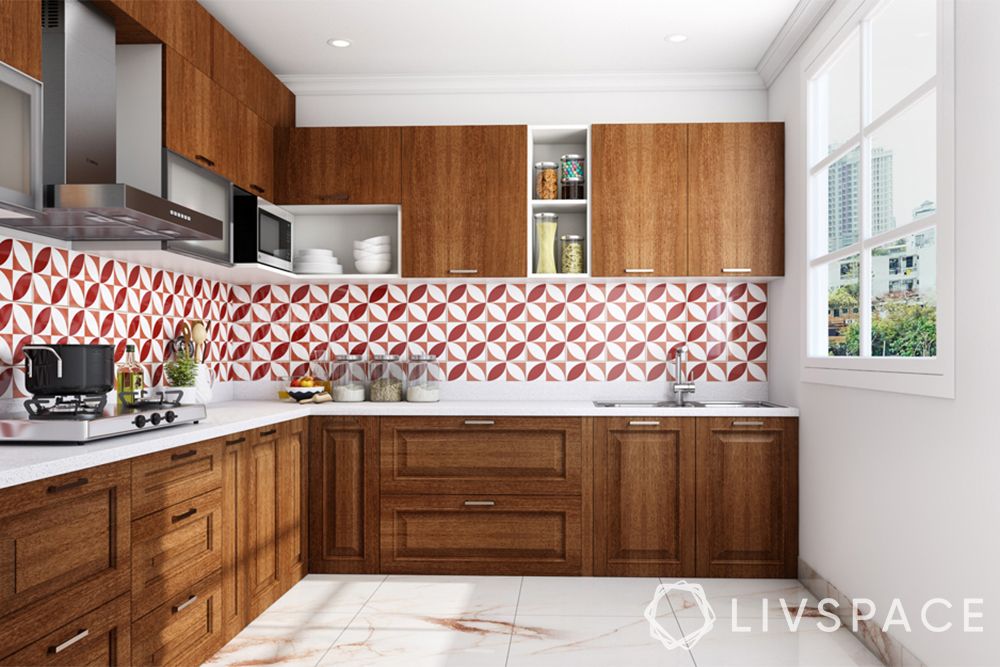 There is nothing quite as elegant as wooden tones when it comes to kitchens.
If you found this article useful, also explore what is a modular kitchen and how much does it cost.
Send in your comments and suggestions.