When you think of interior design for kitchen, there are certain aspects that immediately come to your mind. The layout of the kitchen — if it should be an open or a closed kitchen. You would also consider the shape of the kitchen — whether it is an L-shaped kitchen, a U-shaped one or a parallel kitchen matters. You might also consider whether to opt for modular kitchen ideas India, or consider semi-modular cabinetry for the space. 
Did you, however, ever consider picking a style for your kitchen? Yes, there are different types of kitchen design styles, just as there are for  the rest of your home. And you are invariably using one of the styles without knowing about it. So, make an informed choice with regards to the interior design for kitchen.
Best Interior Design Styles for Indian Kitchens
Let's take you through the most popular interior design for kitchen styles in India so that you can choose wisely:
Traditional
Modern
Transitional
Country style
Industrial
Shabby chic
Bohemian style
Contemporary
Scandinavian 
Mid-century modern
Colonial 
Eclectic
#1: Traditional Interior Design for Kitchen
Let us firstly understand that modular kitchens are just about two decades old in India. So the concept of 'traditional' in India will vary from the Western style. In our context, a traditional interior in kitchen would look something like this; in fact, it is a legacy model of the very first modular kitchens and perhaps the framework for modular kitchen ideas India. Cabinets will have grooves and handles, there will be lofts, wall cabinets and base cabinets. Appliances are not part of the cabinets and there is just one source of lighting The backsplash will be neutral and you will see typical Indian elements in the tiling. 
#2: Modern Interior Design for Kitchen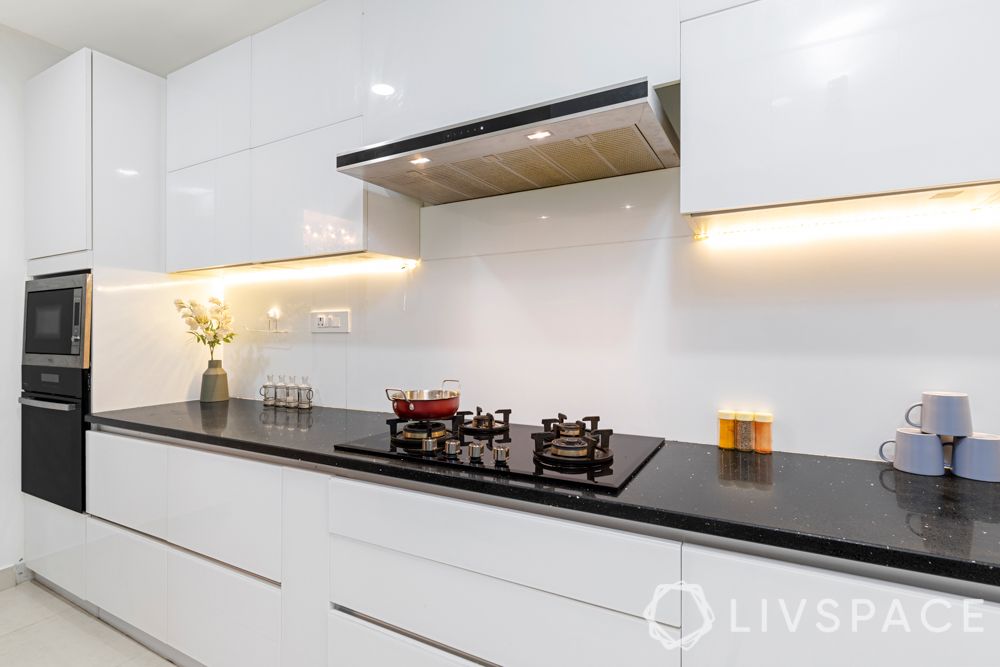 The modern home kitchen design in India is more seamless and smooth. You see more in-built appliances, the cabinets have profile handles or are push-to-touch. You see lighting divided into ambient and task lights, typically under cabinet lighting, while the materials used for cabinet finishes (including acrylic, high-gloss laminate or back-painted glass) accentuate the seamless look. Even the backsplash can be lacquered glass or stone (same as the counter) in a modern interior design for kitchen for a uniform look.
#3: Transitional Interior Design for Kitchen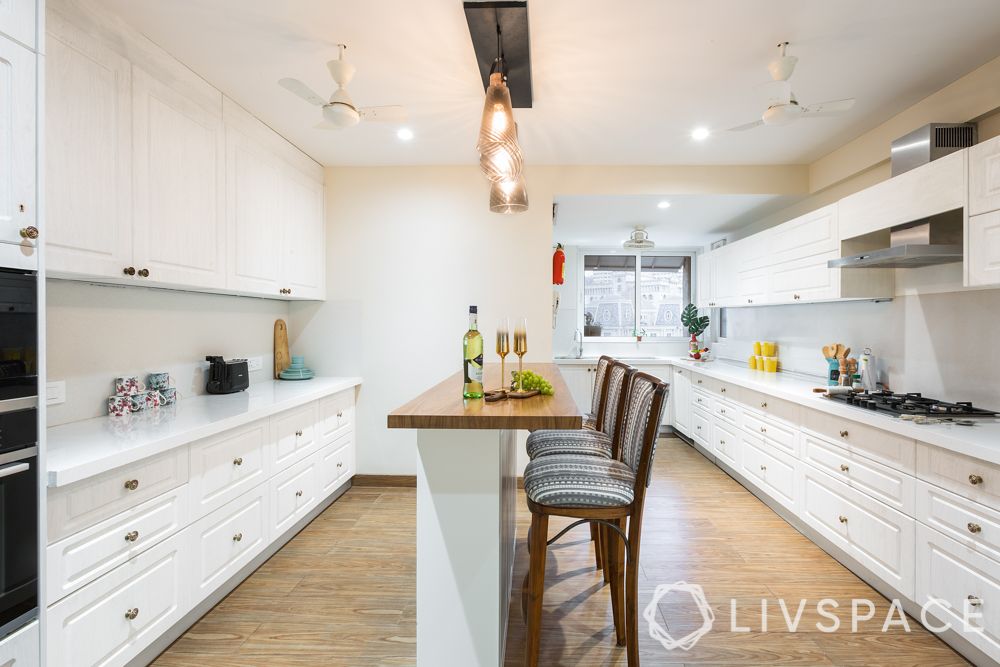 Whether you are looking for Indian open kitchen designs or closed ones, the transitional style is a good option for all. As the word 'transition' suggests, this is a style that combines two different time periods. If you observe carefully, this kitchen is a combination of the traditional and modern styles. The cabinets are grooved and have handles but the appliances are in-built. The backsplash is stone for seamlessness but there is no task lighting. Essentially, the elements of two different time periods blend organically in a transitional kitchen. You can pick this style if you like old-world or vintage looks but also want a home kitchen design that is efficient to use.
#4: Country style Interior Design for Kitchen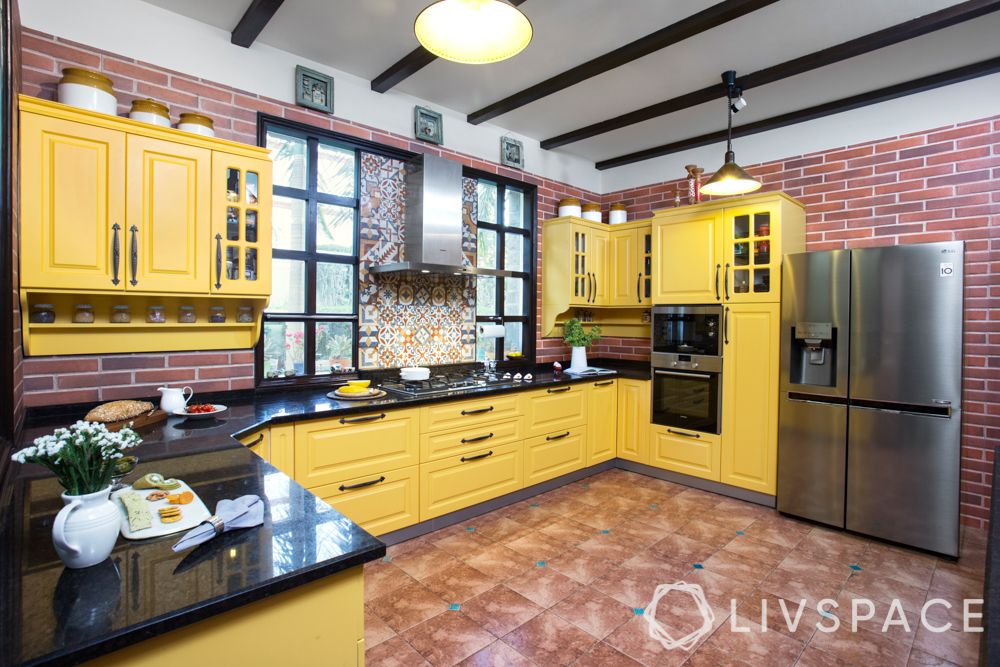 If you are looking for open kitchen ideas Indian style, a country-style kitchen is the perfect option for you. The idea is that the person cooking in a country kitchen has a complete view of the house. Add to this rustic elements like wooden rafters for the ceiling and stone or brick walls. Wooden tones or warm colours go best with this essentially cosy interior design for kitchen style. 
#5: Industrial Interior Design for Kitchen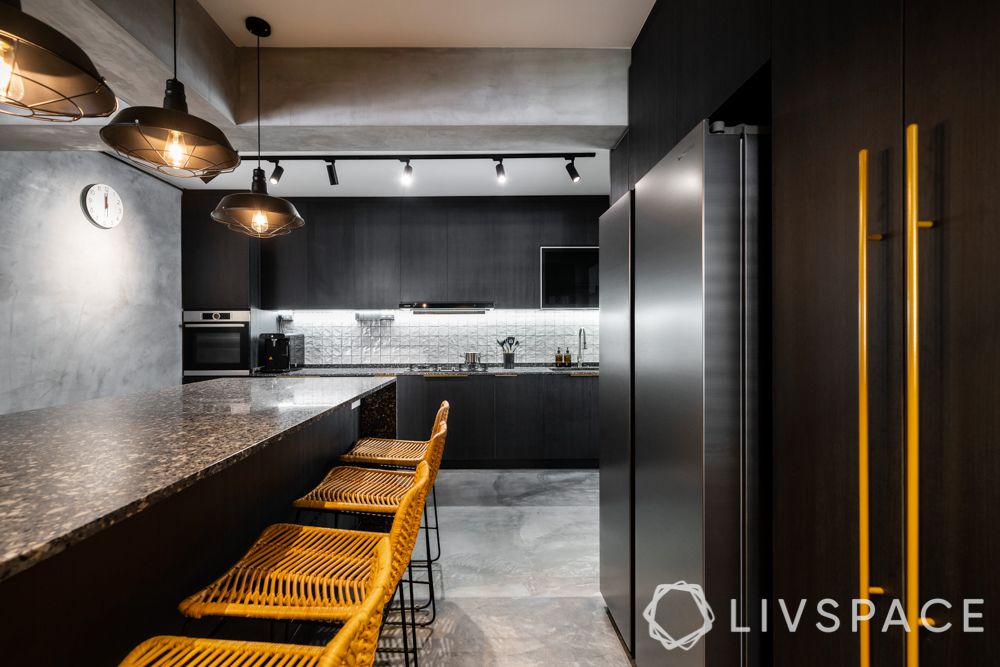 The industrial style is the latest kitchen interior design that has grown in popularity and is here to stay! Black metal lights and fixtures, distressed or membrane finishes, cement screed walls and flooring and the overall unfinished look that goes with loft-style industrial kitchens is making its mark in Indian homes. Amongst popular types of kitchen design styles, this one is both affordable and easy to maintain. 
Pro Tip
#6: Shabby Chic Interior Design for Kitchen
If we were to explain the shabby chic style in brief, it would be a look that you can pick out of a garage sale. This style takes imperfections in its stride; in fact, it  actually thrives on these slight imperfections as they make any space look unique. Considering the chaos of the average Indian kitchen, this is a great pick for an interior design for kitchen style. 
Pro Tip
And how do you do that?
Cover up your open cabinets with bunched curtains and install cute/quaint handles for the old cabinets. Add kitchen interior decoration elements like vintage lighting and use pretty mason jars to fill the open shelves.  
#7: Bohemian Interior Design for Kitchen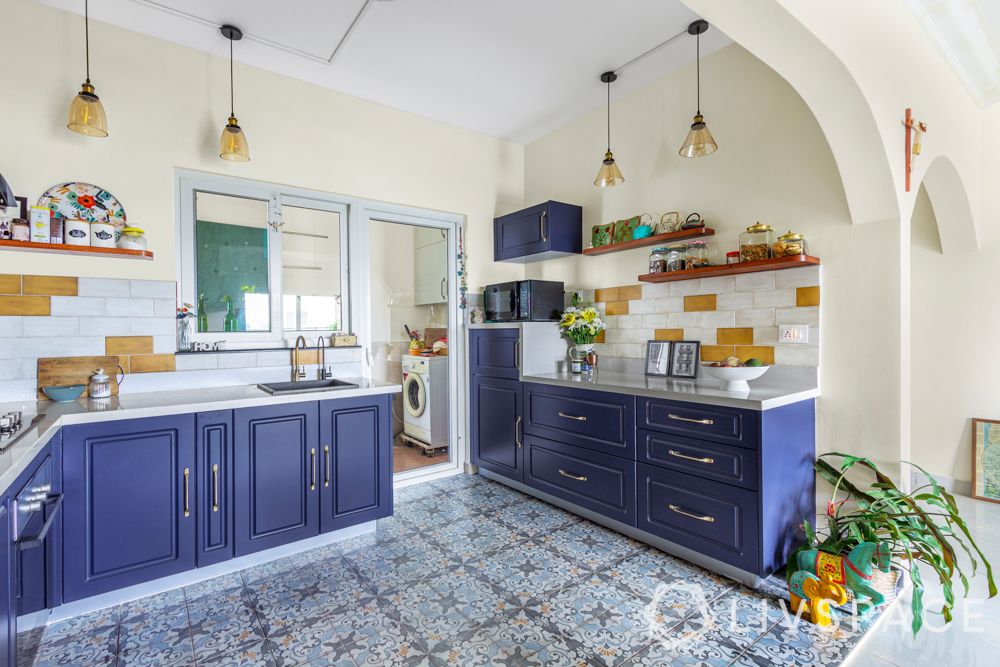 When it comes to types of kitchen design styles, the bohemian look is the most vibrant and colourful. Yes, it has plants, lots of colours and a layered look, which is core to any bohemian space. Bohemian kitchens are no different in terms of these aesthetics. Patterns will be woven into this style with the tiles of the floor as well as the backsplash. Try these elements for open kitchen ideas Indian style. Expect colours, lots of bright colours. You can in fact use vibrant jars and crockery to add to this bold look. And plants, in the form of your kitchen garden, must be included too.  
Pro Tip
#8: Contemporary Interior Design for Kitchen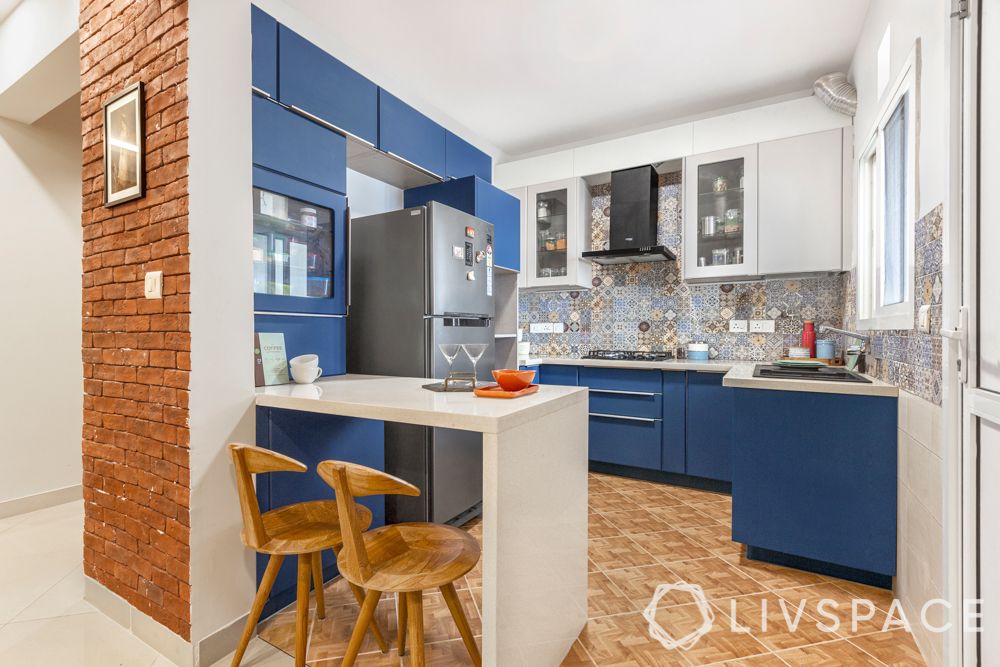 Firstly, contemporary is not a style but a mix of style elements that are currently in vogue. What we mean is that a contemporary interior design for kitchen in the next decade might end up looking very different from the one we are describing now. As of 2022, a contemporary kitchen has modular cabinets with slim profile handles or no handles at all. It has in-built appliances and has an open layout with a breakfast counter. These are great ideas for Indian open kitchen designs. Two-toned spaces or kitchens in two colours make the cut into contemporary for the element of contrast. This is particularly relevant if you are looking for modular kitchen ideas for small kitchen.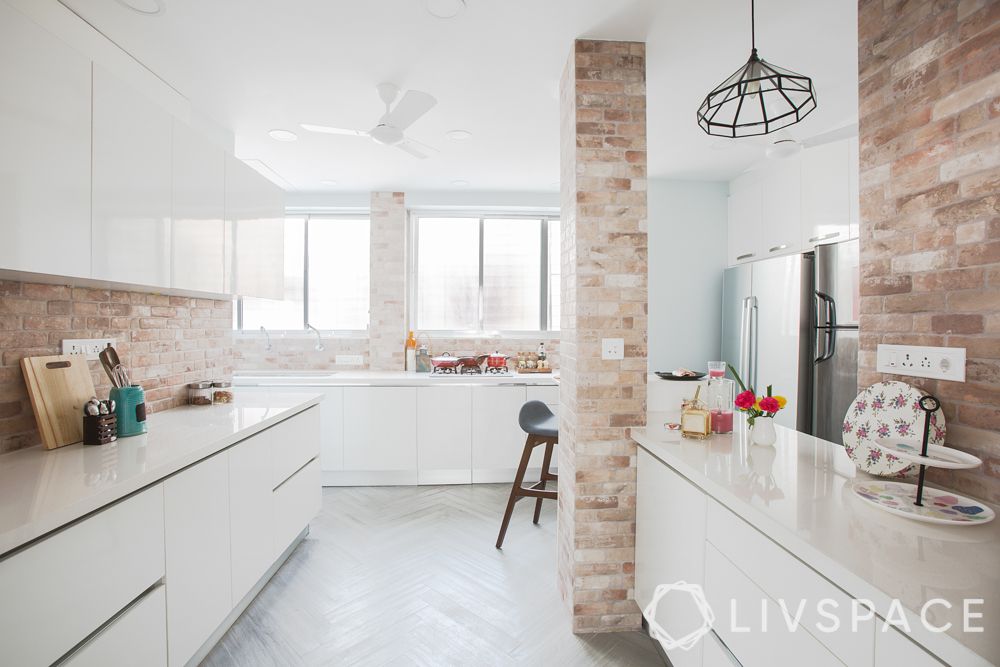 When we talk about modular kitchen ideas India, Scandinavian will not be the first thing that comes to your mind. But believe it or not, Scandinavian design has worked its way into the Indian design consciousness. Not only do we understand Scandinavian design but also opt for its various elements with surprising regularity.
When this overarching global phenomenon has touched our living rooms and bedrooms, kitchens could not be far behind. Natural light is central to a Scandi interior in kitchen so keep a large window or carve out one. Whites or neutrals with seamless finishes (no visible handles and smooth surfaces like acrylic) are preferred in Scandinavian interior design for kitchen. However, some elements of warmth, like wooden laminate flooring, for example, are essential in the scope of this style. Also, if you are looking for open kitchen ideas India, you might also consider keeping easy-to-maintain houseplants in such kitchens that are inherently open in terms of layout. 
#10: Mid-century Modern Interior Design for Kitchen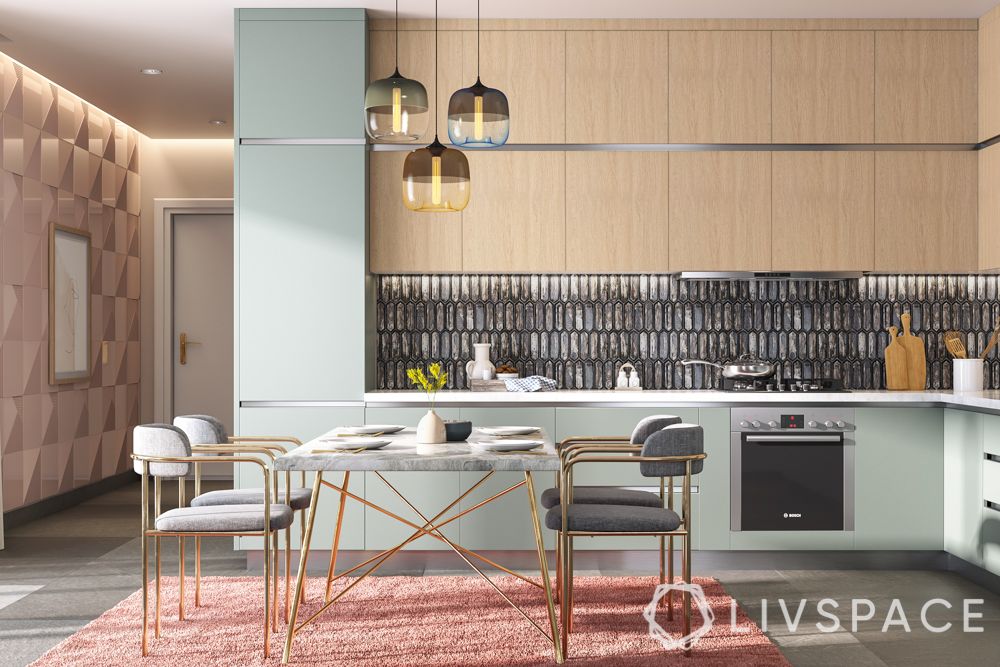 It would be incomplete to say that mid-century modern kitchens are open. It would be far more accurate to say that the dining area merges with the kitchen in this style. The mid-century modern style is the perfect option when you are looking for modular kitchen ideas for small kitchen. Hanging pots and pans are a distinct element of this design, which is tailor-made for compact uptown apartments. Appliances take on a special importance because this was historically supposed to be the kitchen for the working woman or the single man. In terms of colour, novel shades like mauve or teal are preferred as are wooden and metallic tones. Texture is very important in this style so bring one chevron- or herringbone-patterned tiles! This can also be adopted for open kitchen ideas Indian style, especially in compact spaces.
#11: Colonial Interior Design for Kitchen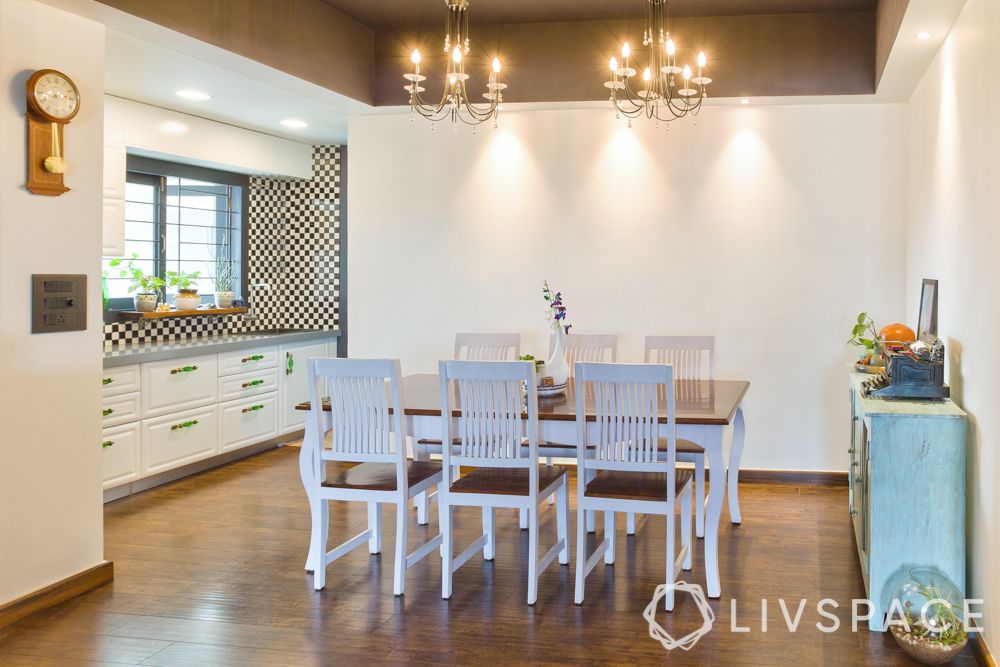 Colonial is a interior design for kitchen style that evokes our past, the colonial rule to be precise. This style comprises vintage elements like the chandelier you see here with native aspects of Indian design like the curvy wooden chairs. The cabinets look chic with handles that have dainty glass details. The chessboard pattern you see on the backsplash is a distinct colonial element too. Dark-coloured wood is preferred in this style; hence, the flooring is a deep shade of rubberwood. You can consider the colonial aesthetic as an option for open kitchen ideas Indian style.
Pro Tip
#12: Eclectic Interior Design for Kitchen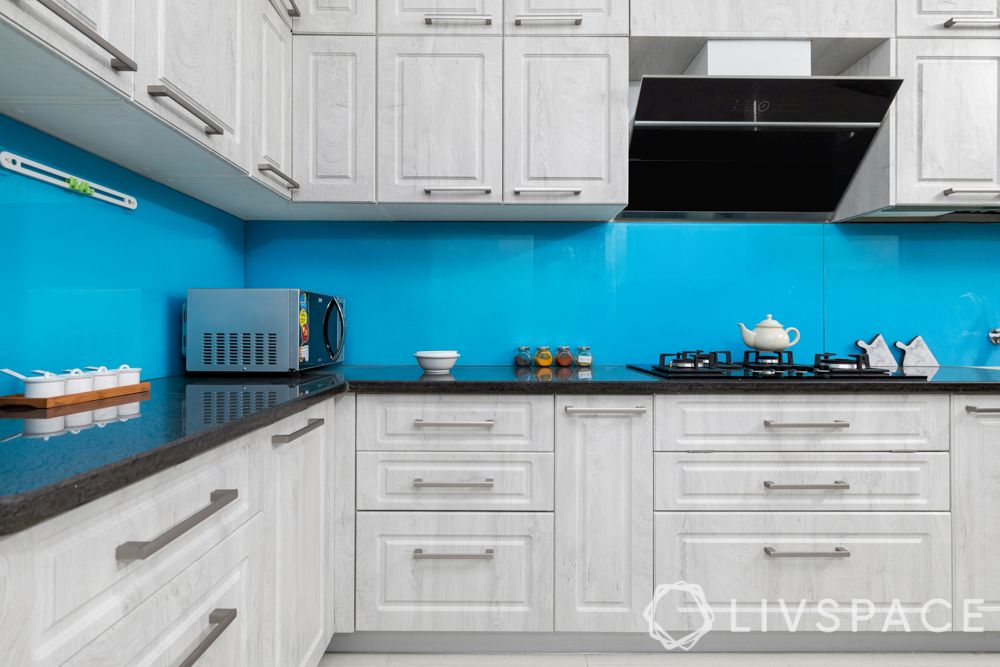 Last but not the least, eclectic is a style that borrows elements from all other styles. It is basically a personalised mix of mismatched style elements that somehow make sense together.  As this style is essentially personal, no two eclectic kitchens look the same. Take this one, for example. The backsplash is lacquered glass that is modern, the cabinets have the grooved look of country-style kitchens but the finish is distressed, which is typical of the industrial style.
Pro Tip
If you enjoyed reading about these interior design for kitchen styles and some of the latest interior kitchen design ideas that you can adopt in your space. And you can get some more inspiration for 50+ best designs for Indian kitchens.
How Can Livspace Help You?
We hope you found our ideas useful! If you want stunning interiors, then look no further. Book an online consultation with Livspace today. Delivering safe home interiors has been our No. 1 priority. Click here to find out how interiors are being delivered following all safety protocols.
Wondering how our customers feel about working with Livspace? You can check out the Livspace kitchen reviews here!
We love hearing from you! Write to us with your comments and suggestions at editor@livspace.com