If the pandemic has taught us anything, it is that kitchens are the centre of a home! A well-designed kitchen is of much use, which is why most homeowners allocate a large chunk of their budget to kitchen designs. And now that modular kitchens are a norm, concepts like space optimisation, ease of use and usable storage are inseparable from new model kitchens. So, if you think that your kitchen has run its course or doesn't have the best kitchen design, renovate and do it now. But before you begin, do check out the Livspace list of the latest kitchen designs for 2021 for usable kitchen design ideas.
#1: How to Turn a Drab Kitchen into an Instagram Sensation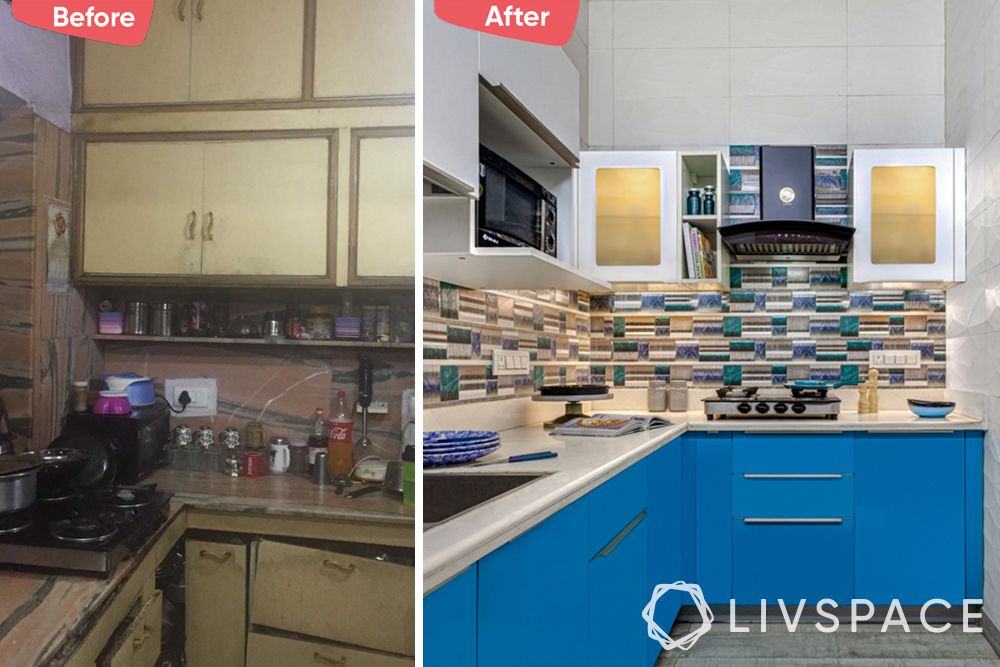 This kitchen design of 2021 wins on both fronts: storage and style. Anu Khanna, the gorgeous home chef who cooks in this kitchen has given a thumbs up to our designer Sakshi Shrivastava for meeting all her expectations. In fact, the pops of blue bring out the wooden floor and the striking ceramic-tiled wall.
This kitchen may be all of 50 sq. ft. but it also has tons of storage and a practical design that fit right into a budget of under 2 lakhs. Anu, a home chef who uses Instagram to share her recipes, got a perfect backdrop for her cooking shots without compromising on the functionality of her new model kitchen!
How did this kitchen renovation help?
A window was closed up to make space for the oven unit
The S-carousel makes space for an army of spices to be stored
The pop of lush eclectic blue makes this a insta-worthy kitchen for Anu's feed
Read more about it here.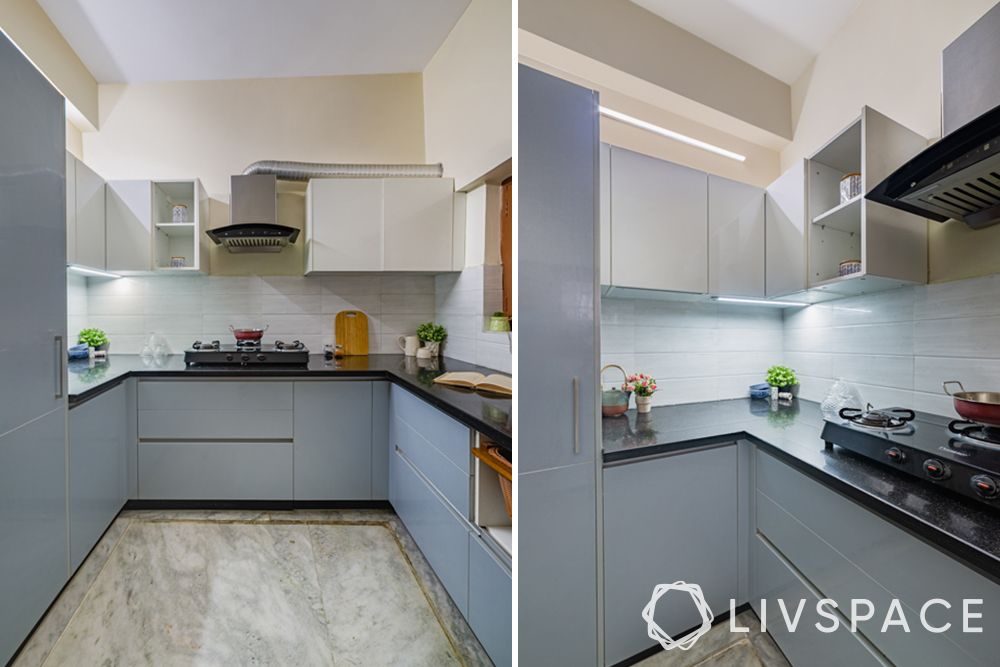 Designer Nikita Patel completed this 72 sq. ft. kitchen renovation during the pandemic without any hiccups. This latest kitchen design in a Hyderabad home was made under a 3 lakh budget. In addition, it ensured maximum storage capacity for the new model kitchen, which the client wanted. Moreover, Nikita went with overhead cabinets, drawers, shelving units and corner units to make sure the space was used without looking too cramped.
How did this kitchen renovation help?
Change in layout from L-shaped to C-shaped to add more storage space
A tall unit that houses the entire panty is the biggest USP of this grey kitchen
The high-gloss laminate finish makes the kitchen easy to clean
Read more details here.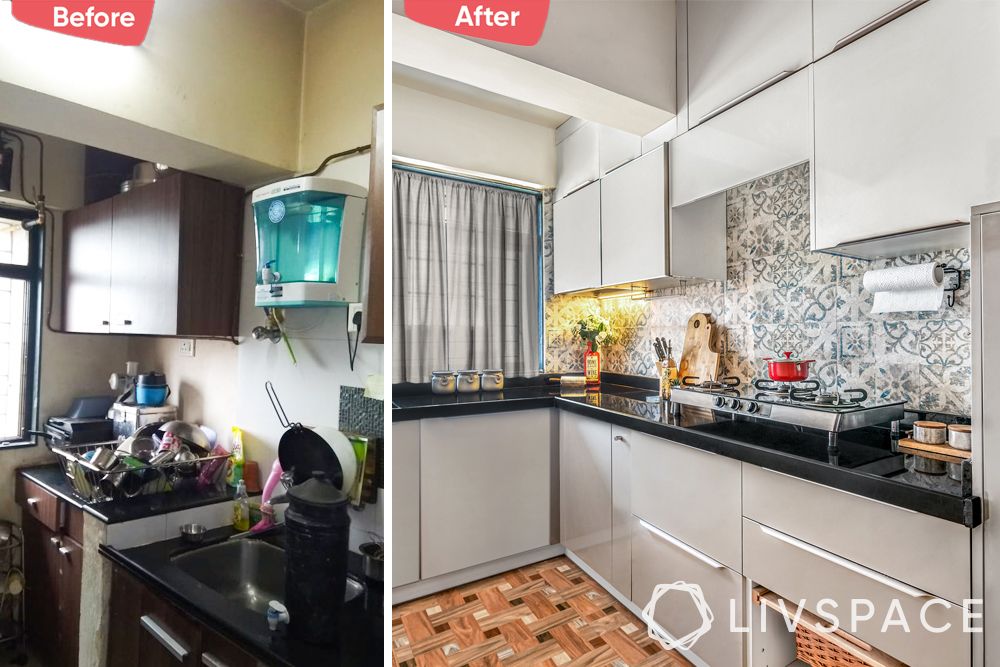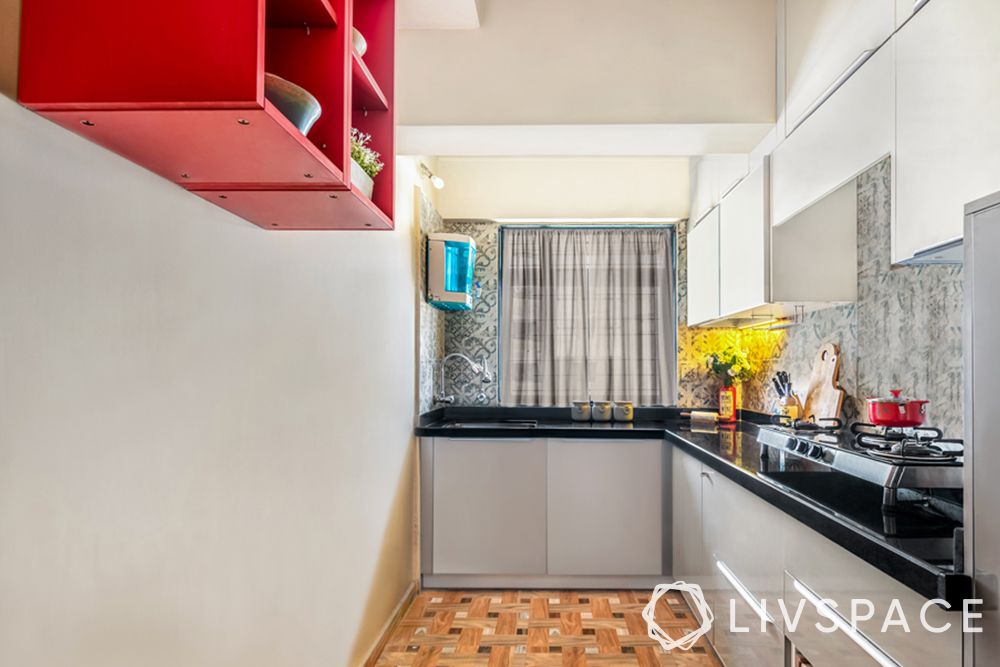 This 60 sq. ft. kitchen design in a Mumbai apartment has much storage to offer. Designer Ismail Nek put every nook and cranny to use. Additionally, there is storage in the form of overhead units, carousel cabinets and extra pull-out drawers, so it really accessible and usable too. Moreover, the wall-mounted open shelving unit adds a vibrant pop of red to this otherwise sombre grey kitchen. Besides the backsplash tiles lend the kitchen a chic look, amplified by the profile lighting.
How did this kitchen renovation work?
A strategically placed tall unit converts this kitchen into an L-shaped one
The carousel unit in the corner converts the dead space into usable storage space
Added a beam to create extra loft space for this compact kitchen
Read more about it here.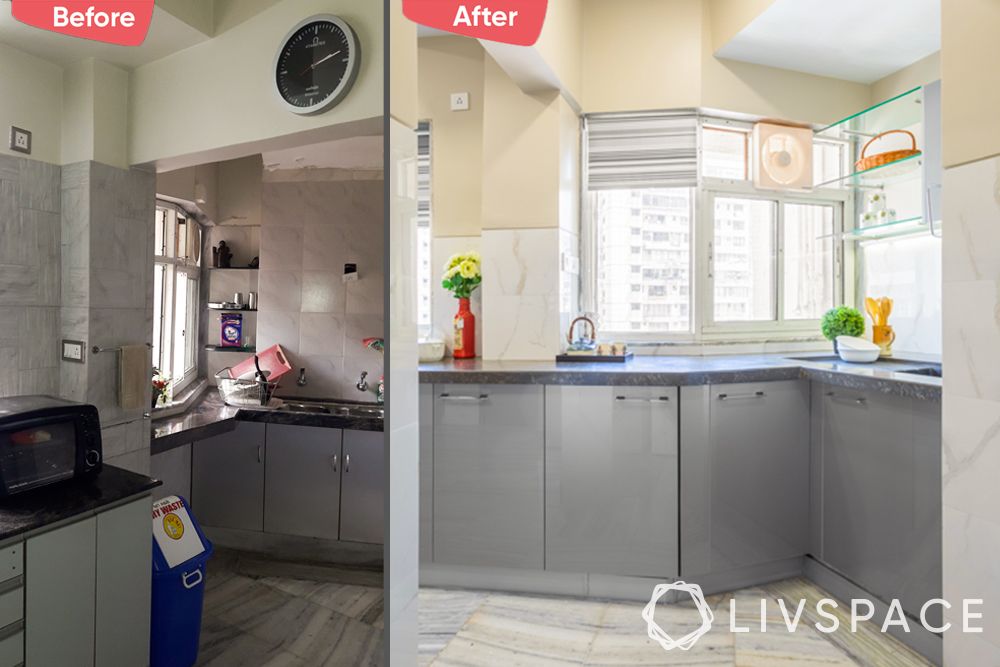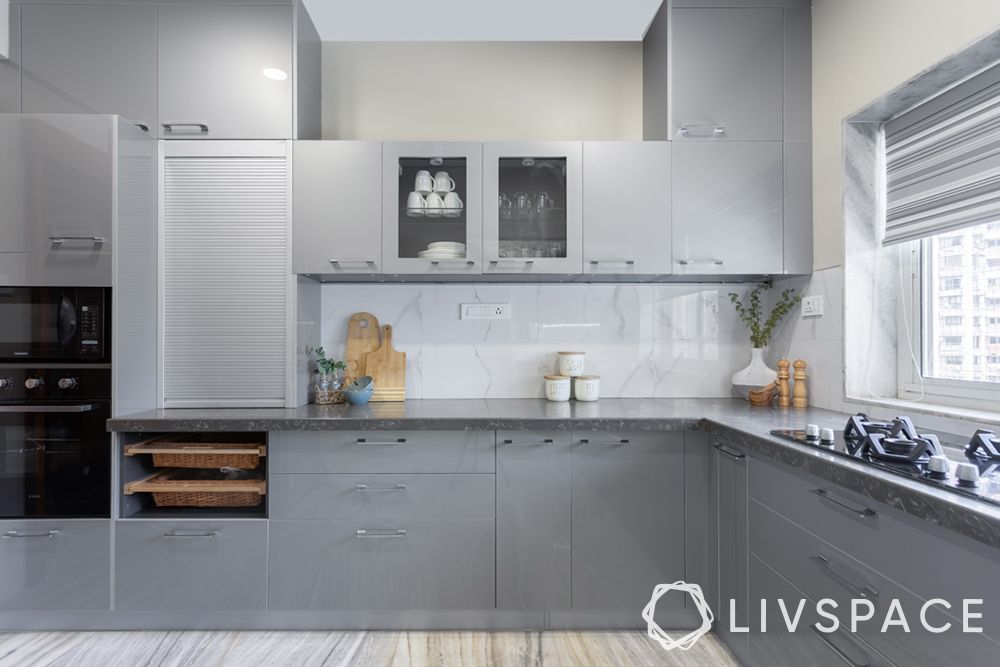 Livspace designer Aswini Ghokle faced unique challenges while making this kitchen. Firstly, the kitchen had an uncommon trapezium layout and secondly, the homeowners came with a clear-cut vision of what they wanted their kitchen to look like: a modern and sleek look with tons of storage space. As seen, our pick of this latest kitchen designs of 2021 has fulfilled all of their requirements and more.
How did this kitchen renovation work?
The sleek cabinet built around the trapezium layout of the kitchen
There is a tambor unit to hold all the regular use kitchen appliances
The tall unit has a built-in microwave space with overhead storage units, cabinet tops and wicker baskets
To get more information, read here.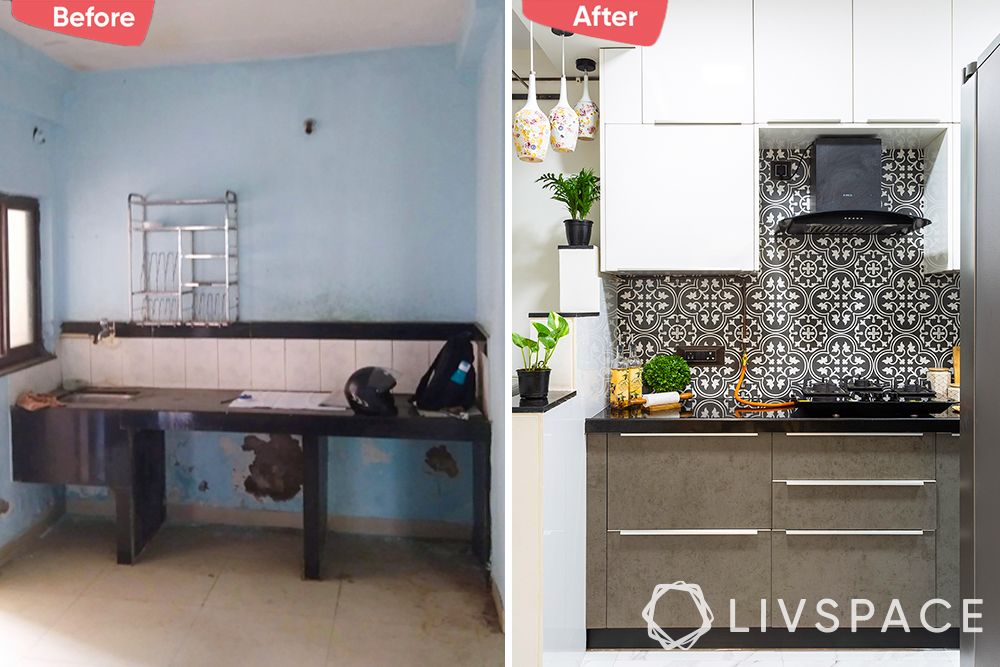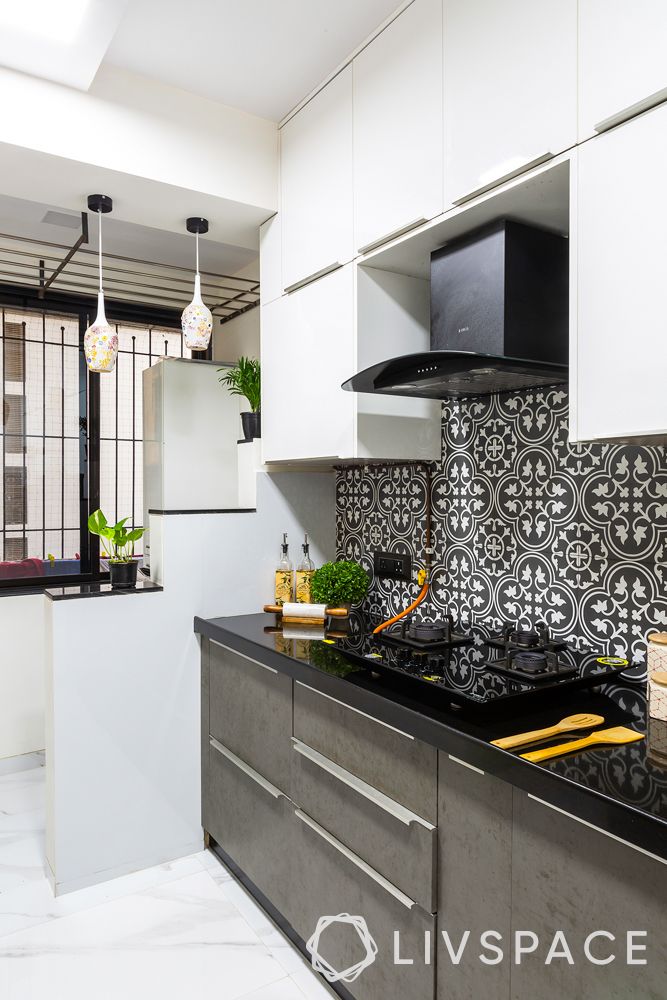 This small kitchen has been made keeping in mind a typical Indian kitchen. This means that it has as much space as it can maximise on. Interior designer Rishabh Jain had a lot of space to work with, given that this kitchen wasn't small. However, it was poorly designed which took away the potential of its space. Thus, he changed it to a parallel kitchen. Moreover, he converted the adjoining balcony into a utility area. He also added a whole range of storage compartments to increase the storage space and cater to different storage needs of a growing family.
How did this kitchen renovation work?
The white wall cabinets help open up the space in this compact kitchen
All the base cabinets are drawers, allowing easy access
A utility space carved out of the old kitchen
Get the whole home tour here!
These were our picks for the latest kitchen designs of 2021. However, are you wondering how our customers feel about working with Livspace? You can check out the Livspace kitchen reviews here!
How Can Livspace Help You?
We hope you found our ideas useful! If you want your home to be just as beautiful, then look no further. Book an online consultation with Livspace today. Delivering safe home interiors has been our No. 1 priority. Click here to find out how interiors are being delivered following all safety protocols. Be sure to read more and check out more kitchen designs of 2021 below.