Mumbai is a city where renovations take on a life of their own. Due to the ever-increasing space crunch in the island city, new projects are fewer and people buy a lot of resale properties. So, when Anuradha and her husband bought a 12-year-old MHADA apartment in Versova, they had a vision for its renovation. A bit of Googling brought them to Livspace and our interior designer Rishabh Shah took on this modern house interior design project from there on..
---
Who livs here: Anuradha with her husband
Location: Versova, Mumbai
Size of home: A 2BHK spanning 750 sq ft
Design team: Interior Designer Rishabh Shah
Livspace service: Full Home Renovation and Design
Budget: ₹₹₹₹₹
---
By his own admission, renovations are Rishabh's guilty pleasure. Imagine the creative scope of reorganising space to create completely new layouts. So, here's the story of how this drab 2BHK with unspaced evolved into a head-turner!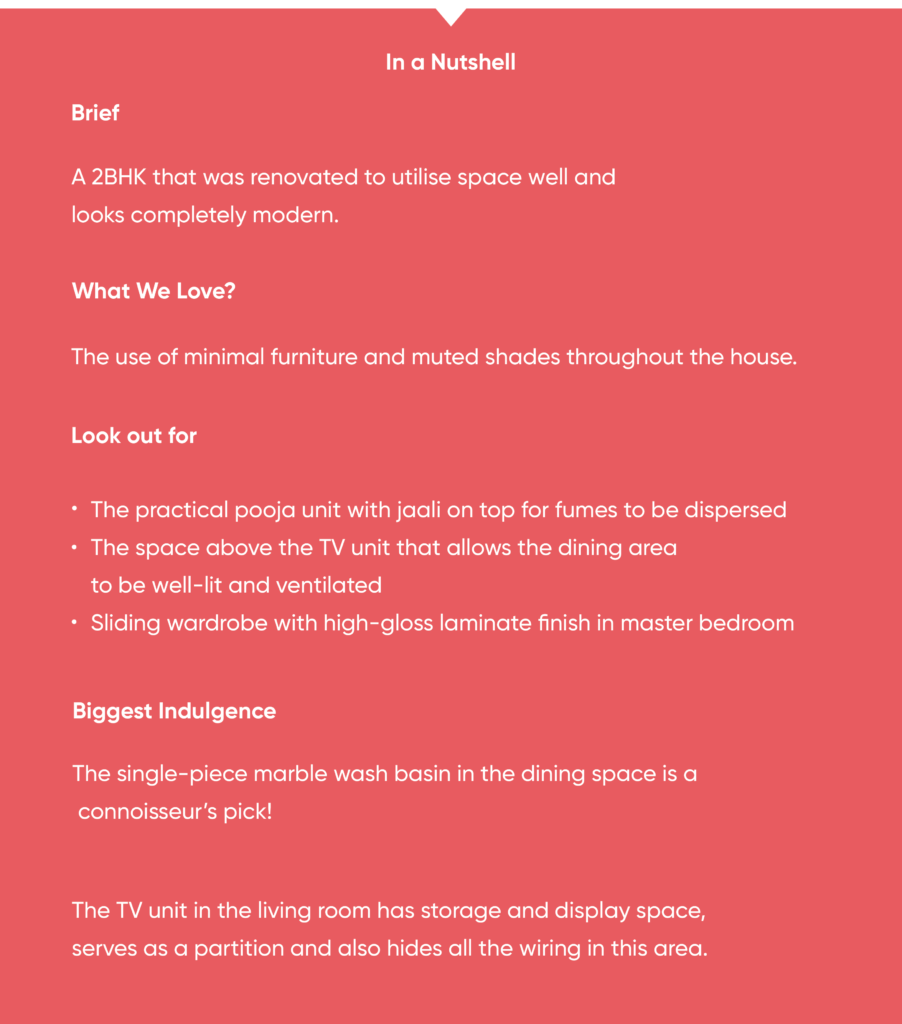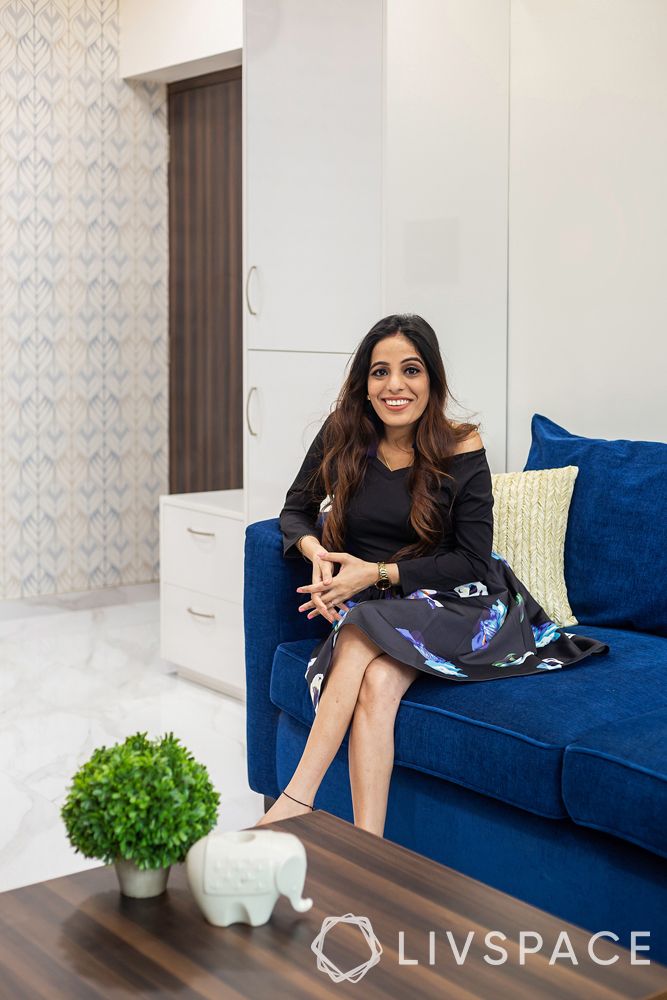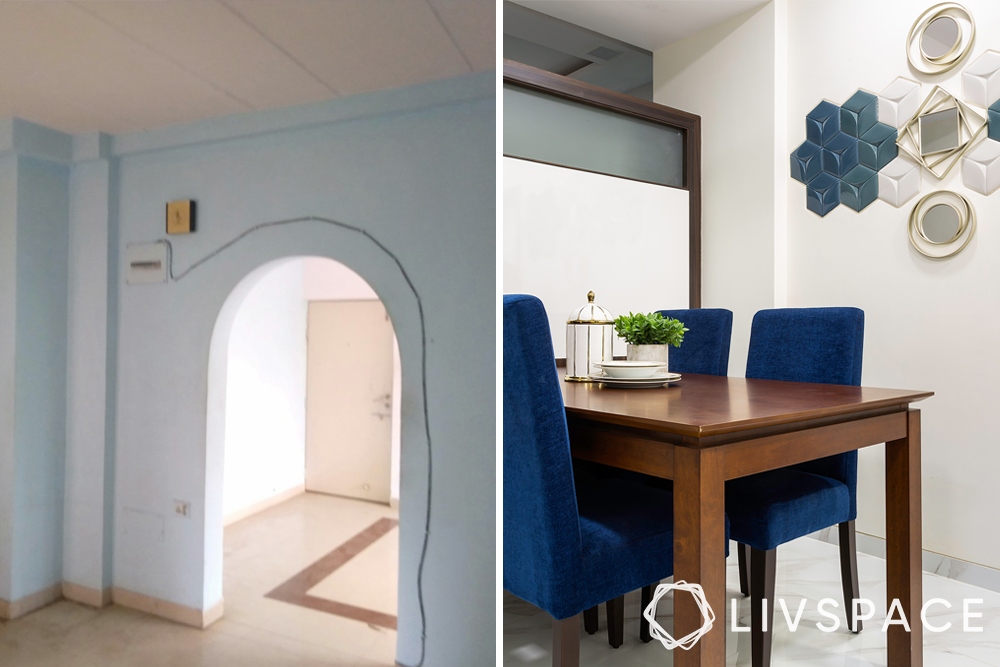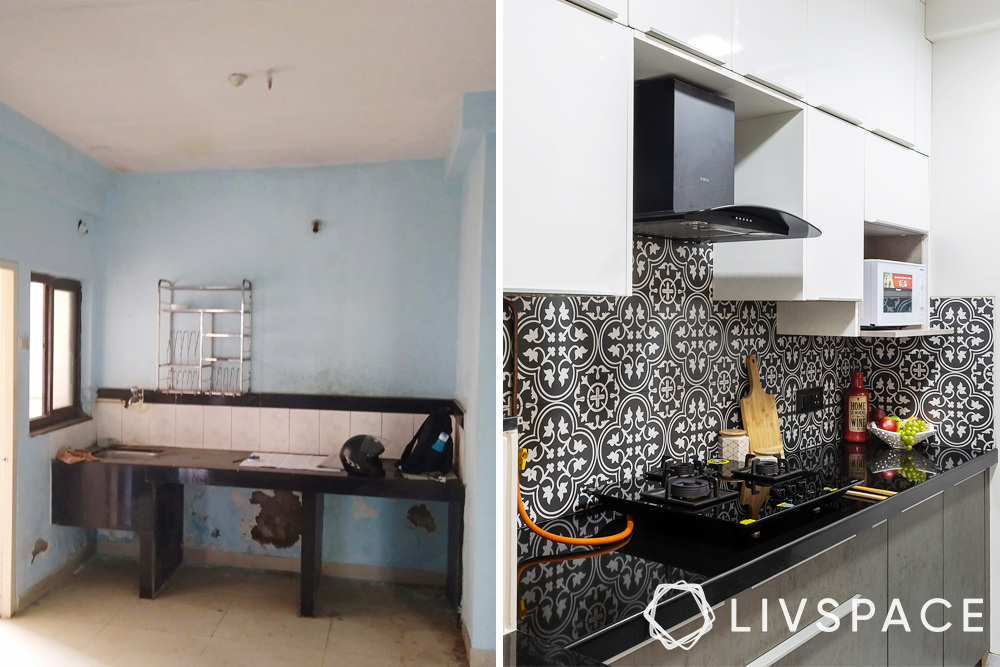 #1: You need to see the amount of space extracted due to the structural changes
It is a well-known fact that civil iterations help organise space in a better way. And when it comes to homes, well-utilised space is as good as additional space. However, the extent to which space re-oganisation changes a home is lost on us unless we see it first hand!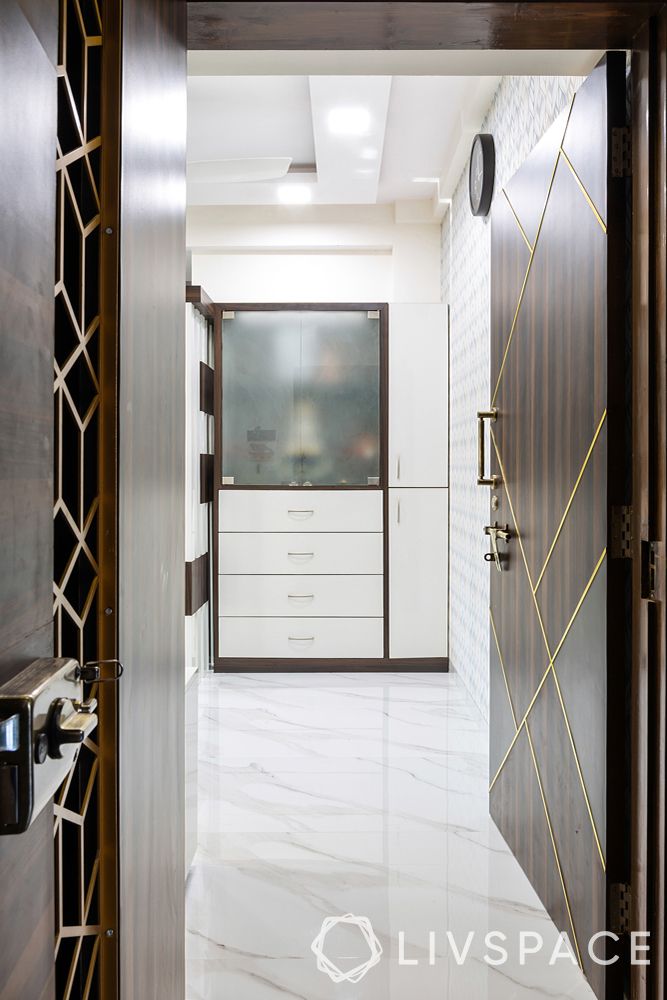 Anuradha's compact 2BHK, for instance, had two entrances. And closing up one of them has given her a brand new foyer!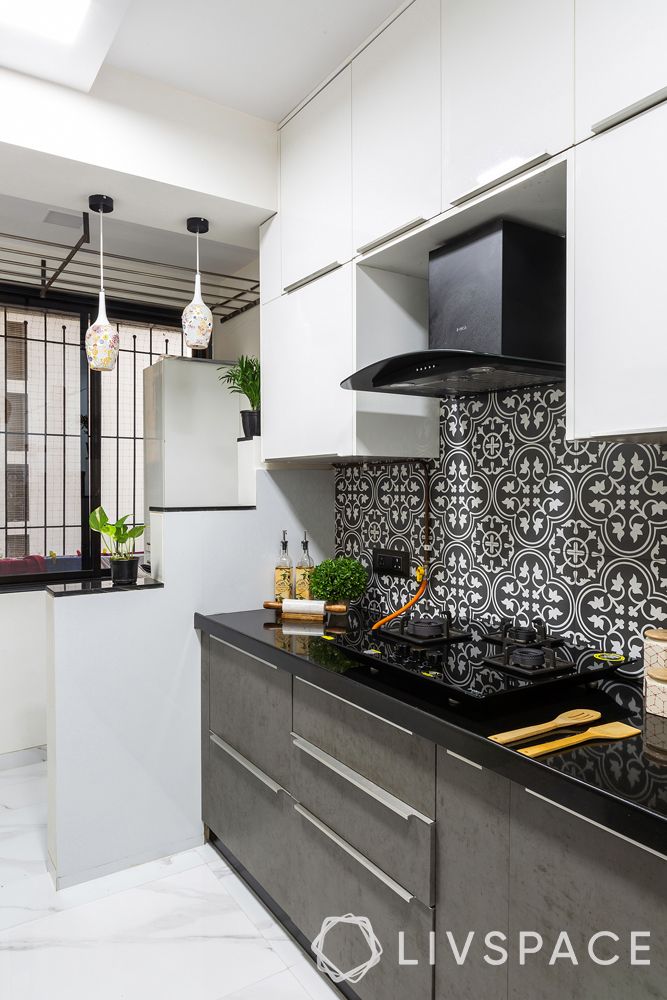 The kitchen in this house wasn't small. In fact, it was space as large as the living room but poorly designed. Rishabh changed that by making it a parallel kitchen and using a balcony that now happens to be the utility area in this modern house interior design project.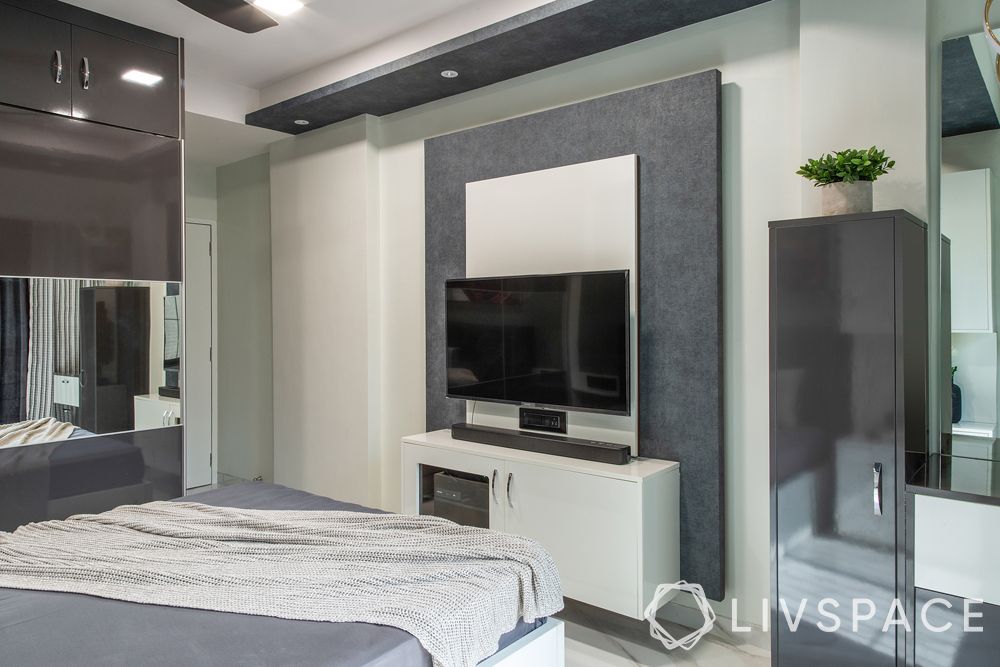 In Anuradha and her husband's bedroom, Rishabh shifted the door by 4 inches to create a passageway that offers privacy and shape to the room.

#2: Just how much storage does this home have?
If there is one thing that all Indian families need, then it's lots of storage. After all, we are culturally inclined to hold on to things instead of decluttering but how much storage you can stock into a home with making it look cramped is the real trick in modern house interior design.
Rishabh decided to take this on a case-by-case basis to make the storage functional. In the kitchen, he had to make room for plenty of storage. After all, this is a Gujrati family that stocks up on an impressive array of delectable snacks; khakhra, papad, thepla and the works! Hence, the lofts are a well-intended addition to the kitchen.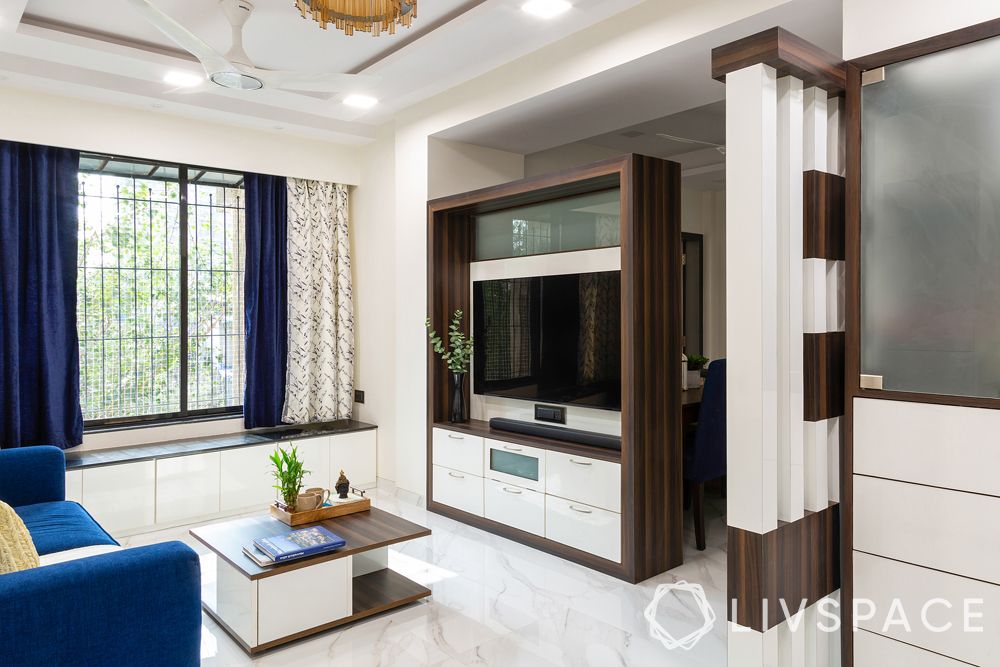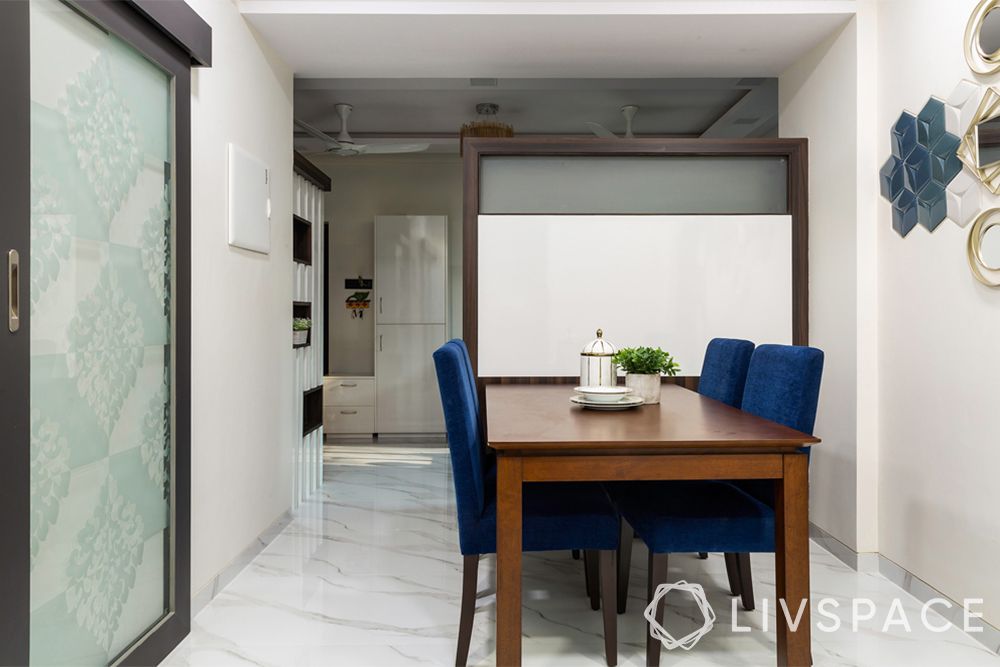 In the living room, the TV unit is a bit of a masterstroke with storage space in the bottom half. But that is not all; next to the sofa, we have a tall cabinet for shoes and the bay seating bench too has storage underneath.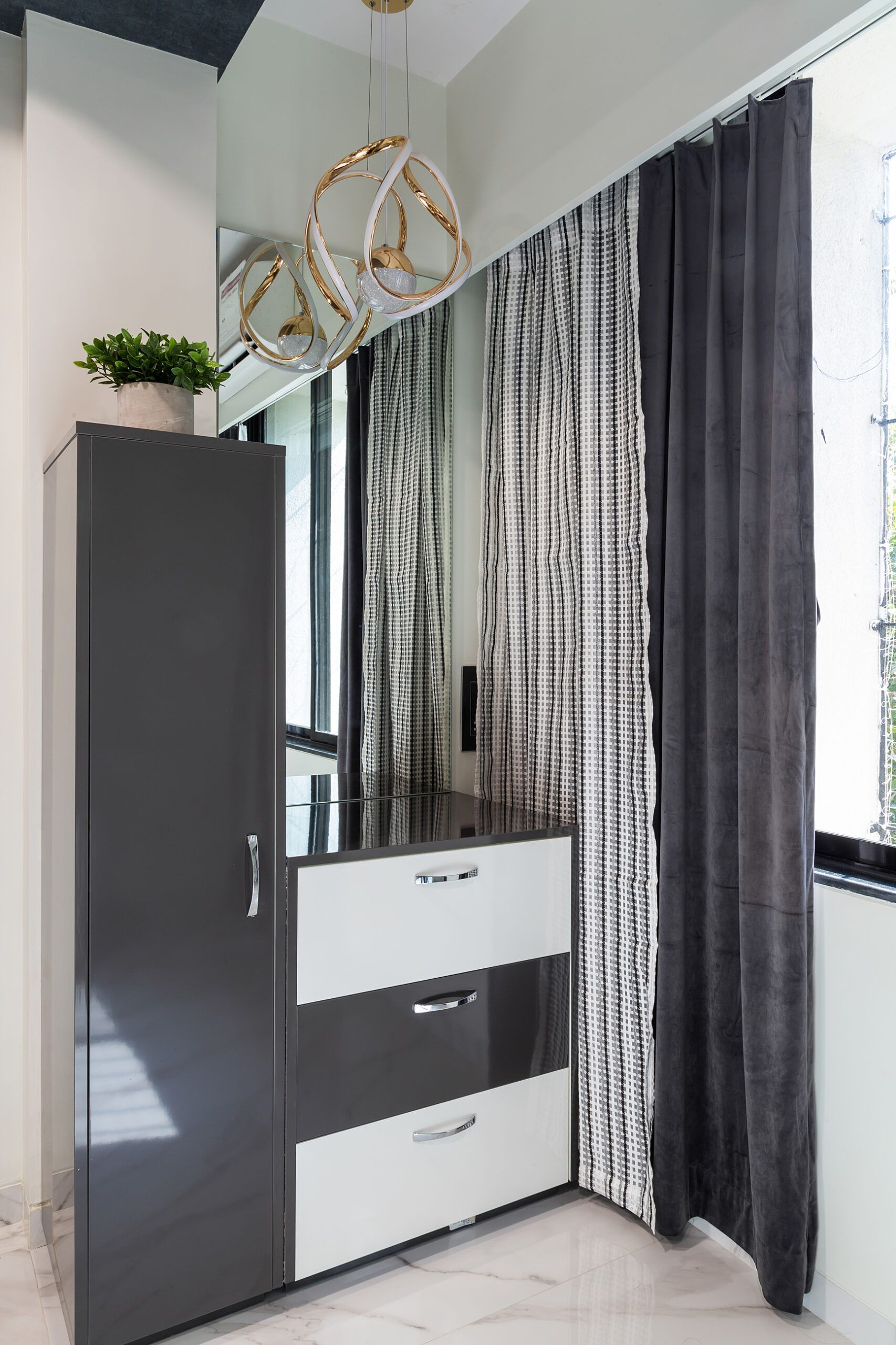 Adding a passageway to the master bedroom has enabled Rishabh to add a dresser unit in the other corner. The grey tones of this slim mid-size unit are a perfect fit for the room's colour scheme.
#3: So adding a false ceiling to a ceiling with multiple beams is possible?
That is some smart designing at play. We can see that the false ceilings in the bedroom and living area are interrupted by beams. However, we didn't really know that the false ceilings were designed to accommodate these beams. This is an excellent situational example of why everyone needs an interior designer.
#4: Wait, is that really a pooja unit?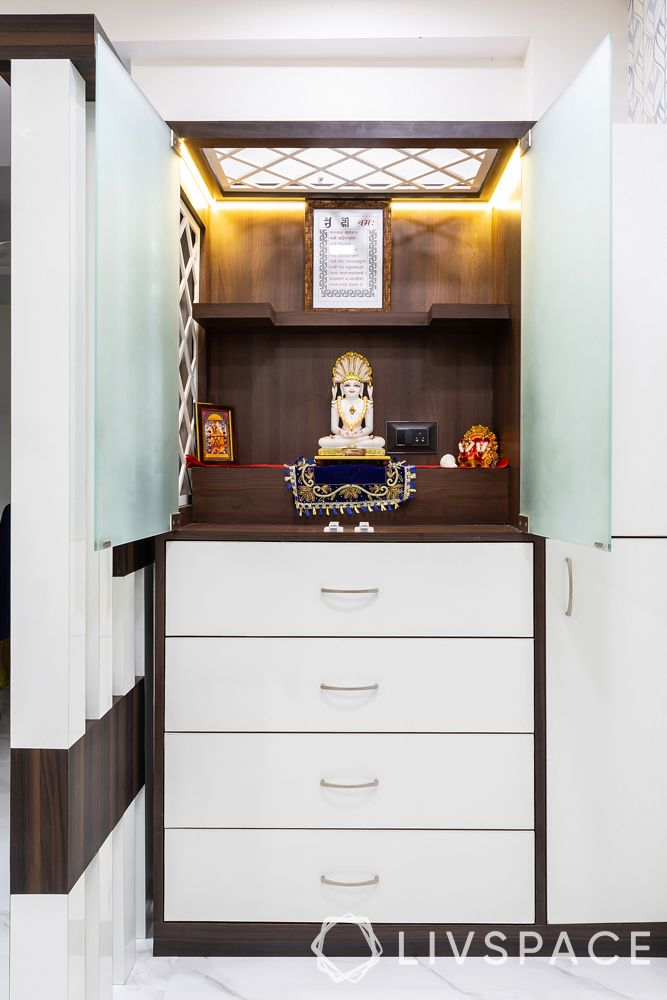 Well, it sure doesn't look like one. Now almost every Indian home has a pooja room/prayer altar. And some families that want modern house interior design worry that a traditional mandir would not go with the rest of their decor. But when you have a designer like Rishabh, such doubts have no room to creep in!
Look at this pooja unit that has frosted glass shutters, which make it look like a sleek crockery unit. But the genius of the design is inside the cabinet. It has jaali on the side and on top to allow the fumes of the akhandjyoth (a lamp that must burn continuously) to escape without settling on the interiors of the unit!
#5: The 'saves' and the 'splurges' in this modern house interior design
While designers often want to design what's best for a home, there is a limitation on the budget that they must stick to. And Rishabh was very cognizant of this. Therefore, he struck the perfect balance when it came to spending on splurging on this modern house interior design.
For instance, this single-piece marble wash basin is something that the couple had set their heart on. So he balanced this exorbitant piece with a customised TV unit that was built from scratch at the same cost. Additionally, the TV unit has storage and there is space above it that facilitates ventilation. This ensures that the couple had to install only one AC in the living room as the dining room too would get cooled because of this gap.
If you enjoyed reading about this home, also explore this 500 sq ft home in Mumbai that has stunned us all with it's industriousness.
Send in your comments and suggestions.