For those who live in Mumbai, a 2 BHK home interior that spans no more than 500 sq ft is a mundane affair. For those of you reading our story from the rest of the country, we assure you, there is no error! This home is really about 500 sq ft in dimensions though it definitely doesn't look so.
---
Who livs here: Rahul and Neelam Dhumal with their daughter
Location: Seawoods, Navi Mumbai
Size of home: 2BHK spanning 550 sq ft approx.
Design team: Interior designer Tanvir Siddique and Project manager Vishal Bhabhsar
Livspace service: Full home design (excluding kitchen)
Budget: ₹₹₹₹₹
---
Rahul and Neelam Dhumal were well aware that fitting everything they needed into their compact Navi Mumbai home would require a deft hand and designing. No wonder they chose Livspace, and our designer Tanvir Siddique took it from there. There is no space-saving trick in the book that has been spared while doing this 2 BHK home interior. For we were determined that this young family would have everything they needed to make this apartment their home!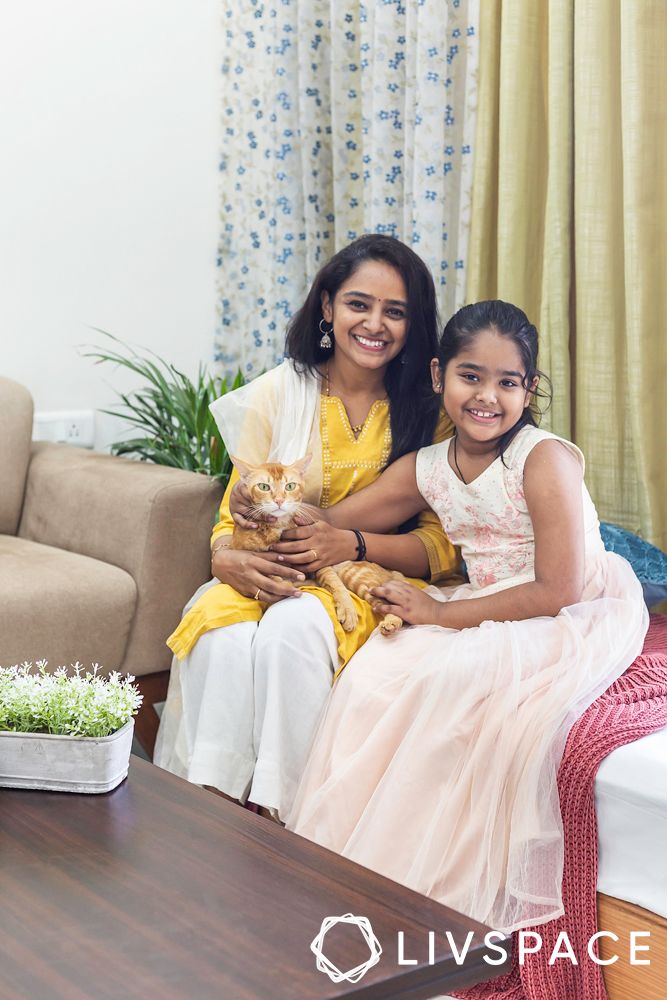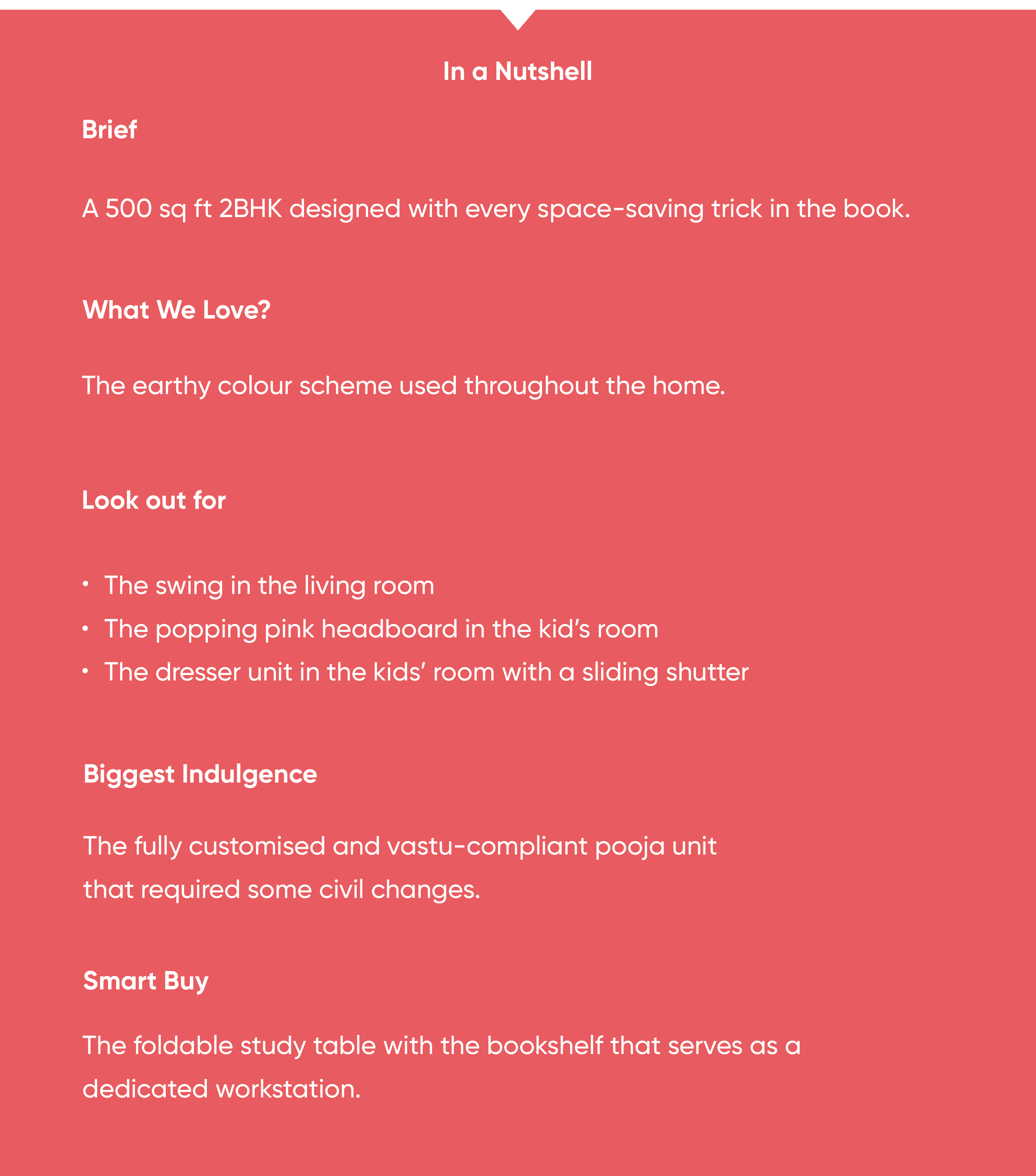 Let's take a tour to see how we managed to do it in real time.
How we designed the 180 sq ft living room to have a seating, storage and a swing!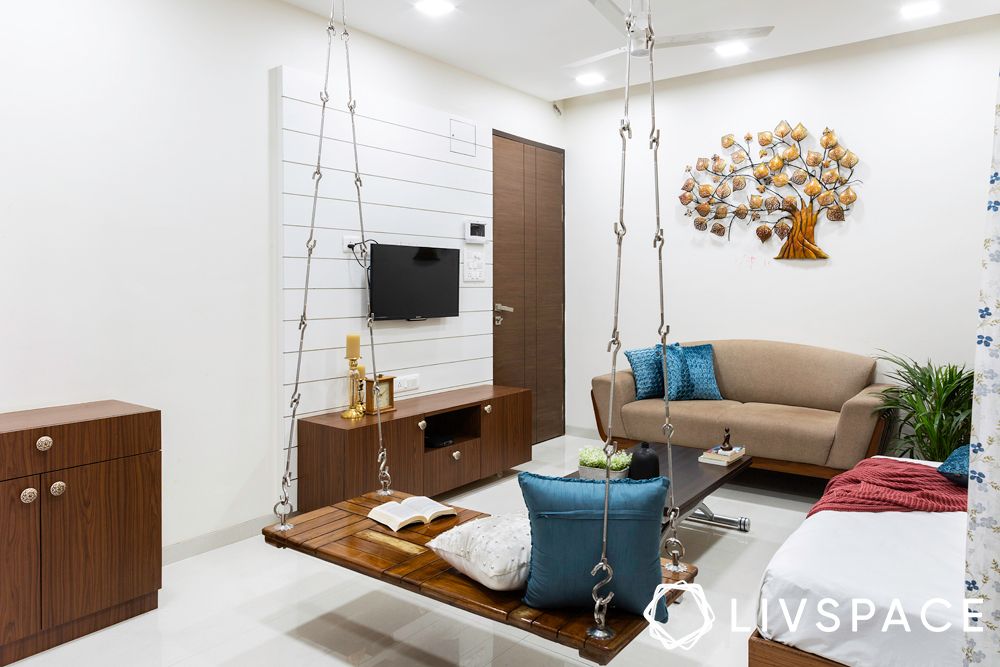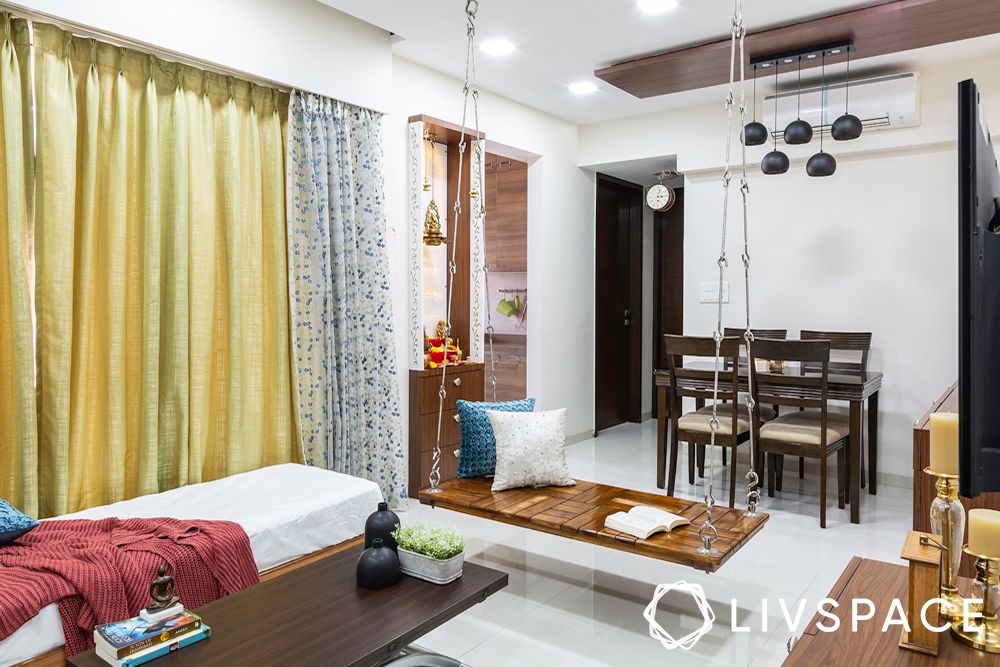 One of the challenges that we had while designing this 2 BHK home interior project was the dimensions of the living room, which is no more than 180 sq ft. Also, it is a square-shaped living room with no hidden niches. But the power of good design is in overriding challenges. So, Tanvir proposed a slim TV unit made onsite that would match the crockery unit, likewise designed, to fit in the dining corner. The space between the living-dining areas is divided using a sleek swing. Also, the centre table can be folded to make it smaller if need be.

IN FOCUS: The pooja unit that conquered many odds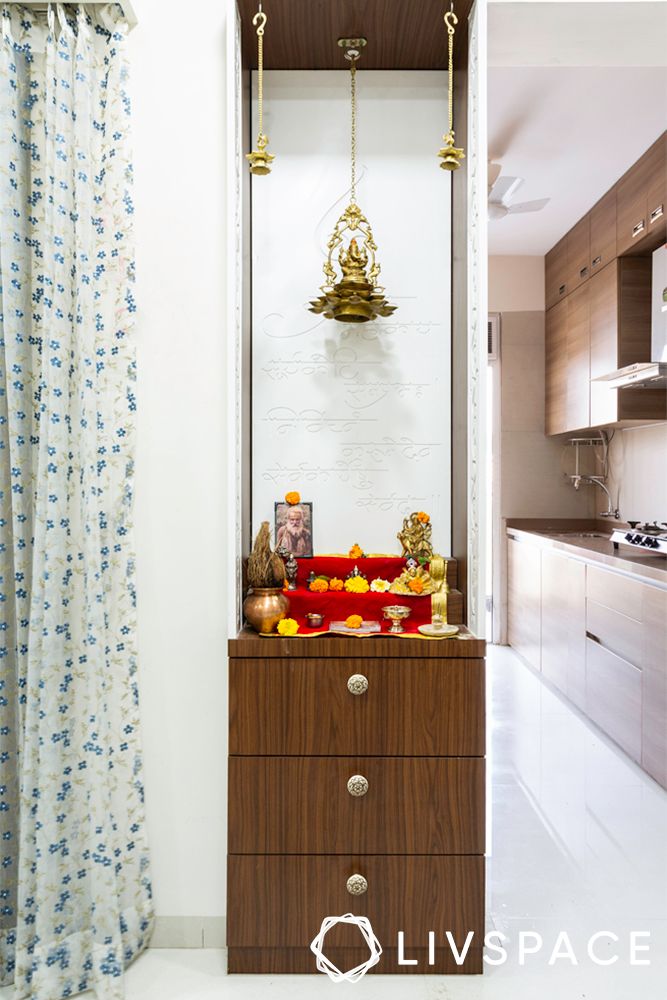 The pooja unit in this home is a star for the sheer amount of effort that has gone into it. Firstly, Rahul and Neelam believed in vastu and hence, wanted the pooja unit to face a particular direction. However, there was no place in the living room to place this unit. So, Tanvir decided to knock off a kitchen wall and use the niche space to install this tall customised pooja unit. Wondering why it's tall? The height of the unit had to reach the ceiling in order to use the beam. Or else, the heavy Tibetan brass lamp hanging from the top of the unit wouldn't hold! Customisation in home interiors does not get more detailed than this!
Spot the number of pull-out features in the master bedroom…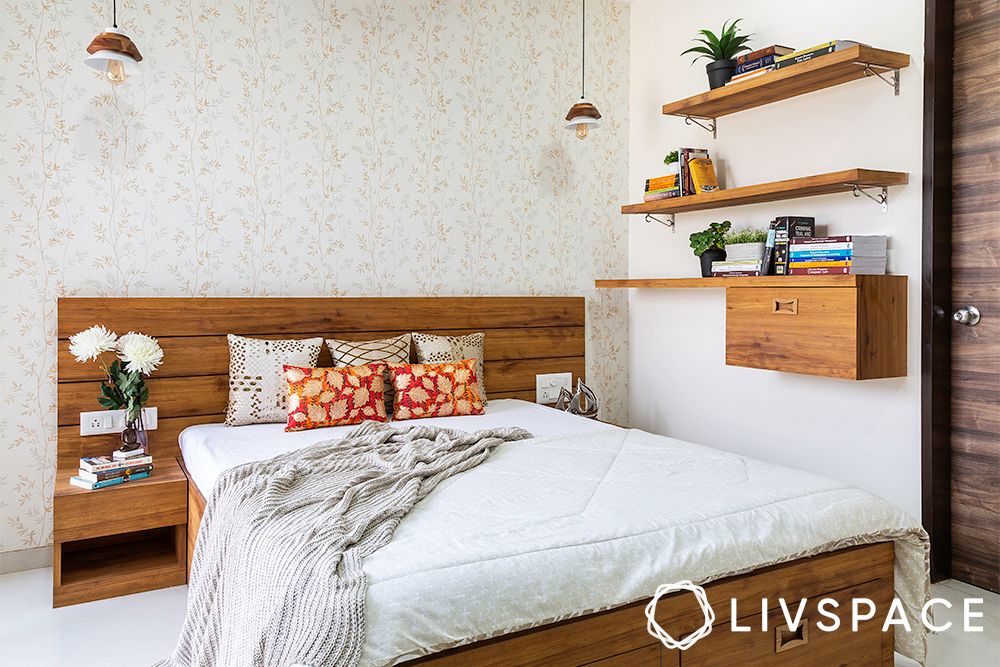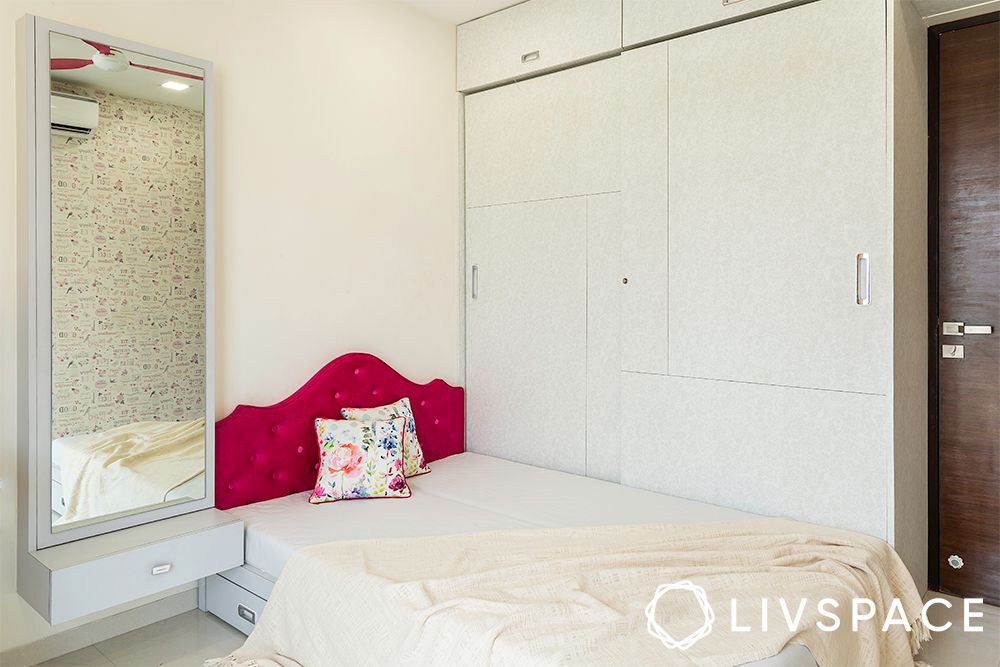 We will point you in the right direction so that you don't miss the careful customisation in the couple's bedroom. Firstly, the bookshelf here opens up into a workstation, which we have started appreciating immensely post-COVID. Also, the last compartment of the sliding wardrobe has a surprise too! Its top compartment opens up into a pull-out dresser unit while the lower half opens up into an ironing board.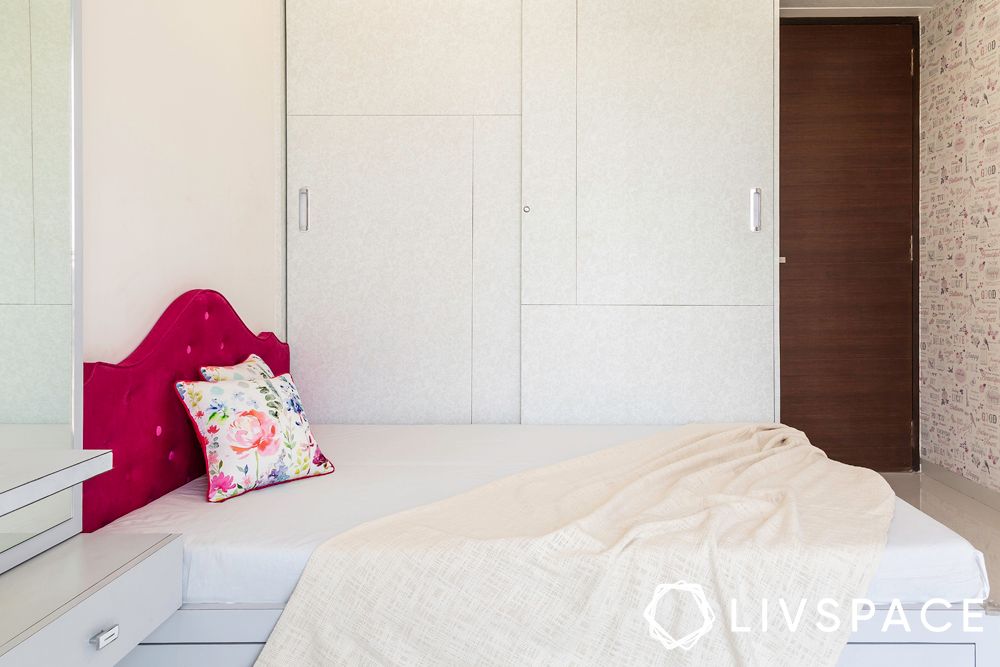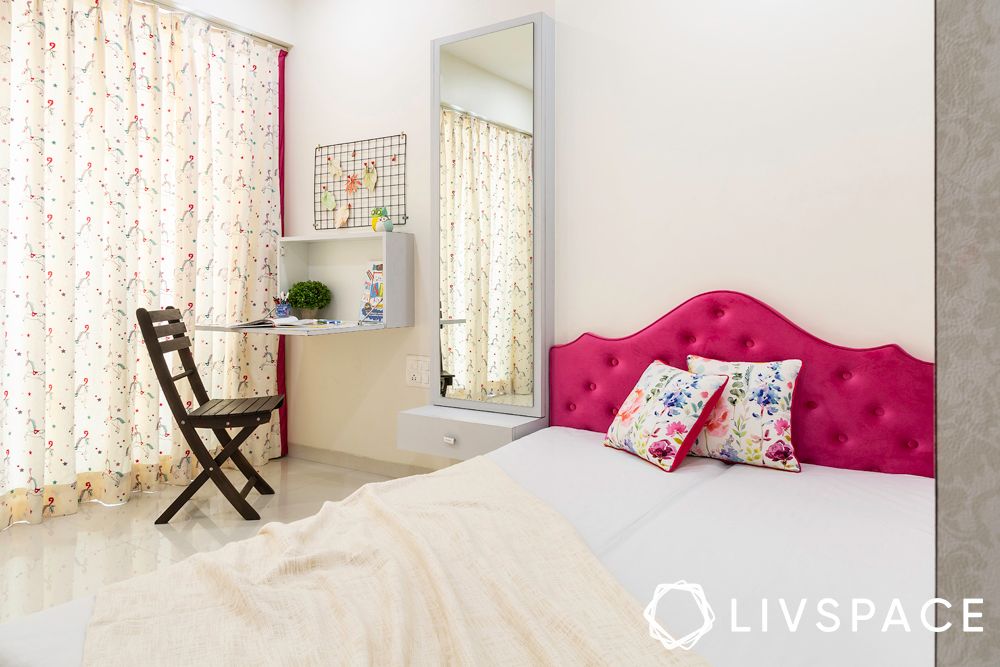 Just when you thought this 2 BHK home couldn't throw any more surprises at you, we pull another rabbit out of the hat! As the kid's bedroom was very tiny and needed space for a study unit, Tanvir designed the wardrobe to be accessed from the bed. In short, the bed is pushed right up to the sliding wardrobe. Does that seem like a waste of space? Not at all! There is a hidden compartment in the wardrobe just where the bed starts that can be accessed from inside and can be used to keep valuables.
Designer Speak
If you enjoyed reading about this super-compact home, also explore 10 of our best homes in the maximum city.
Send in your comments and suggestions.