American chef Andrew Zimmern rightly said, "Everything happens in the kitchen. Life happens in the kitchen". As such, kitchens need to be designed with tons of love, care and a dash of interior design expertise. So today, we're going to give you a tour of S Krishnan's Chennai kitchen, one that is a functional masterpiece designed under ₹2,15,000.
The first thing that stands out in this kitchen is its bold and striking magenta colour. While most Indians love colours, the kitchen is not usually the place where homeowners experiment with unique colour combinations. However, S Krishnan opted for this stunning shade of purplish-magenta.
Despite choosing such a dark colour, the kitchen still looks open and airy. How did we achieve this? Join us as we reveal the design secrets of this budget Chennai kitchen.
#1: How to Take a Unique Twist on Pantone's Colour of the Year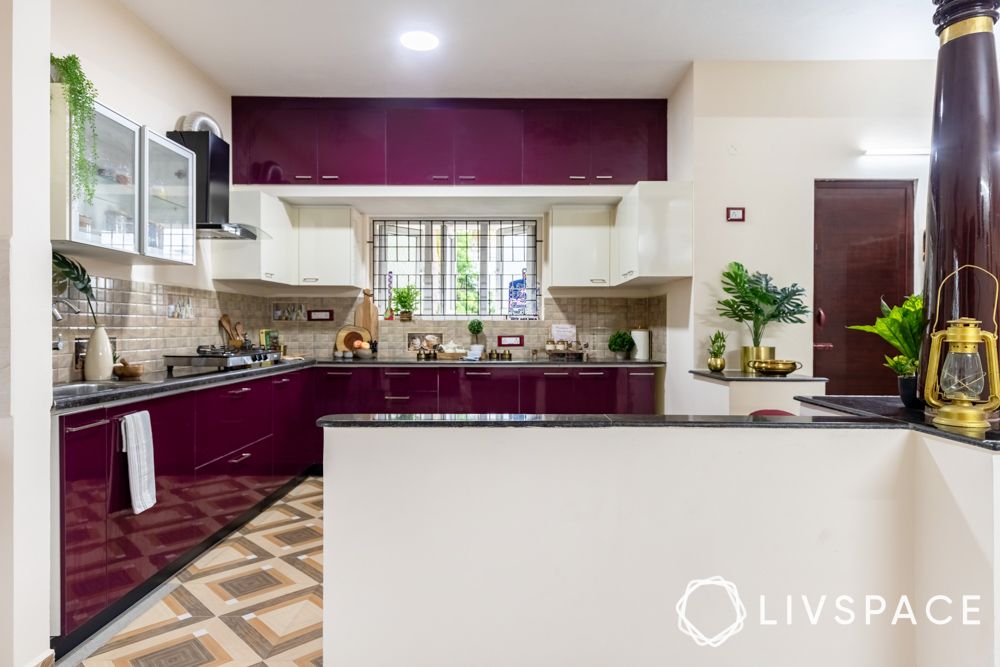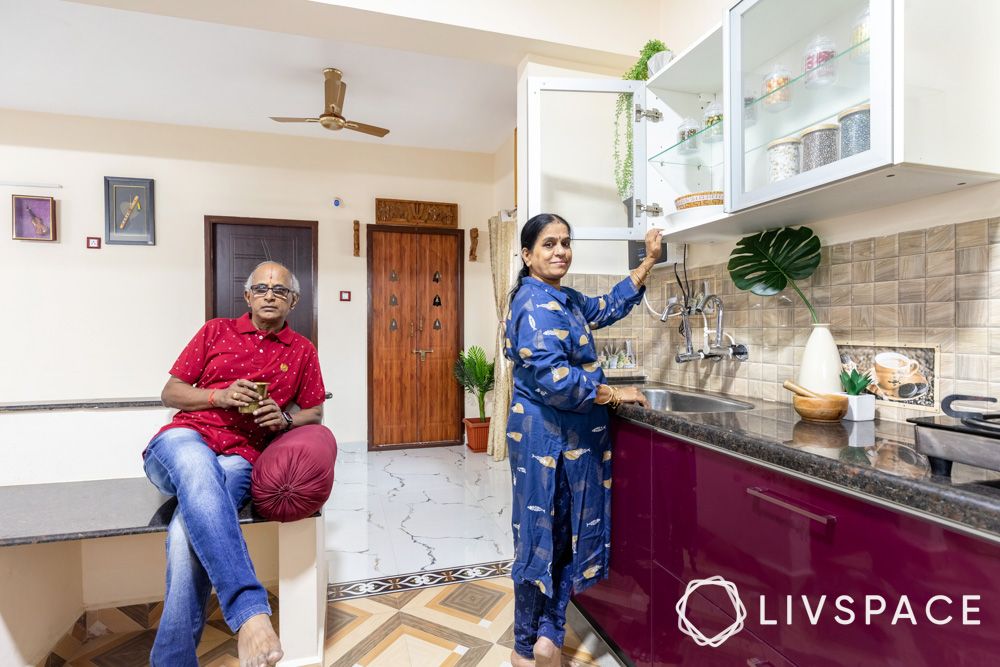 Every year, Pantone releases a "Colour of the Year". In 2023, the colour is "Viva Magenta", a rich and seductive shade of magenta, with deep red undertones. However, not everyone is a fan of red, especially in the kitchen area.
This home is a prime example of how you can take a trendy colour and tweak it to fit your tastes. Instead of the vivid magenta, S Krishnan opted for a deeper shade with lush purple undertones. Not only is it a unique choice, being a dark colour, it is also low-maintenance.
#2: The Best Colour Options for Small Spaces and Indian Kitchens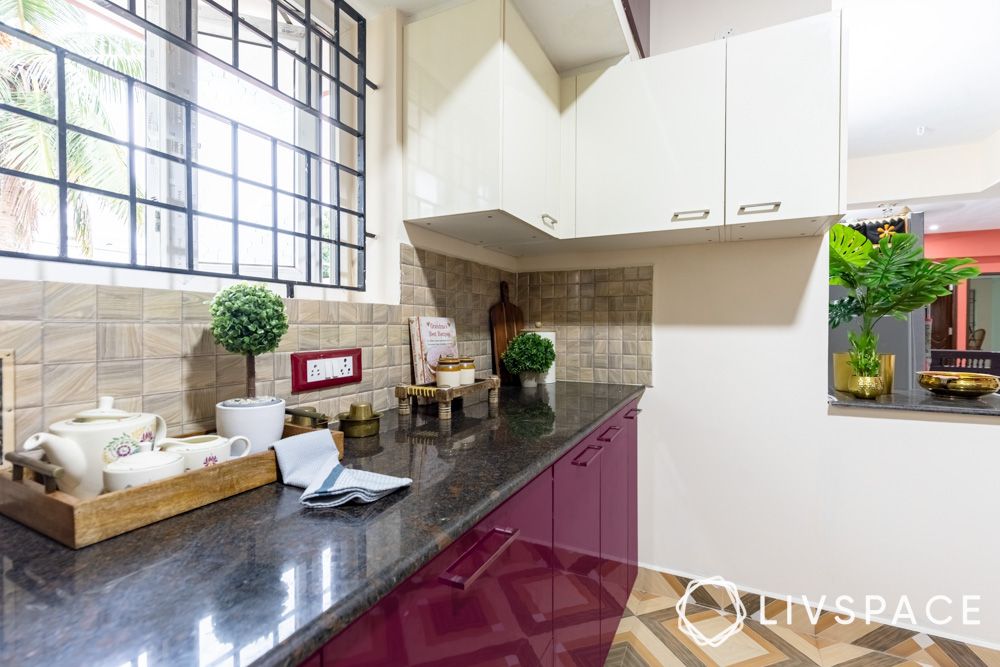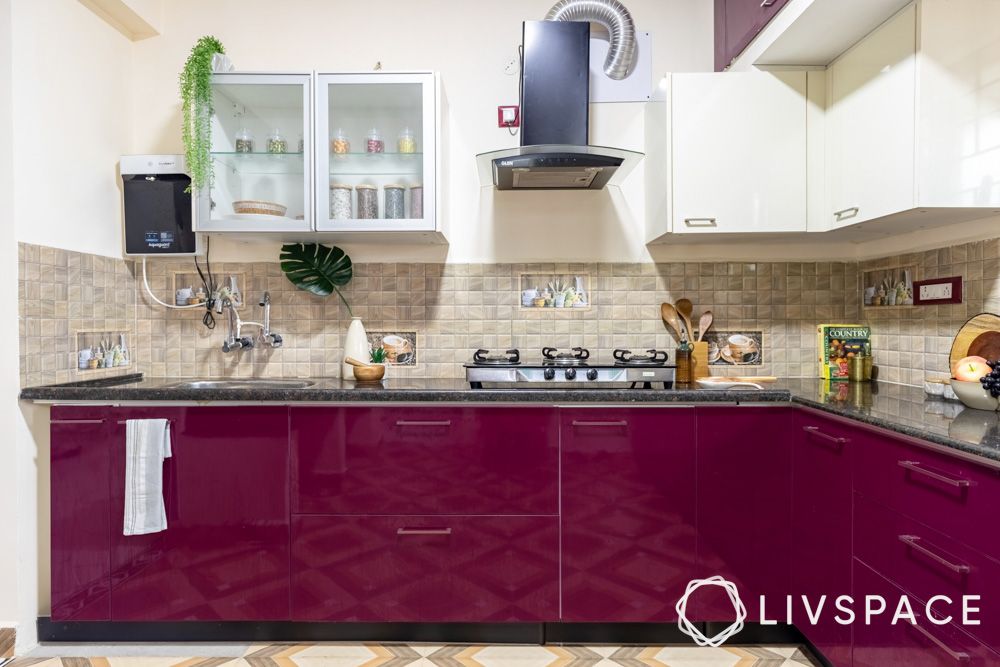 The problem with most Indian homes is the size. With flats getting smaller, kitchens are often compact spaces. The rule of thumb that many designers will tell you is to use light colours in small rooms. But that doesn't mean you have to forego your love for bold, vibrant colours! If you have a small kitchen, instead of choosing a single dark-coloured theme, opt for a mix of light and dark shades, like magenta and white.
Another tip to make a small room look more spacious is the finish of the cabinetry. Glossy and reflective finishes can create the illusion of space. Thus, if you are going with bright colours for your kitchen cabinets, ensure that the finish is glossy.
When you choose the colour theme for your kitchen, while your tastes and preferences play a vital role, maintenance is also a concern. Indian cooking involves the heavy use of spices like turmeric, which can leave stains on your base cabinets and countertops. Therefore, try to go with dark-coloured base cabinets and countertop. You can always choose light colours for your upper cabinets and backsplash.
#3: The Cost Factor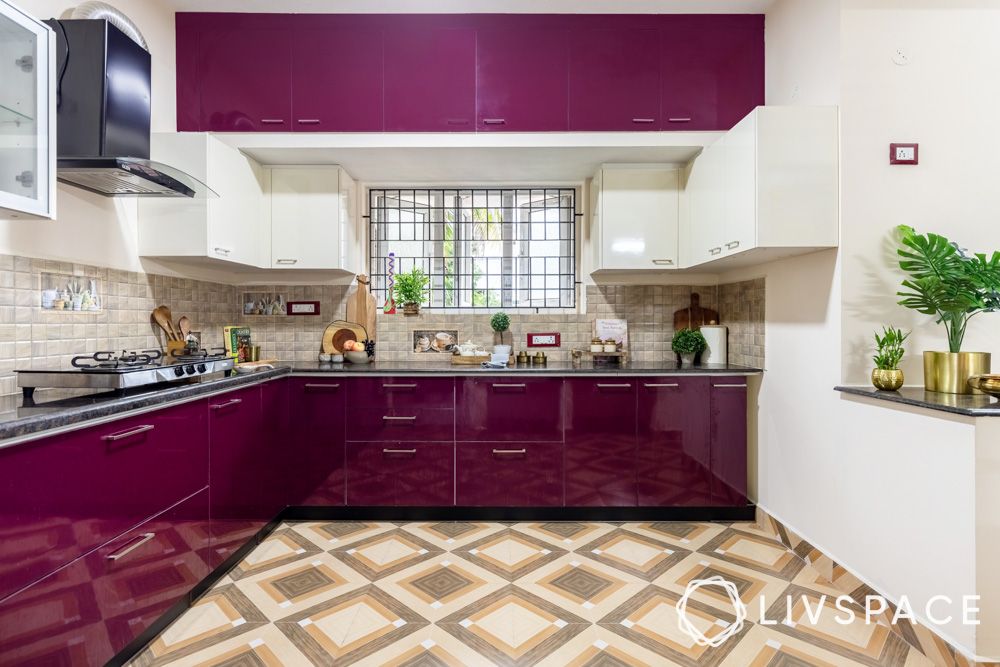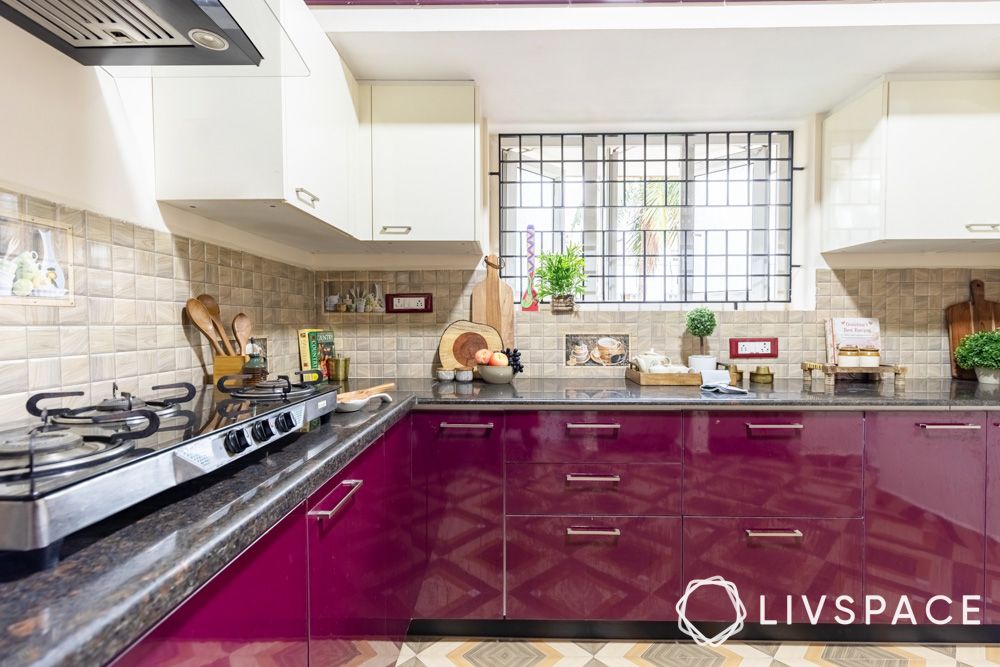 Would you believe that this spacious, stunning and storage-efficient kitchen cost only around ₹2,15,000? This is despite having maximum storage, including base cabinets, upper cabinets and lofts. The secret here is the material used for the cabinetry. This magenta purple kitchen is entirely made up of laminate, one of the most cost-effective materials in the market.
#4: Let's Talk About the Layout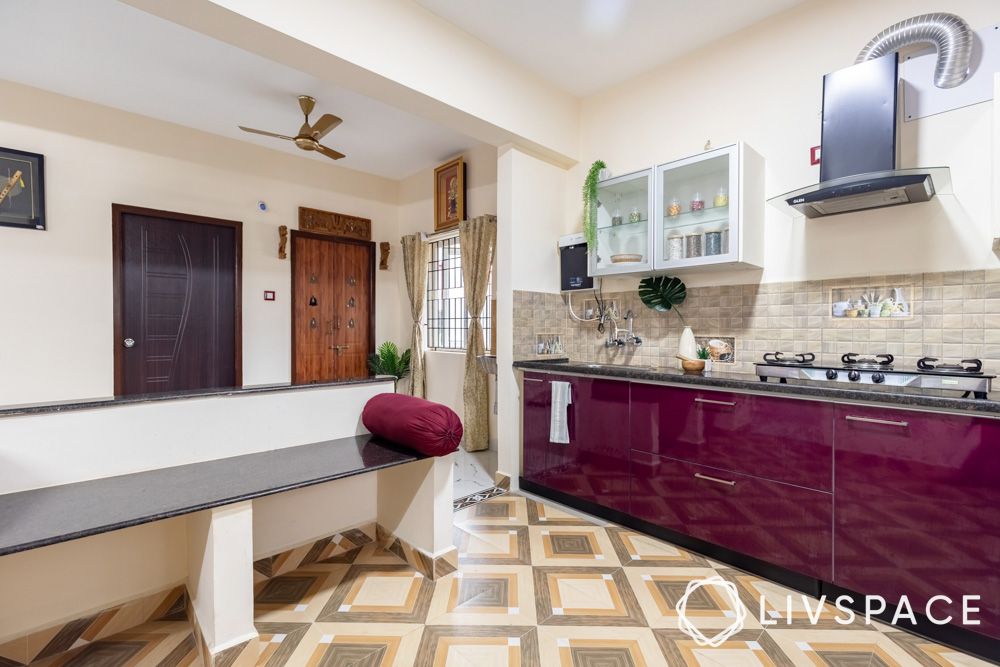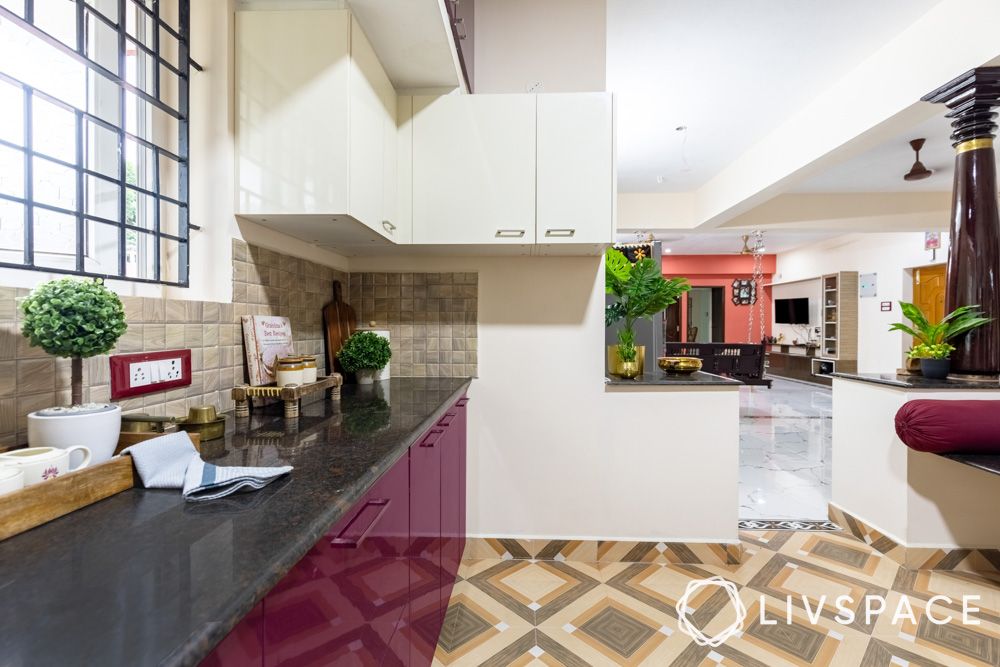 As you can see from the photos, the clients were an elderly couple. Therefore, comfort was a must, which played a role in coming up with the kitchen layout. The kitchen has a spacious, L-shaped open layout. This makes it easy to move around without bumping into things. Also, seating inside the kitchen ensures that the clients can quickly sit down and take a break while cooking.
#5: Add Texture by Introducing Patterns on the Floor and Backsplash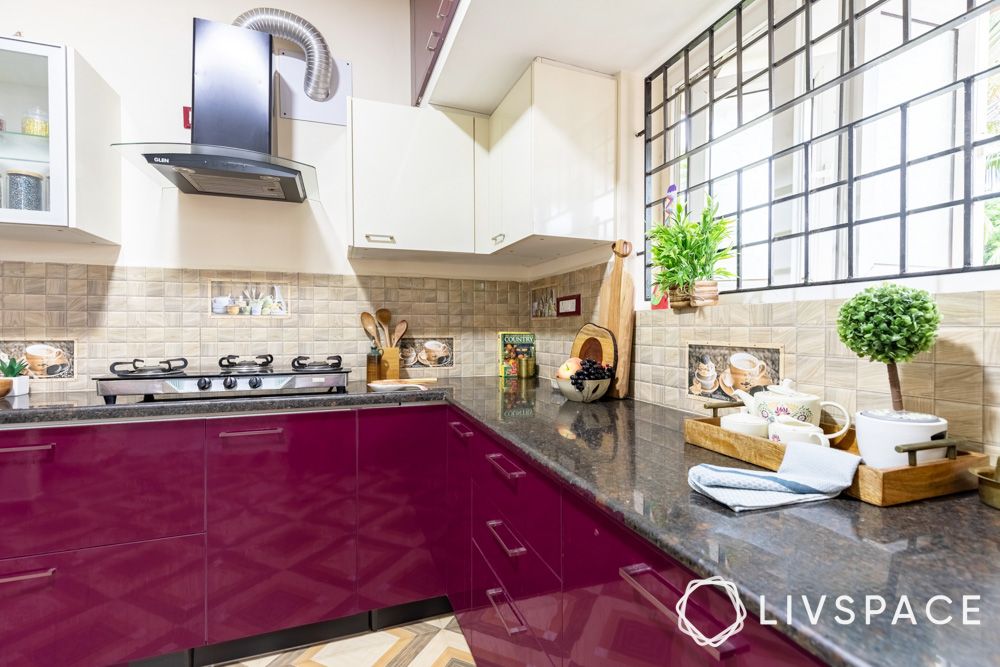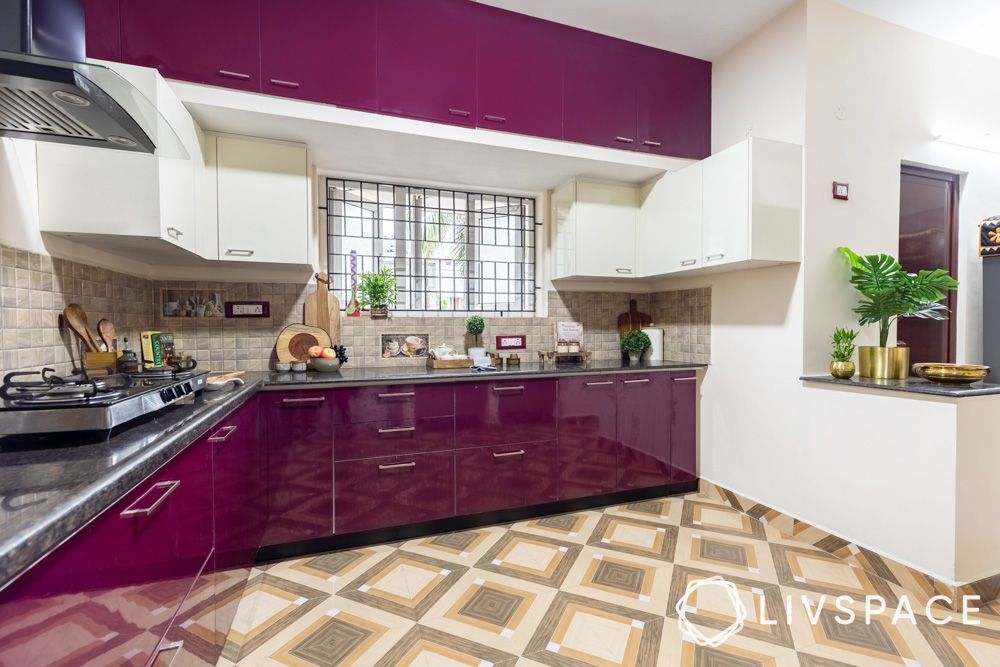 Texture is an important facet of good interior design. An easy way to add texture to your room is through patterns. For instance, patterned flooring and backsplash has been used in contrast to the cabinetry to add some texture. By opting for neutral shades, our designer ensured that the bold magenta colour of the base cabinetry will stand out.
If you liked this Chennai kitchen, also check out this Pune kitchen design.
How Can Livspace Help You? 
We hope you found our ideas useful! If you want beautiful interiors for your home, then look no further. Book an online consultation with Livspace today. Have any thoughts or suggestions you'd like to share with us? We're all ears! Drop us a line at editor@livspace.com.
To know how our customers feel about working with us, check out these Livspace reviews for more details!
Disclaimer: All contents of the story are specific to the time of publication. Mentions of costs, budget, materials, finishes, and products from the Livspace catalogue can vary with reference to current rates. Talk to our designer for more details on pricing and availability.