Noida interior design images of a beautiful family home in Paramount Golf Foreste!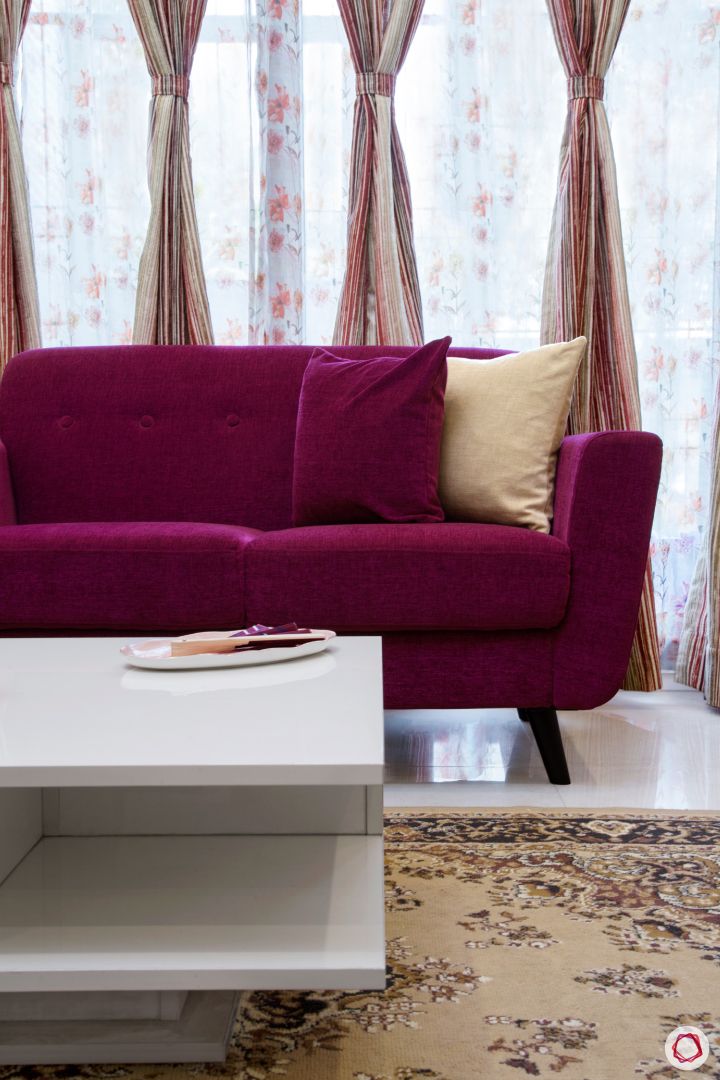 ---
Who livs here: Ankur Chandra with his wife Shreshta Chandra, two kids and their parents
Location: Paramount Golf Foreste, Greater Noida
Size of home: A 3BHK villa spanning 1,700 sq ft approx.
Design team: Interior Designer Ranbeer Kaur with Quality Manager Sandeep Jain
Livspace service: Full home design
Budget: ₹₹₹₹₹
---
For Ankur and Shreshta Chandra, moving to Greater Noida was an extremely informed and conscious decision. Having lived in Bengaluru for quite some time, they wanted to move to a more peaceful city that is also closer home, up north. This decision led to the purchase of this sprawling villa at Paramount Golf Foreste and thus, was born a dream to design their own cozy home. After a brief search online, they zeroed in on Livspace and this beautiful home took shape along with their designer, Ranbeer and the design team.
Rather open to new designs and ideas, the clients just had one specific requirement — no sharp edges or glass furniture. They have little kids running around the house, and their safety is on priority. Our design team had to keep that in mind while designing this one. All they wanted was a very simple home where the family can live, laugh and entertain guests alike. Take a tour to find out what how their home turned out!
Keeping it simple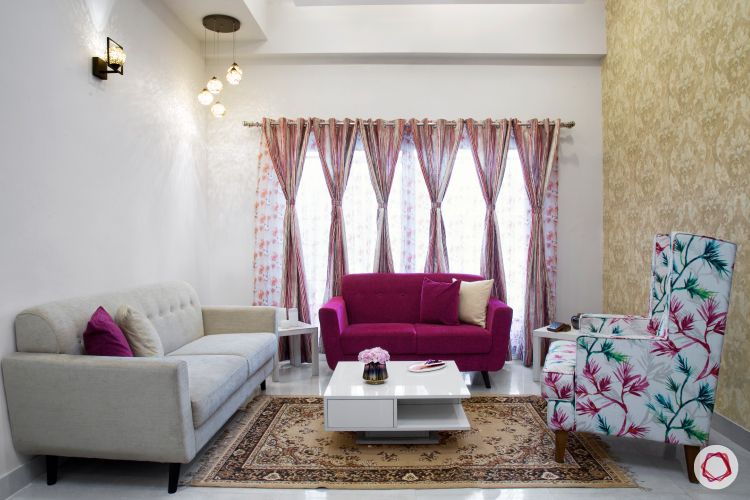 Being a couple who loves having friends and family over, a living room that is designed to facilitate conversations is a given. When Ranbeer was designing this space, she knew they did not want a television in the living room, but definitely wanted an accent chair. With these inputs in place, she placed a beige sofa and paired it with a magenta loveseat to add that pop of colour.
A floral printed accent chair set against a metallic wallpaper with motifs completes the look of this room. The clients also selected perfectly matching drapes with the help of their refined taste in interiors.
Maximise storage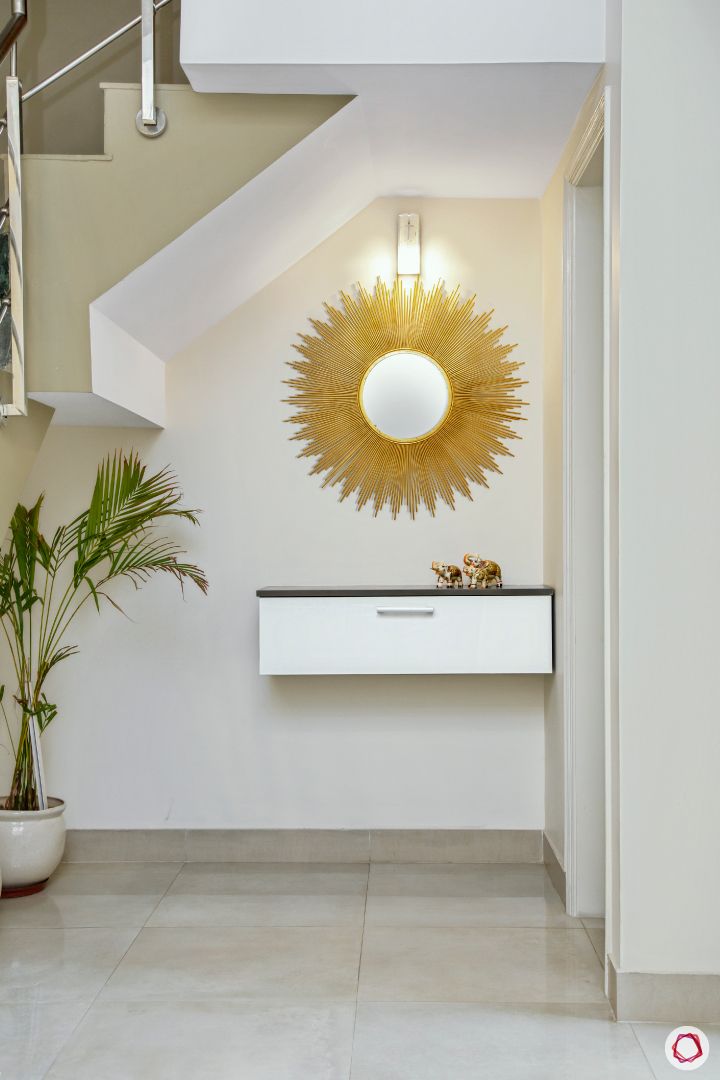 Why waste the space under the stairs? This is a question many ask, but few designers answer. Ranbeer has the perfect solution to utilise this dead space. She placed this wall mounted drawer just outside the powder room and hung a gold accent mirror above it to make this space look attractive, while making it functional.
Beating the blues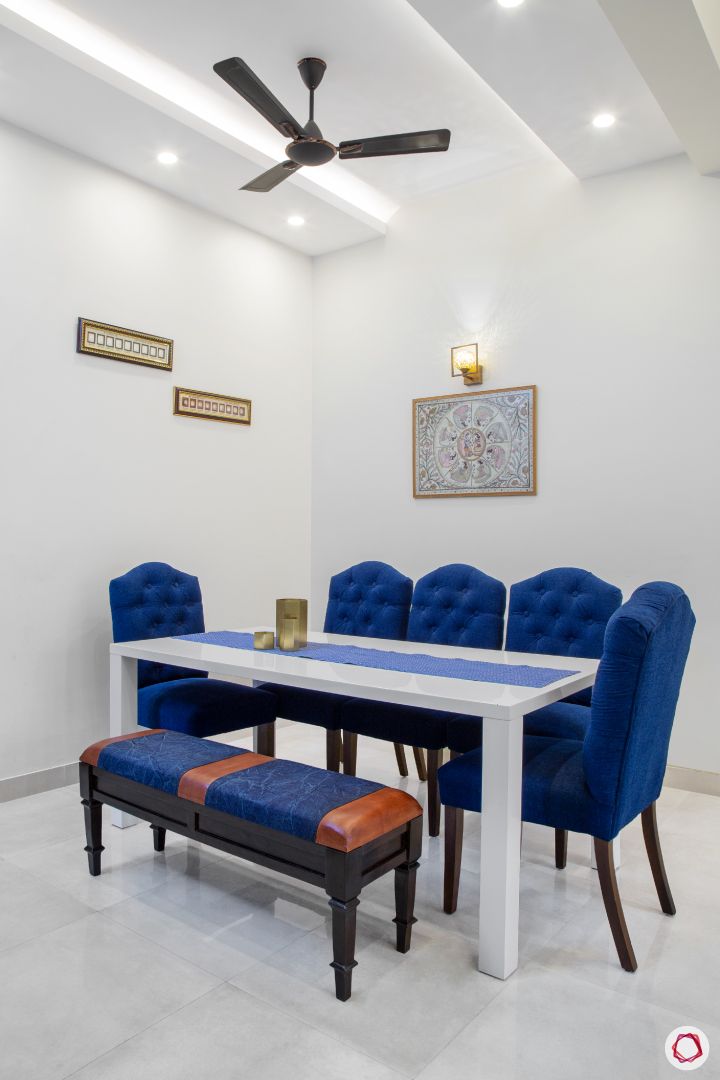 You cannot miss the stunning shade of blue in the dining room. A white dining table is paired with dark walnut dining chairs and this contrast is a match made in heaven. With plush blue upholstery on the button-tufted chairs, the dining area steals the show. Ranbeer has also given the family a bench to make space for more people to dine together.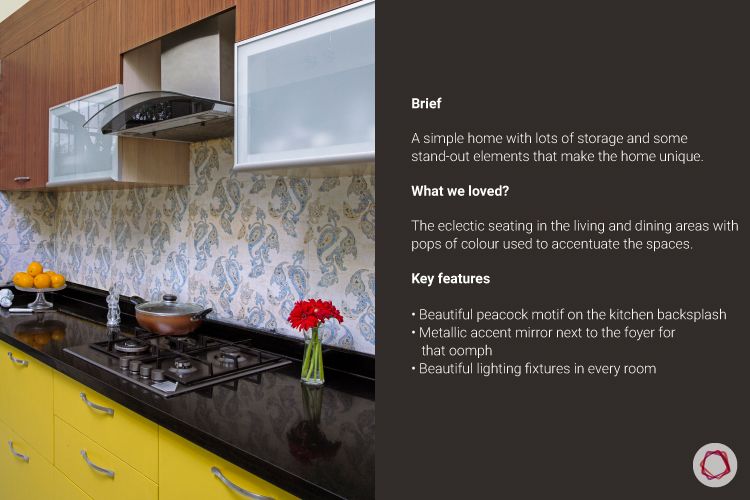 Sun 'n sand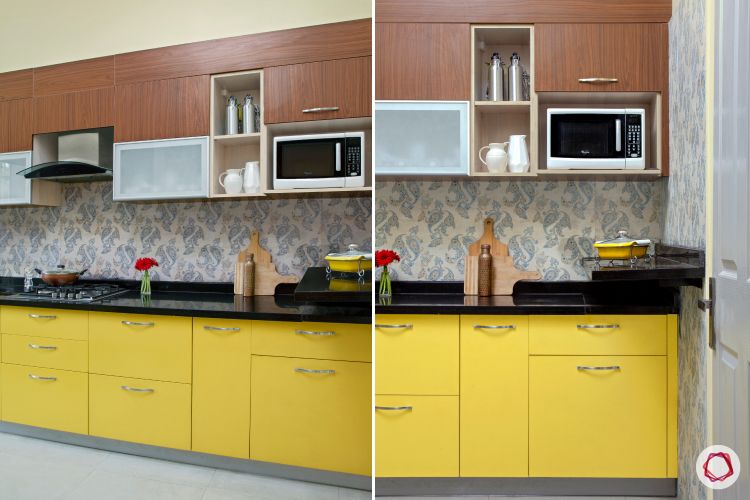 The kitchen sees a lot of activity on a daily basis. Shreshta loves cooking, so she wanted a very functional kitchen with all the modern amenities in place. Also, keeping with the theme, Ranbeer gave sunshine yellow for the base units to add a splash of colour. Open and closed storage makes it easy for the family to use this area efficiently.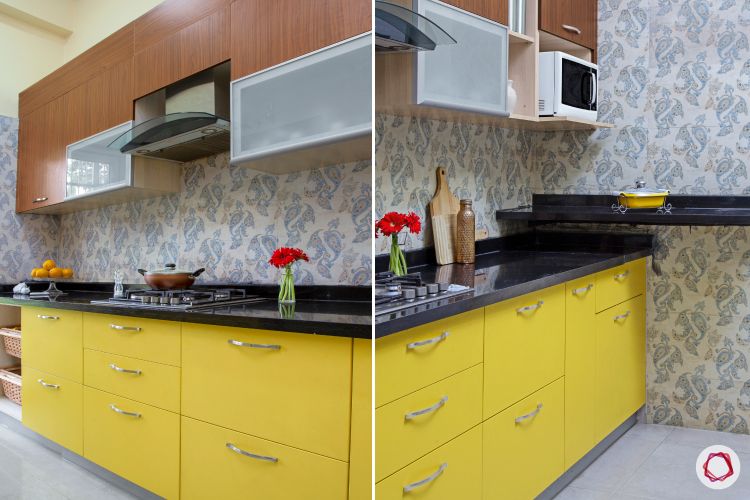 A striking feature of this kitchen is the tiny wall-mounted breakfast counter on the right. Built from the same material as the countertop, i.e. granite, it is easy to maintain and comes in handy when the kids are hanging around when their favourite meals are being whipped up.
Also, do not miss the pretty peacock print on the backsplash that has shades of yellow and blue that goes well with the cabinets. We love the vibe of this cozy space!
Chocolate and Crème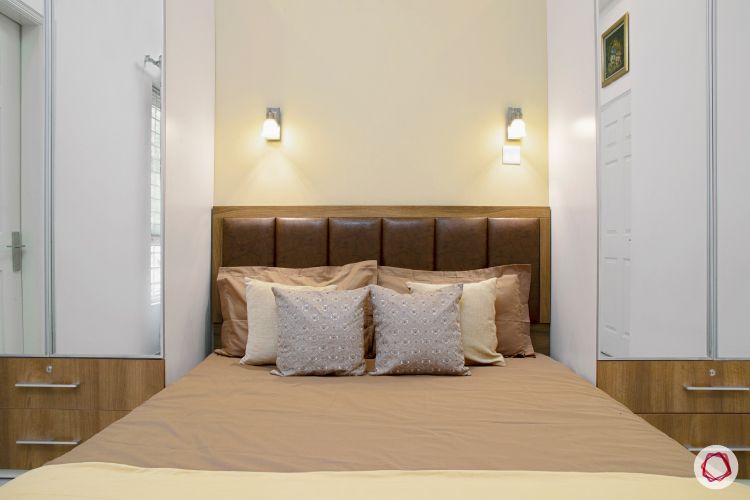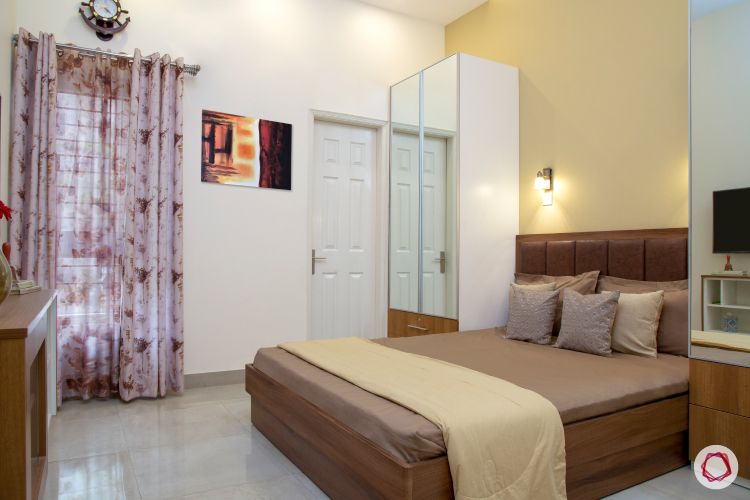 The parents' room is a warm and inviting space in shades of brown. Storage was a major concern for them and Ranbeer faced the challenge of giving them that. Since the space was confined, she decided to give them extended drawers on either side of the bed with mirrored wardrobes. A cocoa leatherette headboard for the wooden bed with storage fits right it.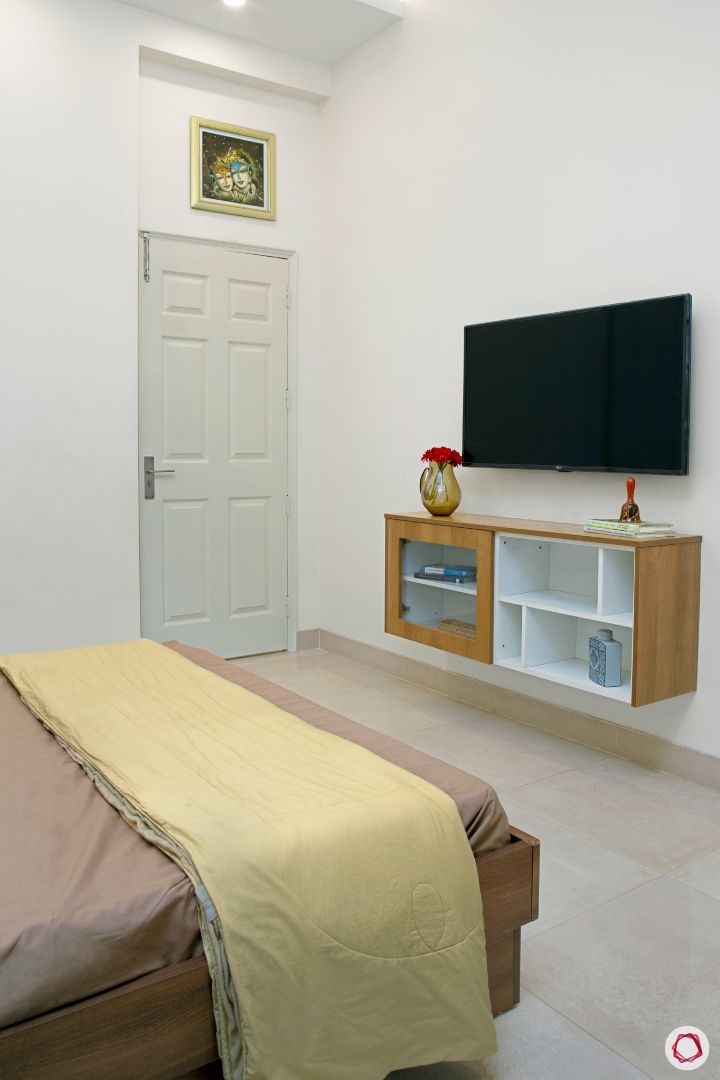 The TV unit is also finished in walnut and white laminate and is wall-mounted to avoid wastage of floor space. This room is perfect for the parents in every way.
Chirpy kids' corner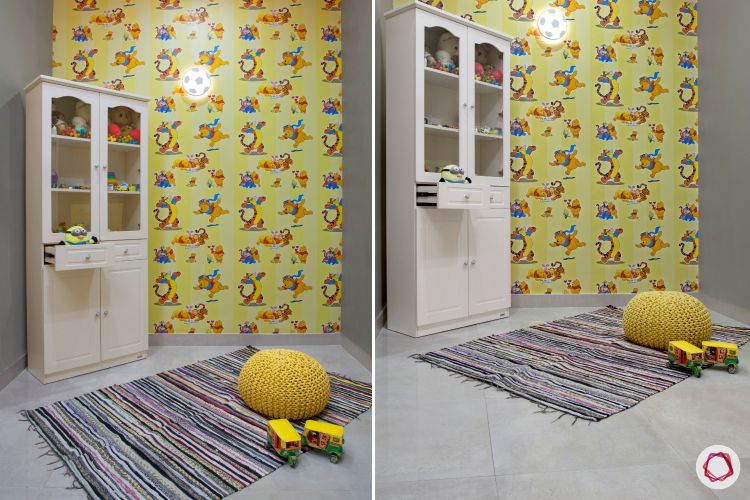 One corner on the top floor of this home belongs entirely to the little ones. Don't they deserve to have a space dedicated to themselves? This bright and happy space is minimalist, with just a cabinet to store all the toys and a rug and a pouf placed on the floor so that the kids can have fun. A Winnie the Pooh-themed wallpaper keeps things cheerful in here.
A cozy bedroom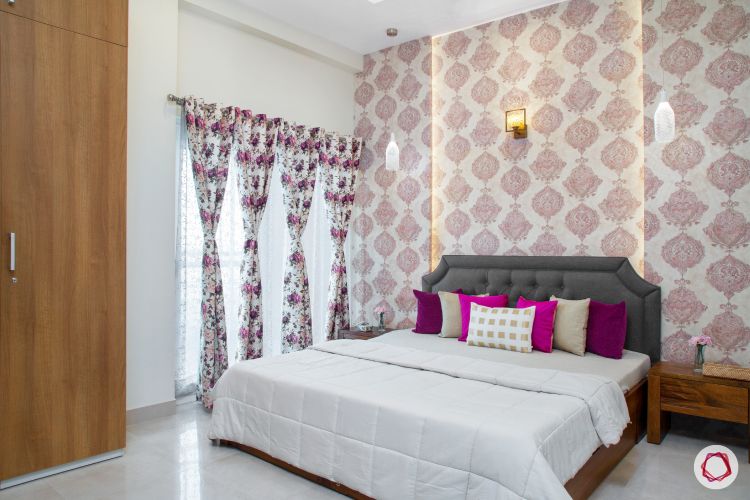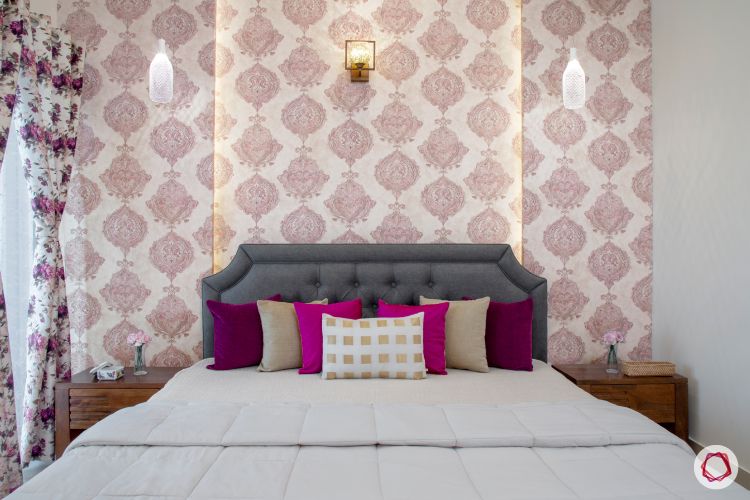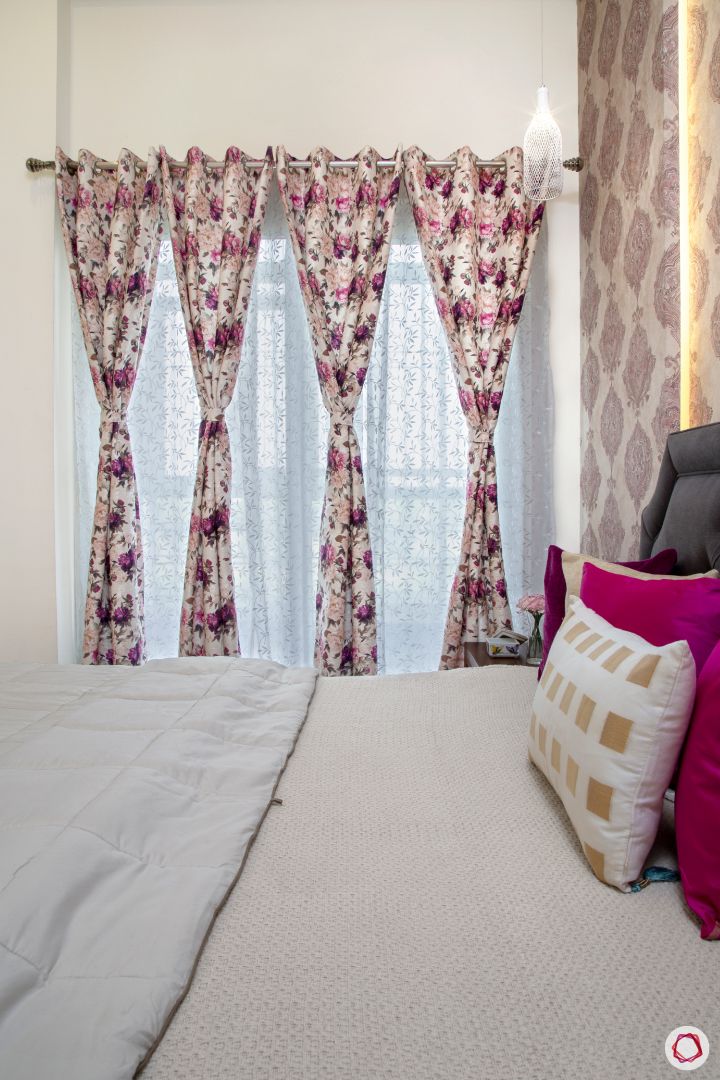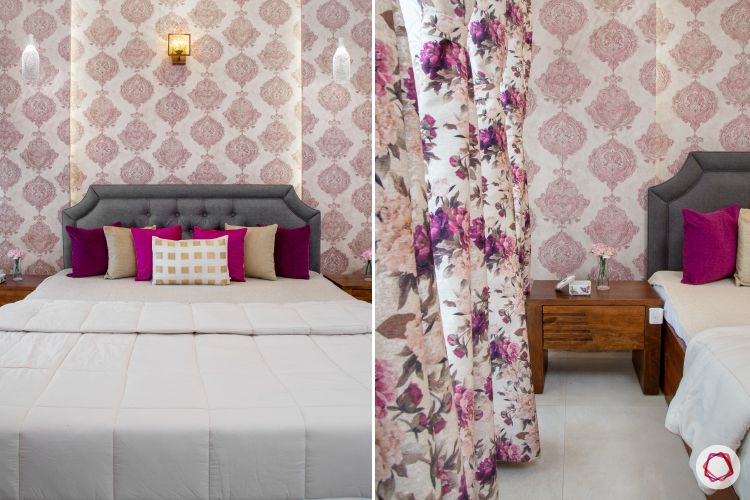 The master bedroom showcases eclectic design aesthetics in all its glory. While the bed is solid wood, the headboard sports grey fabric upholstery. The wall behind the bed makes for an accent with bold magenta motifs decorating it all over. Ankur and Shreshta also wanted maximum storage, thus the bed features ample storage. LED strip lights accentuate the wallpaper and bottle-shaped pendant lights add character to this room.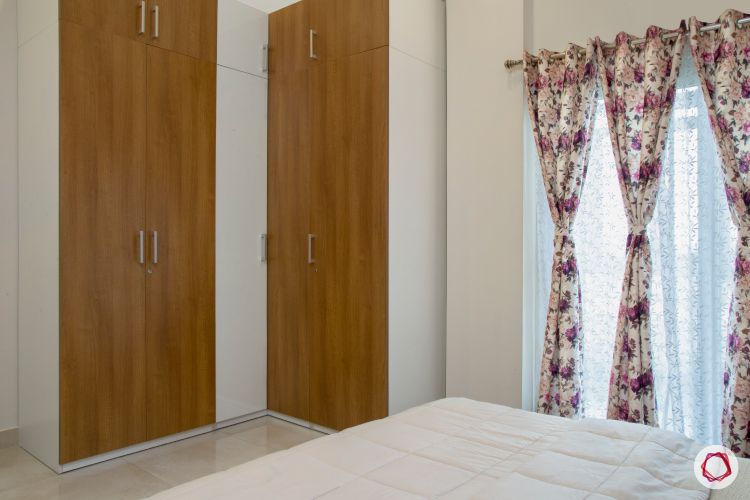 To maximise wall space, the designer has given an l-shaped wardrobe on the corner. This wardrobe has white and walnut laminate finish with loft storage. This gives the couple ample space to store all they want!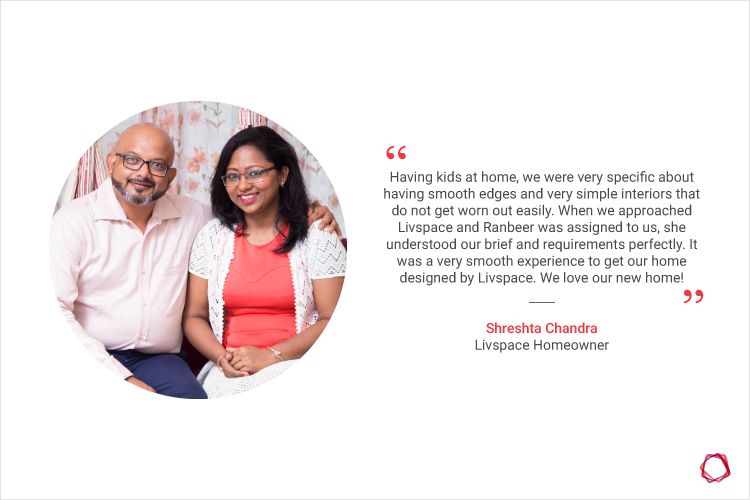 ---
"When the Chandras approached me, they were clear about not wanting any loud colours in their home and giving them maximum storage space. I worked around their needs and chalked out a design that would suit their requirements completely. It was exciting to work for them since they were very receptive to new ideas."

– Ranbeer Kaur, Interior Designer, Livspace

---
Liked this simple and elegant home? What some more interior design images? Take a look at An Art Enthusiast's Home Comes Alive in Noida.
Send in your comments and suggestions.