This 3BHK room design uses old furniture to create a fresh look in a new home. Changing the background and choosing the right colour scheme has changed the decor style of this Gurgaon home!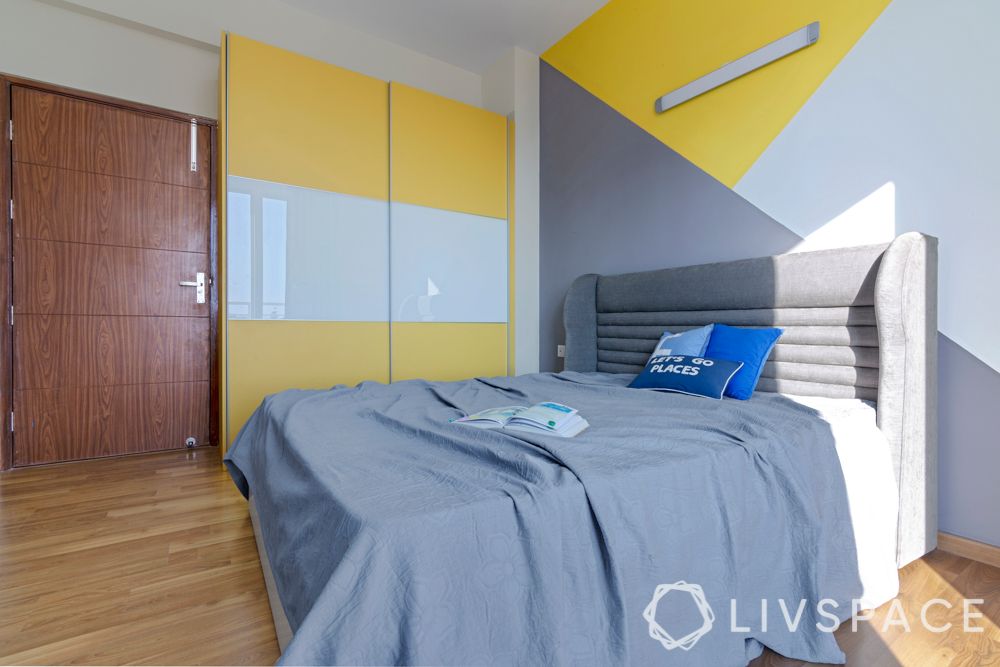 ---
Who livs here: Dr. Sanjay Kapoor with his wife Dr. Jyotsna and their three childrem
Location: Gurgaon
Size of home: A 3BHK spanning 2,200 sq ft approx.
Design team: Interior Designer Drishti Bhatia & Project manager Rajesh Yadav
Livspace service: Full Home Design excluding Kitchen
Budget: ₹₹₹₹₹
---
Choosing the interiors of your home is a major decision. And when you move to a new home, you often want a fresh new look – something completely different from where you lived in the past. This was the case with the Kapoors. Livspace designer Drishti Bhatia tells us that our homeowners wanted to steer clear of wood, and use their existing wooden furniture in creative new ways. And that's how Drishti crafted this home, with plenty of blues and greys, as well as experimental colours. The result? A home that brilliantly uses existing furniture, but creates a wholly different look. The family experimented with different decor styles to make sure that the existing furniture fit in seamlessly, and the new pieces look just as gorgeous.
Since Jyotsna and Sanjay also have three children, Drishti carefully designed the interiors of their 3BHK room design to create a space that was safe for kids, with little to no possibility of accidents. Take the tour to know more!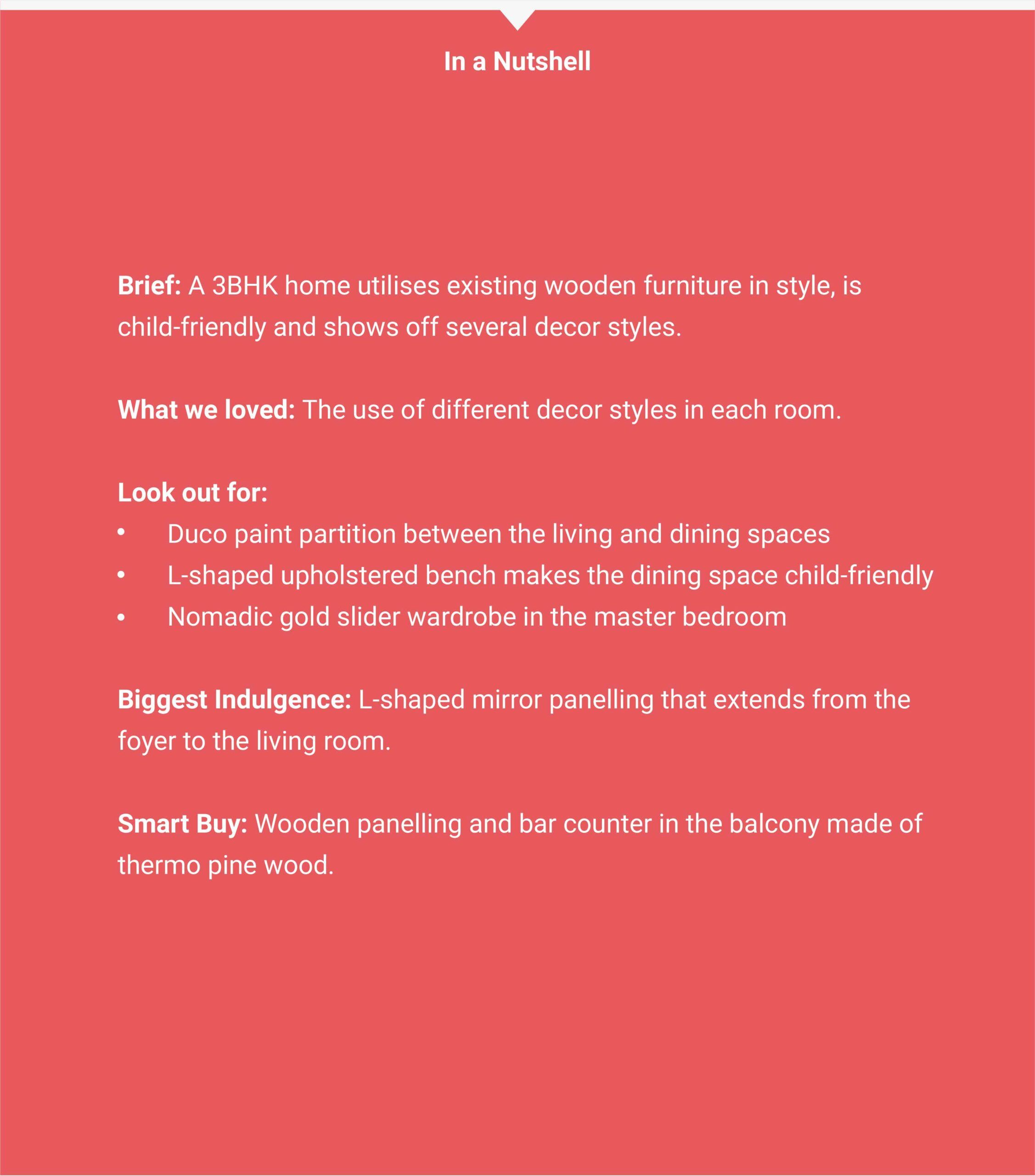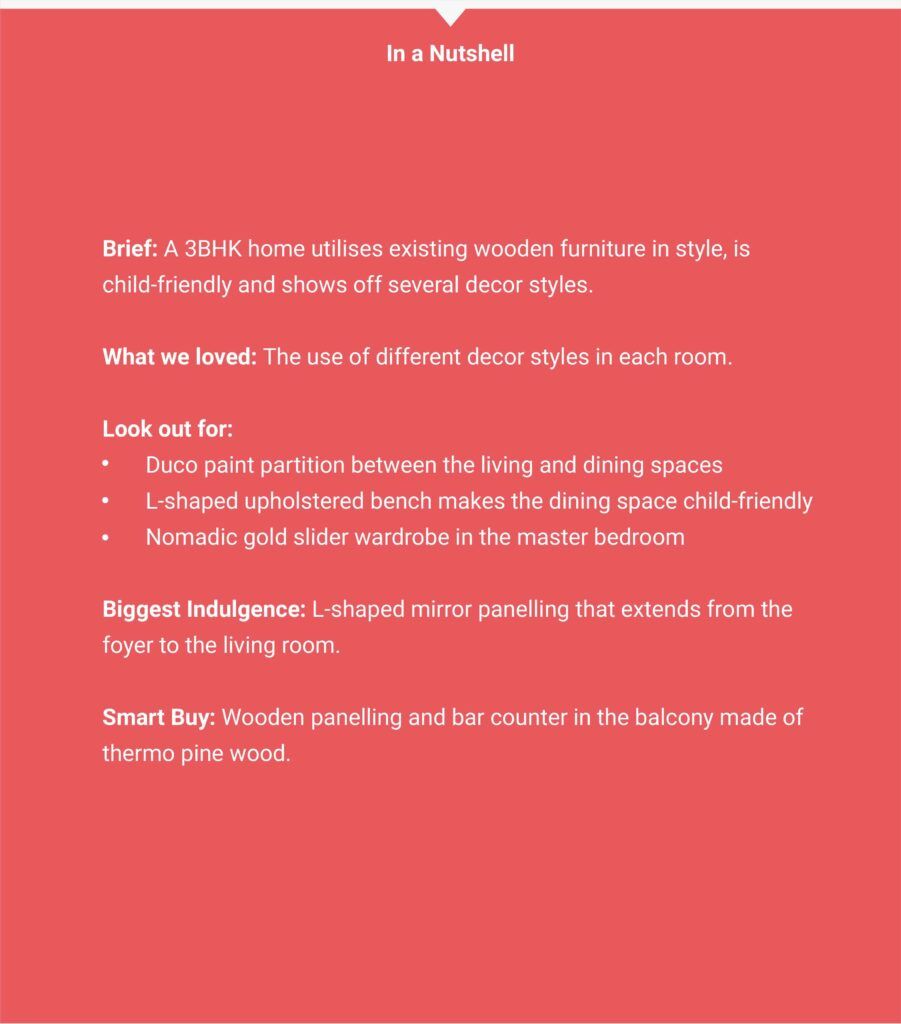 An Industrial Touch in the Foyer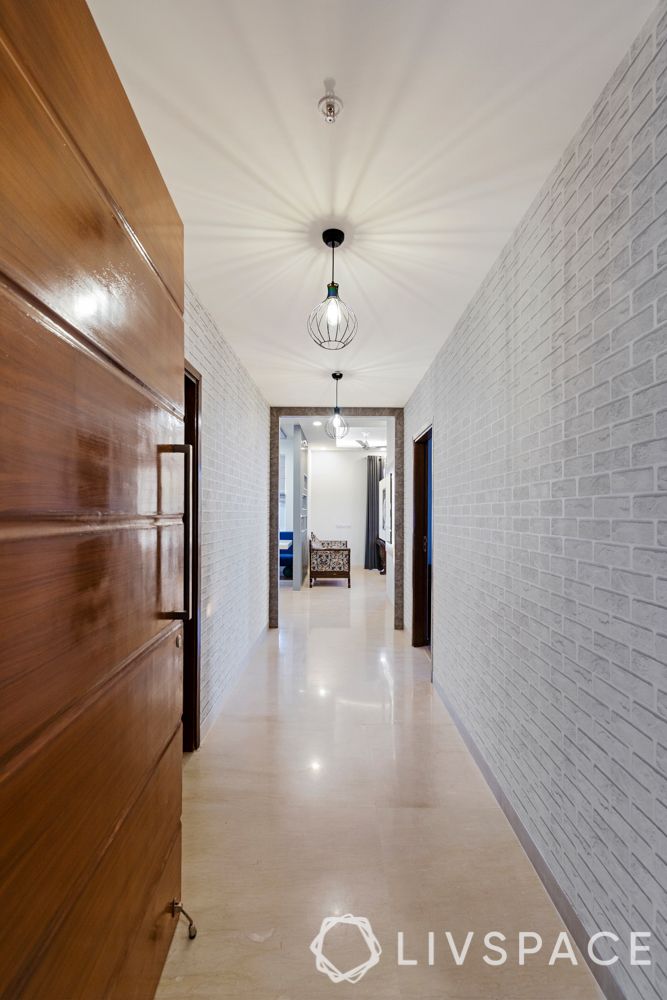 In this 3BHK room design, the entrance comes with grey exposed brick wallpaper and an industrial pendant light. With a focus on minimalism, Livspace designer Drishti Bhatia crafted this space to look open and spacious, while still looking peaceful and well-lit!
Walking through the foyer, you'll come across a grey stone-finished laminate panel both above and below the mirror panel. With the choice of colour and finish, Drishti wanted to craft a space that looks as natural as possible!
The Living Room & Entertainment Room Have a Mix of Styles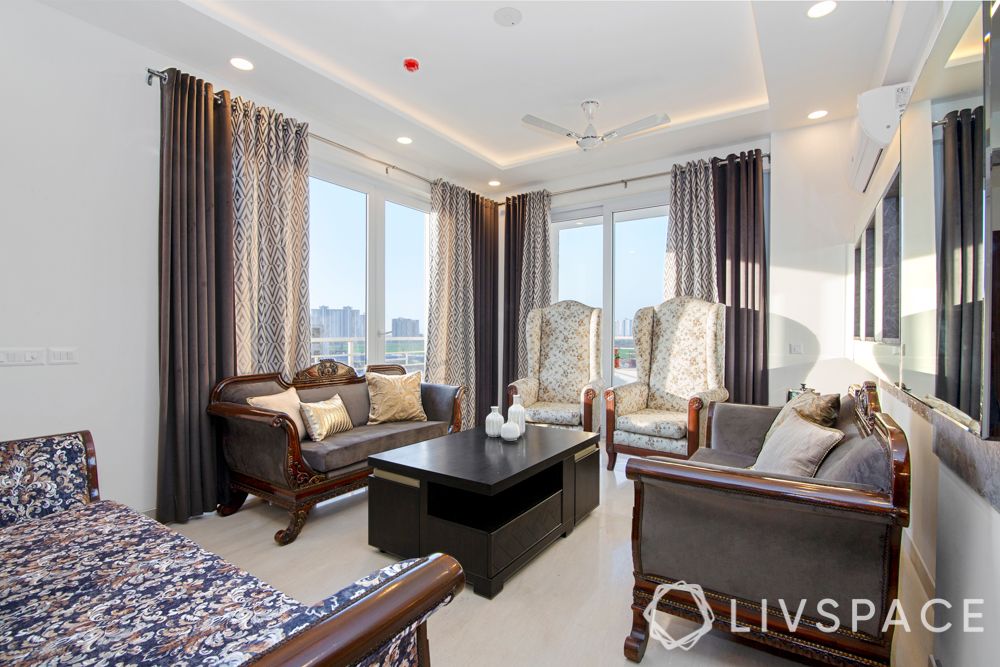 The Kapoors already had ample furniture for the living room – they had also reupholstered these carved wooden pieces in preparation for a new space. However, as Drishti tells us, they wanted a fresh look for this space. So Drishti, one of the best interior designers in Gurgaon, set the mood for a more contemporary space. With the widespread use of grey and blue, the carved furniture loses its desi appearance. And against the L-shaped mirror panel with built-in niches, the space looks very different!
Drishti has tied the foyer to the living room with the mirror panel, as well as the stone finish laminate panel both above and below it. Also, she has made space for accessories by providing niches in the mirror panel. Doesn't it look completely unique?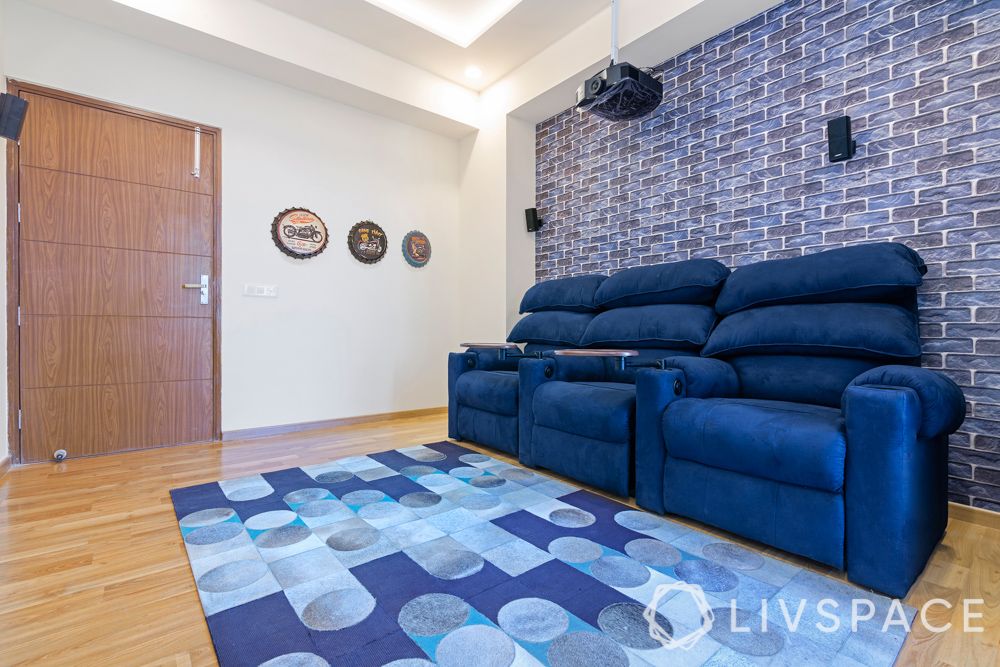 Since Sanjay and Jyotsna, with their three children, wanted a space to catch up over movies and all things fun, Drishti was tasked with crafting a room to match. So if you're looking for an underlying theme to the entertainment room in this 3BHK room design, it's simple – comfort! Drishti suggested an exposed brick wallpaper that ties in with the wallpaper in the foyer. The Kapoors loved the idea of a soothing blue space, so this colour takes over the room!
"It has been a great journey from start to end – my home was ready as promised. The Livspace team is so meticulously organised that you don't need to check on them. We appreciate the effort they put into our home!
– Dr. Jyotsna Kapoor, Livspace Homeowner

Modern Aesthetic Takes Over the Dining Space and Kids' Room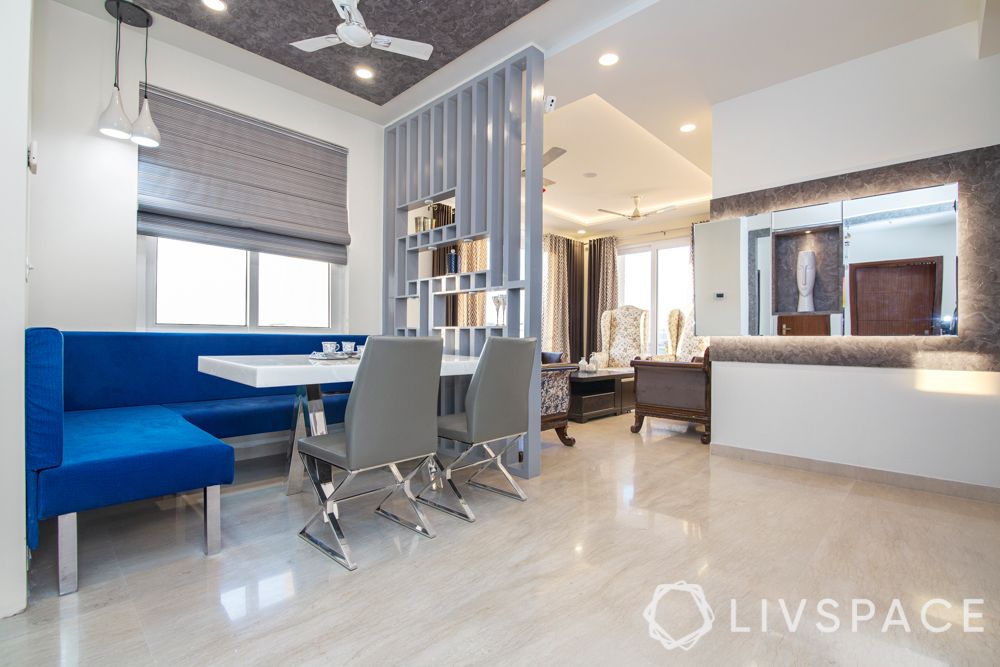 Given the open living-cum-dining space in this 3 BHK room design, Drishti has segregated spaces with the use of a grey duco paint partition. With its straight lines and rectangular spaces, this fixed partition can be used without the fear of little hands getting trapped inside, Drishti tells us. Furthermore, she filled the dining space with a sleek table and a pair of grey chairs. Since Jyotsna was worried that her twin sons would injure themselves while getting off chairs, Drishti suggested a fully upholstered bench that cuts down on the possibility of accidents drastically! Also, do not miss out on the wallpaper on the false ceiling, that adds to the modern aesthetic!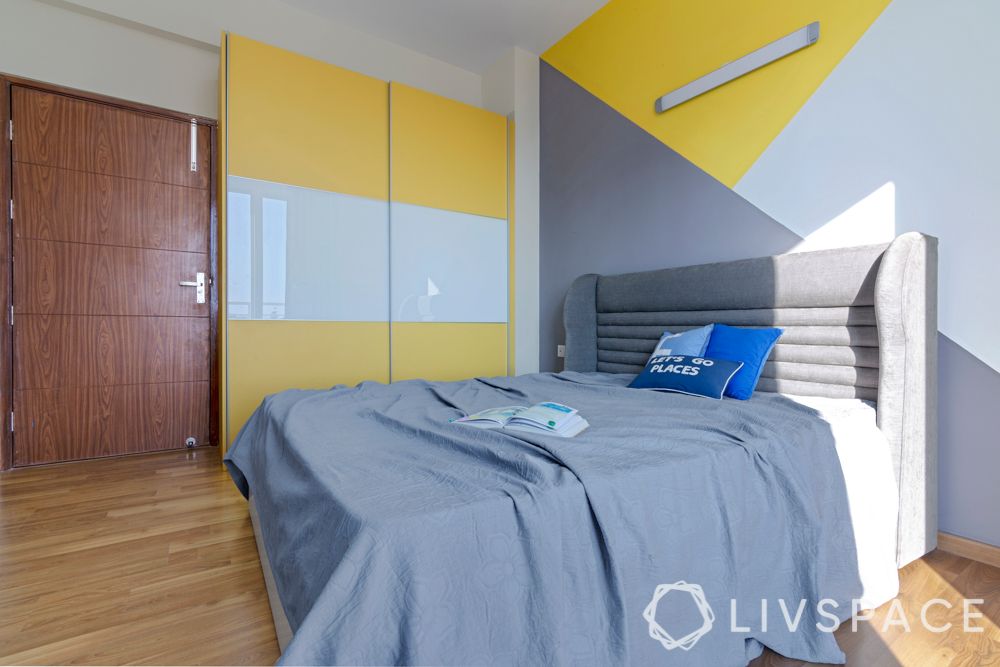 Since the Kapoors have three children, that is, twin sons and a daughter, Drishi suggested that the children's room have a gender-neutral colour palette. That's how this 3BHK room design comes in yellow and grey, with a grey bed complete with a soft heaboard from the Livspace catalogue. The yellow sliding wardrobe also comes with a lacquered glass panel, and a yellow and white study unit makes the space perfect for a school-going child!
Some Traditional Charm for the Master Bedroom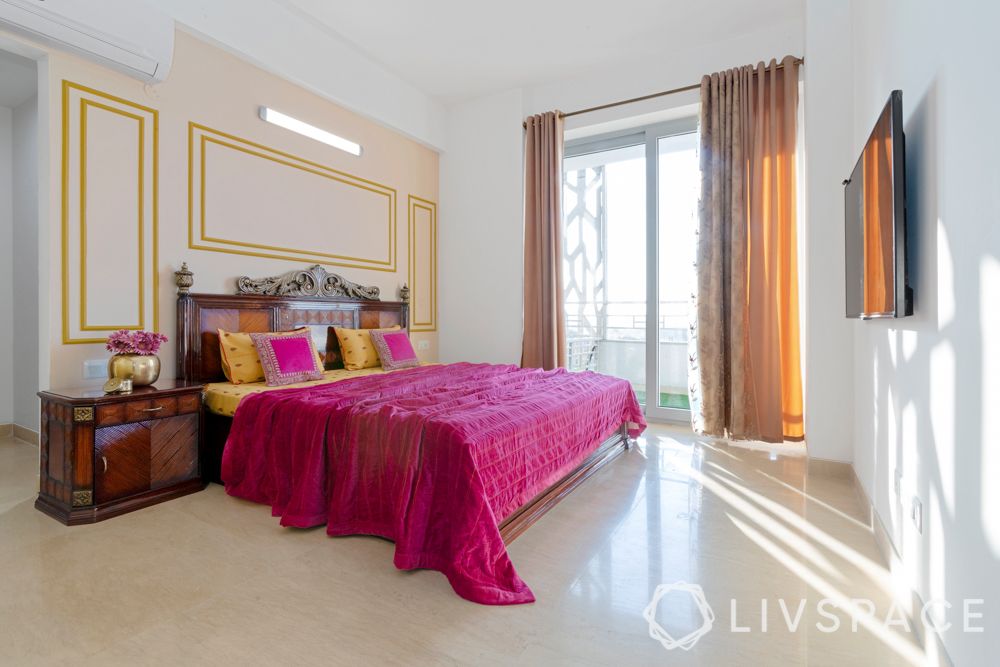 Sanjay and Jyotsna had a carved wooden bed for their master bedroom, so Drishti came up with a design that would highlight the same. That's how this 3BHK room design has gold trims on the wall, and a nomadic gold slider wardrobe with a lacquered glass panel in between. Overall, the room brings in loads of old-world charm and looks like a space ready for royalty!
Rustic Vibes in the Balcony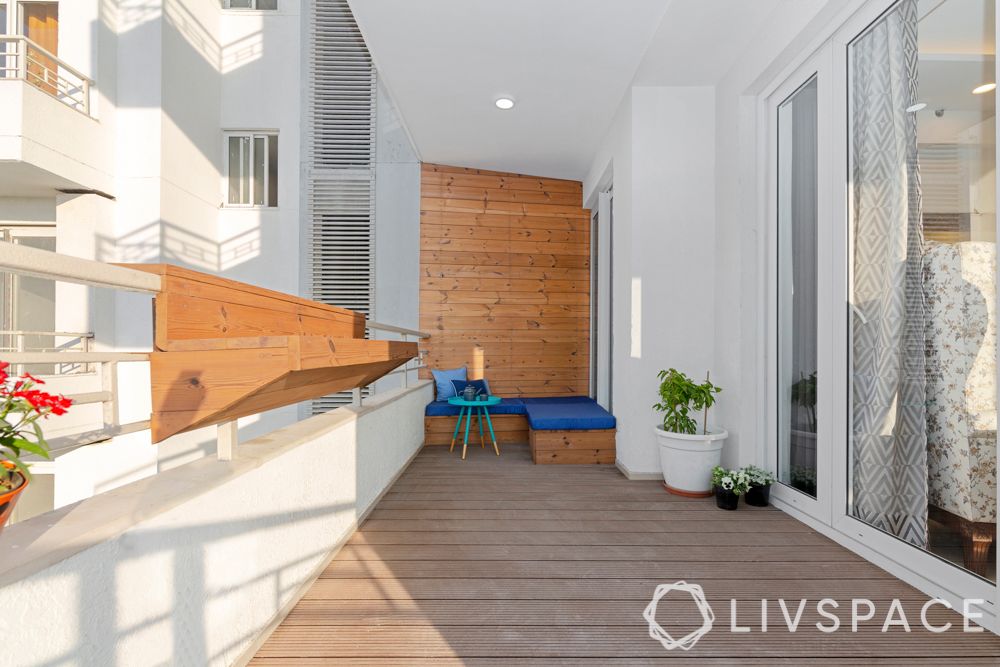 Sanjay and Jyotsna wanted a place to chill with friends and family. And Drishti thought it would be a shame to not make the most of the lovely view from the balcony. That's how they decided to turn this simple balcony into the perfect place to catch up over a drink. So, watch out for the balcony in this 3BHK room design by one of the best interior designers in Gurgaon. This homely space comes with thermo pine wood wall panelling and a comfy bar unit as well! Since the family wanted a touch of green in their balcony as well, Drishti designed the wall panelling to support planters too. What more could you ask for?
"This was my first project at Livspace, and I love how it has turned out! The Kapoors took my opinions regarding their home into consideration, and we stay in touch even now. There were no hiccups along the way, and I am glad they love their home!"
– Drishti Bhatia, Interior Designer, Livspace
Loved this home? Check out more Gurgaon homes here: Top 13 Gurgaon Homes That Hit it Out of the Park.
Send in your comments & suggestions.