Everyone has their own vision of a dream home – and we at Livspace love bringing it to life. So, we make it a point to understand what our homeowners' vision is, and craft their home in a manner that breathes life into their designs. And when it comes to interiors in Gurgaon, we've seen such a variety of designs in the city – some opt for bright, cheery homes, others like more understated designs.
While the wide variety of colours, designs, and themes of these homes are suited to the lifestyles and requirements of our homeowners, we also take care to ensure that they get exactly what they wanted. Varying in size, style and design, these homes have one unifying factor – they were designed by Livspace Gurgaon. Walk down the memory lane with us as we revisit some of the homes that we all love from this part of town!
Interiors in Gurgaon #1: Scandi Interiors for This 2 BHK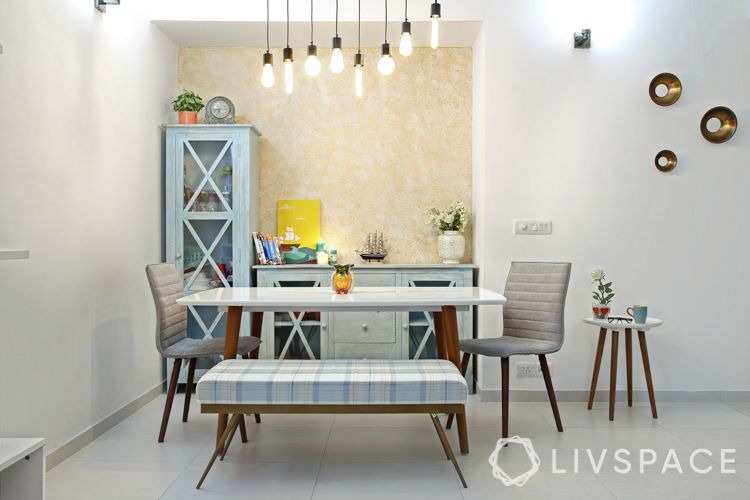 Property: Ireo Uptown, Gurgaon
Livspace Service: Living, dining, two bedrooms and shelving in kitchen
Size of Home: 2BHK spanning 1,463 sq ft
Price: ₹₹₹₹₹
The Homeowners' Vision
Fayyaz and Deepti envisioned their home from drawing inspiration from their travels across the globe. While they were all for transitional styles and a minimalistic design, the design needed to incorporate their existing furniture.
How Livspace Brought it to Life
Our designer Pulkit Manchanda set the scene as a spacious yet intimate living-cum-dining area. The space boasts of a timeless Scandinavian dining table with channelled upholstered armless chairs and a standout bench in plaid. The crisp white walls continue into the master bedroom, which has classic French wainscoting panels in place of a headboard. Yes, this home steers clear of the Indian aesthetic!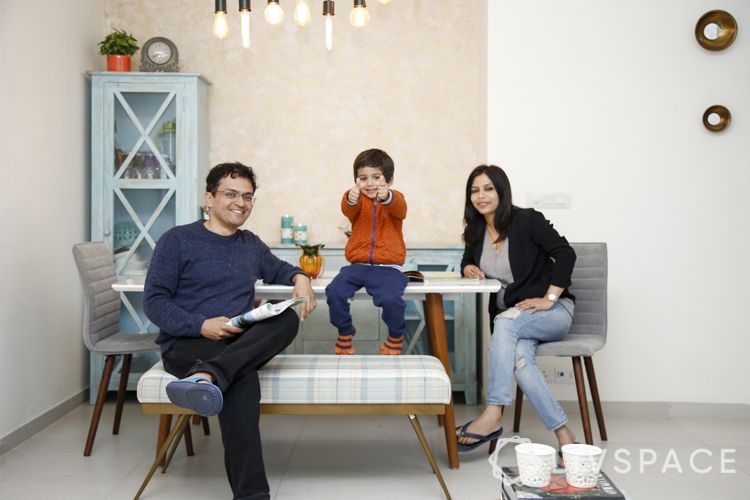 "We love our new home. We visualised a minimalistic concept and Pulkit gave us exactly what we wanted!"

Deepti Srivastava, Livspace Homeowner
---
Interiors in Gurgaon #2: Warm Wooden Finishes for this 2BHK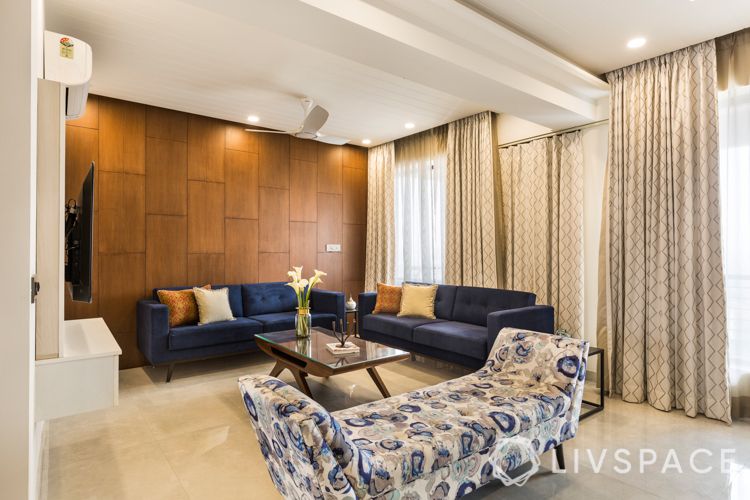 Property: The New Shivalik CGHS Ltd, Sector 51, Gurgaon
Livspace Service: 2BHK spanning 3,000 sq ft
Size of Home: Full home design
Price: ₹₹₹₹₹
The Homeowners' Vision
Power couple Anshul and Megha longed for the ultimate downtime pad at their New Shivalik flat, after their long days of work as pilots. They wanted to turn their new 4BHK spanning 3,000 sq ft into an uber chic 2BHK. So, major civil changes, including flooring and false ceiling, were on the agenda. Ultimately, they wanted an inviting space where they could have their friends and family over.
How Livspace Brought it to Life
Interior designer Rishabh Chatrath gave this couple's home a rich and warm palette. This large living room was created by breaking down one of the bedrooms in the original home. Two-toned veneer panels spice up this place effortlessly, while the blue sofas make the place look snug! Also, do not miss out on the swanky kitchen! Classy Interiors for a Pilot Couple.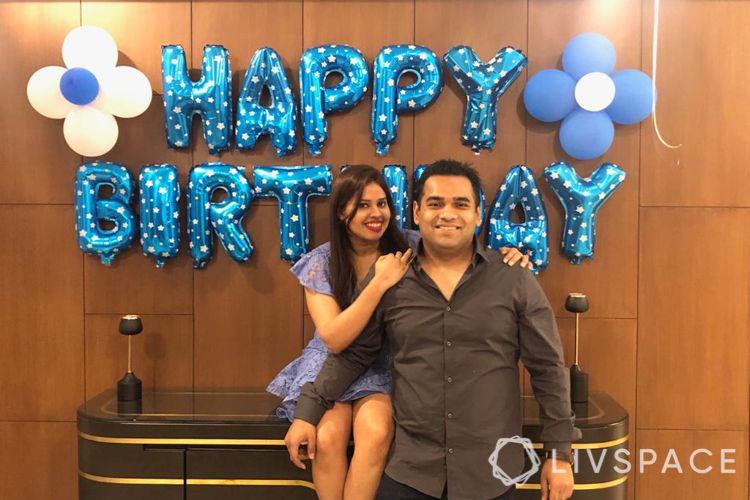 "We were looking for our very own personal hotel suite kind of home for when we are not flying and everything turned out like that. We are even getting another home designed by Livspace!"

Anshul Malhotra & Megha Gupta, Livspace Homeowners
---

Interiors in Gurgaon #3: A 3BHK That's High on Personality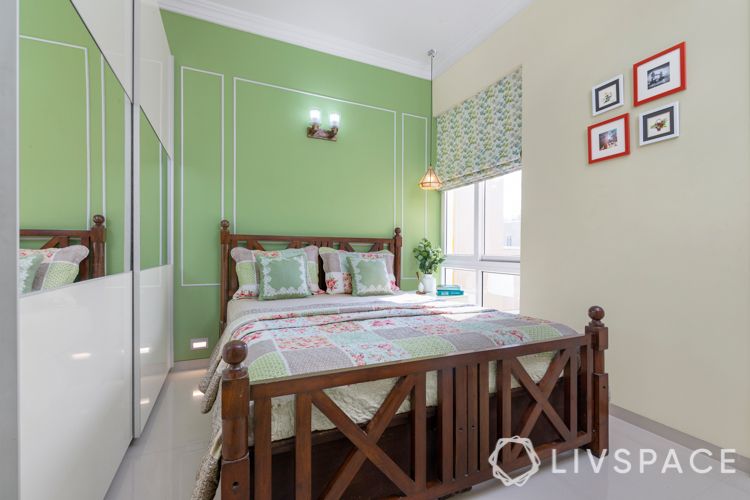 Property: Emerald Hills, Gurgaon
Livspace Service: Full home design
Size of Home: 3BHK spanning 1,800 sq ft
Price: ₹₹₹₹₹
The Homeowners' Vision
Sometimes, people know what they absolutely don't want, and that's okay too! So when the Choudharys were sure that they did not want hotel-like interiors but didn't have a clear picture of what they ultimately wanted, Livspace Gurgaon lent them a helping hand.
How Livspace Brought it to Life
The Chowdhurys love neutral-toned walls and a clean design. Against this, they opted for pops of colour, so that's what we gave them! So their living room is a dazzling affair with bursts of colours. From the grey Chesterfield sofa to the patchwork armchairs and to the multi-hued throw pillows, they have it all! As a complete contrast, the guest bedroom us dipped in pastel hues. And don't miss out on the cute white wall trims! Love the home? Check out the interiors here: Picture-perfect 3BHK in Pretty Pastels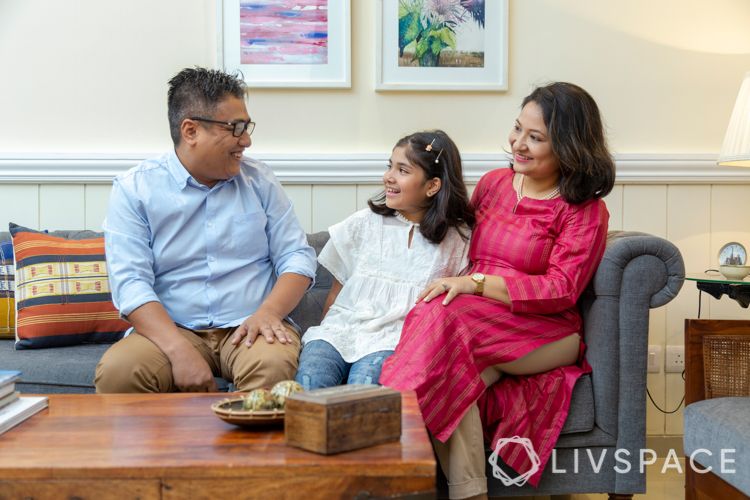 "I think the skill of a designer is largely based on understanding our ideas of a picture-perfect home and translating it into a livable home, and in our case with colour! Neha, our designer, did a fabulous job of doing this. From efficiency to decor, everything was covered. When I look at my home, I feel happy."

– Poonam & Arnav Choudhary, Livspace Homeowner
---
Interiors in Gurgaon #4: Dainty Details in a Retired Couple's Home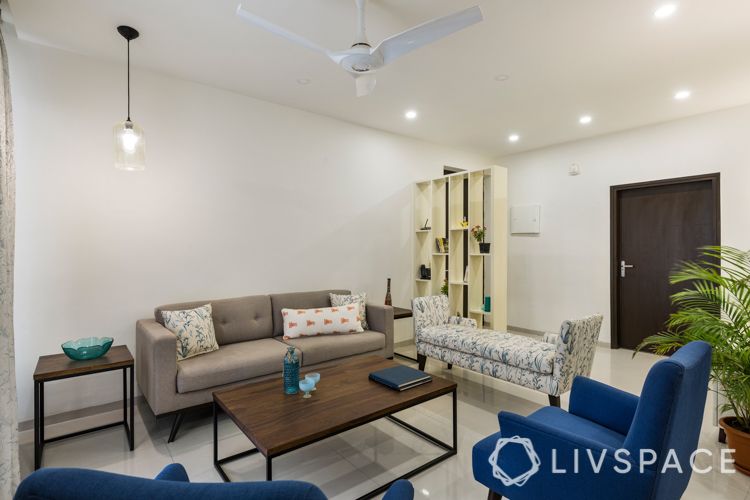 Property: Tulip Violet, Gurgaon
Livspace Service: Full home design
Size of Home: 4BHK spanning 2,010 sq ft approx.
Price: ₹₹₹₹₹
The Homeowners' Vision
While getting home interiors crafted by a designer, many people lean towards the bold and beautiful. But what about those who want a soothing home? Post retirement, the Malhotras wanted just this – a soothing home that was easy to maintain, with no dramatic elements.
How Livspace Brought it to Life
Our designer, Kanchan Sabharwal, took it on herself to give the Malhotras just what they wanted! So while we have multiple seating options in the living room in neutral colours, the blue accent chair creates a pop of colour. Also, check out the master bedroom! Against the cream accent walls, the pair of copper pendant lights blend in beautifully. And the plush maroon chairs create a cosy space to catch up over a cuppa! Can't stop thinking about this home? It's time you checked out 4BHK Looks Fresh in Fuss-free Interiors!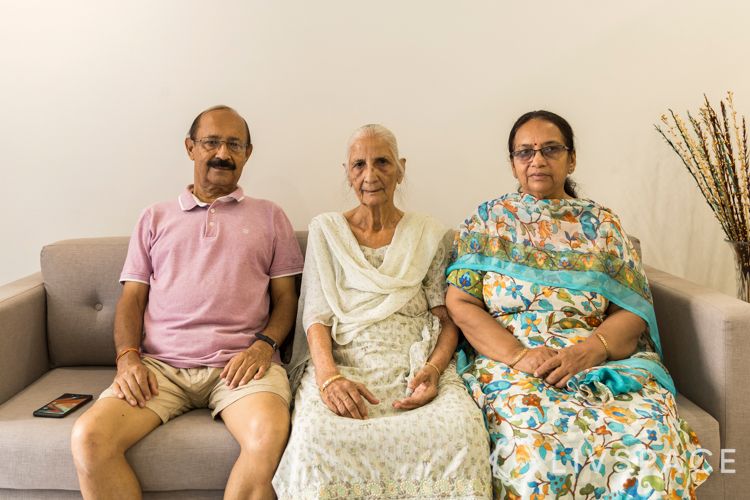 "We had a fantastic experience with Livspace, from inception to completion, and even post-completion. Our designer, Kanchan, and the design team as a whole, was knowledgeable and helpful."

– Som Prakash Malhotra, Livspace Homeowner
---
Interiors in Gurgaon #5: Old Kitchen Gets a Classy Makeover
Property: Acacia, Vatika City, Gurgaon
Livspace Service: Kitchen Renovation
Size of Home: 130 sq ft
Price: ₹₹₹₹₹
The Homeowners' Vision
Rohit and Shveta, both working professionals and extremely creative people, have always wanted a kitchen that makes cooking an enjoyable experience for them. So, while Rohit, who is an avid biker and golfer, isn't hitting the road, you can find him showing off his skills here. And he needed a kitchen to match – one that looked and felt uncluttered. Simple, isn't it?
How Livspace Brought it to Life
While the Livspace Gurgaon team retained the original layout, they added lighter colours to open up the space. This kitchen features separate zones for cooking, dry storage, wet area, and a mini breakfast counter. Plus Rohit loves the retracting drawers – he won't bump into them anymore if he forgets to close it. Check out this renovated kitchen here: A Kitchen Makeover For A Passionate Chef.
"Livspace has a very organised, practical and systematic approach towards interiors. We were given a wide variety when it came to choosing materials, finishes and kinds of storage to be used in our kitchen. Shilpa would show us drawings of how our kitchen would eventually look like, which was really helpful. They finished our project much ahead of time and it was a good choice to pick Livspace. Hats off to the entire team!"

Rohit & Shveta Paul, Livspace Homeowners
---
Interiors in Gurgaon #6: New Designs for an Old Home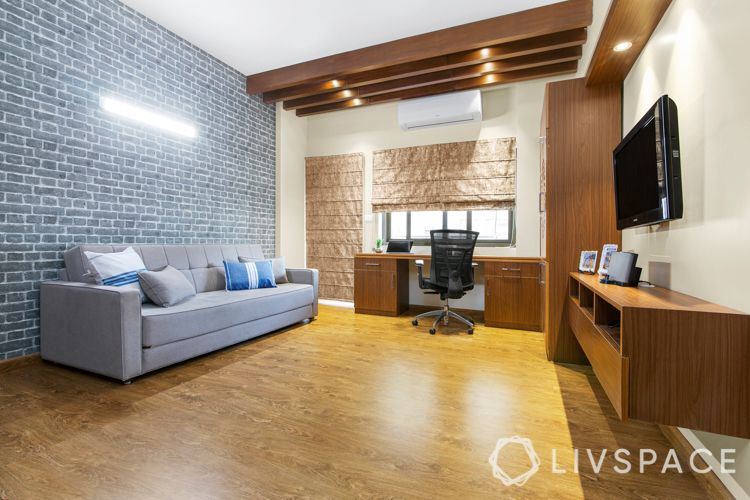 Property: Adree City, Gurgaon
Livspace Service: Full home design
Size of Home: 2,500 sq ft.
Price: ₹₹₹₹₹
The Homeowners' Vision
Having shifted into an Ardee City apartment, the Murgais wanted to convert this space into their dream home. But how would an old home match up with their requirements and expectations? An extensive amount of civil changes were necessary to turn this house into their dream home. And who should come to their rescue but Livspace Gurgaon?
How Livspace Brought it to Life
Designer Parul Battu took on the challenge of converting the existing structure into an open, light and airy home. So for their daughter, she designed a pastel pink, grey and white colour scheme. Moreover, in addition to a regular bed, Parul has provided a daybed that ties in with an inverted L-shaped unit for toys. If you're intrigued by this home, check it out here: New Clutter-free Design for an Old Home.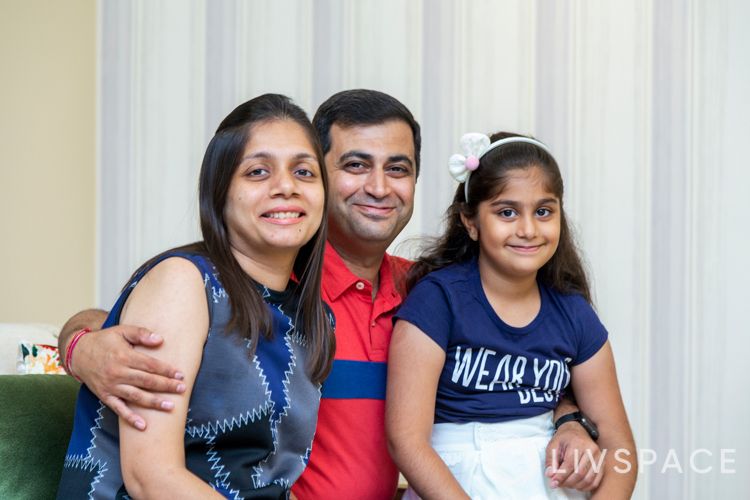 "Parul was almost as attentive about our home interiors as she would have been with designing her own home. The Livspace team operated seamlessly in bringing our home together, and we did not have to look into anything until the very end!"

– Nikunj Murgai, Livspace Homeowner
---
Interiors in Gurgaon #7: Can you Have a Comfy Holiday Home on a Budget?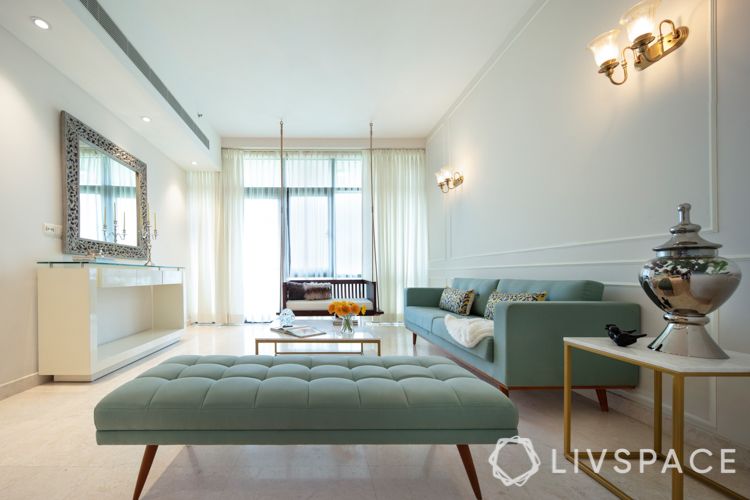 The Homeowners' Vision
Instead of walking out to have fun on the weekends, why not have a comfy vacation home that makes chilling indoors more pleasant? This was precisely what Sonia and Rishi wanted for their Ireo Grand Arch home interiors in Gurgaon. They wanted sleek colours, elegant furniture, and a functional home that looked like a dream.
How Livspace Brought it to Life
Livspace designer Richika C Anand gave this family a home filled with subtle colours and open spaces. Since Sonia was keen on sea green upholstery for the living room, Richika gave them a sofa, a bench and a lovely swing. On the other hand, their Insta-worthy bedroom comes complete with a rustic wallpaper and pastel hues. Loving this holiday home? Look into it here: Stylish Holiday Home on a Budget.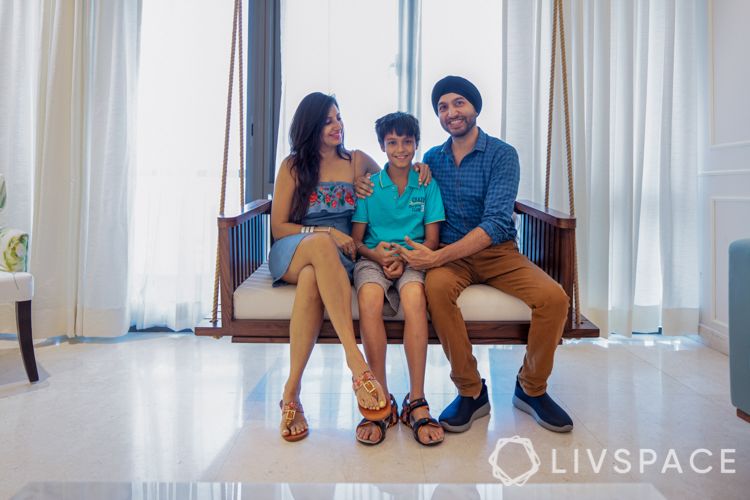 "We are so glad that we engaged Livspace to design our home. This home is like a weekend haunt for us and we were buzzing with ideas on decor. Richika is an amazing designer. She helped us through the entire process. The Livspace team has been very helpful and our home was completed in the promised time. We gladly recommend Livspace to our friends and family!"

– Sonia Bhatia, Livspace Homeowner
---
Interiors in Gurgaon #8: The Fashionista Approves!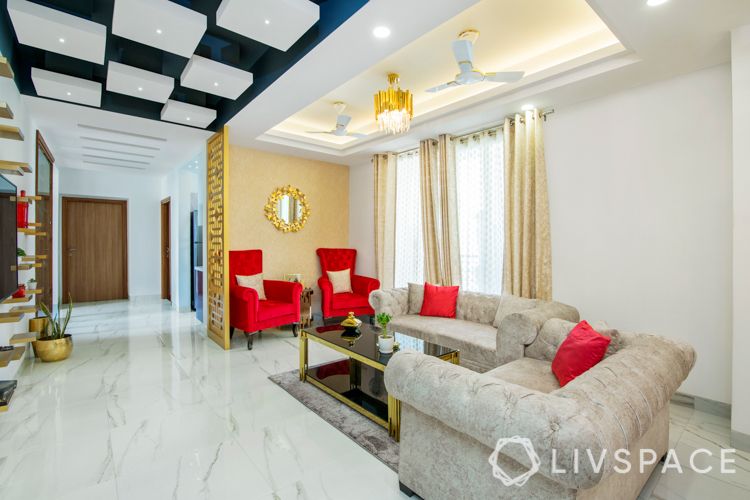 Property: TDI Ourania, Golf Course Road, Gurgaon
Size of home: A 3BHK spanning 1,800 sq ft approx.
Livspace service: Full home design
Budget: ₹₹₹₹₹
The Homeowners' Vision
A lover of colours and all things classy by self-admission, Sonam has always envisioned her home to look like a fairy-tale. As a makeup artist, she wanted her home to reflect her sense of style and love for colours. So, no shying away from bright colours and dramatic elements in this home!
How Livspace Brought it to Life
On learning of Sonam's love for bright colours and glittery gold tones, Livspace Gurgaon designer Gaurav Chaudhury decided to go all out with her home. So this home is a playful riot of colours. While the living room embraces bold reds and golds, the lounge flaunts peppy pink and blue. The living room is a visual treat, right from the floating chess board-inspired false ceiling to the ample seating options. And the lounge tells its own story with a world map wallpaper and bright colours. A Home Befitting a Fashionista comes alive, if you'd just take the tour!
"It was an absolute pleasure to get my home designed by Livspace and all the credit goes to the designer, Gaurav Chaudhary. He has delivered over and beyond his responsibilities to give us our dream home. From design suggestions to decor ideas, he was always ready to help and I absolutely love spending time in the little reading nook that he created for me in my room."

– Sonam Bisht, Livspace Homeowner
---
Interiors in Gurgaon #9: Understated Luxury Comes to This 4 BHK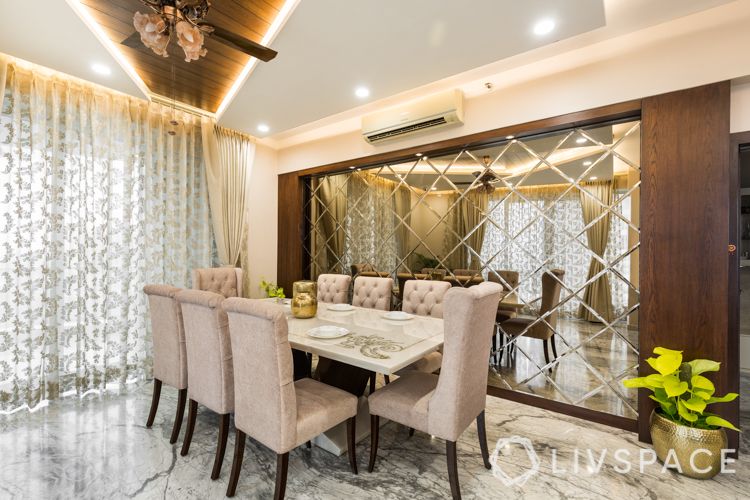 Property: Pioneer Presidia, Gurgaon
Livspace Service: 4 BHK spanning approximately 3, 900 sq ft
Size of Home: Full Home Design
Price: ₹₹₹₹₹
The Homeowners' Vision
Anjali, who had ardently followed the Livspace magazine for three years, had a clear idea of what she wanted for her home. Understated luxury, regal feels and plenty of golden elements were some of the things she pointed out. And it was up to us to connect the dots to create the home Anjali and Sudeep dreamt of.
How Livspace Brought it to Life
With hints of gold against a mostly neutral background, and desi elements aplenty, the Agrawal home was brought to life. From the refurbished door to the living room and bedrooms, this Gurgaon home tells a tale of luxury that's fit for royalty. Don't miss out on the ceiling design in the dining room, or the mirror panelled wall. Similarly, check out the dreamy guest bedroom with ample storage and a dainty floral wallpaper. We love it. What about you? We recommend a tour of this stunning home. Check out this Dreamy, Regal, Elegant, Timeless home and tell us what you think of it!
"We had a wonderful experience with Livspace – Tanya brought our home to life. The coordination between the team and post-sales operations left us wanting nothing more. Livspace provided us with end-to-end services, just as promised!"

– Sudeep and Anjali Agrawal, Livspace Homeowners
---
Interiors in Gurgaon #10: Elegant Designs for a Home Fit for a Joint Family!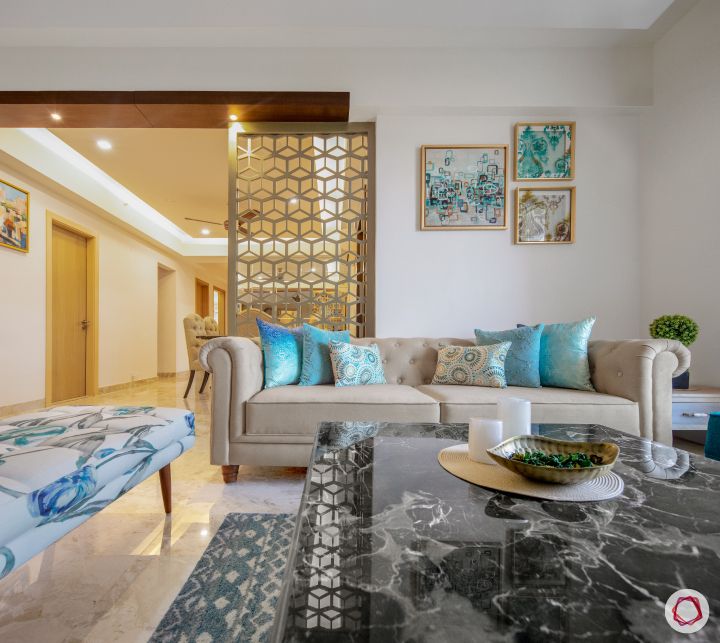 Property: New Town Heights
Size of home: A 4BHK spanning 2,400 sq ft approx.
Livspace service: Full home design (kitchen not included)
Budget: ₹₹₹₹₹
The Homeowners' Vision
For Swati and Tanmay Vyas, moving from Dwarka to Gurgaon was a conscious decision and thus they wanted a home that they could call special. They envisioned a functional home design with sober colours and a serene vibe. And who were we to deny them what they wanted?
How Livspace Brought it to Life
This modern chic home comes with pretty colours that make it worth showing it off. Livspace designer Megha Kedia has given this family a combination of purposeful designs and shots of glamour to create a unique style. So the living room comes with whitewashed walls and ceilings, comfortable style and perfectly placed furniture – a suede Cassandra sofa, a bench, two ottomans and a minimal coffee table.
As a complete contrast, we have a playful kids room with a car-themed wallpaper and Winnie the Pooh wall decal. The bunk bed saves space, while the geometric false ceiling looks interesting. Storage is taken care of in the wardrobes and the study unit, where Neevan can accommodate all his books and toys. Check out this home here: Dreamy 4BHK at New Town Heights.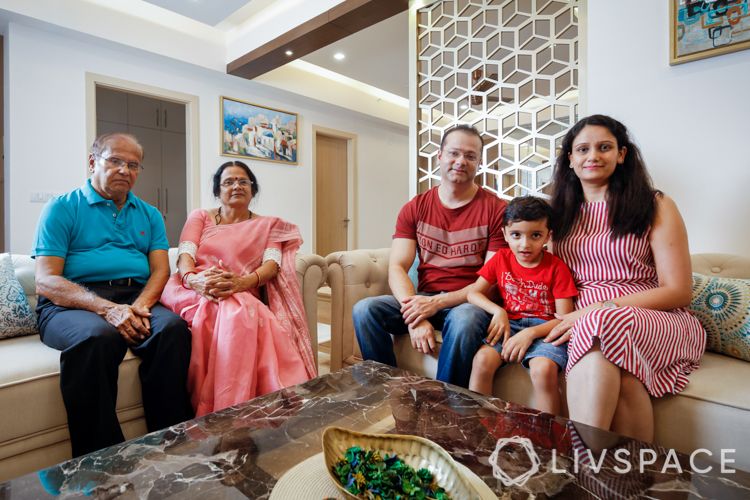 "It was an excellent experience with Livspace. Megha was bang on with all our requirements and gave us complete freedom to have a home of our choice, but with aesthetics that only a professional designer can provide. With Livspace we got a well rounded experience, with prompt deliveries and good after sales service."

Swati Vyas, Livspace Homeowner
---
Interiors in Gurgaon #11: Bright & Colourful Home for a Joint Family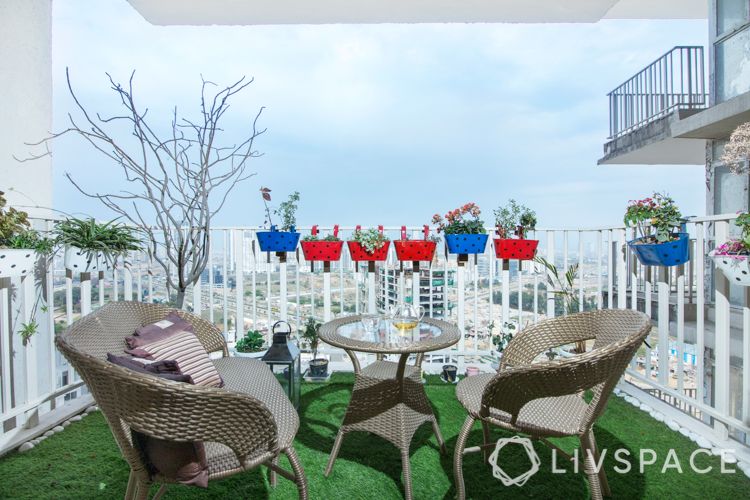 Propery: Ireo Victory Valley
Size of home: A 4BHK spanning 2,500 sq ft approx.
Livspace service: Full home design (kitchen not included)
Budget: ₹₹₹₹₹
The Homeowners' Vision
Ashpreet Sabherwal had a great understanding of colour combination, so for their interiors in Gurgaon, she and Devesh Arya wanted to mirror perfection. The family wanted every room of the home to be designed in such a way that it reflects the personality of each resident. Challenging, no doubt, but living up to it is what we at Livspace Gurgaon do best!
How Livspace Brought it to Life
Right from the foyer to the bedrooms, Livspace designer Megha Gupta gave them designs that stand-out. While the entire home wears an earthy and subtle tone, you can spot bright specs of colours here and there. Since they have a gorgeous view from the balcony, Megha turned it into a cosy spot to catch up with the family. Some wicker furniture, colourful furniture and an artificial turf did the trick! Love this colourful home? Take the tour here: Sun-soaked 4BHK for a Colourist.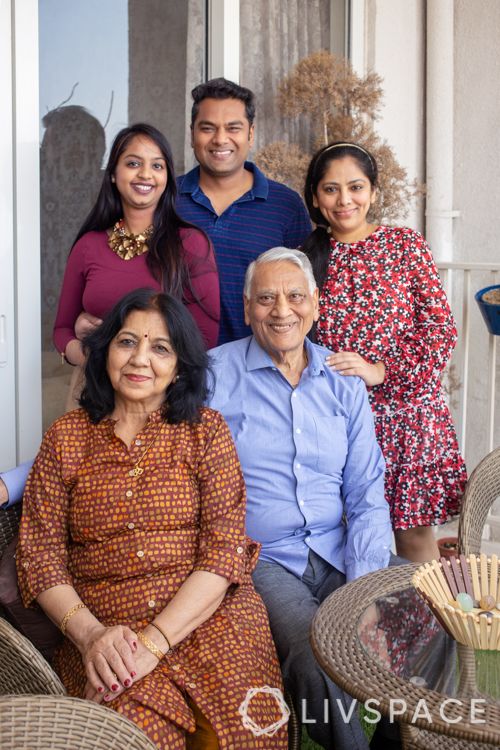 "For us, home is a place where you come back after a tiring day at work and feel energised and positive the moment you step inside. The best part about getting our interiors done through Livspace was the fact they are very professional, yet they listen. They understand our needs clearly before starting the design process. We love lazing around in our new home!"

-Ashpreet Sabherwal, Livspace Homeowner
---
Interiors in Gurgaon #12: New Home has Design Issues? We've Handled That too!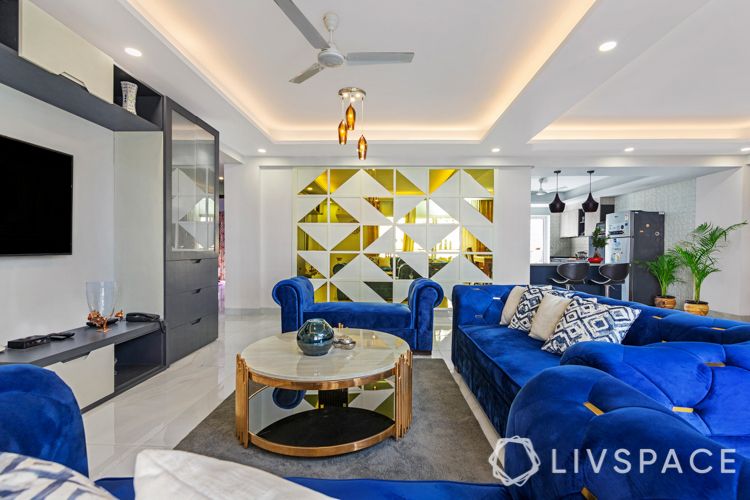 Property: DLF New Town Heights
Size of home: A 4BHK spanning 2,450 sq ft
Livspace service: Full Home Design
Budget: ₹₹₹₹₹
The Homeowners' Vision
When Vinay Kumar and his family acquired their latest home in DLF New Town Heights, there were visible hiccups that required immediate fixing. Moreover, they had velvet furniture and wanted their interiors to look plush and regal. So they needed the immediate problems fixed, and wanted a house that allowed them to live life king-size everyday.
How Livspace Brought it to Life
Livspace Gurgaon Gaurav Chaudhary loves a good challenge and took to redesigning the entire home. From floor to ceiling, he and his team have found creative solutions for every problem. This process resulted in a spacious and well-lit home with restored walls. In the living room, he added a dash of pizzaz with a feature wall made of MDF and gold mirror panels. This ties in beautifully with the velvet living room furniture, creating the effect the family wanted.
While dealing with the damaged walls, Gaurav decided to convert them into accent walls. After treating the walls for water seepage, he installed bison board panelling for a more permanent solution and opted for a matching floral wallpaper with wall trims for the daughter's bedroom.
Find out how the initial hiccups were handled for a interiors in Gurgaon here: Livspace Solved This 4BHK's Design Issues.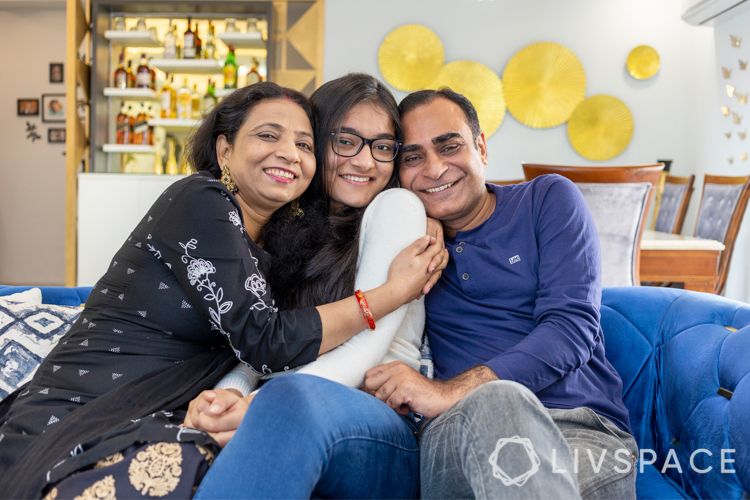 Interiors in Gurgaon #13: Pet-friendly Interiors can be Stylish too!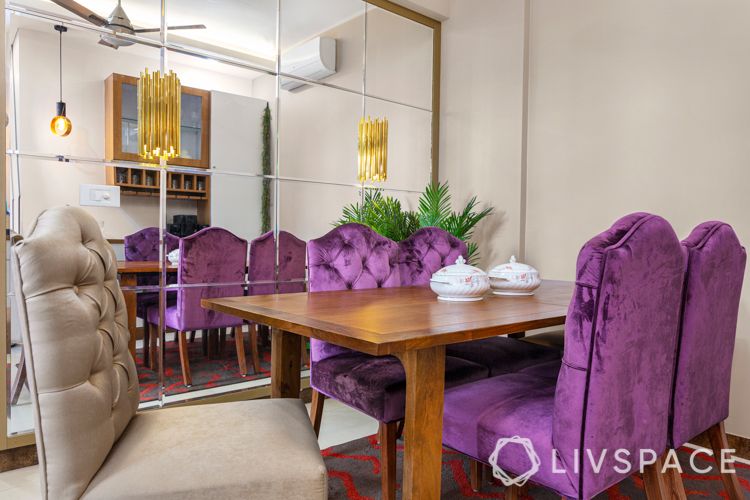 Property: Indiabulls Centrum Park
Size of home: A 2BHK spanning 1,450 sq ft approx.
Livspace service: Full home design
Budget: ₹₹₹₹₹
The Homeowners' Vision
Having a fluffy four-legged baby is no reason to have boring interiors, believed Anisha and her husband Shekhar. Since this was their first home together, they wanted a space they could truly cherish. Their dream home included rich textures, stunning wall treatments, modular solutions, smart storage and pet-friendly upholstery.
How Livspace Brought it to Life
Livspace designer Megha Kedia isn't one to back out of a challenge. She used pet-friendly fabrics for the rich upholstery that this home boasts of. Stylish accent walls, mirror panelling and subtle wall trims complete the space. If you're intrigued by this pawsome home, take the tour: Easy-to-maintain & Classy 2BHK.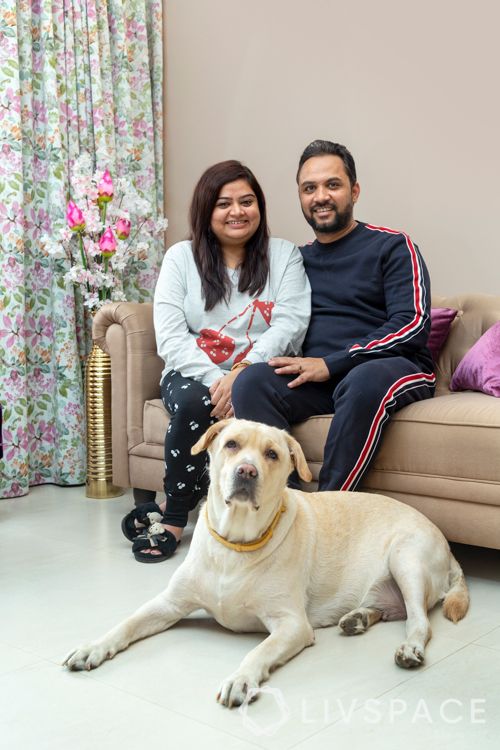 "We wanted our home to have the perfect balance of simplicity and elegance with modern aesthetics, which we felt would be a difficult task. But with Megha, our designer it turned out to be pretty simple. She is very patient and lent an ear to all my ideas before zeroing in on the best ones. We connected with each other in our first meeting itself and we knew that we will get what we were looking for. And we want to thank Megha and the entire team at Livspace for this!"

Anisha, Livspace Homeowner
---
Also, if you liked this, take a look at 10 of Our Best Homes in the Maximum City
Send in your comments & suggestions.